These Black Forest Cupcakes are made with a doctored chocolate cake mix then filled with cherry filling and topped with whipped vanilla cream frosting for a delightfully sweet treat perfect for any occasion!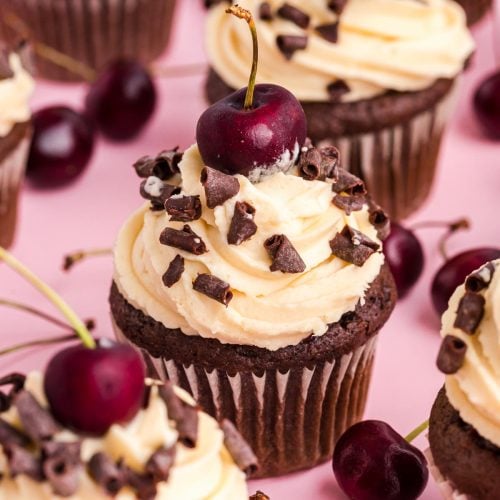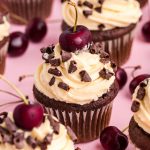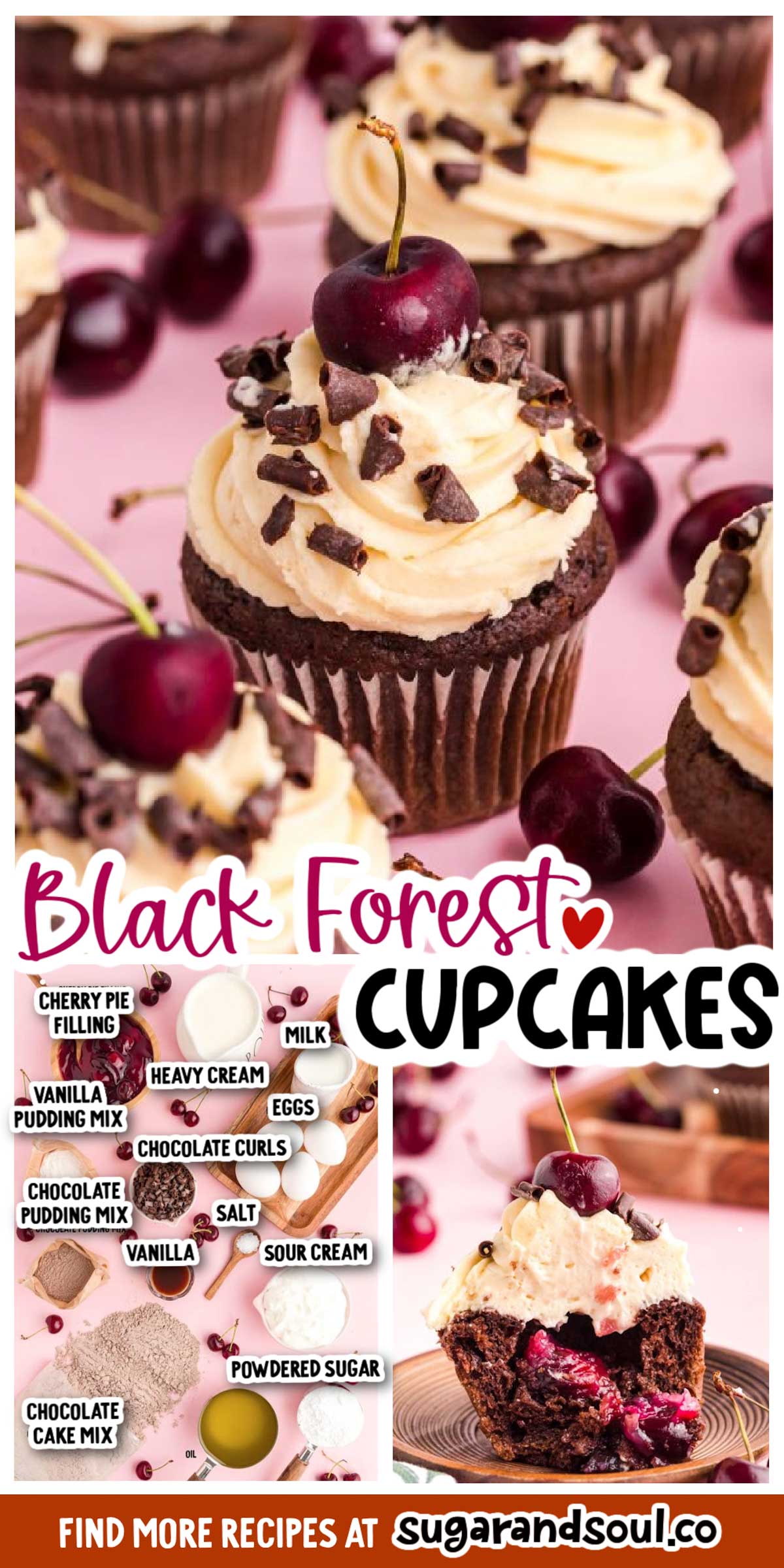 These Black Forest Cupcakes are made with a doctored chocolate cake mix then filled with cherry filling and topped with whipped vanilla cream frosting for a delightfully sweet treat perfect for any occasion!
Sink your sweet tooth into another decadent Black Forest recipe such as my Black Forest Cake or Black Forest Cobbler! Both are filled with the same sweet cherry flavor and rich chocolate that these cupcakes have!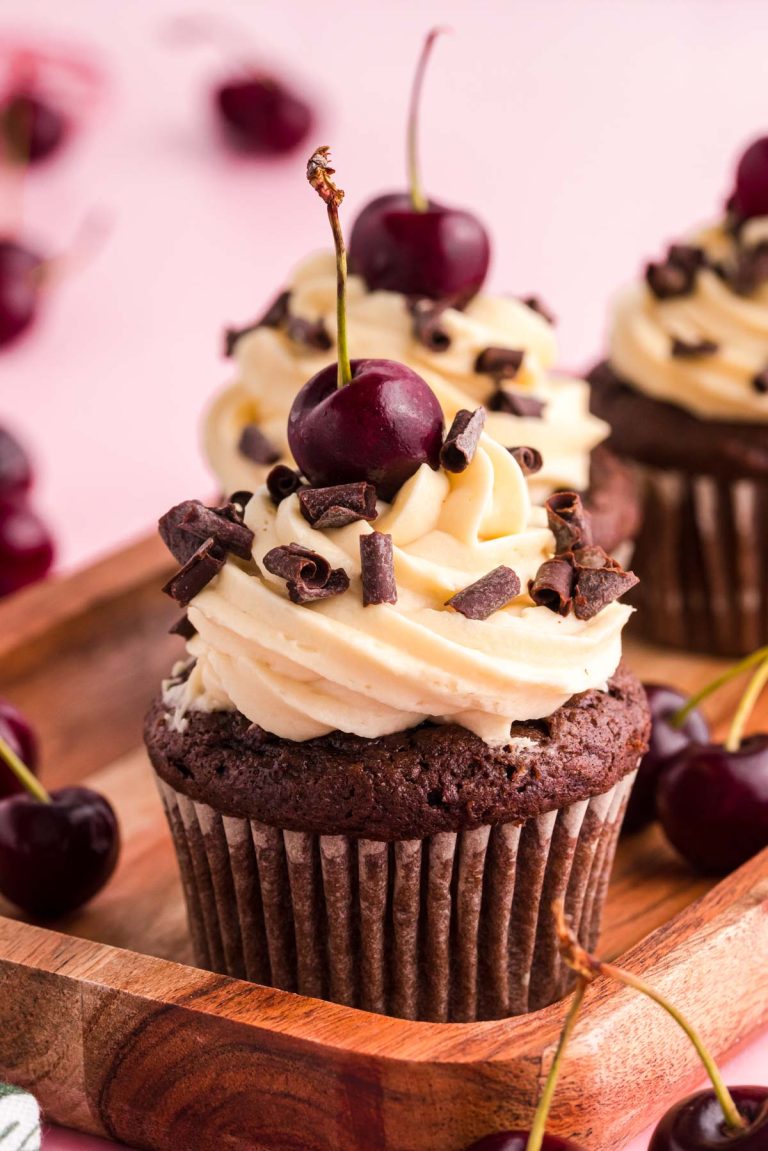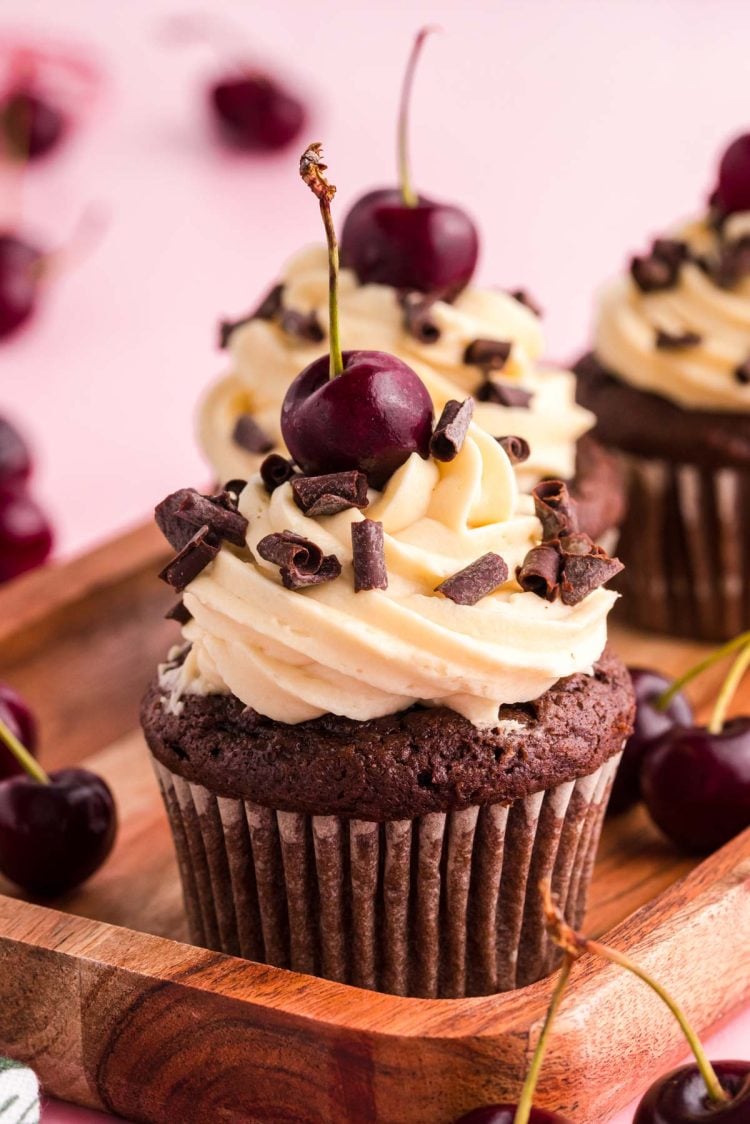 These Black Forest Cupcakes are a dessert that everyone will be excited to take a bite of! And honestly, with moist, rich chocolate that has a hidden sweet cherry filling that's finished off with a vanilla whipped cream frosting… who wouldn't be excited?!
I like to think these cupcakes are a bit sophisticated yet fun with their dark chocolate and black cherry combination! They have a moody vibe that would work well being served at a cocktail party!
Or you know… eaten at home in your pajamas on any given weekend.
Thinking that making homemade cupcakes with surprise centers is out of your league? I encourage you to think again! These Black Forest Cupcakes are SO easy to make… even if you have limited baking time under your belt!
With just 15 minutes of prep time and easy ingredients, you'll impress yourself (and everyone else!) with two dozen of these delicious cupcakes!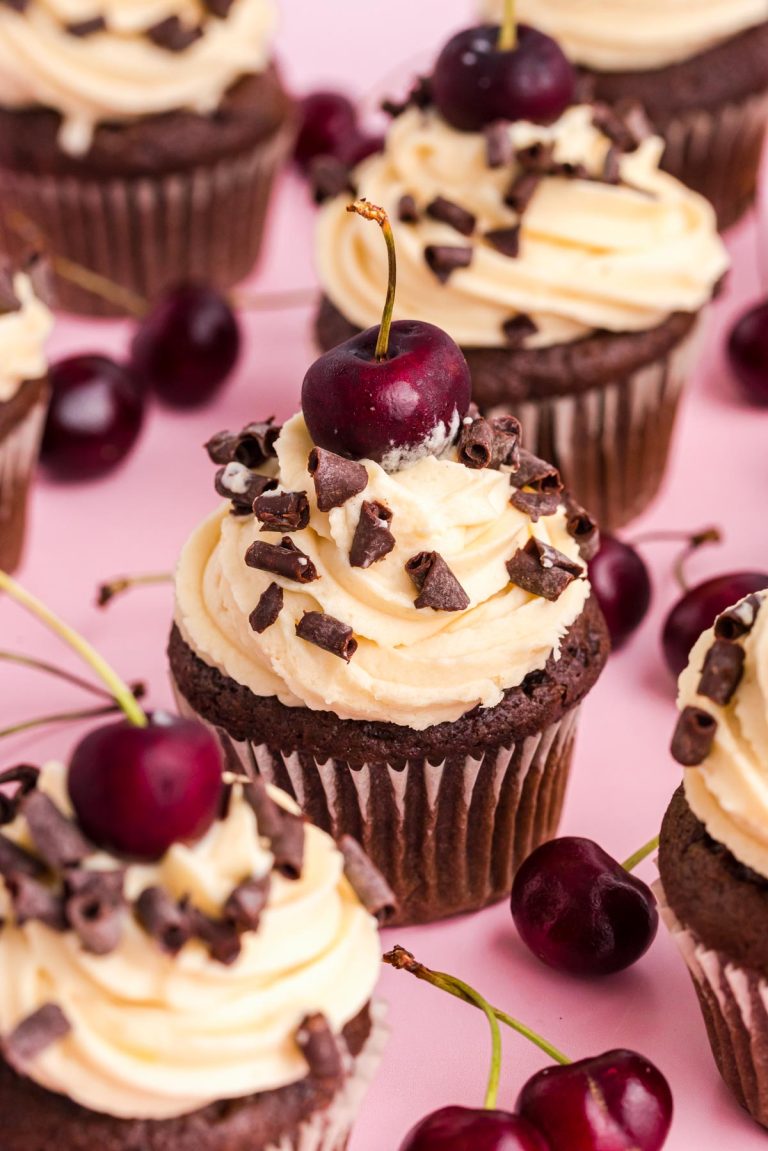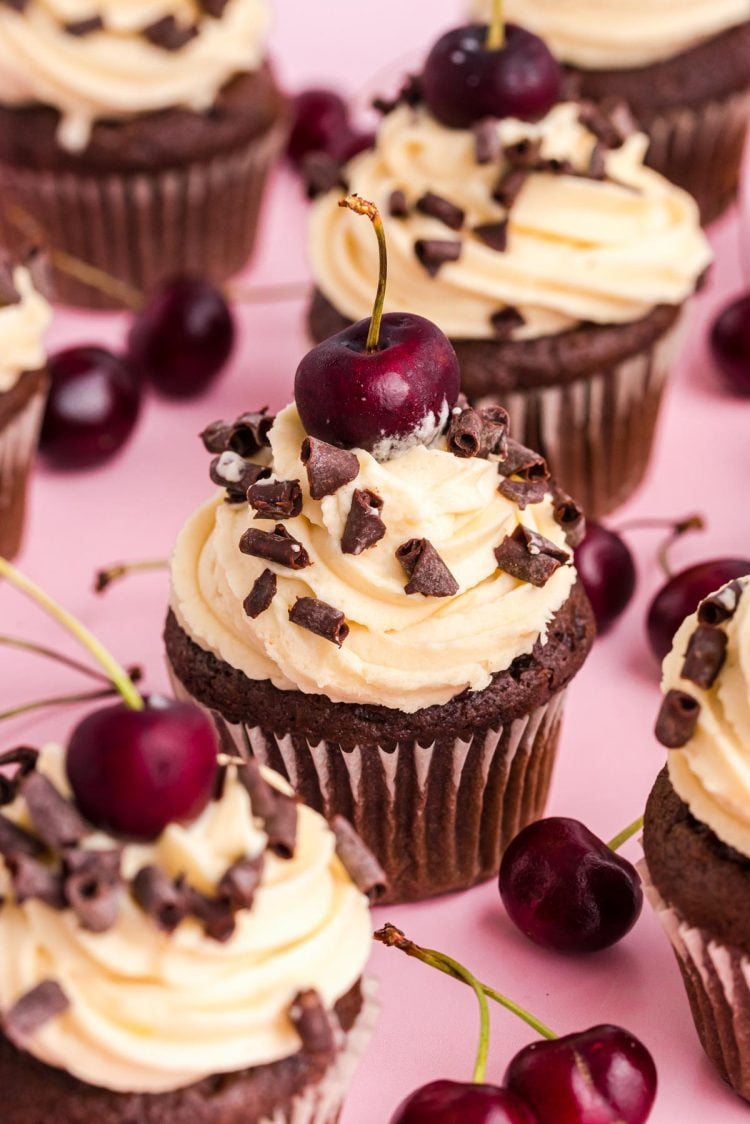 Ingredient Notes
This Black Forest Cupcake Recipe pairs a handful of store-bought ingredients with common baking ingredients you likely already have! From the cupcake batter to the filling, frosting, and toppings, they even come together pretty quickly as well!
To make the cupcakes you'll start with a box of Duncan Hines Dark Chocolate Fudge Cake Mix. From there, it's doctored up with a box of unprepared Jell-O Instant Chocolate Fudge Pudding, eggs, sour cream, vegetable oil, whole milk, vanilla extract, and salt.
After the cupcakes have baked, cooled completely, and been cored, they get their cherry filling! You can either do a homemade filling, grab a store-bought cherry pie filling, or even use cherry sundae topping.
I prefer using the same cherry filling that I use in my Black Forest Cake Recipe. However, I've also been known to grab Breyers cherry ice cream topping to use as well.
Once the cupcakes have been filled they get their light and fluffy frosting finish! This is made by beating together heavy cream, unprepared vanilla instant pudding mix, powdered sugar, and vanilla extract.
To really dress these cupcakes up I like to garnish each with fresh cherries and chocolate curls! An easy way to add a special wow factor!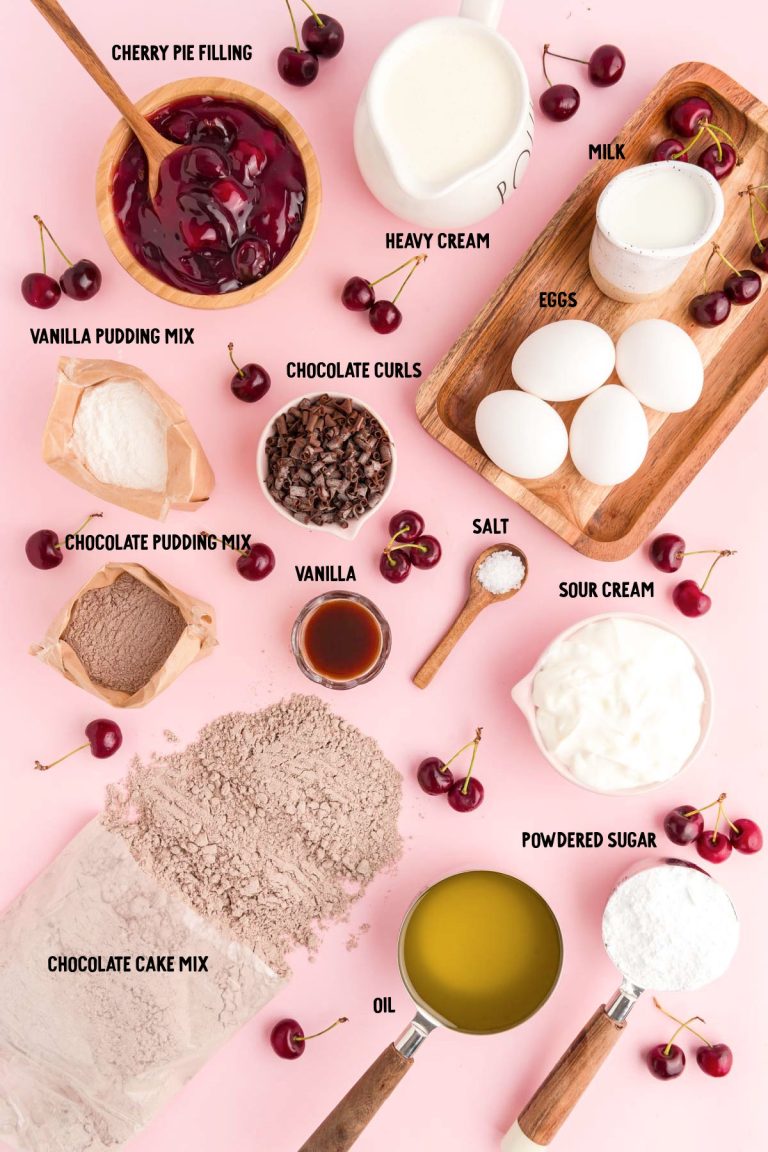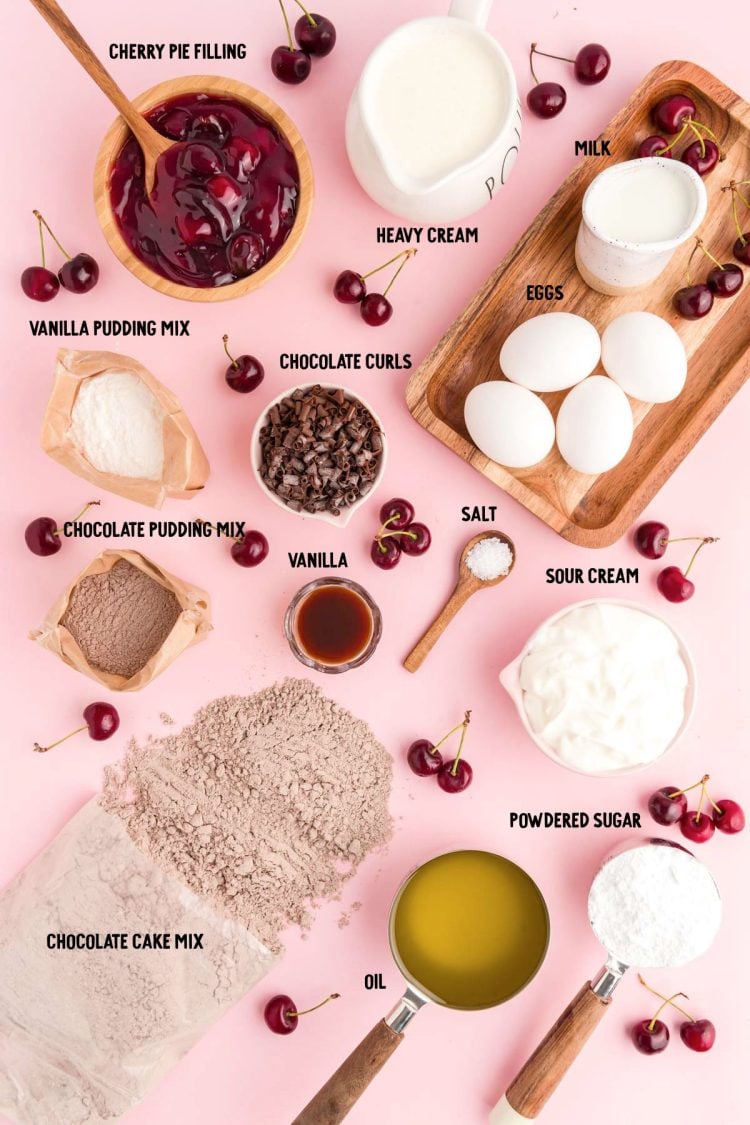 How To Make Black Forest Cupcakes
Beat all of the cupcake ingredients together until smooth.
Add the batter to a cupcake pan filled with liners.
Reduce the heat from the preheated temperature and bake the cupcakes. Remove them from the oven once a toothpick inserted to the center of one comes out clean.
Cool the cupcakes completely on a wire rack. While they're cooling you can prepare the homemade cherry pie filling if that's what you've chosen to use.
Combine the frosting ingredients into a large mixing bowl and beat them together until light and fluffy.
Core all of the cupcakes and add the cherry filling to each cupcake.
Pipe the frosting onto the cupcakes. Then top with chocolate curls and fresh cherries.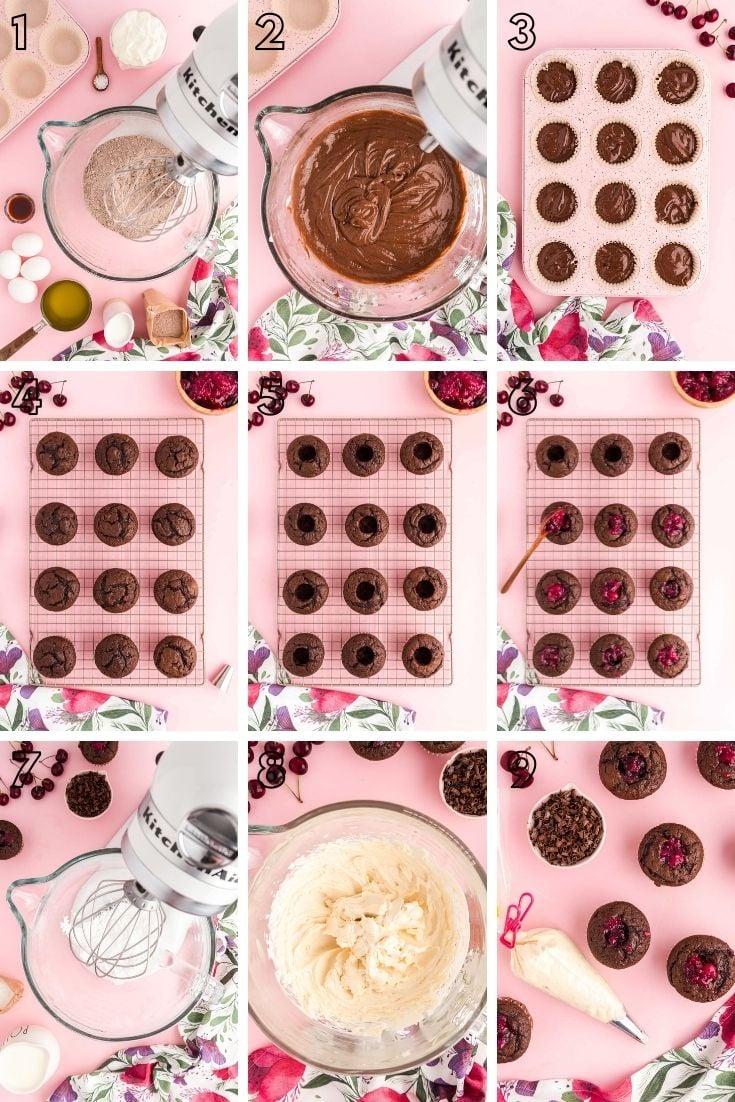 Frequently Asked Questions
How Do I Store These Black Forest Cupcakes?
These cupcakes need to be stored in an airtight container and kept in the refrigerator. Enjoy them for up to 2 days! However, keep in mind that the frosting does thicken and turn a little gummy over time.
What's The Best Way To Prepare These Cupcakes Ahead Of Time?
You can prepare the cupcakes and filling a day or two in advance. Then just assemble them when you're within a few hours of eating them.
How Do I Core The Cupcakes?
To best core the cupcakes you'll want to wait until they're completely cooled. If you try to core them while they're still warm they'll likely fall apart.
Once they're completely cooled you can use an actual cupcake corer that you can find right on amazon. But no worries if you don't have a corer! The next best technique is to simply use a small pairing knife to carefully cut out the center.
You could also try using an apple corer or a small cookie scoop!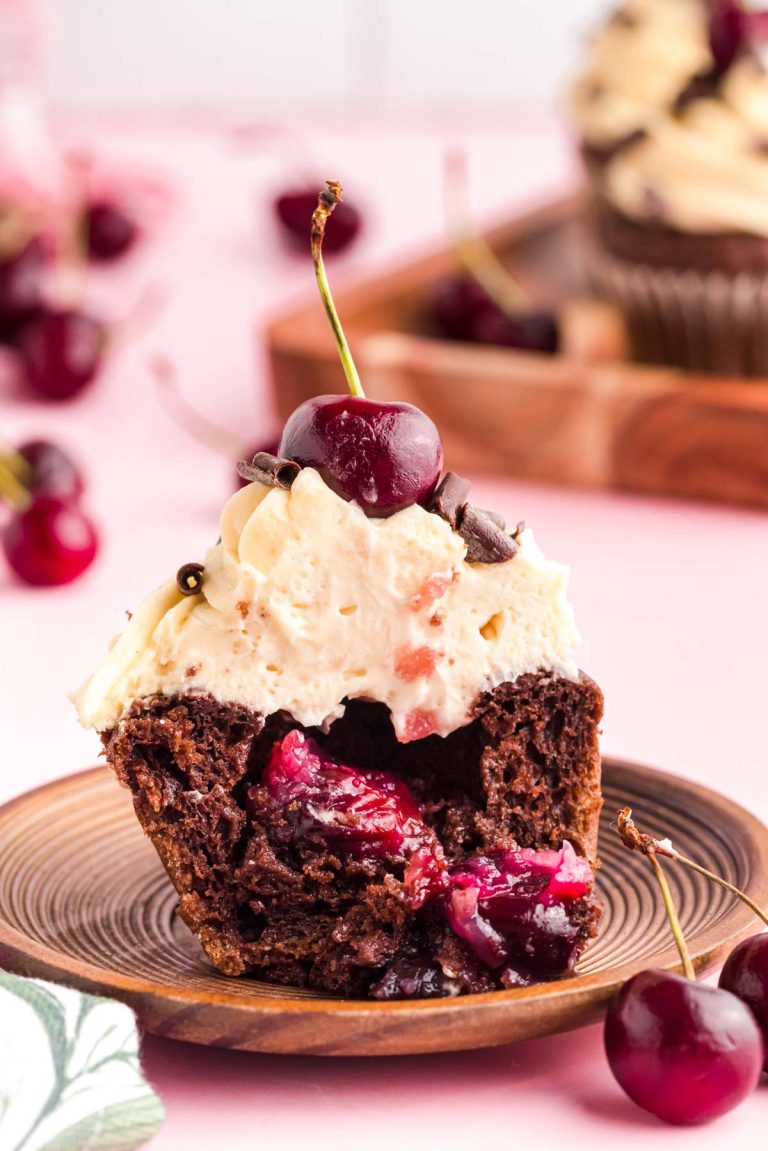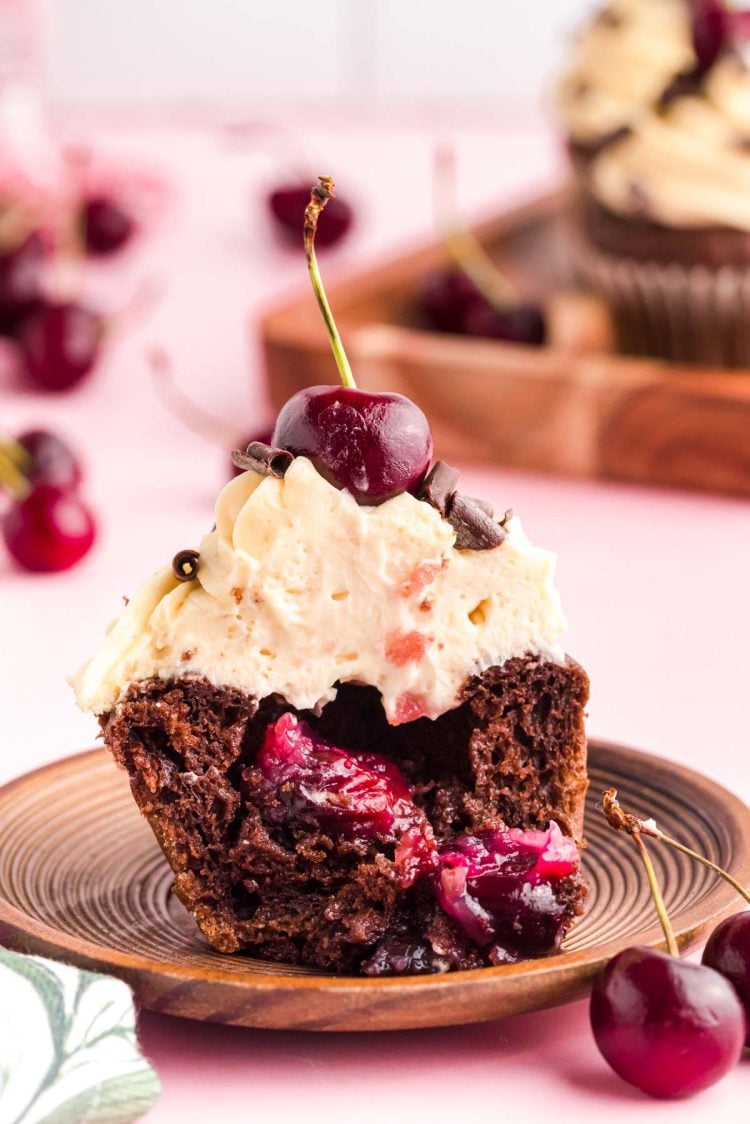 One of my favorite parts about these Black Forest Cupcakes is how they're easily made with a doctored-up cake mix! Here are more of my favorite cupcake recipes that also have a boxed cake mix base!
👋 Let's Connect!
If you've tried this recipe, please let me know how you liked it in the comments below and leave a review; I love hearing from you! And don't forget to tag me – @sugarandsoulco – on Instagram and Pinterest with your photos or join our Sugar & Soul Show-offs Community and share them there, where you can join our recipe challenges and win prizes!
This post was originally published in July 2014 and was updated in January 2022 with fresh photos and content.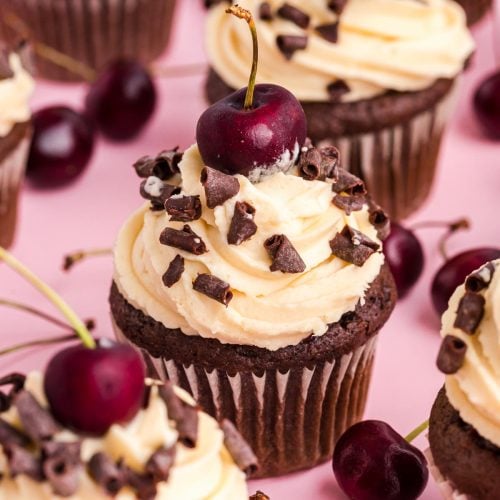 Black Forest Cupcakes
These Black Forest Cupcakes are made with a doctored chocolate cake mix then filled with cherry filling and topped with whipped vanilla cream frosting for a delightfully sweet treat perfect for any occasion!
Ingredients
Filling
1½ cups cherry pie filling store bought or homemade
Topping
Chocolate curls
Fresh cherries
Instructions
Preheat oven to 375°F and line a cupcake pan with liners and set aside.

Combine all cupcake ingredients in a large stand mixer or bowl and beat until smooth.

Add about ¼ cup of batter to each liner, filling to about 1/2 – 3/4 full.

Reduce heat to 350°F and bake for 18-20 minutes or until fork comes clean. Transfer the cupcakes to a wire rack to cool completely.

If using homemade cherry pie filling, use the baking time to prepare it, we like to use the filling from this Black Forest Cake recipe. Let cool to room temperature.

In a large mixing bowl or stand mixer fitted with a whisk attachment, beat together the frosting ingredients on medium speed until light and fluffy, about 2 to 3 minutes. You want the mixture to be slightly stiffer than whipped cream but not overmixed to the point where it starts to become butter.

Core out the cooled cupcakes and add about 1 tablespoon of cherry filling to each of the cored cupcakes.

Pipe the vanilla frosting over the filling and around the rest of the cupcake.

Top with chocolate curls and cherries.
Notes
The cupcakes and filling can be prepared in advance but I recommend making and assembling the cupcakes within a few hours of consumption.
Leftovers can be stored in the refrigerator for up to 2 days, but note that the frosting will thicken and get a little gummy with time.
You can use homemade or storebought cherry pie filling or you can also use cherry sundae topping.
Nutrition
Calories: 210kcal | Carbohydrates: 21g | Protein: 3g | Fat: 13g | Saturated Fat: 7g | Polyunsaturated Fat: 1g | Monounsaturated Fat: 4g | Trans Fat: 1g | Cholesterol: 62mg | Sodium: 269mg | Potassium: 117mg | Fiber: 1g | Sugar: 13g | Vitamin A: 418IU | Vitamin C: 1mg | Calcium: 62mg | Iron: 1mg