Welcome summer with a pitcher of these delightful and refreshing beer margaritas made with Corona, tequila, triple sec, lime juice, agave, and a sweet sugar rim!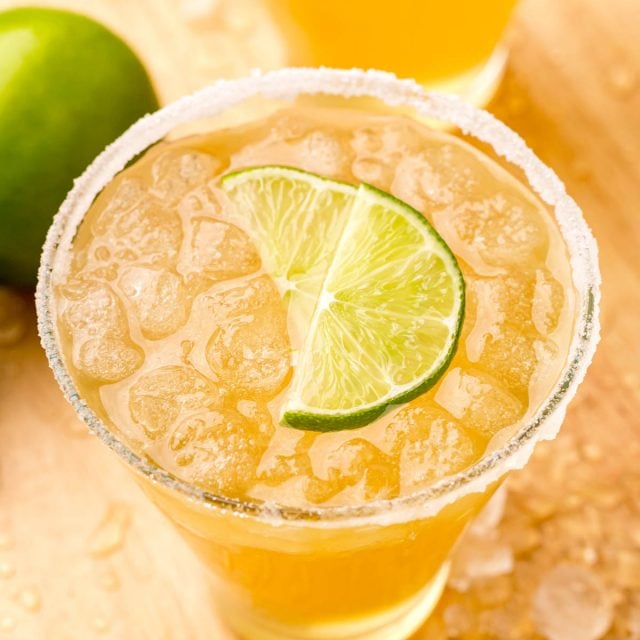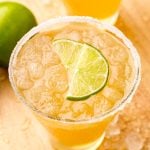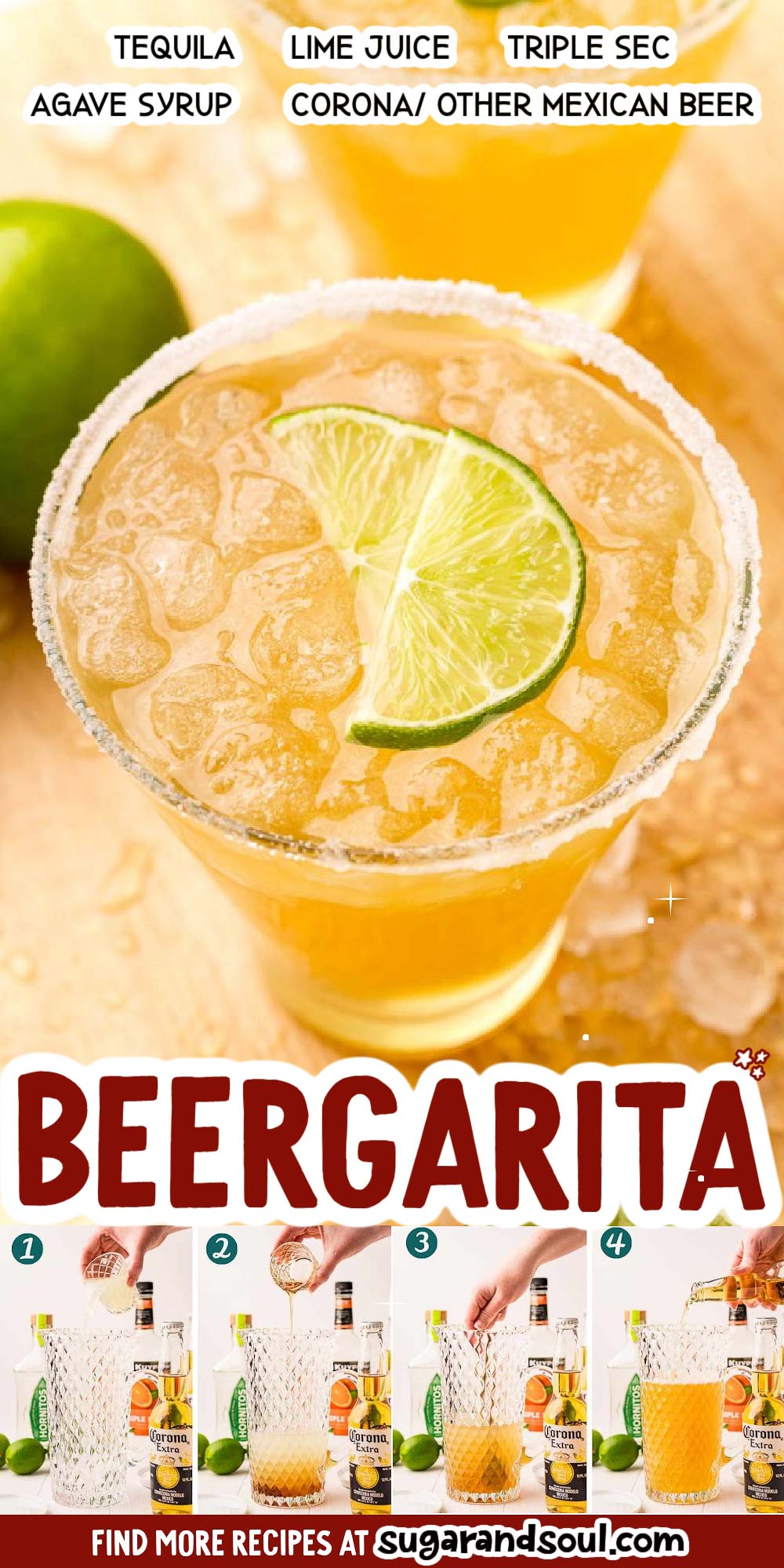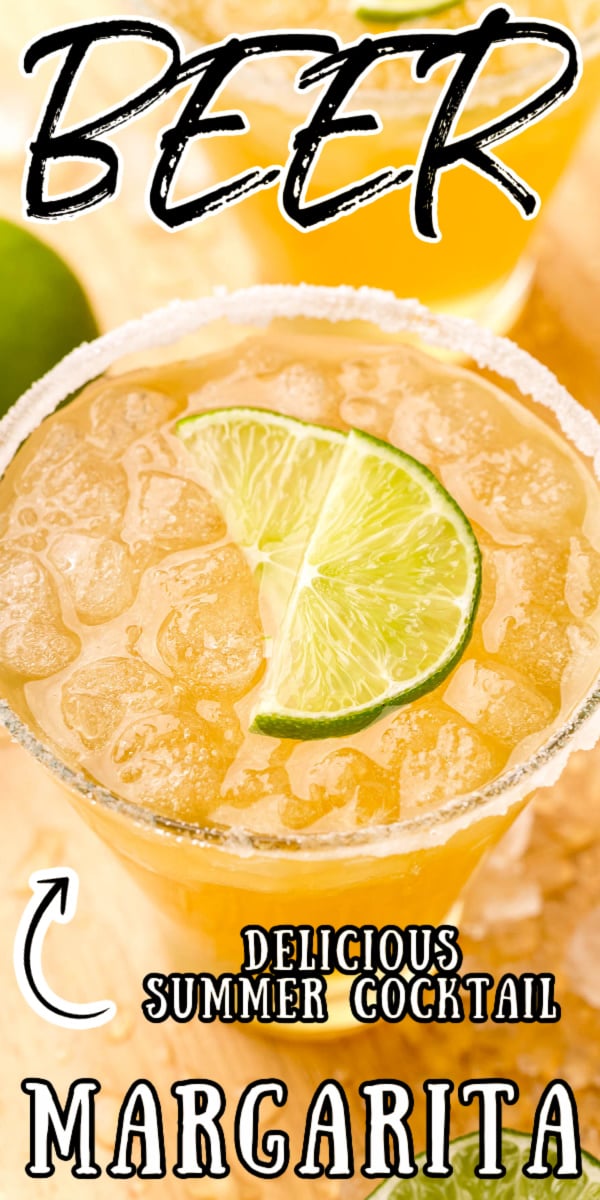 This Beer Margarita recipe is made with Corona, tequila, triple sec, lime juice, and agave! It's a refreshing and easy large batch cocktail that is perfect for sharing with friends!
Try another fun margarita like my smooth tasting Spicy Jalapeno Margarita Cocktail or easy Frozen Champagne Margaritas!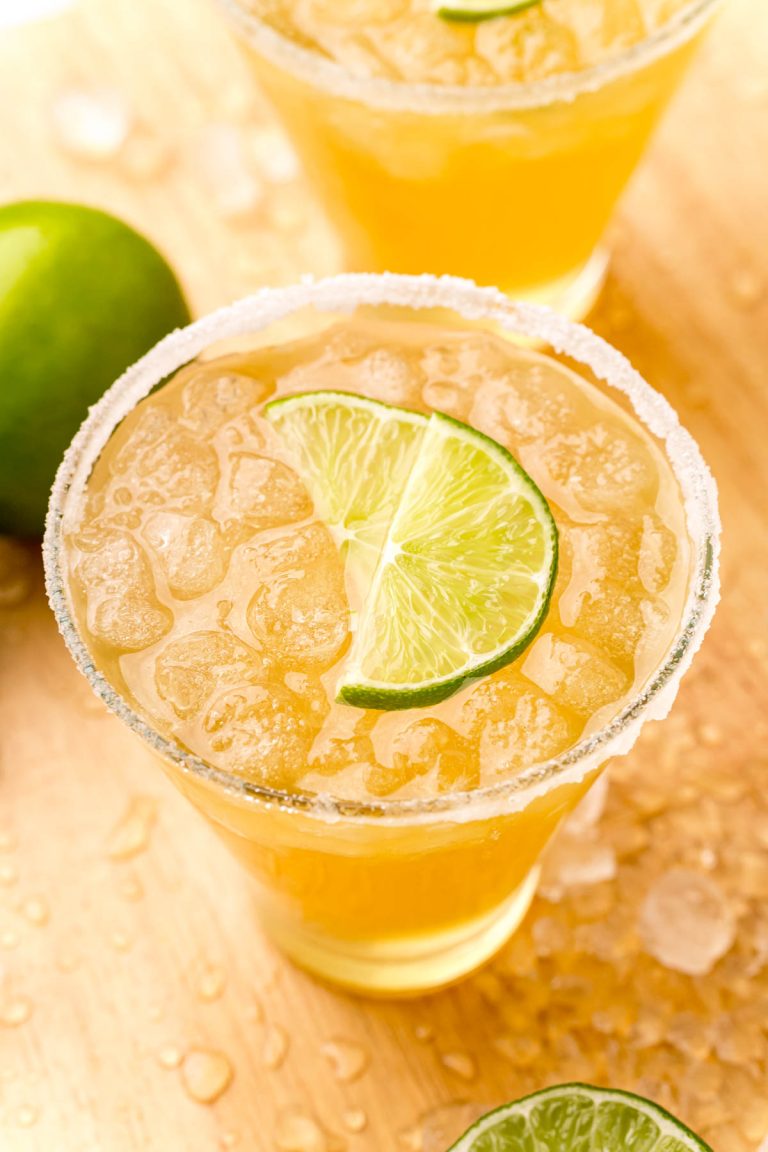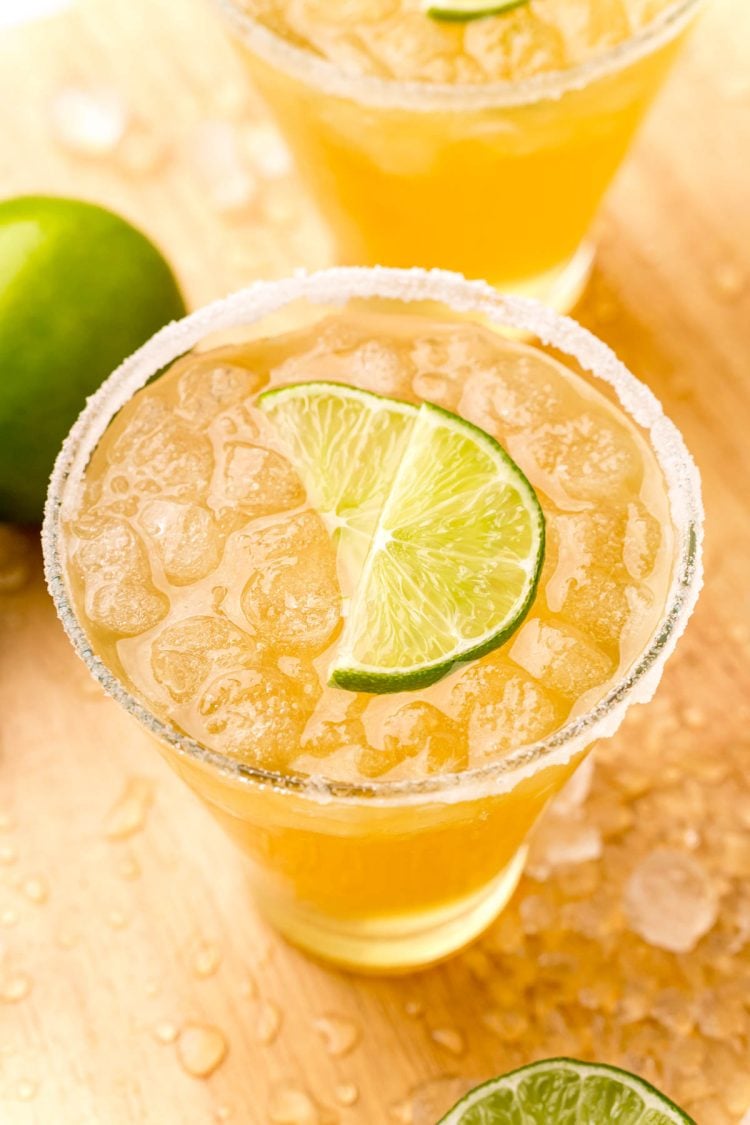 This Beer Margarita is a delightful, fun drink to welcome in Summer with! You'll love the ease of a big batch cocktail, the refreshing citrusy taste, and how easily a glassful goes down!
These are perfect for enjoying around a bonfire, on Cinco De Mayo, or at a cookout with friends and family! One sip of this Beergarita and you'll quickly tuck this recipe in our pocket to have it all Summer long!
5 Reasons Why I Love This Recipe!
Easy To Make! Just stir together in a large pitcher, pour on the rocks, and enjoy!
Citrus Flavor! A lot of margaritas are fruity so this citrus margarita is a refreshing and delicious change!
Fresh Lime Juice! Most recipes call for limeade but I chose to use freshly squeezed lime juice for the best flavor! Trust me, the fresh citrus taste is SO worth it!
Everyone Loves Them! You'll even see the guys lining up to refill their glasses! In fact, don't be surprised when it becomes their new favorite go-to drink to enjoy on game day!
Large Batch Cocktail! Who doesn't love whipping up a large batch cocktail? They make serving friends and family a breeze when you can just pour from a pitcher instead of making individual drinks!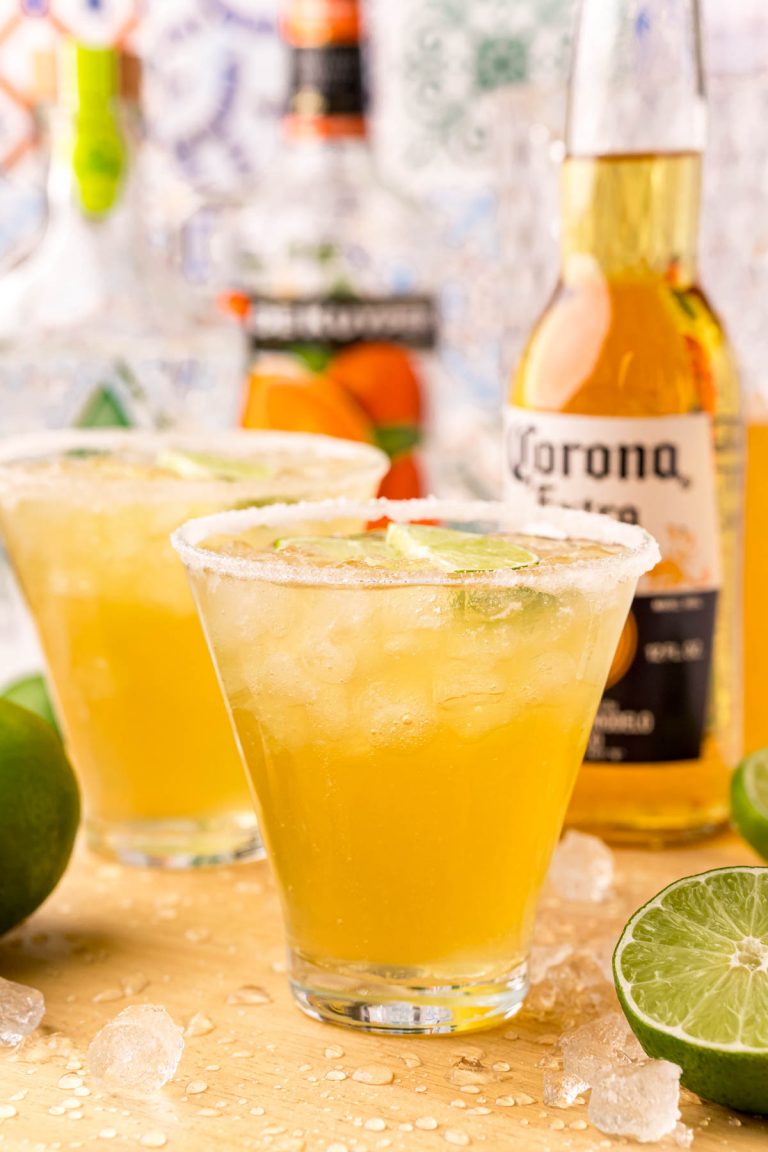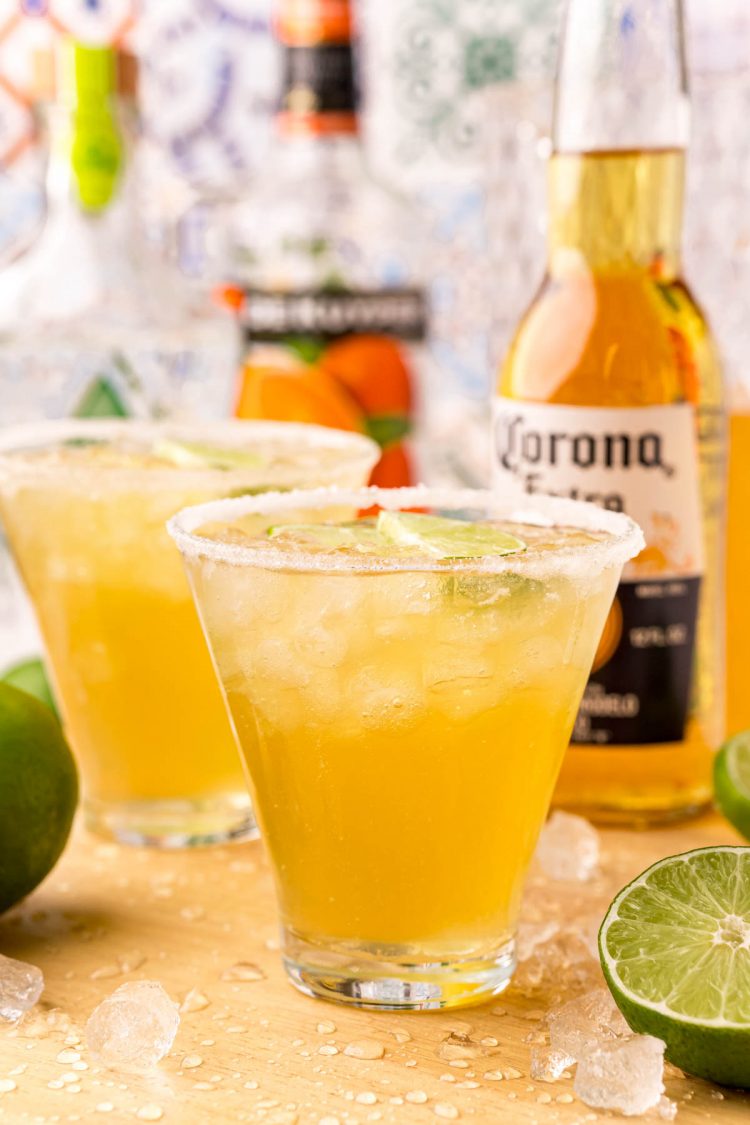 Ingredient Notes
This easy recipe has just a handful of ingredients, all of which make it easy to whip up two or three pitchers worth! To make Beer Margaritas you'll need to grab:
Tequila – Blanco tequila is usually the go-to for margaritas but chose whatever you like best!
Triple Sec – This sweet clear liqueur adds a touch of citrus while also balancing out the overall flavor of the drink.
Corona – You can use corona light beer or any other Mexican beer you prefer.
Lime Juice – Freshly squeezed limes fill this margarita with the best citrus flavor!
Agave Syrup – Adds a touch of sweetness to the cocktail.
Optional Garnish – Limes sliced up can be placed in each drink or hung off the rim of the glass!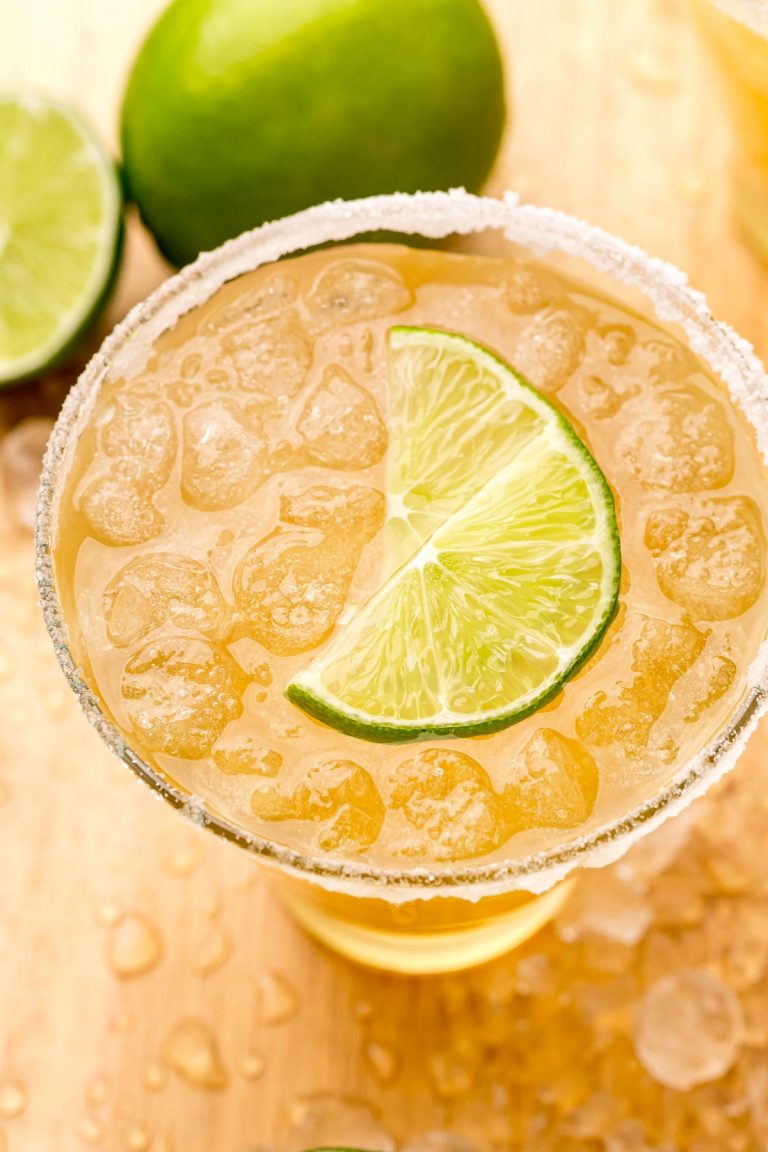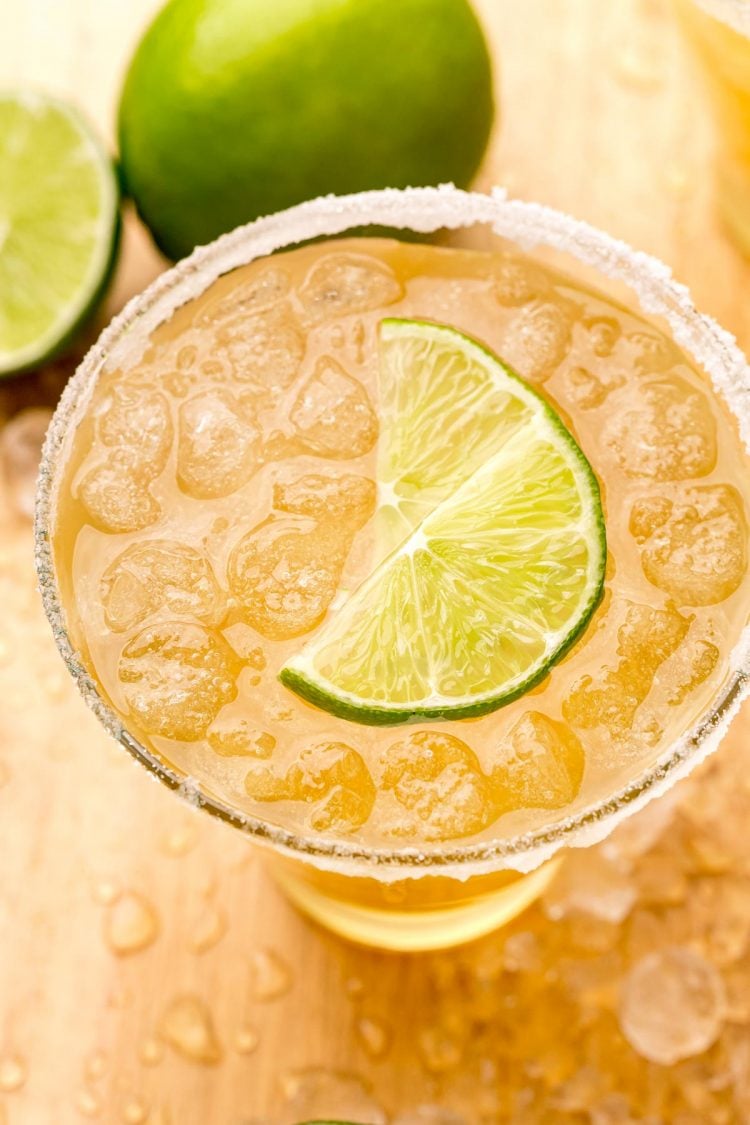 How To Make Beer Margaritas
Mix together the tequila, lime juice, triple sec, and agave in a large pitcher.
Add the beer and stir again.
Roll the rim of the margarita glass in salt or sugar.
Add ice to the prepared glass, pour in the beergartia, and garnish with a lime wedge!
Can I Make This Beer Margarita Stronger?
Yes, you can, just increase the tequila to 8 ounces for a stronger cocktail!
How Many People Will A Pitcher Serve?
Depending on the size of the serving glasses you choose to use this recipe will provide 4-6 people with a beergarita! Just simply repeat the recipe as many times as needed to have enough to serve your friends and family!
Do I Have To Use Agave In This Recipe?
The agave adds a slight boost of sweetener to balance the drink out! You can reduce the amount by half if desired.
You could also use my easy home Simple Syrup instead of agave!
Can This Recipe Be Made Into A Frozen Margarita?
Since the beer is carbonated it doesn't do well in a blender so this drink is best enjoyed on the rocks!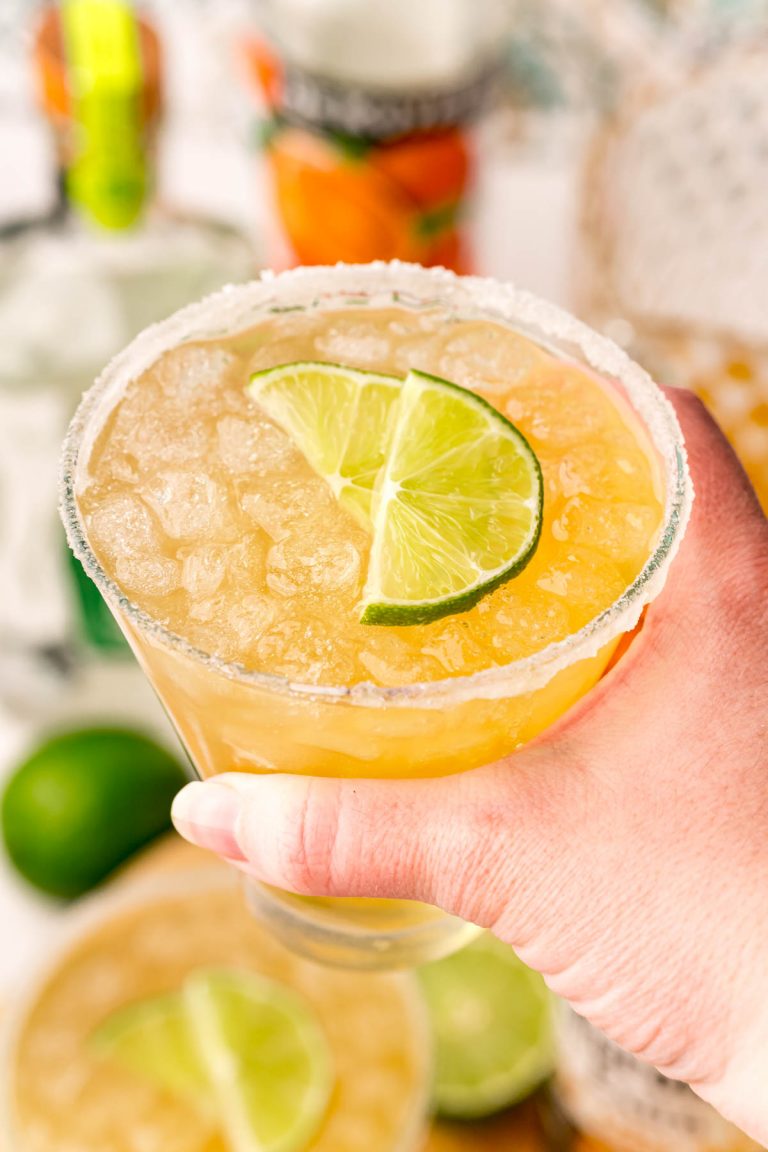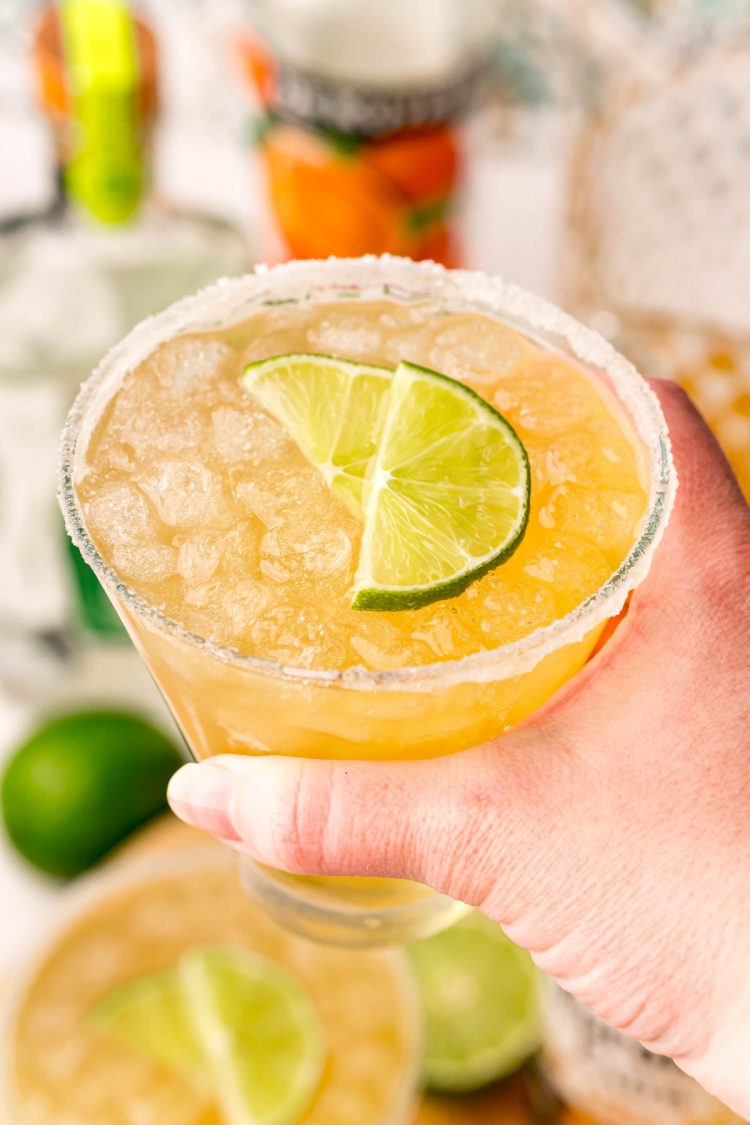 Once you finish off your Beer Margarita you'll be wanting to try more fun, tasty drinks to enjoy all Spring and Summer long! Here are more of my favorite Margarita Recipes that will quickly be added to your favorites list!
👋 Let's Connect!
If you've tried this recipe, please let me know how you liked it in the comments below and leave a review; I love hearing from you! And don't forget to tag me – @sugarandsoulco – on Instagram and Pinterest with your photos or join our Busy Family Recipes Facebook Community and share them there!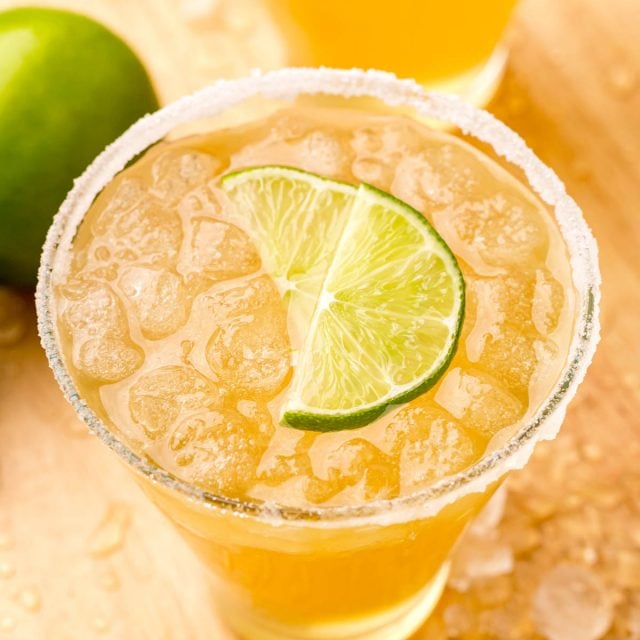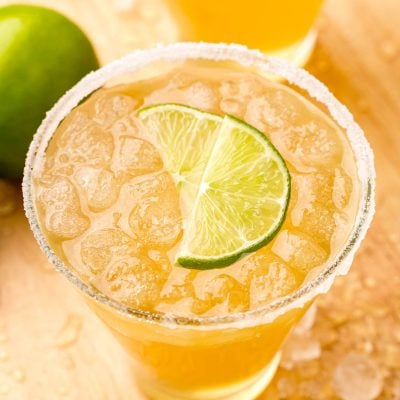 Beer Margarita
Welcome summer with a pitcher of these delightful and refreshing beer margaritas made with Corona, tequila, triple sec, lime juice, agave, and a sweet sugar rim!
Ingredients
6 ounces tequila
6 ounces lime juice fresh squeezed
4 ounces triple sec
4 ounces agave syrup
24 ounces Corona or other Mexican beer
Instructions
Add tequila, lime juice, triple sec, and agave to a large pitcher and stir until the agave has fully mixed.

Pour in the Corona and stir again.

Serve in sugar or salt-rimmed glasses over ice.
Notes
Agave can be reduced by half if desired.
Agave can be substituted with simple syrup.
This can serve anywhere between 4 and 6 people depending on glass size.
Tequila can be increased to 8 ounces for a stronger cocktail.
Nutrition
Calories: 347kcal | Carbohydrates: 51g | Protein: 11g | Fat: 1g | Saturated Fat: 1g | Polyunsaturated Fat: 1g | Monounsaturated Fat: 1g | Sodium: 10mg | Potassium: 676mg | Fiber: 7g | Sugar: 20g | Vitamin A: 14IU | Vitamin C: 9mg | Calcium: 106mg | Iron: 4mg