These Frozen Champagne Margaritas are a fun blend of silver tequila, bubbly champagne, limes, and ice!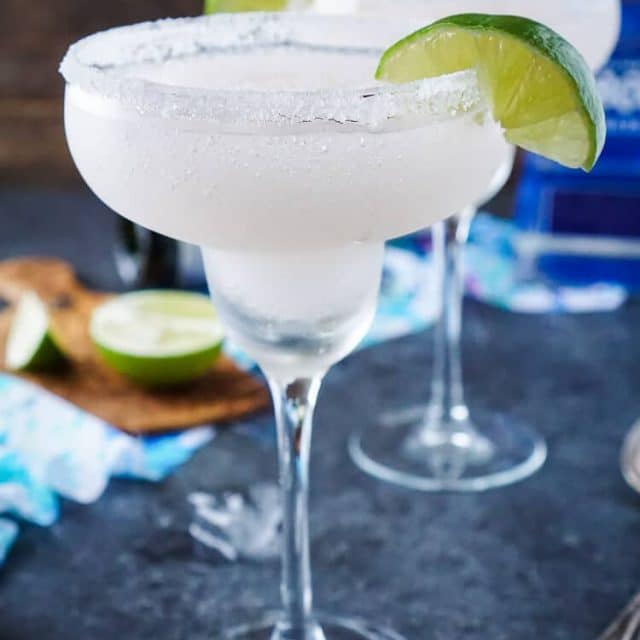 Frozen Champagne Margaritas are a fun blend of silver tequila, bubbly champagne, limes, and ice. Perfect for New Year's Eve and Cinco de Mayo!
Celebrate your special occasions with more fun margarita recipes such as my Spicy Jalapeno Margarita Cocktail that's finished off with rose petals and rose petal sea salt!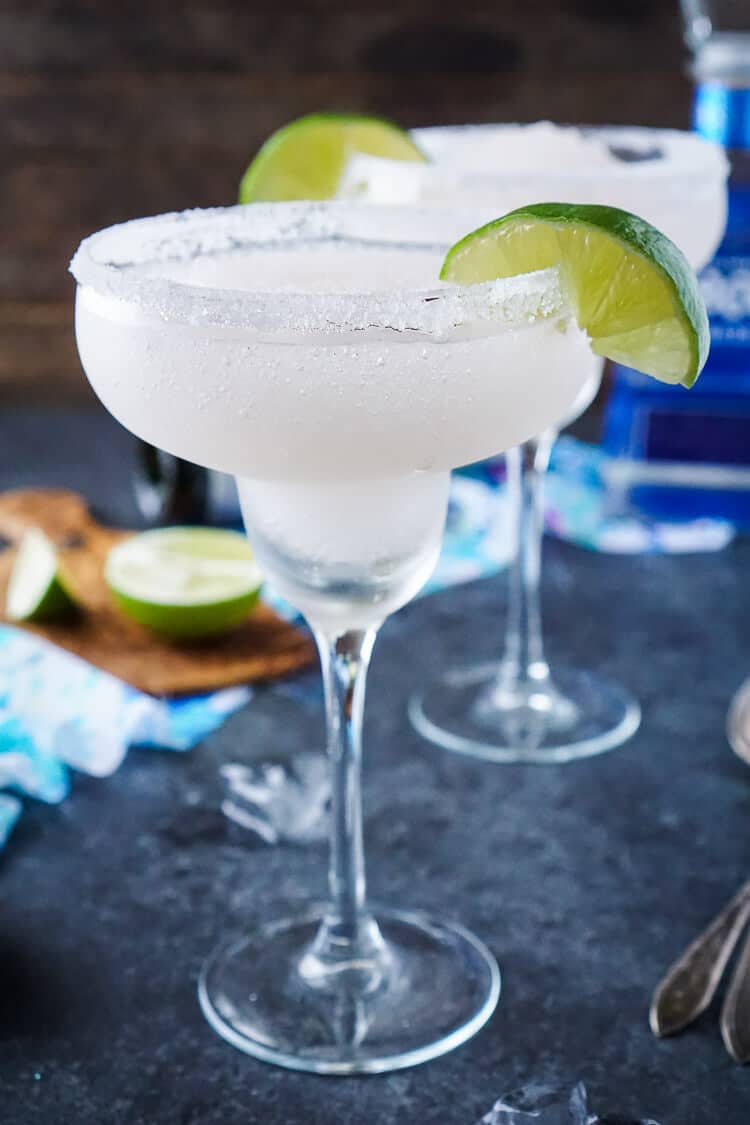 Whether you spend New Year's Eve in heels or slippers these Frozen Champagne Margaritas are a must-have! These are also great if you're looking for something a little different for Cinco de Mayo or just entertaining friends for game night!
The bubbly champagne pairs beautifully with the tequila and limes. While the ice makes it a slushy and fun drink that goes down quick and easy!
Luckily a batch of these margaritas come together in just 5 minutes by combining ice with 5 ingredients. Making it easy to enjoy one or to keep them flowing all night!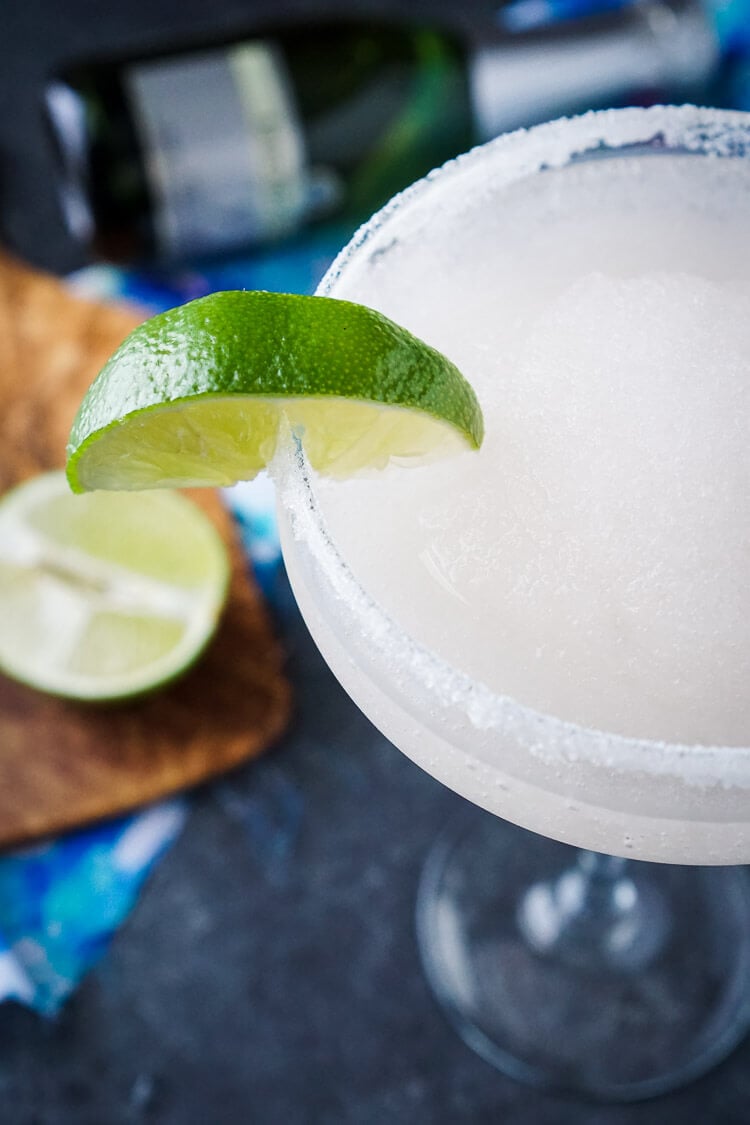 The Best Tequila For This Margarita
As with any of my cocktail recipes, you can always use what you have on hand! However, if you have to run out for tequila, I find the best choice for this margarita recipe is Blanco tequila.
Blanco tequila is also commonly known as silver or white tequila. This type of tequila is clear, unaged and is easily found where alcohol is sold.
If you prefer a margarita that has a bold tequila presence you can leave the Cointreau out of this drink recipe!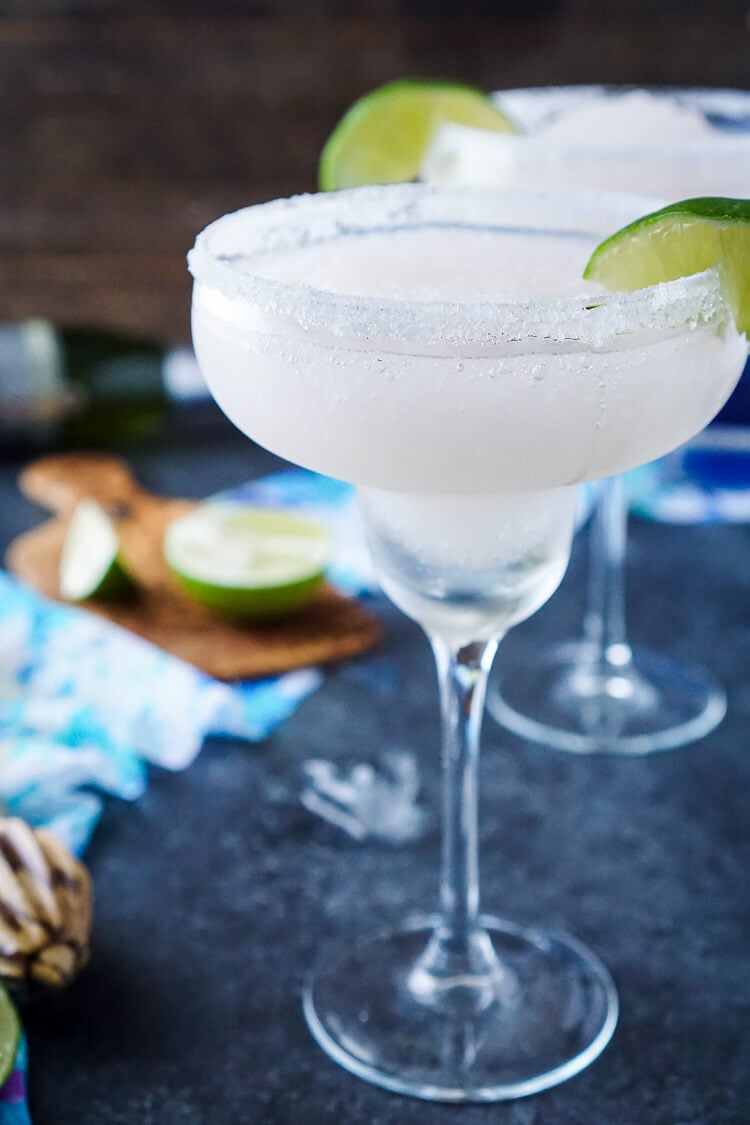 How To Make This Frozen Margarita Recipe
Chill The Ingredients – Since this is a frozen cocktail it's best to chill the ingredients beforehand. This way once you mix it in the blender with ice the margarita will stay colder for longer!
Lime Juice – Margaritas have the best flavor when they're made with fresh lime juice! To make juicing your limes easier, first place them in the microwave for 10 to 15 seconds. Then using the palm of your hands roll them back and forth on the counter to loosen up the inside of the limes. Afterward, slice the limes in half and then use a citrus press to squeeze and collect the lime juice.
Sweetener – To sweeten these margaritas I use granulated sugar. However, you could also use agave nectar or simple syrup. If you prefer a sweeter margarita, I'd recommend first making this recipe and then adding in extra sweetener until the drink reaches your desired taste.
Garnishes – Finish your frozen champagne cocktails off with a sugar or salt rim and a lime wedge!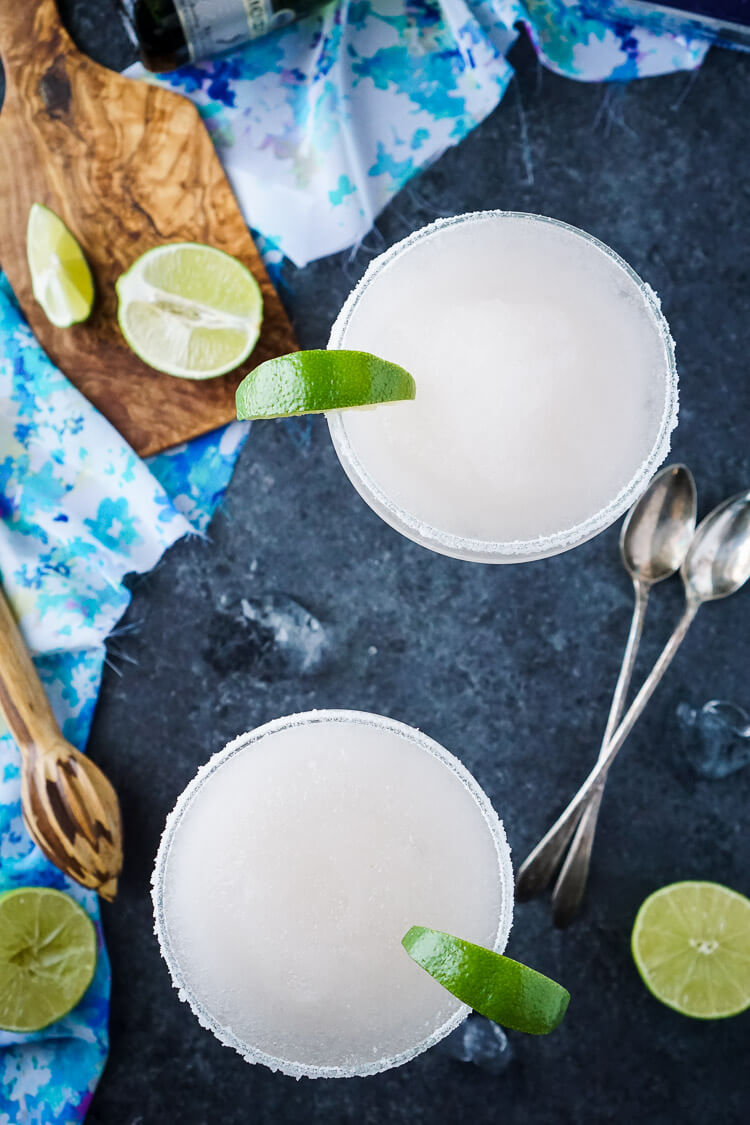 Every celebration is taken to the next level with these Frozen Champagne Drinks! For more celebratory drink options check out my Elderflower Champagne Cocktail and Champagne Mojito Recipe!
Though if you prefer a chilled champagne treat my Champagne Jello Shots and Raspberry Champagne Slushies are both great options!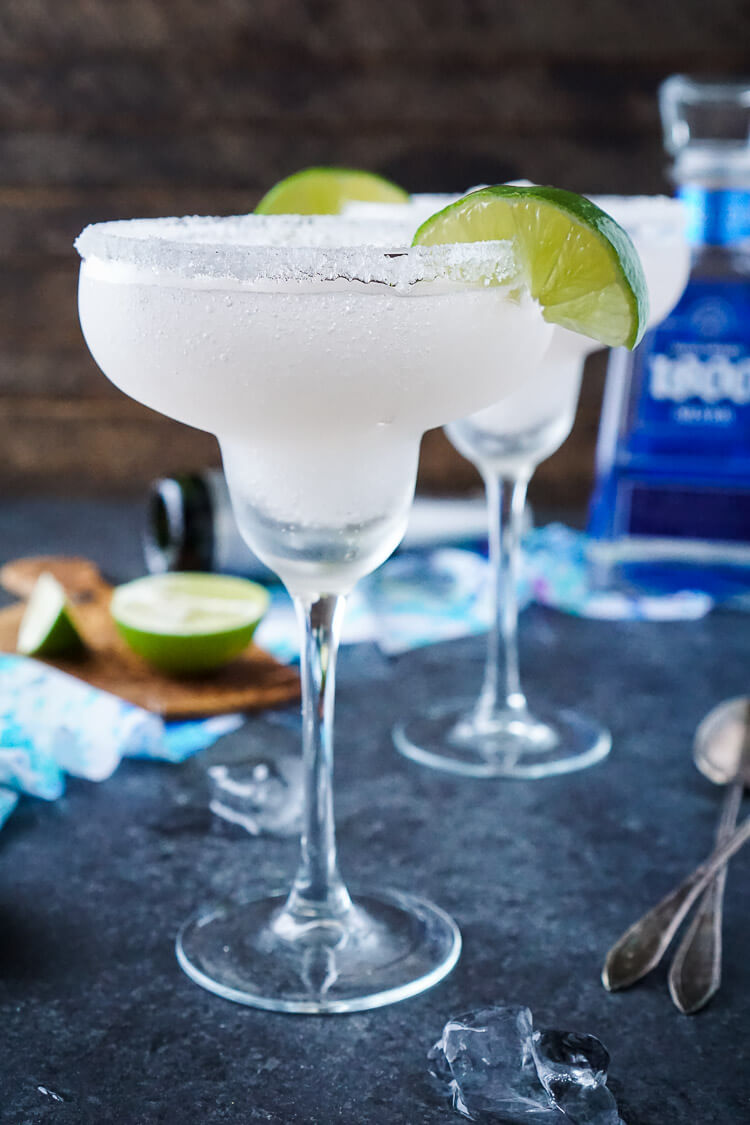 How Many Frozen Drinks Does This Recipe Make?
This will depend on the size of the glasses you're using to serve the margaritas in. When I make this recipe, I can comfortably serve up 4 drinks in my margarita glasses.
What Is Brut Champagne?
Champagnes are broken down into levels by how sweet they are. The word "brut" is French for dry. Meaning, brut champagne is the driest, least sweet option.
Is There A Substitution For Cointreau?
Yes, Cointreau can be substituted for an equal amount of triple sec. If needed, Cointreau can even be left out of this margarita recipe altogether.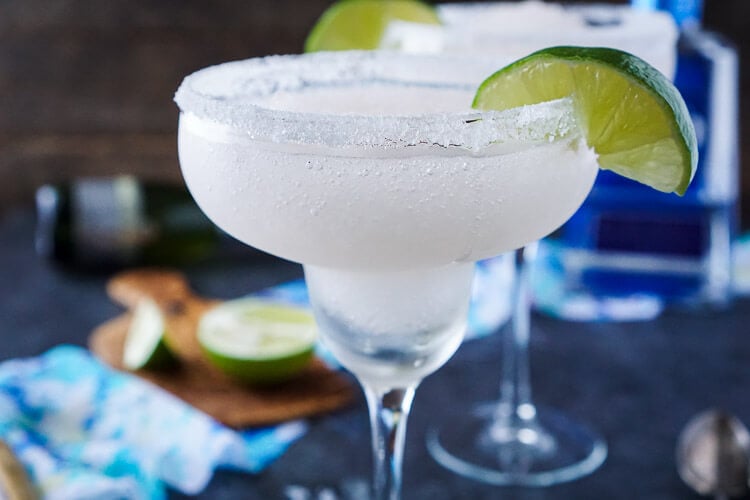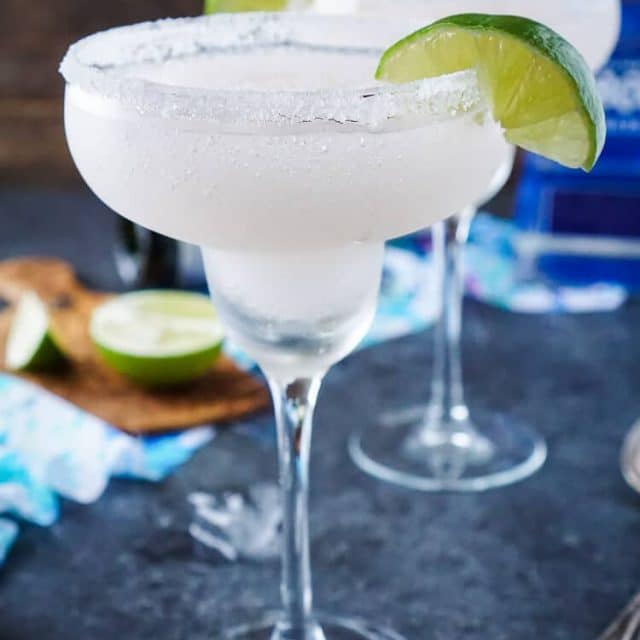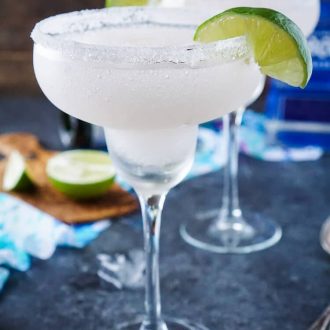 Frozen Champagne Margaritas
These Frozen Champagne Margaritas are a fun blend of silver tequila, bubbly champagne, limes, and ice!
Ingredients
6 cups ice
¼ cup Cointreau
⅓ cup lime juice
¼ cup silver tequila
1 cup brut champagne
3 tablespoons granulated sugar
1 lime sliced
sugar or salt for rim I prefer sugar
Instructions
Combine ice, Cointreau, lime juice, tequila, champagne, and sugar in a blender and pulse until slushy.

Run a lime wedge along the edge of the margarita glasses then upend the glass in sugar or salt to line the rim.

Pour margaritas into glasses and garnish with a lime wedge.
Notes
Cointreau can be substituted for triple sec or left out entirely to let the tequila shine.
Nutrition
Calories: 154kcal | Carbohydrates: 18g | Protein: 1g | Fat: 1g | Saturated Fat: 1g | Polyunsaturated Fat: 1g | Monounsaturated Fat: 1g | Sodium: 24mg | Potassium: 98mg | Fiber: 1g | Sugar: 15g | Vitamin A: 18IU | Vitamin C: 11mg | Calcium: 25mg | Iron: 1mg