Mix up your Taco Tuesday menu with this Taco Pizza, it's everything you love about the classic weeknight meal on a delicious flatbread for a quick and easy dinner idea the whole family will love!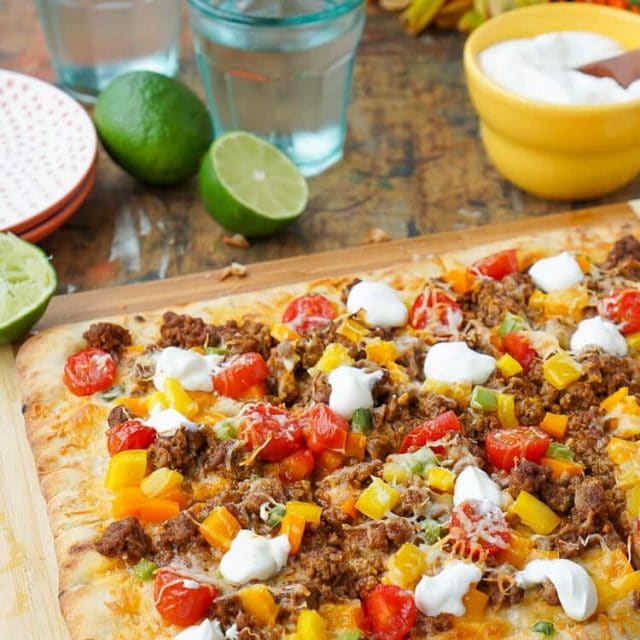 Taco Pizza is everything you love about the classic weeknight meal on a delicious flatbread for an easy dinner option your family will love! Ready in 30 minutes or less!
For more quick and easy Pizza Recipes try my 5-Ingredient Mini Pizzas or Classic Margherita Pizza, both are made with canned refrigerated dough!
Mix up your Taco Tuesday menu with this delicious Taco Pizza! All you have to do is pile cooked ground beef, fresh vegetables, and shredded cheese onto flatbread pizza sheets and bake!
Enjoy a slice with an ice-cold Strawberry Margarita, with friends while celebrating Cinco de Mayo, or really, any day! Because every day is a good day to have tacos anyway!
You can also find me mixing up taco night with The Best Taco Salad or even these Easy Taco Sliders!
Why I Love This Taco Pizza Recipe!
30 Minute Meal! A 30 minute meal on Taco Tuesday makes me look foward to the tastiest day of the week even more!
Easy To Make! Simply cook up the ground beef, dice up the vegetables, and then toss it all onto flatbread pizza sheets!
Customizable! Just like with traditional tacos you can totally customize what you do and don't put on these Taco Pizzas!
Use Up Leftovers! Have leftover Taco Meat from Tuesday? Then use it to make this pizza recipe the next day! Two Taco days in a row bring nothing but happiness anyway!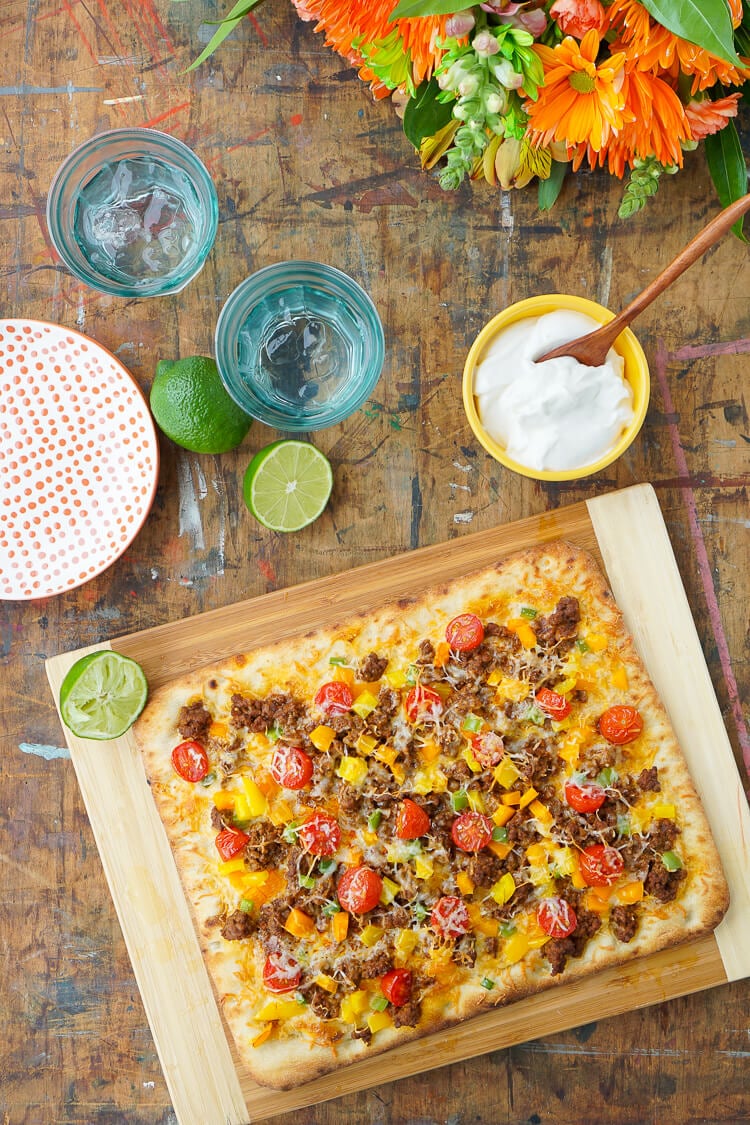 Ingredient Notes
This Taco Pizza Recipe closely resembles what you'd generally grab for traditional Tacos! However, the obvious difference is the flatbread pizza sheets that act as the crust for the pizzas.
Before the toppings are added on the flatbreads are brushed with a coating of olive oil. From there you'll need ground beef and a packet of taco seasoning along with the water it requires.
The rest of the Taco Pizza Toppings include Mexican cheese, an orange bell pepper, a yellow bell pepper, grape tomatoes, and finely diced jalapeno pepper. Once the pizza has been assembled and baked you'll want to finish them off with your favorite taco toppings!
In our house we love:
Sour Cream
Salsa
Guacamole
Lettuce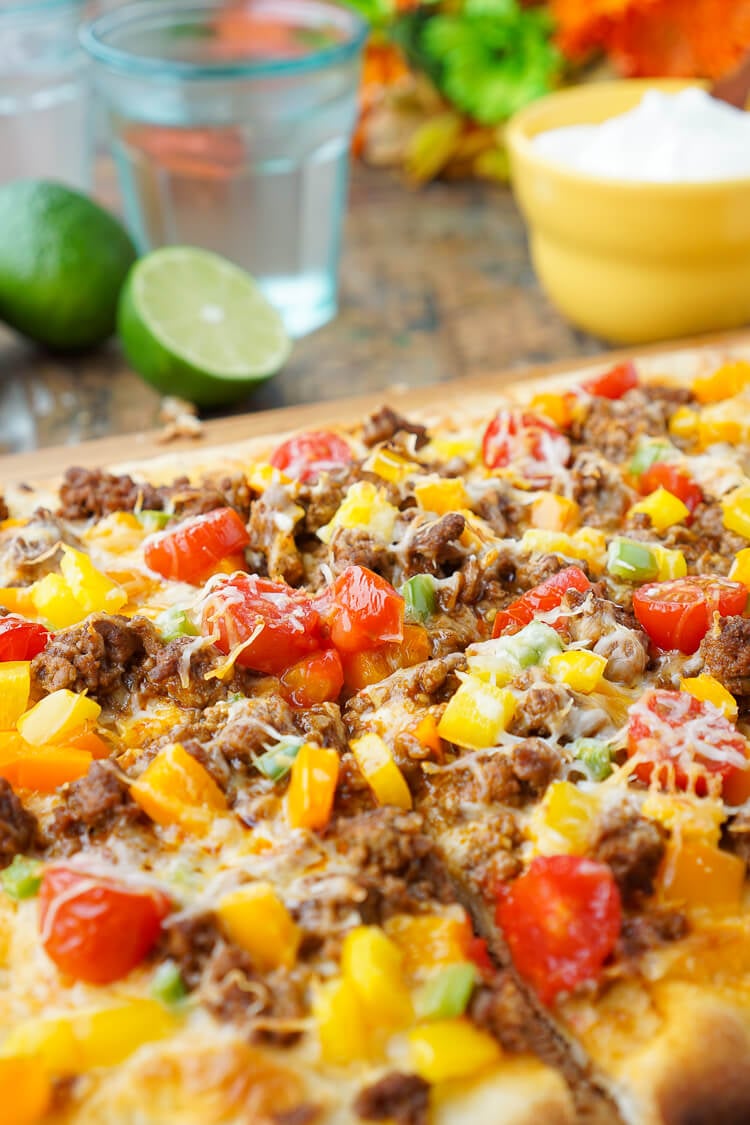 How To Make Taco Pizza
Cook the ground beef according to the instructions on the taco seasoning envelope.
Brush the flatbread sheets with olive oil.
Prepare the vegetables.
Sprinkle the flatbreads with shredded cheese, taco meat, and vegetables. Then top with the remaining shredded cheese.
Bake the pizzas in the oven and then add on your favorite taco toppings. Enjoy warm!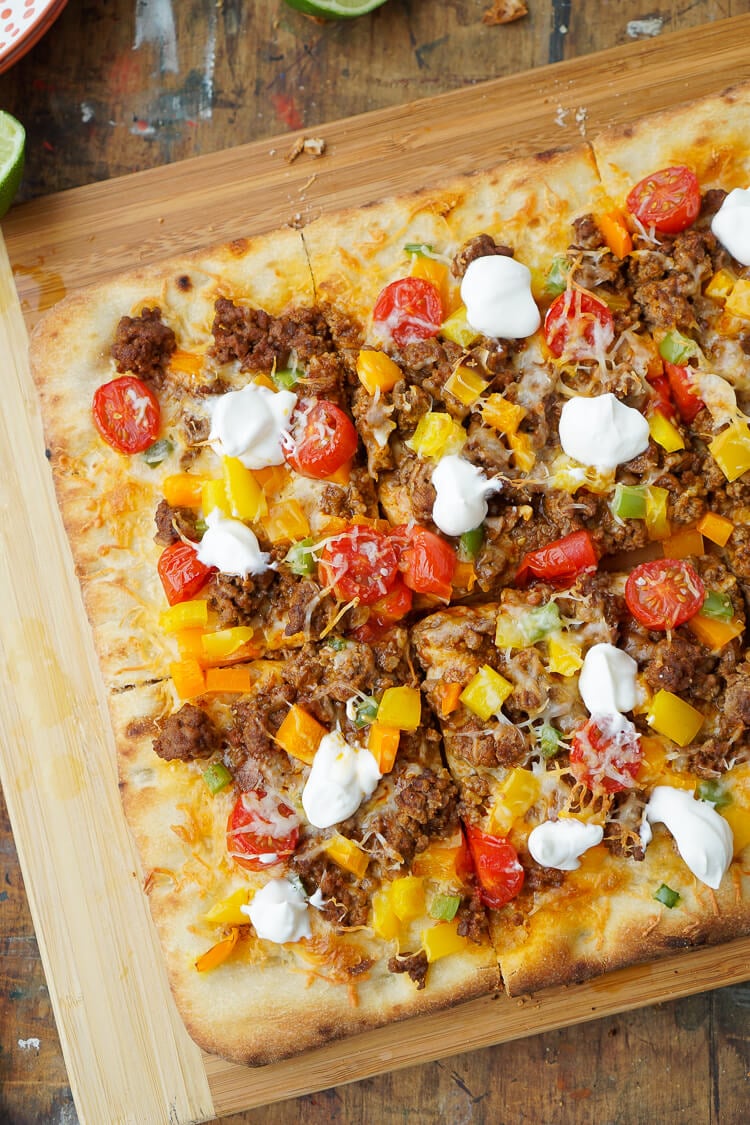 Frequently Asked Questions
How To Store Leftovers
Store leftover Taco Pizza wrapped tightly in plastic wrap or in an airtight container in the refrigerator. Enjoy within 2 to 3 days!
What Other Crusts Can I Use For This Taco Pizza?
You could also use a homemade pizza crust, store-bought crust, or even soft tortillas! If you opt for pizza dough you will want to pre-cook it before adding on the taco toppings.
How Can I Make This Taco Pizza Spicier?
Try using an envelope of the Hot & Spicy Taco Seasoning mix when making this recipe! Or add more diced-up jalapeno peppers to the pizza!
Can I Add Refried Beans To The Pizza?
Of course! I'd recommend spreading a layer over the crust before adding the pizza toppings.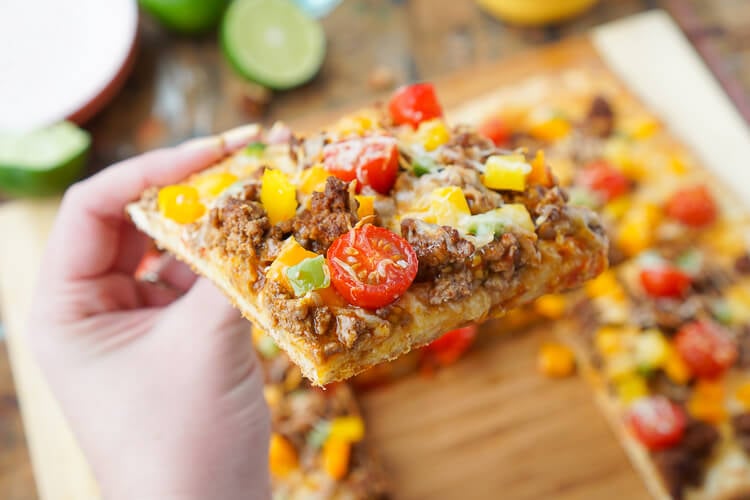 This Flatbread Mexican Pizza adds some life back into our weekly Taco Tuesdays at home! Tuck a few more delicious taco recipes to the side to save for next Tuesday!
👋 Let's Connect!
If you've tried this recipe, please let me know how you liked it in the comments below and leave a review; I love hearing from you! And don't forget to tag me – @sugarandsoulco – on Instagram and Pinterest with your photos or join our Sugar & Soul Show-offs Community and share them there, where you can join our recipe challenges and win prizes!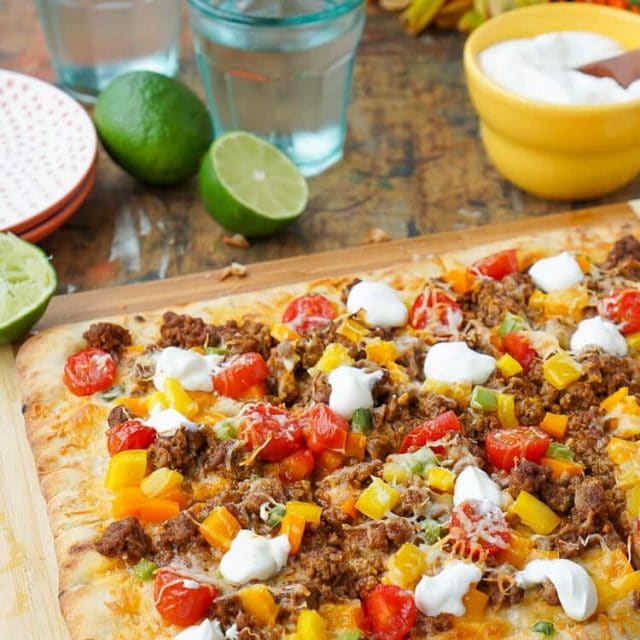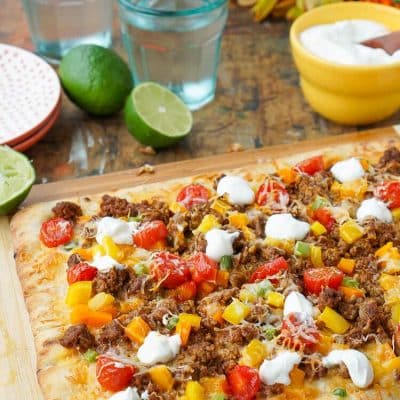 Taco Pizza
Mix up your Taco Tuesday menu with this Taco Pizza, it's everything you love about the classic weeknight meal on a delicious flatbread for a quick and easy dinner idea the whole family will love!
Ingredients
1 lb ground beef
1 packet taco seasoning plus water required
2 flatbread pizza sheets
2 tablespoon olive oil
2 cups shredded Mexican cheese
1 orange bell pepper diced
1 yellow bell pepper diced
1 cup grape tomatoes sliced
½ jalapeno pepper finely diced
Instructions
Preheat oven according the the temperature on the flatbread package.

Cook ground beef according to taco mix instructions. Meanwhile, brush flatbread sheets with olive oil and prep your vegetables.

Sprinkle each of the flat breads with 3/4 cup shredded cheese, top with half the taco meat and half of the vegetables. Sprinkle the top with the remaining 1/4 cup of cheese and bake for 10-12 minutes.

Top with extra toppings if desired and serve hot.
Nutrition
Calories: 323kcal | Carbohydrates: 11g | Protein: 18g | Fat: 23g | Saturated Fat: 10g | Polyunsaturated Fat: 1g | Monounsaturated Fat: 10g | Trans Fat: 1g | Cholesterol: 67mg | Sodium: 641mg | Potassium: 298mg | Fiber: 2g | Sugar: 2g | Vitamin A: 1255IU | Vitamin C: 52mg | Calcium: 208mg | Iron: 2mg