Chopped Kale Salad is a satisfying healthy option that's loaded with fresh produce, quinoa, craisins, and sliced almonds, ready in just 25 minutes! Enjoy it as a wholesome side dish or top it with chicken or chickpeas for a light meal!
My Grilled Chicken Salad and Strawberry Spinach Salad are also deliciously healthy options to add to your meal prep lineup!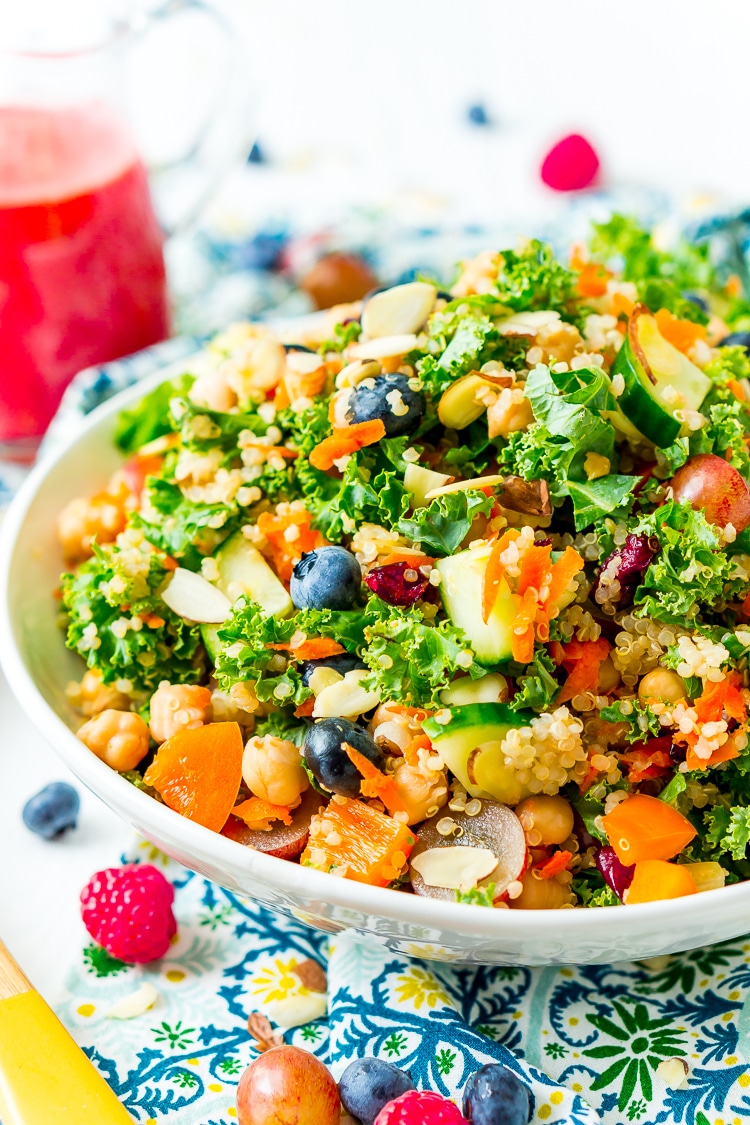 This Chopped Kale Salad can be enjoyed as a hearty lunch, a healthy side dish, or as a delicious contribution to a cookout or get-together! This easy-to-make recipe is filled with fresh produce, juicy fruit, and protein-rich quinoa!
One of the things I love most about this recipe is that it features tons of produce. Whether you get it at the grocery store, frequent the farmer's market, or grow your own, this salad is a wonderful way to enjoy tasty fresh flavor!
Top it with grilled chicken for a satisfying lunch or light dinner or add chickpeas for a boost of vegetarian-friendly protein. I like to enjoy it in various ways to keep my lunch for the week exciting!
All About This Kale Quinoa Salad
Taste: This wholesome recipe is filled with sweet, tart, and savory flavors! Making it so this dish can go with everything from hamburgers and hot dogs to sandwiches, steak, and anything in between!
Texture: In this simple Kale Salad there's juicy red grapes, plump blueberries, and chewy Craisins! Rounding off the ingredients are orange bell peppers, grated carrots, European cucumbers, and sliced almonds which add a satisfying crunch to the list of textures!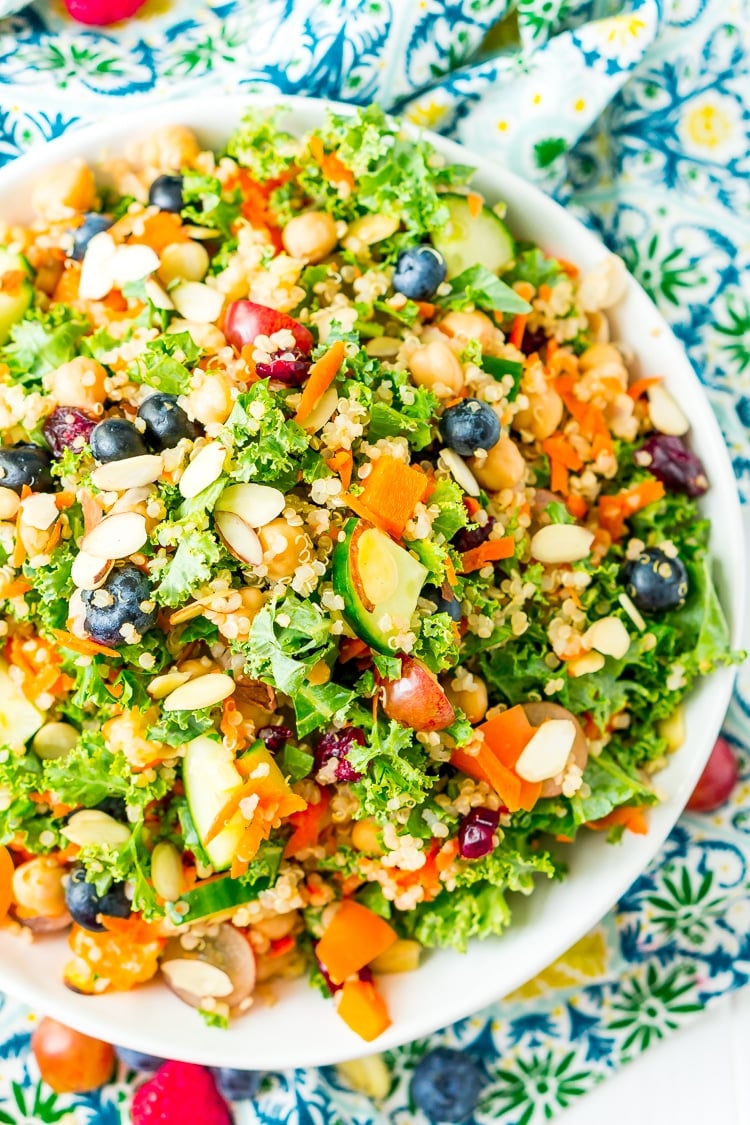 Enjoy This Easy Kale Salad As Is Or Add To It!
This kale and quinoa salad is great to enjoy as is! And since this recipe has no dairy, no meat, and is gluten free it also makes an easy base to build off of to make it exactly what you need and want!
If you're not dairy free maybe you'd like to add in feta cheese for some creaminess! Or if you want to bulk the salad up you could add in grilled chicken or crumbles of bacon to make it a bit heartier.
This recipe also makes it easy to swap ingredients in and out! If you don't like grape or blueberries, you could make this into a strawberry kale salad or a kale salad with apples.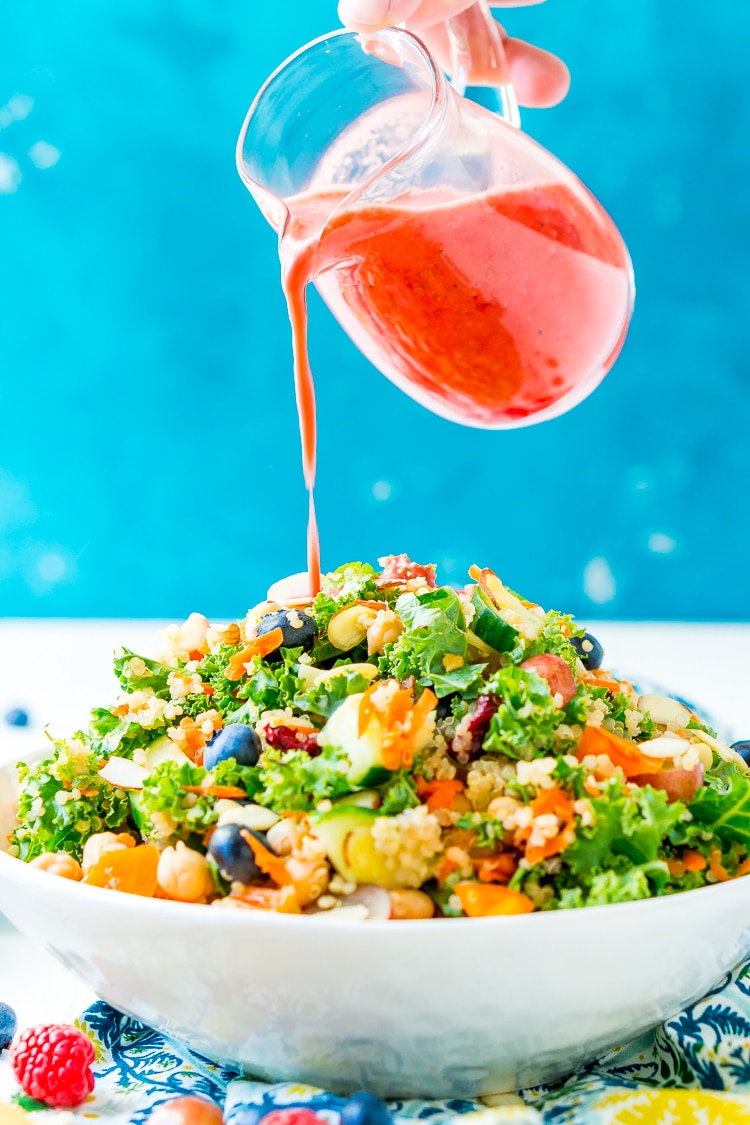 How To Make Kale Salad
Quinoa – If you're new to cooking quinoa it's actually quite easy! You'll know the quinoa is ready when it becomes fluffy, slightly translucent, and looks like it's popped open. I do recommend letting the quinoa cool for a bit before adding it to the salad!
Kale – To make this recipe the kale needs to be destemmed. This is done by pulling the leaves off the stem that runs through the middle. To easily do this, take the stalk of kale and place it between your thumb and index finger. Then use your other hand to pull it through while you apply pressure, causing the kale to separate from the stem.
Dressing – You can dress Kale Salad with any sweet or savory dressing that you love! I usually toss it in a tangy homemade Raspberry Vinaigrette.
Serving – Be sure to leave the protein and dressing off of the salad until right before serving. This way the salad doesn't become soggy before you have a chance to enjoy it!
What Can I Serve With This Chopped Kale Salad?
If you're serving this as a side, it goes great with any grilled meat! From BBQ Baby Back Ribs to An Epic Rib Eye Steak and even Grilled Pork Tenderloin, this salad will compliment it all!
You can also pair this salad with Homemade Lasagna or even Oven Burgers!
How Do I Store This Salad?
If you plan to store this salad, do not top it with the protein or dressing. Instead keep them separate and top the salad with them before enjoying.
Store the salad in an airtight container or tightly sealed Ziploc bags in the refrigerator for up to one week.
Do I have To Grate Carrots For This Recipe?
Not at all! If you want to skip grating carrots, you can just add in some storebought shredded carrots instead.
👋 Let's Connect!
If you've tried this recipe, please let me know how you liked it in the comments below and leave a review; I love hearing from you! And don't forget to tag me – @sugarandsoulco – on Instagram and Pinterest with your photos or join our Busy Family Recipes Facebook Community and share them there!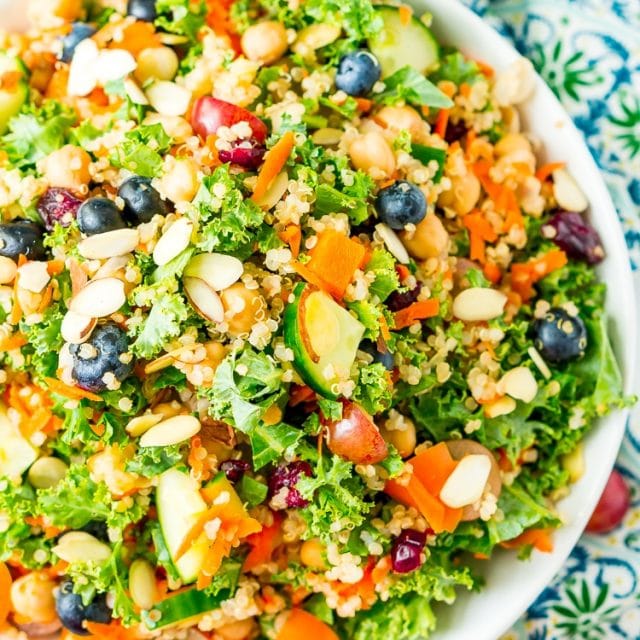 Chopped Kale Salad
Chopped Kale Salad is loaded with kale, red grapes, orange bell peppers, white quinoa, grated carrots, European cucumbers, Craisins, and sliced almonds. Enjoy it as a wholesome side dish or top with chicken or chickpeas for a light and satisfying meal.
Ingredients
1/2

cup

uncooked white quinoa

4

cups

de-stemmed kale,

chopped

1

cup

red grapes,

halved

1

cup

blueberries

1/2

cup

sliced almonds

1

orange bell pepper,

diced

1

carrot*,

grated

1

cup

craisins

1/2

European cucumber,

quartered and chopped

15

ounce can

chick peas,

drained and rinsed
Instructions
Cook the quinoa according to package directions.

While the quinoa is cooking, prepare and add the remaining ingredients to a large bowl and toss to combine. Once quinoa has finished cooking, mix it into the salad.

Salad will keep in the fridge for 3 to 4 days without dressing, add dressing just before enjoying.
Notes
Can use shredded carrots instead of grating a carrot.
Chicken or crumbled bacon can be added if desired.
Feta cheese may also be added.
Nutrition
Calories:
274
kcal
Carbohydrates:
47
g
Protein:
10
g
Fat:
7
g
Sodium:
24
mg
Potassium:
581
mg
Fiber:
7
g
Sugar:
18
g
Vitamin A:
5145
IU
Vitamin C:
63.3
mg
Calcium:
114
mg
Iron:
3.2
mg