These Spinach & Chicken Crepes are soft and stuffed with lemon chicken, spinach, almonds, and ricotta and served under a thick and creamy white wine sauce.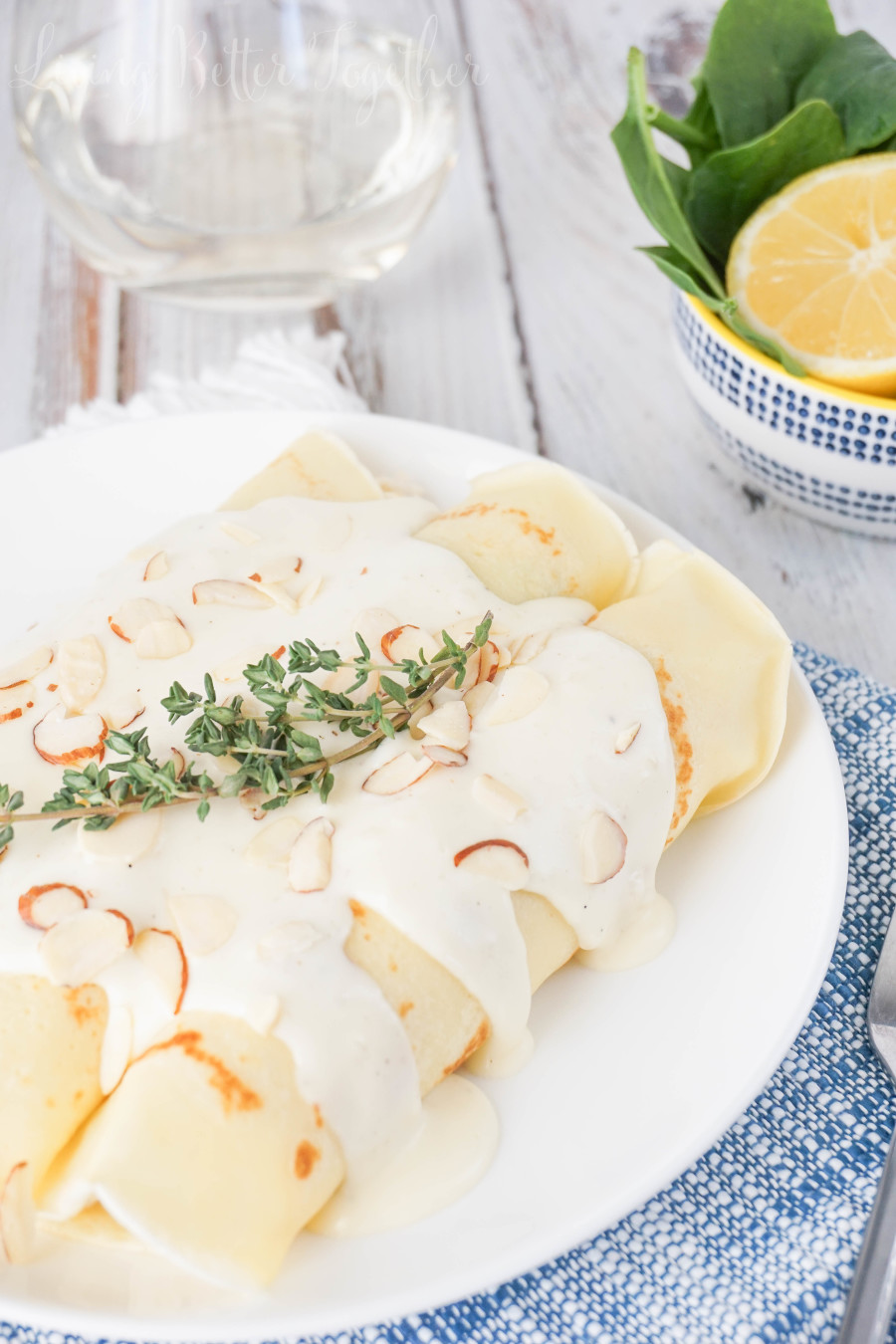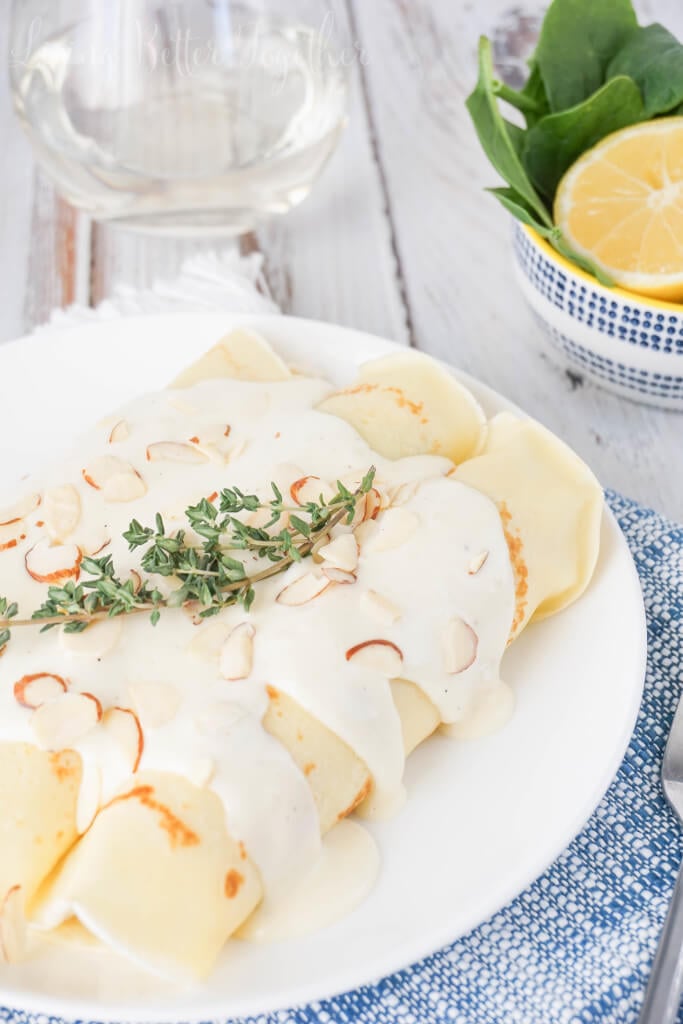 If you were to ask me what my favorite dinner dish is, I'd tell you chicken crepes. The restaurant we held our rehearsal dinner at and usually go to on my birthday has these chicken crepes that are out-of-this-world-good! They're loaded with chicken, grapes, and almonds and served over rice pilaf with this amazing white wine sauce I could drink out of a jug!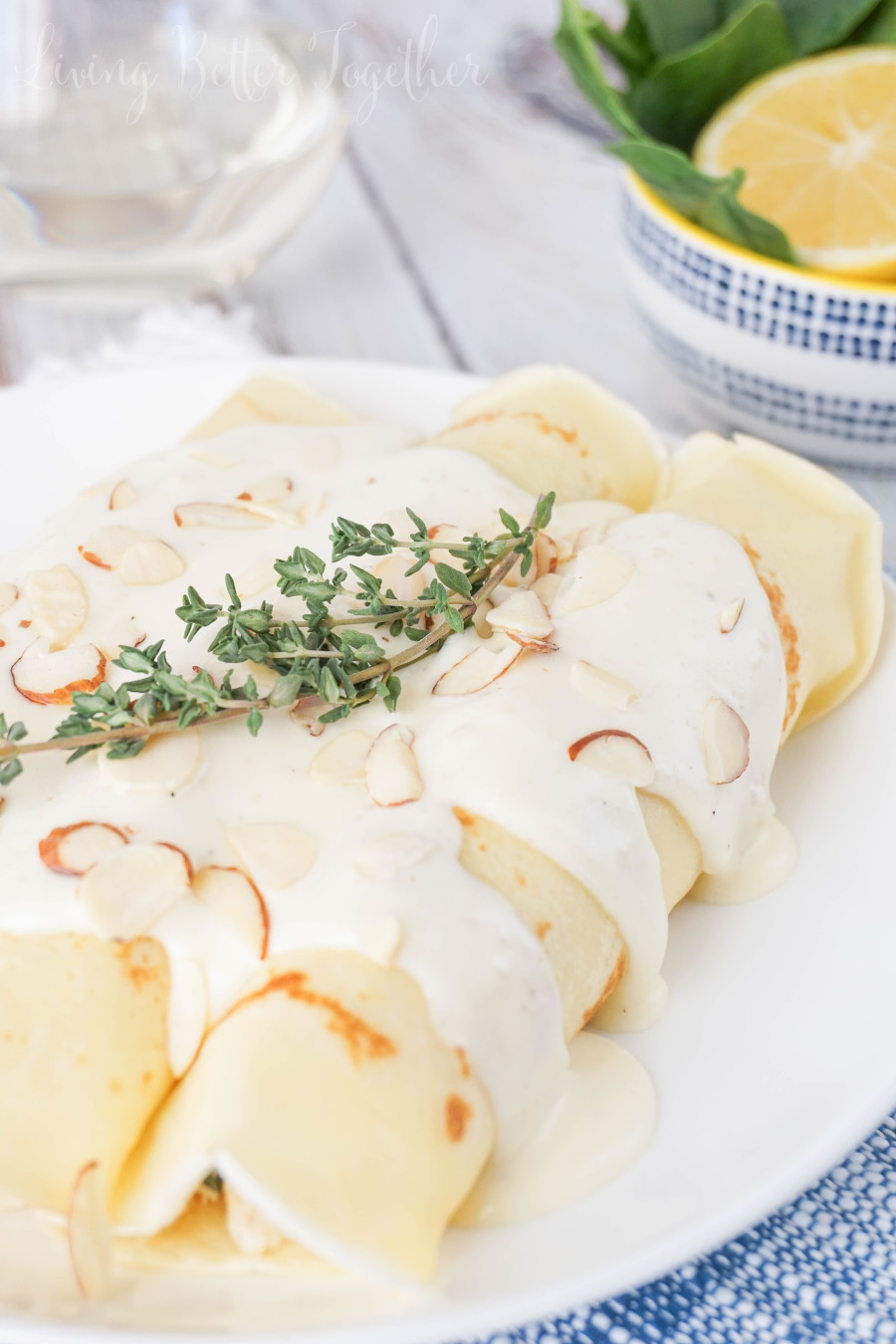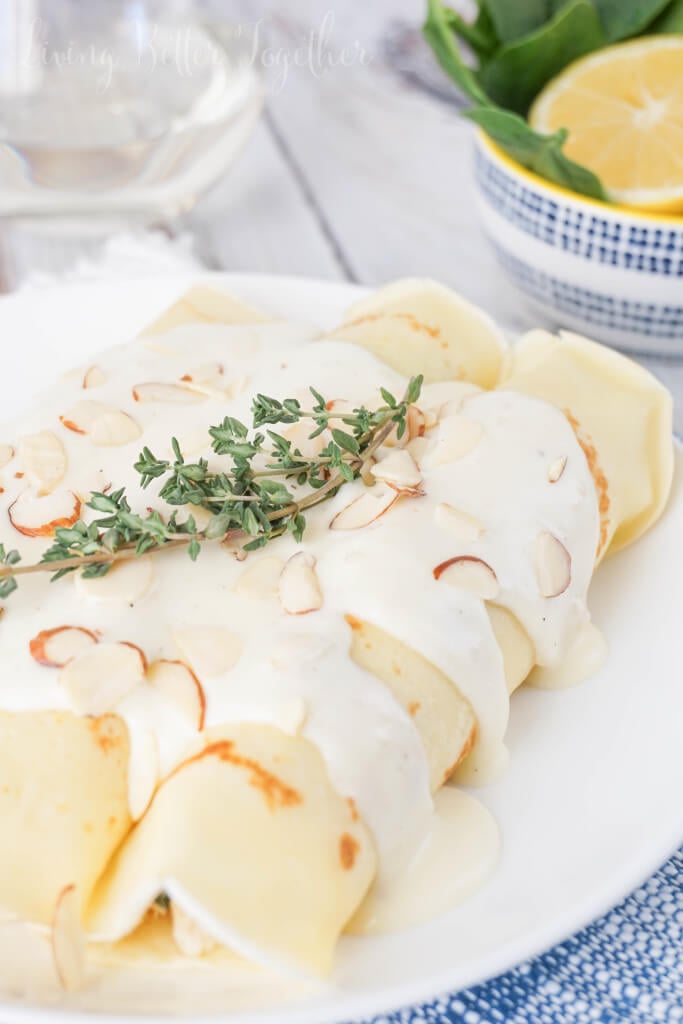 Now, I'm not much of a chef, more of a baker, obviously. But when this month's Mystery Dish ingredients were announced, I decided to try and make my favorite dish at home. While it's not quite the same as the dreamy recipe at the restaurant, my lemon and spinach version is still pretty great!
Have you ever had SAVORY crepes? I love them, and really should make more of them. I love having them filled with steak and eggs in the morning and one of my favorite restaurants ever is the Island Creperie on Anna Maria Island in Florida. Crepes are so versatile and I really think I need to eat more of them! You think so too, right?
These crepes are really easy to make even if they don't look it! The crepe batter has to sit for at least an hour, but you can make it up to 48 hours ahead of time! You can also whip up the chicken salad filing early and saute it with the spinach just before serving.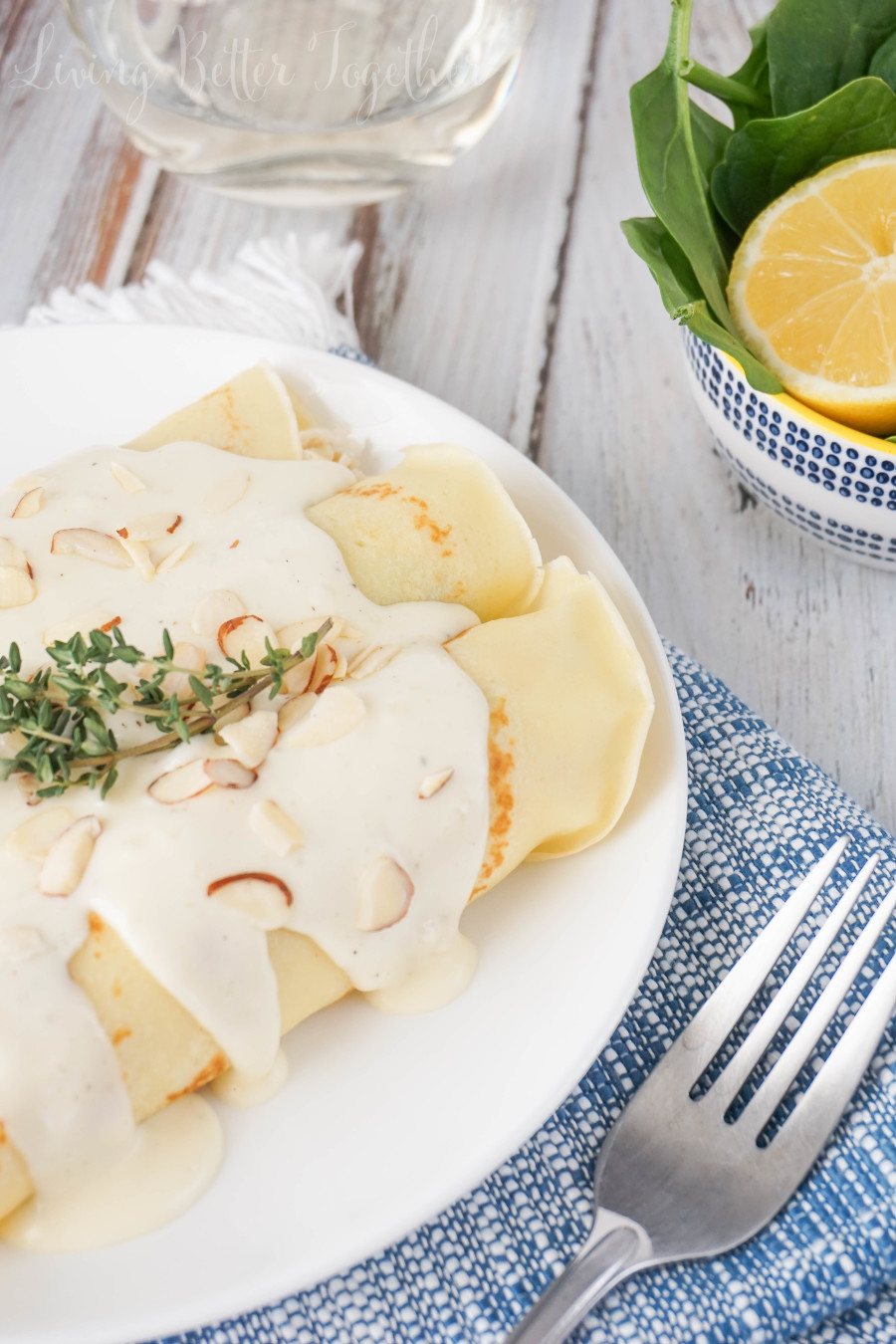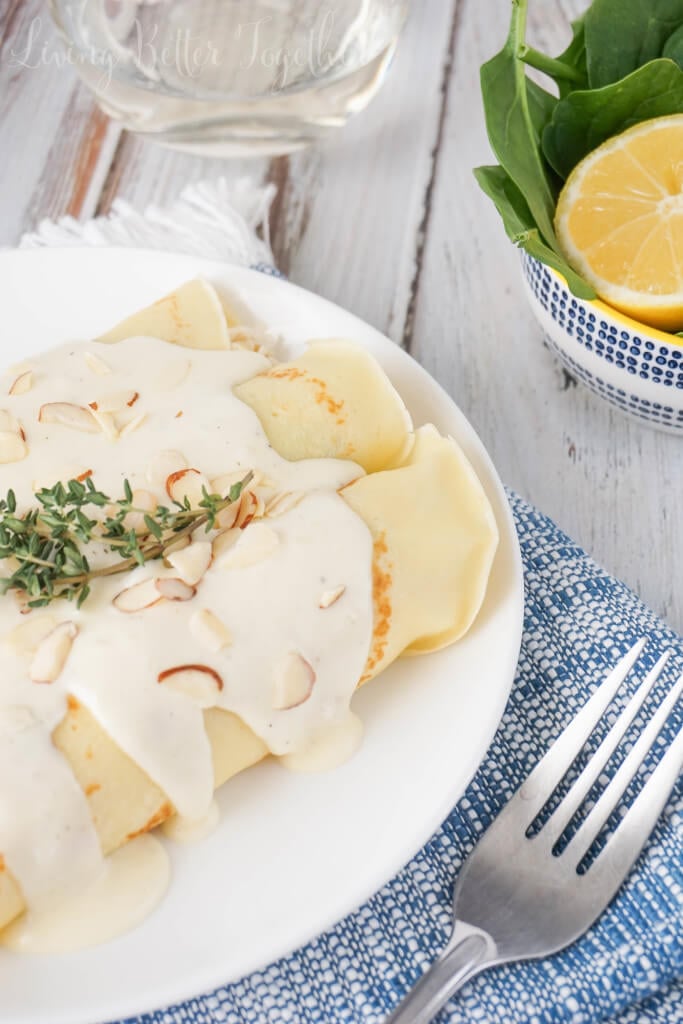 These crepes are perfect for a late brunch or dinner. The spinach and little bursts of lemon brighten up the otherwise rich dish and the almonds add the perfect amount to texture and crunch to the filling!
Don't forget to scroll down to find out what my lovely friends made with their mystery box ingredients!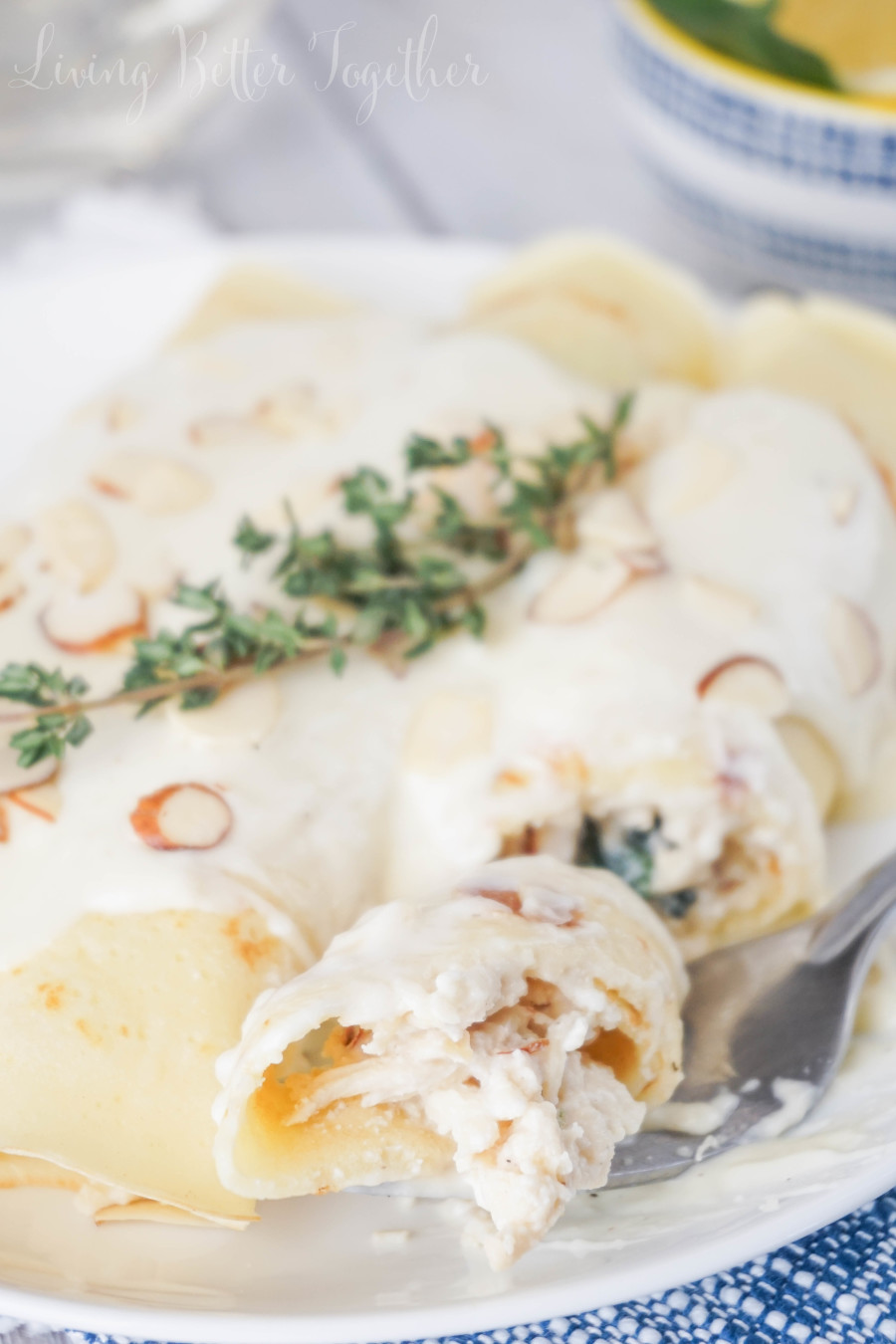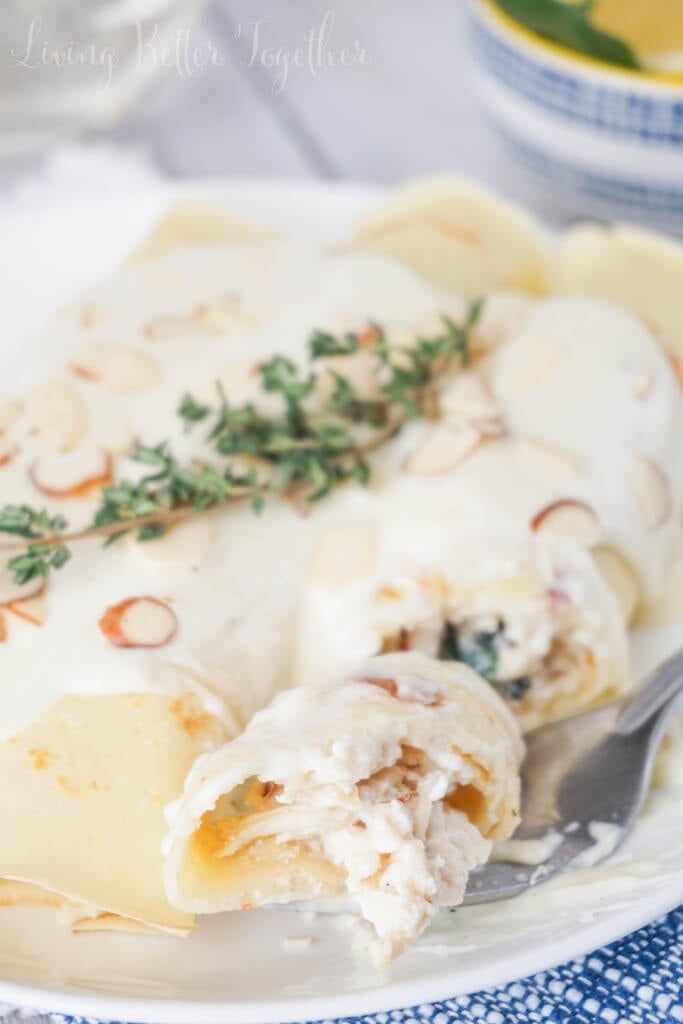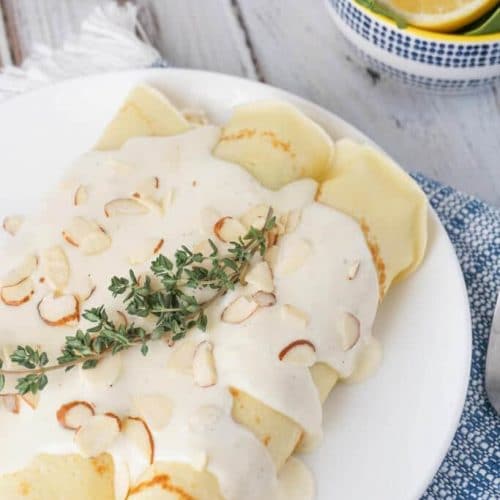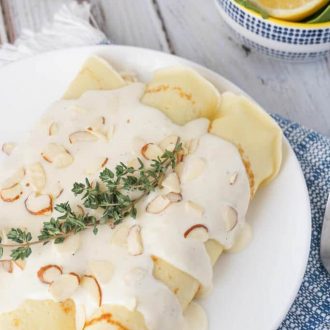 Spinach & Chicken Crepes with White Wine Cream Sauce
These Spinach & Chicken Crepes are soft and stuffed with lemon chicken, spinach, almonds, and ricotta and served under a thick and creamy white wine sauce.
Ingredients
Crepes:
1

Large Egg

1/3

cup

Milk

1/4

cup

Water

1/2

cup

Flour

1 1/2

tbsp

Butter

melted
Instructions
Crepes:
Combine all ingredients in a blender and pulse for 10 seconds. Refrigerate for at least 1 hour and up to 48.

Once batter has set, heat a small pan and add butter.

Pour about an ounce of batter into the center of the pan and swirl around to spread evenly.

Cook for about 30 seconds, then flip and cook for another 10 seconds.

Move them to a flat cutting board to cool and continue until batter is gone.
Filling:
Mix together shredded chicken breast, ricotta, almonds, lemon juice, garlic powder, salt and pepper in a medium bowl, set aside.

Add a little olive oil to a large pan over medium heat and toss in spinach, cooking it until it begins to wilt and turn a dark green.

Add in chicken salad mixture and turn heat to low, stirring occasionally.
Sauce:
Meanwhile, in a small saucepan, melt butter on high heat.

Once butter has melted, add in white wine and cook for 30 seconds and turn heat to medium-high.

Add cream, lemon juice, seasonings, and thyme to the pan and allow cream to reduce by half, about 5 minutes, stirring frequently.

While sauce is simmering, assemble crepes by filling each crepe with about 1/3 cup of chicken filling and rolling.

Remove sprig of thyme from sauce and pour over prepared crepes.

Sprinkle with additional almonds.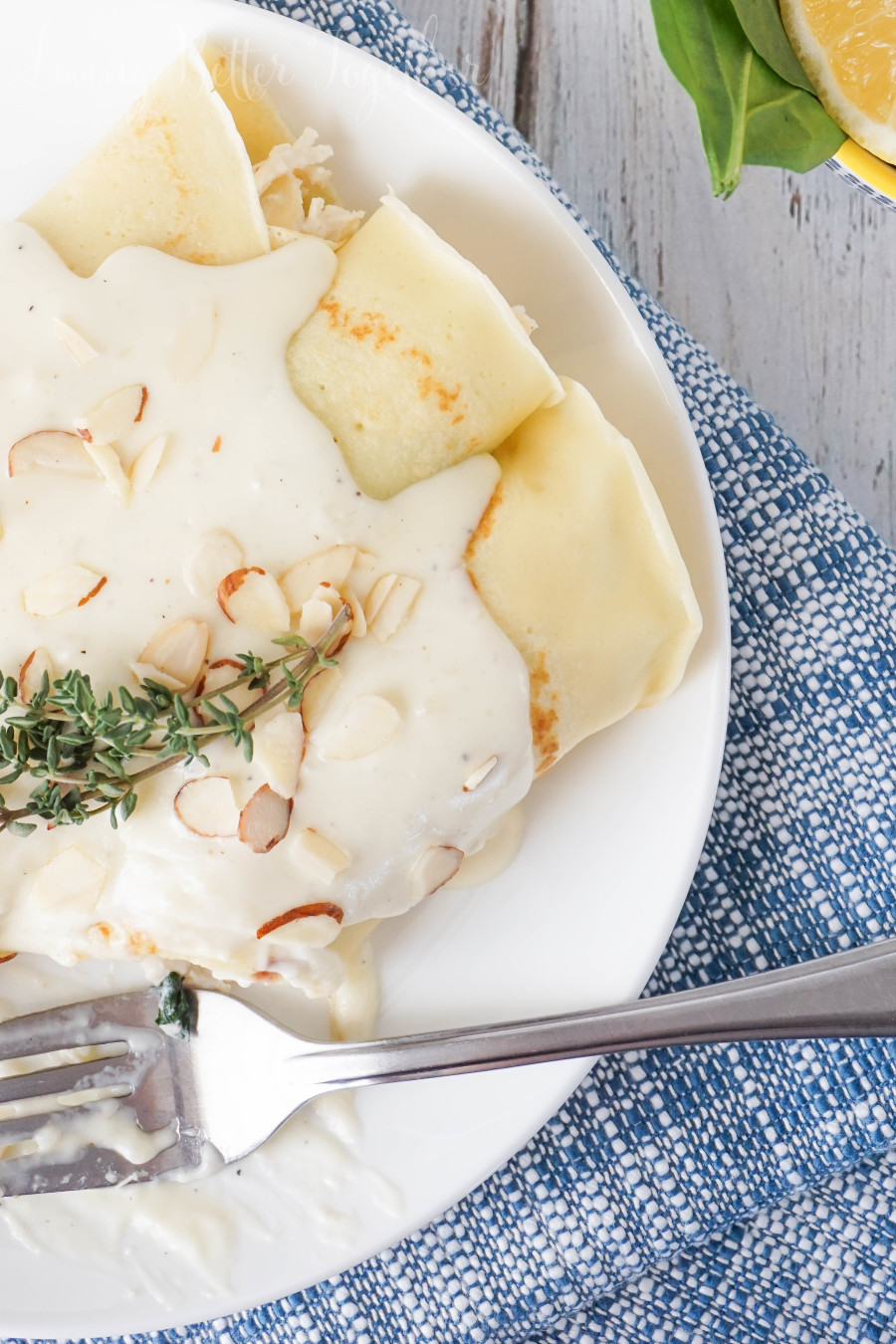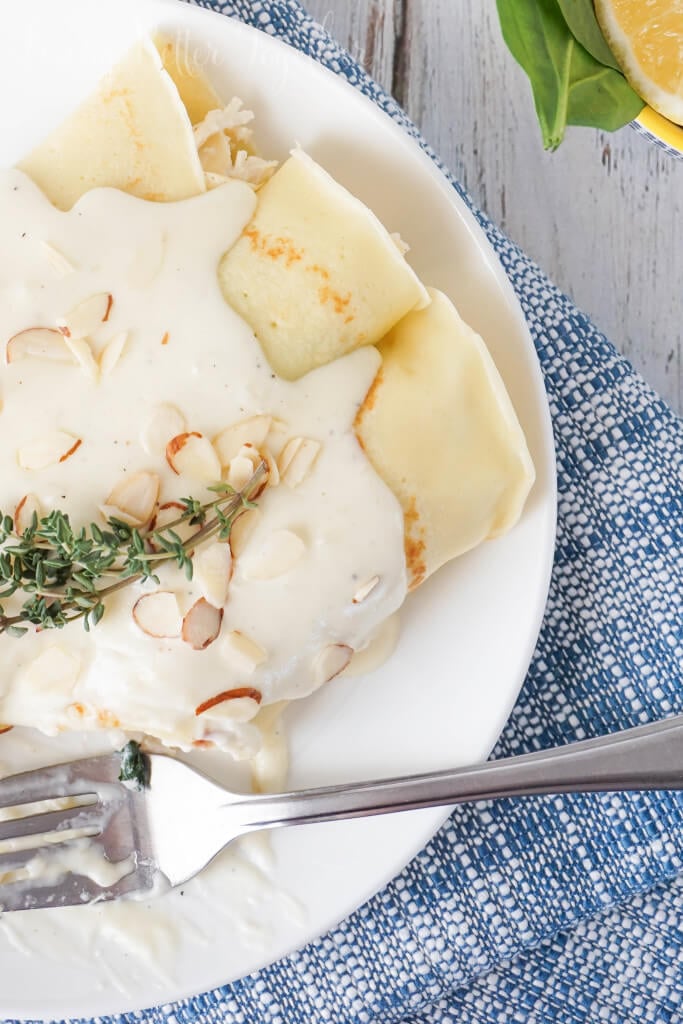 Pin the image below to save this recipe for later!