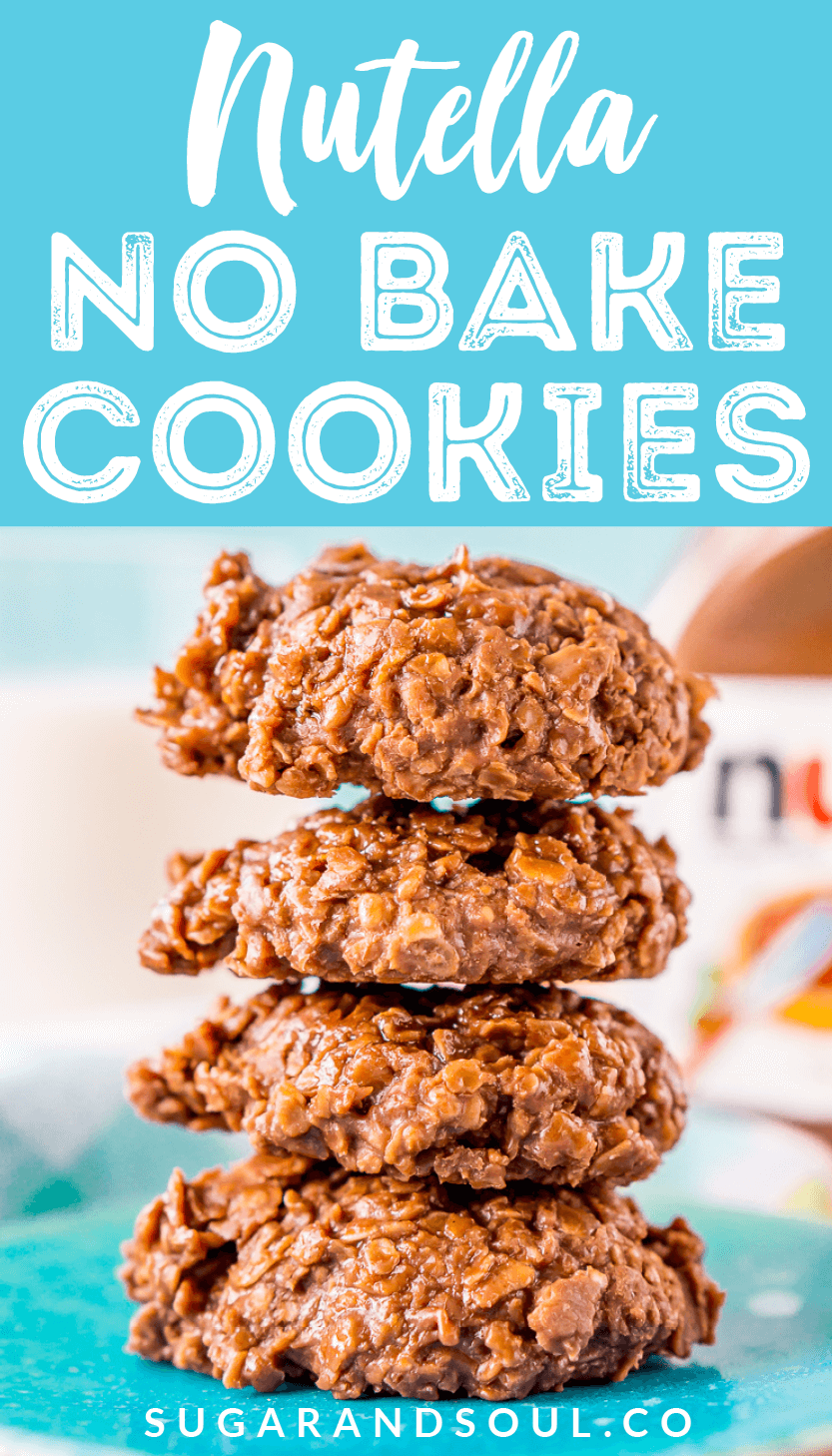 Nutella No Bake Cookies are a yummy way to enjoy the chocolate and hazelnut flavors of everyone's favorite spread! Made with oatmeal, butter, sugar, milk, vanilla, and Nutella, this recipe is as easy to make as it is delicious!
I love to bake, but I also love recipes that require no baking at all! More specifically, treats like Nutella No Bake Cookies that don't need any oven time are perfectly fine by me!
In my years as a food blogger, I've come to learn that "no bake cookie" recipes are usually three things: quick, easy, and super yummy! With that said, I'm happy to report that Nutella No Bake Cookies are all these things and more… because after all, they're made with Nutella!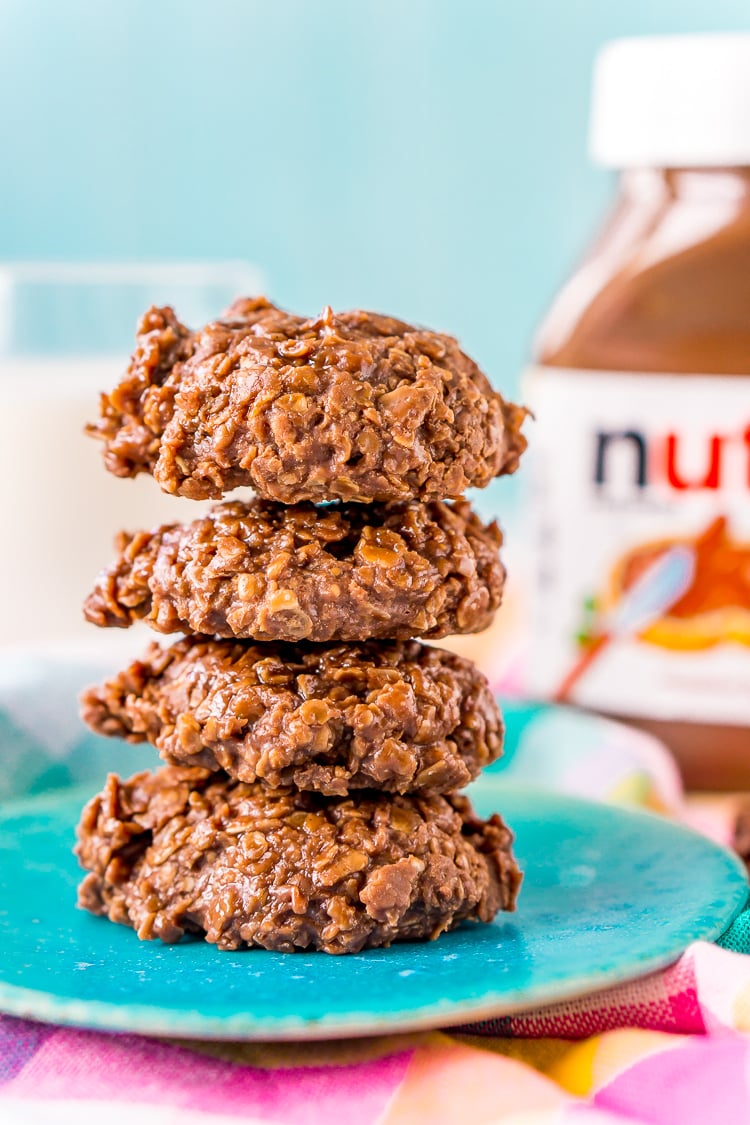 I've posted other no-bake cookie recipes before, and they usually get rave reviews. That's why I'm excited to share this version, which features everyone's favorite chocolate hazelnut spread.
No Bake Nutella Cookies are made with minute oats, butter, sugar, milk, vanilla, and of course, Nutella. Just bring the milk, sugar, and butter to a rolling boil in a saucepan, add the other ingredients, then plop the cookies onto wax paper to set!
Once they cool, the cookies become firm, although the cooked oatmeal is nice and chewy. Best of all, they're laced with irresistible chocolate and hazelnut flavor!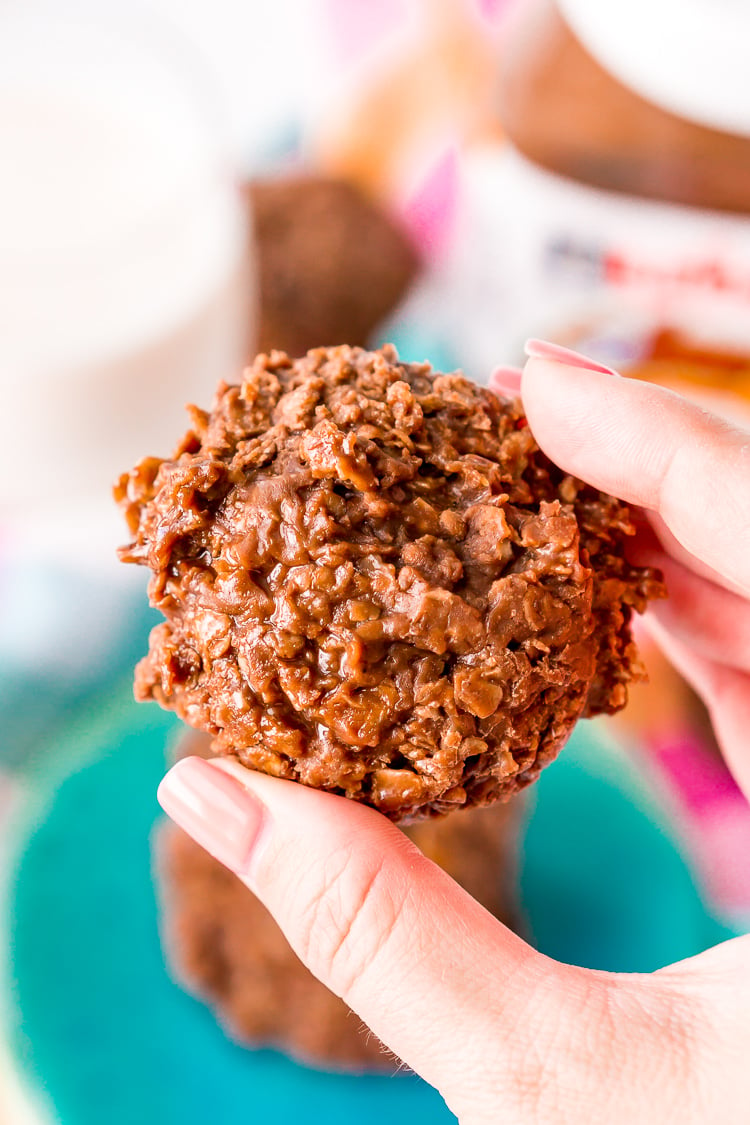 These decadent Nutella No Bake Cookies are great if you're looking for a quick, easy dessert, or it's too hot to turn on the oven. And the good news for novice cooks is that it's really hard to mess up no bake cookies!
This recipe is perfect to share at potlucks, family dinners, or if you just want to whip up a last-minute treat. Not to mention, these cookies are a guaranteed crowd pleaser!
We have a couple of people with peanut allergies in our family, so they love these No Bake Cookies without peanut butter!
If you're looking for an easy dessert recipe that both adults and children will love, try making a batch of Nutella No Bake Cookies. They're so good, they may even prevent you from eating the chocolate-hazelnut spread straight from the jar!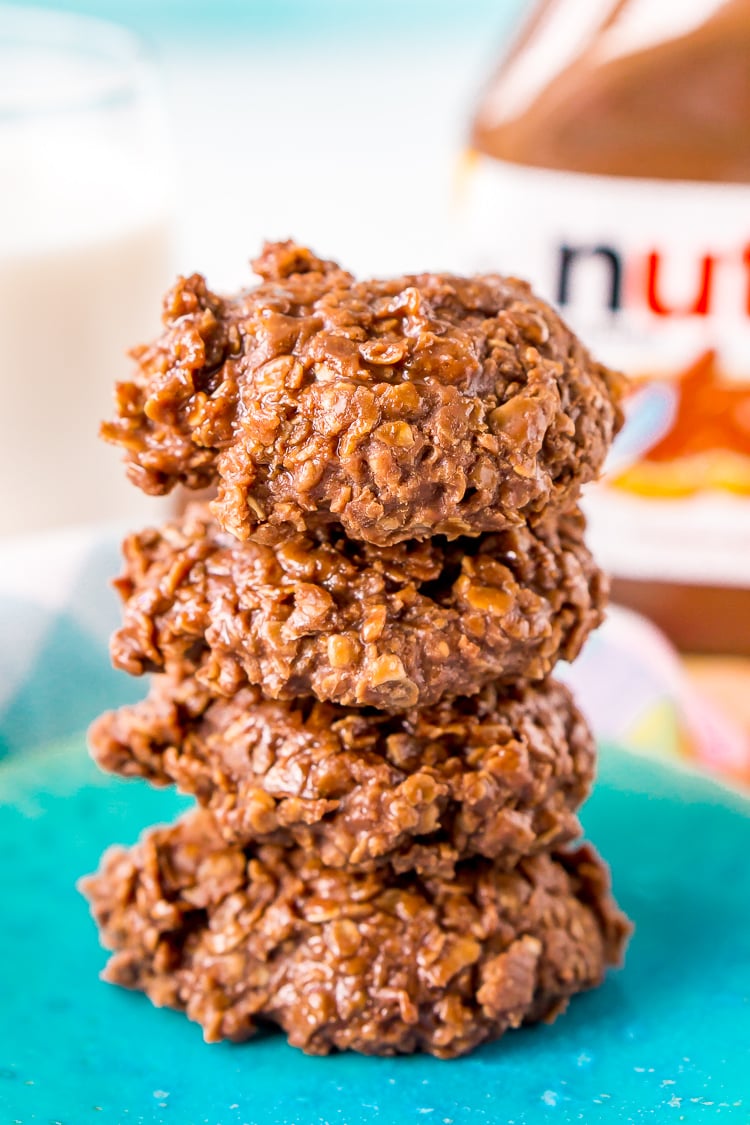 More No Bake Cookies Recipes:
Nutella No Bake Cookies
Pin It For Later
Click the button above to save this delicious recipe to your board!
Let's Connect!
If you've tried this recipe please let me know how you liked it in the comments below and leave a review, I love hearing from you! And don't forget to tag me – @sugarandsoulco – on Instagram and Pinterest with your photos!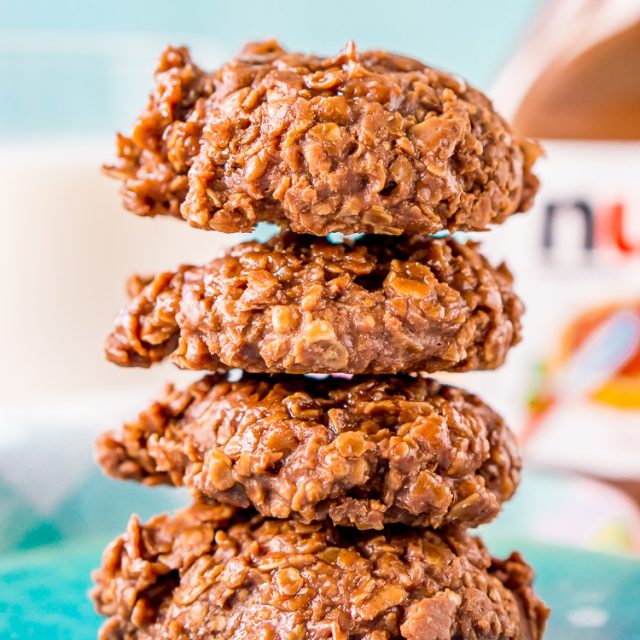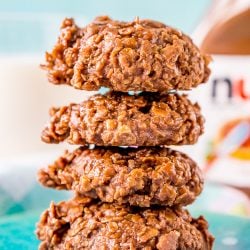 Nutella No Bake Cookies
Instructions
Line a large area of your kitchen counter or table with wax paper. Measure all ingredients out before beginning and keep them close by.

Add the butter, sugar, milk, and unsweetened cocoa powder to a large saucepan and heat over medium heat, stirring often until the butter is melted.

Bring the mixture to a rolling boil and allow to boil for exactly 90 seconds, stirring occasionally.

Remove from the heat, and stir in the Nutella and vanilla extract, add in the minute oats and stir until fully combined and oats are completely covered with the Nutella mixture.

Drop spoonfuls of the mixture onto the wax paper. Allow the cookies to cool for 20 to 30 minutes so they can set before enjoying.
Nutrition
Calories:
178
kcal
Carbohydrates:
28
g
Protein:
2
g
Fat:
6
g
Saturated Fat:
4
g
Cholesterol:
10
mg
Sodium:
39
mg
Potassium:
84
mg
Fiber:
1
g
Sugar:
20
g
Vitamin A:
130
IU
Calcium:
20
mg
Iron:
0.9
mg