This easy Pineapple Punch is a fruity tropical punch made with pineapple and orange juices, limeade, and soda for a sweet and refreshing beverage for all ages!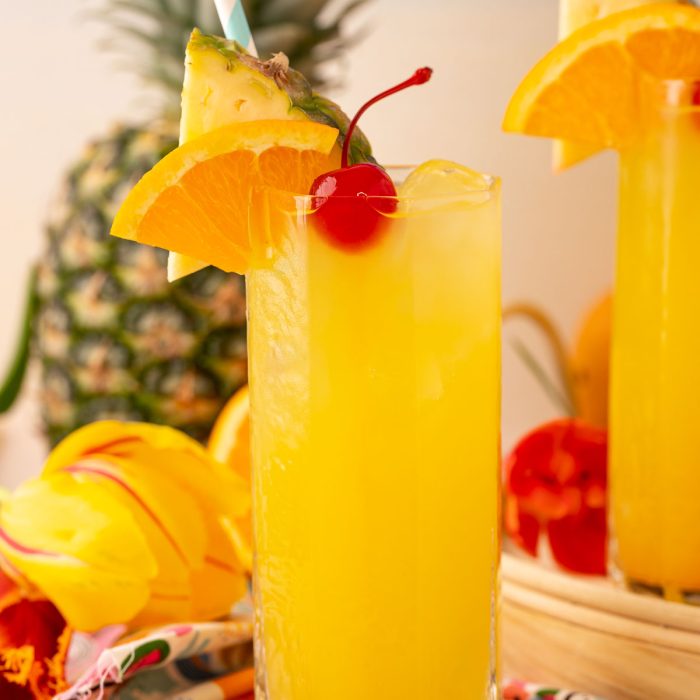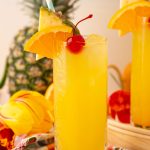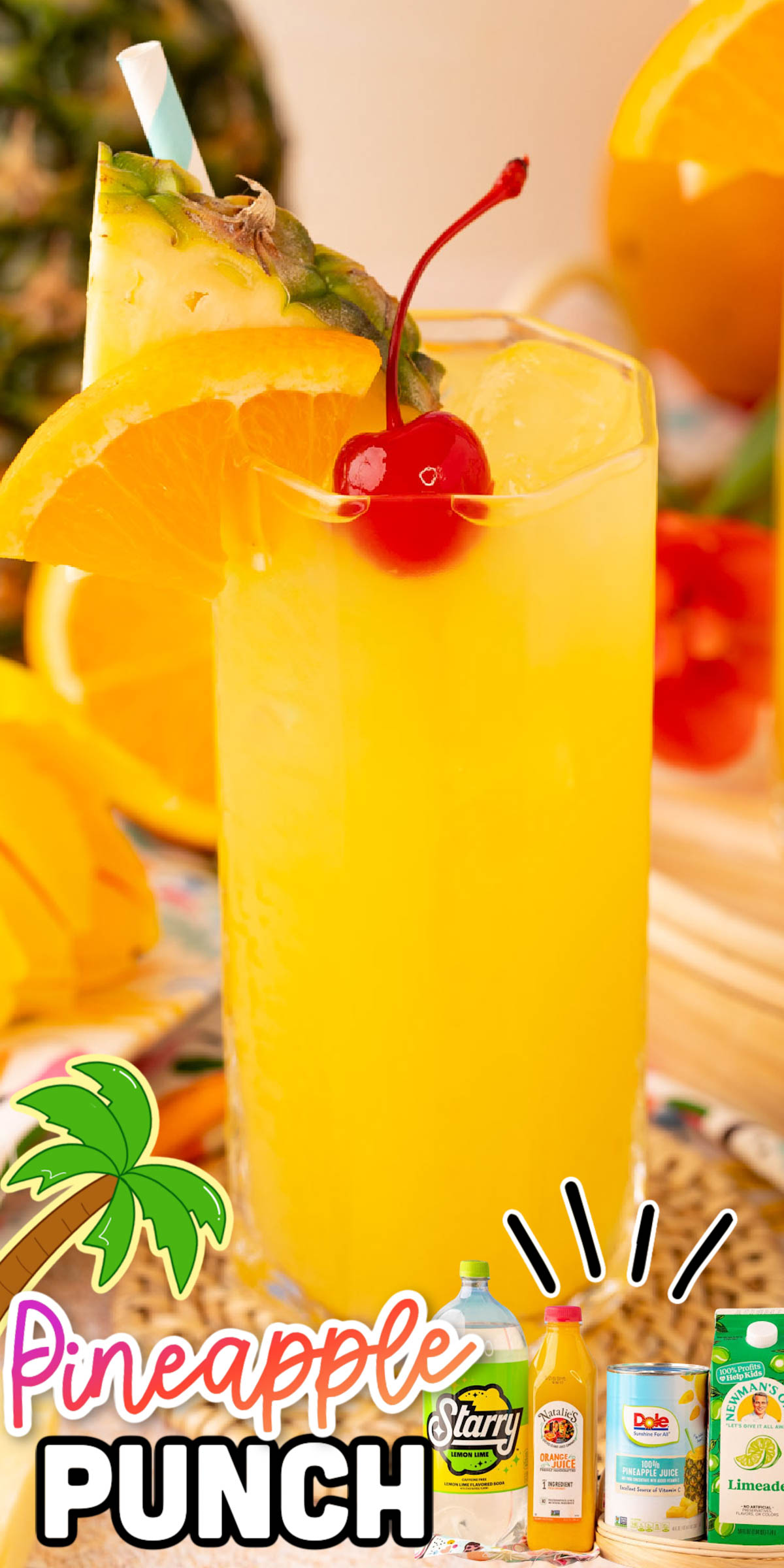 Pineapple Punch is a tropical vacation in a glass with its crisp and refreshing sweet citrusy flavor! Made in 5 minutes using four ingredients!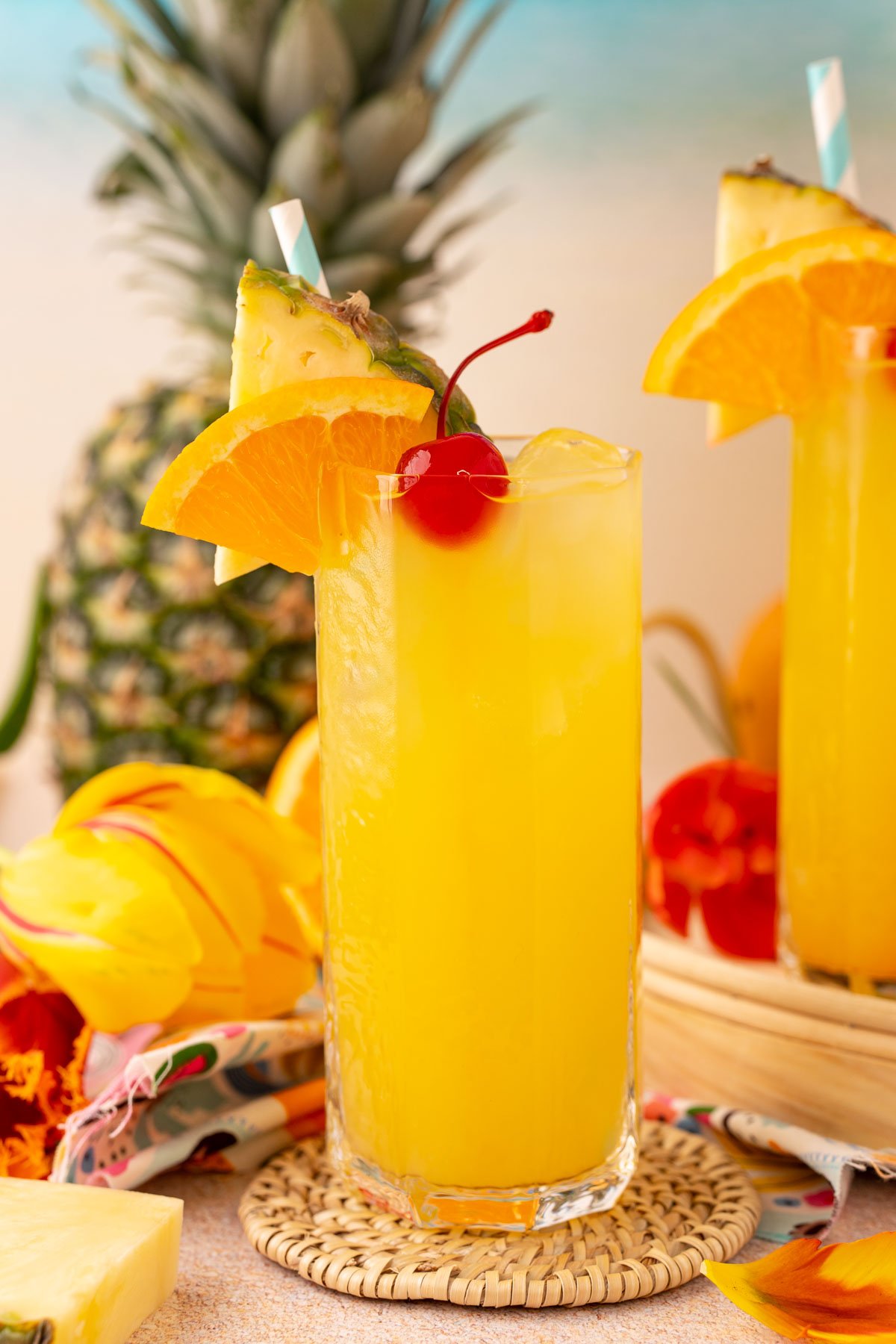 This Fizzy Pineapple Punch is a sweet tropical splash of flavor that's perfect for sipping on all summer long! And since this is a kid-friendly punch recipe, it's one the whole family can enjoy!
While this easy punch recipe is a fun addition to family barbecues and gatherings, it's also a great choice for parties as well! Think wedding showers and baby showers, or even brunch with the girls.
The Pineapple Punch Experience
Taste: This pineapple punch is an explosion of sweet tropical flavor that will have you feeling like you're in the Caribbean! Your taste buds will soar from the combination of citrus juices that's topped off with a nice fizz from the lemon-lime soda.
Mixing: Once you have the simple ingredients for this punch, the work is basically done. After that, this recipe is essentially a dump-and-serve punch that's ready in just 5 minutes!
Garnishes: Giving this punch major bonus points are the easy garnishes that finish each drink! For garnishes, I like to use maraschino cherries, pineapple wedges, and orange slices. A simple touch that pushes this punch recipe above the rest!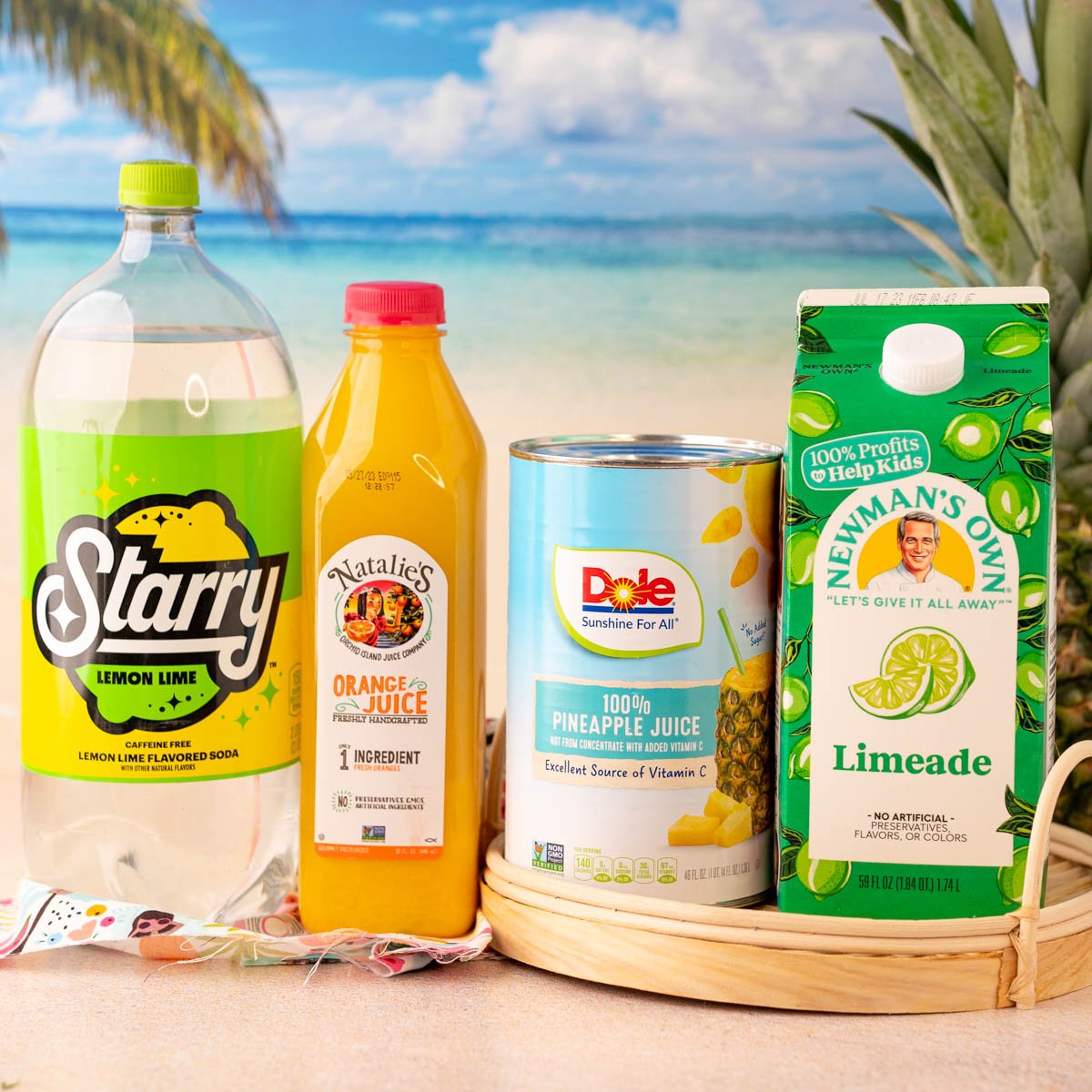 Ingredients For Pineapple Party Punch
Pineapple Juice
Orange Juice
Limeade
Lemon-lime Soda
Ice Cubes
Optional Fruit Garnishes
The quick and easy store-bought ingredients allow you to serve a punch that will impress friends and family without investing too much time!
Simply add these ingredients to your grocery pick-up order or pop into the grocery store to grab them!
Which Pineapple Juice Is Best When Making Punch?
I find that for this punch recipe, using 100% pineapple juice yields the most flavorful beverage. I prefer using canned Dole 100% Pineapple Juice! You'll use several cups in this recipe, so I recommend grabbing the big can instead of the little ones!
How To Make Pineapple Punch
Step 1: Pour the pineapple juice, orange juice, limeade, and lemon-lime soda into a large pitcher or punch bowl.
Step 2: Serve in glasses over ice and garnish with maraschino cherries, orange slices, or pineapple wedges.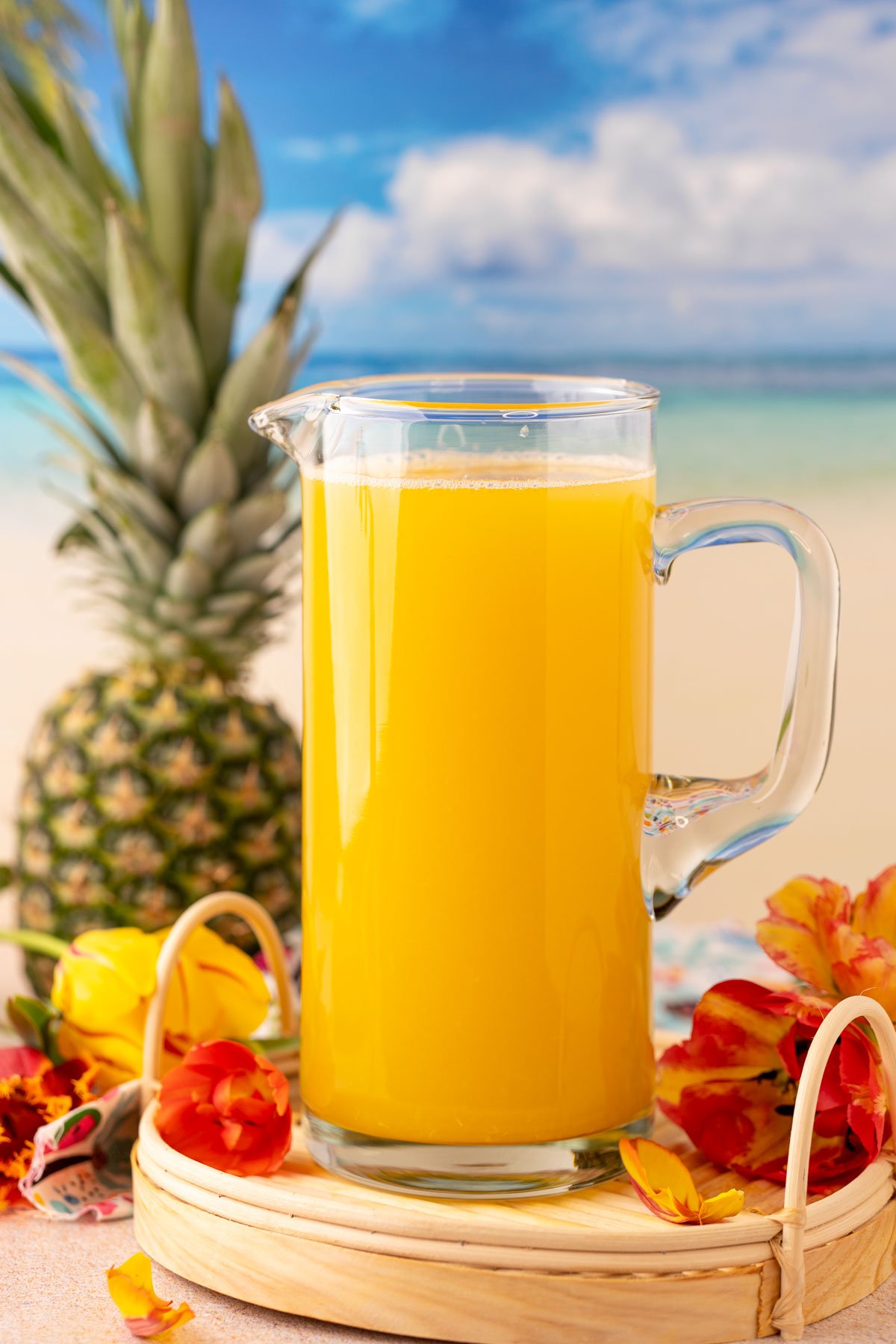 How To Make This Easy Punch Recipe Ahead Of Time
When you're ready to serve, top the pitcher off with the lemon-lime soda, it's important that you do this right before serving.
If not, the soda will deflate, and this punch will lose its fun, fizzy bubbles!
How To Store Pineapple Punch
I wouldn't recommend storing leftover Pineapple Punch since it will take on a flat taste once the soda loses its carbonation.
If you're hosting and are looking to check things off your to-do list early, you can make this punch ahead of time! To do so, combine all the juices and chill in the fridge until party time.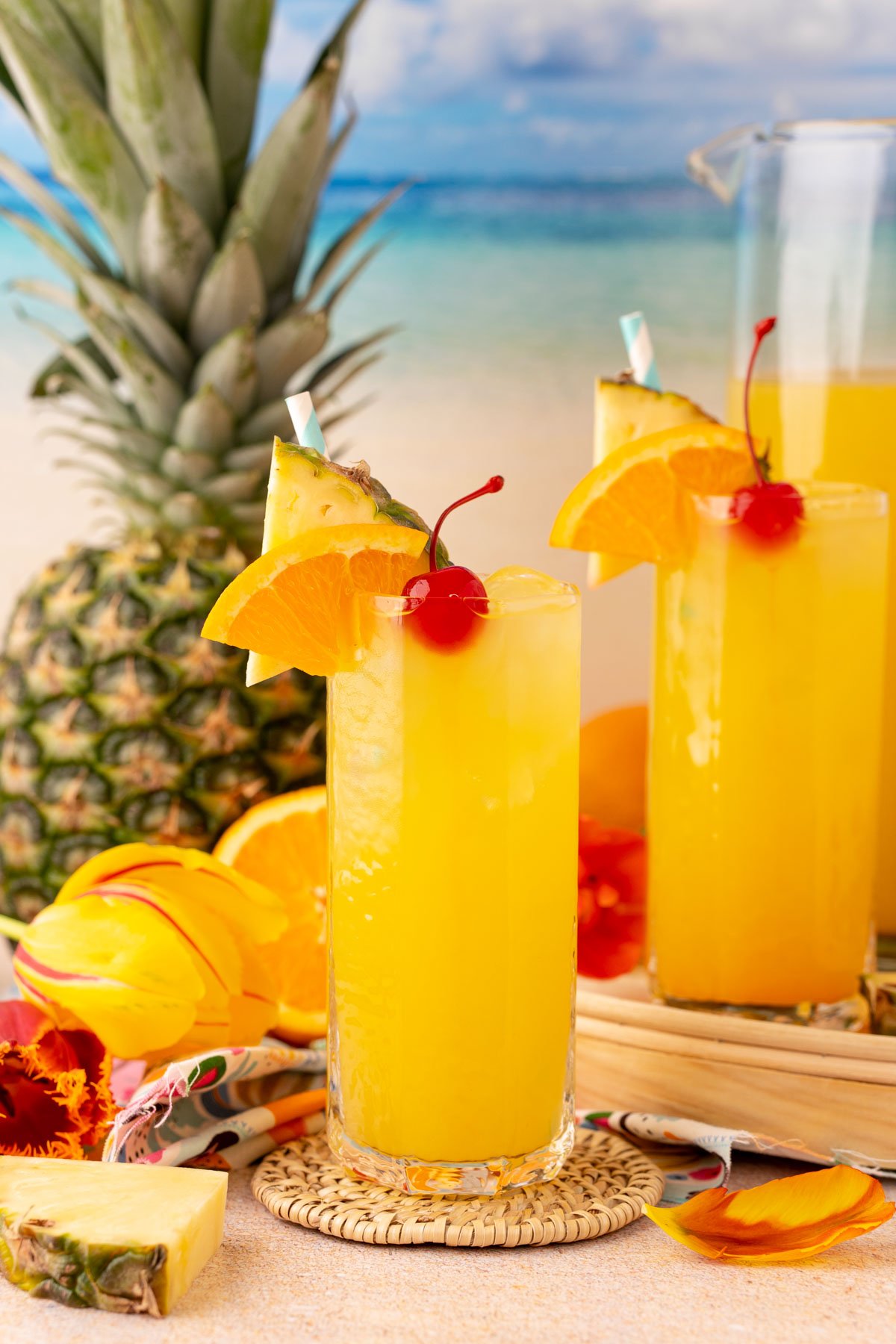 How To Make Alcoholic Pineapple Punch
This recipe is written to be a kid-friendly punch; however, it can easily be transformed into an adult drink! To turn this into a large-batch pineapple cocktail recipe, you can add vodka, coconut rum, or even prosecco!
Pineapple Punch Substitutions And Variations
Soda – Any lemon-lime soda such as Sprite, Starry, or 7-UP will work in this recipe. However, you could also replace the lemon-lime soda with ginger ale or club soda if you prefer.
Frozen Fruit – For a fun way to keep your drink cold without ice, freeze fresh pineapple chunks! Then, use the frozen fruit as ice cubes in this pineapple punch. Feel free to mix it up and use any frozen fruit of your choice as the 'ice cubes.' Raspberries, strawberries, and even blueberries would all be great choices!
Limeade – Lemonade concentrate can replace limeade concentrate if needed or for a tasty flavor variation!
Sherbet – For a flavorful twist, top this punch recipe with pineapple sherbet just before serving!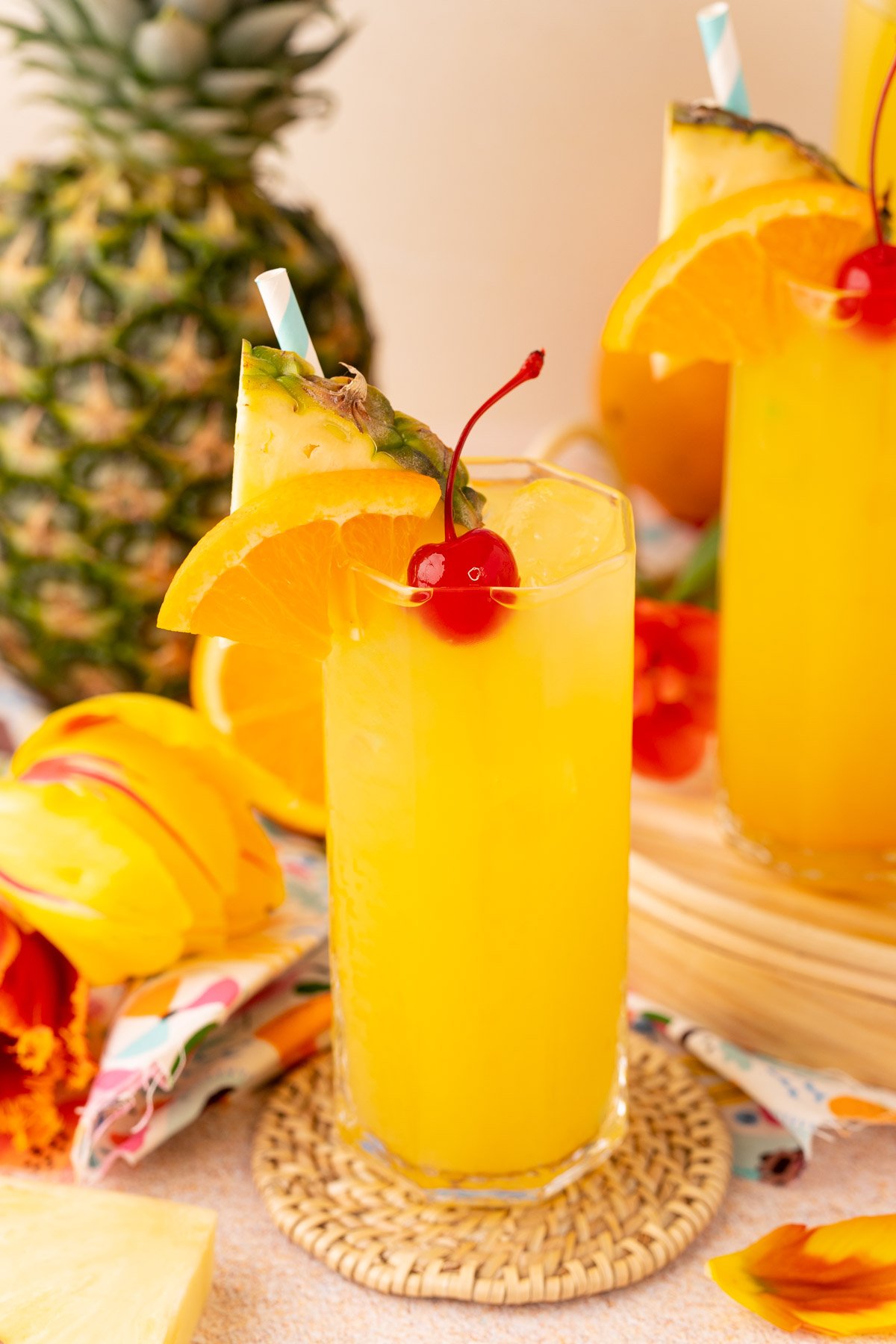 Pineapple Punch FAQs
How Many Servings Does This Pineapple Party Punch Serve?
This punch provides 10 servings. However, for a larger crowd, you can easily double the recipe. Just be sure your drink dispenser or punch bowl will fit the doubled amount before beginning the recipe.
Can I Serve This Punch Directly After Mixing It Up?
Yes! To do this, I would recommend chilling all the ingredients in the refrigerator beforehand. This will ensure the punch is perfectly ice cold to enjoy as soon as you stir it up!
Should I Put Ice In The Pitcher Or Punch Bowl To Keep It Chilled?
No, doing this will water down the punch as the ice cubes melt. Instead, you can just use frozen pineapple chunks to keep it chilled without the risk of watering down the punch.

You can also chill the serving glasses in the fridge or freezer. This will help keep the punch cold while enjoying it.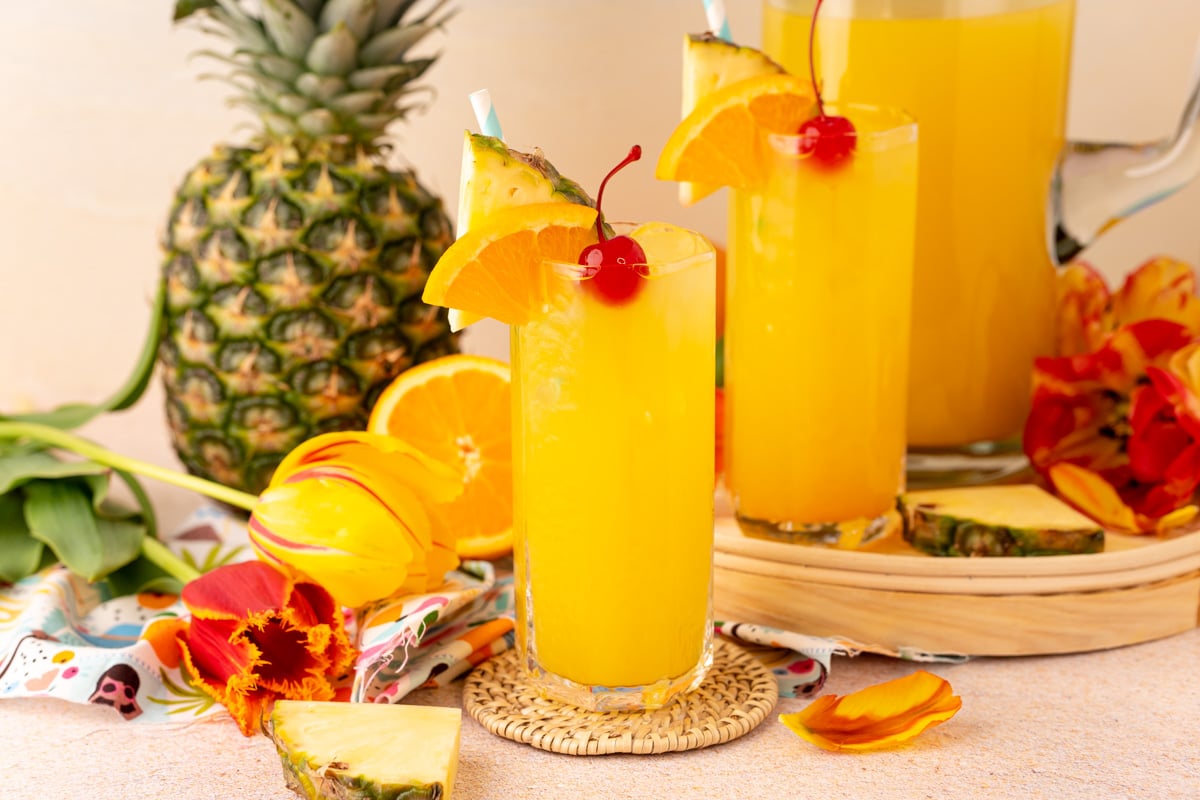 More Punch Recipes
👋 Let's Connect!
If you've tried this recipe, please let me know how you liked it in the comments below and leave a review. I love hearing from you!
Don't forget to tag me – @sugarandsoulco – on Instagram and Pinterest with your photos or join our Sugar & Soul Show-offs Community and share them there, where you can join our recipe challenges!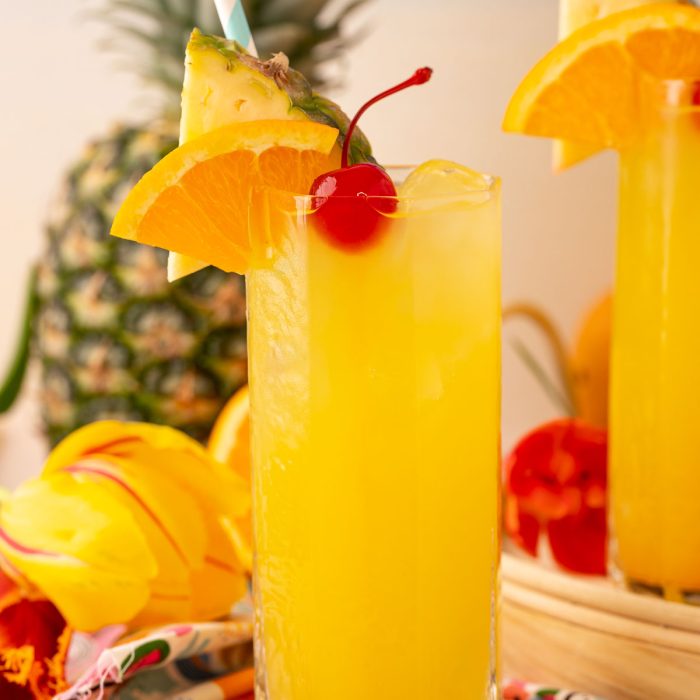 Pineapple Punch
This easy Pineapple Punch is a fruity tropical punch made with pineapple and orange juices, limeade, and soda for a sweet and refreshing beverage for all ages!
Instructions
Add 4 cups pineapple juice, 3 cups lemon-lime soda 2 cups limeade, and 1 cup orange juice to a large pitcher or punch bowl.

Serve in glasses over ice and garnish glasses with pineapple wedges, orange slices, and maraschino cherries if desired.
Notes
The juices can be combined in advanced and chilled in a pitcher in the fridge, but don't add the soda until right before serving.
Using chilled juice will yield the best results.
Nutrition
Calories: 114kcal | Carbohydrates: 28g | Protein: 1g | Fat: 0.2g | Saturated Fat: 0.01g | Polyunsaturated Fat: 0.1g | Monounsaturated Fat: 0.02g | Sodium: 12mg | Potassium: 173mg | Fiber: 0.2g | Sugar: 24g | Vitamin A: 54IU | Vitamin C: 22mg | Calcium: 16mg | Iron: 0.4mg