Thai Drunken Noodles is a delicious stir-fry recipe that packs tons of flavor and a bit of heat in a sauce that coats tender pieces of chicken, crisp veggies, and soft noodles!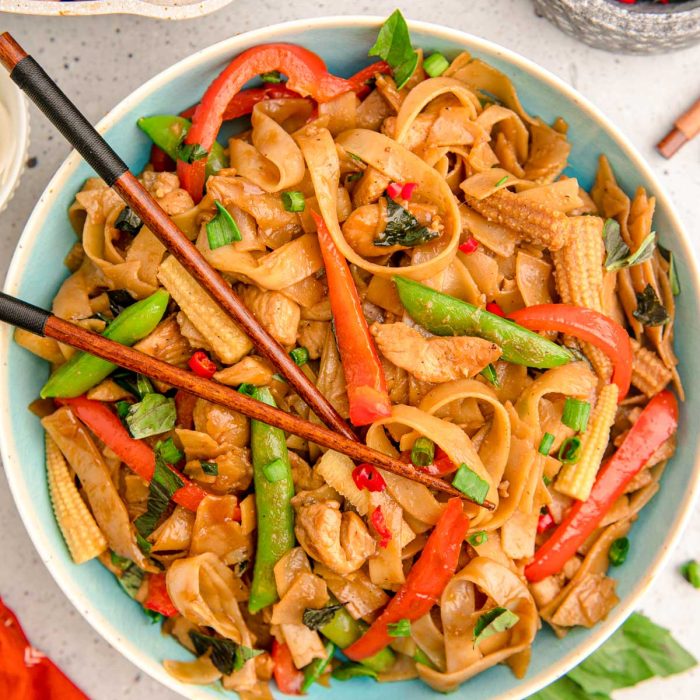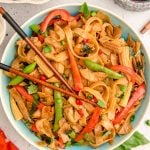 Drunken Noodles are a Thai food stir-fry noodle dish that packs a punch of heat and is loaded with tender chunks of chicken and veggies! Ready to devour in just 35 minutes!
The next time you crave delicious homemade Thai food, be sure to try my Tom Kha Gai Thai Chicken Coconut Soup too!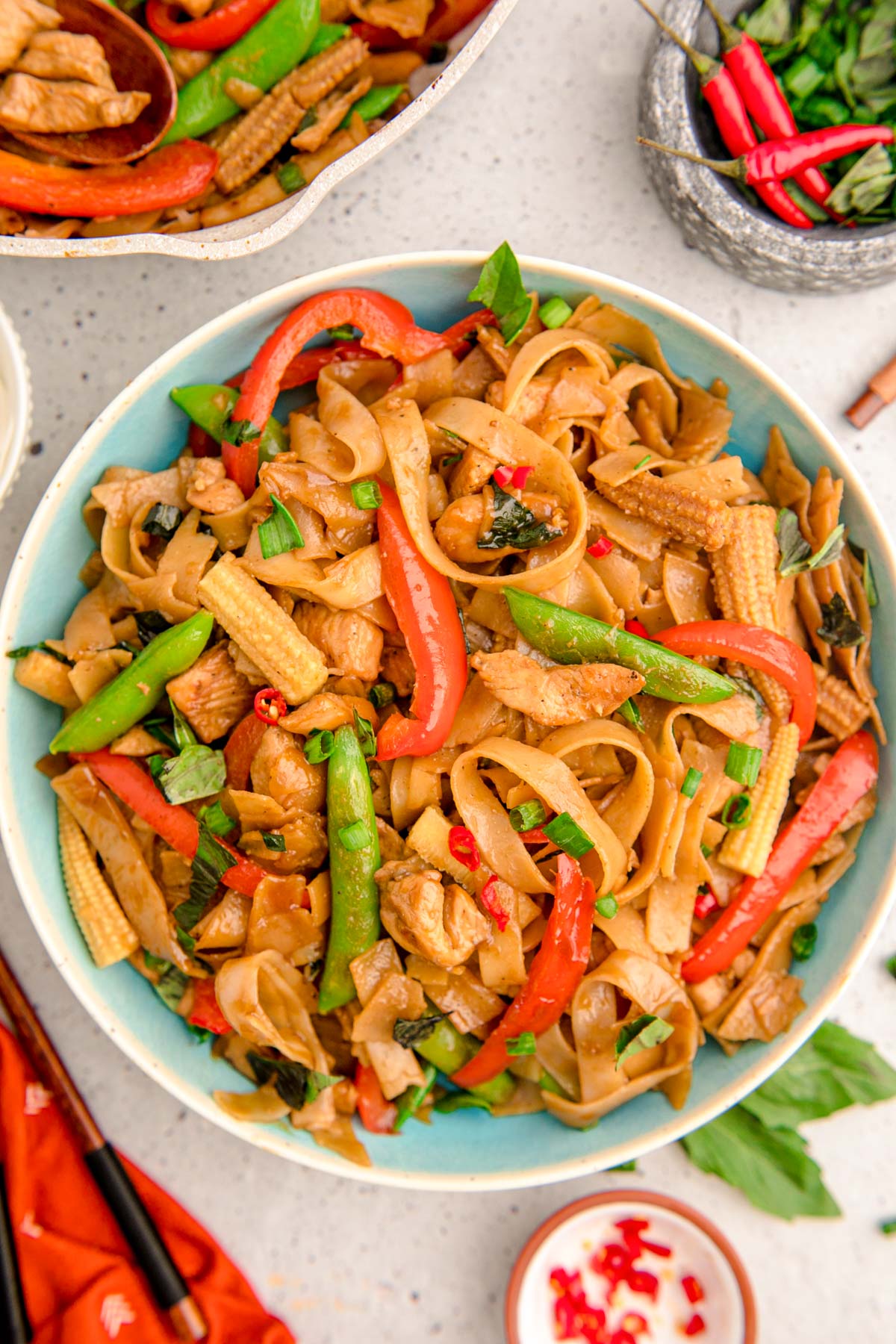 Have that urge to hit up your favorite Thai Restaurant for an order of Drunken Noodles? This homemade version will make it so you won't even miss take-out but instead have you looking forward to making it right at home!
Drunken Noodles, also known as Pad Kee Mao, are made with Thai bird's eye chili peppers for a kick of heat that will ironically keep you coming back for more! This hearty, flavorful dish has it all between the carbs, veggies, and protein to deliver a meal that will leave your stomach full and your taste buds more than satisfied!
Why Are They Called Drunken Noodles?
There are several theories that are floating around about how this dish got its name. After all, there is zero alcohol even in the recipe! It's been said Drunken Noodles are so spicy that people actually get drunk while trying to wash down the heat this dish brings.
Another theory is that it's a go-to meal or snack people often indulge in after a heavy night of drinking. Regardless of how this dish got its name, it's definitely a must-try if you haven't tasted it yet!
I Love Drunken Noodles!
I've still never been to Thailand to try a truly authentic batch of these delicious noodles, but the best ones I've had so far were at Sawadee in Salt Lake City. This recipe was inspired by and is very close to that one! And here are some of the things I love about it!
Mix Up The Protein! If you aren't a fan of chicken, you can swap it out for 8 ounces of shrimp, beef, or pork! Just be sure to fry it up before adding in the veggies!
Control The Spice! This dish is spicy! But feel free to cut back on the kick of heat by leaving out the Thai bird's eye chili. However, if you do like it spicy, just increase the amount that's used!
Add More Veggies! If vegetables are your thing, you can also try adding in sliced onions, Chinese broccoli, celery, broccoli, or even spinach!
Quick Meal! Who doesn't love a meal that's both flavorful AND hits the table in just 35 minutes?! Everyone's weeknight meal rotation needs more deliciously quick recipes like this one!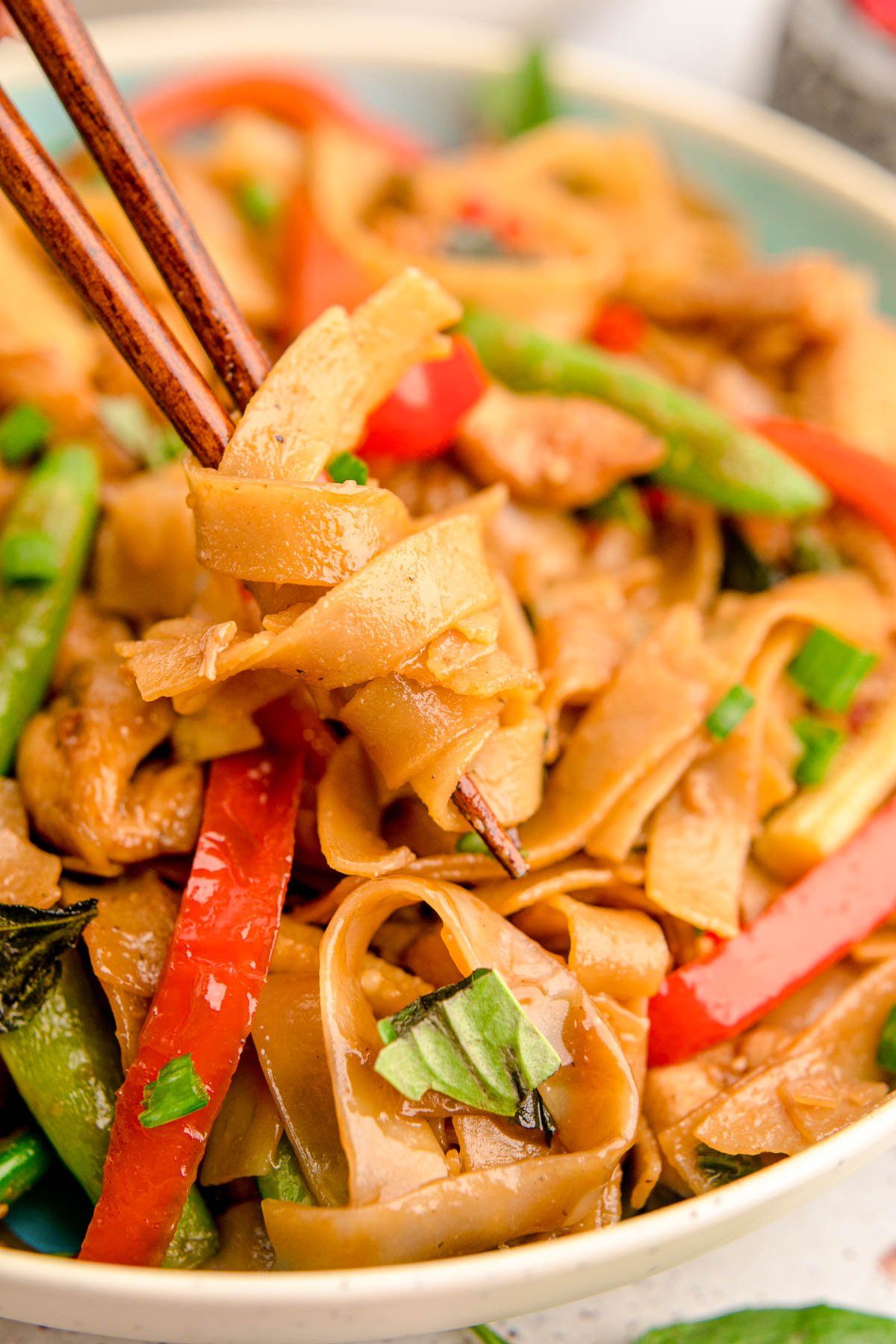 Drunken Noodles Ingredients
flat wide dried rice noodles
sesame oil
soy sauce
oyster sauce
fish sauce
light brown sugar
ground black pepper
ground ginger
chicken breasts
vegetable oil
garlic
Thai bird's eye chili
baby corn
red bell pepper
snow peas
green onions
Thai basil
green onions
Thai Basil and Thai Holy Basil are varieties of basil that are popular in Thailand and used in many Asian dishes. Thai Holy Basil is what's traditionally used in Drunken Noodles, but can be really hard to find. We love growing Thai basil in our herb garden to use in our recipes, but you can substitute it for traditional basil if that's all you can access.
This Drunken Noodles Recipe first combines soy sauce, oyster sauce, fish sauce, light brown sugar, ground black pepper, and ground ginger together. This mixture makes the savory sauce that coats this entire dish!
Thinly sliced chicken breasts marinate in some of this sauce while flat, wide, dried rice noodles cook on the stovetop. Afterward, the drained noodles are coated with sesame oil.
The chicken then gets cooked and set aside so the garlic cloves, Thai bird's eye chili peppers, whole baby corn, bell pepper, snow peas, green onions, and Thai basil can fry up. Then everything gets all combined back into the skillet, stirred up, and ready to enjoy!
If you're wondering where to get some of these ingredients, check any Asian grocery store or a local Asian market! Also, be sure to look where you normally grocery shop as well since some stores even carry a wide selection of Asian ingredients.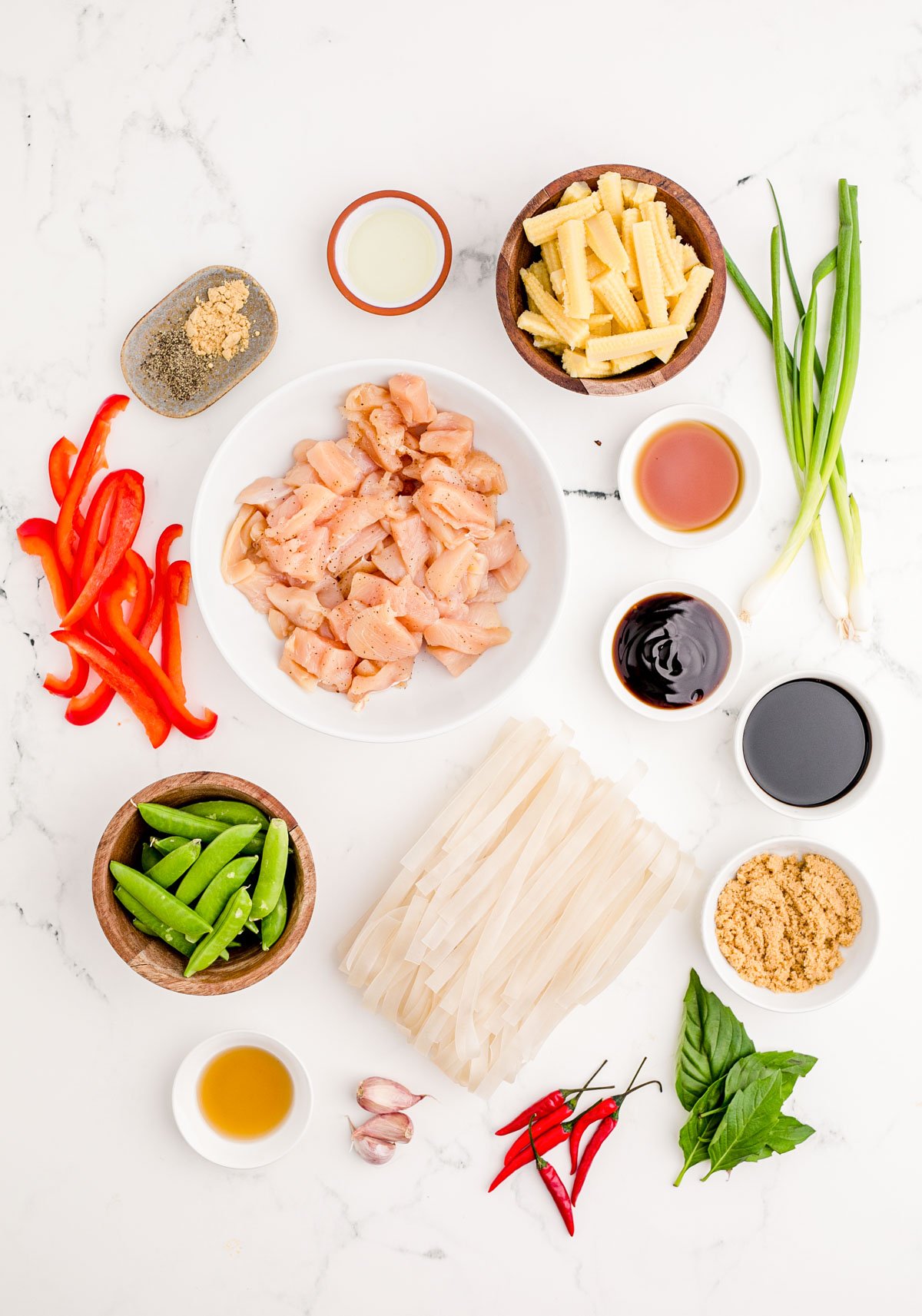 How To Make Drunken Noodles
Mix the sauce ingredients together and set it aside.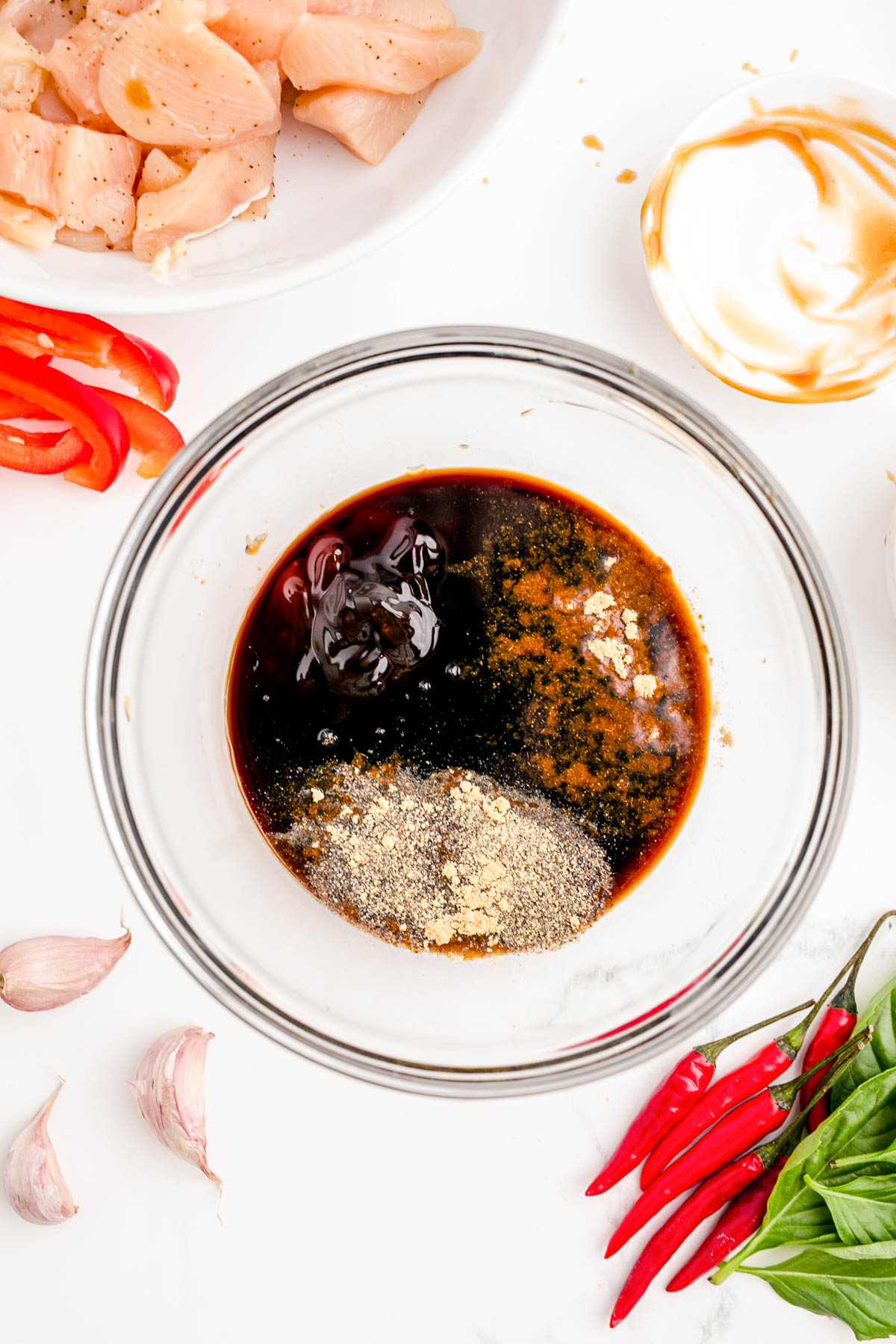 Place the thinly sliced chicken into a medium bowl. Then pour a third of the sauce over the chicken, stir, and marinate in the refrigerator for 30 minutes.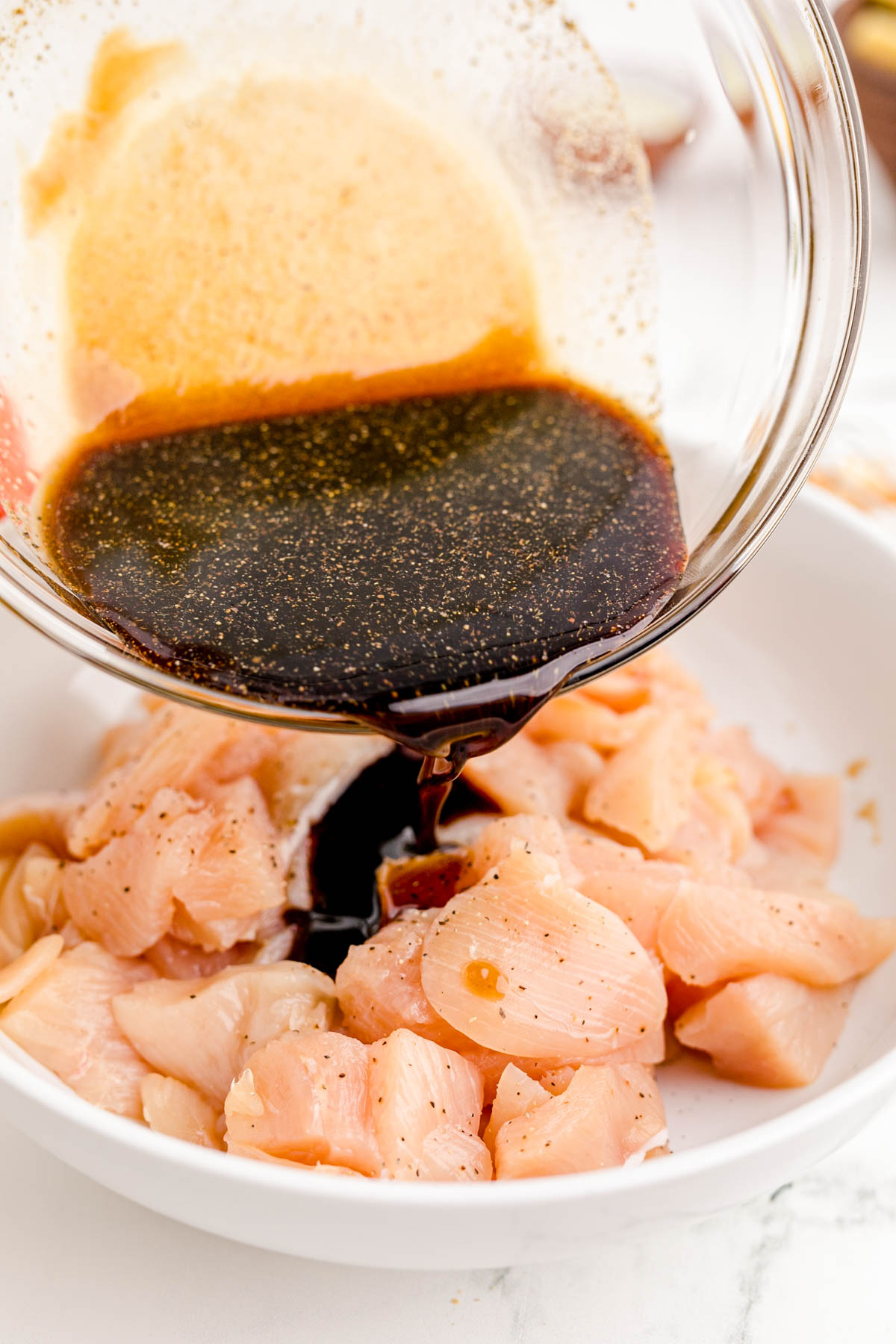 Boil water, then cover noodles with the boiling water and allow them to sit. Drain and rinse with cold water before tossing the noodles with a teaspoon of sesame oil.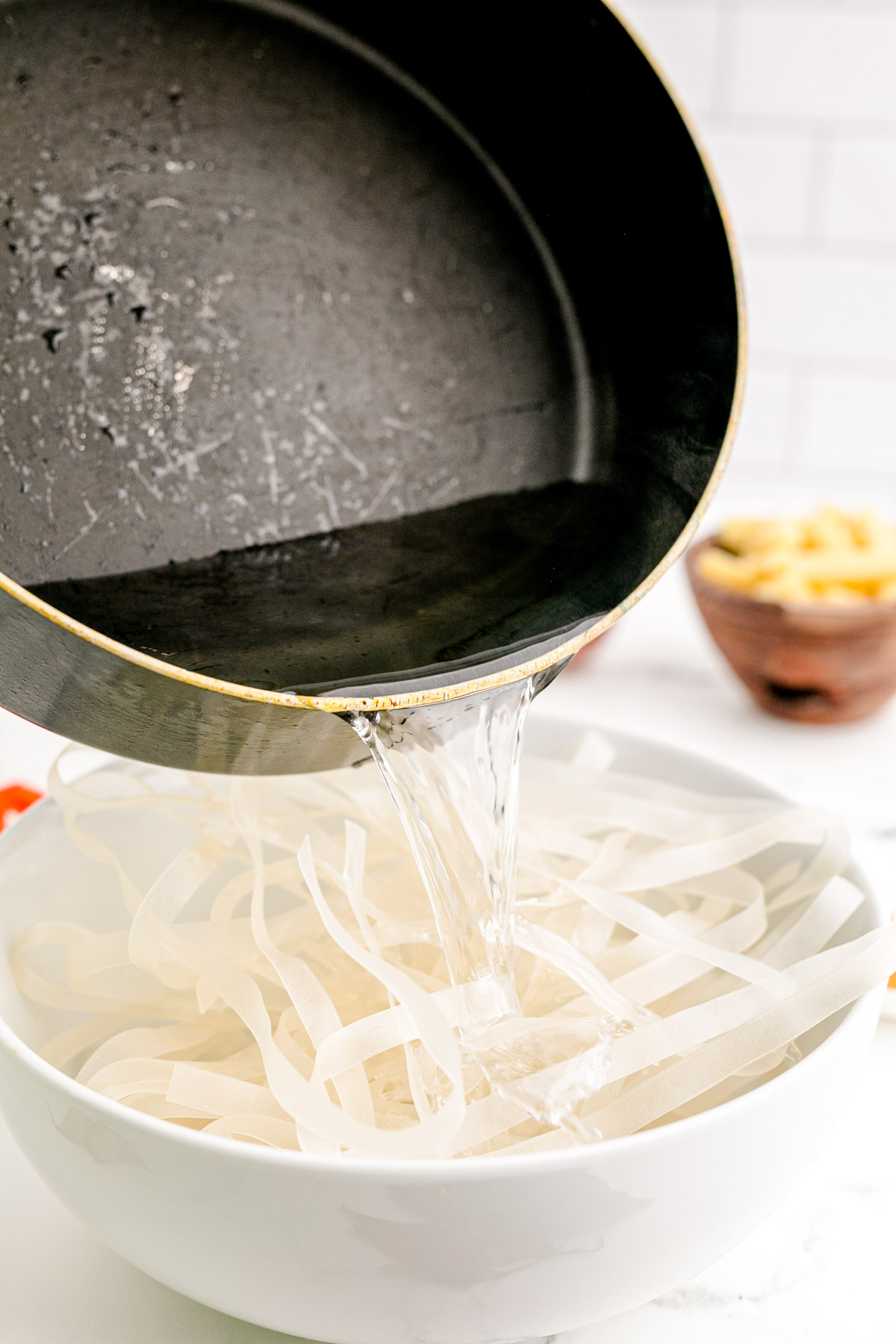 Add the chicken to a skillet with oil over medium heat to cook. Once the chicken is finished cooking, remove it and turn up the heat.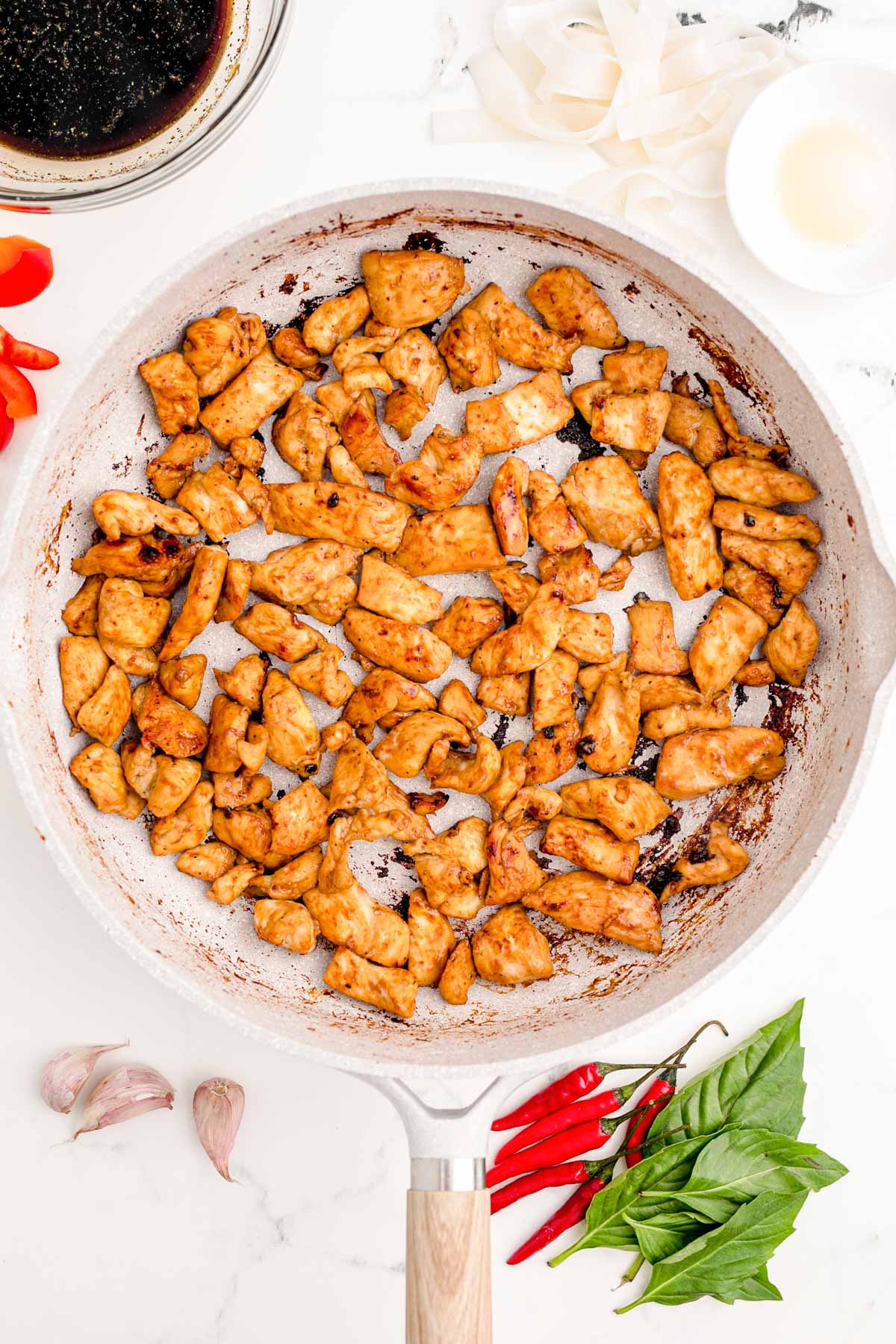 Cook the garlic, chilies, baby corn, red bell pepper, and snow peas over high heat in the same skillet you used for the chicken for 2 to 3 minutes.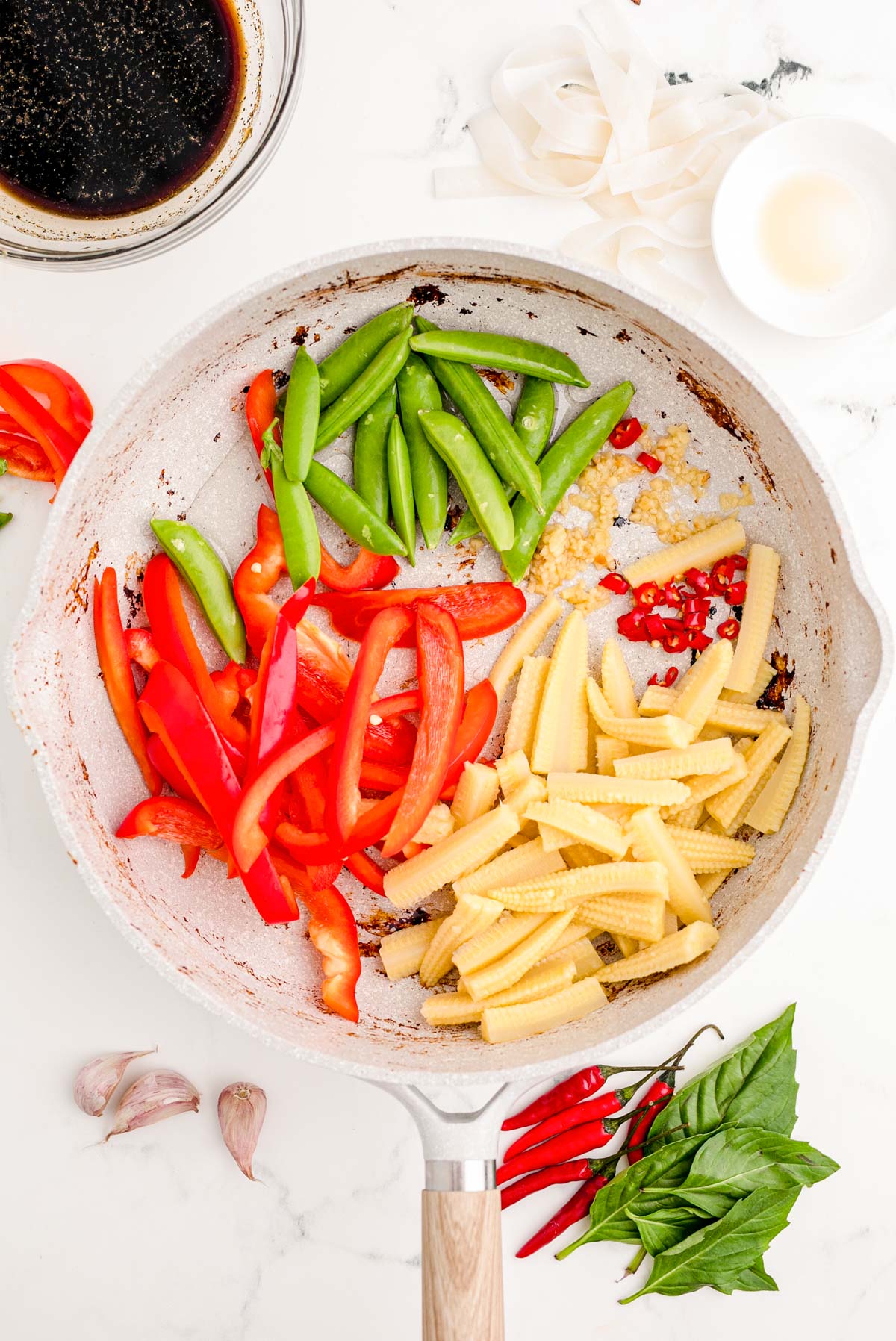 Add the green onion and basil. Then add the cooked chicken back into the skillet and stir it all together.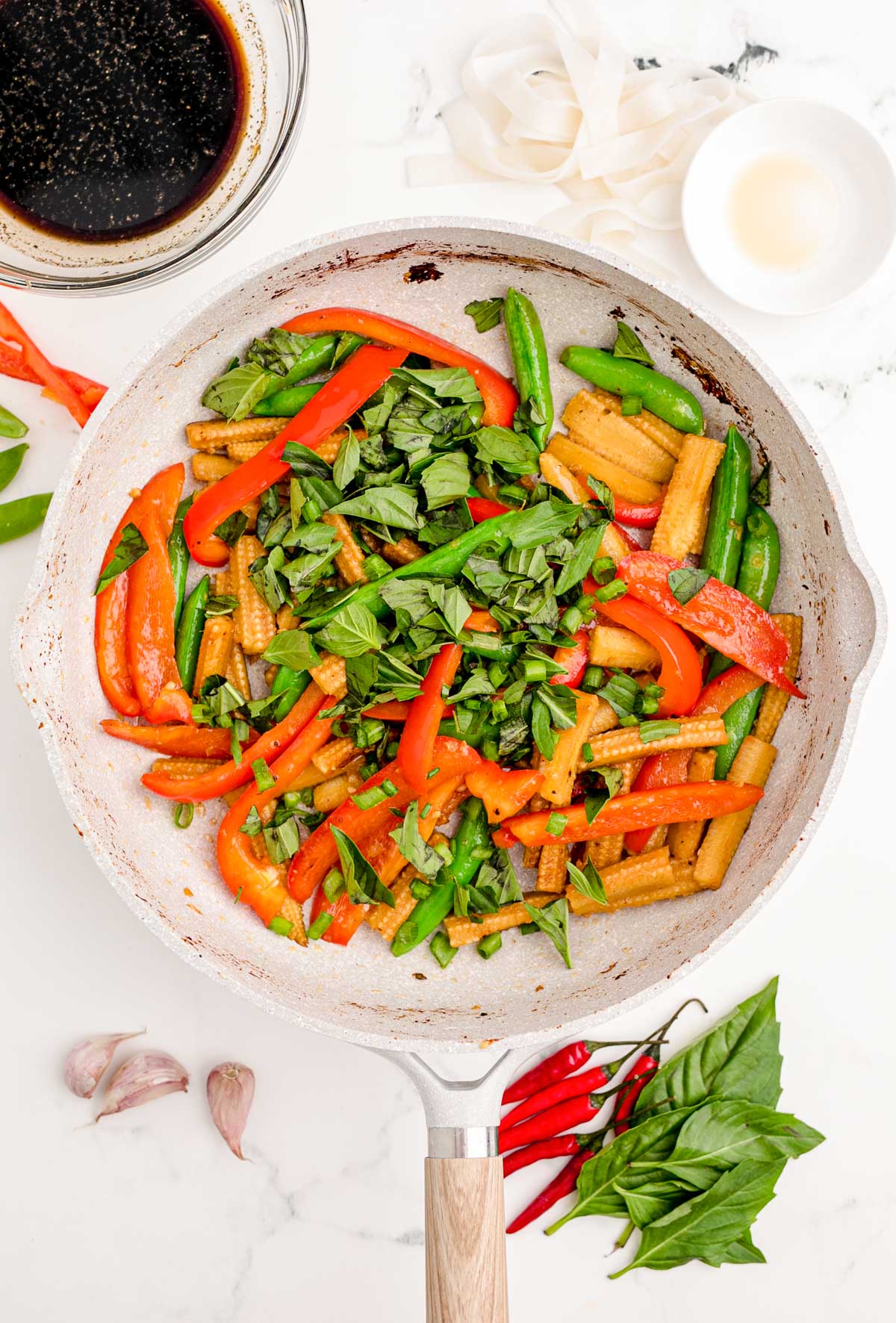 Pour the sauce and noodles into the pan and cook the rice noodles until they reach your desired texture. Remove and enjoy immediately!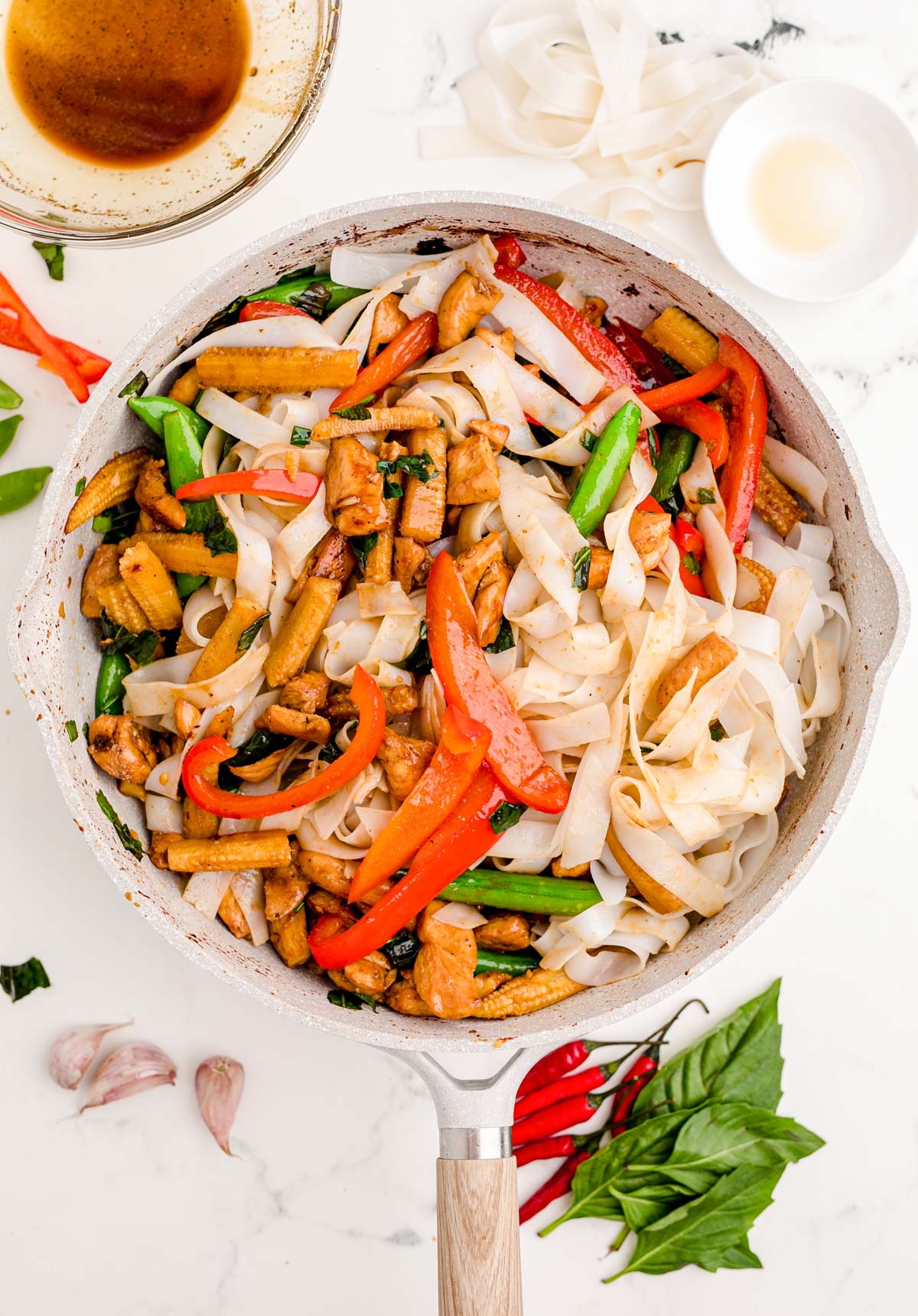 How To Serve Drunken Noodles
Serve this dish fresh in a bowl for best results. This dish goes great with more veggies such as bok choy!
How To Store Pad Kee Mao
Keep any leftover Thai Drunken Noodles in the refrigerator stored in an airtight container. Eat the leftovers within 5 days.
How To Reheat Leftovers
I would recommend you microwave them for 60 to 90 seconds, stirring halfway through.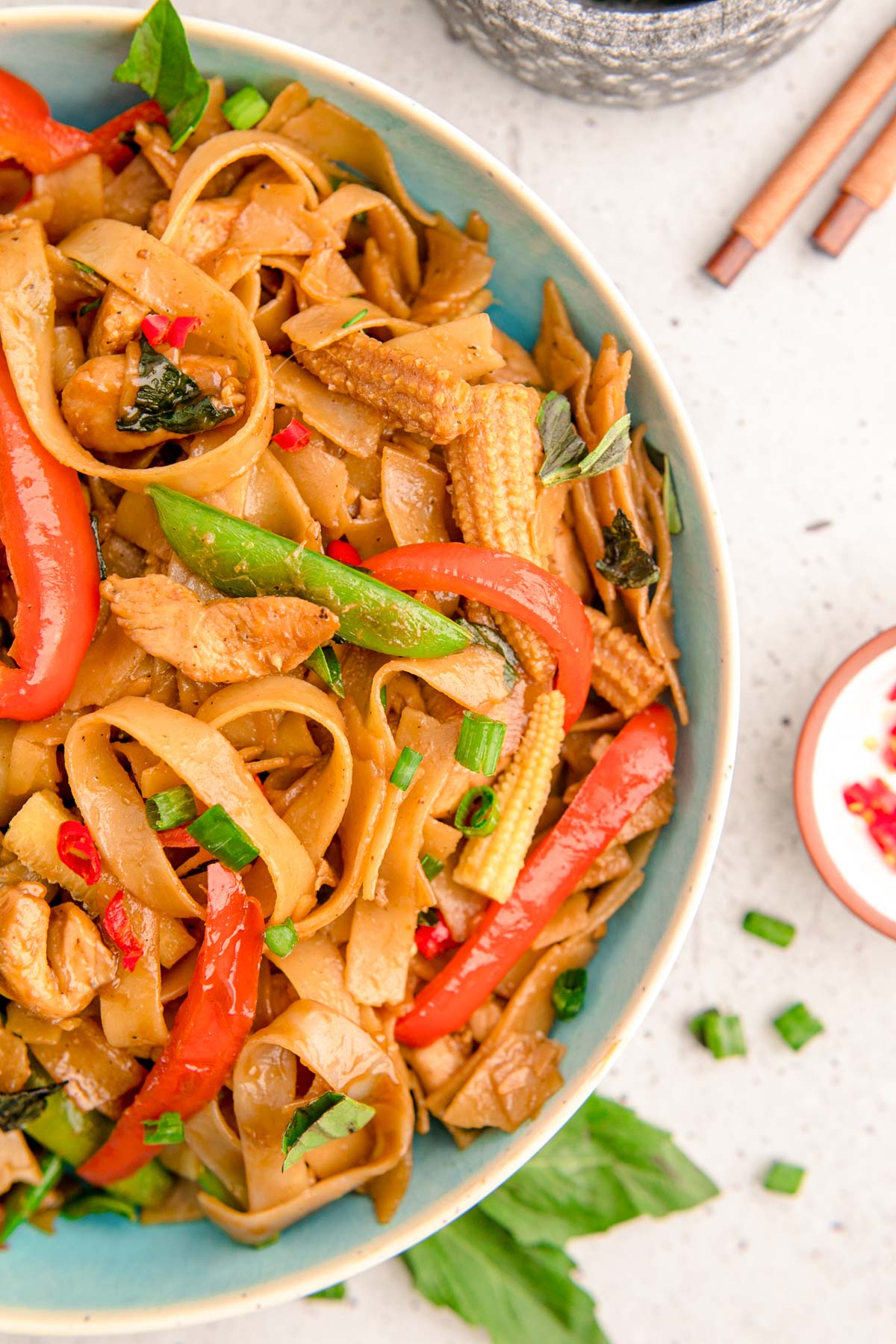 Drunk Noodles FAQs
What Can I Use In Place Of Oyster Sauce And Fish Sauce?
You can add a tablespoon of Worcestershire sauce instead of the oyster and fish sauce. You could also leave them out altogether, but it will change the taste of this dish.
How Do I Get Fresh Rice Noodles Ready For The Stir Fry?
Just place them in a colander and allow hot water to run over them until they soften up.
Is This Dish Similar To Pad Thai?
Though the two dishes may look similar, they actually have very different tastes! Pad Thai is sweeter with a hint of nuttiness, whereas Drunken Noodles are covered in a savory, spicy sauce!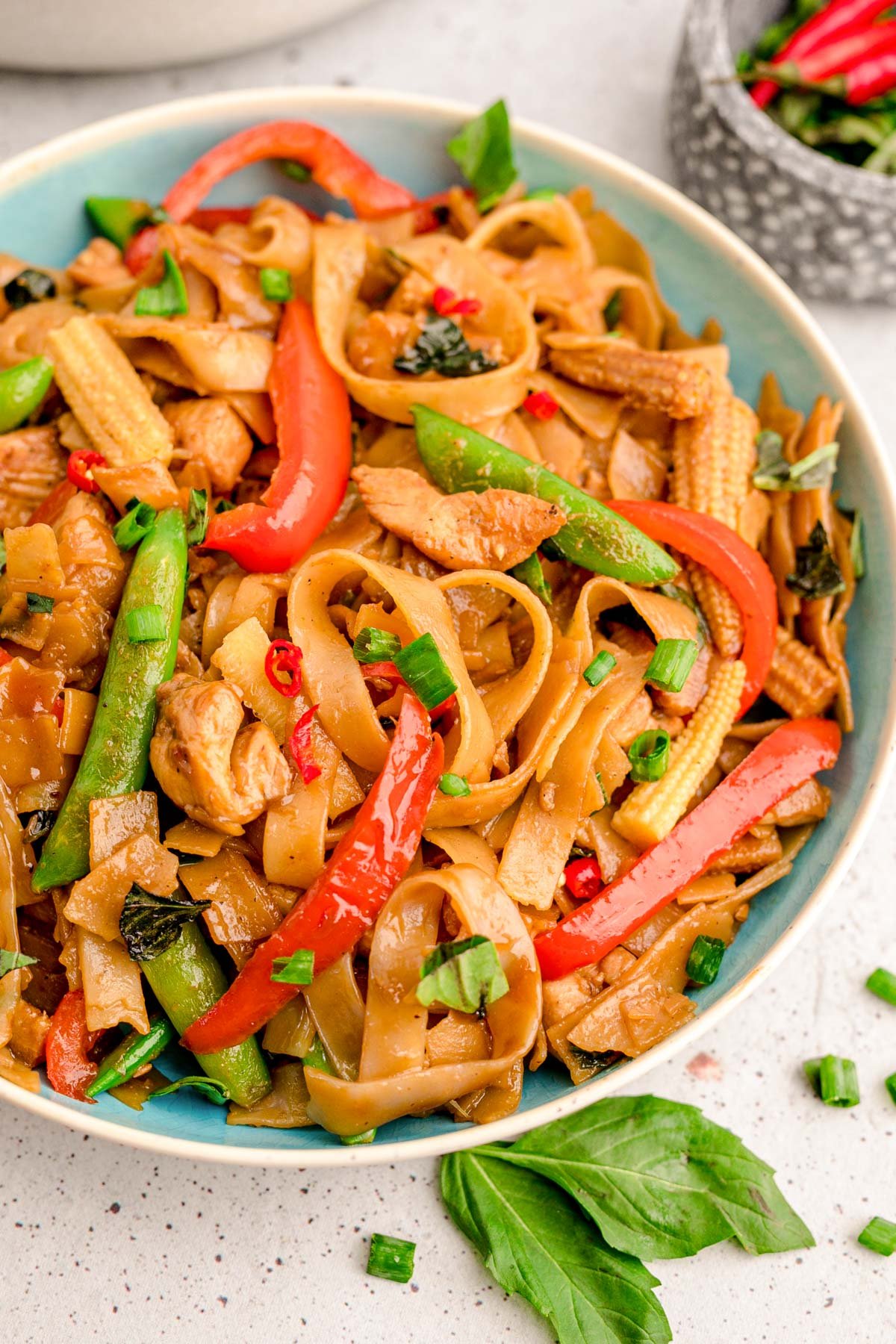 One of the things I love most about these Drunken Noodles is how I can prepare them quickly on a busy weeknight! Grab another meal that's ready in 30 minutes or less to enjoy with your family!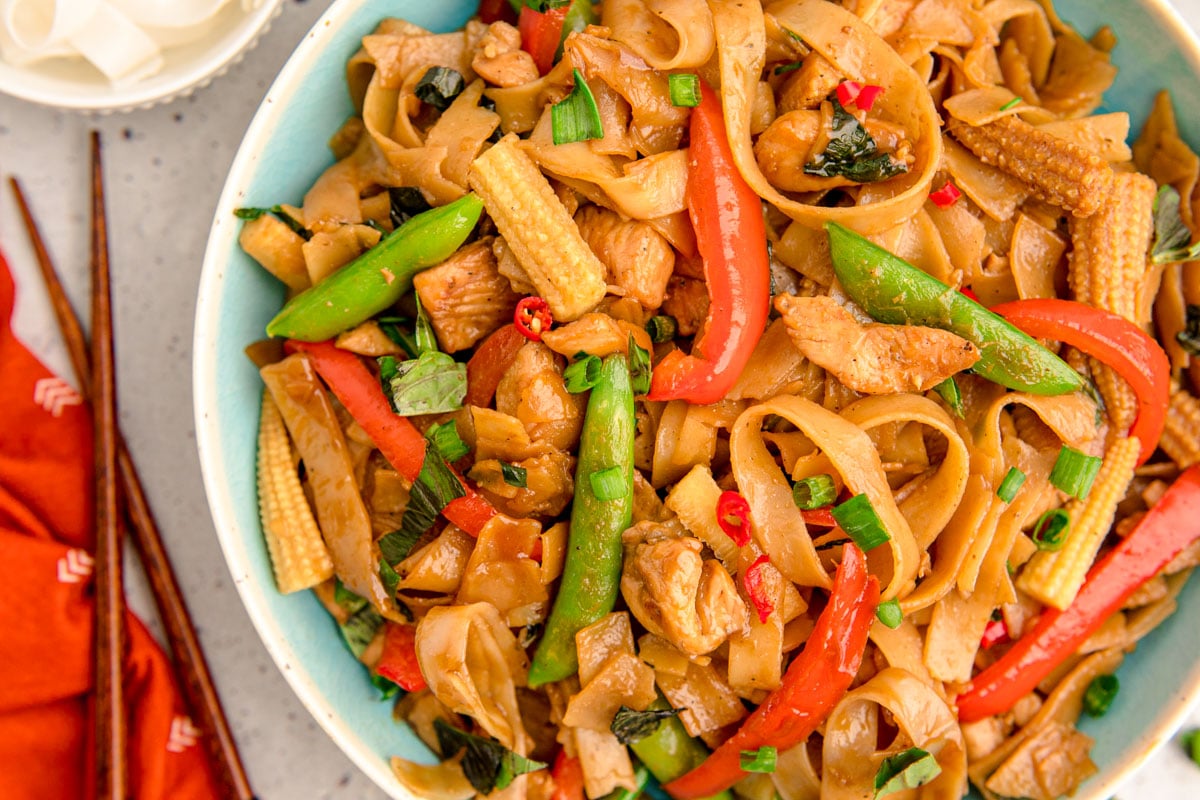 👋 Let's Connect!
If you've tried this recipe, please let me know how you liked it in the comments below and leave a review. I love hearing from you!
Don't forget to tag me – @sugarandsoulco – on Instagram and Pinterest with your photos or join our Sugar & Soul Show-offs Community and share them there, where you can join our recipe challenges!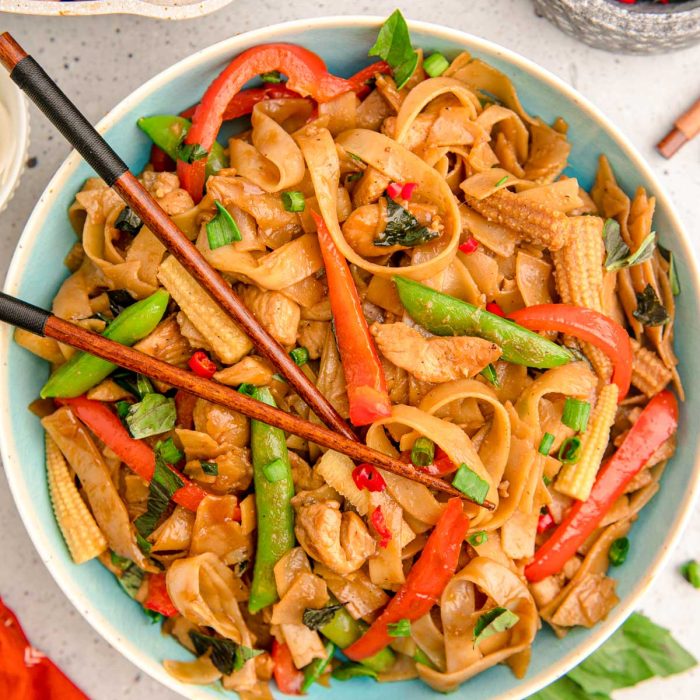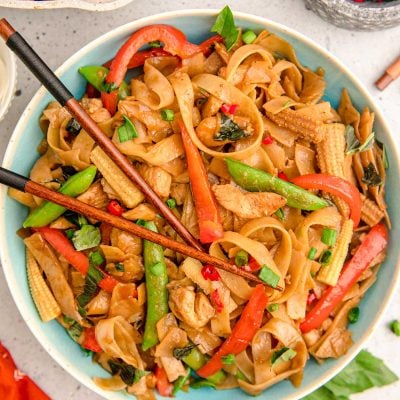 Drunken Noodles
Thai Drunken Noodles is a delicious stir-fry recipe that packs tons of flavor and a bit of heat in a sauce that coats tender pieces of chicken, crisp veggies, and soft noodles!
Ingredients
Noodles
8 ounces flat wide dried rice noodles ¼ inch or more if you have them
1 teaspoon sesame oil
Stir Fry
2 chicken breasts chopped
4 Tablespoons vegetable oil divided
2 garlic cloves minced
1 Thai bird's eye chili chopped (wear gloves or wash as soon as you're done, and don't touch your eyes)
15 ounces whole baby corn cut in half and quartered
1 red bell pepper sliced
10 snow peas
2 green onions sliced, plus more for garnish
1 cup Thai basil torn into small pieces, plus more for garnish
Instructions
Prep everything (cutting and chopping vegetables) so it's ready to go before you start cooking, as you'll need to move fast.

Mix 4 tablespoons soy sauce, 2 tablespoons oyster sauce, 2 tablespoons fish sauce, 2 tablespoons light brown sugar, ½ teaspoon ground black pepper, and ½ teaspoon ground ginger in a medium mixing bowl.

Place the chopped 2 chicken breasts into a medium bowl.

Pour a third of the sauce over the chicken and cover and place it in the refrigerator to marinate for 20 to 30 minutes. Reserve the rest of the sauce for later.

While the chicken is marinating, boil a large pot of water, then cover 8 ounces flat wide dried rice noodles with the boiling water and let them sit for 10 minutes (stirring a few times). Drain and rinse the noodles with cold water. Then toss the noodles in a bowl with 1 teaspoon sesame oil and set aside.

It is best to use a wok or large nonstick skillet for this dish. Heat 2 of the 4 Tablespoons vegetable oilin the skillet over medium heat, add in the marinated chicken and cook until done. Transfer the chicken to a bowl and set aside.

Increase heat to medium-high and add the remaining 2 tablespoons of vegetable oil. Add in the prepared 2 garlic cloves, 1 Thai bird's eye chili, 15 ounces whole baby corn, 1 red bell pepper, and 10 snow peas. Fry for 2 minutes, stirring constantly to avoid burning.

Then add the 2 green onions and 1 cup Thai basil. Continue to cook and stir for another minute.

Mix the cooked chicken back into the skillet and combine. Then add in the remaining sauce and noodles. Stir until the noodles are the desired texture (about 5 more minutes). Make sure to turn the noodles over as they cook to help them absorb the sauce.

Remove from heat and serve immediately.
Nutrition
Calories: 630kcal | Carbohydrates: 82g | Protein: 33g | Fat: 20g | Saturated Fat: 13g | Polyunsaturated Fat: 2g | Monounsaturated Fat: 3g | Trans Fat: 1g | Cholesterol: 72mg | Sodium: 2199mg | Potassium: 895mg | Fiber: 5g | Sugar: 13g | Vitamin A: 1758IU | Vitamin C: 66mg | Calcium: 58mg | Iron: 3mg