Kenji's Amazing 15-Minute Garlic Noodles are a creamy buttery garlic pasta dish that packs a ton of mouthwatering flavor everyone will love! Enjoy this quick recipe as a side dish or as the main meal!
Add another quick and delicious recipe to this week's dinner lineup by checking out TikTok Baked Gnocchi or these Pizza Sliders! Both are ready in 25 minutes or less!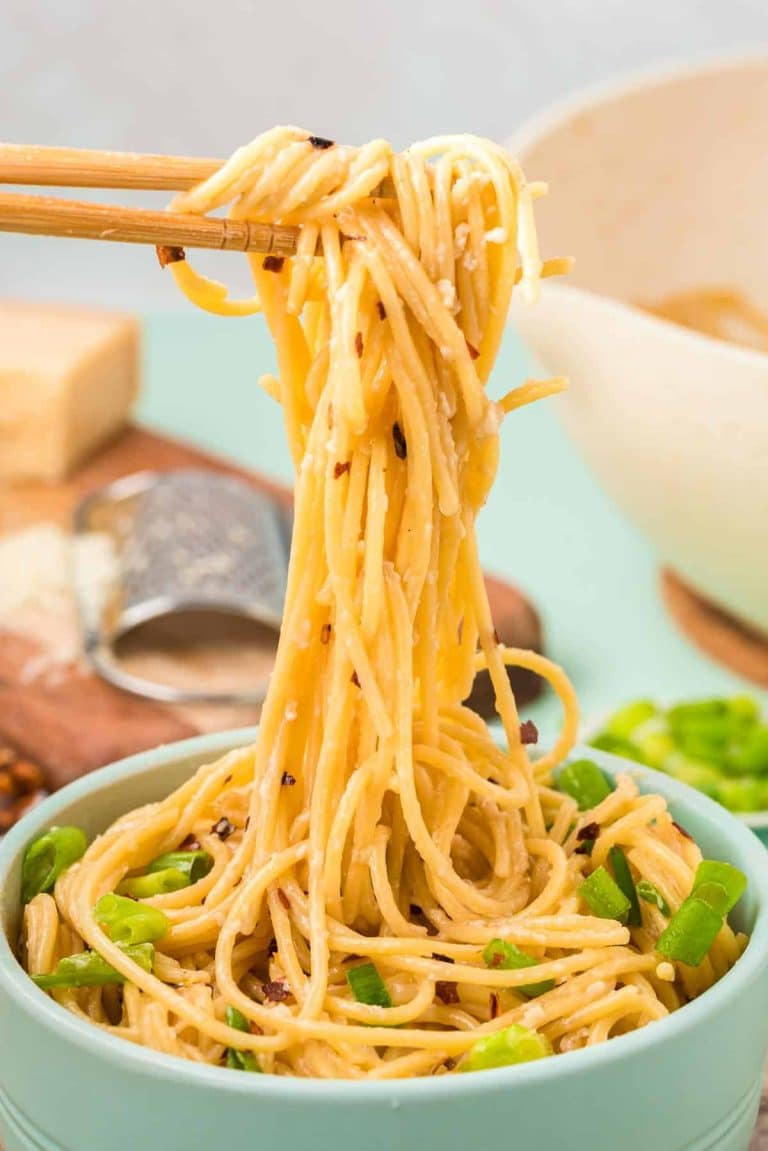 Kenji's Amazing 15-Minute Garlic Noodles are so insanely delicious and cozy! Making them by far my favorite dish I have tried of his!
I've never been big on YouTube-style cooking shows, but I do enjoy watching Kenji Lopez-Alt from time to time. I love how he takes big flavors and brings them to the table in a simple and approachable way for any home cook.
And his Garlic Noodles do not disappoint… at all! The best part is they take just 15 minutes to make. The 5 minutes of prep time takes place while other components are cooking making this recipe really convenient for busy weeknights.
This dish is a classic San Fransico treat. Created by Vietnamese American immigrants at a restaurant called Thanh Long in California.
Enjoying Every Flavorful Bite!
Taste: This simple pasta dish is filled with a savory flavor that's just the right amount of saltiness and garlic! The good news is the ingredients in it can also be fairly interchangeable.
Texture: Perfectly cooked al dente pasta is drenched in a creamy sauce loaded with scallions. All scooped up together to make the tastiest parmesan garlic noodles!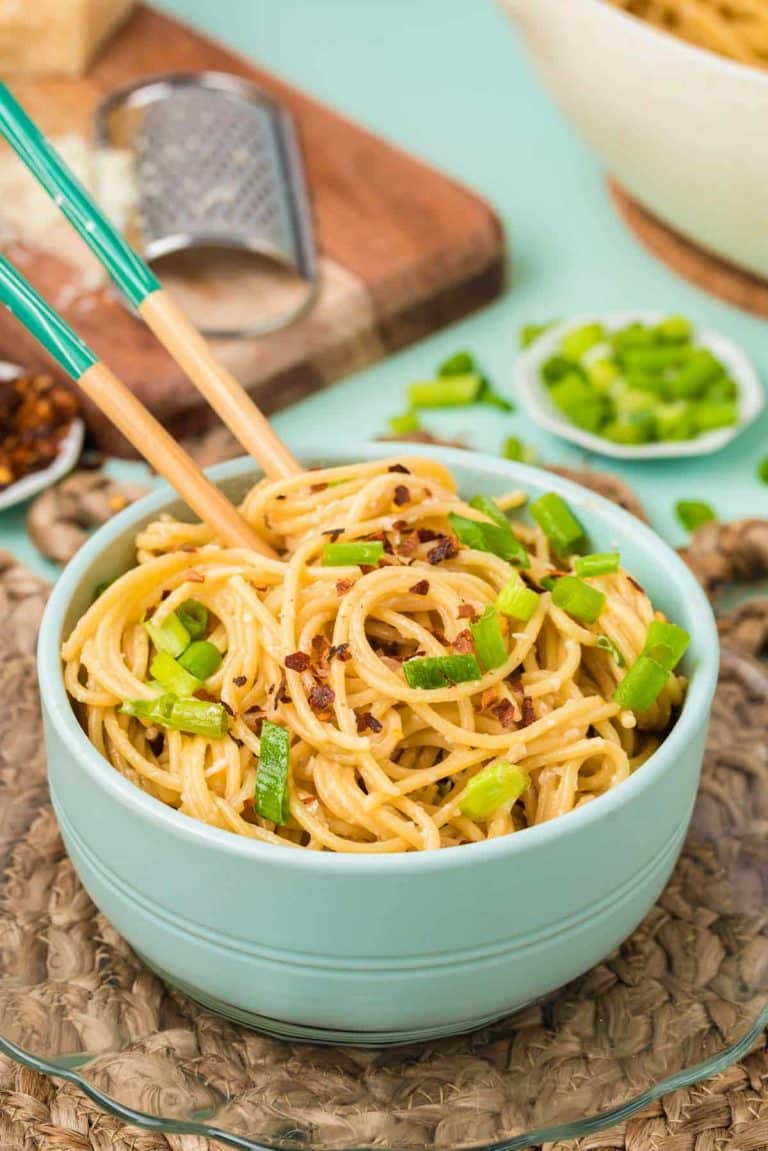 A lot of the mouthwatering flavor for this butter garlic noodles recipe is found in 3 ingredients. The soy sauce, fish sauce, and oyster sauce.
Though, not all of them are necessary, making the flexibility of this recipe is one of the best things about it! The sauces can easily be swapped around and traded out, using just a subset of them!
Some things that can be used in place of them are Maggi seasoning, yeast extract, or even Worcestershire sauce. The goal is to just use ingredients that are umami-rich sauces to give delicious savory flavor to this dish!
Helpful Tips For Making This Easy Garlic Noodles Recipe
When boiling the pasta, use just enough to cover the spaghetti. The smaller amount of water allows the starches in the water to remain condensed yielding starchy pasta. In turn, building a deliciously creamy sauce!
Be sure to cook the pasta until it's just shy of al dente. This way you don't end up with overcooked, soggy pasta after it finishes cooking in the skillet with the creamy sauce.
If you'd like, you can swap the garlic paste out for 20 fresh garlic cloves. However, the cloves will then need to be finely chopped up and crushed using mortar and pestle.
Save the leftover starchy water until the dish is finished. That way if the pasta and sauce appear greasy you can add a little more starchy water to let it re-emulsify.
Before serving and enjoying I recommend topping it with scallions and additional parmesan cheese. Then season with salt and pepper to taste!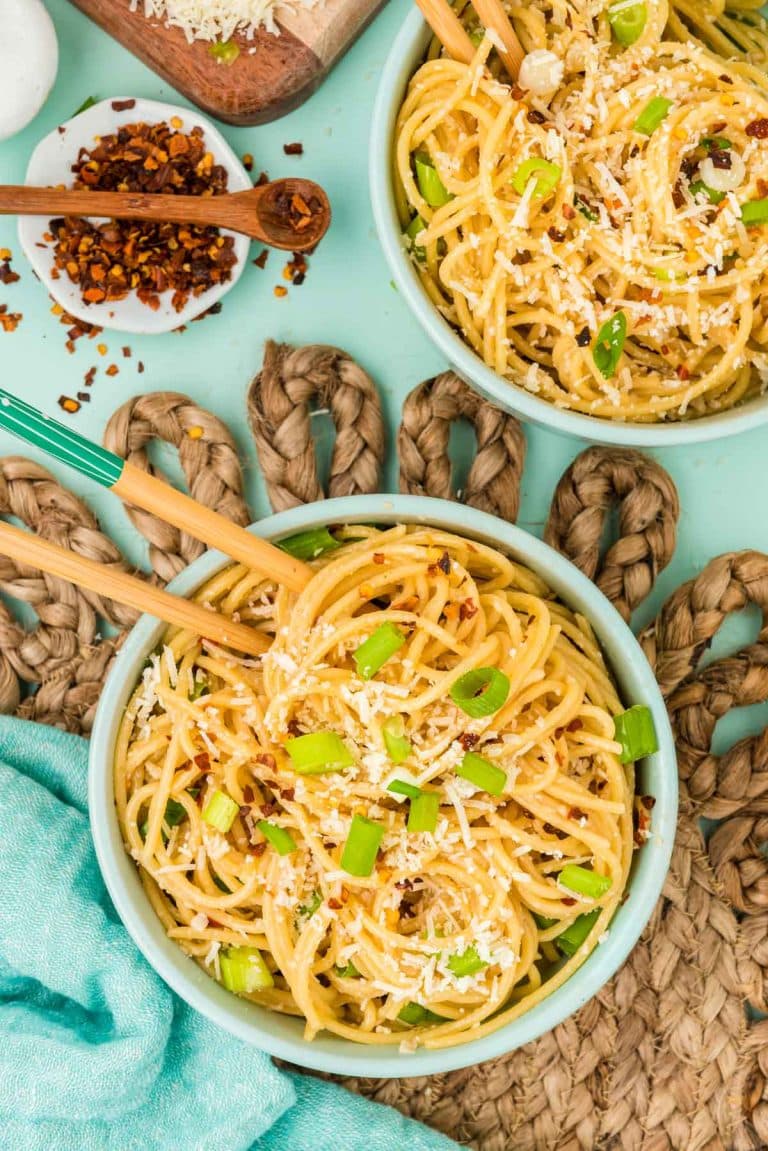 As with any pasta dish, this is filling! Which is perfect when you're enjoying it as the main meal! Another quick and filling pasta dish I make often is my Tortellini Alla Panna!
Instant Pot Chicken Alfredo, One Pan Pizza Pasta, and American Chop Suey are all great options as well! All three are dinnertime ready in under 30 minutes!
For an even quicker pasta dish that you can devour after only 15 minutes of cooking check out this TikTok Lemon Pasta! It's an easy-to-make Italian-inspired dish that calls for just 4 ingredients!
Storage Instructions
I find that Kenji garlic noodles are best enjoyed the same day since once they're reheated, they tend to be a bit dry. However, you can store any leftovers in an airtight container in the refrigerator.
Enjoy them for up to a day or two!
What Do I Serve With These Garlic Noodles?
In San Francisco, they're typically served with roast crab but really these can be eaten on their own, as is! Though if you're looking for more variety in your meal you can pair these garlic noodles with chicken.
Or even turn it into garlic noodles with shrimp recipe by adding in some sauteed or grilled shrimp.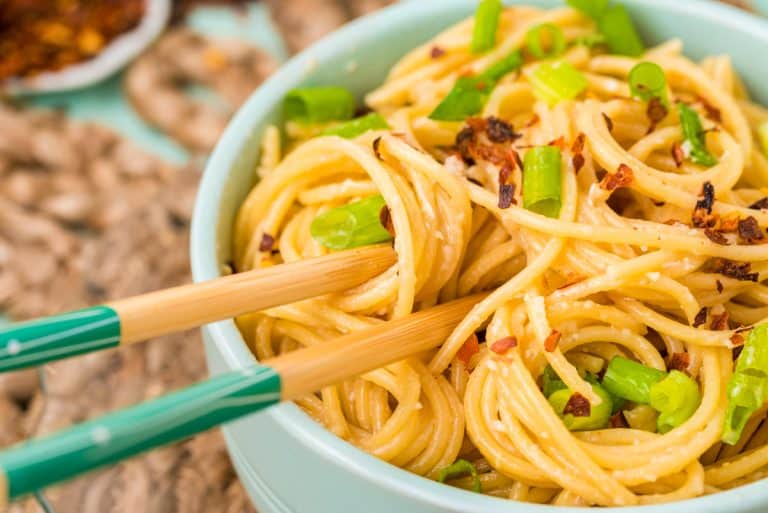 How Do I Make This Recipe If I Don't Have A Wok Or A Deep Skillet?
A large pot can be used instead of a wok or deep skillet to cook the pasta. Use just enough water to cover the spaghetti!
Can I Make These Garlic Noodles Without Oyster Sauce?
Yes, you can! Just replace it with a bit more fish or soy sauce. Or add another umami-rich sauce in its place.
Are There Other Types Of Noodles That Can Be Used In This Vietnamese Garlic Noodles Recipe?
Though I just grabbed a box of spaghetti at the store there are other options! Chinese hand-pulled noodles or fresh egg noodles could also be used in this dish.
What Other Types Of Cheeses Can I Use?
Instead of finely grated parmesan, you could grate Pecarina Romano cheese to use. Really any type of hard grating cheese will work in this recipe!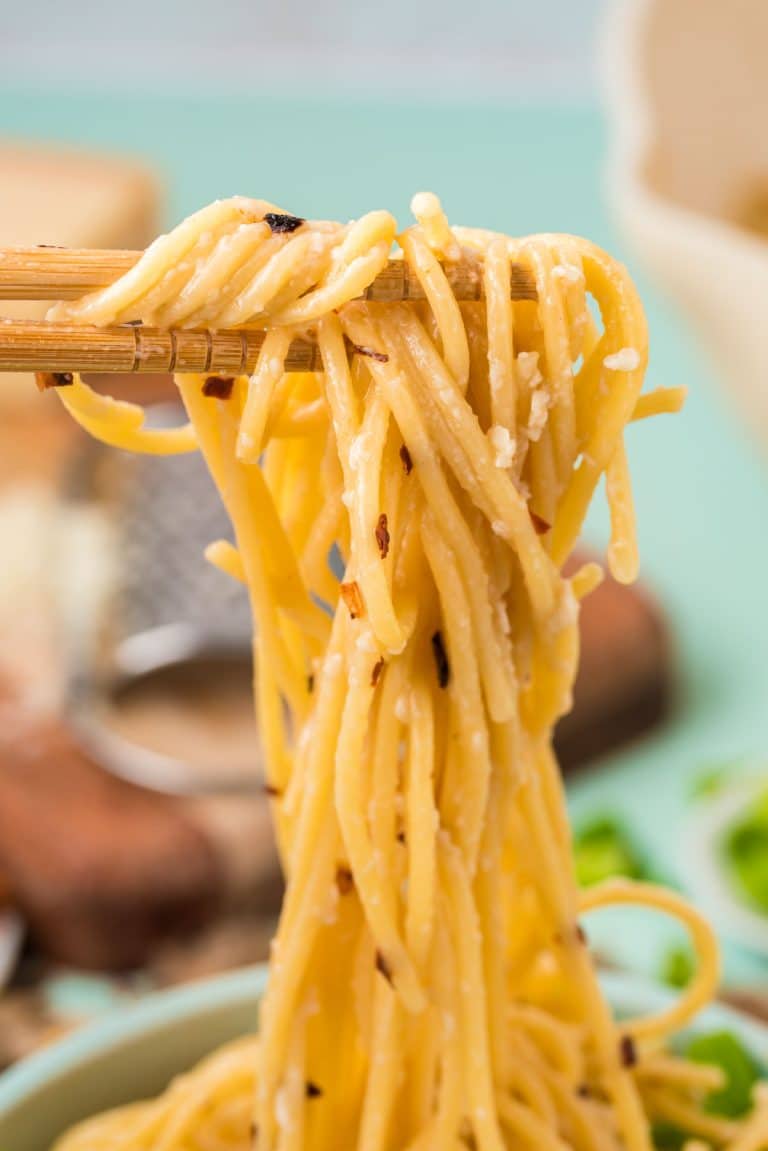 Garlic Noodles
Pin For Later
CLICK THE BUTTON ABOVE TO SAVE THIS DELICIOUS RECIPE TO YOUR BOARD!
👋 Let's Connect!
If you've tried this recipe, please let me know how you liked it in the comments below and leave a review; I love hearing from you! And don't forget to tag me – @sugarandsoulco – on Instagram and Pinterest with your photos or join our Busy Family Recipes Facebook Community and share them there!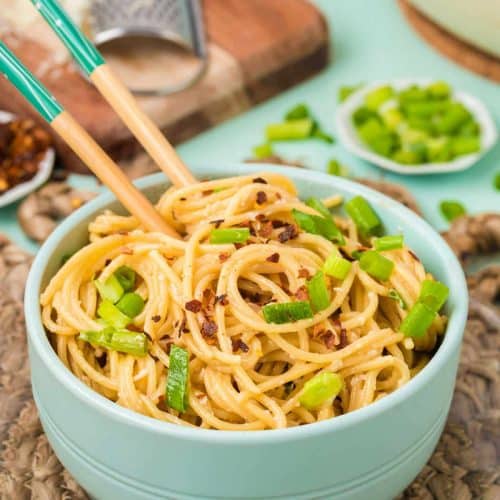 15-Minute Garlic Noodles
Kenji's Amazing 15-Minute Garlic Noodles are a creamy buttery garlic pasta dish that packs a ton of mouthwatering flavor everyone will love! Enjoy this quick recipe as a side dish or as the main meal!
Ingredients
2

tablespoons

unsalted butter

4

ounces

garlic paste

4

teaspoons

oyster sauce

2

teaspoons

light soy sauce or shoyu

2

teaspoons

fish sauce

salt

to season water

1

pound

spaghetti

⅓

cup

finely grated Parmesan

2

scallions
Instructions
Melt the butter in a wok or deep skillet over medium heat. Add the garlic paste and cook for about 1 minute until fragrant.

2 tablespoons unsalted butter,

4 ounces garlic paste

Add the oyster sauce, soy sauce, and fish sauce, and stir to combine. Remove from the heat.

4 teaspoons oyster sauce,

2 teaspoons light soy sauce or shoyu,

2 teaspoons fish sauce

Meanwhile, bring 1½ inches (about 4 to 5 cups) of water to a boil in a deep 12-​inch skillet over high heat and season with salt. Add the pasta and stir so it doesn't clump. Reduce heat to medium and cook, stirring frequently, until just shy of al dente. The pasta will just fit lengthwise in the pan until it begins to soften and then you can stir it around. It's important to reduce the heat so the water doesn't evaporate too quickly and cause the pasta to burn.

Using tongs, transfer the cooked pasta to the garlic sauce, along with whatever water clings to it. Reserve the pasta water in the skillet. Increase the heat to high, add the cheese to the pasta along with ¼ cup of the reserved pasta water, stir with a wooden spoon, and toss vigorously until the sauce is creamy and emulsified – about 30 seconds. If the sauce looks too watery, let it keep reducing. If it looks greasy, add a little more starchy water to it and let it re-​emulsify.

⅓ cup finely grated Parmesan,

2 scallions

Stir in and top with the scallions and additional parmesan cheese, and serve immediately. Season with salt and pepper as desired.
Notes
You can use a large pot to cook the pasta in if needed, just boil just enough water to cover the spaghetti. Using a smaller amount of water allows the starches in the water to remain condensed yielding amazingly starchy pasta water that will help build your sauce.

We sometimes add in an extra tablespoon or two of butter at the end when the pasta and sauce are combined to help it emulsify.
20 fresh garlic cloves can be used in place of the paste, mind finely and crush with mortar and pestle.
Make sure to use freshly grated Parmesan, the pre-grated bagged cheese has a coating on it that prevents it from properly melting. Shaker parmesan cheese should not be used.
The original recipe calls for just 1/4 cup of Parmesan but my family prefers it with a little more.
I find that the salt from the sauce is enough but we do like finishing with a bit of cracked black pepper and sometimes red pepper flakes.
Nutrition
Calories:
556
kcal
Carbohydrates:
96
g
Protein:
20
g
Fat:
10
g
Saturated Fat:
5
g
Polyunsaturated Fat:
1
g
Monounsaturated Fat:
2
g
Trans Fat:
0.2
g
Cholesterol:
22
mg
Sodium:
726
mg
Potassium:
418
mg
Fiber:
4
g
Sugar:
4
g
Vitamin A:
310
IU
Vitamin C:
10
mg
Calcium:
159
mg
Iron:
2
mg
Adapted from J. Kenji Lopez-Alt