Everyone loves that childhood favorite Dirt Cake. Now you can have all that classic flavor in these Dirt Cake Cookies. Rich, fudgy cookies topped with chocolate frosting and crushed Oreos. Don't forget that signature gummy worms! These cookies will always be a favorite!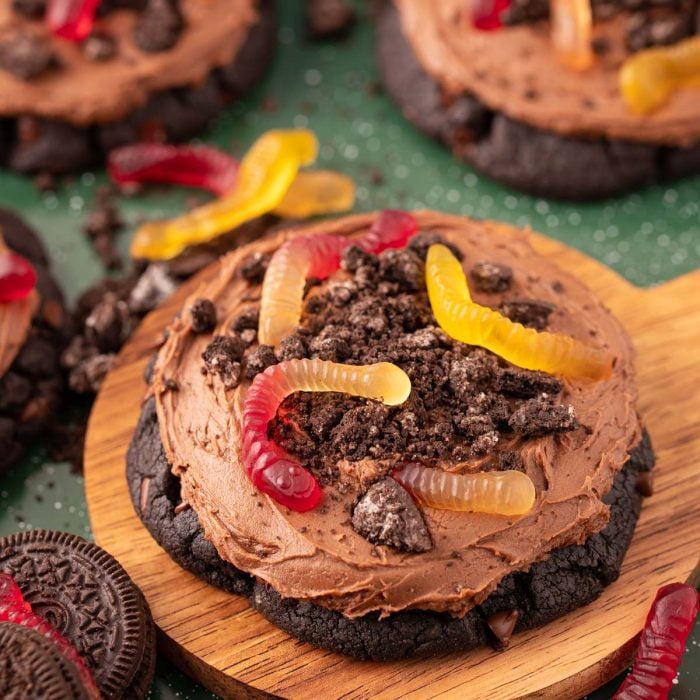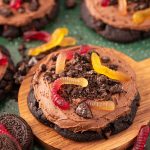 These Dirt Cake Cookies are a rich, fudgy Crumbl copycat recipe made with a chocolate cookie that's topped with chocolate buttercream, crushed Oreo cookies, and gummy worms!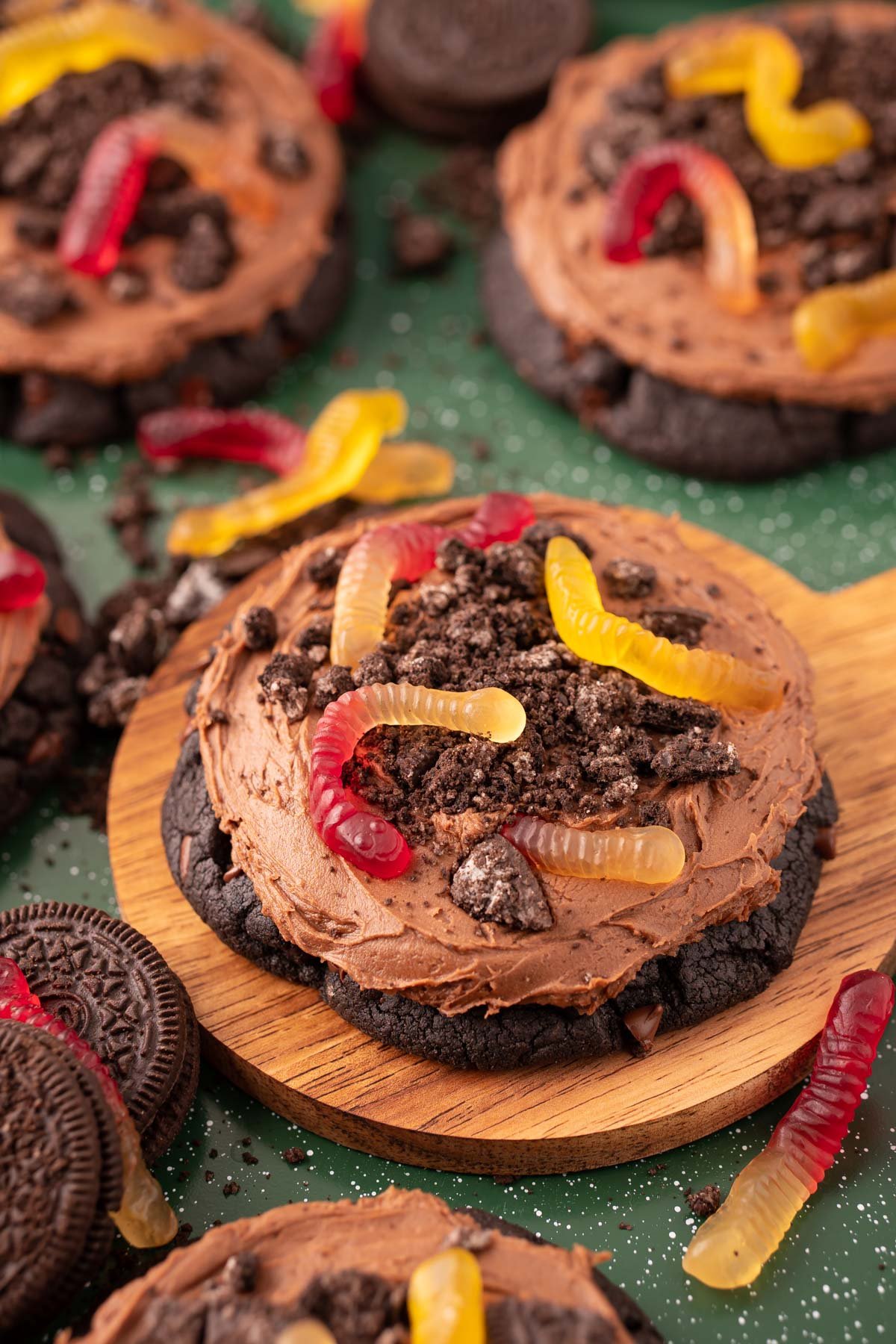 Ever find yourself thinking about a giant, decadent Crumbl cookie? Me too… and it's more times than what's probably socially acceptable.
This is why I chose to create a Crumbl Copycat Dirt Cake cookie! It not only rushes all of my favorite childhood memories of dirt cake back to me but also delivers a gourmet cookie that's made right at home for less!
The Copycat Crumbl Cookie Experience
Taste: Even though these cookies don't come in the iconic pink box, you can still count on them having the same mouthwatering taste of a classic Crumbl treat! These Dirt Cake Cookies have a deep chocolaty cookie base that's topped with rich chocolaty buttercream, Oreos, and sweet gummy bears.
Overall, one bite of this cookie, and you'll quickly realize that the taste of dirt is actually incredibly rich and sweet! 😉
Texture: These cookies are amazingly firm but soft! The silky-smooth buttercream frosting makes the perfect base for the crunchy, crumbled cookie topping and a chewy gummy worm!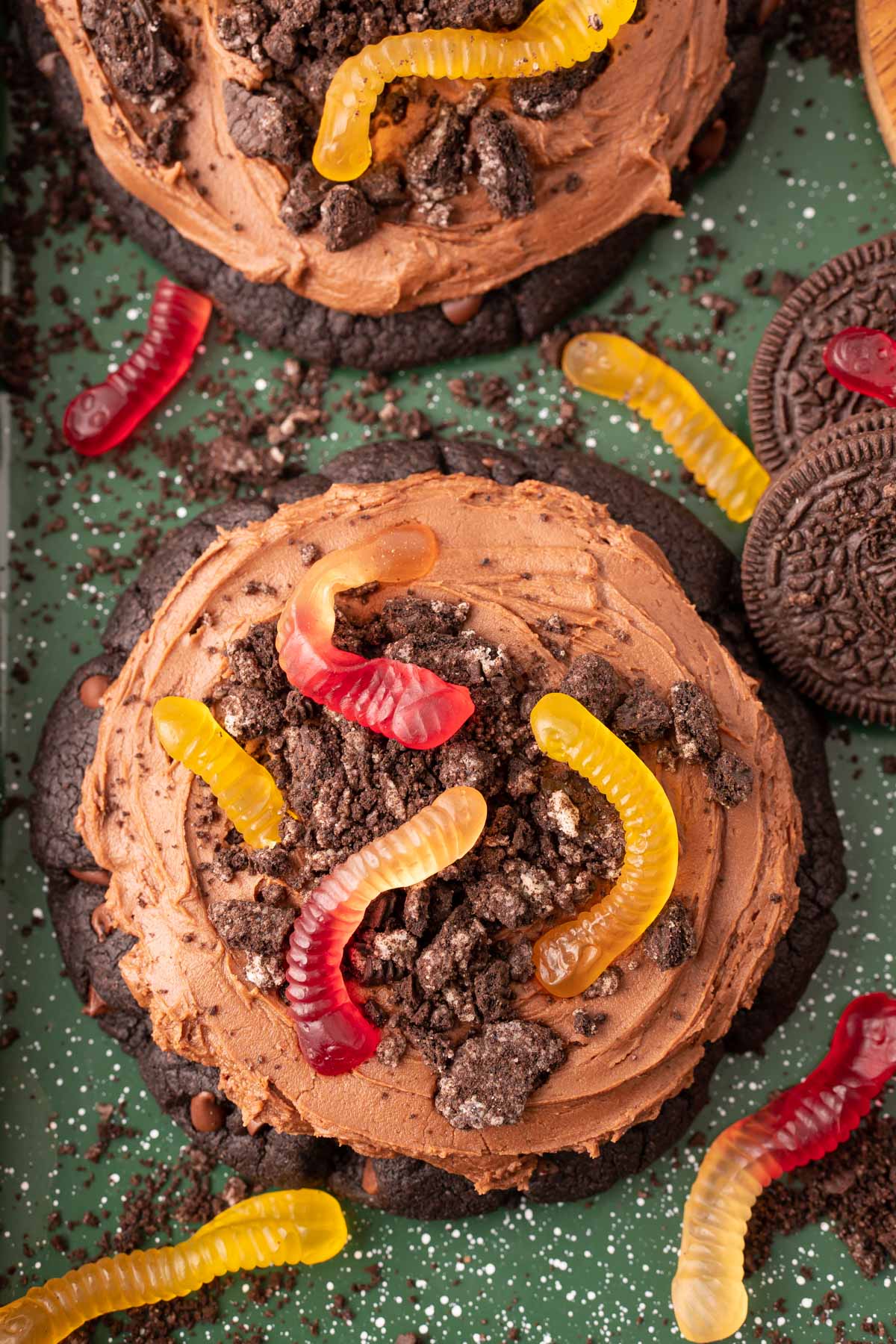 Ingredients For Dirt Cake Cookies
Granulated Sugar
Black Cocoa Powder
Salted Butter
Vegetable Oil
Egg
Vanilla Extract
All-Purpose Flour
Instant Vanilla Pudding Mix
Baking Powder
Salt
Mini Chocolate Chips
Chocolate Frosting
Gummy Worms
Oreos
As you can see, even though we're replicating a popular gourmet cookie, the ingredients are mostly pantry staples. Making it so you can easily whip up a Crumbl favorite in no time with very little expense.
One of the key ingredients you may not have on hand is instant vanilla pudding mix. When shopping for this ingredient, make sure to get instant and not cook & serve, as that, unfortunately, would not work in this recipe.
And don't forget those yummy dirt cake toppings! Crushed Oreos, or any chocolate cookie, are used as the dirt topping, while the gummy worms give the full dirt treat experience.
What Is Black Cocoa Powder?
Black cocoa powder is cocoa powder that has been heavily alkalized to reduce acidity. This process creates a dark-colored cocoa powder that has a deep, bold unsweetened chocolaty taste with a smooth texture.
The black cocoa in this crumble cookie recipe creates the cookie's dark color. Giving it more of a dirt appearance to support the theme of the cookie!
The black cocoa also gives the dough a more Oreo-like taste. If you prefer something a little lighter, unsweetened cocoa powder may be used instead with no other substitutions.
Dirt Cake Cookies Step-By-Step Instructions
Step 1: Beat the granulated sugar, black cocoa powder, salted butter, vegetable oil, large egg, and vanilla extra together in a large mixing bowl or stand mixer fitted with a paddle attachment.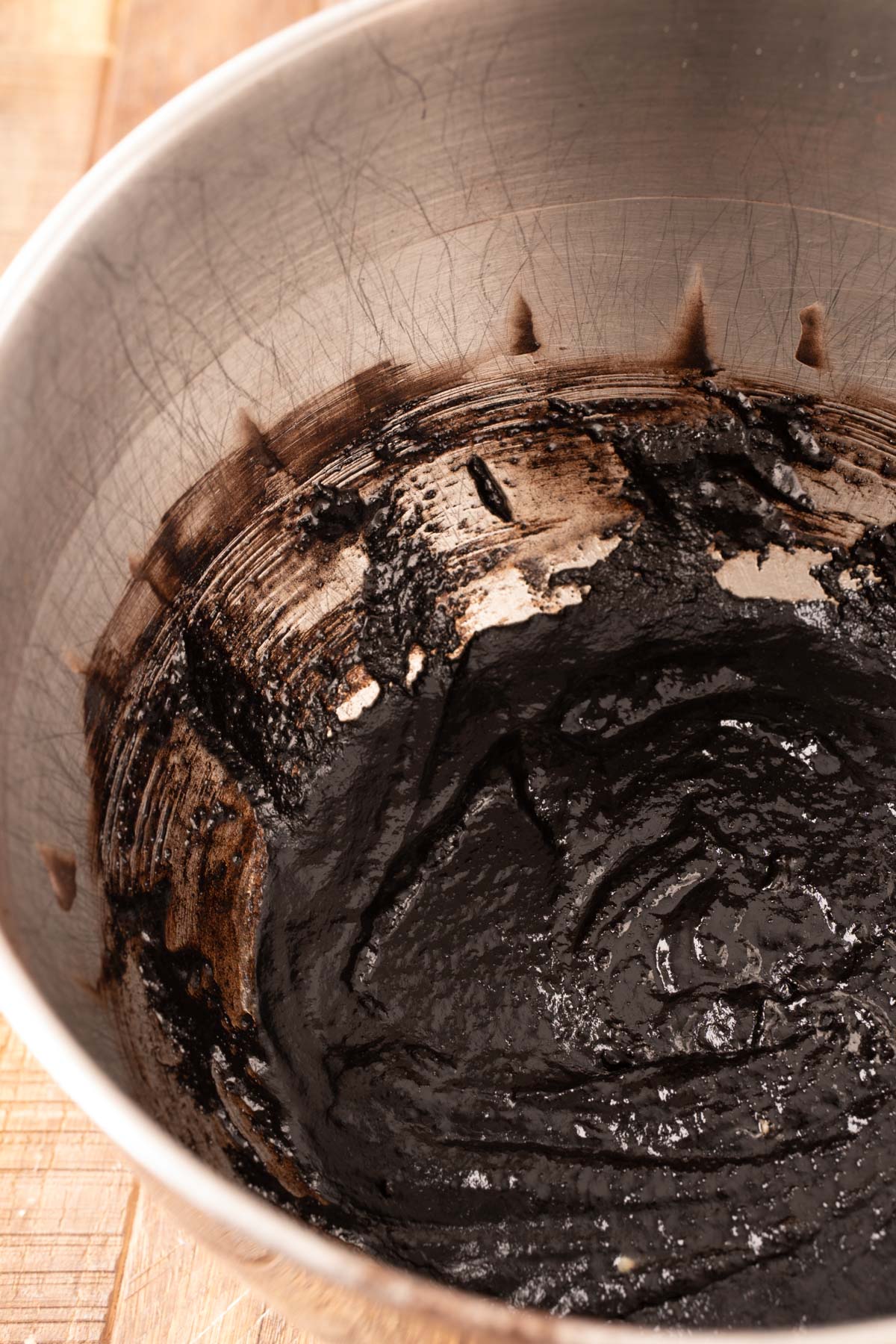 Step 2: Mix in all-purpose flour, instant vanilla pudding mix, baking powder, and salt until the dough becomes thick.
Step 3: Stir in the chocolate chips.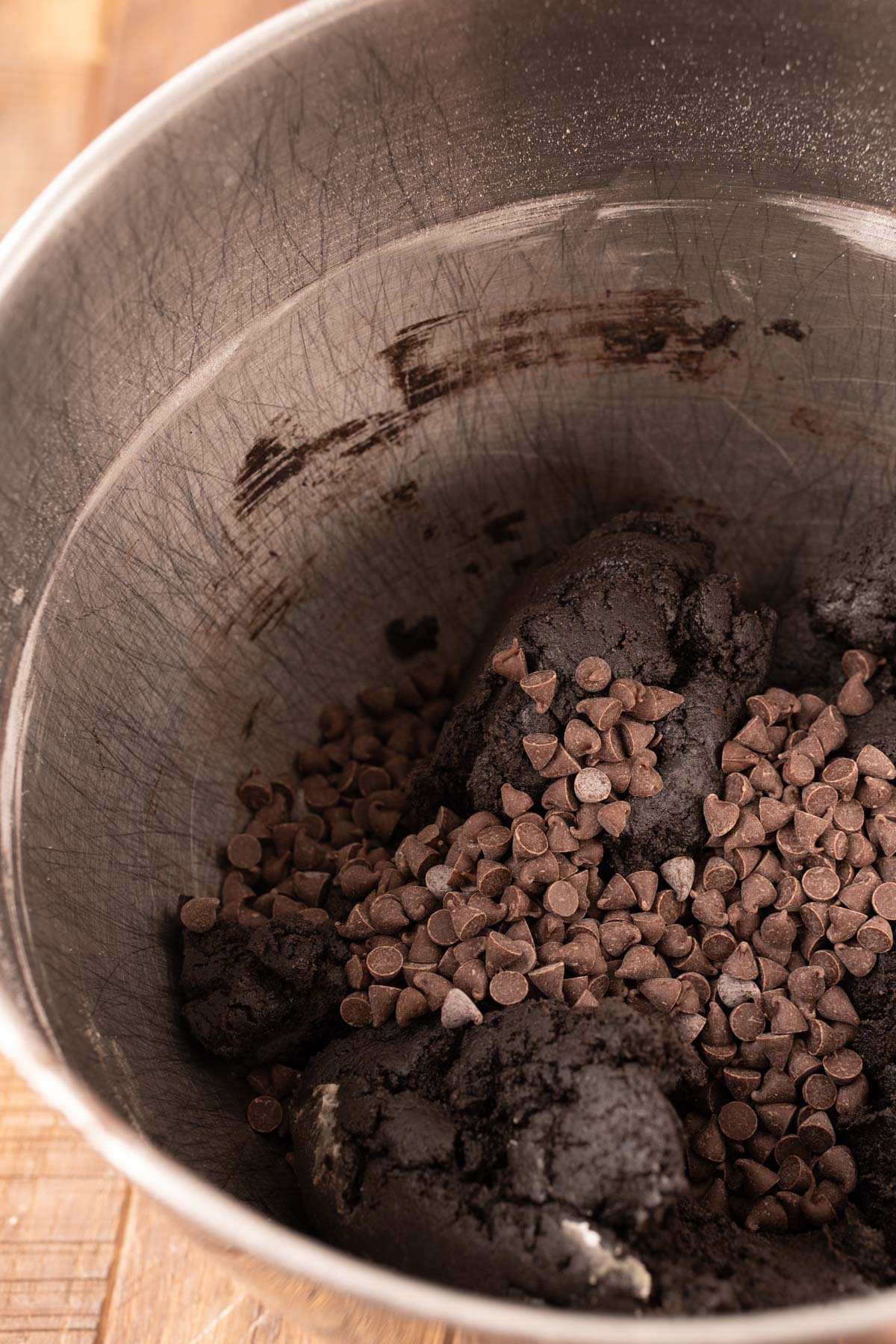 Step 4: Portion the cookie dough out into six balls and place them on the prepared baking sheet. Chill the cookie sheet of cookie dough for 30 minutes.
Step 5: Bake the cookies for 10 to 12 minutes, only long enough so that they're just baked to maintain their soft texture. Afterward, cool them on a cooling rack while you prepare the frosting.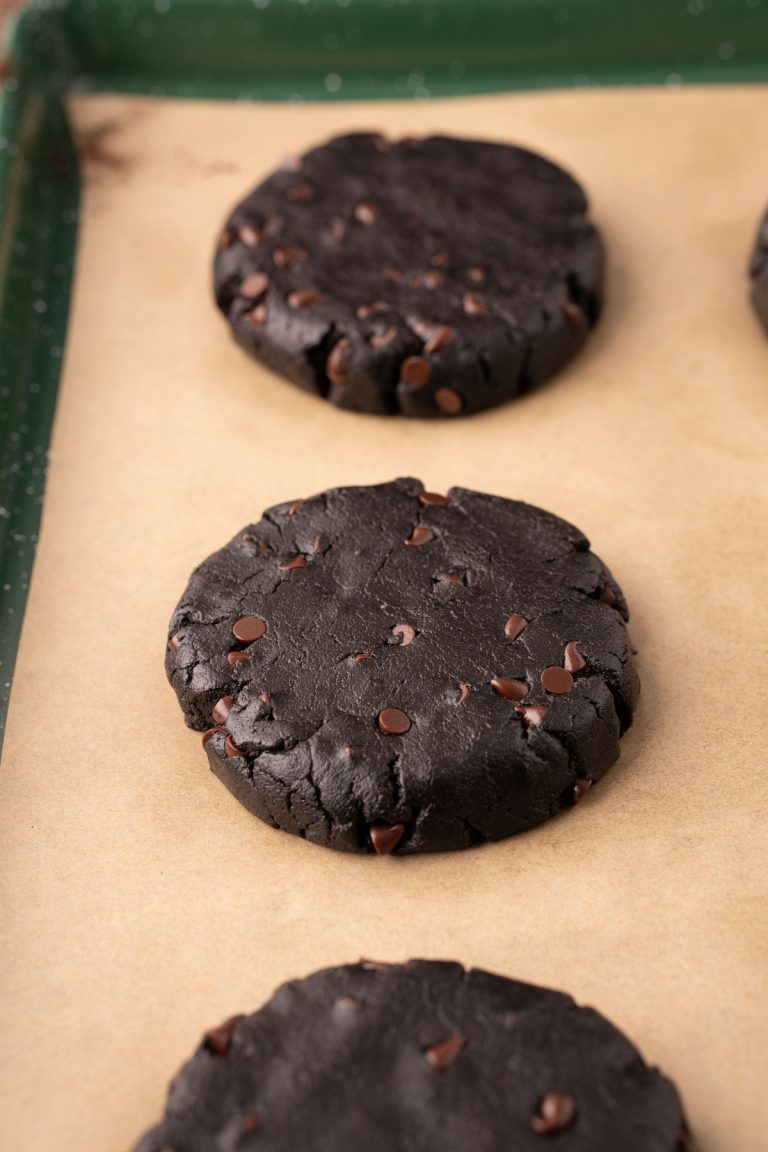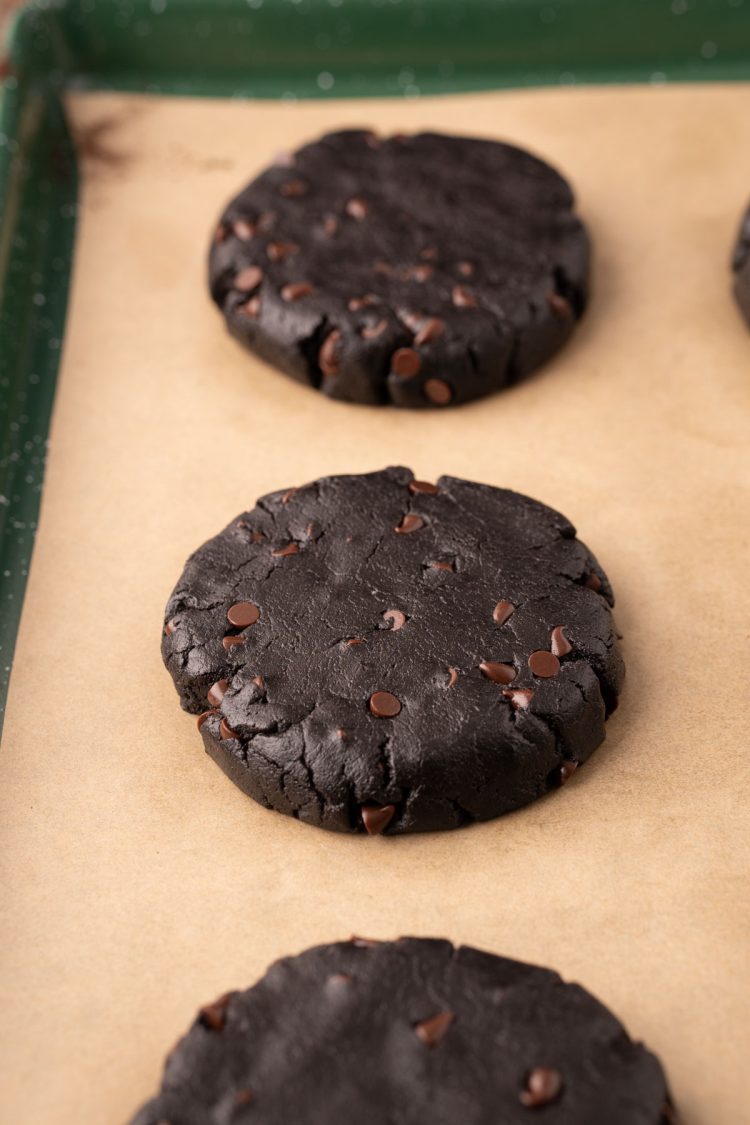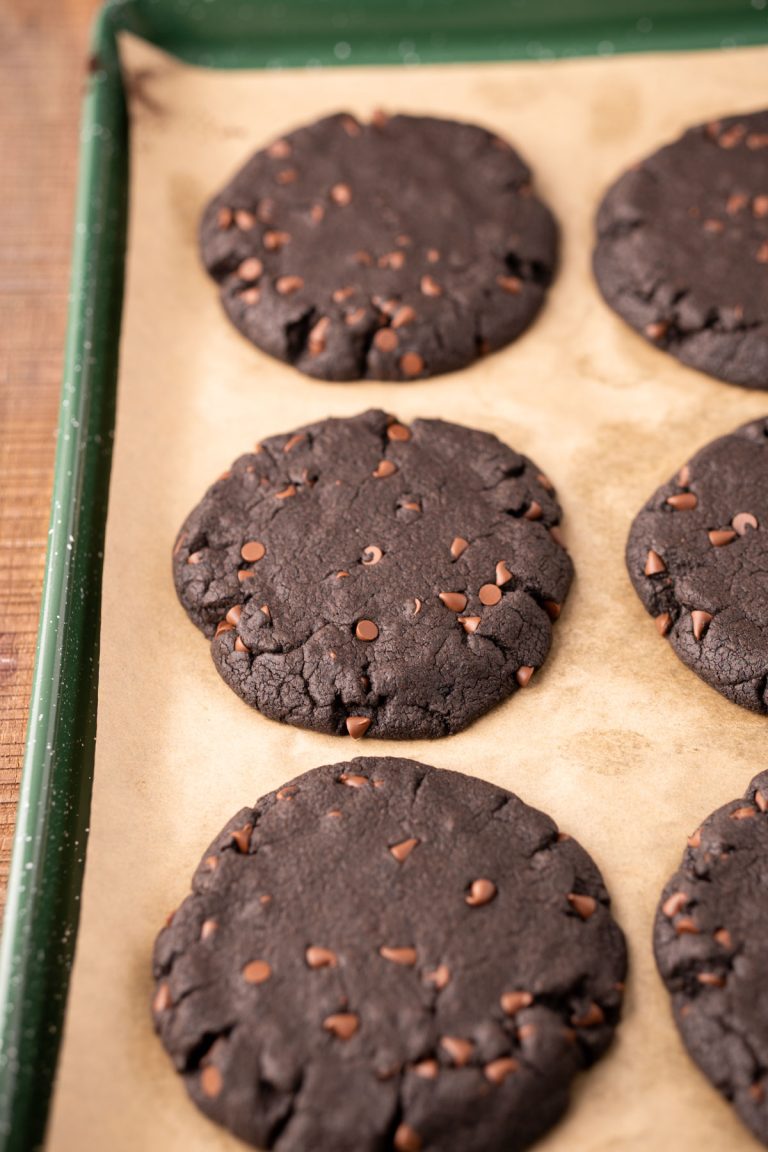 Step 7: Spread the chocolate frosting onto each cooled cookie in a swirl pattern. You will need either a 16-ounce container of frosting or a half batch of my Homemade Chocolate Frosting.
Step 8: Sprinkle the Oreo crumbs on top of the frosted cookies. Then finish each cookie by sticking a gummy worm or two into the tops!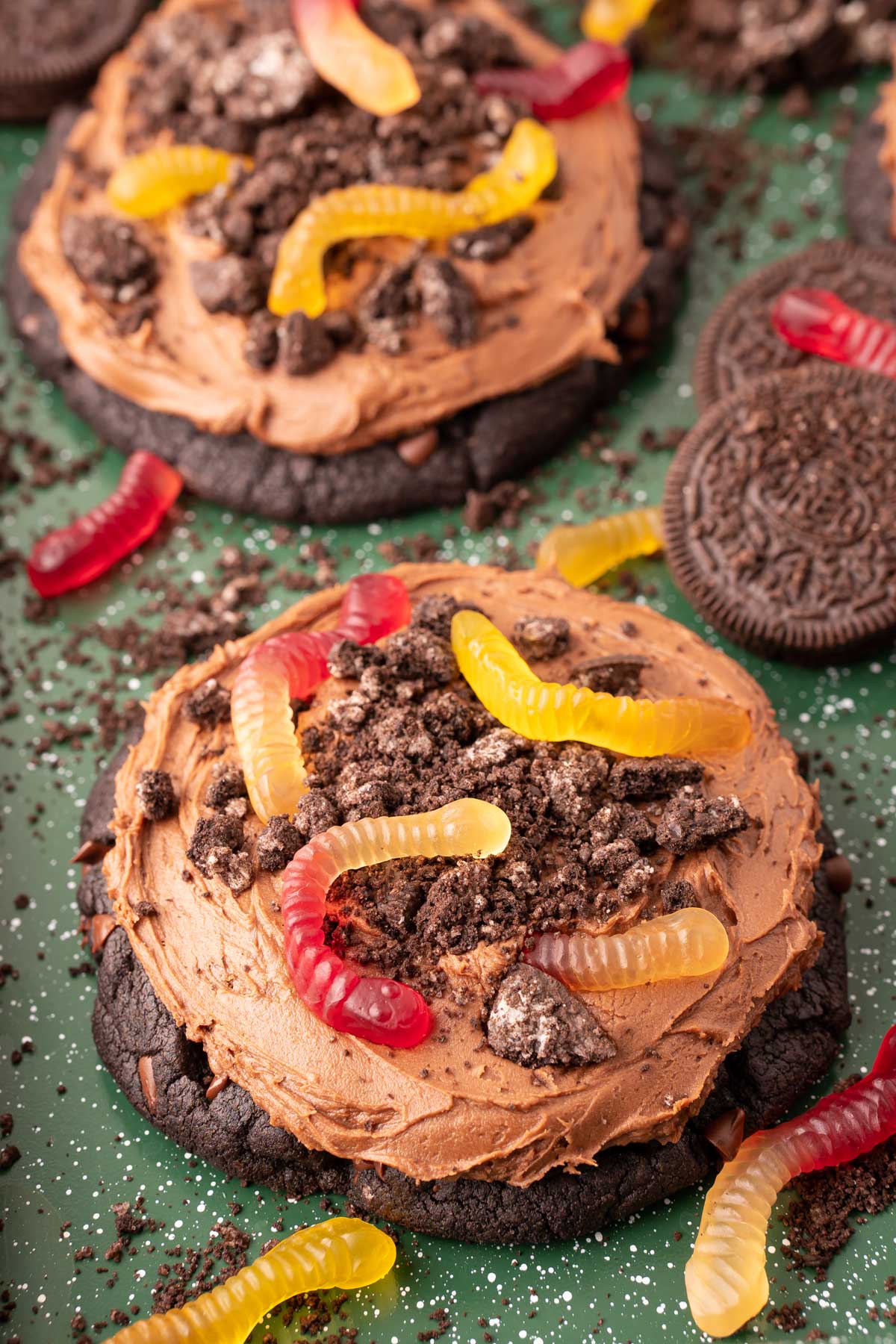 How To Serve Dirt Cake Cookies
Serve these cookies at any party, kid-friendly event, or even for a fun holiday treat! Adults also love them too; I even made them for teacher appreciation week at my kid's school, and they were a hit among the staff!
I do find that the taste and texture of these cookies are best enjoyed on the same day they're made or the next.
Choose Your Cookie Size!
To create these cookies to be a copycat Crumbl this recipe produces large cookies just like they do! However, you can also divide the dough and make a dozen regular-sized cookies as well.
You can even make mini dirt cake cookies, which would be great when serving kids!
Storage Instructions For Dirt Cake Cookies
Store these Dirt Cake Cookies in an airtight container in a single layer so that the toppings don't get squished. Keep the cookies at room temperature and enjoy them within 3 to 5 days.
Dirt Cake Cookies Substitutions And Variations
Butter – Though the cookie recipe calls for salted butter, you can replace it with unsalted butter if needed. To make the swap, add an additional ¼ teaspoon of salt to the cookie dough.
Chocolate Chips – Instead of using mini chocolate chips, you can use regular chocolate chips or even chocolate chunks.
Cocoa Powder – When making the chocolate cookie recipe, unsweetened cocoa powder can be used instead of black cocoa powder.
Cookie Crumbs – Any chocolaty cookie will work for the crumb topping. Often you can even find pre-crushed chocolate cookies in the baking aisle that would also be a great choice to use!
Gummy Worms – You can use regular gummy worms, sour gummy worms, or any type of gummy bug on these cookies!
Holidays – These dirt cake cookies would be fun dressed up for Halloween with mini pumpkins! Or for Easter with Peeps and mini-Cadbury eggs!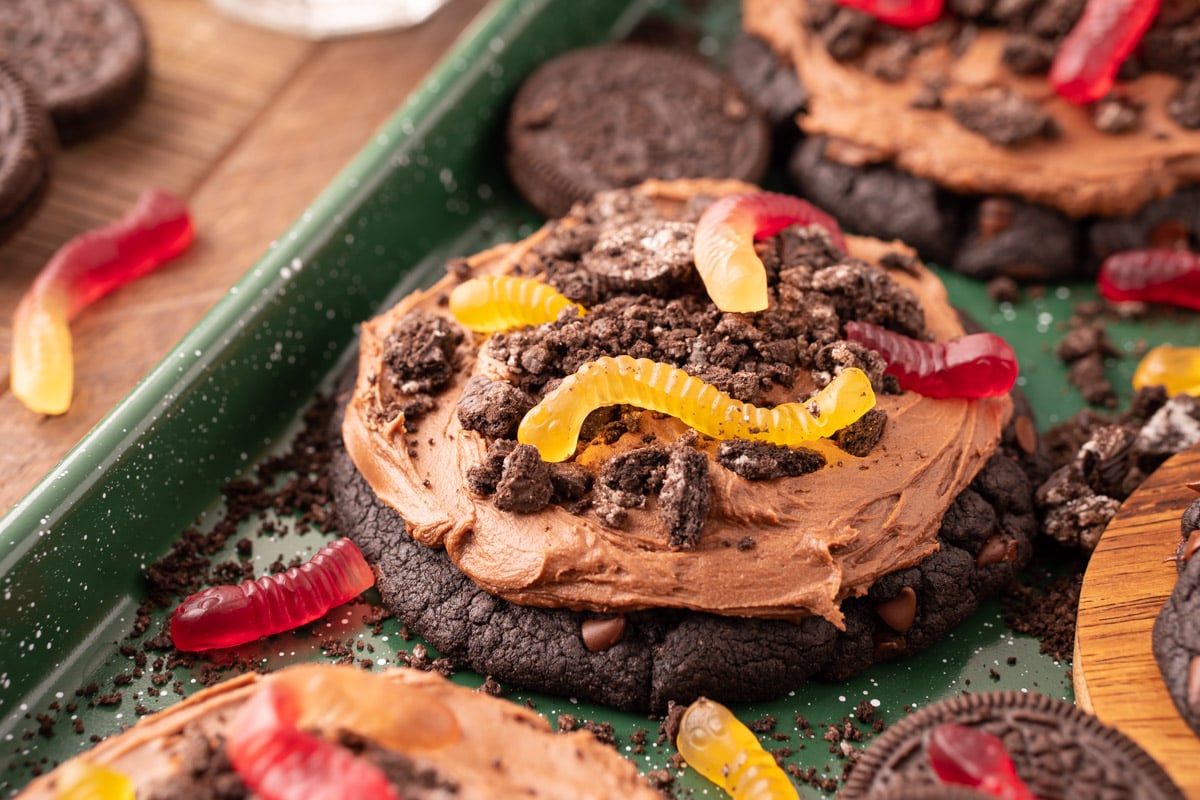 Dirt Cake Cookies FAQS
What Makes Crumbl Cookies Special?
Those aesthetically pleasing cookies in their pretty pink box took the world and social media by storm around 2017. What makes them so desirable is that their giant, gourmet-style cookies not only look good, but they're also absolutely delicious.

The cookies are typically slightly underbaked, making them incredibly decadent and delicious! They also rotate their menu weekly, which means their mouthwatering flavors are always new and exciting.
Can You Freeze This Cookie Dough?
Yes, you can freeze this cookie dough to bake off and dress with toppings later. To do so, follow the recipe through step 3.

Then portion out the dough as in step 4 and continue to place them on a baking sheet. However, instead of placing them in the fridge to chill, you'll transfer them into the freezer to flash freeze for 1 hour.

Afterward, transfer the frozen cookie dough into a Ziploc bag with the excess air squeezed out of it or into an airtight container. Store the cookies in the freezer for up to 3 months.
Do I Have To Make These Cookies With Buttercream Frosting?
No, any chocolate frosting can be used in this recipe if you prefer not to use chocolate buttercream.
Do I Need To Chill The Dough?
No, in fact, the cookies pictured weren't chilled before baking. However, they do spread a little more than the cookies that are chilled. So it's really up to you.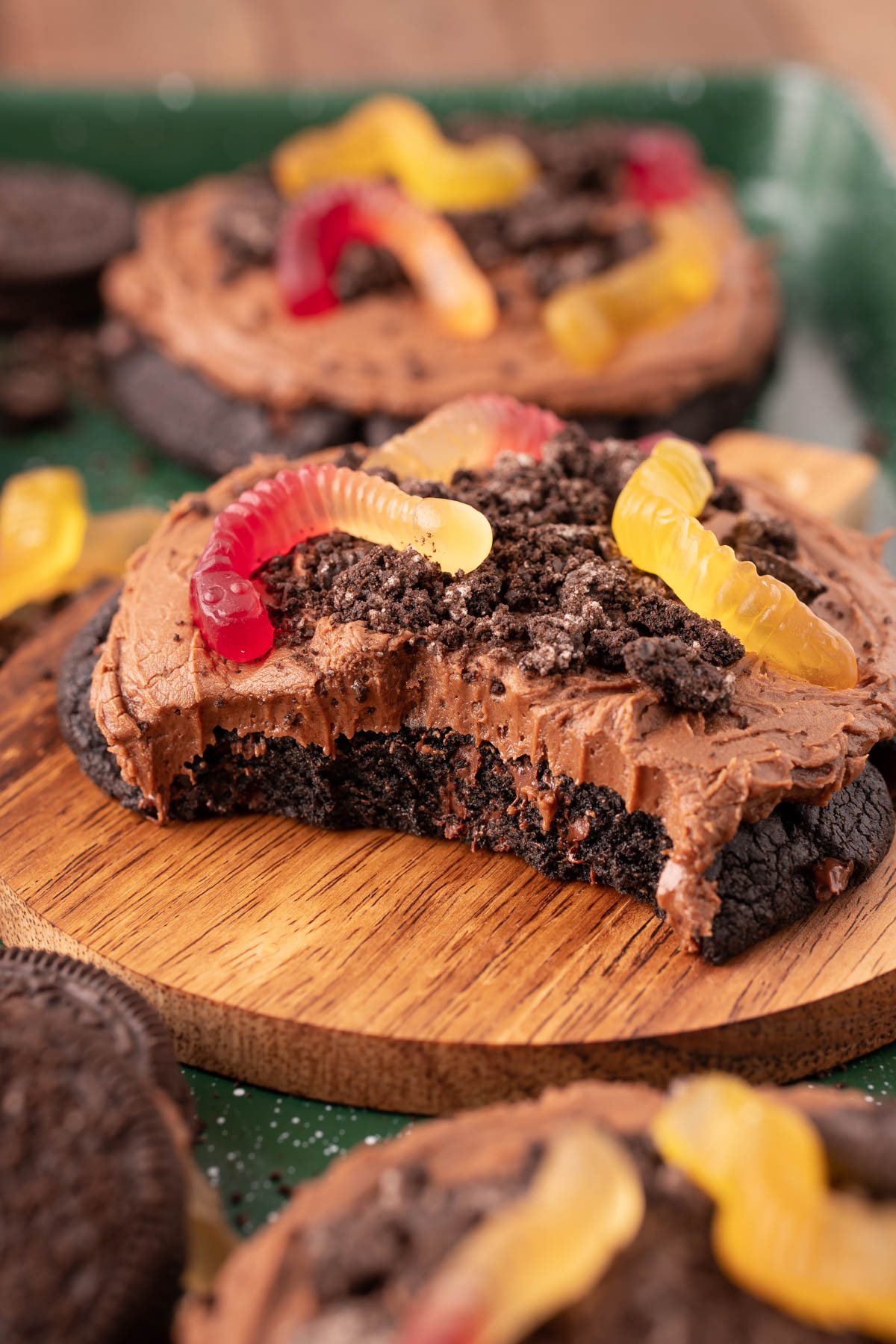 More Delicious Chocolate Cookie Recipes!
👋 Let's Connect!
If you've tried this recipe, please let me know how you liked it in the comments below and leave a review. I love hearing from you!
Don't forget to tag me – @sugarandsoulco – on Instagram and Pinterest with your photos or join our Sugar & Soul Show-offs Community and share them there, where you can join our recipe challenges!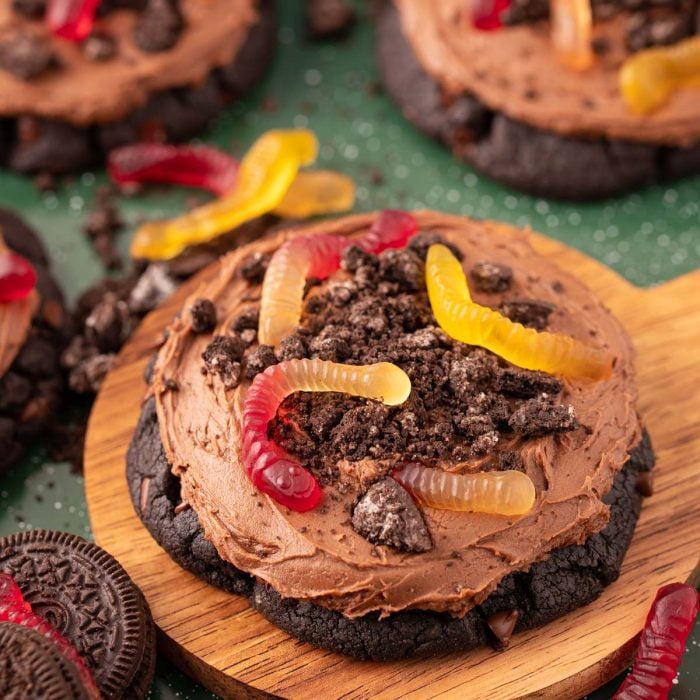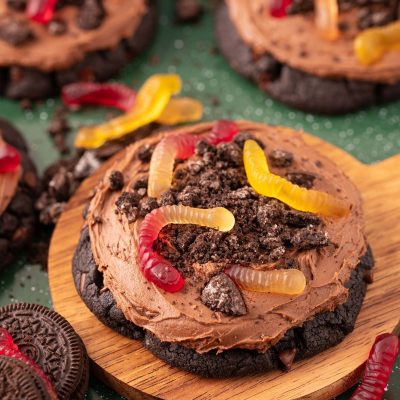 Dirt Cake Cookies
Everyone loves that childhood favorite Dirt Cake. Now you can have all that classic flavor in these Dirt Cake Cookies. Rich, fudgy cookies topped with chocolate frosting and crushed Oreos. Don't forget that signature gummy worms! These cookies will always be a favorite!
Instructions
Preheat the oven to 350°F and line a cookie sheet with aluminum foil.

In a mixing large bowl or stand mixer fitted with a paddle attachment, beat together the 1 cup granulated sugar, ½ cup black cocoa powder, ½ cup salted butter, 3 tablespoons vegetable oil, 1 large egg, and 2 teaspoons vanilla extract until well mixed.

Mix in the 1⅓ cups all-purpose flour, 1 (3.4 oz.) box instant vanilla pudding mix, ½ teaspoon baking powder, and ½ teaspoon salt, until a thick dough forms.

Mix in the ½ cup mini chocolate chips.

Divide the dough into 6 (5-ounce) balls and place the onto the cookie sheet. Chill in the fridge for 30 minutes for puffier cookies or bake right away for firmer cookies.

Bake for 10 to 12 minutes. You want the cookies just baked so they stay soft.

Cool on a cooling rack.

While the cookies cool, prepare the 16 ounces chocolate frosting if using homemade. Then frost the cookies once they are cooled.

Crush the 9 Oreos in a Ziploc bag with a rolling pin

Sprinkle the Oreo crumbs on each cookie. Pressing them down gently so they sink into the frosting a bit.

Top the cookies with the 12 gummy worms, adding 2 to each cookie, or more if you'd like.
Notes
Store in an airtight container for 3 to 5 days.
You must refrigerate these cookies before baking to keep them chewy. But if you like a slightly firmer but still fudgy cookie, you can bake them right away.
This recipe makes 6 large cookies, but you can divide the dough into 12 regular-size cookies (2.5 ounces each) if you like, or you can even make mini ones!
Unsweetened cocoa may be used in place of black cocoa with no other substitutions.
Nutrition
Calories: 924kcal | Carbohydrates: 145g | Protein: 10g | Fat: 38g | Saturated Fat: 18g | Polyunsaturated Fat: 3g | Monounsaturated Fat: 13g | Trans Fat: 1g | Cholesterol: 72mg | Sodium: 557mg | Potassium: 380mg | Fiber: 5g | Sugar: 103g | Vitamin A: 572IU | Vitamin C: 0.1mg | Calcium: 65mg | Iron: 6mg