Chocolate Milkshake Cookies are filled with classic chocolaty malt flavor and are topped with thick hot fudge sauce and white chocolate frosting! Takes just 30 minutes to prep a batch of these decadent cookies!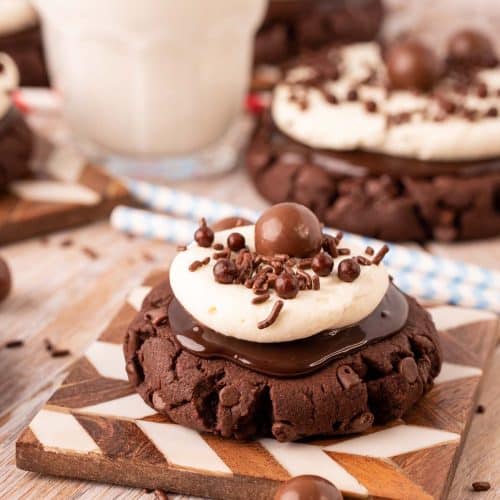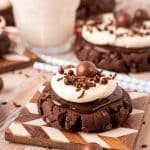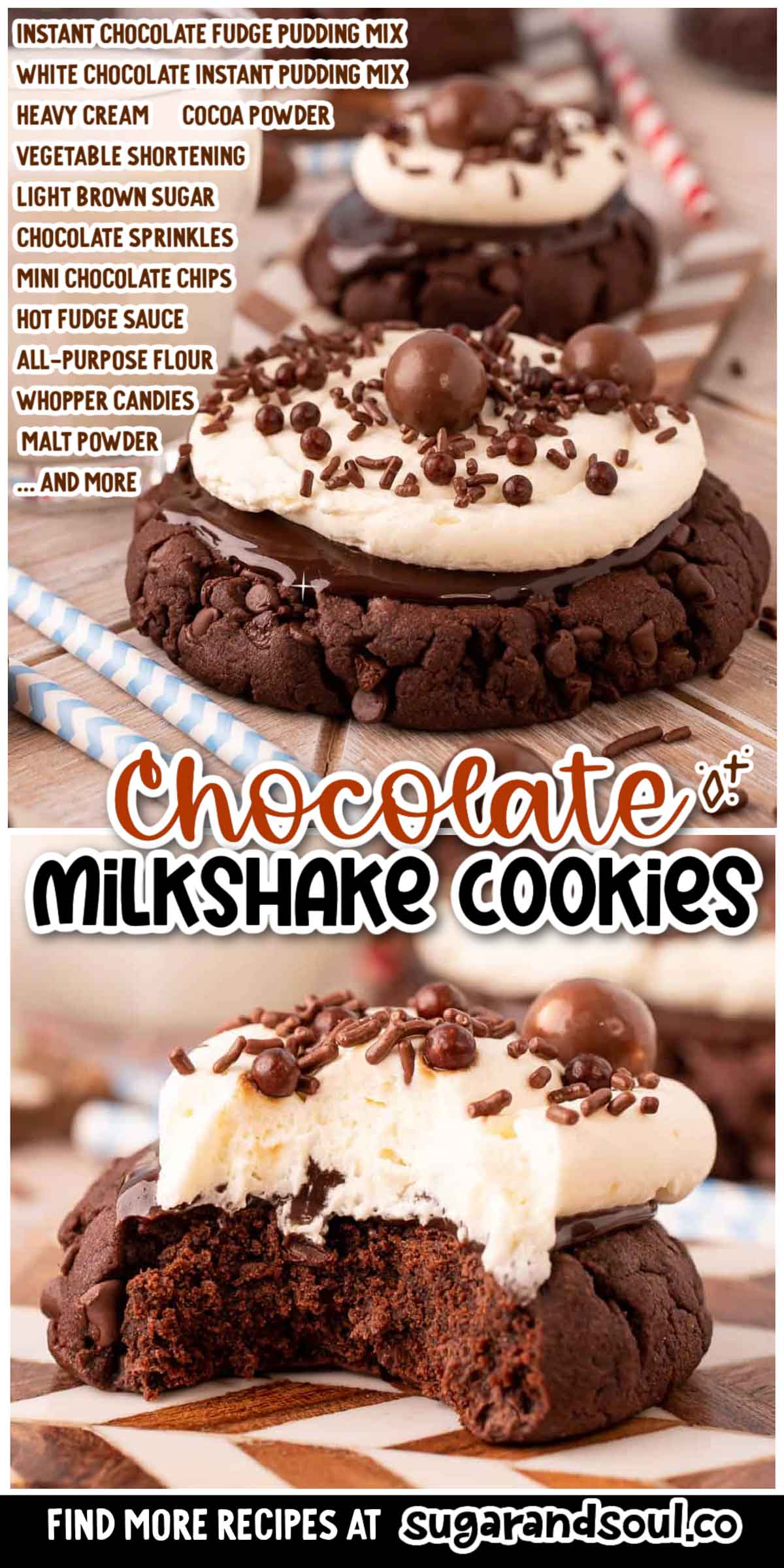 Chocolate Milkshake Cookies are filled with classic chocolaty malt flavor and are topped with thick hot fudge sauce and white chocolate frosting! Takes just 30 minutes to prep a batch of these decadent cookies!
For more dessert recipes that have the same unique malted milkshake flavor check out my Strawberry Milkshake Cupcakes or Chocolate Milkshake Cupcakes! Both are made with a doctored-up boxed cake mix!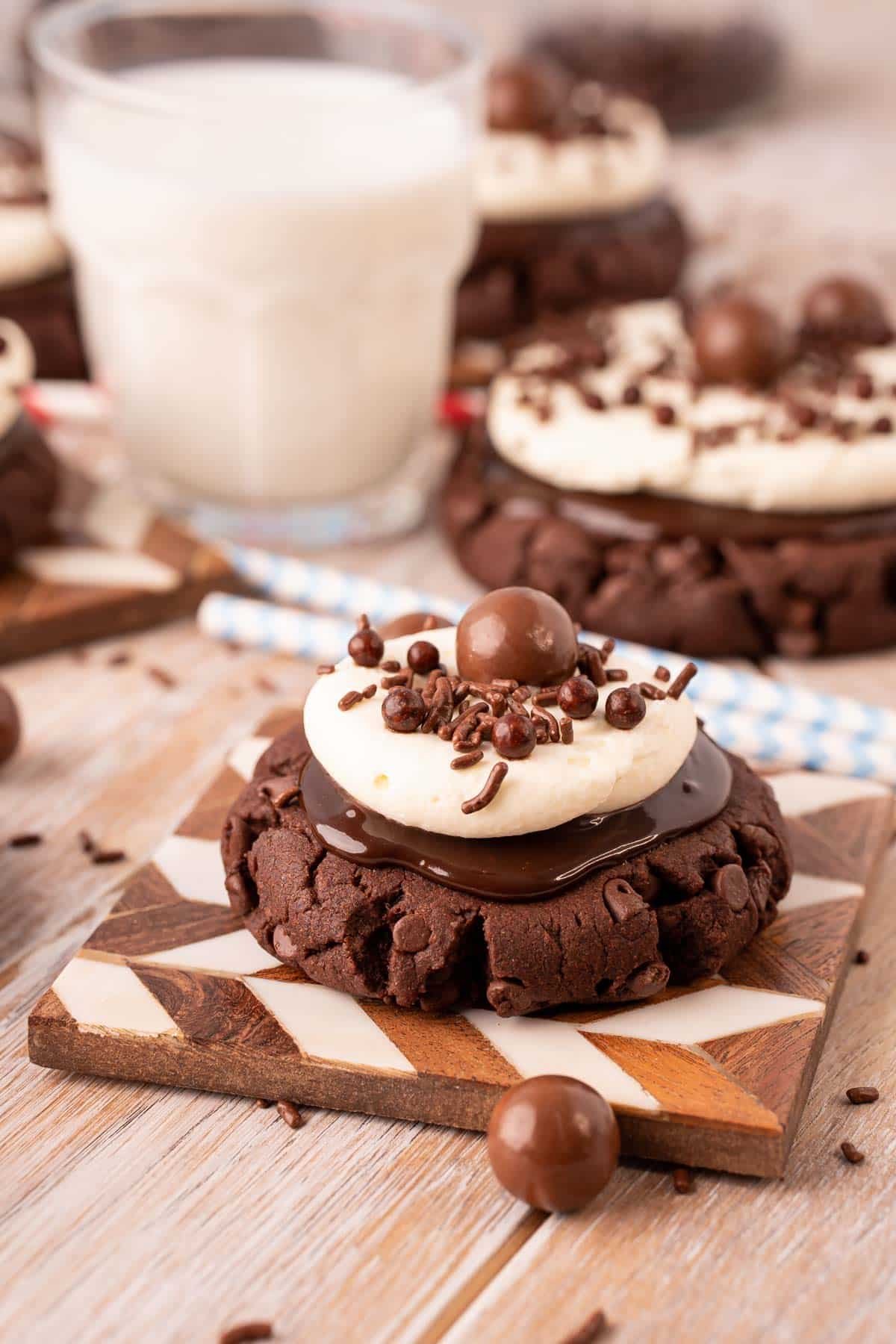 This Chocolate Milkshake Cookie Recipe bakes up all of your favorite flavors of a malted milkshake into warm, thick cookies! These come out so good that you won't even miss sipping on a milkshake!
The chocolate cookies are made with staple pantry ingredients and malted milk powder and studded with mini chocolate chips! Finishing them off is hot fudge sauce and an easy-to-make frosting made of just white chocolate pudding mix and heavy cream.
All About These Milkshake Cookies
Taste: These treats are basically a double chocolate chip cookie milkshake without ice cream! The malted milk powder gives these cookies a unique, rich flavor that causes them to resemble the classic malted shake taste!
Texture: Each bite of these thick cookies is filled with creamy whipped white chocolate frosting, sticky hot fudge sauce, and a tender, moist cookie! The cookies have a bit of a firm but satisfying brownie texture that is then topped off with chocolate sprinkles!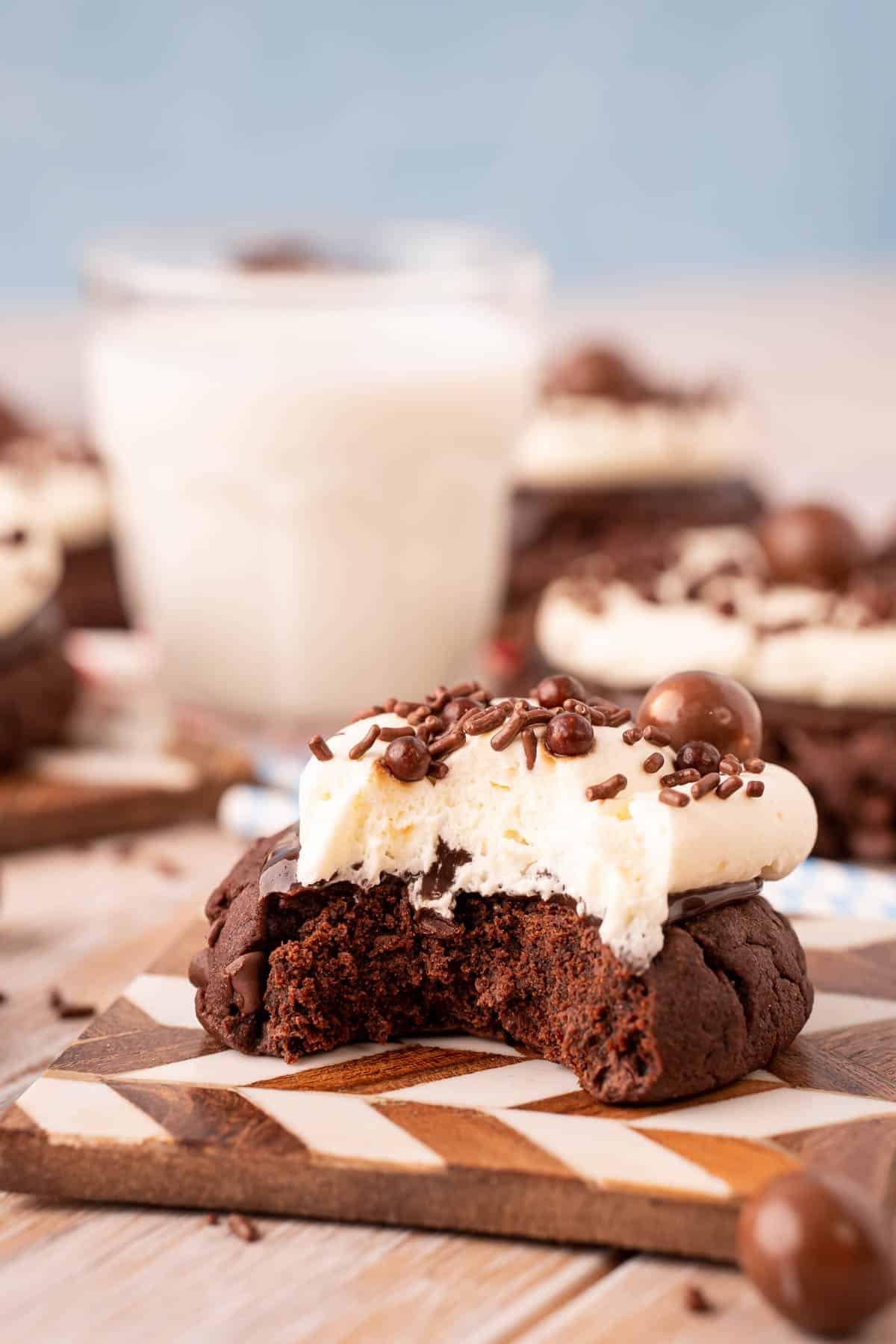 Malted Milk Powder
The key ingredient that gives these Chocolate Milkshake Cookies their unique, nostalgic flavor is malted milk powder (affiliate link). It's made of a combination of wheat flour, evaporated whole milk, and barley.
This ingredient adds a distinctly sweet, slightly toasty flavor that resembles a cream-like taste close to caramelization. The powder is commonly used in malted milkshakes, cakes, pancakes, and cookies like these!
It's a must-have ingredient to achieve the best flavor in these milkshake cookies! To grab it, check the baking aisle of your grocery store!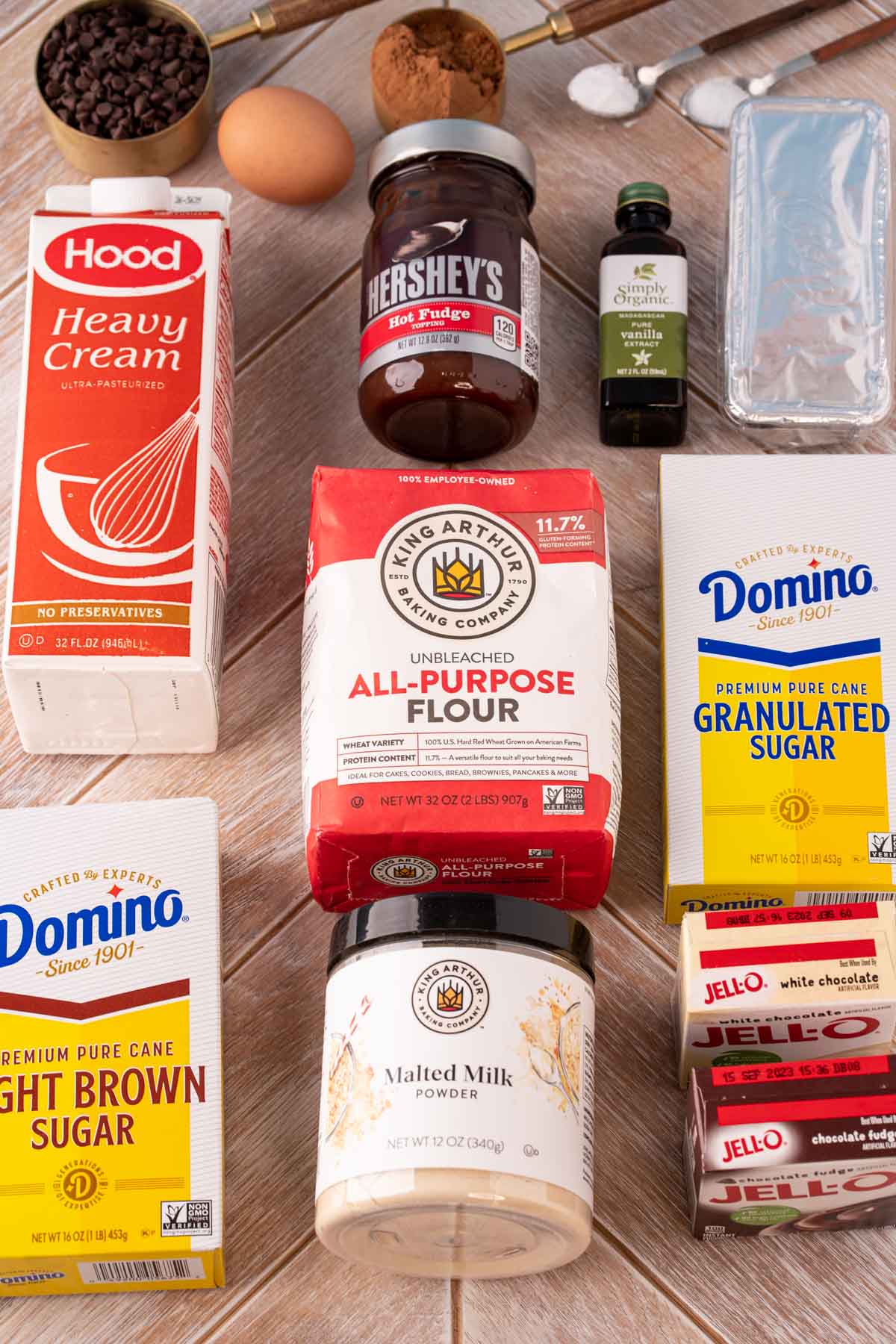 Kitchen Tips When Making Delicious Milkshake Cookies
Weighed Ingredients – You'll notice that some of the ingredients in this recipe also have weighed measurements. This is because if you get too much or too little of an ingredient, it can drastically impact the final texture of the cookie. Weighing these ingredients with a kitchen scale is the most accurate way to ensure these cookies come out perfectly! However, you can still make this recipe with measuring cups; you want to be careful not to pack your ingredients!
Measure Flour Correctly – If there's one ingredient to pay close attention to when making this cookie recipe, it's flour. This is because flour is commonly scooped and packed when measuring. This results in way too much flour being added, which produces dry, crumbly cookies! Check out this simple kitchen hack that teaches you How To Measure Flour correctly in two different ways.
Thick Dough – The cookie dough in the recipe is thick yet soft. Though if you think it needs to be softened a bit, you can add an additional tablespoon of milk if needed.
Serving – These are a treat that is served chilled! This helps the cookie toppings to stay firm and in place, as well as maintain freshness.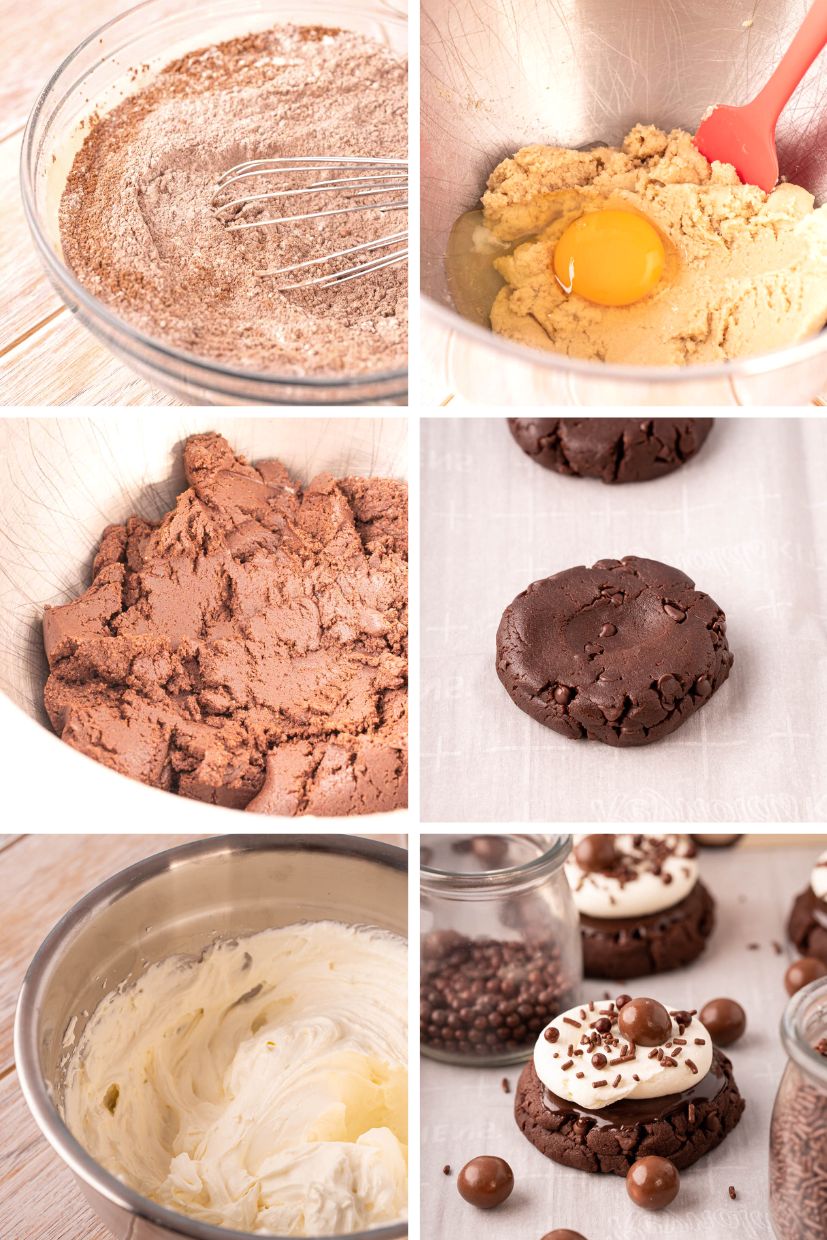 I lose all self-control around decadent, specialty cookies like these Chocolate Milkshake Cookies! About as much as I do when it comes to warm, gooey Giant Chocolate Chip Cookies!
My love of decadent homemade cookies also brought me these Cookie Dough Cookies and Key Lime Pie Cookies. Both are irresistible Crumbl copycat recipes made right at home!
My other favorite over-the-top chocolate cookie is these Chocolate Cherry Cordial Cookies! Made with pantry staple ingredients with just 15 minutes of prep!
Storage Instructions
Store these Chocolate Milkshake Cookies in a single layer in an airtight container in the fridge. If the cookies are stacked, they'll stick together, and the toppings could become a smooshed mess! Enjoy the stored cookies for up to 5 days.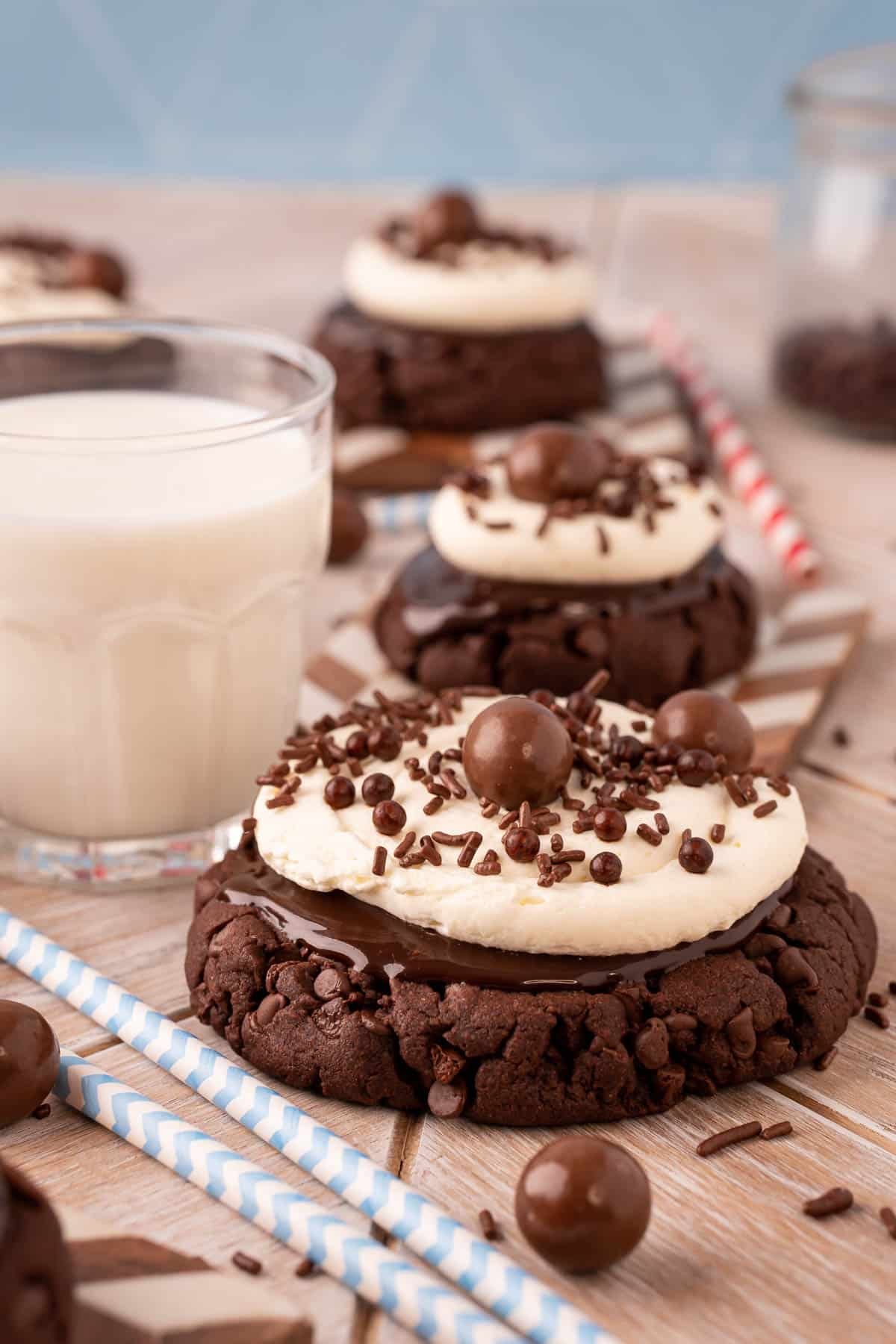 Could I Use This Chocolate Milkshake Cookie Recipe To Make Larger Cookies?
Of course! For larger cookies, portion out the dough into 6 dough balls. Each of the six portions should be about 5.8 ounces.
Then place only 3 to 4 cookies on one baking sheet and bake for 8 to 10 minutes. Each large cookie will then need 2 tablespoons of hot fudge sauce.
Can I Use A Different Flavored Pudding Mix In The Frosting?
Yes, try using vanilla or even cheesecake pudding for a delicious frosting variation!
Can Regular Instant Chocolate Pudding Be Used In Place Of Chocolate Fudge In The Cookie Dough?
Yes, regular instant chocolate pudding can be used instead. Just be sure to use the same amount!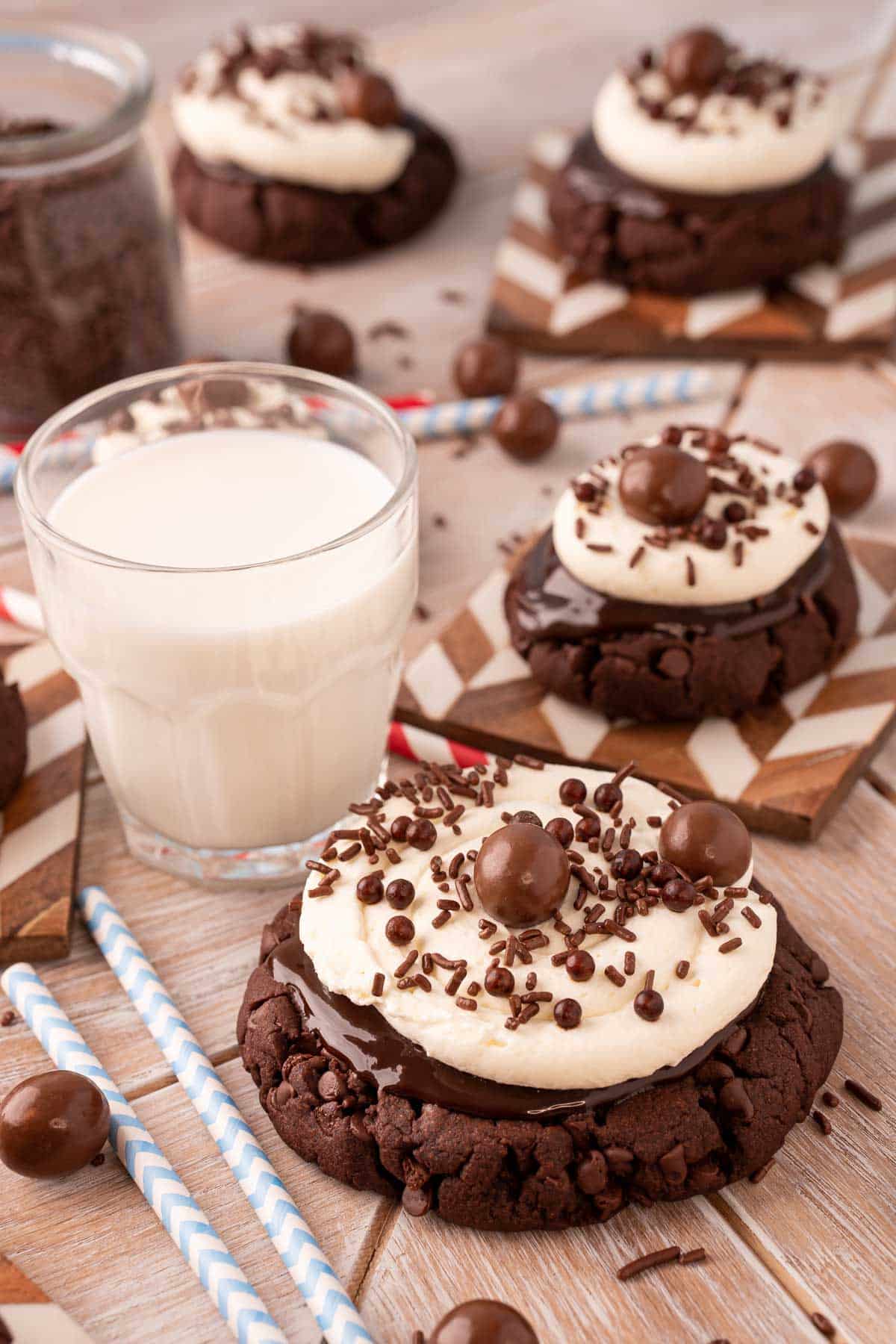 👋 Let's Connect!
If you've tried this recipe, please let me know how you liked it in the comments below and leave a review. I love hearing from you!
Don't forget to tag me – @sugarandsoulco – on Instagram and Pinterest with your photos or join our Sugar & Soul Show-offs Community and share them there, where you can join our recipe challenges!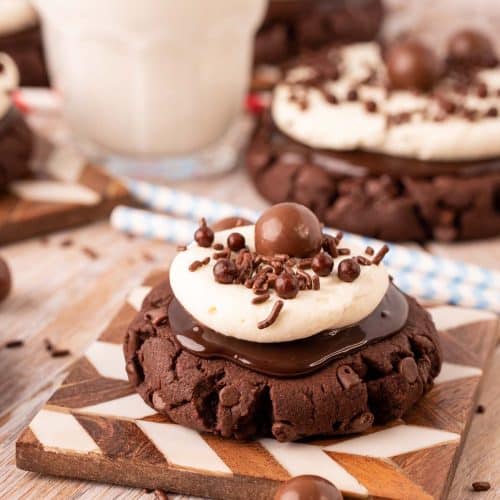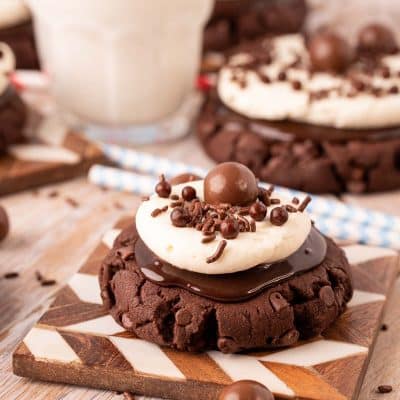 Chocolate Milkshake Cookies
Chocolate Milkshake Cookies are filled with classic chocolaty malt flavor and are topped with thick hot fudge sauce and white chocolate frosting! Takes just 30 minutes to prep a batch of these decadent cookies!
Instructions
Cookies
Preheat the oven to 350°F and line two baking sheets with parchment paper and set aside.

In a medium bowl, whisk together the flour, cocoa, chocolate pudding mix, malt powder, salt, and baking soda. Set aside.

1½ cup all-purpose flour, ½ cup unsweetened cocoa powder, 2 tablespoons malt powder, ¾ teaspoon salt, ¼ teaspoon baking soda, 1 (3.4oz.) box instant chocolate fudge pudding mix

Add the shortening and sugars to a large bowl or stand mixer fitted with a paddle attachment and cream until smooth, about 1½ minutes.

½ cup light brown sugar, ½ cup granulated sugar, ½ cup vegetable shortening

Add in the egg and vanilla extract and beat until fully incorporated.

1 large egg, 1 teaspoon pure vanilla extract

Add half of the dry ingredients and half of the milk, mix until incorporated then add the rest and mix until thoroughly combined, about 1 to 2 minutes The dough should be thick but soft. Add an additional tablespoon of milk if needed.

⅓ cup whole milk

Fold in the chocolate chips.

1 cup mini chocolate chips

Portion the dough into 12 even portions (about 2.9oz. each) and roll into a ball.

Place the cookies on the baking sheet and press them down so they are about 1 inch thick, bake for 7 to 8 minutes until the edges are just set.

Allow the cookies to cool on the pan for 15 minutes before transferring them to a wire rack with a spatula to cool completely. Bake the other pan of cookies. These cookies are very soft right after baking and will firm up while they cool.

Once cooled, heat the hot fudge sauce in the microwave for 30 seconds, stir then add about 1 tablespoon to the top of each cookie, spreading it around the top with the back of the spoon. Let cool.

1 cup hot fudge sauce

Add the heavy cream and white chocolate pudding mix to a small mixing bowl and beat at medium-high speed until thick and fluffy, about 2 minutes. Pipe the frosting on top of the hot fudge on the cookies and top with a whopper and sprinkles.

1 cup heavy cream, 3 tablespoons white chocolate instant pudding mix, 12 Whopper candies, chocolate sprinkles

Chill in the refrigerator and serve cold.
Notes
To make large cookies, weigh out the dough into 6 (5.8oz.) portions, and only bake 3 or 4 to a pan, depending on the baking sheet size. Bake for 8 to 10 minutes. Top each one with 2 tablespoons of hot fudge sauce.
Vanilla or cheesecake pudding mix can be used in place of white chocolate in the frosting.
Regular instant chocolate pudding can be used in place of chocolate fudge in the dough.
The malt powder isn't necessary to the structure of the cookie, but it does give it that unique malted milkshake flavor. It can be found in most grocery stores near powdered drink mixes and hot chocolate.
Nutrition
Calories: 461kcal | Carbohydrates: 61g | Protein: 6g | Fat: 23g | Saturated Fat: 10g | Polyunsaturated Fat: 3g | Monounsaturated Fat: 7g | Trans Fat: 1g | Cholesterol: 40mg | Sodium: 385mg | Potassium: 197mg | Fiber: 3g | Sugar: 37g | Vitamin A: 358IU | Vitamin C: 0.3mg | Calcium: 71mg | Iron: 2mg