Reindeer Hot Chocolate Cones are filled with delicious homemade hot chocolate and mini marshmallows that are finished off with a fun printable tag!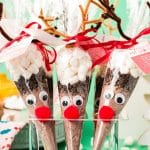 Reindeer Hot Chocolate Cones are filled with delicious homemade hot chocolate and mini marshmallows that are finished off with a fun printable tag!
Another fun Christmas kitchen craft is making Magic Reindeer Food! This one also comes with a free printable tag and brings as much excitement as these hot chocolate cones!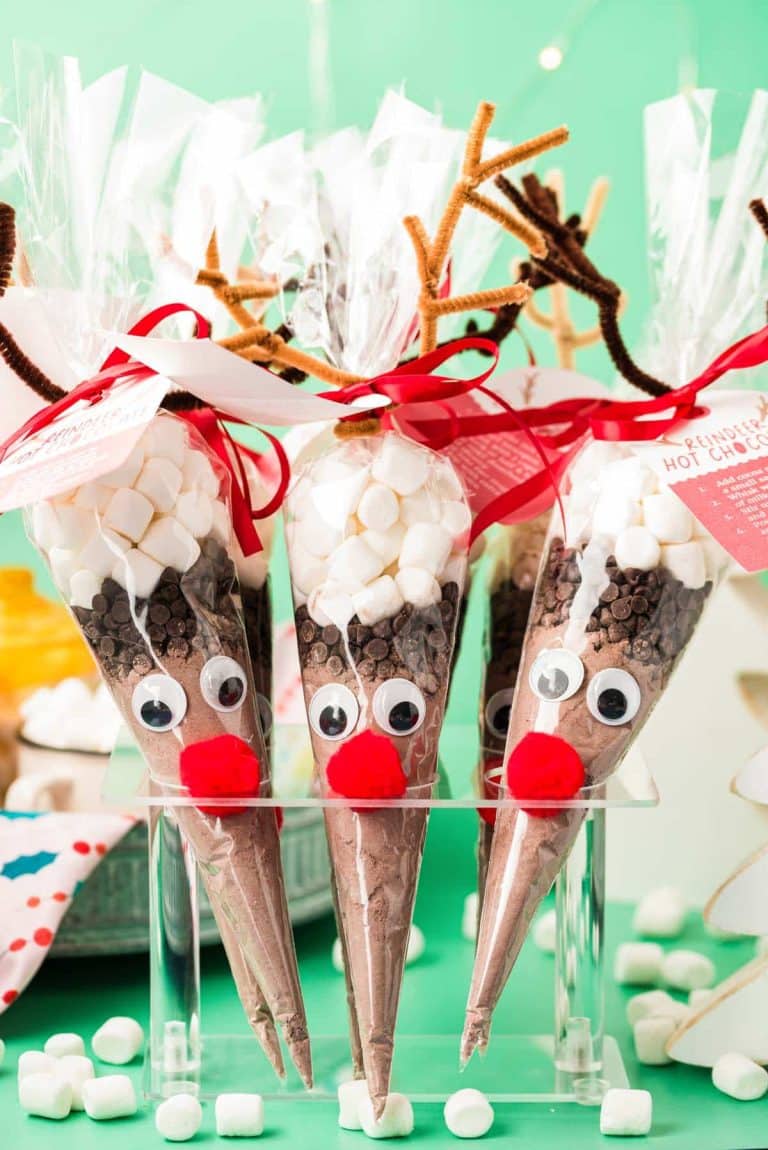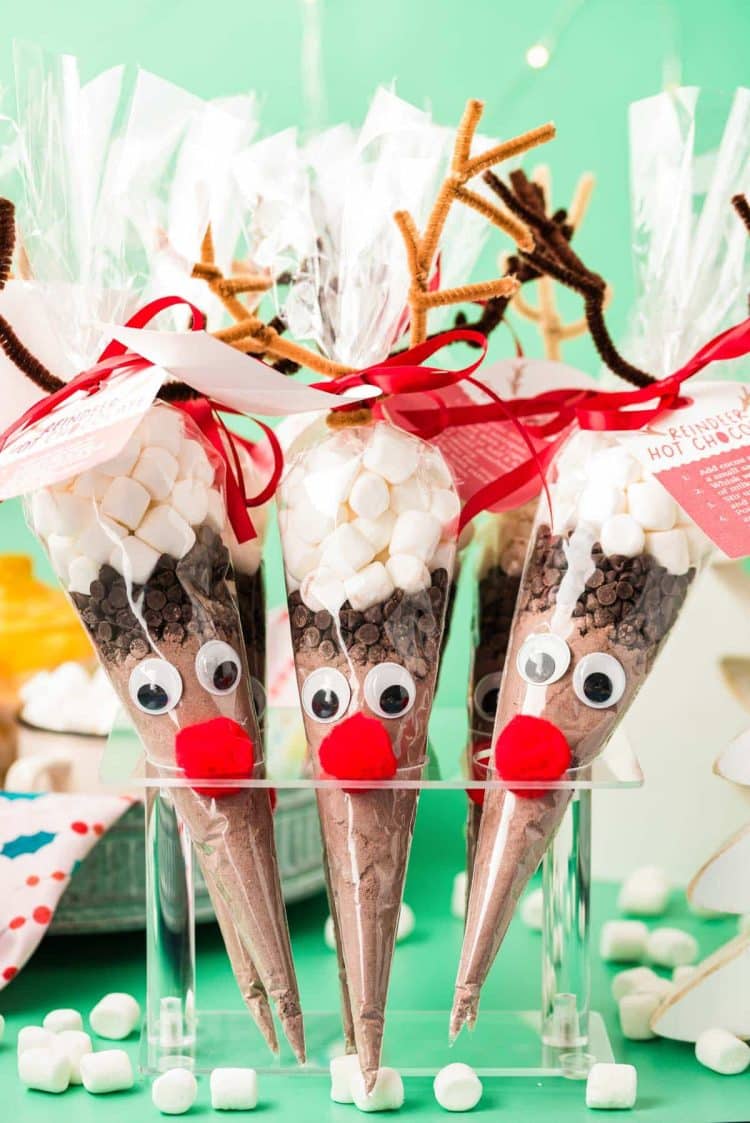 These Reindeer Hot Chocolate Cones are a fun DIY that makes a great budget-friendly gift! Make up a batch for your kid's classmates or teachers!
Homemade Hot Chocolate made of ingredients like grated chocolate bars, cocoa powder, and powdered sugar fills each bag! The mix is then topped with mini chocolate chips and mini marshmallows.
Afterward, each Reindeer gets its own Free Printable Tag that has the cocoa mix instructions on it! In just minutes you're left with a herd of reindeer just waiting to land in the hands of friends and family!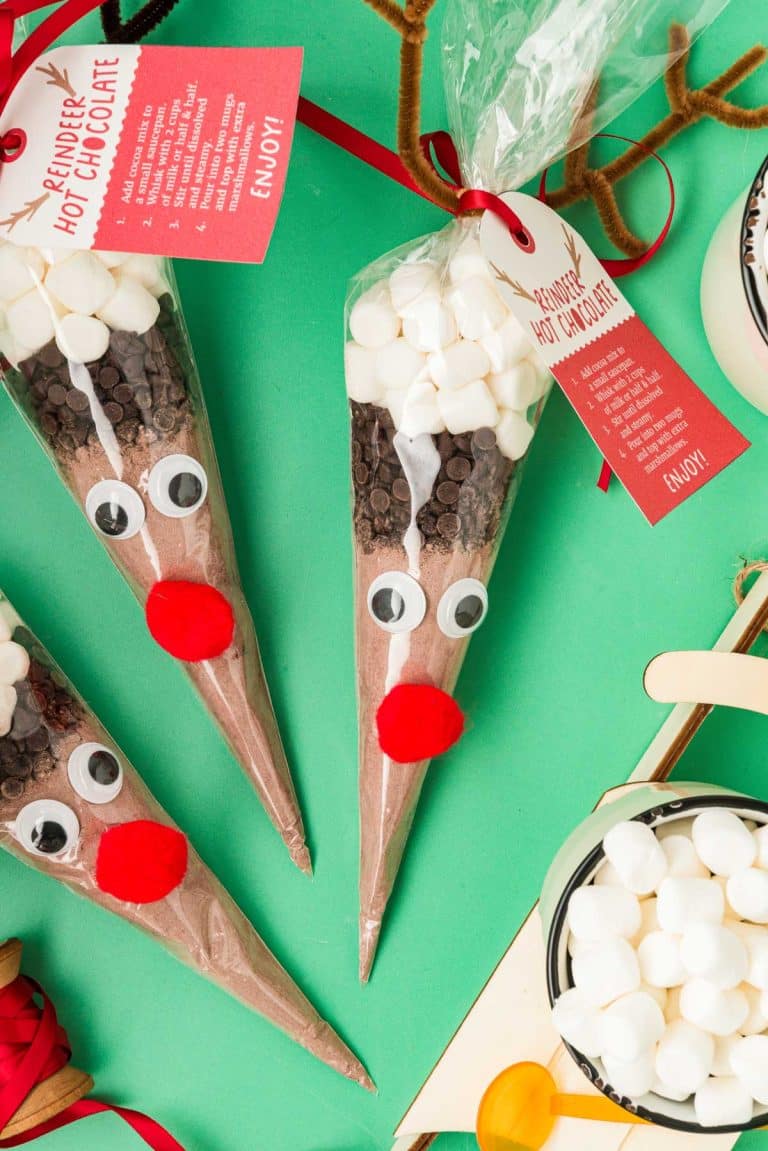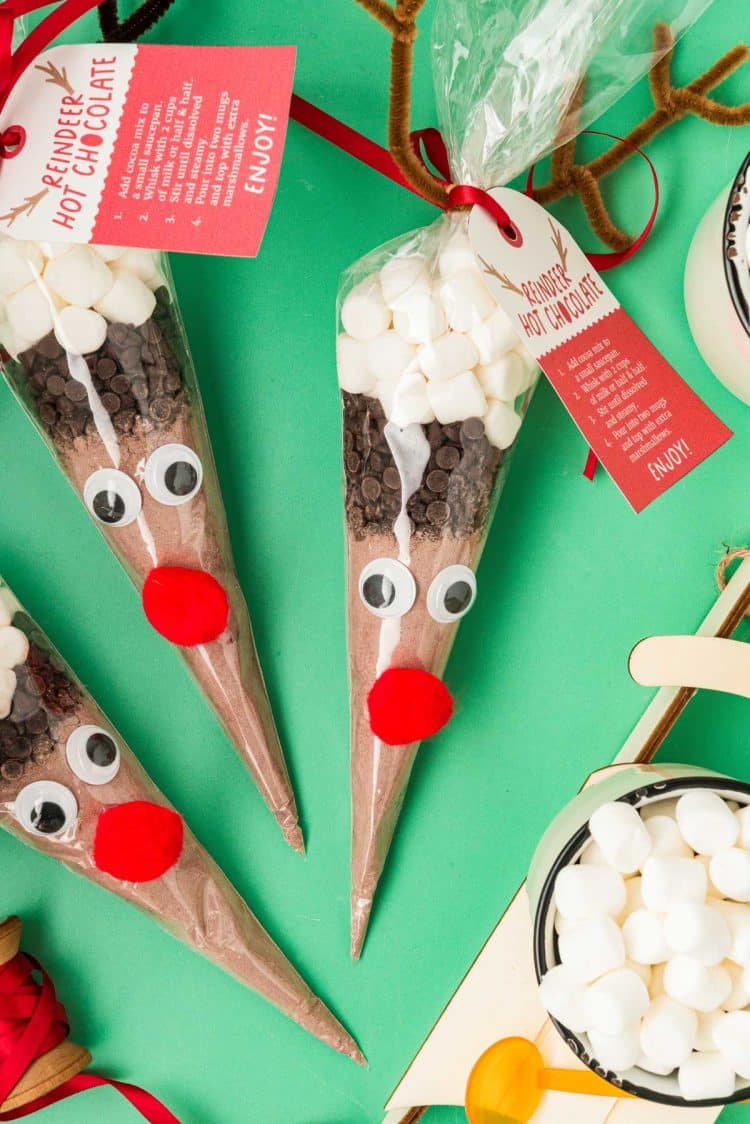 Homemade Hot Chocolate Mix
What makes these reindeer hot chocolate cones so fun is that the cocoa mix is actually homemade! Meaning you're actually giving friends and family delicious, creamy hot chocolate that's way better than storebought!
When making the cocoa mix, I recommend using high-quality chocolate. I love Ghirardelli since you can get both the bars and cocoa powder in this brand.
Feel free to also make the cocoa with the type of chocolate you prefer! My kids love theirs with milk chocolate whereas I prefer dark chocolate.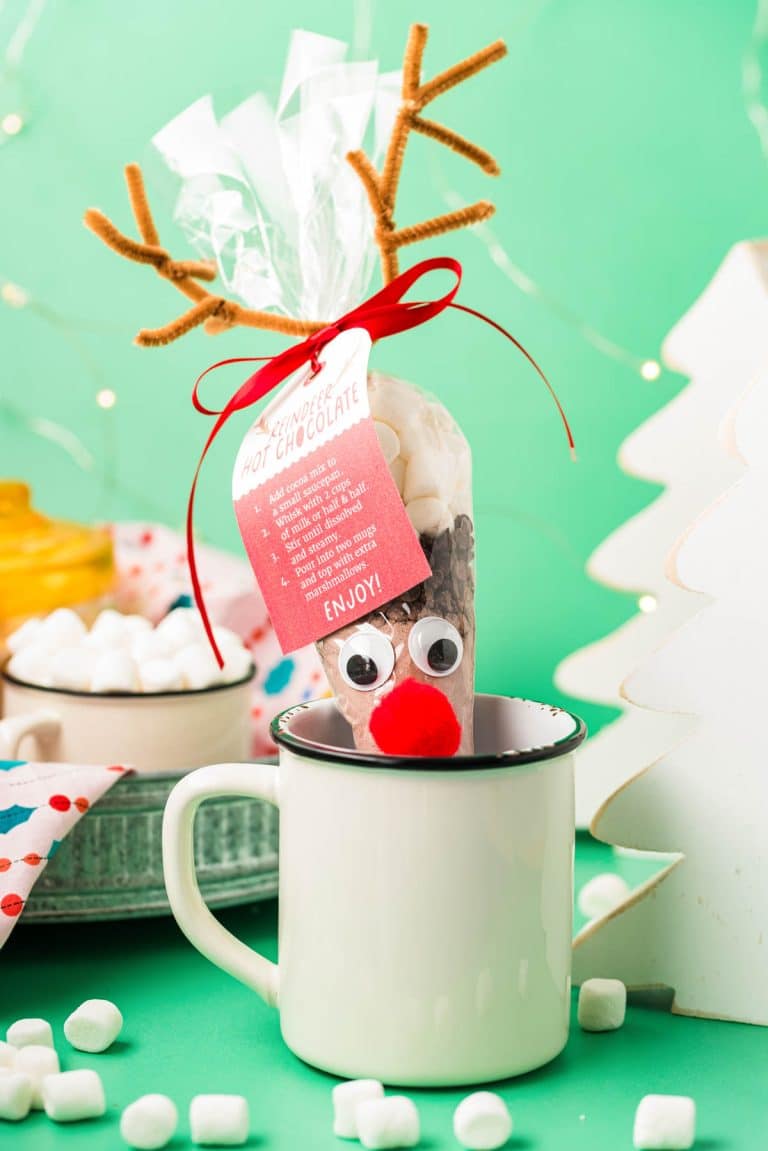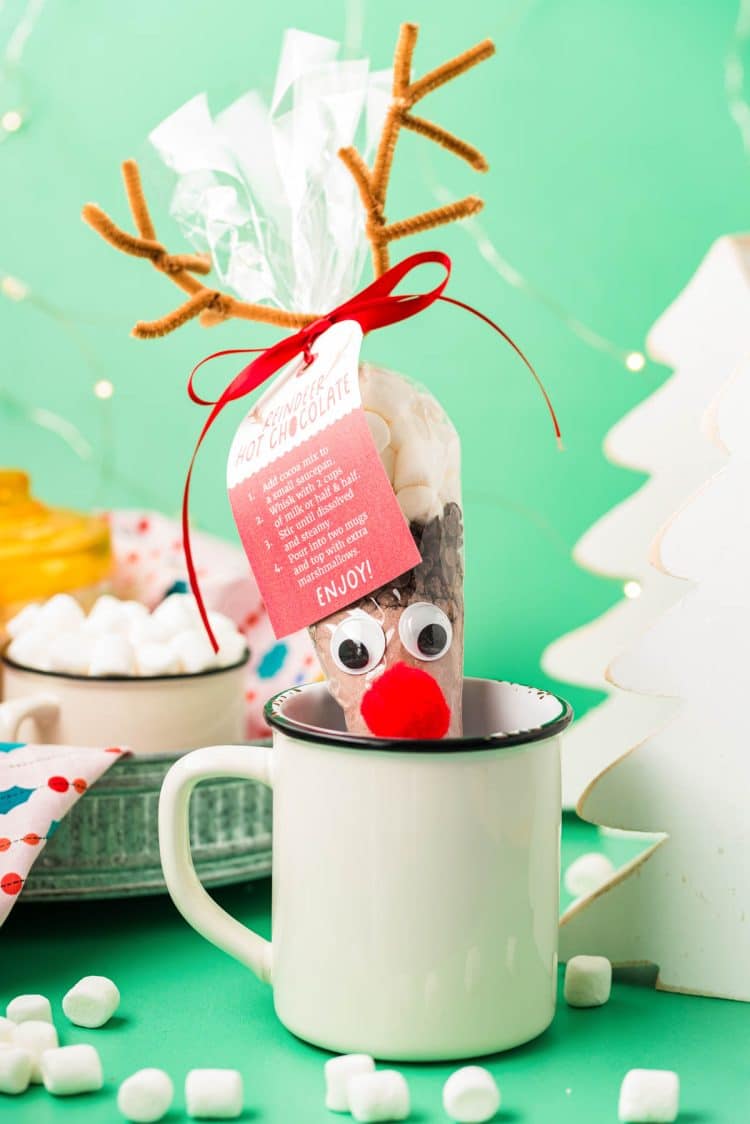 How To Make Hot Chocolate Reindeer Cones
Cone Cello Treat Bags – I prefer using cone cello treat bags (affiliate link) for their shape! However, I also found that gallon-sized Ziploc bags worked well too. I just had to arrange the hot chocolate mix into one corner of the bag.
Funnel – A kitchen funnel isn't necessary, but it does make it easier and cleaner to get the hot cocoa mix into the bags. A piece of paper shaped like a cone would also get the job done!
Decorations – To dress up these DIY reindeer hot chocolate cones you'll need some craft supplies! Items such as red pom poms, googly eyes, pipe cleaners, and holiday ribbons.
Free Printable Tag – Don't forget to download and print off the free printable tag that goes with these Christmas Reindeer Hot Chocolate Cones! They have the directions on how to heat the cocoa mix, so you definitely don't want to forget that step, especially when gifting these!
Hot Chocolate Mix – To finely chop the chocolate bar for the cocoa mix, a food processor or a fine grater works best!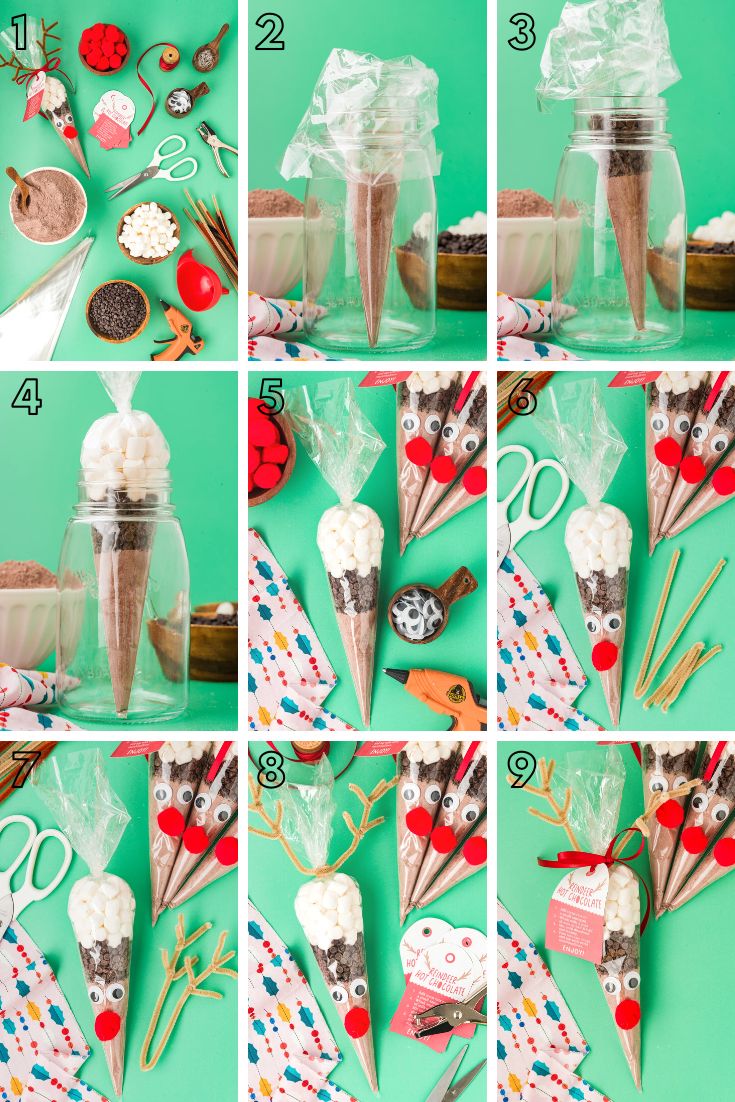 As soon as the temperature drops, I start digging out all of my hot chocolate recipes! This cocoa mix is one of my favorite ones to gift so friends and family can make it themselves at home! And everyone loves receiving Christmas Hot Chocolate Cones from my kiddos!
Though you can always catch me with a warm mug of Nutella Hot Chocolate or Hot Chocolate Coffee! And when the adult Christmas party rolls around I like to offer up Kahlua Hot Chocolate as well as Black Cherry Bourbon Hot Chocolate!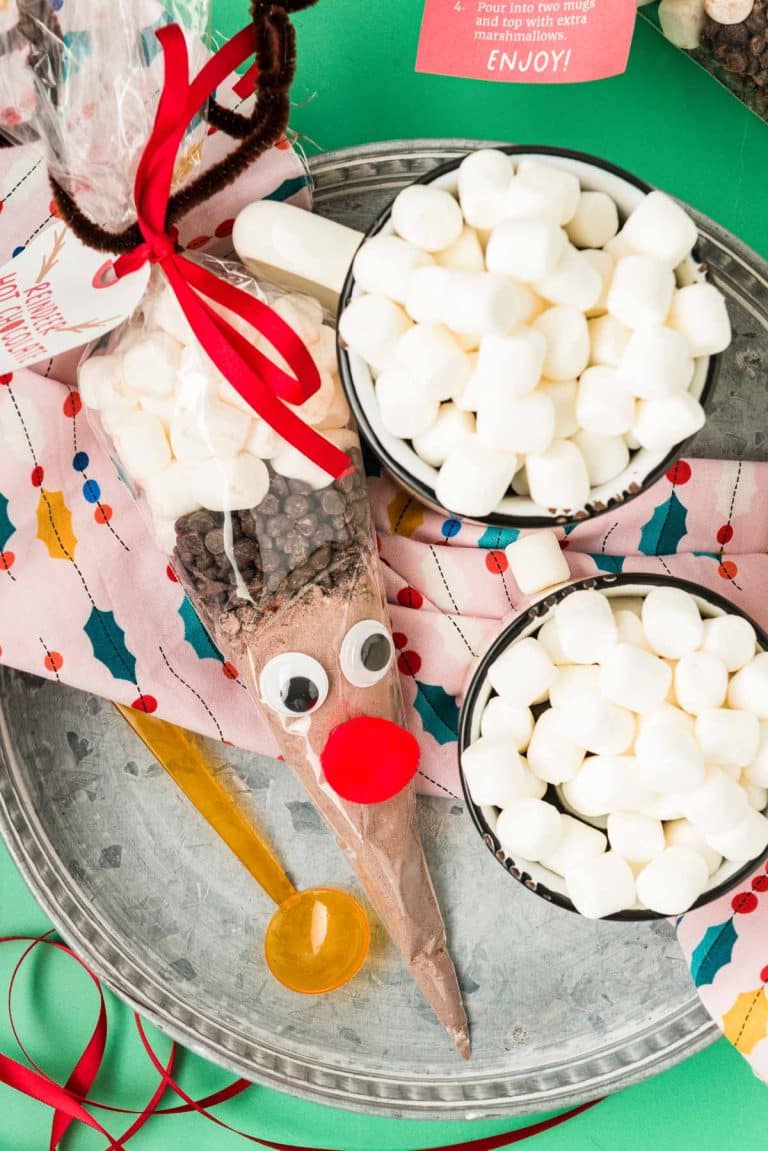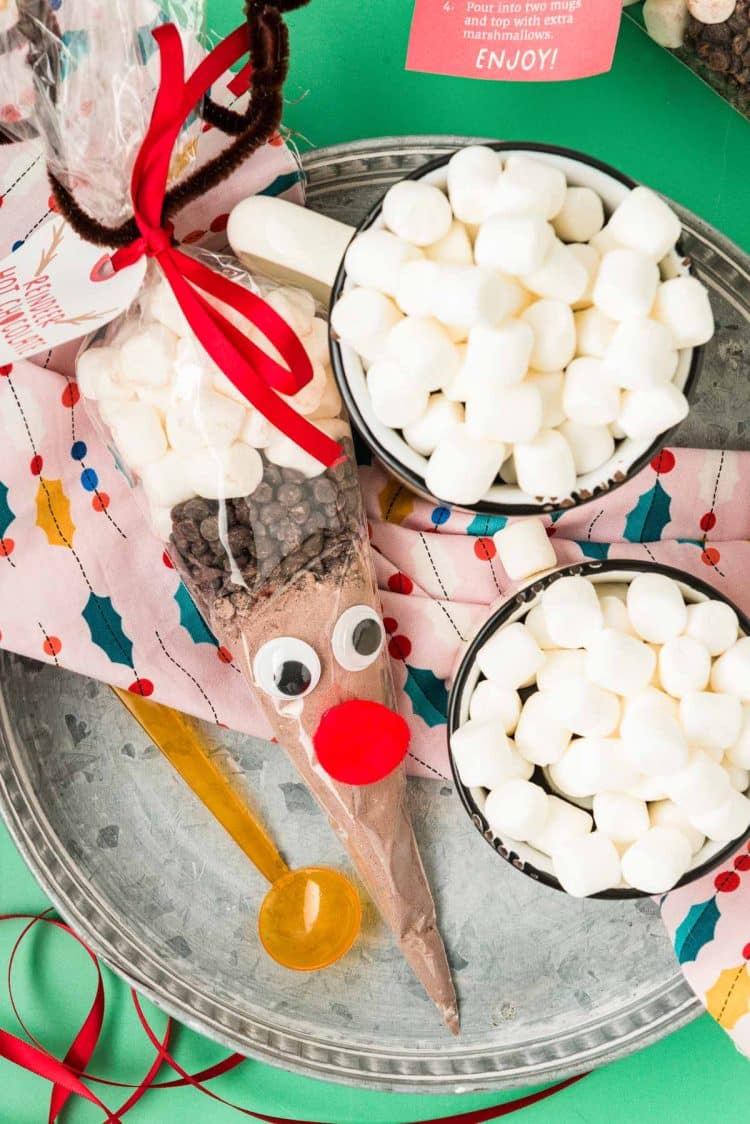 How Long Is The Homemade Cocoa Mix Good For?
The hot cocoa mix in these Reindeer Hot Chocolate Cones will last for up to 3 months when stored at room temperature. I found that storing it in an airtight container or mason jar worked great!
Is There Something Else I Can Use Instead Of A Low-Temperature Hot Glue Gun?
Yes, glue dots would also work just fine!
Where Can I Find Cone Cello Treat Bags?
These can be found at most craft stores, but I bought these ones (affiliate link)
👋 Let's Connect!
If you've tried this recipe, please let me know how you liked it in the comments below and leave a review; I love hearing from you! And don't forget to tag me – @sugarandsoulco – on Instagram and Pinterest with your photos or join our Sugar & Soul Show-offs Community and share them there, where you can join our recipe challenges and win prizes!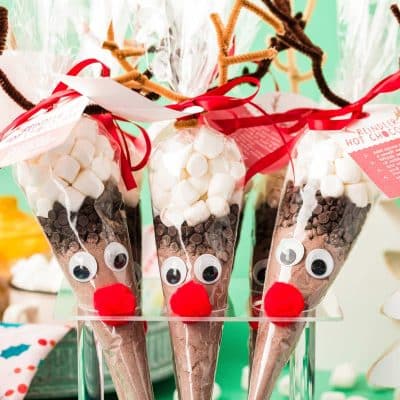 Reindeer Hot Chocolate Cones
Reindeer Hot Chocolate Cones are filled with delicious homemade hot chocolate and mini marshmallows that are finished off with a fun printable tag!
Equipment
8 Cone cello treat bags

Funnel optional

8 red pom poms

16 googly eyes

8 rubber bands

16 brown pipe cleaners

low-temperature hot glue gun

hot glue sticks

8 20" strips holiday ribbon

Printable tags print on cardstock if possible

Hole punch

Scissors
Instructions
In a medium mixing bowl, whisk together, powdered milk, powdered sugar, unsweetened cocoa powder, white chocolate, milk chocolate, and powdered coffee creamer.

½ cup powdered milk, ½ cup powdered sugar, ¼ cup unsweetened cocoa powder, 2 tablespoons grated white chocolate bar, 2 tablespoons grated milk chocolate bar, 1 tablespoon powdered coffee creamer

Place a treat bag into a drinking glass or mason jar to hold it in place.

Spoon in ¼ cup of hot cocoa mix into the bag. Use a funnel to avoid having it stick to the sides of the bag.

Layer in ¼ cup of mini chocolate chips on top of the hot cocoa mix, gently patting them down with your fingers or the back of a spoon.

2 cups mini chocolate chips

Add ⅔ cup of mini marshmallows on top of the mini chocolate chips.

5⅓ cups mini marshmallows

Twist the treat bag closed and secure it with an elastic band right above the mini marshmallows.

Glue googly eyes just below the layer of mini chocolate chips.

Glue the pom pom nose approximately two inches below the eyes.

Bend one pipe cleaner in half and cut the other pipe cleaner into 4 equal lengths.

Wrap and bend the two smaller length pipe cleaners on either side of the main bent pipe cleaner "antlers."

Wrap the middle of the antlers twice around the top where the elastic band is twice.

Cut out the printable label and using a single-hole punch, punch a hole in the top, through the circle.

Thread the cut ribbon through the punched hole and tie it around the top of the treat bag. Repeat with the remaining cones until hot chocolate mix is gone.

When ready to make, add the contents of the bag to a small saucepan with 2 cups of milk or half & half and whisk together until smooth and warm.
Notes
Store in an air-tight container or even a mason jar. This will be good for 3 months.
How do you get the chocolate bar so finely chopped? You can use a food processor or even a fine grater.
Gallon sized Ziploc bags work in a pinch if you arrange the hot cocoa mix into a corner of the bag.
You can use glue dots in place of a low-temperature hot glue gun.
Nutrition
Calories: 577kcal | Carbohydrates: 88g | Protein: 16g | Fat: 22g | Saturated Fat: 14g | Polyunsaturated Fat: 1g | Monounsaturated Fat: 6g | Trans Fat: 1g | Cholesterol: 46mg | Sodium: 209mg | Potassium: 854mg | Fiber: 5g | Sugar: 77g | Vitamin A: 425IU | Vitamin C: 4mg | Calcium: 460mg | Iron: 2mg