Pumpkin Oatmeal Cream Pies are sweet, spiced, and perfectly chewy! Made with homemade pumpkin oatmeal cookies and cream cheese frosting!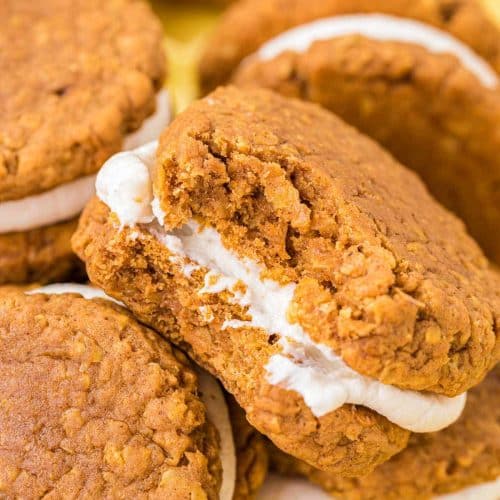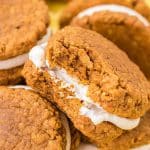 Pumpkin Oatmeal Cream Pies are sweet, spiced, and perfectly chewy! Made with homemade pumpkin oatmeal cookies and cream cheese frosting!
With fall baking in full swing don't forget to add a loaf of this Pumpkin Banana Bread or a batch of these Easy Pumpkin Cinnamon Roll Muffins to your baking list as well!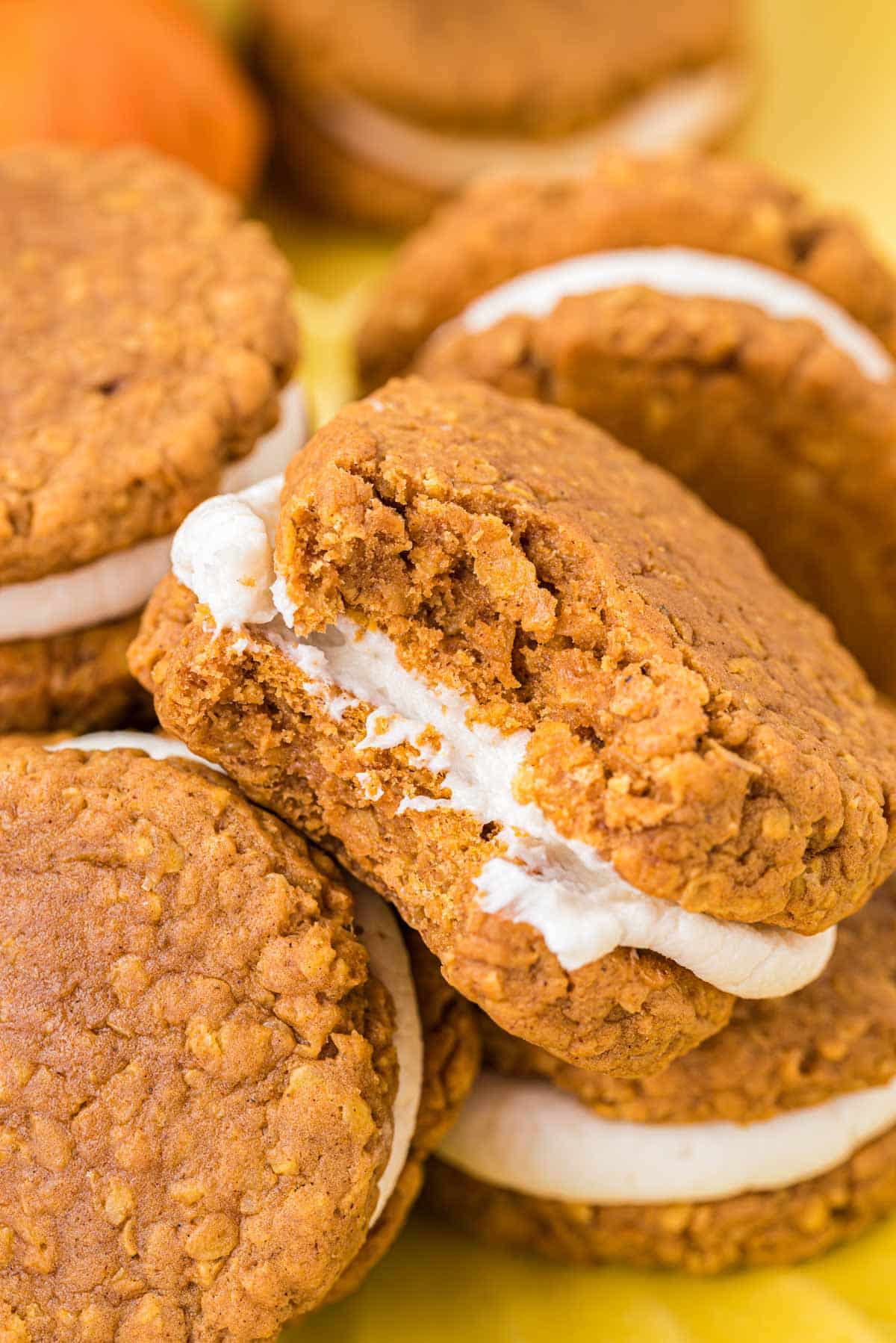 This Pumpkin Oatmeal Cream Pie Recipe yields sweet, chewy, handheld treats that will disappear quickly! Friends and family will love the amazing balance between pumpkin spice flavor and sweet cream cheese frosting!
Make a batch to enjoy with the cool fall breeze, bring some to Thanksgiving, or even into work to share with co-workers!
What It's Like To Take A Bite Out Of These Creme Pies!
Taste: Biting into these Pumpkin Oatmeal Creme Pies delivers a surge of the perfect fall flavor combination – pumpkin and cream cheese frosting! Since these are sweetened with ingredients like molasses and dark brown sugar, they have a deep flavor that makes them even more irresistible!
Texture: The light and fluffy cream cheese frosting is sandwiched between two soft and chewy oatmeal cookies! Allowing each bite to be the tender, moist dessert we crave that's similar to the classic Little Debbie's version!
The cookies are delicious all on their own, feel free to skip the frosting if you just want deliciously chewy pumpkin oatmeal cookies!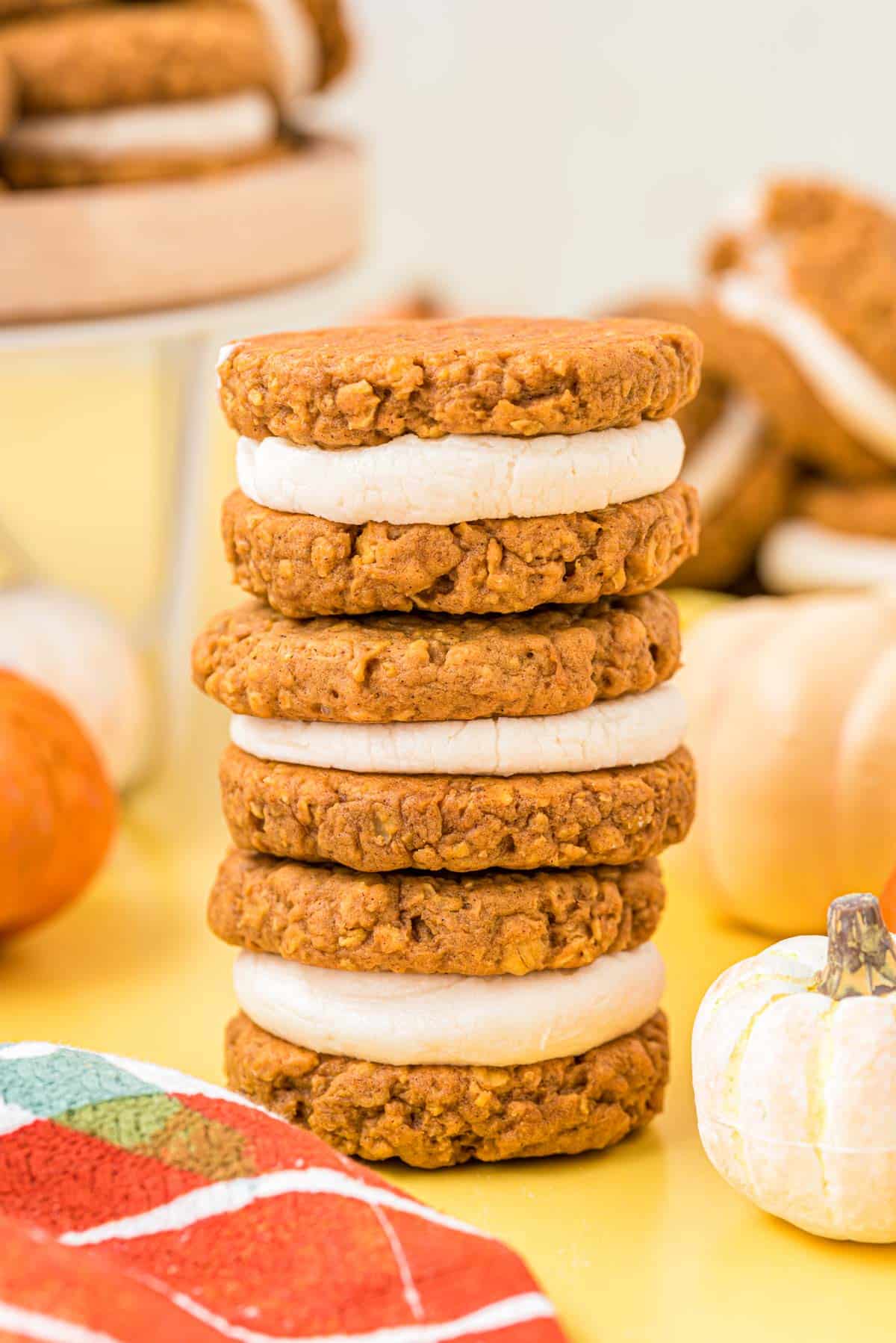 There's no egg in this recipe which makes it perfect for those who are looking for eggless cookies without sacrificing consistency or flavor! You can also use just vegetable shortening in the recipe and a vegan frosting if you're looking for a vegan version!
These Pumpkin Oatmeal Cream Pies give lots of seasonal flavor to your taste buds! Which is exactly what they've been waiting for all year, right?!
Along with these, I also love satisfying my pumpkin craving with my 4-Ingredient Pumpkin Chocolate Chip Cookies! It helps that the first batch comes out of the oven in just 20 minutes, so I don't have to wait long for that first taste!
For more delicious fall flavor check out my Pumpkin Whoopie Pies and Pumpkin Spice Snickerdoodles!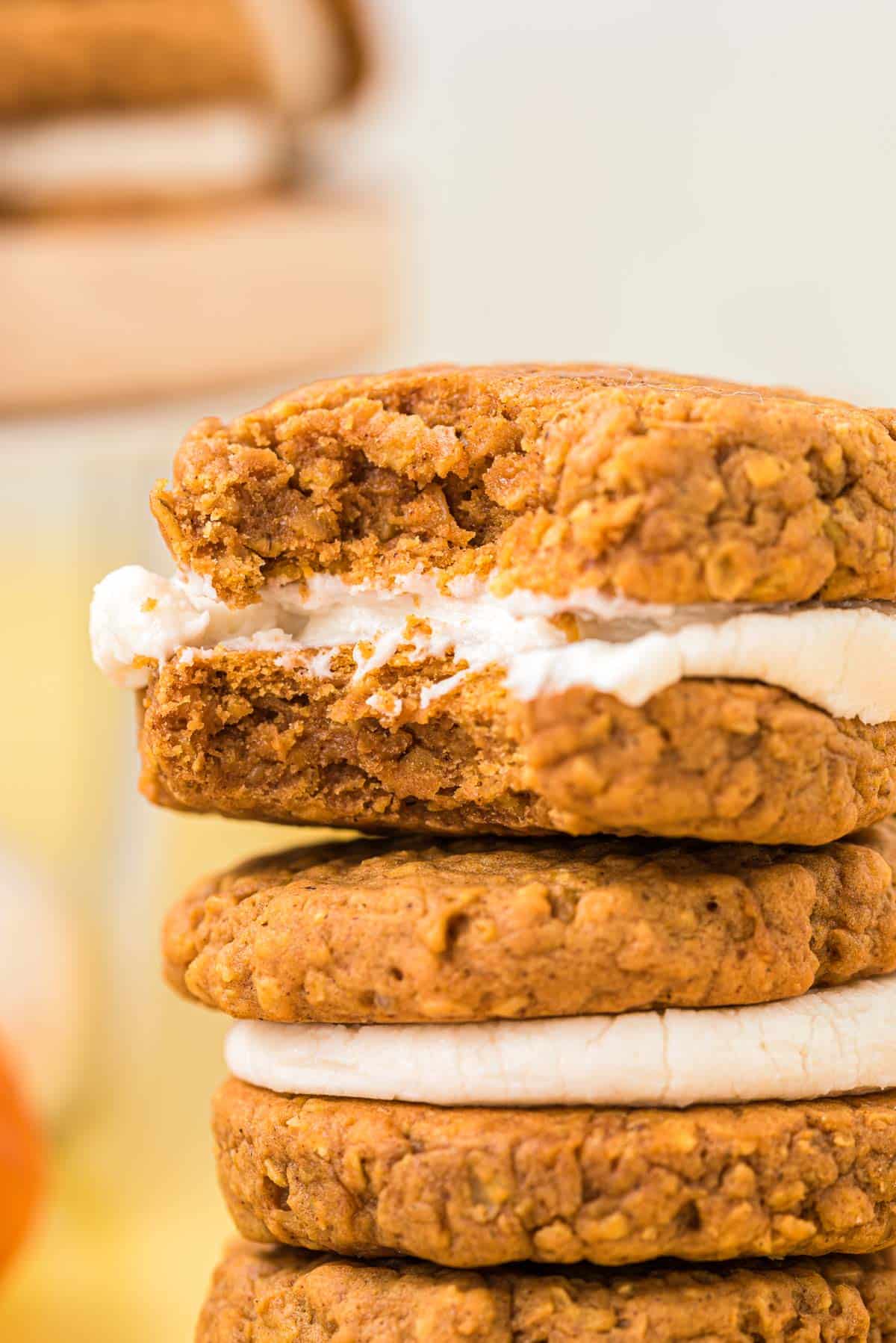 Kitchen Tips For This Pumpkin Oatmeal Cream Pies Recipe
Minute Oats – The 1-minute oats this recipe calls for give them their incredibly chewy texture! Keep in mind that 1-minute oats are different than instant oatmeal and traditional oatmeal, neither of which I would recommend for this recipe.
Level Scoops – Scooping the dough out using a cookie scoop ensures that the cookies all turn out similar in size. This is what we want, especially when you sandwich them together with the filling!
Flatten The Cookies – When the dough is on the baking sheet, flatten each one with the bottom of a flat glass. This way they come out with the classic oatmeal creme pie shape, flat and thin!
Soft Centers – Once the pumpkin spice oatmeal cookies are done baking their centers may still be soft. And that's perfectly ok! The cooling time on the baking sheet and wire rack will firm up their centers yet they'll still turn out soft and chewy!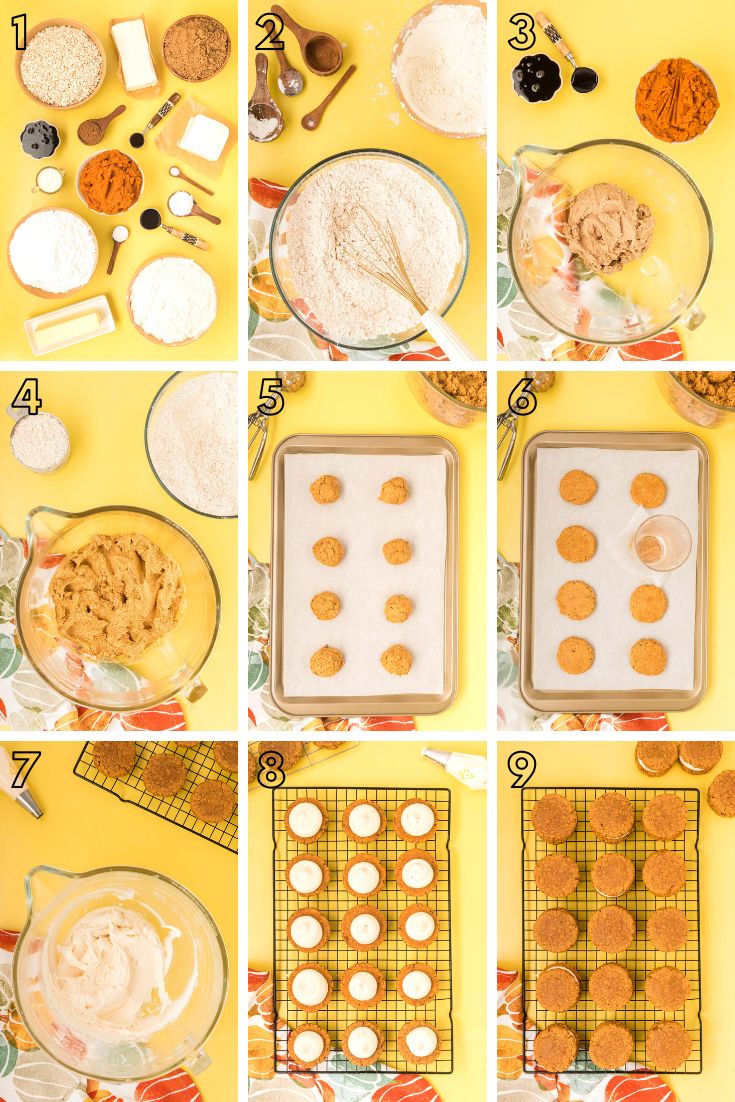 For a delicious variation, you could swap the cream cheese filling out for ice cream instead! Just place a scoop of slightly softened ice cream on one oatmeal cookie and place the second cookie on top.
Use ice cream flavors such as vanilla, salted caramel, chocolate chip, or even pumpkin!
How To Store Pumpkin Oatmeal Cream Pies
Since the creme filling is made with cream cheese these need to be stored in the refrigerator. For best storage, place them in an airtight container with parchment paper separating the layers of pies.
The pies will then last for up to 5 days in the fridge.
Are There Other Types Of Frosting I Could Use With These Creme Pies?
Instead of cream cheese frosting, you could try using Cinnamon Frosting or even Salted Caramel Frosting!
Can I Make Larger Cream Pies Using This Recipe?
Of course! For larger cream pies just use a large cookie scoop, giving you about 3 tablespoons or 2.5 ounces of dough per pie. Then bake them for 8 to 10 minutes.
Doing larger pies with this recipe will then yield 9 to 10 large Pumpkin Oatmeal Cream Pies!
Is There A Substitution For Butter Flavored Shortening?
Yes, instead of using butter-flavored shortening you could just use butter. The pumpkin oatmeal cream pies will still turn out delicious!
What If I Don't Have Any Pumpkin Pie Spice On Hand?
No worries, pumpkin pie spice can actually be made right at home using pantry staple spices! With just 2 minutes of your time following this Homemade Pumpkin Pie Spice recipe you'll have just what you need to make these Pumpkin Oatmeal Cream Pies!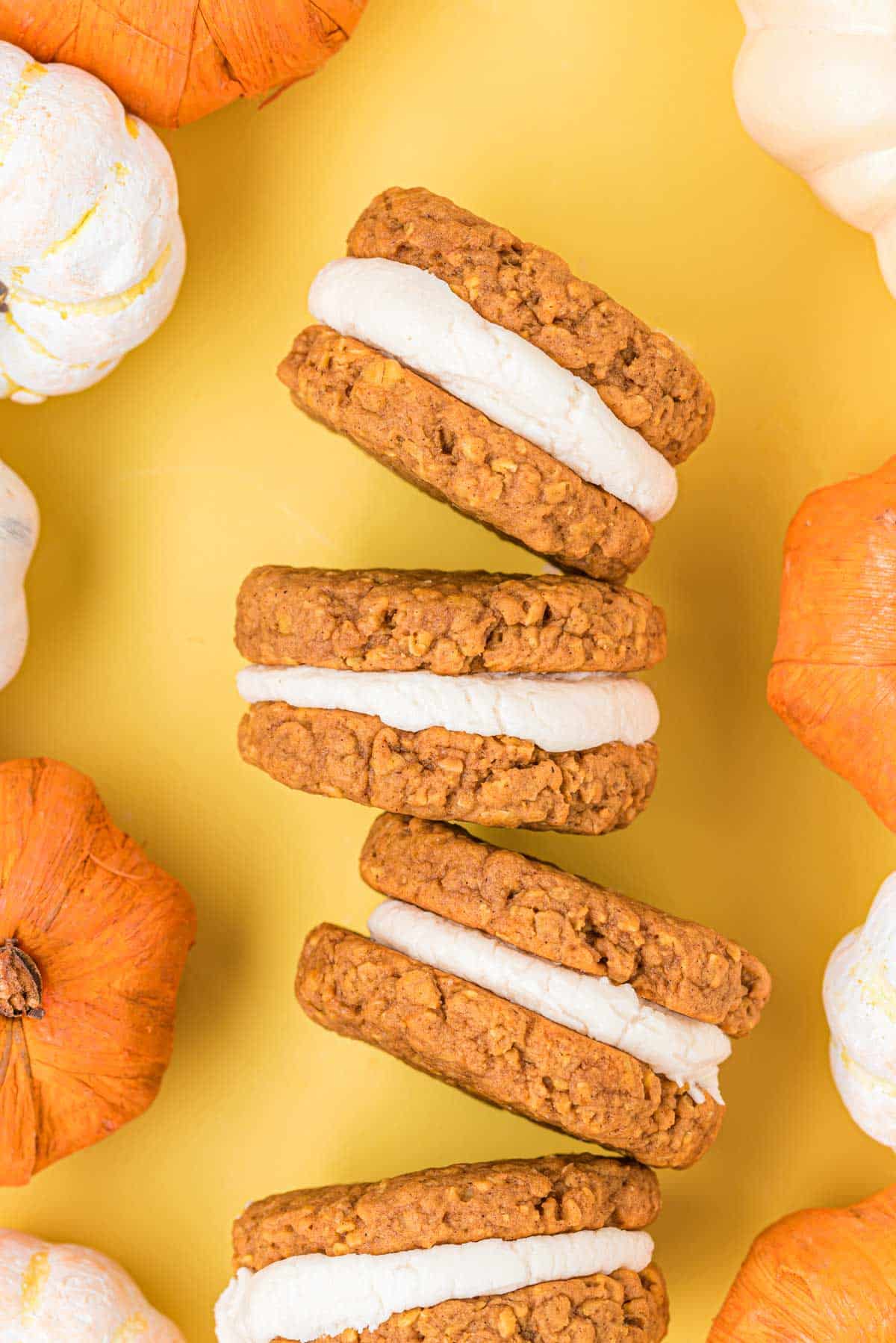 👋 Let's Connect!
If you've tried this recipe, please let me know how you liked it in the comments below and leave a review; I love hearing from you! And don't forget to tag me – @sugarandsoulco – on Instagram and Pinterest with your photos or join our Sugar & Soul Show-offs Community and share them there, where you can join our recipe challenges and win prizes!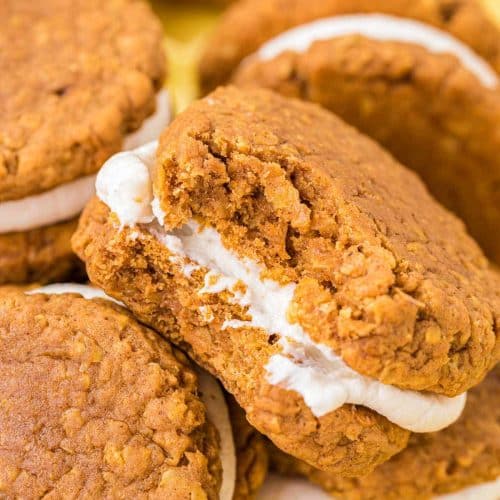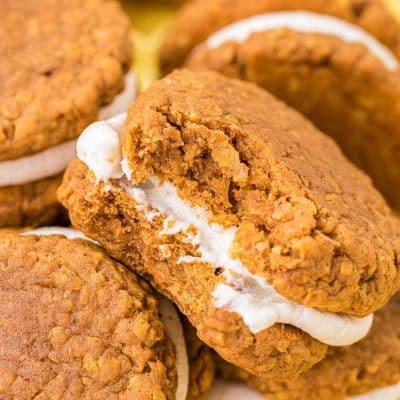 Pumpkin Oatmeal Cream Pies
Pumpkin Oatmeal Cream Pies are sweet, spiced, and perfectly chewy! Made with homemade pumpkin oatmeal cookies and cream cheese frosting!
Equipment
2 Cookie sheets

Parchment paper

Electric mixer

Measuring Cups

Measuring spoons

Cookie scoop medium or large

Piping bag
Instructions
Preheat to 375°F and line a baking sheet with parchment paper and set aside.

Whisk together the oats, flour, baking powder, cornstarch, salt, and pumpkin pie spice in a medium bowl.

2 cups 1-minute oats, 2½ cups bread flour, 2 teaspoons baking powder, 1 tablespoon cornstarch, ¾ teaspoon salt, 1½ tablespoons pumpkin pie spice

In a stand mixer fitted with a paddle attachment, cream together the dark brown sugar and vegetable shortening until smooth.

1 cup butter flavored vegetable shortening, 1½ cups dark brown sugar

Add the pumpkin puree, molasses, and vanilla and mix at high speed until light and fluffy.

1 cup 100% pumpkin puree, ¼ cup molasses, 1 tablespoon vanilla paste

Add the dry ingredients to the pumpkin mixture 1 cup at a time, mixing after each addition just until incorporated.

Use a medium cookie scoop to portion out the cookie dough onto the prepared baking sheet about 3 inches apart. Then gently pressed down with your fingers or the bottom of a glass until about ½ inch thick.

Bake for 6 to 7 minutes, the cookies will still look fairly soft in the middle, this is normal.

Remove from the oven and allow to cool for 1 to 2 minutes before transferring to a wire rack to cool completely.
Frosting
While the cookies cool, cream together the cream cheese and butter until smooth.

4 ounces cream cheese, ¼ cup salted butter

Add half the powdered sugar and mix until combined, then add the remaining sugar, heavy cream, and vanilla extract and beat at high speed until light and fluffy, about 2 minutes.

2½ cups powdered sugar, 1 tablespoon heavy cream, 1 teaspoon vanilla extract

Pipe about 1½ tablespoons of frosting onto the bottom of half of the cookies, then top each one with one of the unfrosted cookies.
Notes
If you are making large cream pies, use a large cookie scoop (3 tablespoons or 2.5 ounces) of dough and bake for 8 to 10 minutes. This recipe will make 9 – 10 large cream pies.
For small cream pies, you'll use a medium cookie scoop (1.5 tablespoons or 1.2 ounces of dough) and bake for 6 – 7 minutes. This recipe will make about 20 small cream pies.
Nutrition
Calories: 303kcal | Carbohydrates: 45g | Protein: 3g | Fat: 13g | Saturated Fat: 5g | Polyunsaturated Fat: 3g | Monounsaturated Fat: 5g | Trans Fat: 1g | Cholesterol: 11mg | Sodium: 110mg | Potassium: 171mg | Fiber: 1g | Sugar: 29g | Vitamin A: 1725IU | Vitamin C: 1mg | Calcium: 49mg | Iron: 1mg