This Eggplant Parmesan is made with layers of eggplant, cheese, sauce, and memories. An easy and mouthwatering Italian classic you'll make again and again!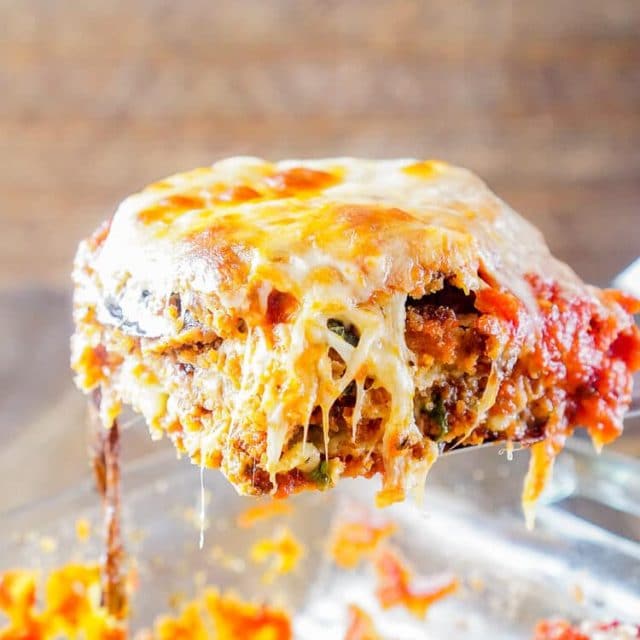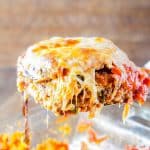 This Eggplant Parmesan is made with layers of eggplant, cheese, sauce, and memories. An easy and mouthwatering Italian classic you'll make again and again!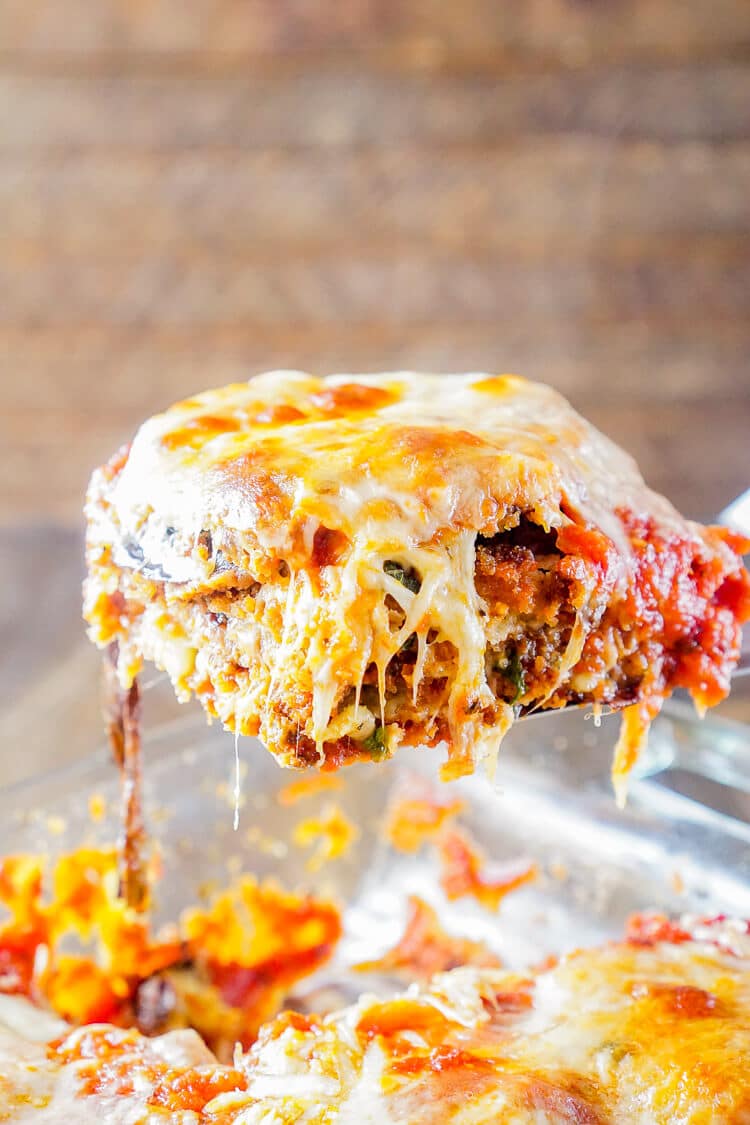 Eggplant Parmesan
For years and years, during holidays, birthday parties, and Sunday get-togethers, the conversation on my dad's side of the family would almost always connect to our Italian heritage. Our genealogy was rooted by my Nonna, whose parents immigrated from Calabria to New York, and Nonna became the first generation Italian-American.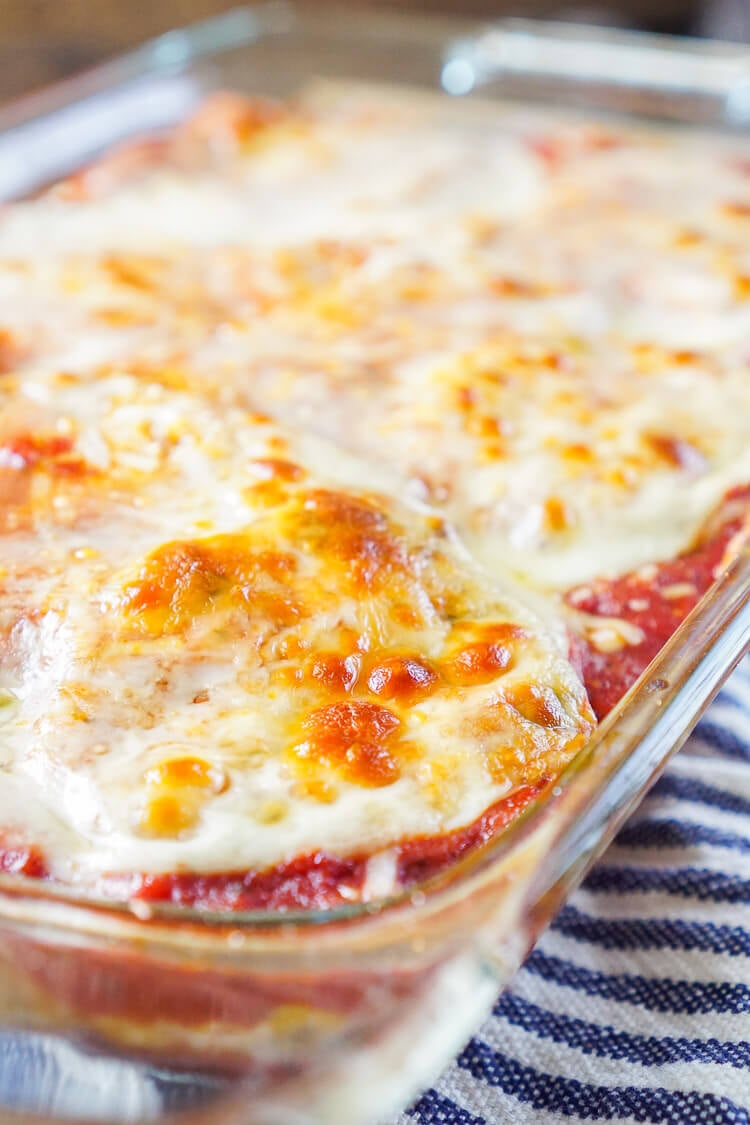 Countless hilarious stories have been told of my father and his brother and sister, and the visits they'd had with their Italian Grandma Galatchia. She'd constantly reprimand them for their mischievous antics, touching all her dusty knickknacks and stealing ancient candy from grimy candy dishes scattered around her small, un-airconditioned house. Although Grandma Galatchia chastised them in broken English, the message was clear: they were always in trouble.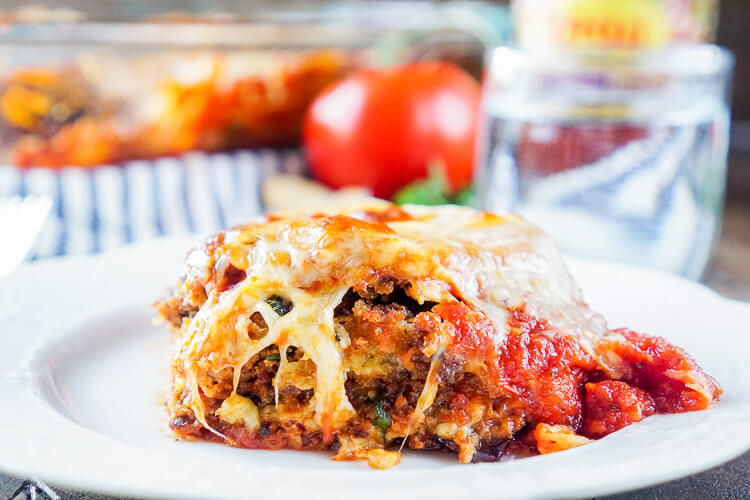 It wasn't until a few years ago that I finally asked Nonna what "Galatchia" meant, assuming that it must be some Italian word. She thought for a minute. "Kellie made it up," she recalled, referring to my aunt.
Then my dad chimed in. "Grandma Galatchia used to always yell, 'disgrazia, dizgrazia!'–disgrace, disgrace!–when we were being bad. When Kellie was little, she must've thought the word was 'Galatchia.'"
We cousins laughed hysterically. The legendary Grandma Galatchia had gotten her name from the tormented sentiment of being disgraced by our misbehaving parents when they were kids.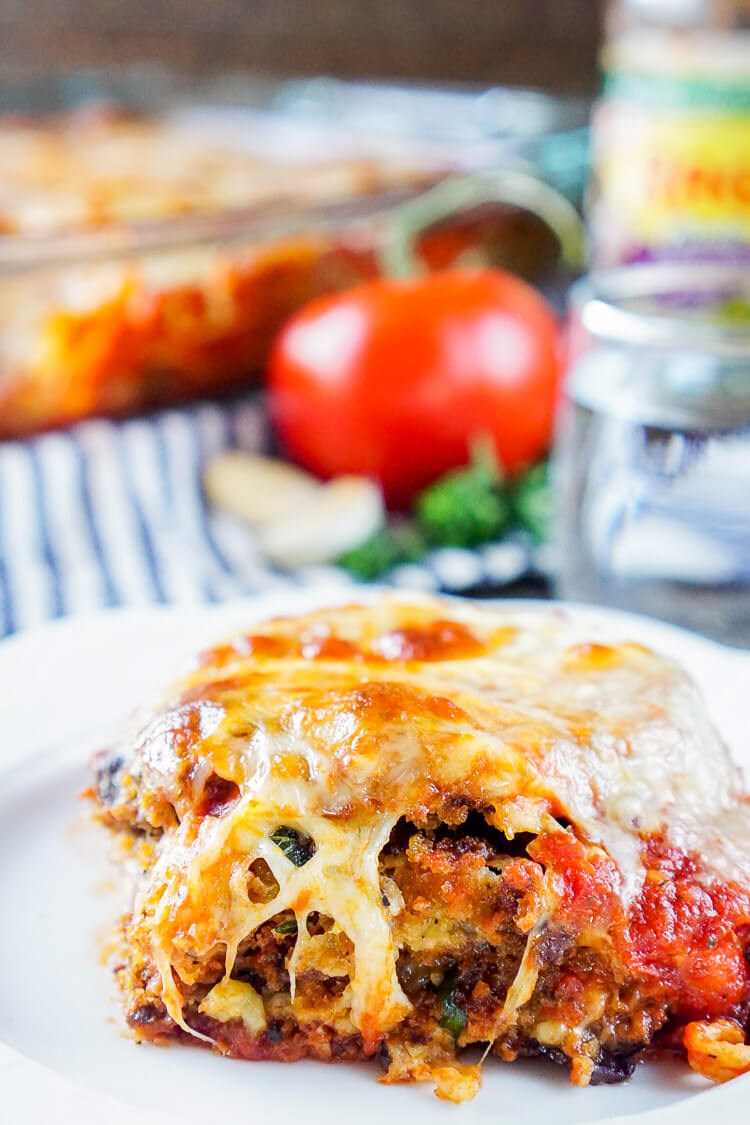 When I went to college, I studied abroad in Europe, and in my travels, I visited Italy. It was magical. Breathtaking. I learned that more parts of me were Italian than I had even realized. Everything I loved was there: olives, seafood, eggplant parmesan, teal waters, hot weather, bright colors, dark-haired wanderers, dramatic gestures, loud voices, the birthplace of opera, the expression of emotion, art. I wanted, more than anything, to be able to share this feeling–this place–with my family.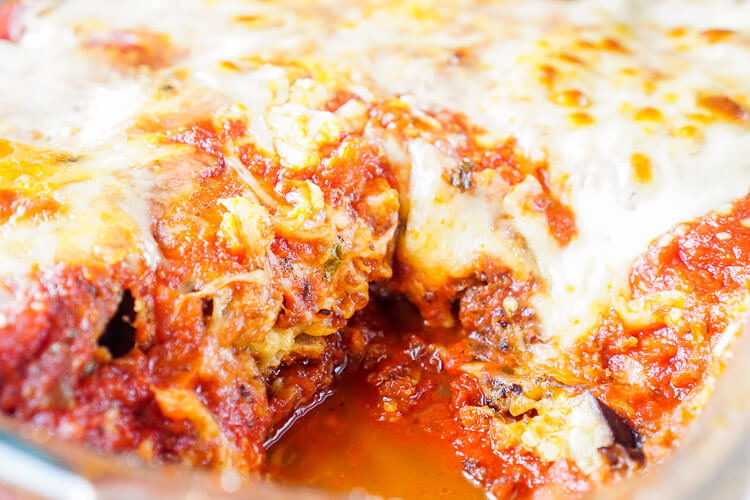 Back in the States, I gushed to Nonna about my travels. She related wholeheartedly, and we began to dream. For a year, I told Nonna that I wanted to go to Italy with her.
And then it happened.
It was in the fall during one of those Sunday visits with my parents, sister, and me, when Nonna and Grampy (who is an honorary Italian, as he was adopted), suggested they take the whole family to Italy instead of getting Christmas presents.
We agreed unanimously. (I mean, who wouldn't?!)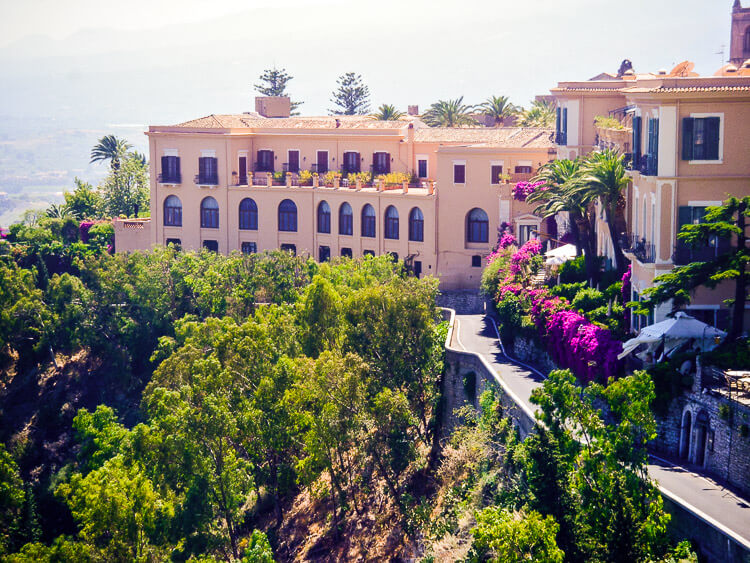 We went that June. Thirteen of us–parents, siblings, aunts, uncles, cousins, everyone— boarded a plane, flew to the island of Taormina, and took over a small hotel. There, we went sightseeing, ate tons of pasta, drank cappuccinos, swam in the Mediterranean, toured ruins, and took trams into the heart of the city.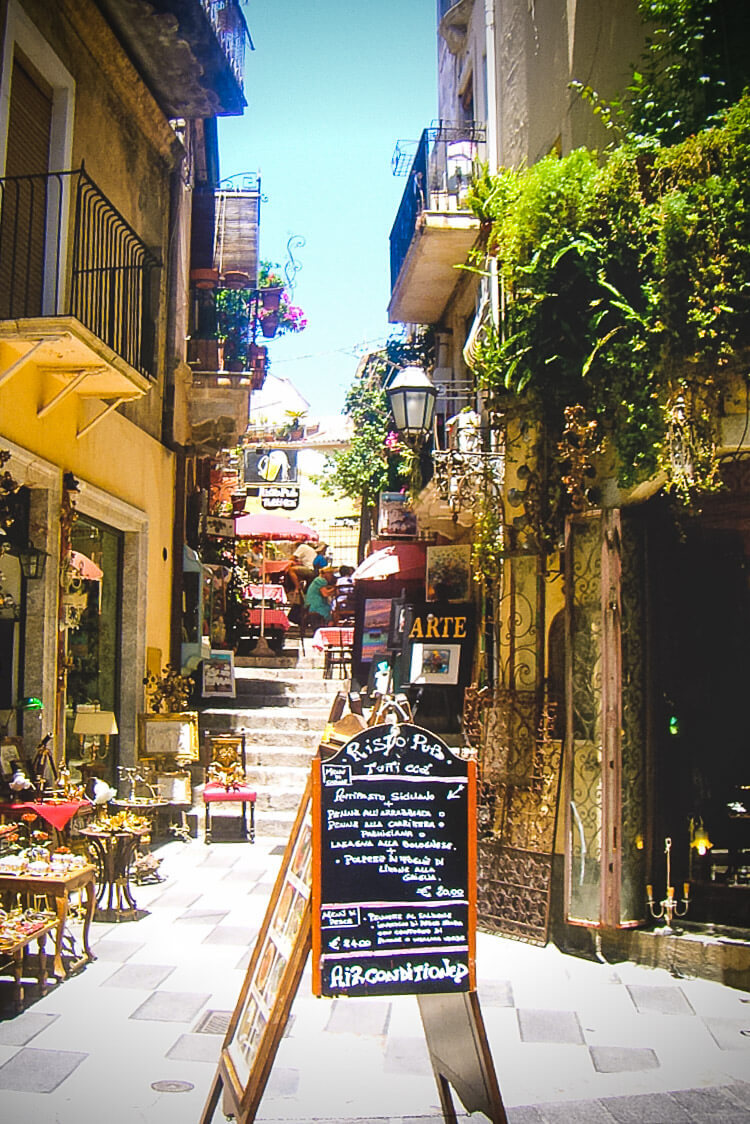 But the best day, by far, was spontaneous. We learned from Nonna that we have distant cousins living in Calabria, and one day, we decided to go. Calabria was on the mainland, so we took a bus, a ferry, and a taxi to meet dozens of relatives that we didn't even know we had. They took us to some western-themed restaurant, and it appeared to only be open for us.
I don't know how this was all orchestrated, or why everyone was off of work and school on a Tuesday afternoon (they didn't speak much English, and only Nonna spoke some Italian); but after the homemade wine started flowing, even a language barrier didn't stop us from enjoying that day together. That's because the common language was there: laughter, liquor, body language (with lots of pointing), and food.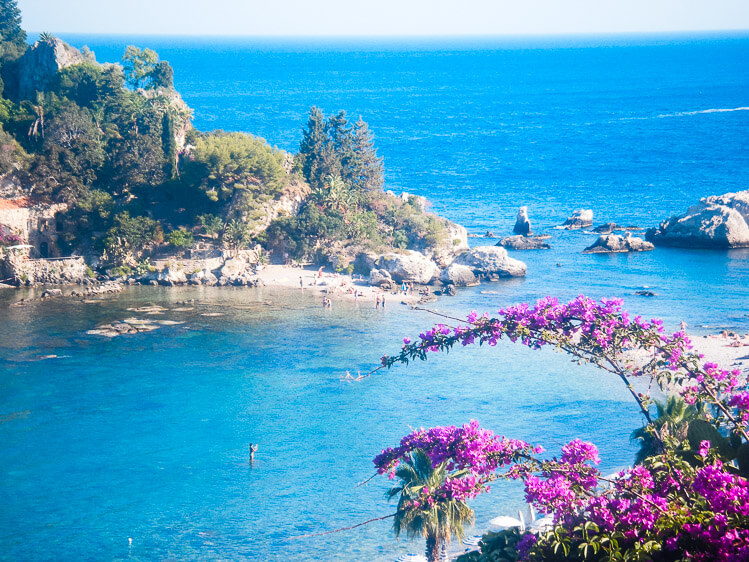 Oh, the food. We ate mozzarella and basil appetizers, fried zucchini, warm, crusty bread dipped in infused olive oil, hand-made pasta, and the most delicious eggplant parmesan I had ever tasted. Layers of thinly sliced eggplant were lightly battered and smothered in rich homemade tomato sauce, perfectly seasoned and topped with fresh curls of grated parmesan.
I cried when we left our relatives that day, and back in America, I felt "homesick" for Italy. So, I decided to cook.
I couldn't get that eggplant parmesan out of my head and set out to find the perfect ingredients. Eggplant, check. olive oil, check. Parmesan, check. But what about the sauce? I had to be careful about this one–it's the ingredient that makes the dish by tying it all together.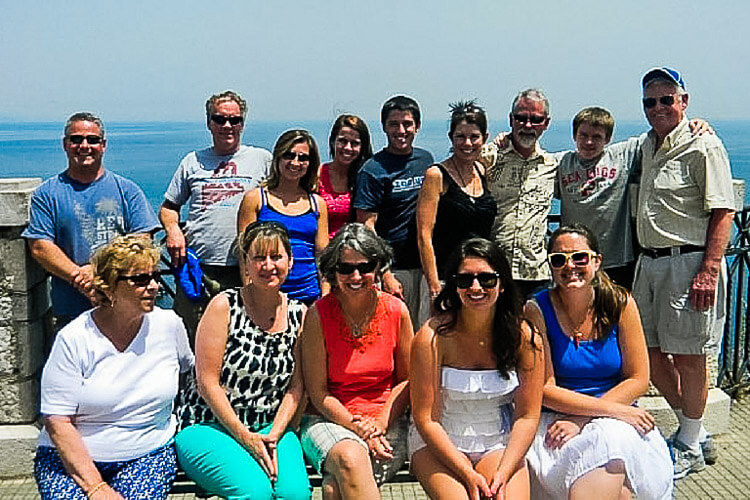 So, I did some research. After sifting through the sites of some popular pasta sauce brands, I read about Assunta Cantisano, an Italian-American who came to New York–just like Grandma Galatchia–and made a living by selling her homemade tomato sauce, using a simple Italian recipe and tomatoes and herbs fresh from her garden. Her recipe, it says, has stood the test of time.
Traditional garden fresh sauce. I was dead-set on recreating that eggplant parmesan we'd eaten back in Calabria. I picked up a jar of Ragu to see (I mean, taste) Assunta's legendary recipe for myself.
Pouring it on top of the layers of eggplant and cheese, I was so hopeful. My mouth watered as the aroma of the baking parmesan filled the kitchen. When I took it out of the oven, I scooped a steaming forkful right from the pan and took a bite…
And I was right back in Italy.
So, I definitely made the right choice with the sauce. And as any chef knows, no matter how many recipes are mastered, the truly special ones are those that bring us back to the happiest moments in our lives; and at the root of those magical recipes are simple, fresh ingredients that can uphold years-long tradition.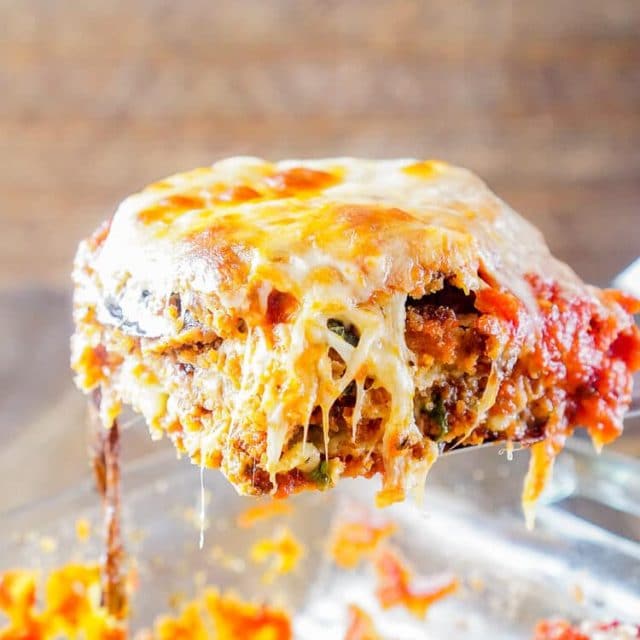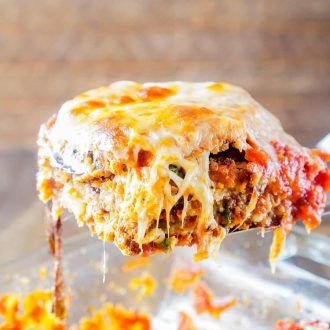 Eggplant Parmesan
This Eggplant Parmesan is made with layers of eggplant, cheese, sauce, and memories. An easy and mouthwatering Italian classic you'll make again and again!
Instructions
Arrange eggplant slices in a single layer on 2 baking sheets.

Sprinkle with salt on both sides of each slice and let sit for 1 hour.

Rinse with cold water and dry them thoroughly with paper towels.

Combine the flour, 1/4 tsp salt, and 1/4 tsp pepper in a medium bowl.

In another bowl, whisk together the eggs and milk.

In a third bowl, combine the breadcrumbs with the oregano, thyme, and season with remaining salt and pepper.

Dip each eggplant slice in the flour, shaking off any excess. Then, dip in the egg mixture, and then in the breadcrumbs.

Make sure to coat both sides of each slice of eggplant, then arrange them in single layers on the baking sheets.

In a large skillet, pour enough oil to accumulate about 1/2-inch in the bottom. Heat the oil until it begins to smoke lightly, oil should be between 380 and 400 degrees F.

Use kitchen tongs to add a single layer of the eggplant to the pan of oil. Cook them until they are golden brown, about 60 to 90 seconds on each side.

Remove from the oil and transfer to a baking sheet fitted with a paper towel so the eggplant can drain as the others cook, top cooked eggplant with pieces of fresh basil.

Make sure to reheat the oil back up to temperature before adding another batch of slices to the pan.

Preheat oven to 350 degrees F.

In a 9 by 13-inch baking dish, spoon about 1/4 of the Ragu on the bottom.

Top with a layer of the fried eggplant.

Top with about 1/3 of the mozzarella slices.

Sprinkle with about 1/4 of the Parmesan.

Top with slices of provolone.

Top with some chopped fresh basil leaves.

Spoon on 1/4 more of the Ragu and repeat the layering 2 more times to make 3 layers.

End with the remaining mozzarella and provolone.

Bake for 35 to 40 minutes.

Broil for a minute or two just before serving to get an extra brown cheesy top.
Nutrition
Calories: 702kcal | Carbohydrates: 38g | Protein: 45g | Fat: 40g | Saturated Fat: 23g | Cholesterol: 214mg | Sodium: 1535mg | Potassium: 538mg | Fiber: 5g | Sugar: 7g | Vitamin A: 1365IU | Vitamin C: 4mg | Calcium: 1028mg | Iron: 3.7mg
Pin this Eggplant Parmesan for Later!

Reader Interactions
Share your thoughts!
Love this recipe? Share your thoughts with me below and leave a review! And don't forget to connect on your favorite social platform below!