These Chocolate Easter Cookies are stuffed with a Cadbury Creme Egg for a sweet and gooey center that's decadent and delicious!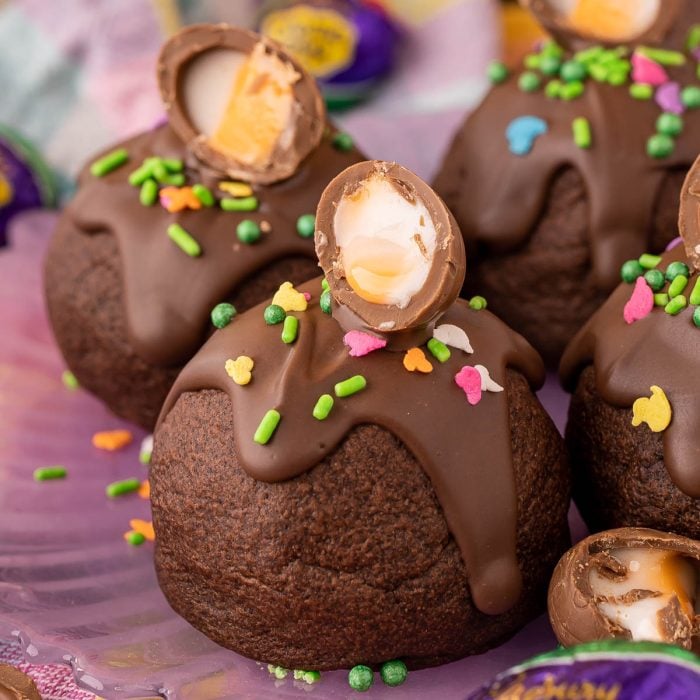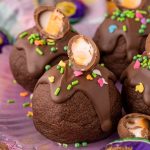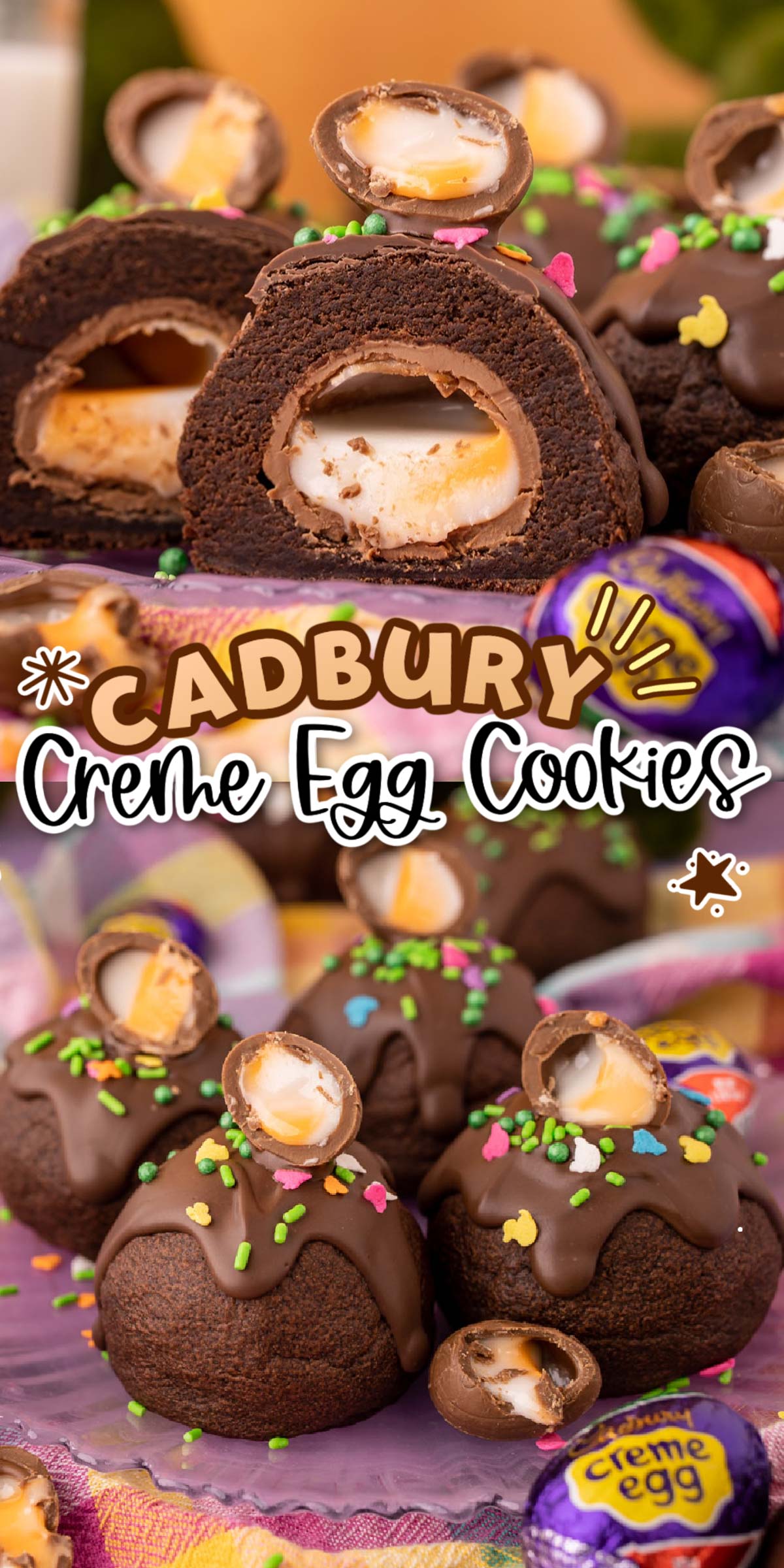 Cadbury Creme Egg Cookies are an impressive Easter treat with a Cadbury creme egg center, colorful sprinkles, and mini creme egg on top! A gourmet cookie recipe with step-by-step instructions that take just 15 minutes to prep!
Dig into another Cadbury Creme Egg recipe by checking out this Cadbury Fudge or by making a bowl of creamy Cadbury Creme Egg Dip that's made with only 4 ingredients!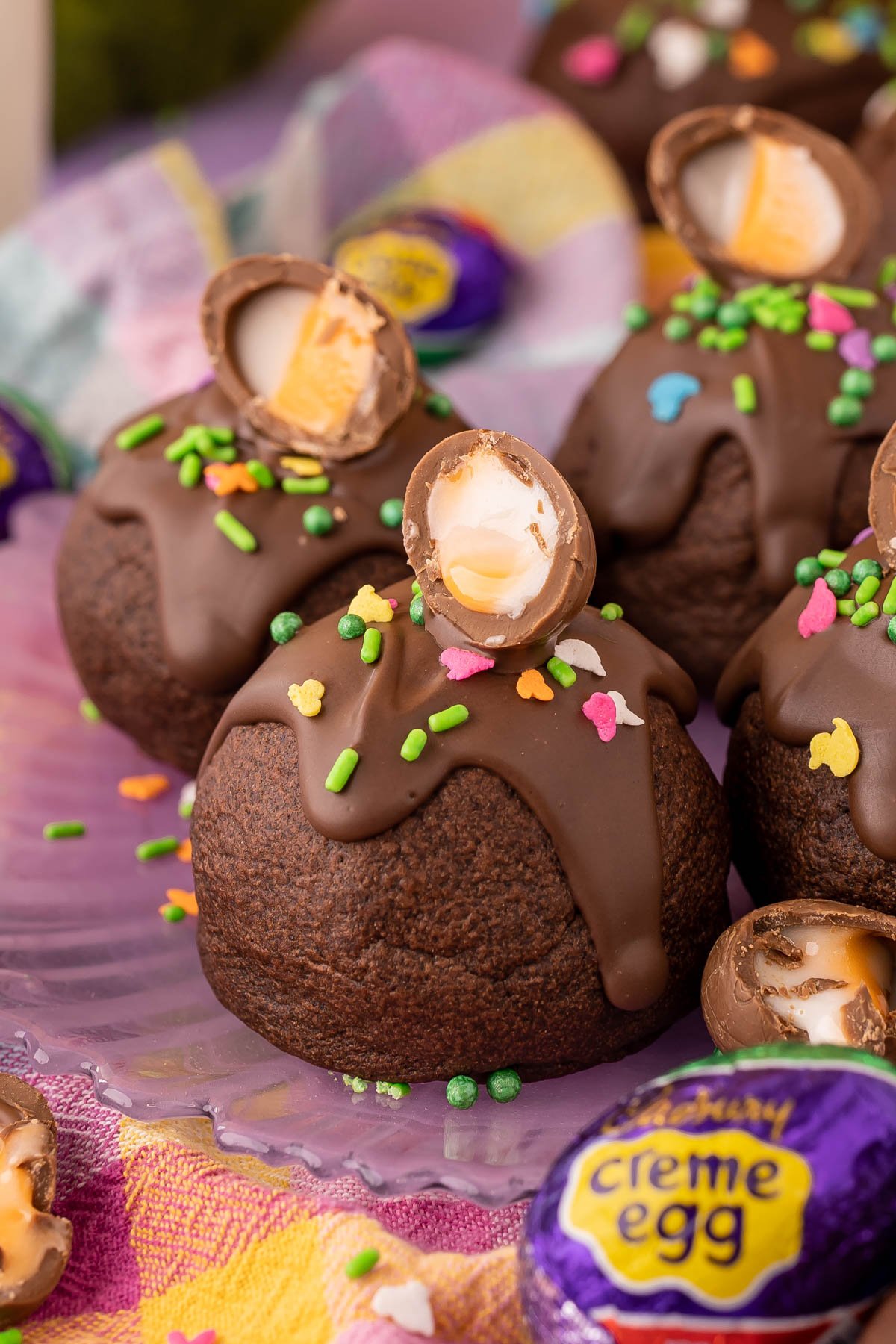 Cadbury Creme Egg Cookies are a gourmet treat that every bunny deserves this Easter! And though they're a specialty sweet, they're actually quite easy and fun to make!
Simply wrap chocolate cookie dough balls around creme eggs, bake, and top with melted chocolate! Then finish these beauties off with vibrantly colored sprinkles and a mini creme egg!
All About These Cadbury Creme Egg Cookies
Taste: Even though the spotlight is on the Cadbury eggs in these cookies, you're also in for a treat with the chocolate cookie that surrounds them! With ingredients such as Dutch-processed cocoa powder, malted milk powder, and light brown sugar, the cookies bake up to a satisfying chocolate cookie that has a great depth of flavor!
Texture: Homemade, soft chocolate cookie dough is topped with smooth melted chocolate, a mini-Cadbury creme egg, and sprinkles! Waiting inside each gourmet treat is a large Cadbury egg with its smooth sugary center!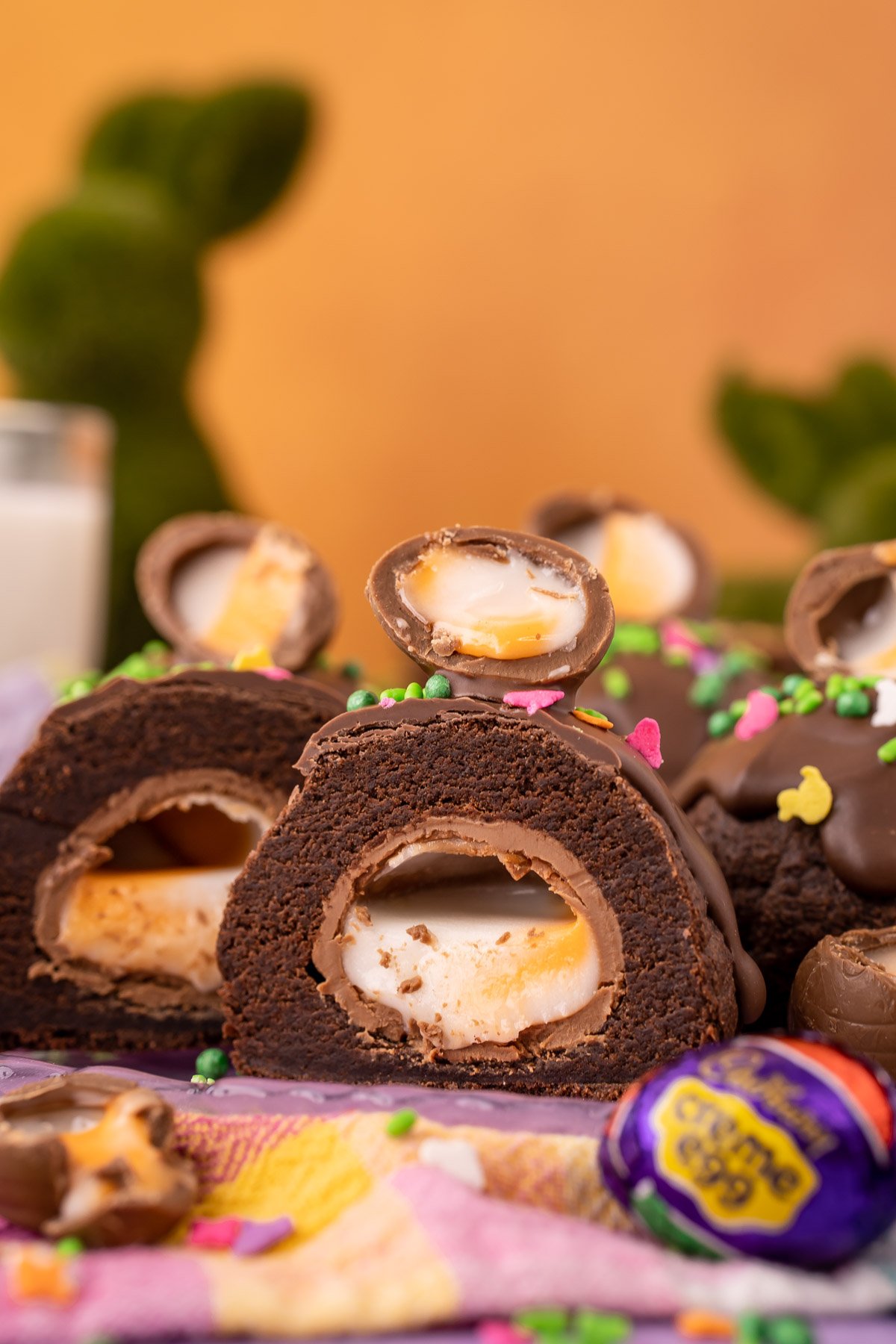 One of Easter's most loved store-bought treats is hidden inside each delicious chocolate cookie, an entire Cadbury creme egg! These popular Easter eggs have a milk chocolate shell that collapses into their smooth, soft fondant centers.
Making for an indulgent treat that has everyone racing to the store as soon as they hit the shelves. And if you've loved Cadbury eggs for any amount of time, then you also know they make them with other filling variations.
Therefore, you can make these Easter Cookies with your favorite Cadbury egg! The caramel or chocolate creme eggs would make for a tasty Cadbury cookie!
Key Ingredients
Dutch Cocoa – This gives the cookies a rich chocolate color and smooth chocolate flavor.
Baking Powder – For leavening, you don't need a lot, but it is necessary.
Corn Starch – Helps yield a soft dough.
Malted Milk Powder – Flavor – a little goes a long way!
Cadbury Creme Eggs – The star of the cookie! Use big ones for the center and minis for the topping!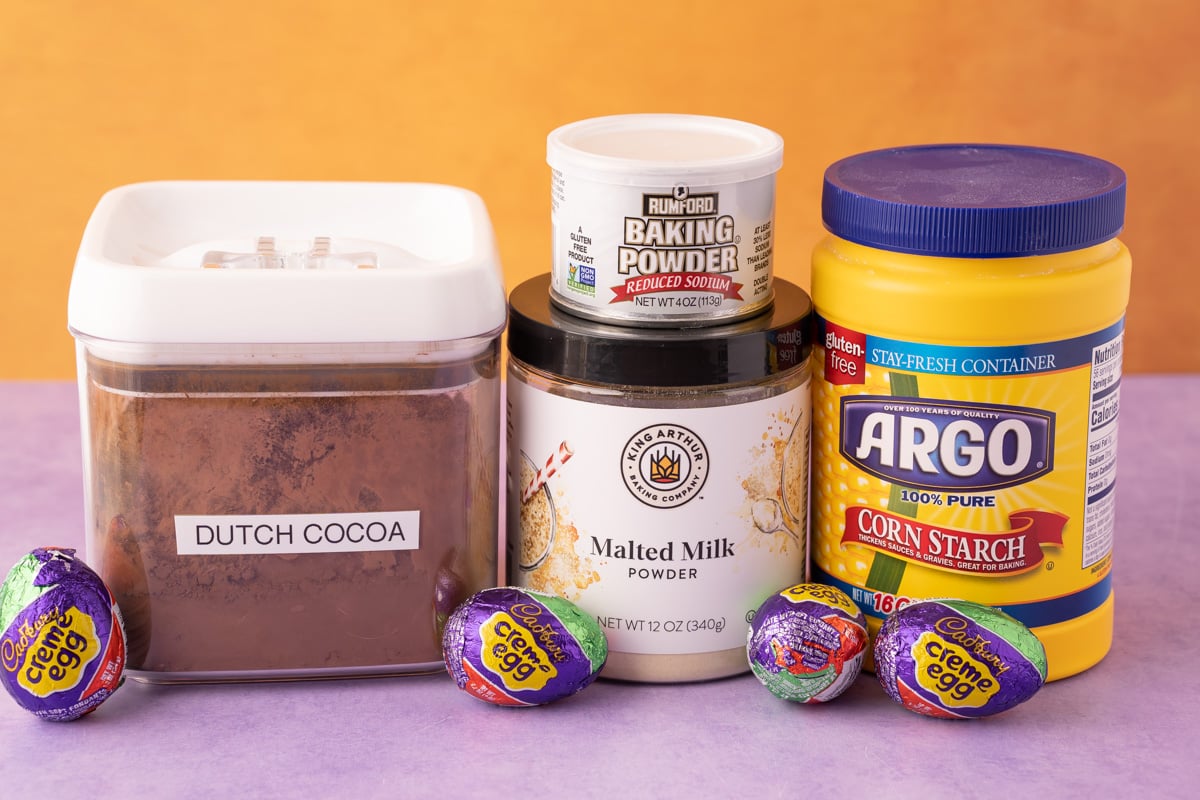 Recipe Tips For Cadbury Creme Egg Cookies
Mini Version – Feel free to make this treat into a mini version! To do so, wrap about 1.5 ounces of dough around mini creme eggs.
Measuring – Using a kitchen scale is the surest way to add just the right amount of ingredients, giving you perfect cookies every single time! For this reason, I included weighted measurements on the recipe card for a few of the ingredients. All you need is your kitchen scale!
Baking – When baking this cookie recipe, you will want to use two cookie sheets. This way, you don't put the unbaked cookies onto a hot cookie sheet since that would alter the structure of the cookie.
Sealing – One of the most important steps in this Cadbury cookie recipe is to seal the dough around the egg well! This is best done by gently working the cookie dough up around the Cadbury creme egg. Once the egg is completely enclosed, tightly pinch all of the edges together to seal it in. Afterward, roll the dough gently between the palms of your hand to smooth it out!
Doneness – These cookies are baked until their edges are just set; this usually only takes about 8 to 10 minutes. Once the cookies are done, they likely will still look slightly underdone. However, that's totally normal for these cookies, so don't continue to bake them!
Dressing Them Up – Once the Cadbury Creme Egg Cookies have cooled, they get dressed up! This is done by drizzling melted chocolate on their tops and then adding sprinkles along with a mini-Cadbury creme egg! Be sure to add the sprinkles and egg as soon as the chocolate has been drizzled onto the cookie. That way, they stick securely to the cookie as the melted chocolate hardens.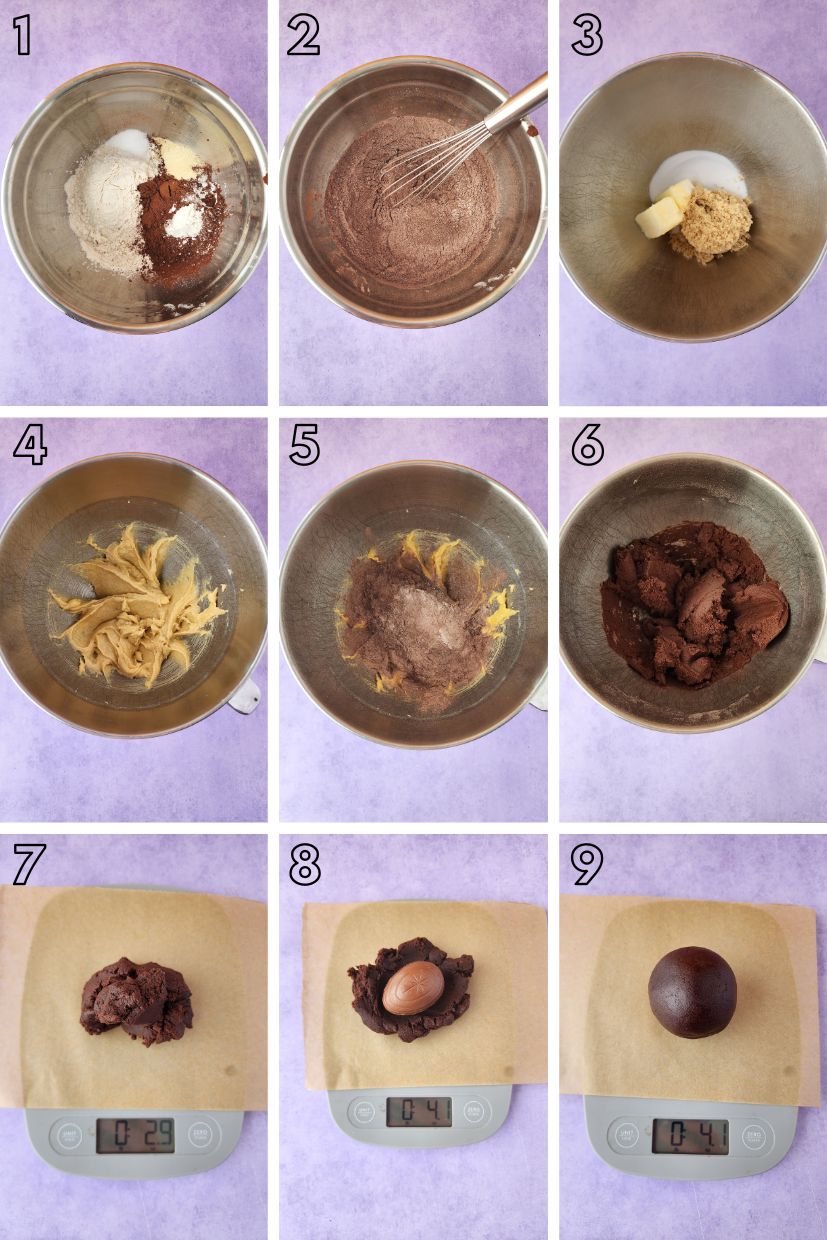 Nothing compares to homemade cookies, especially gourmet cookies like these ones! Once Easter has passed, and all the Cadbury eggs have been eaten, you can move on to another specialty cookie, such as these Chubby Hubby Cookies!
They're inspired by the popular ice cream flavor and are loaded with pretzels, chocolate, and peanut butter chips! And if you love specialty cookies, then you'll definitely enjoy these Cookie Dough Cookies and Key Lime Pie Cookies since they're both Crumbl cookie copycat recipes!
How To Store Cadbury Creme Egg Cookies
These cookies are best stored for days in an airtight container at room temperature. If the cookies are kept longer than that, I find that they start to dry out.
Is There A Good Substitute For Malted Milk Powder?
If you don't have malted milk powder, you can swap it out for powdered coffee creamer.
Can Kosher Or Sea Salt Be Used In This Cookie Recipe?
Yes, instead of using salt, you can use kosher or fine sea salt. You will just need to increase the salt amount to 1 teaspoon.
How Come My Cookies Turned Out Crumbly And Dry?
Typically, if cookies come out crumbly and dry, then the dough has too much flour in it. This occurs from incorrectly measuring the flour, which can happen easily!
When measuring flour, the most common method is to dip the measuring cup needed into the container or bag of flour. Doing this results in accidentally packing the flour into the cup, resulting in too much flour. I also highly recommend using a kitchen scale, this one is our favorite (affiliate link), and I have included gram measurements in the recipe also!
Learn How To Measure Flour correctly in 5 minutes or less to prevent your cookies from turning out dry!
If you find that the dough seems dry before baking, you can add some milk, 1 tablespoon at a time, until it's the texture of playdough. The dough should not be sticky.
Why Did The Cadbury Egg Seep Out Of The Cookies?
If the Cadbury egg seeped out of the cookies, there are two possible reasons for this happening. First, the cookies may not have been tightly sealed. Be sure to pinch the cookie dough together tightly to seal it around the creme eggs to prevent this from happening.
The second possibility is that the cookies were baked for too long. If they're baked for too long, the egg will get too molten and seep out of the cookie.
👋 Let's Connect!
If you've tried this recipe, please let me know how you liked it in the comments below and leave a review; I love hearing from you! And don't forget to tag me – @sugarandsoulco – on Instagram and Pinterest with your photos or join our Sugar & Soul Show-offs Community and share them there, where you can join our recipe challenges and win prizes!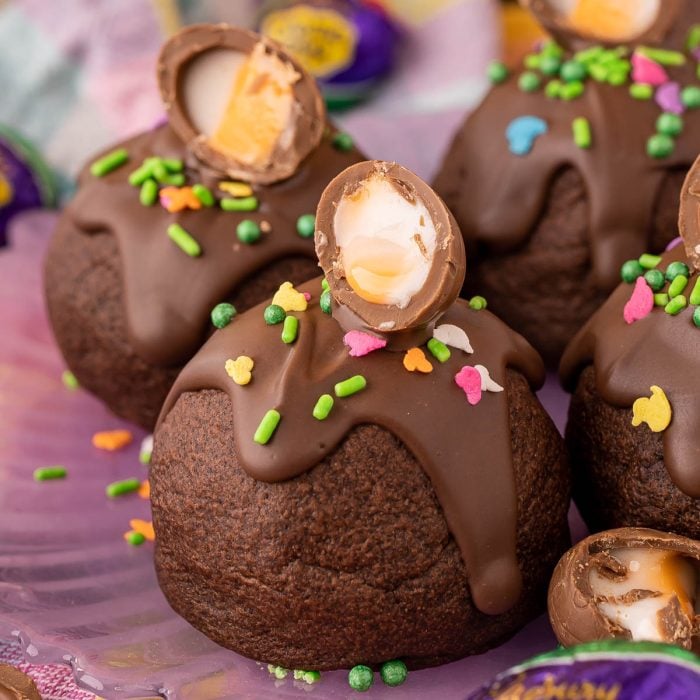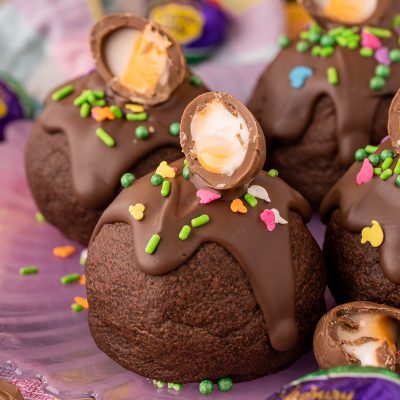 Cadbury Creme Egg Cookies
These Chocolate Easter Cookies are stuffed with a Cadbury Creme Egg for a sweet and gooey center that's decadent and delicious!
Instructions
Cookies
Preheat the oven to 350°F and line a large baking sheet with parchment paper and set aside. If you only have a 9×13-inch baking sheet, you'll want to use two baking sheets for two batches.

In a medium bowl, whisk together the flour, cocoa, malted milk powder, cornstarch, salt, and baking powder. Set aside.

1½ cup all-purpose flour, ½ cup Dutch-processed cocoa powder, 1 tablespoon malted milk powder, 2 teaspoons cornstarch, ½ teaspoon salt, ½ teaspoon baking powder

Partially melt the butter in a microwave-safe bowl. I melt mine for 45 seconds directly from the refrigerator. You want the melted butter to just be pooling a bit but still have a decent amount of stick left.

½ cup unsalted butter

Add the butter and sugars to a large bowl or stand mixer fitted with a paddle attachment and cream just until smooth.

½ cup light brown sugar, ½ cup granulated sugar

Add in the egg and vanilla extract and beat until fully incorporated.

1 large egg, 1 teaspoon pure vanilla extract

Add half of the dry ingredients to the wet ingredients and beat just until incorporated. Then add the remaining dry ingredients and mix until thoroughly combined.

Portion out the dough into 8 even portions (about 2.9 oz. each) and gently press your thumb into the middle of the ball to create a well. Place an egg in the well and gently use your hands to work the dough up and around the sides and top of the egg and pat and pinch to seal. Roll the ball between your palms to make it smooth and round.

8 Cadbury Creme Eggs

Place cookie dough at least 2 inches apart on the prepared baking sheet. Bake for 8 to 10 minutes until the edges are just set.

Allow the cookies to cool on the pan for 15 minutes before transferring them to a wire rack with a spatula to cool completely, about 1 hour more. These cookies are very soft right after baking and will firm up while they cool.

Once cooled, melt the chocolate melting wafers in the microwave at 30-second intervals, stirring between each one until fully melted. Drizzle over the tops of the cookies and then top with holiday sprinkles and a mini Cadbury creme egg if desired. Let set at room temperature until the chocolate hardens, about 15 to 30 minutes.

6 ounces chocolate melting wafers, 1 tablespoon holiday sprinkles, 8 mini Cadbury Creme Eggs
Notes
Creme Egg Variations: Feel free to use caramel or chocolate creme eggs instead of traditional ones.
Salt – If using kosher or sea salt, increase the salt amount to 1 teaspoon.
Sealing The Dough – Gently work the cookie dough up around the sides to cover the filling and pinch it to seal. Then roll it between your balms to smooth it out!
Checking For Doneness – These cookies get baked only until the edges are just set. This usually takes around 8 to 9 minutes. The glossiness should be mostly gone from the cookies. Don't bake too long or the egg will get too molten and could seep out of the dough.
Dressing The Cookies Up – After the cookies have finished cooling, it's time to dress their tops up! Make sure to add the sprinkles as soon as you drizzle on the chocolate. That way, the sprinkles stick nicely to the cookies, giving them their festive appearance!
Make A Mini Version – If you don't want full-size cookies, you can make this Easter treat into a mini version! Use about 1.5 ounces of dough per cookie and stuff them with mini Cadbury creme eggs!
How To Store: These cookies are best stored in an airtight container at room temperature. They can then be enjoyed for up to 3 days. Any longer, and I find that the cookie starts to dry out a bit.
Nutritional information is an estimate per cookie and does not include the mini Cadbury egg topping or sprinkles.
Nutrition
Calories: 388kcal | Carbohydrates: 58g | Protein: 5g | Fat: 17g | Saturated Fat: 10g | Polyunsaturated Fat: 1g | Monounsaturated Fat: 5g | Trans Fat: 0.5g | Cholesterol: 51mg | Sodium: 238mg | Potassium: 199mg | Fiber: 3g | Sugar: 35g | Vitamin A: 386IU | Vitamin C: 0.02mg | Calcium: 44mg | Iron: 2mg