Make Valentine's Day a breeze with these Printable Dinosaur Valentine Cards with cute sayings your kids will love giving.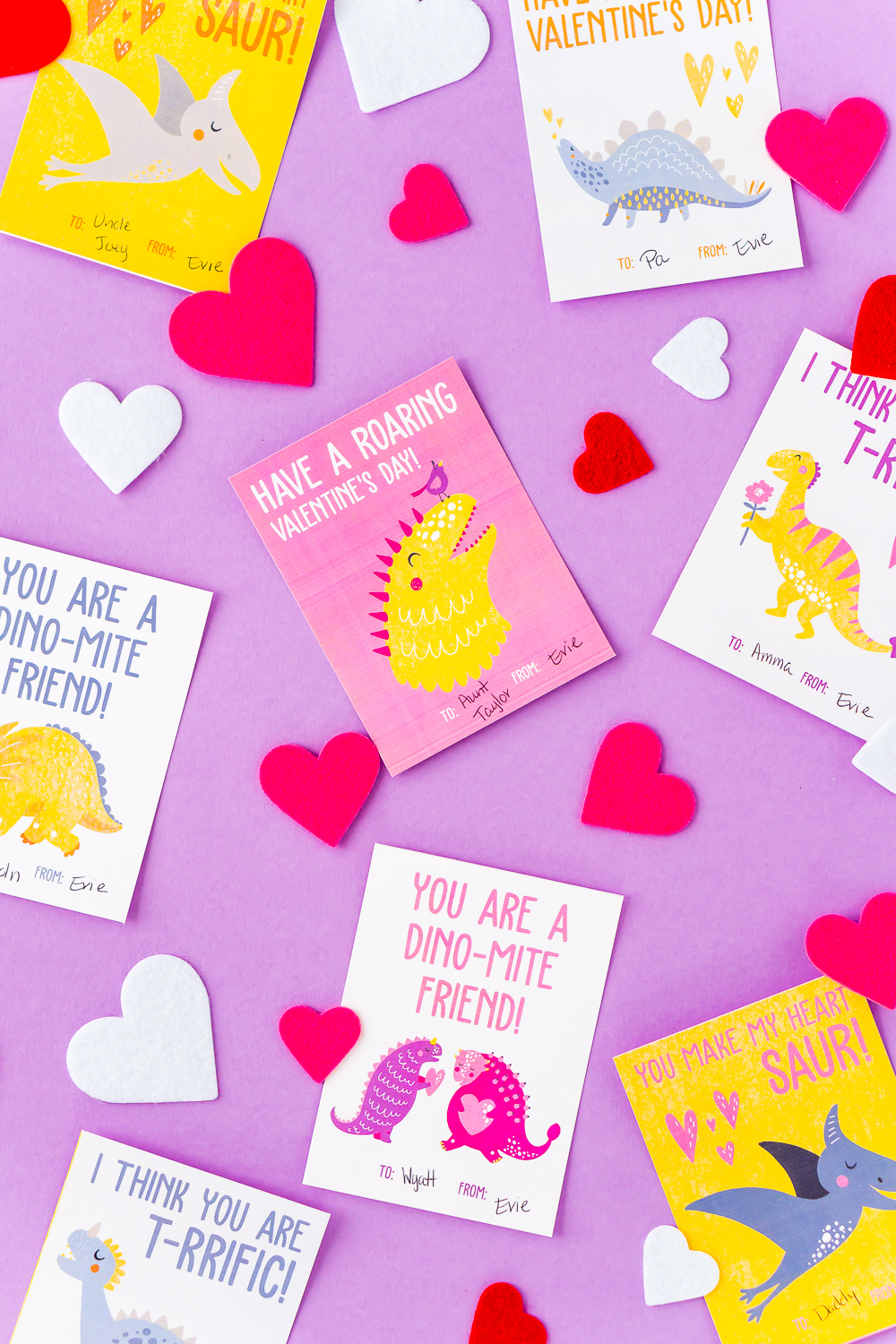 Printable Dinosaur Valentine Cards
Dinosaur Valentines are the easy, printable cards your kiddos can pass out to their classroom friends!
It's hard to believe that Valentine's Day is just around the corner. That means stocking up on gifts, cards, and goodies for loved ones.
(Does anyone else feel like Christmas was just yesterday?)
If you're a parent, this also means getting cards and candy for your kids to bring to their teachers and classmates. But instead of buying them at the store, why not skip a step with these Free Printable Valentine's Day Cards?!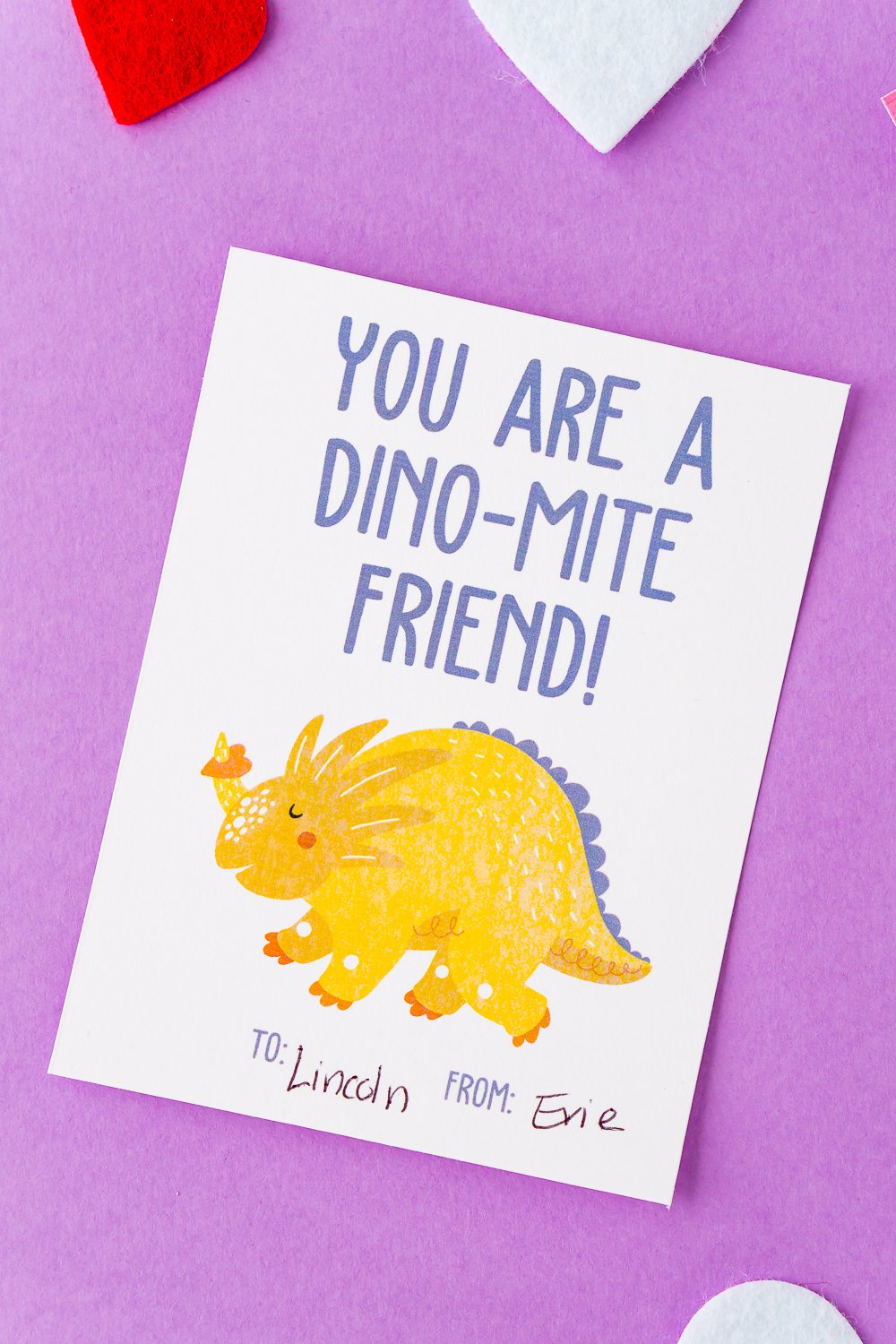 These Dinosaur Valentines are super cute and come in two color palettes. Plus, they have clever little sayings like "You Are A Dyno-Mite Friend!"
I mean really, who could resist that?!
Remember being a kid and actually being excited to go to school on Valentine's Day? I used to love getting goodies and nice messages from all my classmates!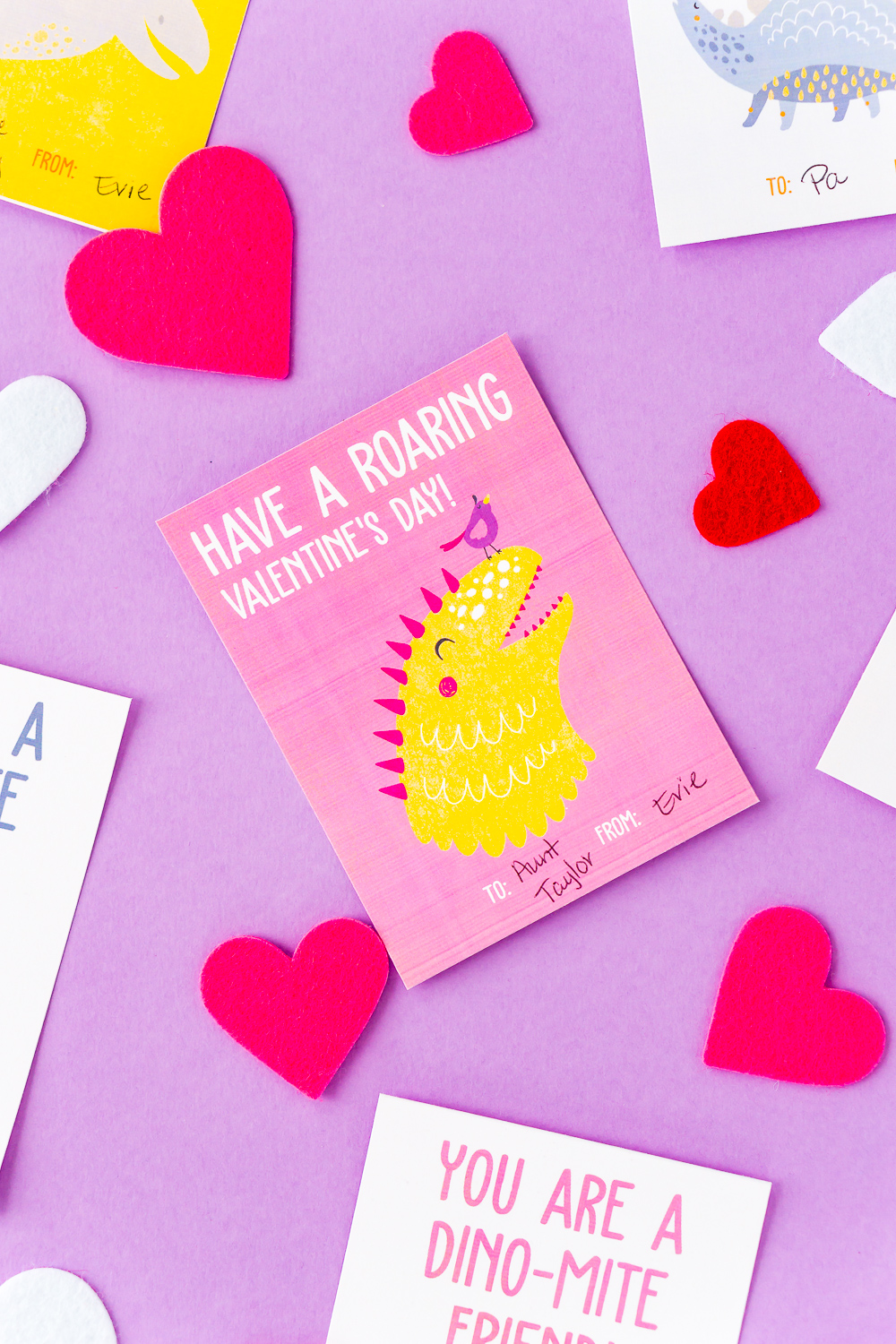 Printable Valentine's Make The Holiday Easy!
Now that I'm a mom, I get to relive all the childhood magic of all these holidays. Evie won't be passing out cards anytime soon, of course, but it'll be fun when the time comes.
But when you're an adult, you realize that store-bought cards can be way overpriced. Luckily, Dinosaur Valentine Free Printable Cards will only cost you a few pieces of paper and some ink.
(If you really want to be fancy, print them on cardstock so they're sturdier.)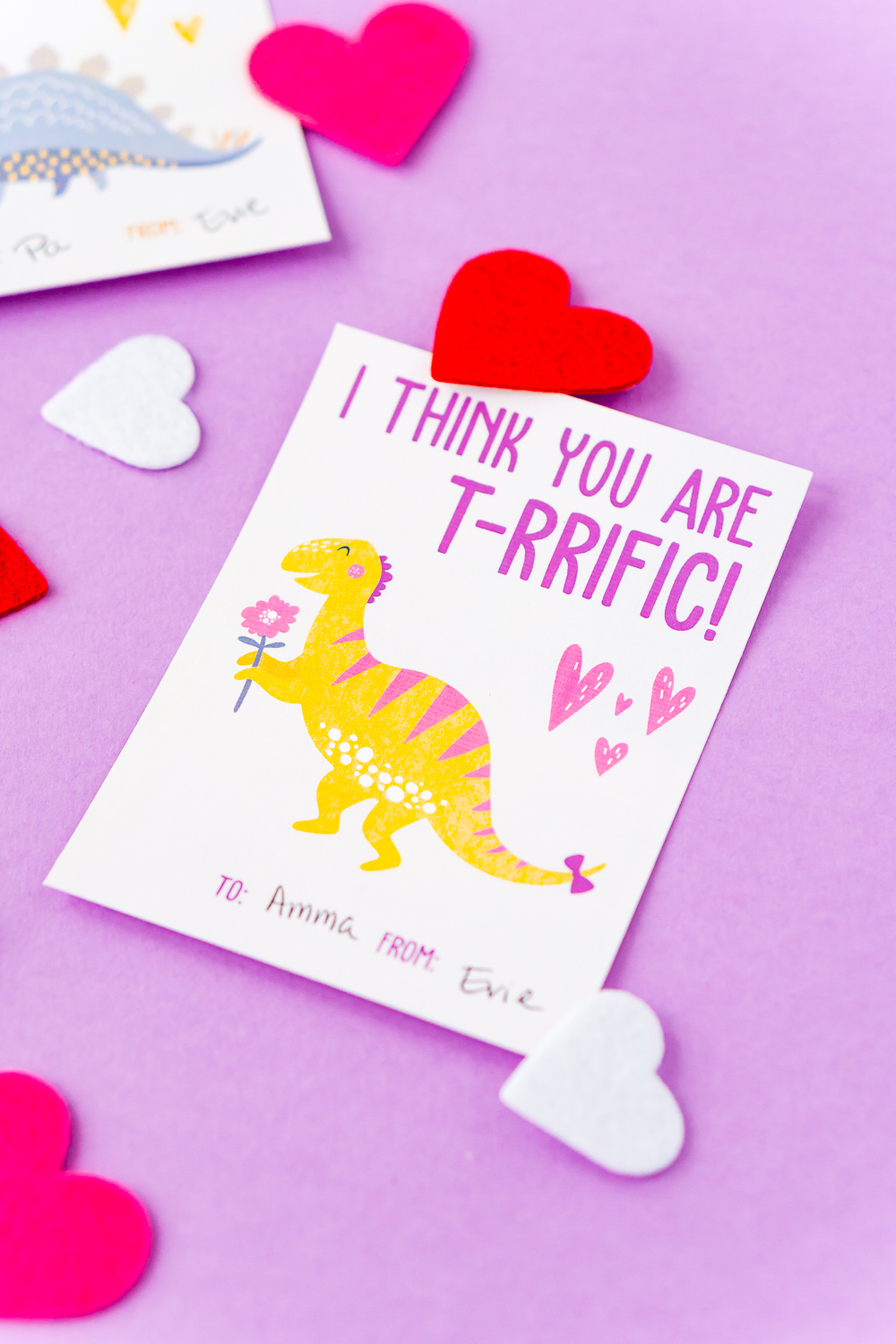 That's right, these Dinosaur Valentine Cards are adorable, unique, and FREE! Simply download the patterns for your little cupid or cup-ette, then print and cut them out!
You and the kiddos can even attach candy to the cards so their friends can have a festive treat.
Bonus: these Printable Valentine's Day Cards are the perfect last-minute solution if you completely forget to pick up a box. (It's okay, it's happened to all of us.)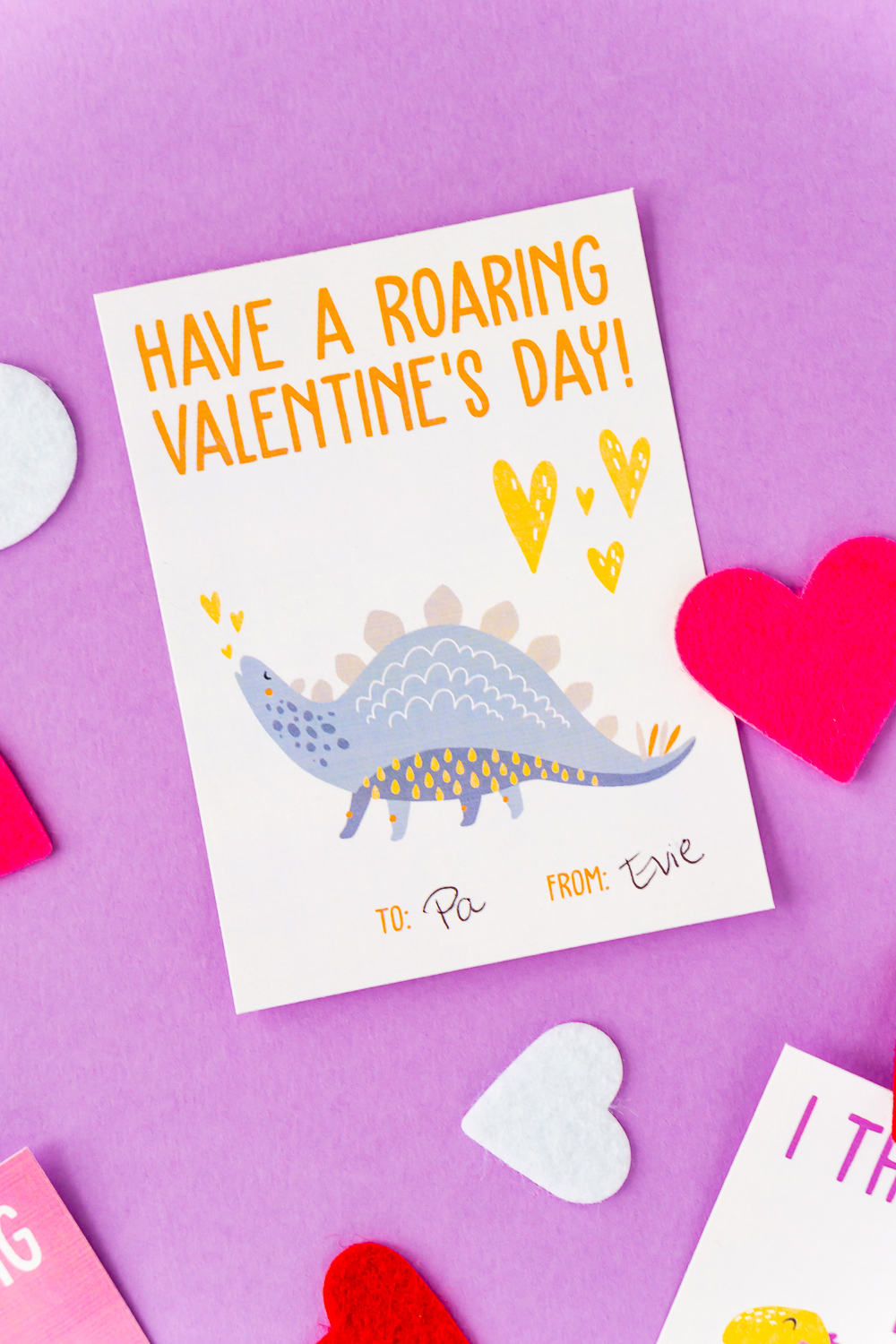 So if you suddenly remember you forgot to get cards at 9:30 the night before V-Day, don't panic. Just do a quick search for "Valentine's Day Cards Printable" and press "print"!
Skip a trip to the store and have your kids pass out these Printable Valentine Cards to all their friends. It's pretty much a guarantee that no one else will be handing out the same sweet cards!
More Fun Valentine's Day Ideas!
Free Printable Valentine Printables
Click the button above to save this delicious recipe to your board!

Let's Connect!
I created a fun little group on facebook and I'd love for you to join in! It's a place where you can ask questions and see what's new with Sugar & Soul! If you'd like to check it out, you can request to join HERE.
Be sure to follow me on Instagram and tag #sugarandsoulco so I can see all the wonderful recipes YOU make from this site! You can also Subscribe to my Newsletter so you never miss a delicious recipe again!
PRINTABLE DINOSAUR VALENTINE CARDS
Click the button above to print this Free Printable!