These S'mores Rice Krispies Treats are a fun way to enjoy the toasty summer dessert indoors or outdoors and all year long!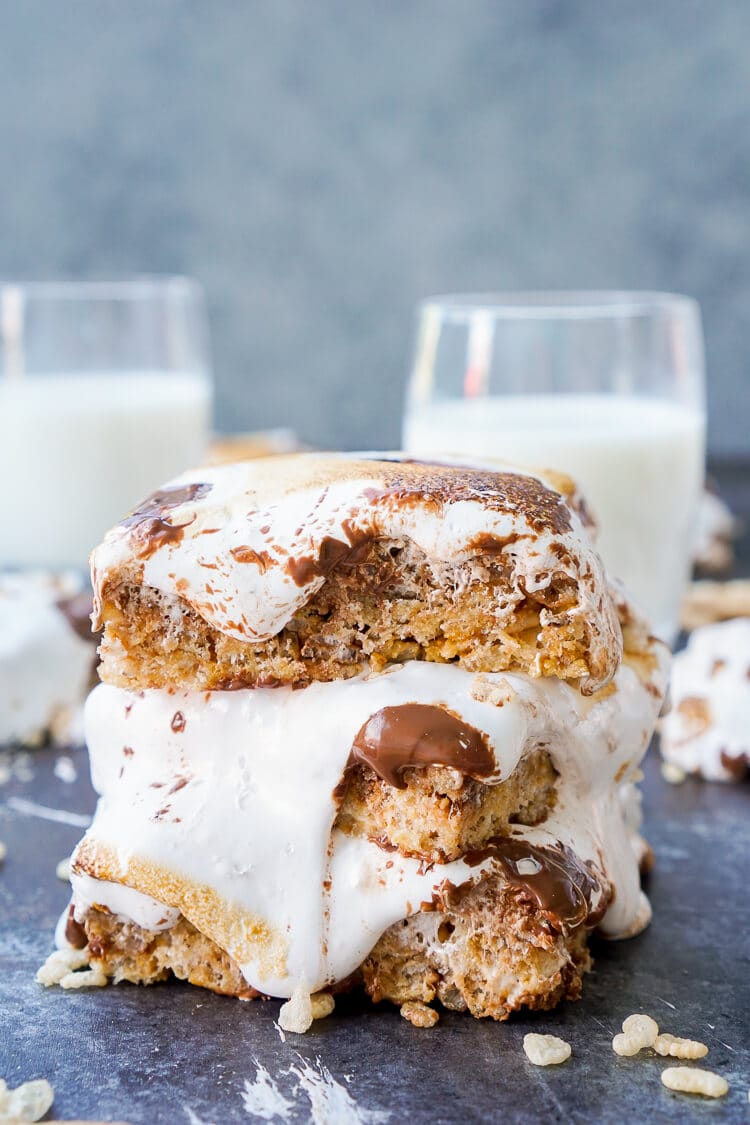 Mainers know just how short summer is and we've gotta get our fill of our favorite summer flavors whenever we can! I can't let the summer go by without indulging in lots and lots of s'mores! On warm summer nights when we're sitting around the backyard bonfire, I can hardly get enough of that ooey, gooey goodness!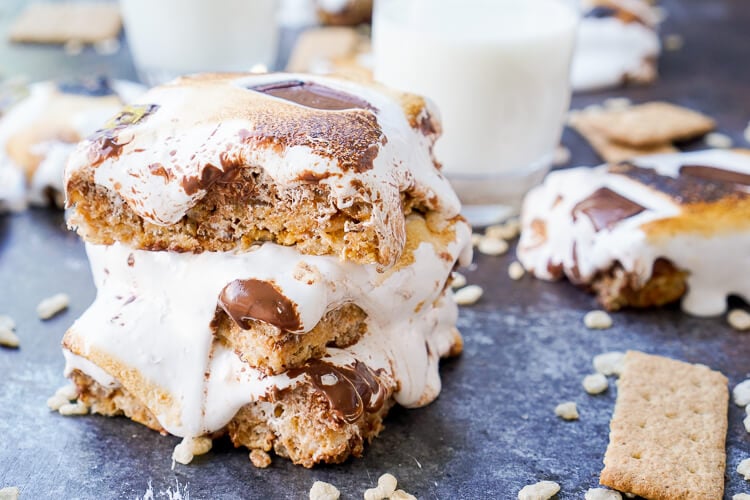 In high school, I remember going to friends' houses, sitting around a fire and talking all night. Sometimes we'd gossip. Sometimes we'd tell ghost stories. But there were always s'mores. We'd pool our allowances and stop by the grocery store just before it closed, or scrounge in our parents' pantries for half a bar of chocolate or almost-stale graham crackers. Somehow, we always ended up with enough ingredients for that night's s'more supply!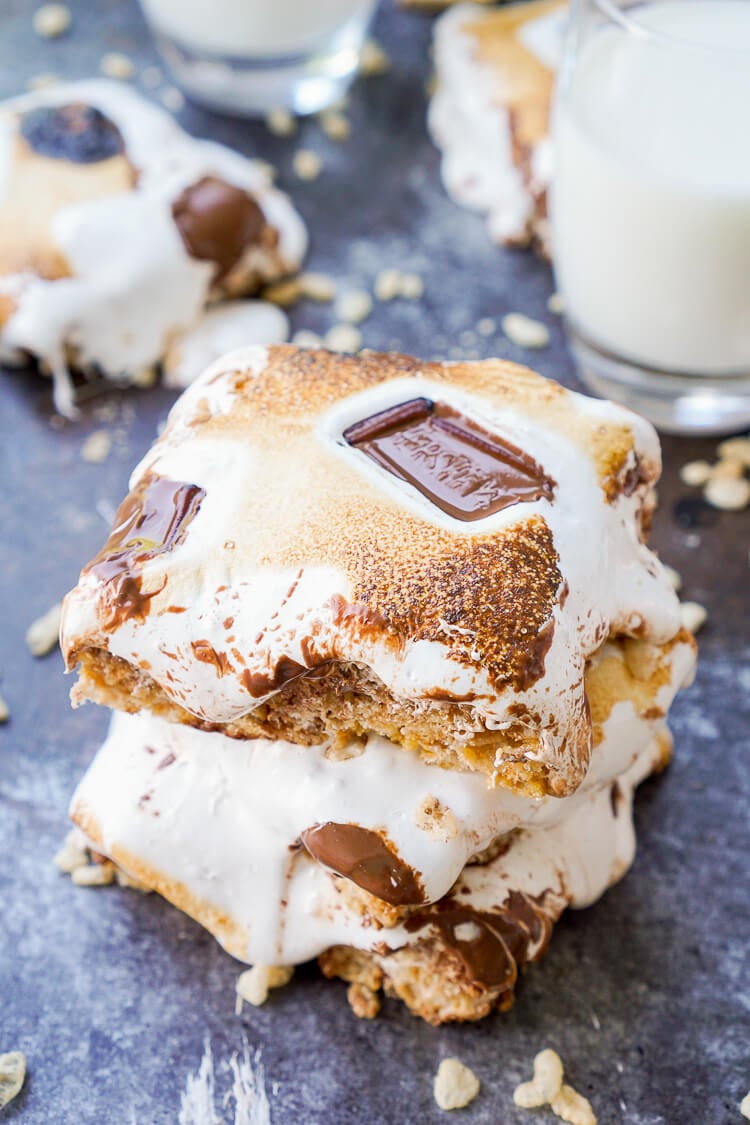 Then I have earlier memories–way before I could drive–when I spent the summers at my grandmother's house by the beach. We'd swim and sunbathe all day, and at night, the two of us would whip up a batch of Rice Krispie Treats. I think almost every kid in America has good memories of growing up with this deliciously sweet and sticky dessert!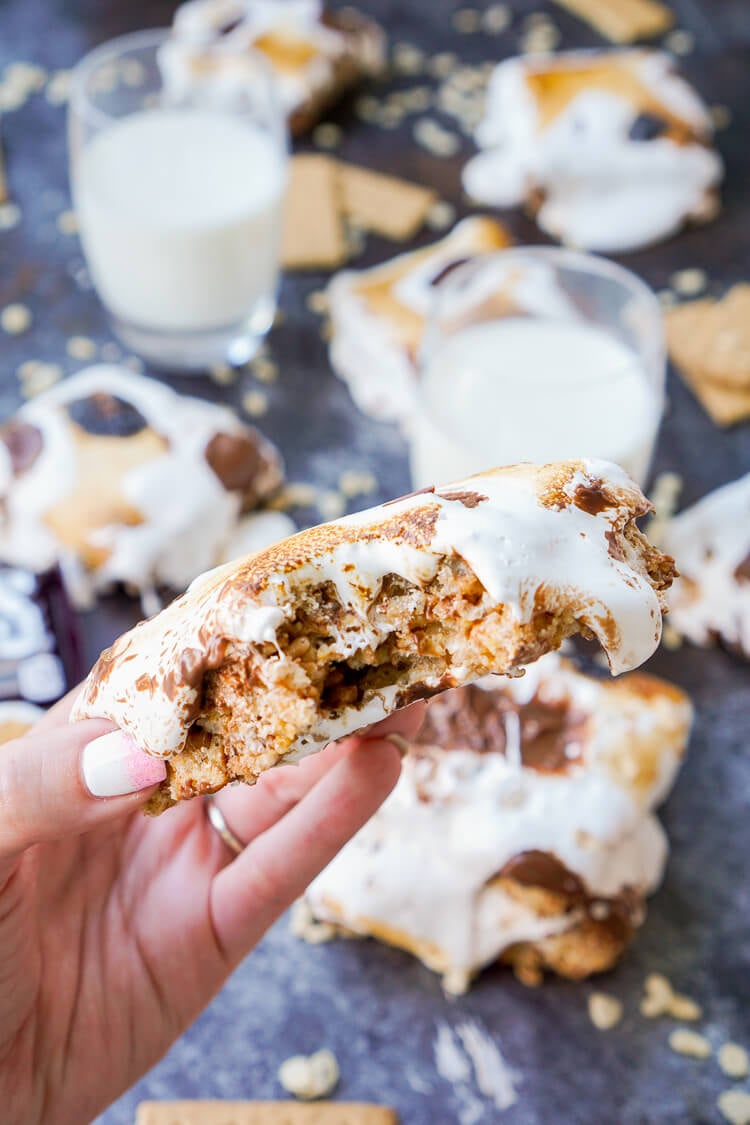 So when it's summertime and a craving hits for something seasonally indulgent (and there's no bonfire in sight), I make a batch of these S'mores Rice Krispie Treats! In this recipe, the flavors of Rice Krispie treats and s'mores blend together for a delectable treat that's nostalgic, but just a little bit grown-up.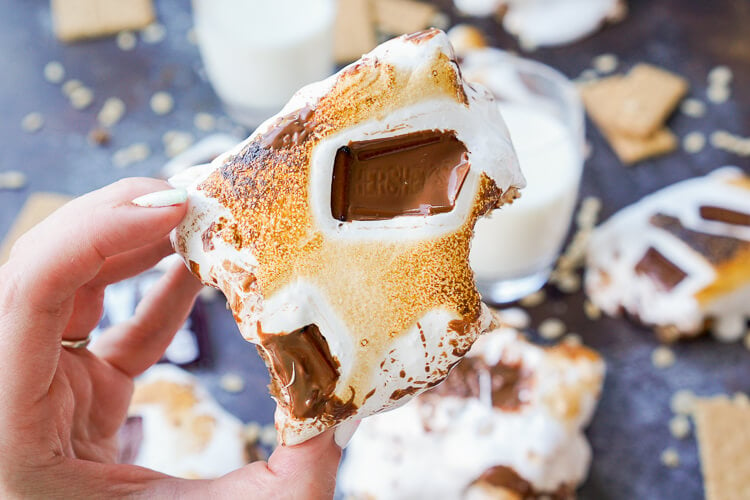 The Rice Krispy Treats base makes this dessert tantalizingly chewy. Add in flaky graham crackers, melty chocolate, and toasted marshmallow (no flaming, burnt blobs!) and this throwback treat will have you wanting—well—s'more!
Instructions
In a large saucepan, melt butter.

Add in marshmallows and stir continuously until fully melted and mixed with the butter.

Remove from heat and fold in graham cracker crumbs, rice krispies, and chocolate chips.

Press evenly into a greased 9 x 13 in baking pan.

Spread marshmallow fluff over the top of the rice krispies treats and break up the Hershey bar and scatter the pieces over the top of the fluff.

Use a kitchen torch to toast the top of the fluff. Let set for 15 to 20 minutes before cutting.
An added bonus: this recipe is almost as easy to make as the original campfire sandwich. Enjoy these S'mores Rice Krispie Treats indoors, outdoors, anywhere! I may even break all the rules and whip up a batch after the leaves have started turning colors.
Reader Interactions
Share your thoughts!
Love this recipe? Share your thoughts with me below and leave a review! And don't forget to connect on your favorite social platform below!