This really is the Best Strawberry Daiquiri recipe out there! It's a slushy blend of fresh strawberries, citrus, ice, and rum!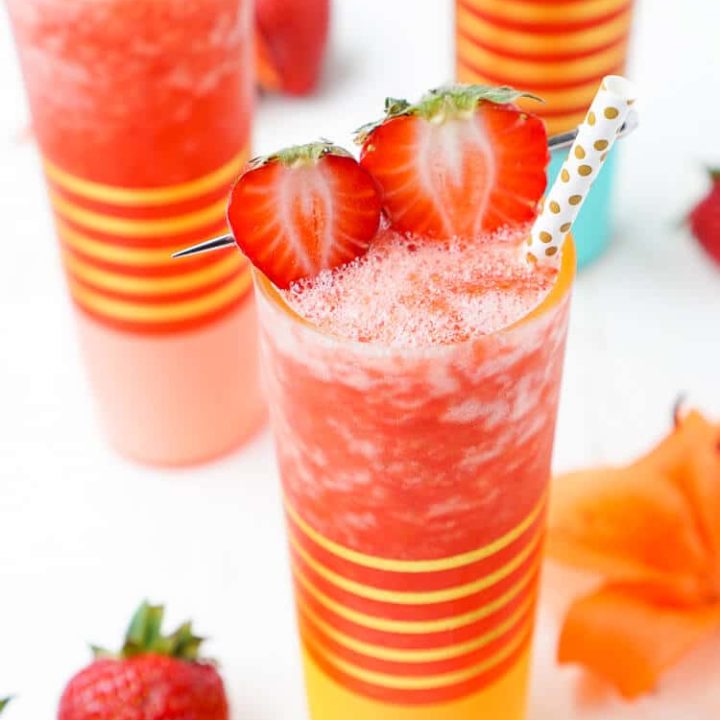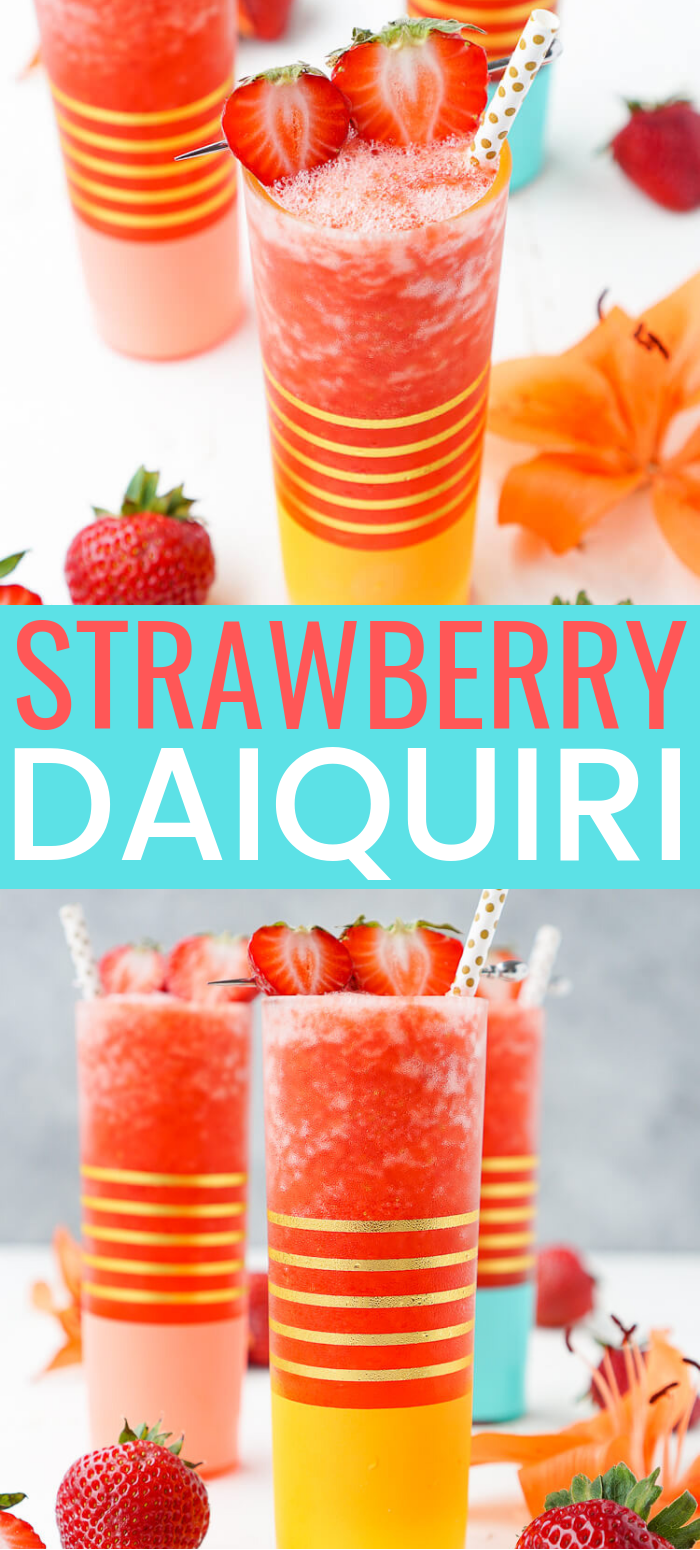 This really is the Best Strawberry Daiquiri recipe out there! It's a slushy blend of fresh strawberries, citrus, ice, and rum – it's easy to make and it will only take a couple of these frozen cocktails to have you feeling lively!
If you love frozen cocktails, make it a party and blend up some Pina Coladas, Dirty Bananas, and Wine Slushies too!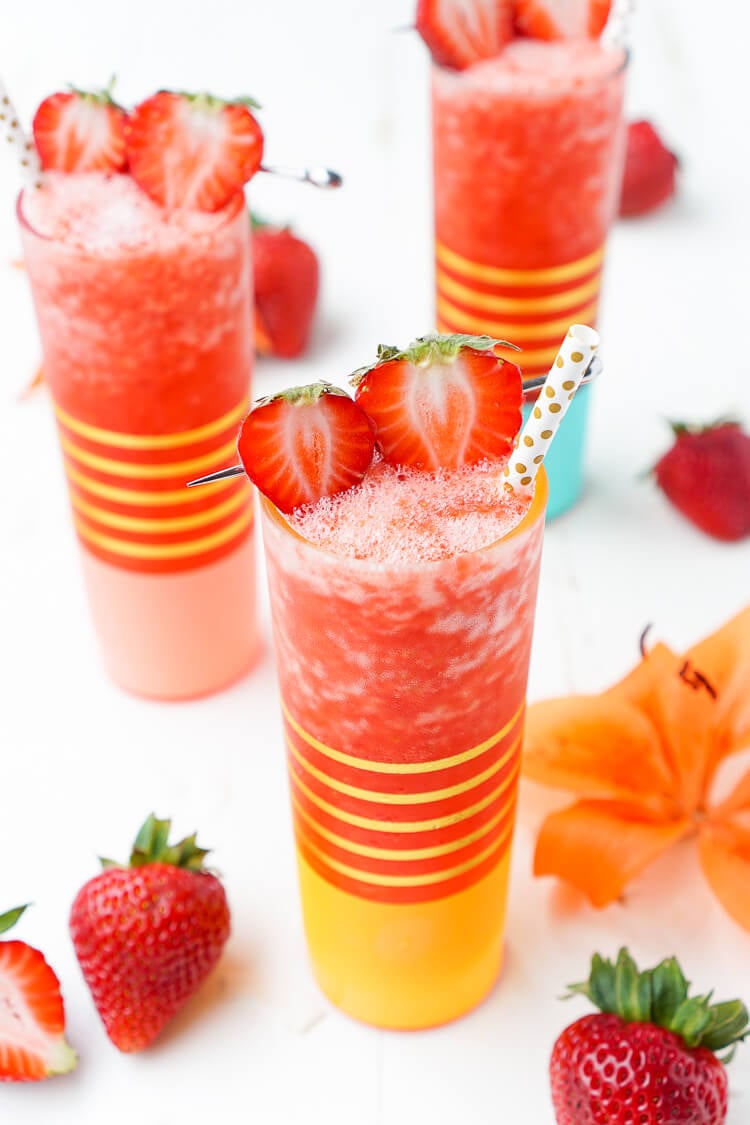 This Strawberry Daiquiri Recipe might just be my favorite frozen drink!
When I was growing up, it always felt like a special occasion when I was allowed to order a virgin strawberry daiquiri when we were out at a restaurant for dinner.
Trying to make them at home with mixes just wasn't the same as the sweet and slushy cocktails served up with colorful drink umbrellas.
So I decided to build it from scratch, but that doesn't mean it's any harder to make and I can guarantee you this will taste way better!
I love that I can make this fruity frozen drink right here at home, just have to find a beach to enjoy them on!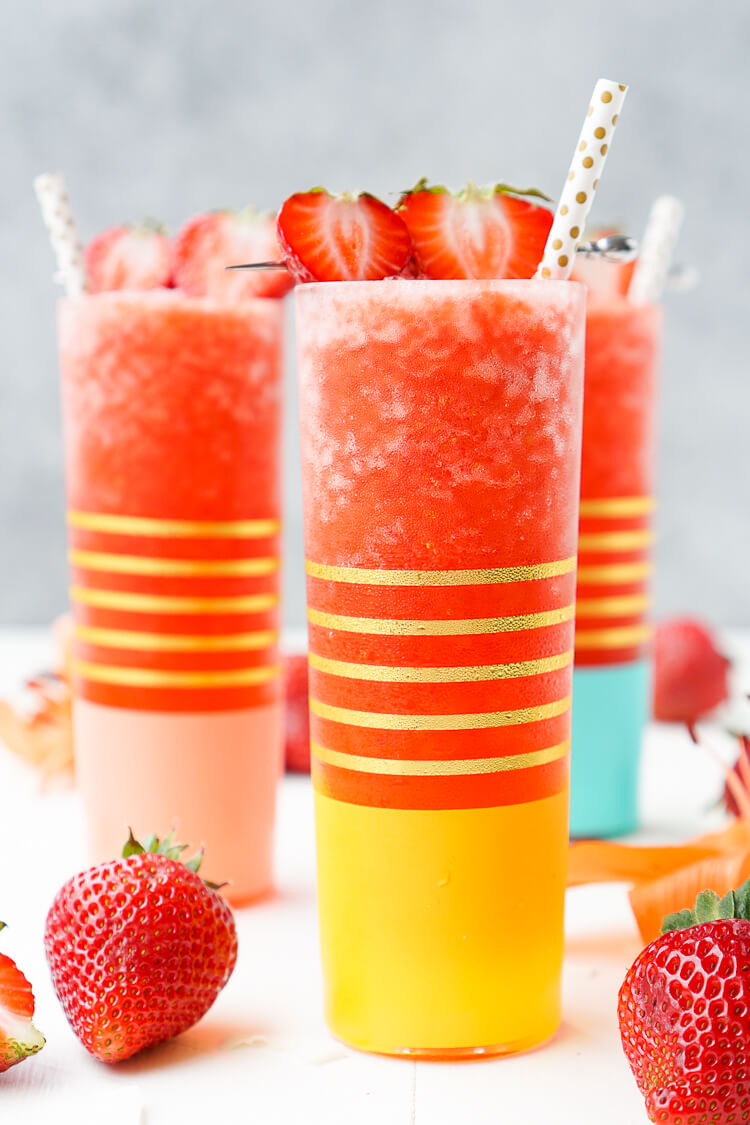 What Kind Of Sweetener To Use In Frozen Cocktails:
You want to use powdered sugar, it will blend better and give a more consistent sweetness than granulated sugar.
You could also use simple syrup or grenadine. Or if you want things a little extra boozy AND sweet, try adding some Strawberry liqueur.
Strawberry Daiquiris with Frozen Strawberries:
I personally believe that lots of fresh strawberries are the key to getting the super fruity flavor we all know and love in a daiquiri.
However, you can use frozen strawberries if you'd like. Just remember that you might not need as much or any ice at all because the frozen strawberries will add slush as well.
The addition of lemon and lime juices to this daiquiri recipe gives it a little zing to match the sweetness of the strawberries and a splash of lemon-lime or club soda gives the drink just enough fizz.
I use a light rum in this recipe to give it a smooth boozy finish as a dark or spiced rum would overpower the fruity flavors.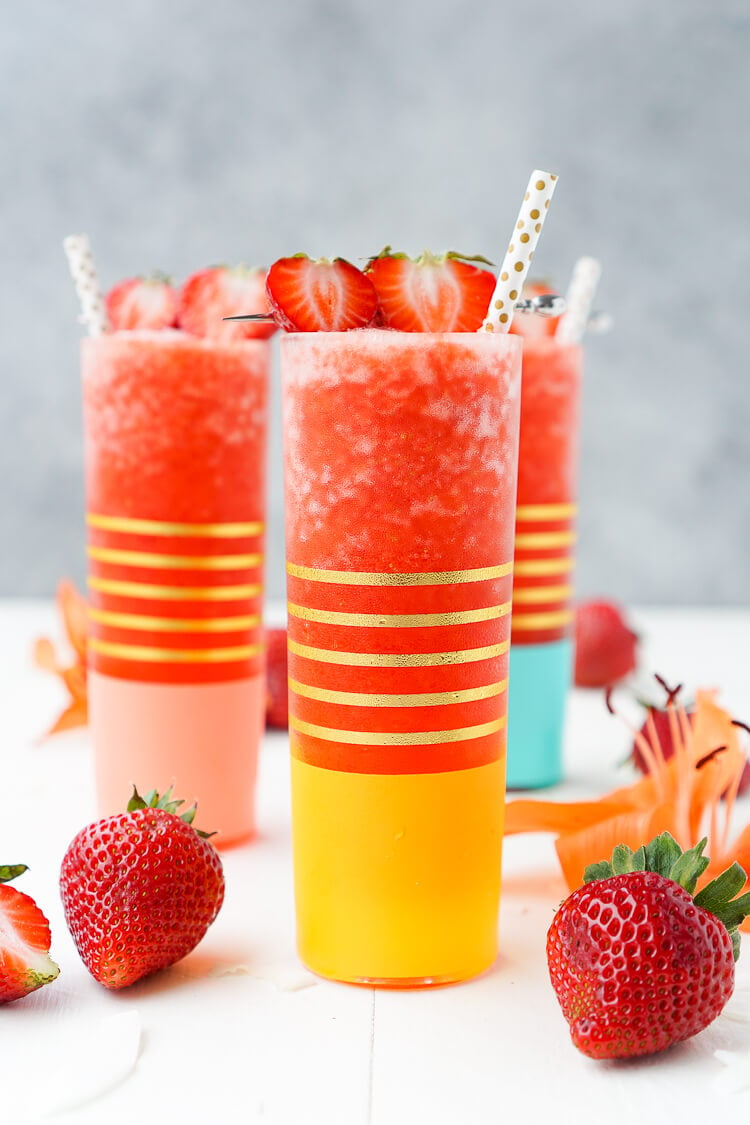 This recipe uses ingredients that are easily accessible, nothing too crazy or fancy!
What Are The Ingredients For A Strawberry Daiquiri?
Ice Cubes
Powdered Sugar
Fresh Strawberries
Fresh Lime Juice
White Rum
Lemon-Lime Soda
Fresh Lemon Juice
How Do You Make A Strawberry Daiquiri?
Making this frozen cocktail at home is actually really easy! You'll need a blender, this one is my favorite (affiliate link), then just combine the strawberries, rum, lime juice, sugar, lemon juice, soda, and ice in the blender and blend until smooth. You can garnish with fresh strawberries and citrus slices.
If you want to make a virgin strawberry daiquiri, simply replace the rum with additional lemon-lime soda.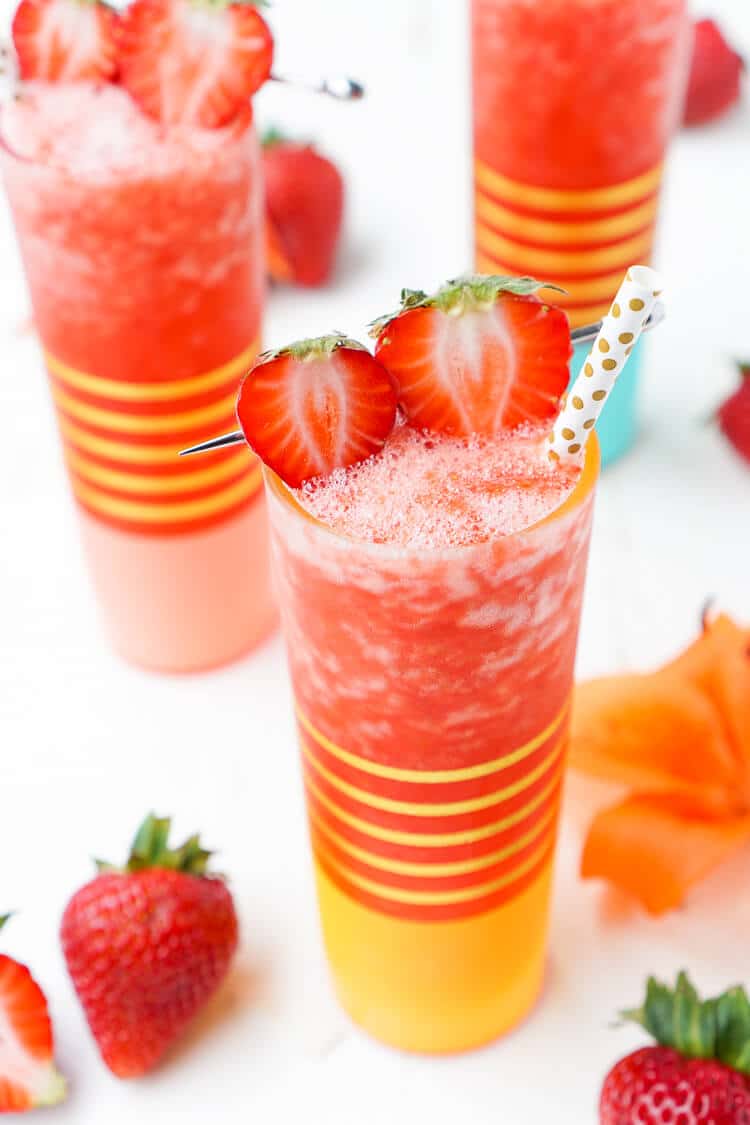 What's The Best Rum For A Strawberry Daiquiri?
I've had daiquiris made with all different kinds of rums, but in my opinion, using a white rum will yield the best results, especially when making this drink at home.
Bacardi Superior is a very common choice as it's widely available, but it can add a sharpness to the drink that some may not enjoy. If you can find Flor de Caña rum near you, this is what I would personally recommend using.
I also really enjoy Appleton Estates Special Rum for frozen and mixed drinks.
Can You Make A Frozen Daiquiri With Other Alcohol?
Keep in mind that once you remove rum from the recipe, this drink is technically no longer considered a strawberry daiquiri.By omitting the rum you will lose some sweetness to the drink so you may want to add additional sugar.
However, you can take the base recipe and use whatever alcohol you want, but it will change the profile of the drink itself. Below are a few alcohol alternatives.
Vodka – Vodka is pretty tasteless and less smooth that rum but you'll still have a strong strawberry flavor.
Gin – This could go either way in terms of flavor. Gin is quite floral and aromatic which could lend nicely to the fruit or be overwhelming depending on the gin you choose.
Tequila – At this point, just salt or sugar the rim and you're looking at a frozen strawberry margarita.
More Great Drink Recipes!
Strawberry Daiquiri
Click the button above to save this delicious recipe to your board!
👋 Let's Connect!
If you've tried this recipe, please let me know how you liked it in the comments below and leave a review; I love hearing from you! And don't forget to tag me – @sugarandsoulco – on Instagram and Pinterest with your photos or join our Sugar & Soul Show-offs Community and share them there, where you can join our recipe challenges and win prizes!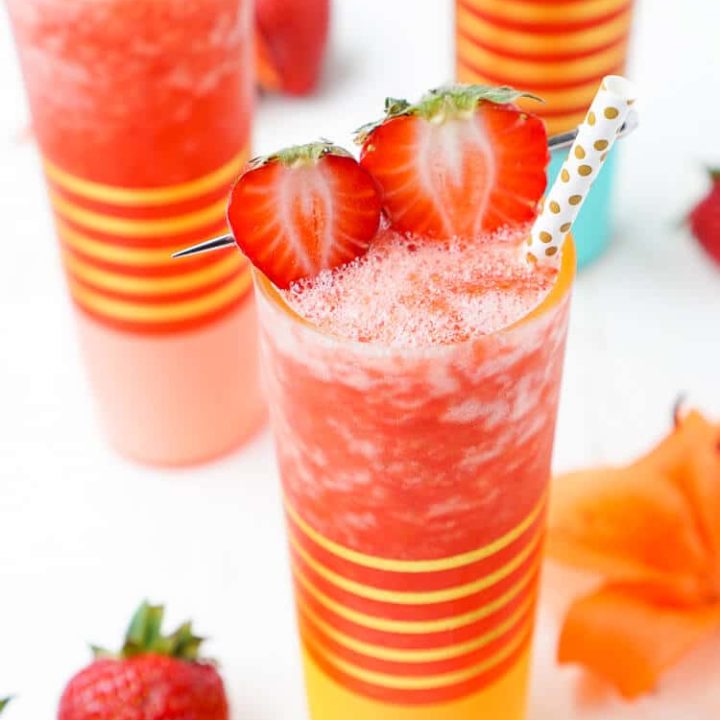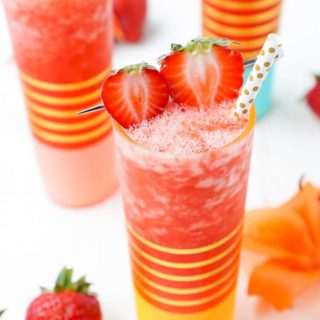 The Best Strawberry Daiquiri
This really is the Best Strawberry Daiquiri recipe out there! It's a slushy blend of fresh strawberries, citrus, ice, and rum!
Ingredients
3 cups ice
1/4 cup powdered sugar
2 cups fresh strawberries, hulled
2 tbsp fresh lime juice
1/4 cup fresh lemon juice
1/2 cup rum
1/4 cup lemon-lime soda
Instructions
Add all ingredients into a blender and blend until smooth. Top with additional strawberries or citrus sliced for garnish.
Notes
For a non-alcoholic version, replace the rum with additional lemon-lime soda.
Frozen strawberries can be good, but the strawberries might now be as strong.
Club soda can be used in place of lemon-lime soda.
Nutrition
Calories: 132kcal | Carbohydrates: 16g | Sodium: 3mg | Potassium: 125mg | Fiber: 1g | Sugar: 12g | Vitamin C: 50.5mg | Calcium: 12mg | Iron: 0.3mg