Strawberry Peach Wine Slushies are made with just a few ingredients and a blender. Mix them up for a night with the girls or a summer day by the pool!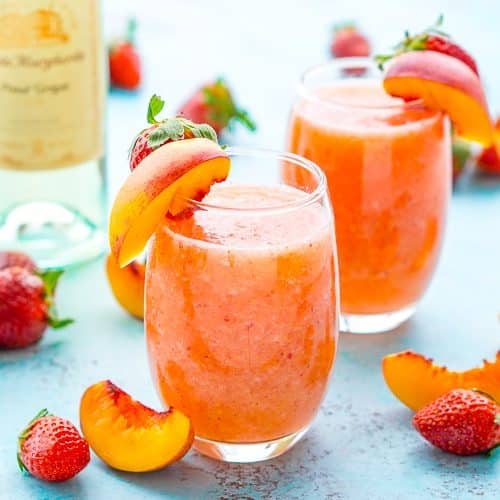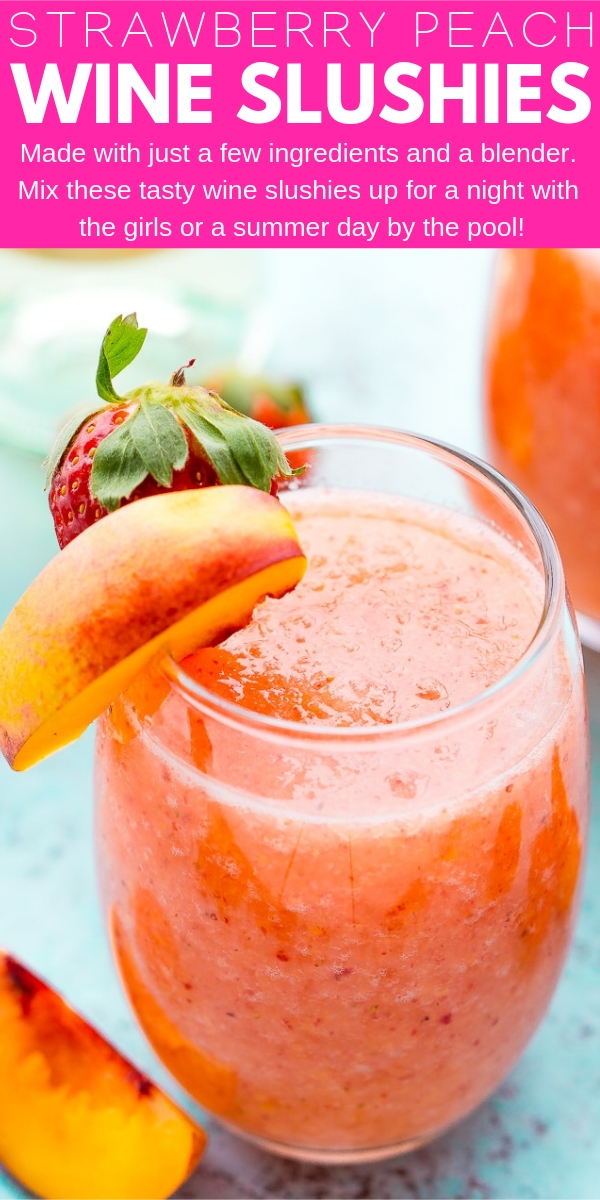 Strawberry Peach Wine Slushies are made with just a few ingredients and a blender. They're the ultimate summer drink, so mix them up for a night with the girls or a day by the pool and get the party started!
Choose your favorite bottle of white wine, frozen peaches and strawberries, and some simple syrup and that's all you need to make this delicious cocktail!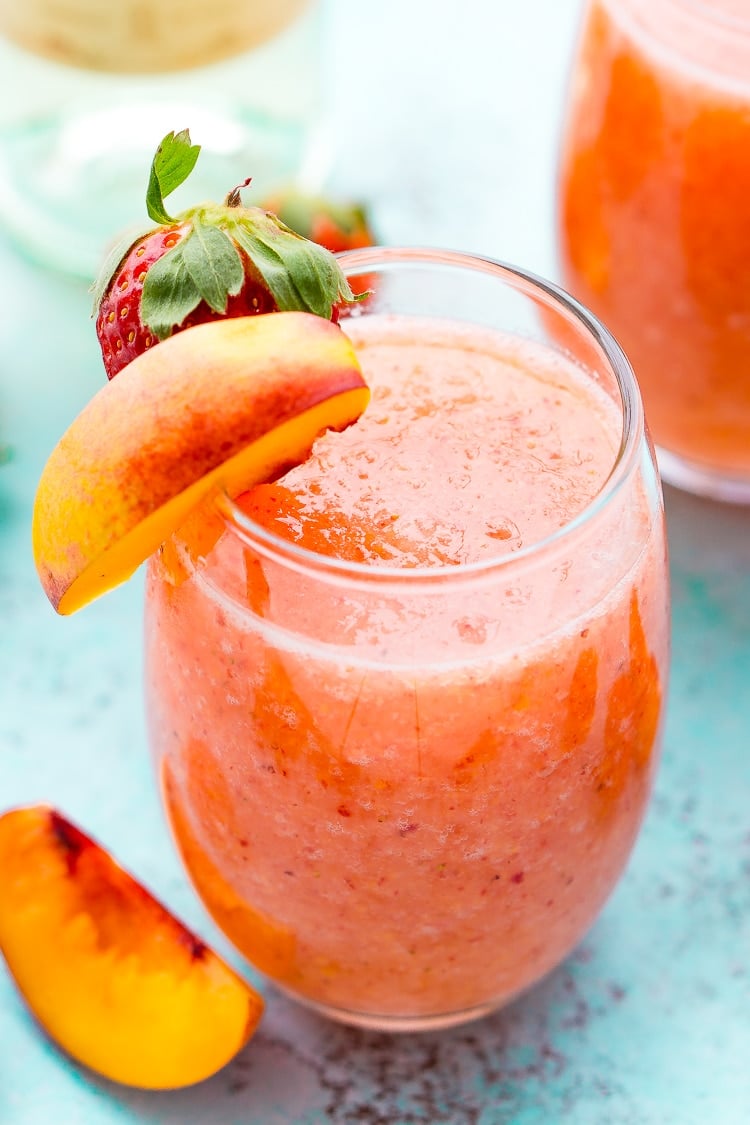 This Strawberry Peach Wine Slushies recipe might just be the ultimate summer cocktail!
Guys, it's been beautiful here in Maine the last few days and I'm actually feeling hopeful that we've seen the last of the snow and summer is surely on its way.
We've also spent the last few days moving and the nice weather helped soften that task.
But today, I'm bloody exhausted, so I'll just be over here sipping on these Strawberry Peach Wine Slushies.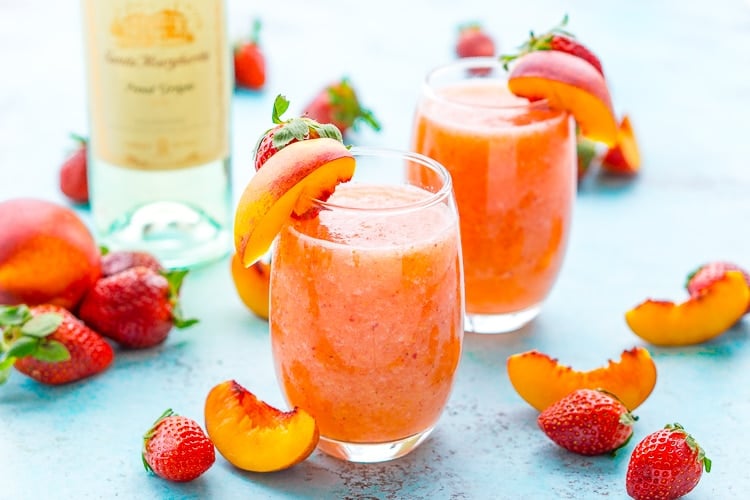 You're going to love how easy this fun cocktail is to make!
With just a few ingredients and a blender, you can be slurping these babies out of stemless wine glasses in no time!
You can also make this recipe sweetened or unsweetened depending on your tastes.
Either way, you're going to love the way the sweet strawberries and ripe peaches come together with white wine for a delicious and refreshing summer cocktail.
Raspberries make a great substitute for the strawberries too!
And if you want a slushie that's got ALL the berries and red wine in it, try my Sangria Slushie!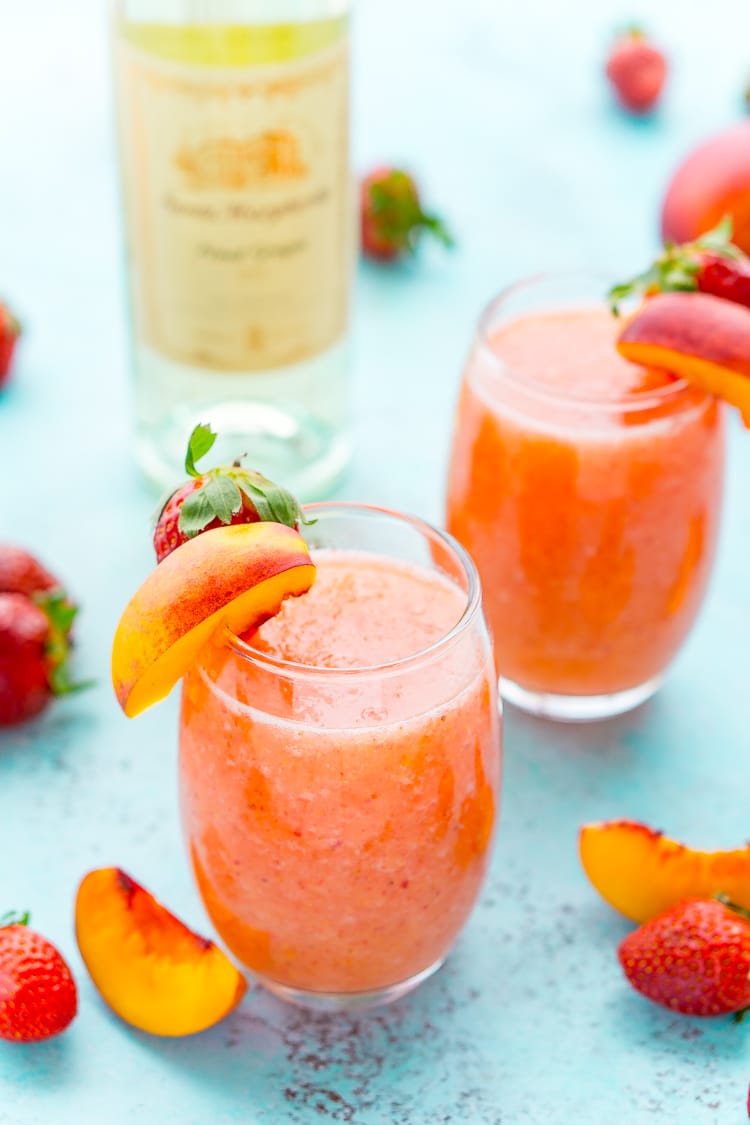 What Are They?
I'm totally digging the alcoholic "slushies" trend right now.
I loved Slush Puppies as a kid and these remind me of those, just even better because they're made with real fruit and booze!
Yes, please!
Frozen drinks are seriously the BEST!
These delicious Wine Slushies are definitely going to help to get me through the next week while we finish moving and working before taking off on vacation next week.
Hopefully, by the time I get back, summer will be well on its way!
What I Love About This Recipe!
Low Calorie! This recipe makes about 4 servings and each serving only has 157 calories! This means they're a great drink when you're trying to be "good"!
Frozen Fruit! By using frozen fruit, not only are we maintaining the nutrients that fruit has to offer (and quickly balancing it out with wine) but it means that you can buy the ingredients well in advance and there's really no prep time. No need to rinse and dice before adding to the blender!
Easy! Since the recipe only has 4 ingredients and some ice that gets tossed into a blender, this cocktail comes together super quick and with hardly any work at all!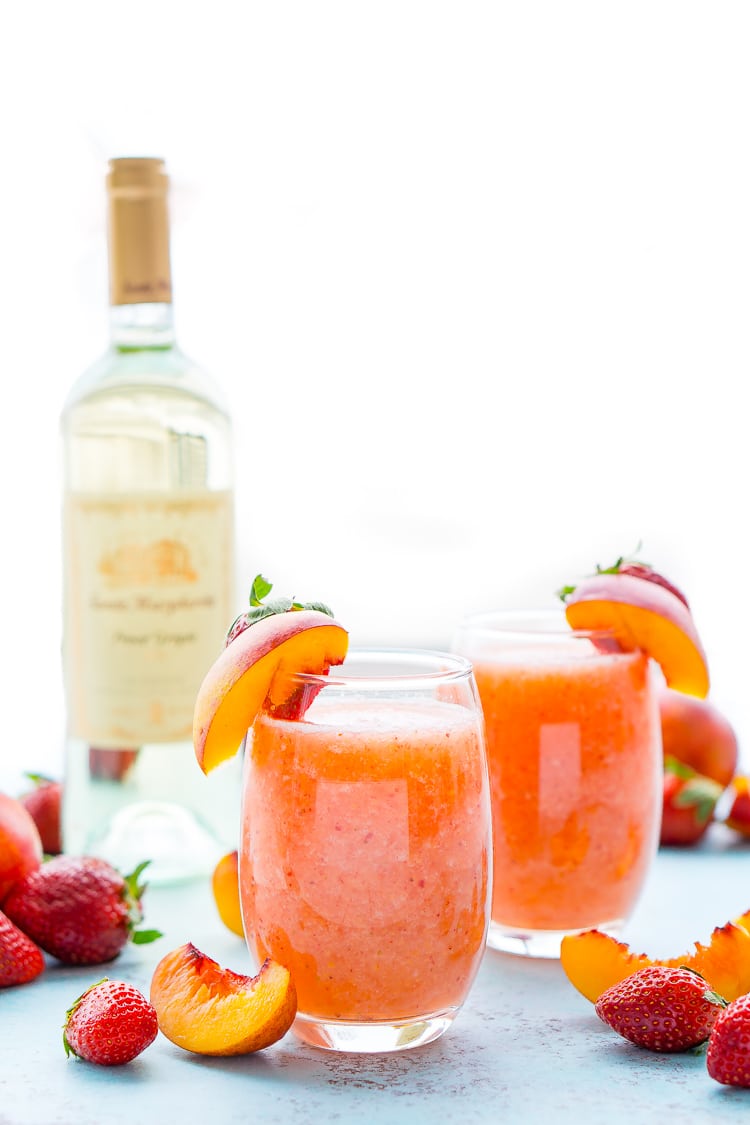 Can You Make Them Without A Blender?
Unfortunately, you need a blender or a food processor no matter what because the strawberries and peaches need to be broken down.
However, if you have a food processor but no blender, run the fruit through it then add it to a 9×13-inch metal pan or a large metal mixing bowl.
Pour the wine in and stir it up, then place it in the freezer for a few hours until it gets slushy.
Ice cubes aren't needed with this method since you'll be freezing the mixture itself.
What Kind Of Wine Do I Use?
For this recipe, the fruits are best matched with a white or rose wine, not red.
You can use a bottle of your favorite from a Pino Grigio to a Moscato. Personally, I prefer it with Riesling or a Pink Moscato.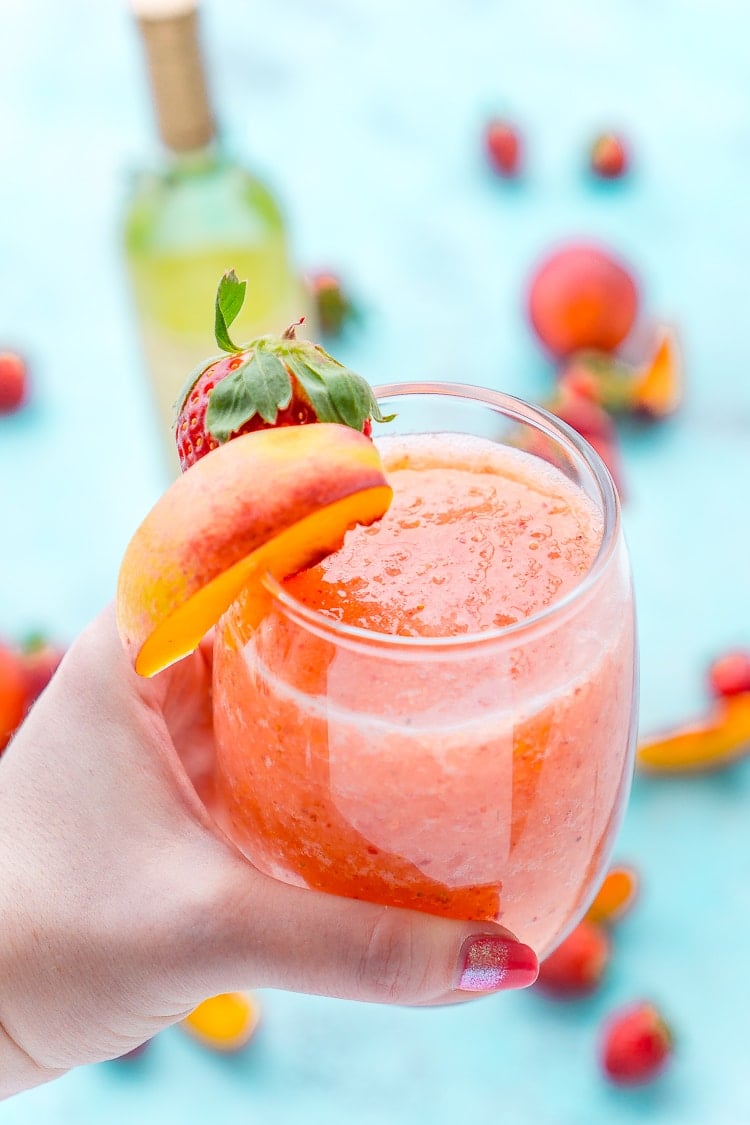 How will you enjoy these delicious wine slushies?
They're great for girl's nights, barbecues, bridal showers, and so much more!
And who doesn't love a super fun and delicious cocktail!
Especially one that helps you get through the hot summer months!
More Grea Summer Recipes
Strawberry Peach Wine Slushies
Click the button above to save this delicious recipe to your board!
Let's Connect!
If you've tried this recipe, please let me know how you liked it in the comments below and leave a review. I love hearing from you!
Don't forget to tag me – @sugarandsoulco – on Instagram and Pinterest with your photos or join our Sugar & Soul Show-offs Community and share them there, where you can join our recipe challenges!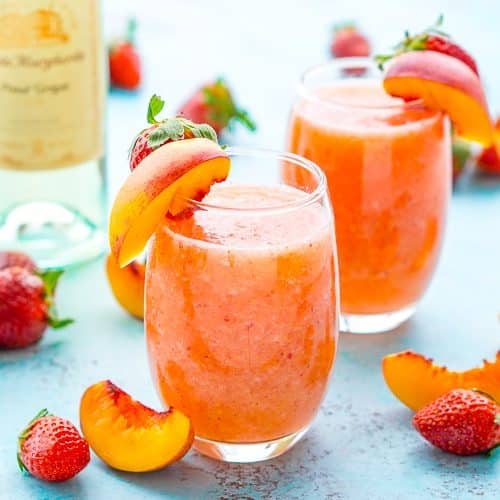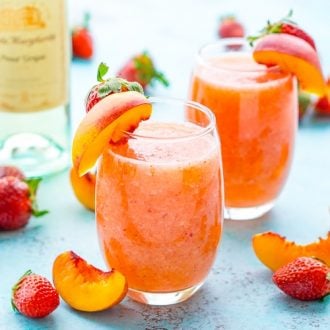 Strawberry Peach White Wine Slushies
Strawberry Peach Wine Slushies are made with just a few ingredients and a blender. Mix them up for a night with the girls or a summer day by the pool!

Ingredients
1 1/2 cups frozen strawberries
1 1/2 cups frozen peaches
2 cups white wine of choice
1 cup ice
1 oz simple syrup*
Instructions
Add all ingredients into a blender and blend until slush forms. Pour into glasses and serve with fruit slices for garnish.
Notes
Simple syrup can be left out if desired.
Nutrition
Calories: 157kcal | Carbohydrates: 17g | Sodium: 10mg | Potassium: 277mg | Fiber: 1g | Sugar: 13g | Vitamin A: 190IU | Vitamin C: 35.6mg | Calcium: 23mg | Iron: 1mg