This
Ritz Cracker & Grape Jelly Icebox Cake

is an old fashioned, no bake, 3-ingredient dessert the whole family will love! It's super EASY to make, and you can whip it up the day before!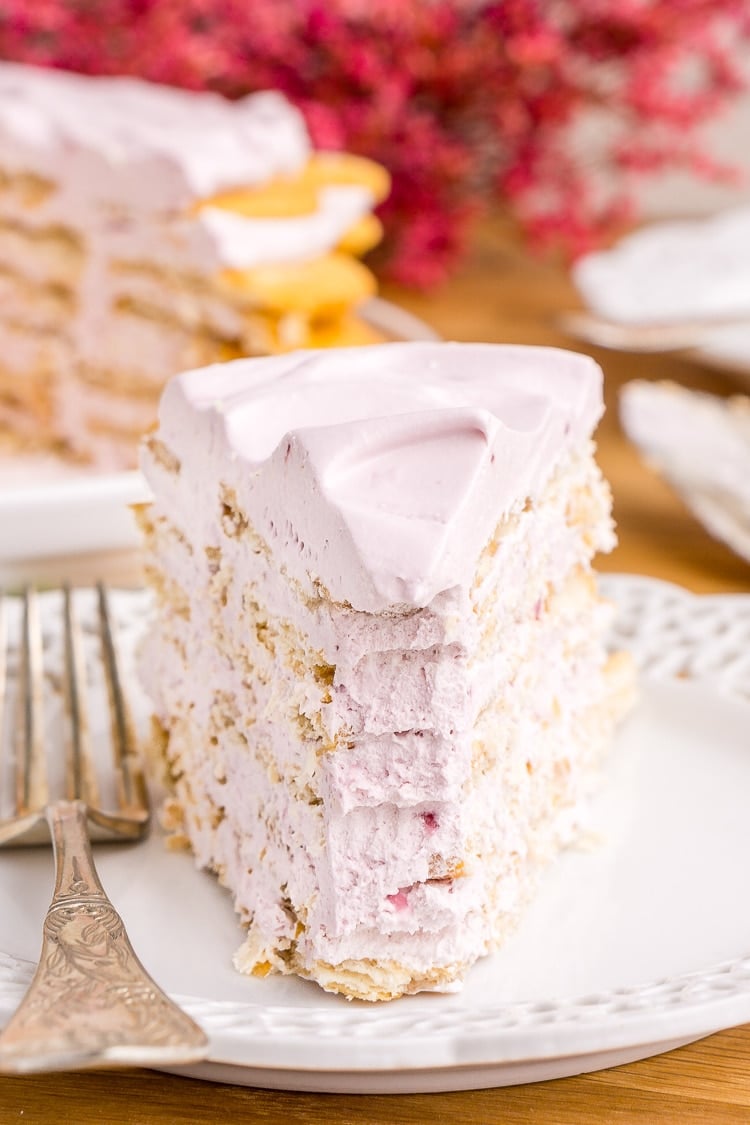 I'm sure if you're here it's because you either thought this Ritz Cracker and Grape Jelly Icebox Cake recipe sounded weird (like my family did) or it's a recipe you grew up making and absolutely love. Because what's not to love!
Seriously, it's made with just three ingredients and it's super easy to make. Don't let the time in the recipe card scare you, this really only takes about 15 to 20 minutes to put together and the rest is just chill time.
Grape Jelly Icebox Cake
PIN IT TO YOUR DESSERT BOARD ON PINTEREST!
FOLLOW SUGAR & SOUL ON PINTEREST FOR MORE GREAT RECIPES!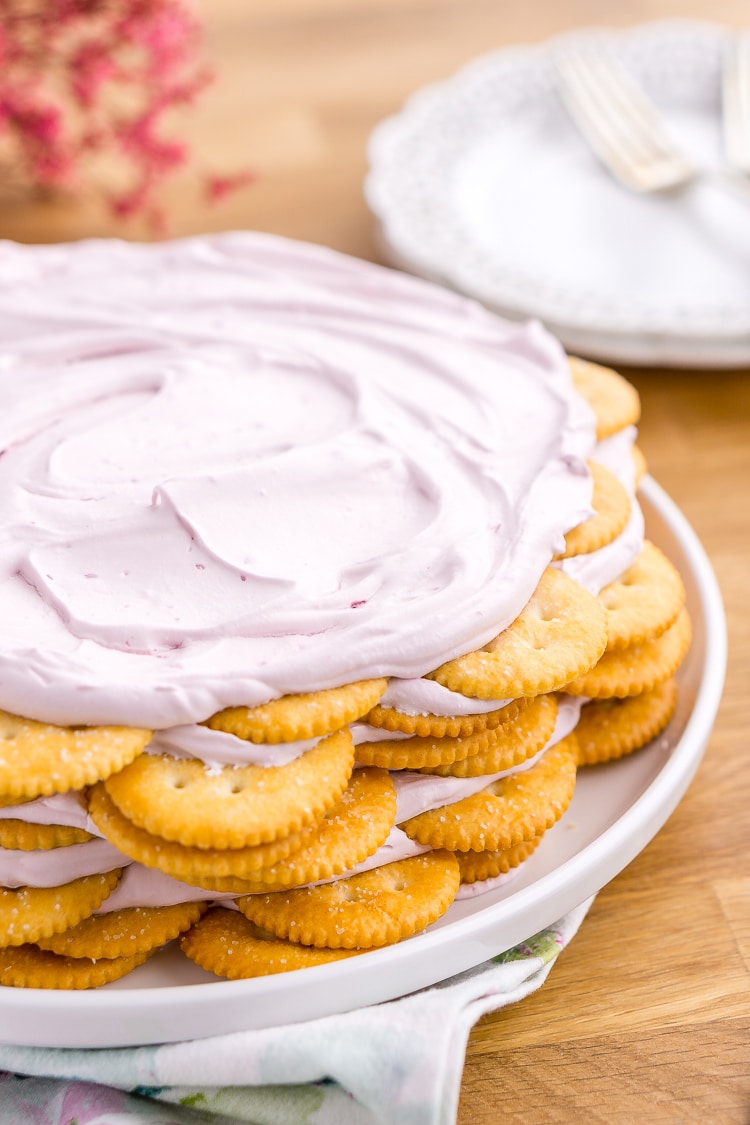 So, this recipe, it's a little old-fashioned, many of you can probably find this very recipe in your mother or grandmother's recipes boxes or old community cookbooks.
And I, like many of you, thought this recipe sounded weird. For one, I'm not a grape jelly fan, like at all, but I was intrigued by the cake as a whole and here we are.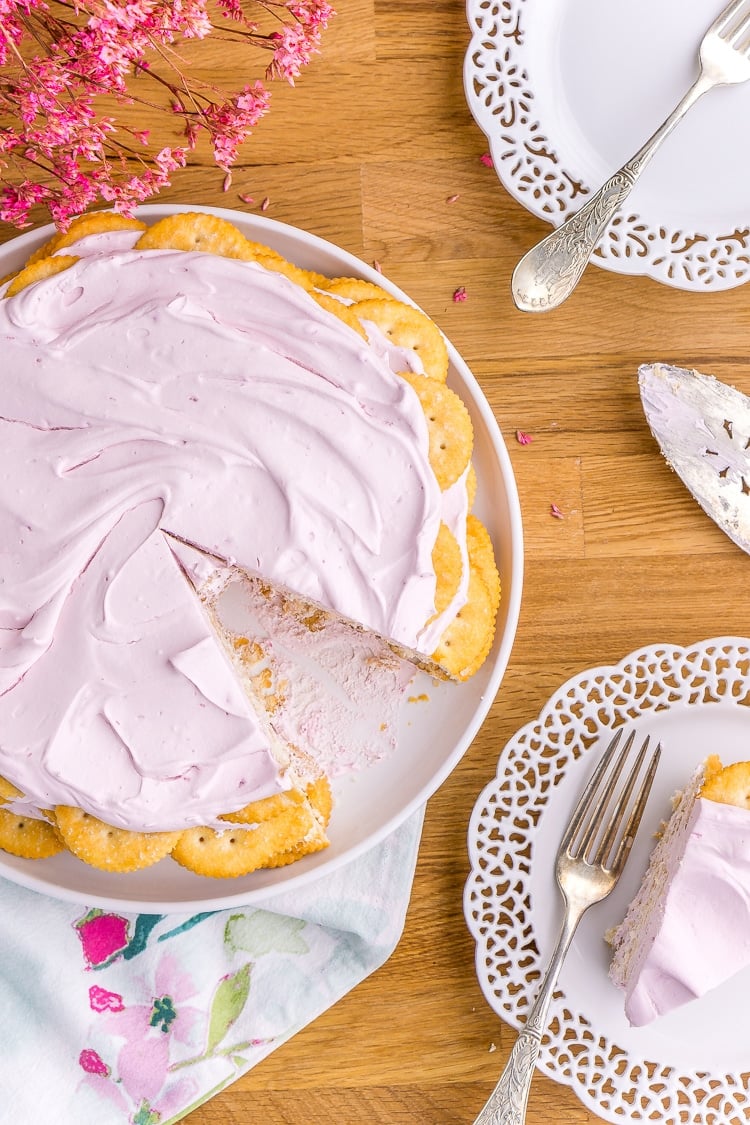 I like to imagine that several decades ago, a 1970s housewife completely spaced on making something for a potluck and even though she had time, she had a bunch of other stuff to do, like get the kids washed and dressed and the floors swept and whatever else.
So she rummages through her kitchen to find Cool Whip, grape jelly, and Ritz crackers and thinks, I can make something out of that, just you watch me.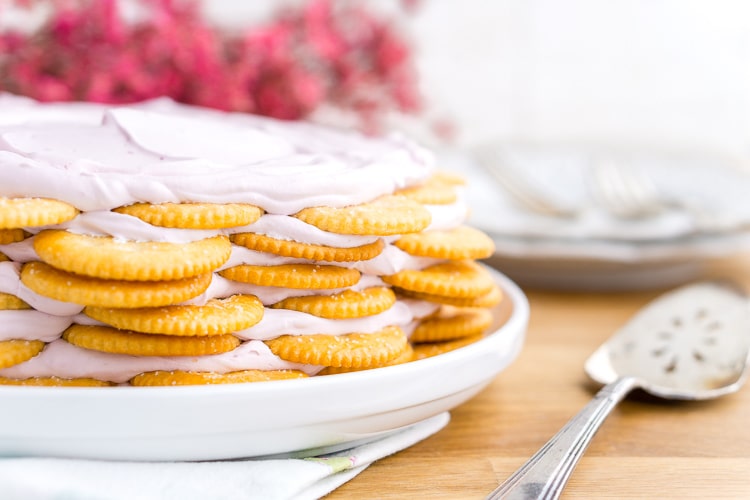 So she went to town making this cake, she melted the grape jelly in her fancy new microwave and mixed it with some thawed out Cool Whip, and then she layered it between layers of Ritz crackers and popped it in the fridge for a few hours.
And then she packed up the family and headed to the potluck with her delicious creation in hand, where everyone begged for the recipe and over time, it passed from hand to hand and home to home, spreading happiness everywhere it went.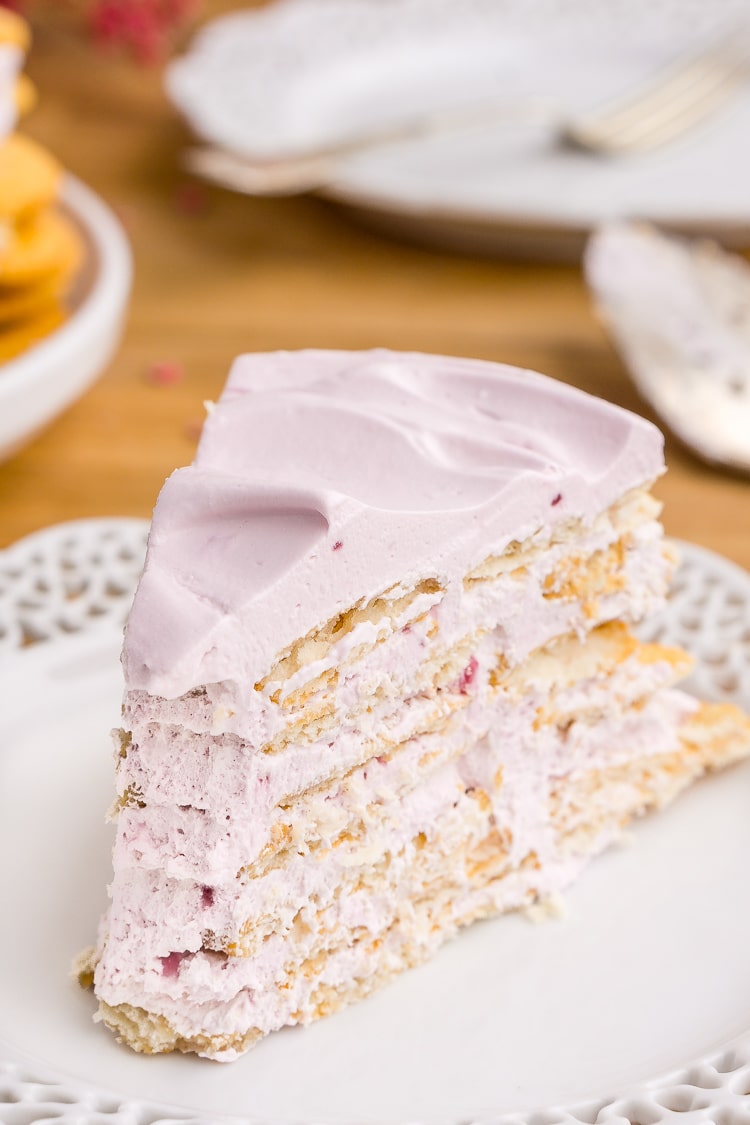 And now I think it's time to bring this old, forgotten, and loved recipe back to life. So let's dust it off and make it for all of our spring and summer celebrations.
Luscious layers of grape flavored Cool Whip and time-softened layers of salty crackers make for an oddly delightful dessert you'll make again and again for years to come.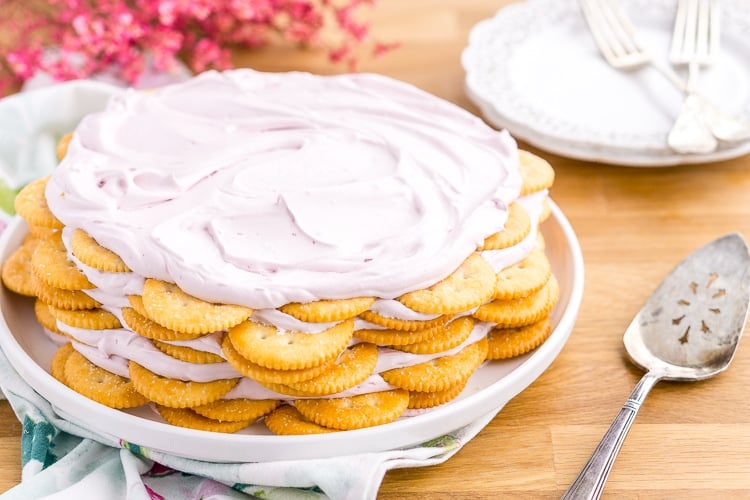 If grape jelly isn't your thing, try another flavor! But even though I'm not the biggest grape jelly fan, I really loved it once it was mixed with the Cool whip, it mellowed it out quite nicely.
But I can't wait to start experimenting with more flavors, I think that you're going to be seeing a lot of icebox cakes around here this summer!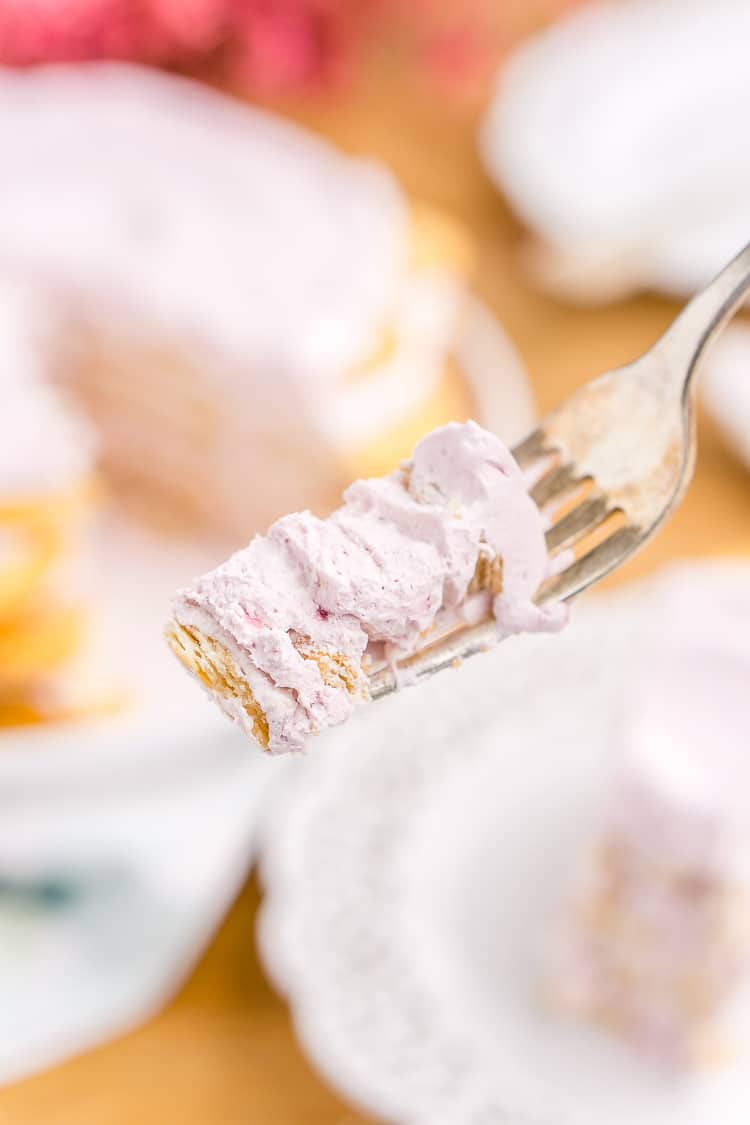 More Warm Weather Inspired Recipes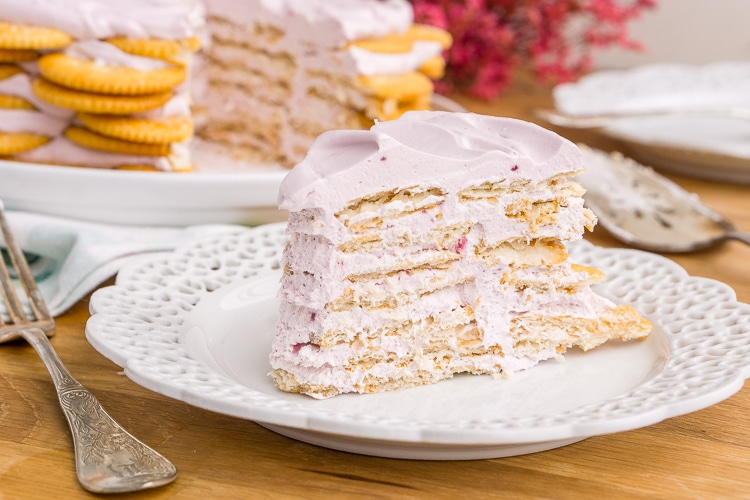 Ritz Cracker Grape Jelly Icebox Cake
This Ritz Cracker & Grape Jelly Icebox Cake is an old fashioned, no bake, 3-ingredient dessert the whole family will love! It's super EASY to make and you can whip it up the day before!

Instructions
Microwave grape jelly on 30-second intervals until smooth and liquid. Pour into a large mixing bowl.

Add Cool Whip to the grape jelly and mix until combined. Spread a small amount of the grape jelly mixture in a pie plate, plate, or cake stand (but make sure there's room in the fridge for it first).

Arrange 19 Ritz Crackers in a circle so they stick to the grape jelly mixture, do not overlap them. Add a layer of the grape jelly mixture on top and then another layer of 19 crackers and repeat until all of the crackers and the grape jelly mixture are used up, finishing with the grape jelly mixture. There should be 7 cracker layers total.

Chill in the fridge for at least 4 hours, preferably overnight.
Nutrition
Calories:
281
kcal
Carbohydrates:
50
g
Protein:
2
g
Fat:
7
g
Saturated Fat:
1
g
Sodium:
306
mg
Potassium:
72
mg
Fiber:
1
g
Sugar:
23
g
Vitamin C:
3.7
mg
Calcium:
60
mg
Iron:
1.7
mg