This Strawberry & Peach Coffee Cake is a mix of ripe fruit and sweet cake that's sure to add a pop of flavor to the breakfast table!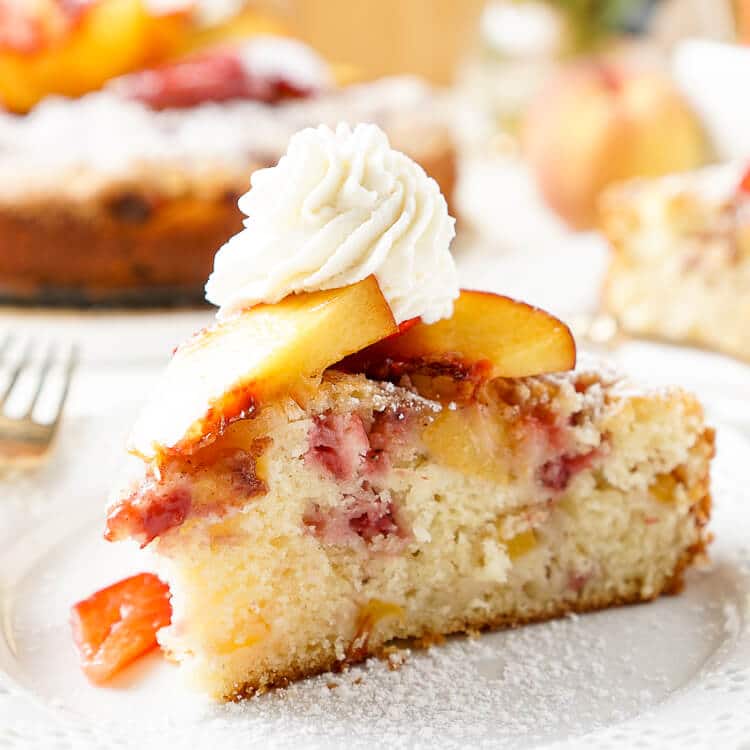 This Strawberry & Peach Coffee Cake is a mix of ripe fruit and sweet cake that's sure to add a pop of flavor to the breakfast table!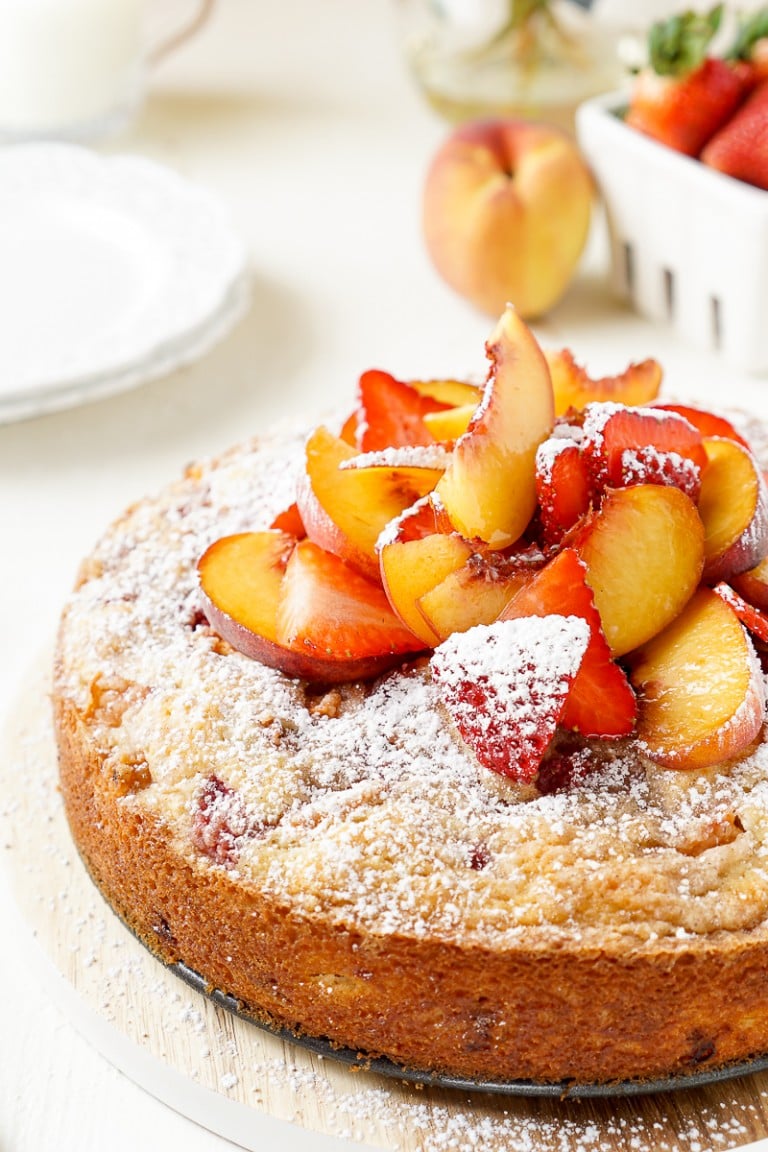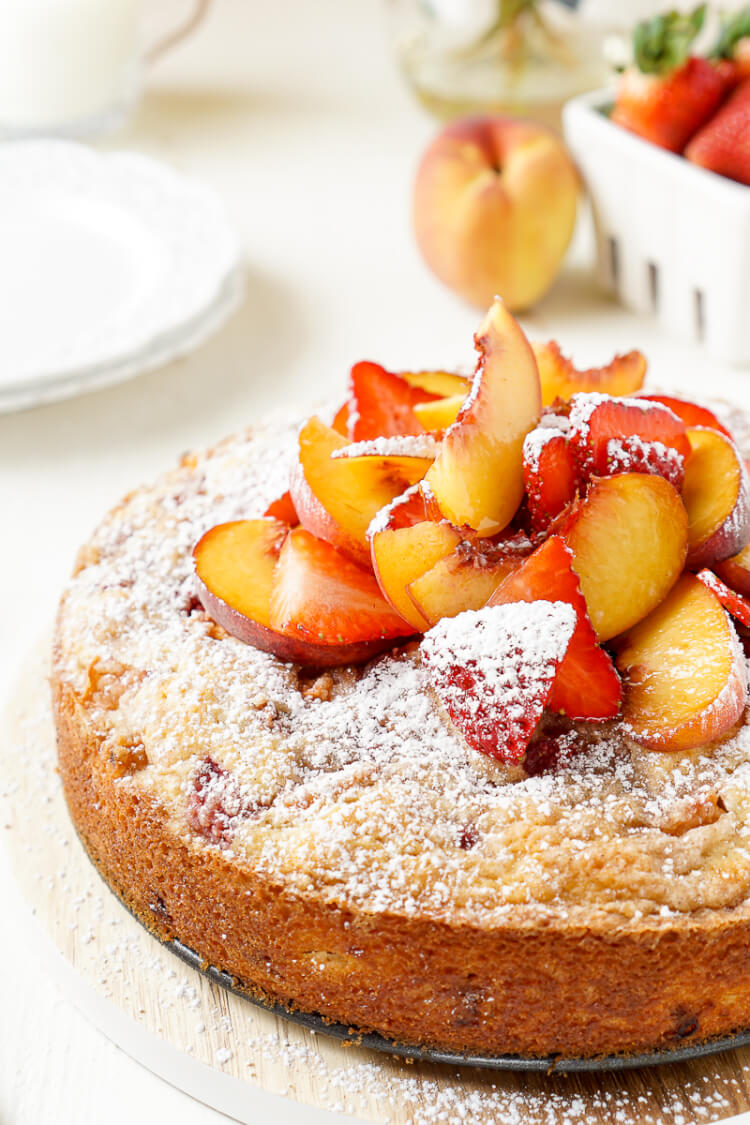 Happy Thursday and Happy National Coffee Cake Day! Yes, we are totally celebrating and with a coffee cake like this one, why wouldn't we? I've been a devoted coffee cake fan since I was a kid, I always got one of the packaged coffee cakes as a treat as a kid at my Nana and Pa's house and the love affair has only continued from there!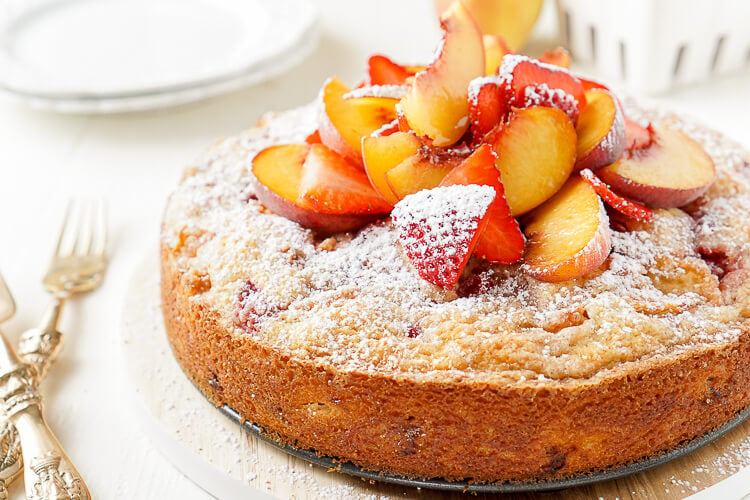 Speaking of my Nana, we were over there on Easter, and she mentioned that she'd been snapchatting with someone. Guys… my Nana has snapchat, and I've been over here refusing to set up an account for years. Who's the millennial now? And no, my Nana having snapchat will not convince me, there's a reason I'm currently working on a post about cell phone detoxing.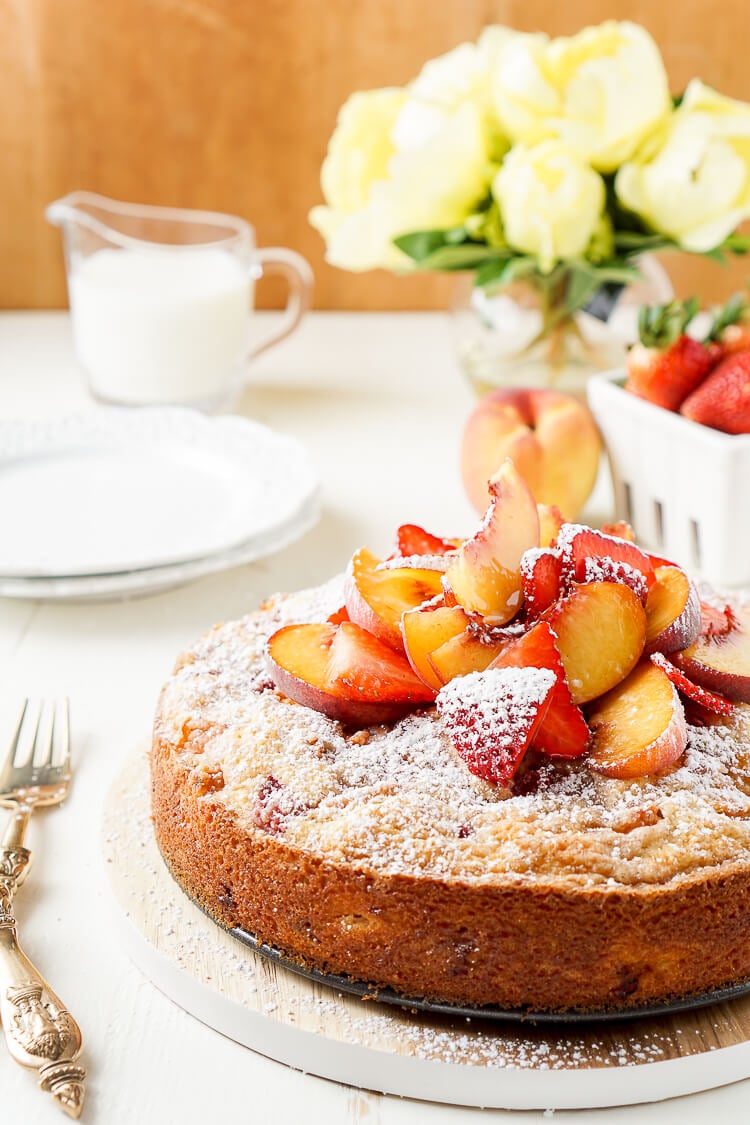 But that's not the only weird thing to come out of a family members mouth in the last couple weeks. The night before Easter, Matt had a couple of glasses of Maker's and the words "We should go to the Kentucky Derby" came out of his mouth. I am not kidding. If you don't recall, my husband hates horses. You can read about why in his author bio on this post. So for him to say that was quite a shock.
Oh, and in case you were wondering, I love horses and had them growing up. Unfortunately, it's the two days before I head to Iceland and going from Maine to Boston, back to Maine, then to Kentucky, then back to Boston, then to Iceland, all in a weeks time sounds like a little much. But maybe next year.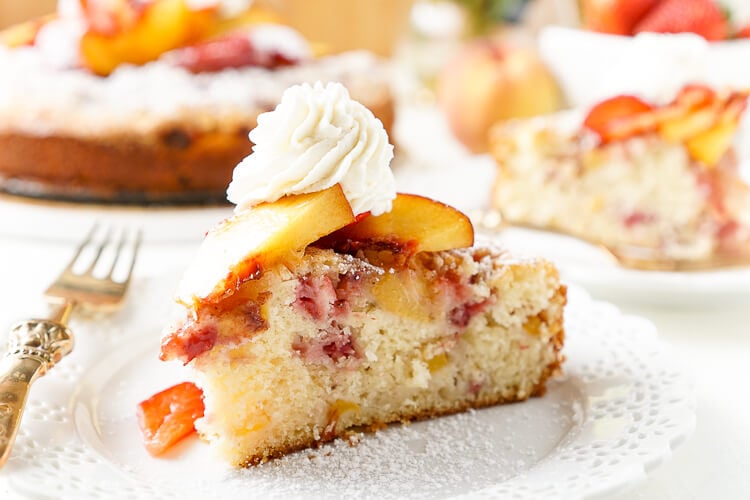 The next few months are going to be busy. I've taken the last month off from traveling, but we're off again next Monday and then I'll pretty much being traveling every few weeks between then and the late fall. But I'm not complaining, I love this crazy life I lead, even if I'm currently battling a cold and dealing with ALL THE DEADLINES right now 😉 Vacation is only a few days away! Woot!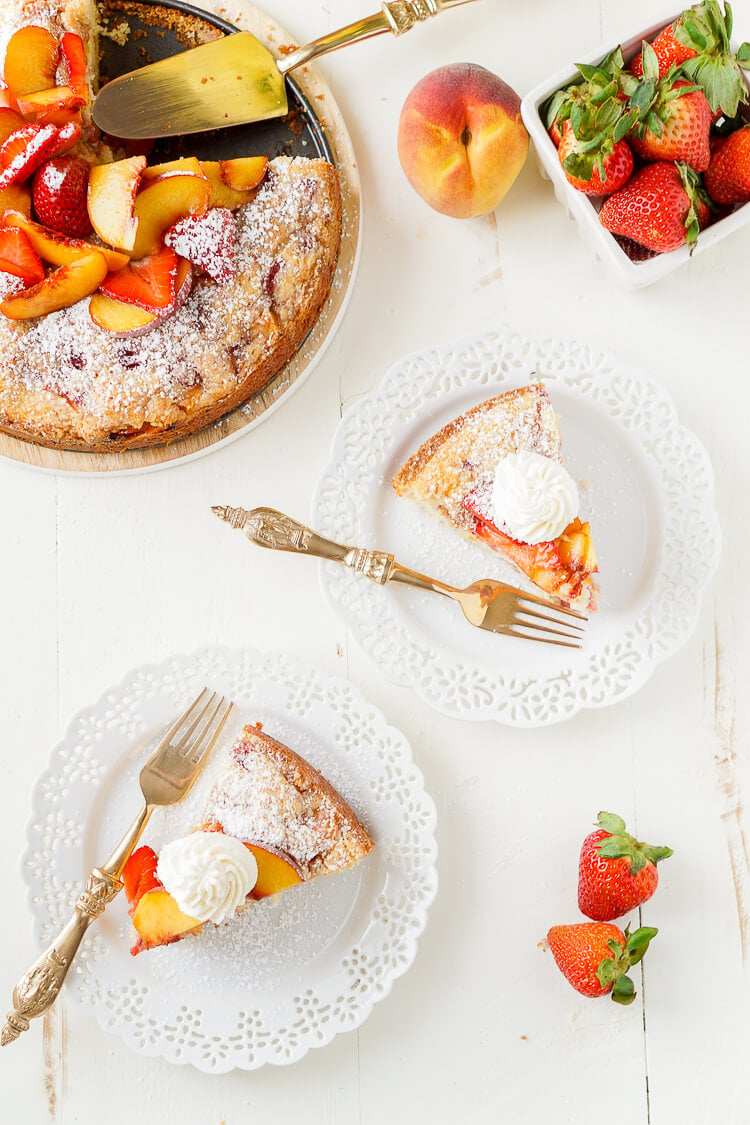 But enough about life, let's talk about this Strawberry & Peach Coffee Cake! It's a flavorful and lightly sweet breakfast cake that's loaded with fresh fruit fit for summer! It reminds me a lot of my Strawberry Coffee Cake Muffins which you guys love so much! I love the way the juicy peaches and sweet strawberries come together in this light cake baked under a slightly crisp streusel topping.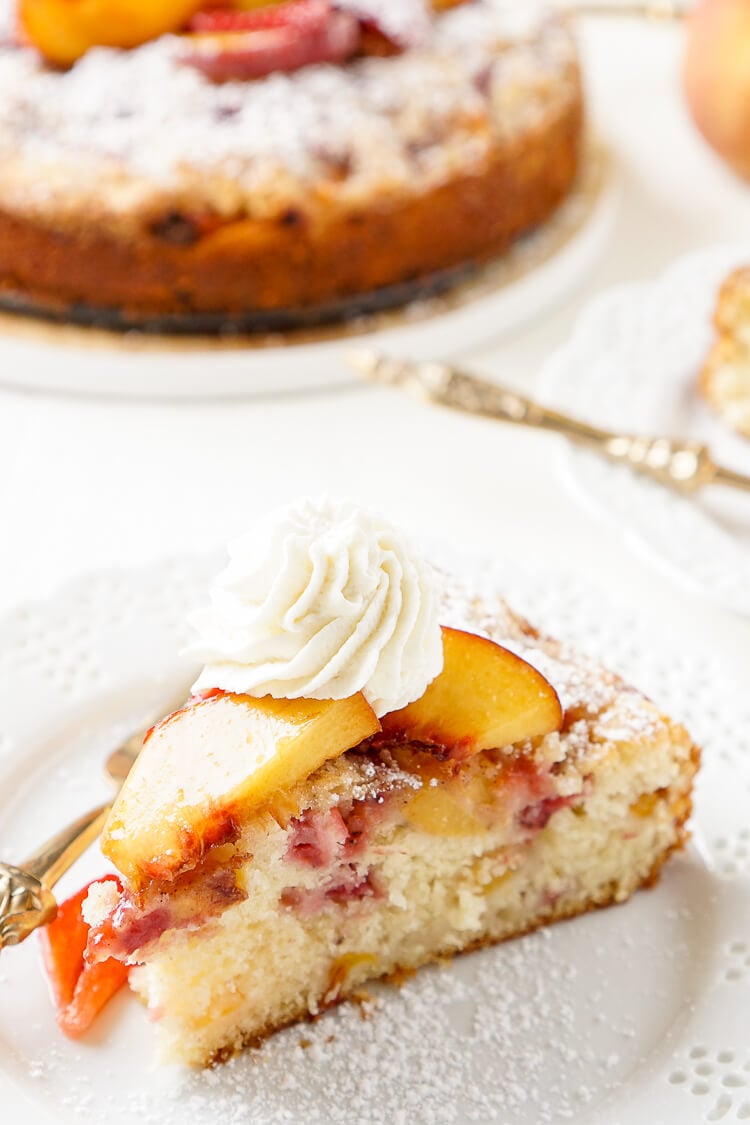 This Strawberry & Peach Coffee Cake is a mix of ripe fruit and sweet cake that's sure to add a pop of flavor to the breakfast table!
Ingredients
Cake:
1/2 cup unsalted butter softened
1 cup granulated sugar
2 large eggs
2 cups plus 2 tbsp all-purpose flour
2 tsp baking powder
1/2 tsp salt
2/3 cup whole milk
2 tsp vanilla extract
2 large fresh peaches peeled and chopped
1 cup fresh strawberries chopped
Powdered sugar
Fresh strawberry and peach slices and whipped cream for garnish
Topping:
2 tbsp butter softened
2 tbsp granulated sugar
2 tbsp firmly packed light brown sugar
3 tbsp all-purpose flour
1/4 tsp ground cinnamon
pinch of ground nutmeg
Instructions
Preheat oven to 350°F and line a 9-inch springform pan with aluminum foil and coat with cooking spray.

In a large bowl or stand mixer fitted with a paddle attachments, beat the butter at medium speed until creamy; gradually add granulated sugar and beating until fully incorporated.

Add eggs, one at a time, beating after each addition.

In a large bowl, combine 2 cups of the flour, baking powder, and salt. Add flour mixture to butter mixture alternately with milk, beginning and ending with flour mixture. Beat at low speed until blended after each addition. Stir in vanilla. Add chopped fruit to a small bowl with the remaining 2 tbsp of flour and stir to coat. This prevents the fruit from sinking during the baking process. Fold half of the chopped fruit into the batter and pour the batter into the prepared pan, top with the remaining fruit.

In a small bowl, mix topping ingredients together with a fork until combined and sprinkle over the cake.

Bake for 1 hour and 10 minutes to 1 hour and 20 minutes or until center of cake is set. Check cake at 1 hour and top loosely with aluminum foil if top appears to be sinking.

Cool completely on a wire rack (about 1 1/2 hours). Dust with powdered sugar. Garnish with additional fruit and whipped cream, if desired.
Nutrition
Calories: 283kcal | Carbohydrates: 42g | Protein: 4g | Fat: 11g | Saturated Fat: 7g | Polyunsaturated Fat: 1g | Monounsaturated Fat: 3g | Trans Fat: 1g | Cholesterol: 55mg | Sodium: 133mg | Potassium: 192mg | Fiber: 1g | Sugar: 24g | Vitamin A: 452IU | Vitamin C: 9mg | Calcium: 61mg | Iron: 1mg
Reader Interactions
Share your thoughts!
Love this recipe? Share your thoughts with me below and leave a review! And don't forget to connect on your favorite social platform below!