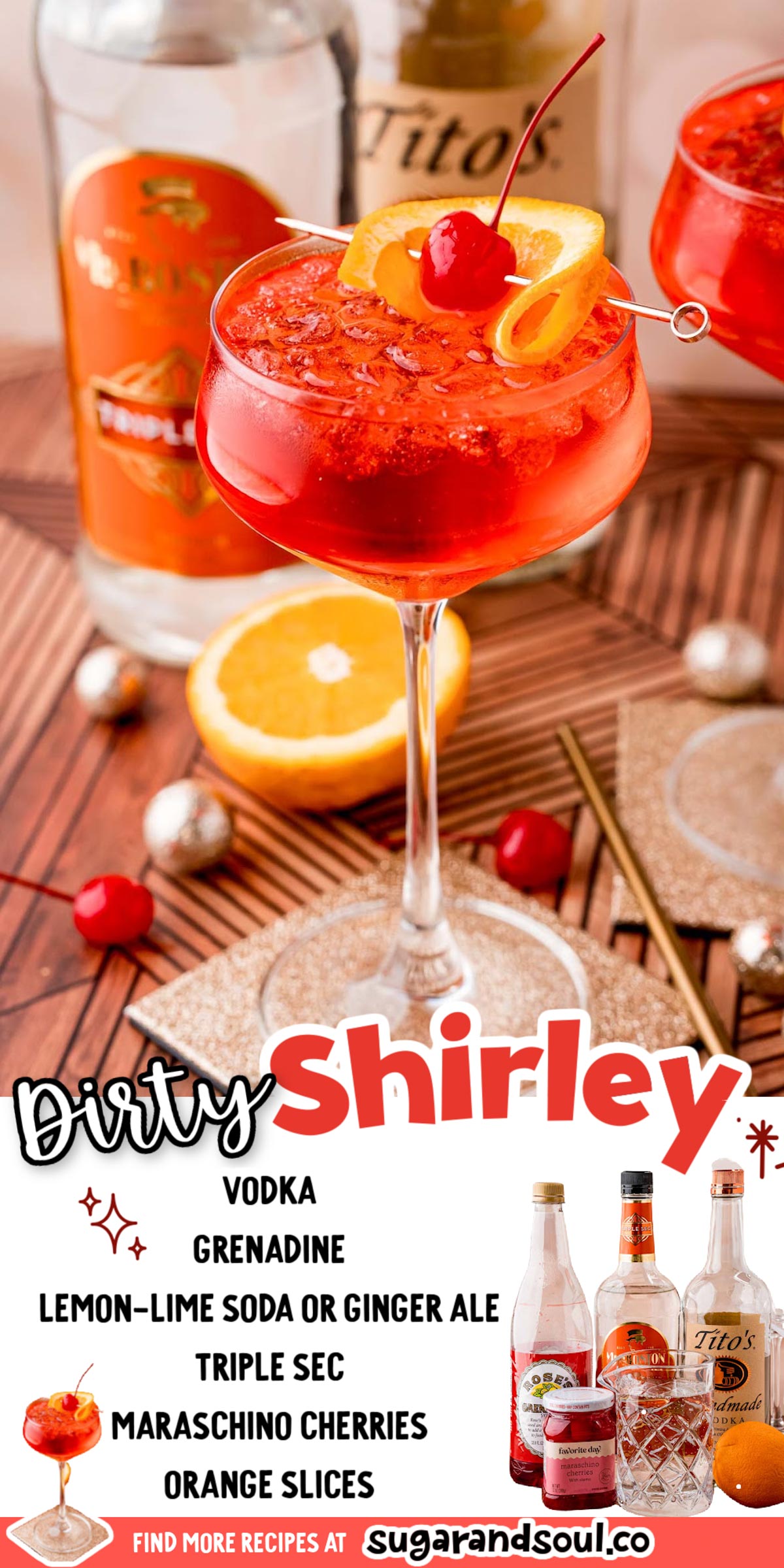 Dirty Shirley Temple Drink is a simple 4-ingredient cocktail made with vodka, triple sec, grenadine, and soda! It's a grown up version of everyone's favorite bubbly mocktail!
For another adult twist on my favorite childhood drink try this Champagne Shirley Temple! Made with pink Moscato champagne and just as delicious as this Dirty Shirley!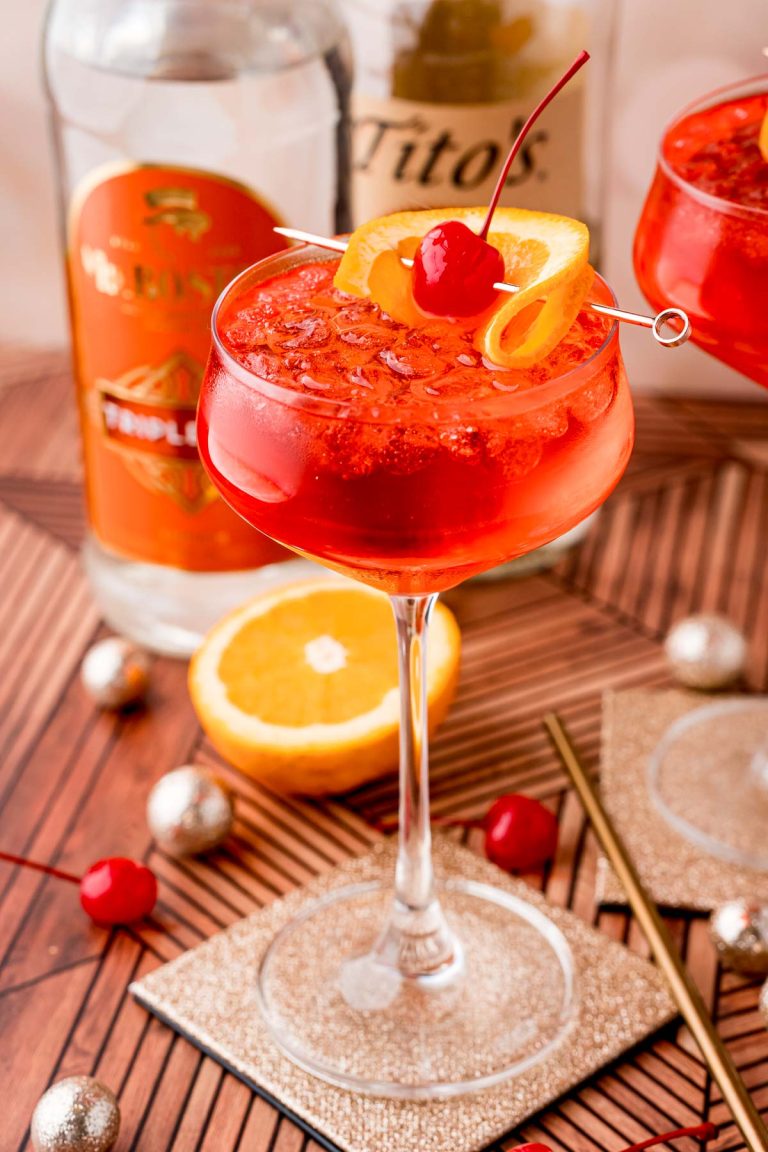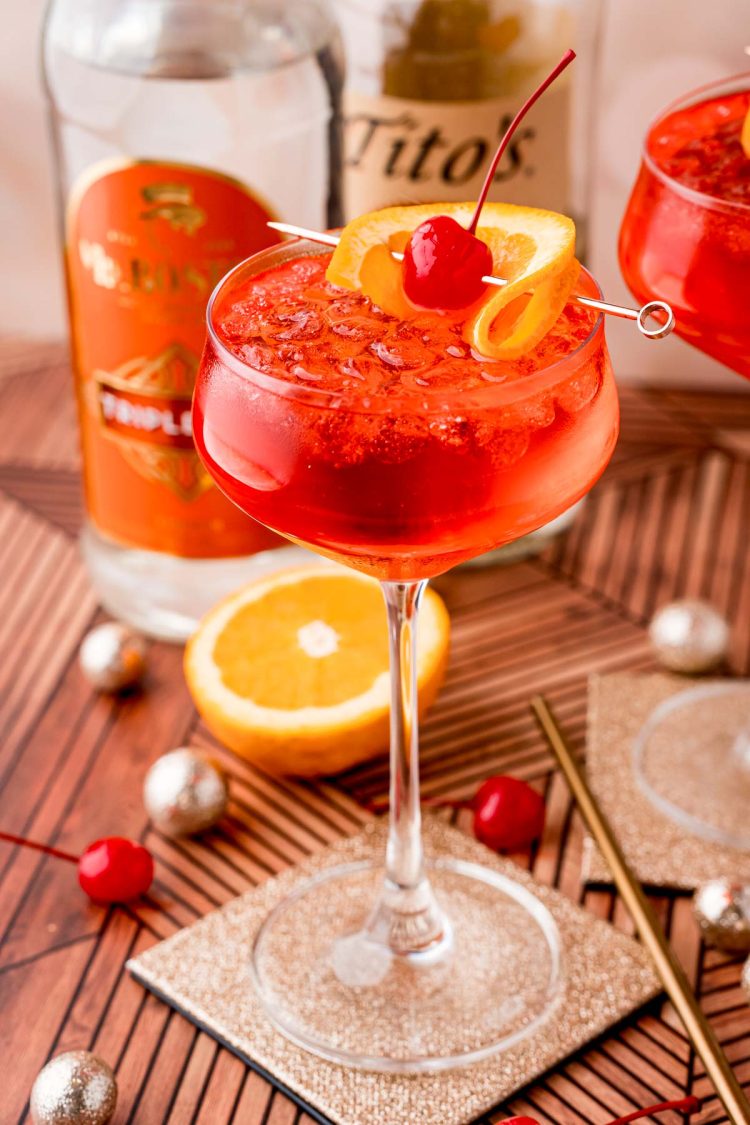 As a kid, whenever we went to a restaurant it was always a special treat for me to get a Shirley Temple! I absolutely LOVED the sweet bubbly beverage! As I got older, I started making them myself at home for special occasions. And as an adult, I'm all about the Dirty Shirley Temple made with vodka and triple sec!
What I Love About Dirty Shirley Temples!
Simple – What makes this drink so appealing is the no-fuss ingredients you likely already have in your home bar cabinet!
Easy – No cocktail shaker or fancy bar tools are required to make this drink!
Delicious – Sweet but strong, this cocktail has an appeal to a large audience making it perfect for celebrations such as New Year's Eve, Bridal Showers, and more!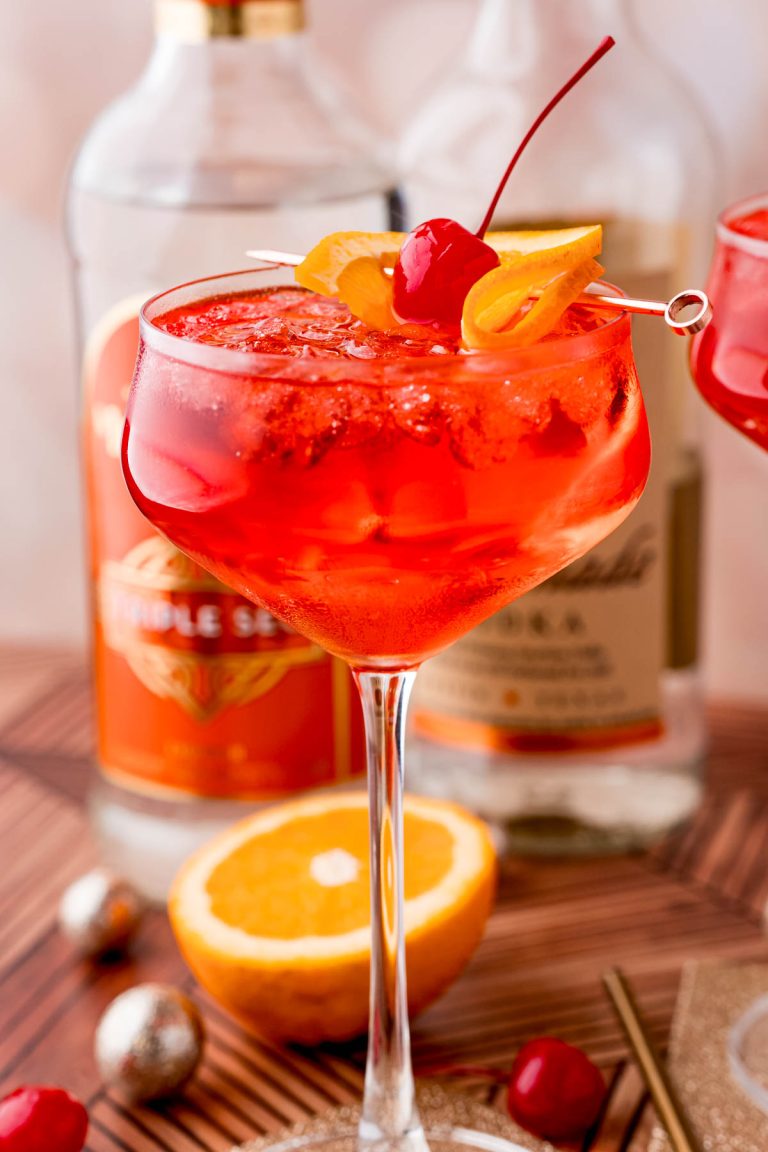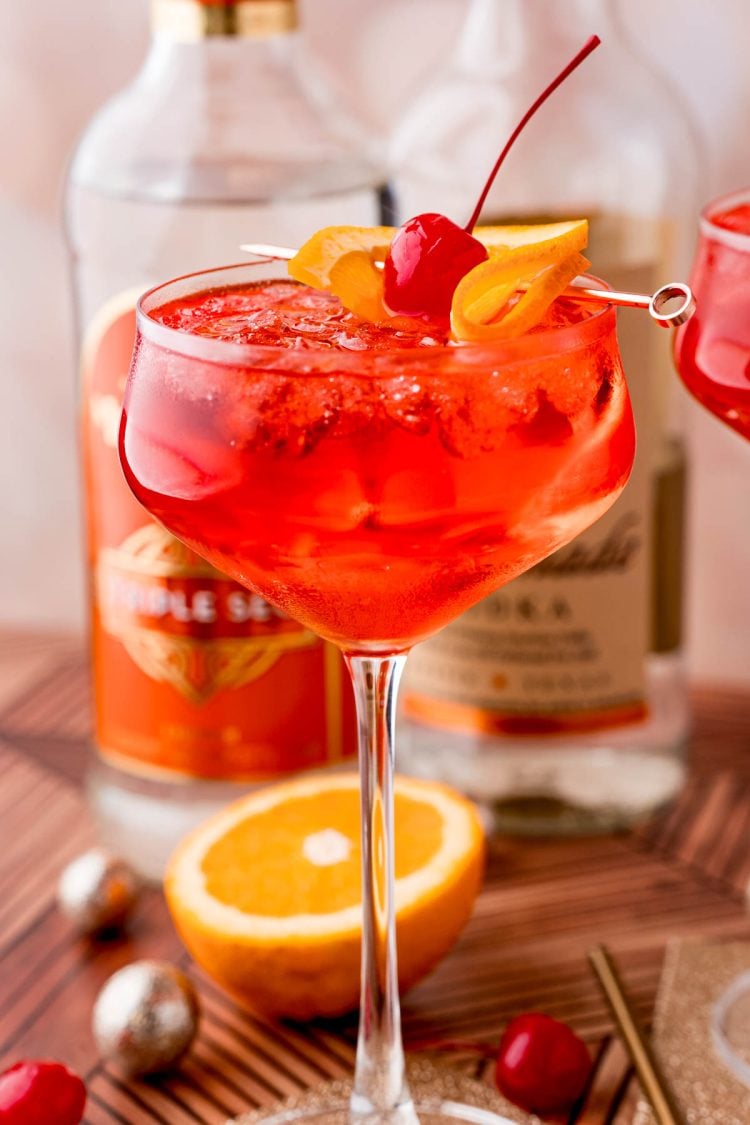 Dirty Shirley Cocktail Ingredient Notes
Wondering what it is that makes a Shirley Temple dirty? In this recipe it's the addition of vodka and triple sec! These liquors mix with the base ingredients of Grenadine (try my recipe made with real pomegranate juice) and lemon-lime soda (such as Sprite or Sierra Mist) to make a boozy version everyone will love!
Want to make the drink look extra fancy? Garnish with a slice of orange and a maraschino cherry!
If you're looking to cut back on the sweetness of this recipe, try using club soda instead! Some people also like to use ginger ale or ginger beer in Shirley Temples.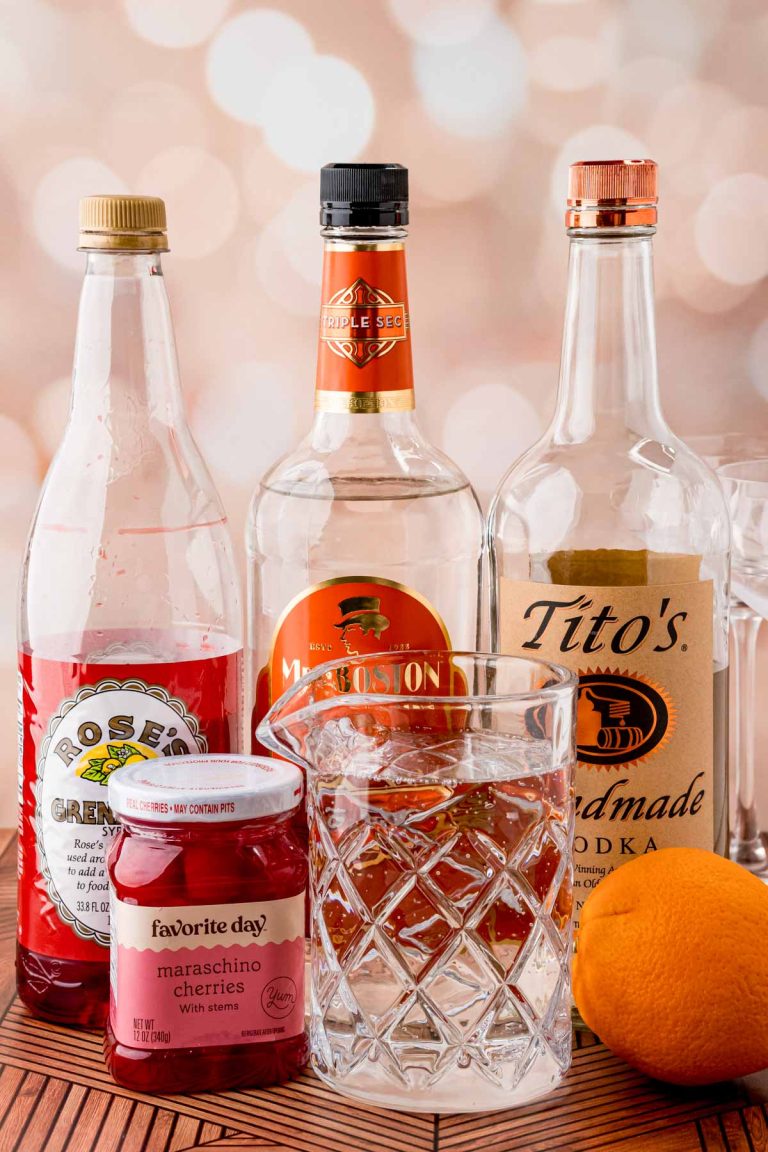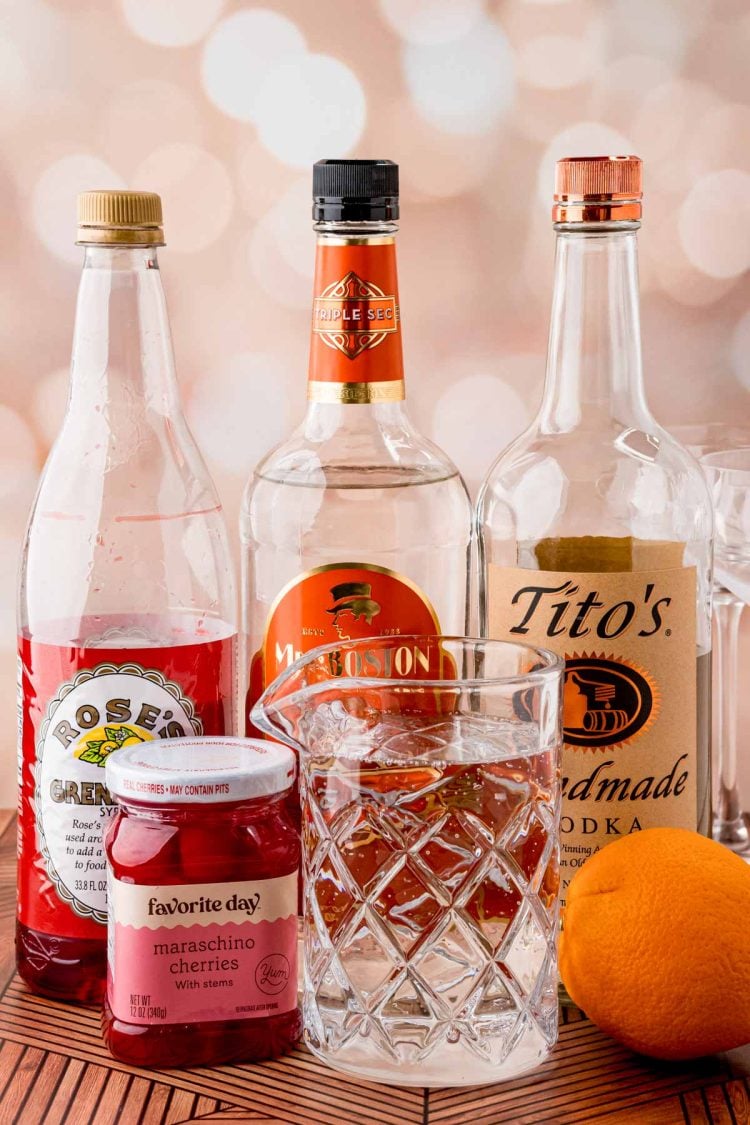 How To Make A Dirty Shirley Temple
Any bartender will know how to make a Dirty Shirley Drink, but they're actually super simple and perfect for at-home celebrations! This sweet drink can be whipped up in just a couple of minutes, no shaker required!
Add ice to a glass and then pour in the vodka, grenadine, and triple sec. Stir together with a bar spoon.
Top with your choice of lemon-lime soda or ginger ale.
Garnish with an orange twist and a maraschino cherry. Enjoy!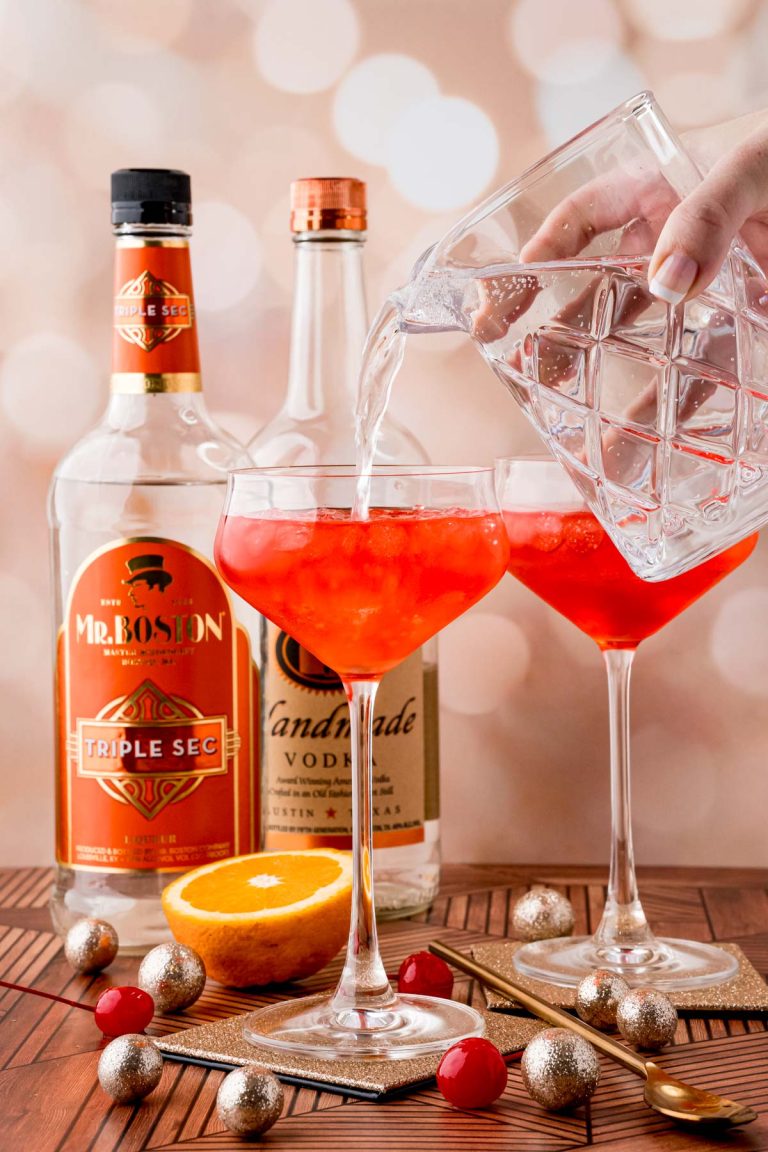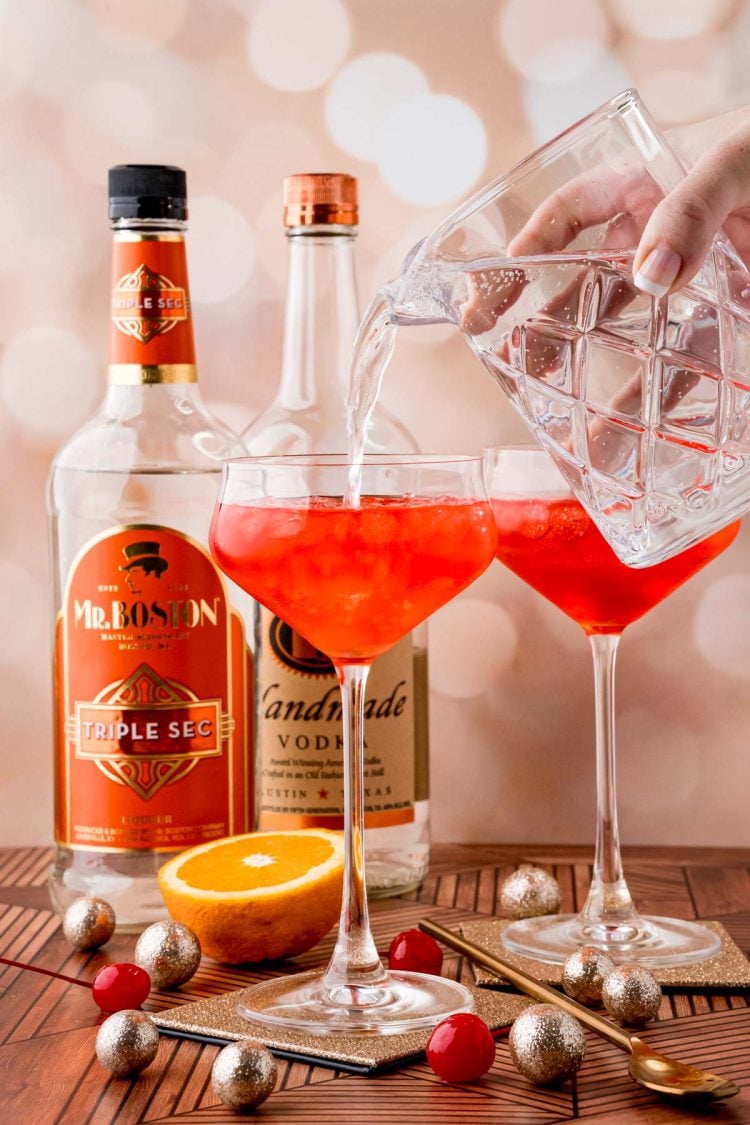 Frequently Asked Questions
Can I Make This Recipe Into A Large Batch To Serve It Out Of A Punch Bowl?
Unfortunately, I wouldn't recommend making this recipe into a large batch. Doing so will cause the soda to lose its carbonation causing the overall beverage to have that flat soda taste.
For best taste, you'll want to make the Dirty Shirley Drinks one by one. Which really isn't a big deal since they come together super quickly!
What's The Difference Between A Classic Shirley Temple And This Dirty Shirley Temple?
The Classic Shirley Temple is a non-alcoholic drink whereas this version is made with alcohol.
Could I Use A Flavored Vodka In This Recipe?
Of course! If you really love cherry flavor you could use cherry vodka in your Dirty Shirley Temple. Or for a little different taste, you could use vanilla vodka!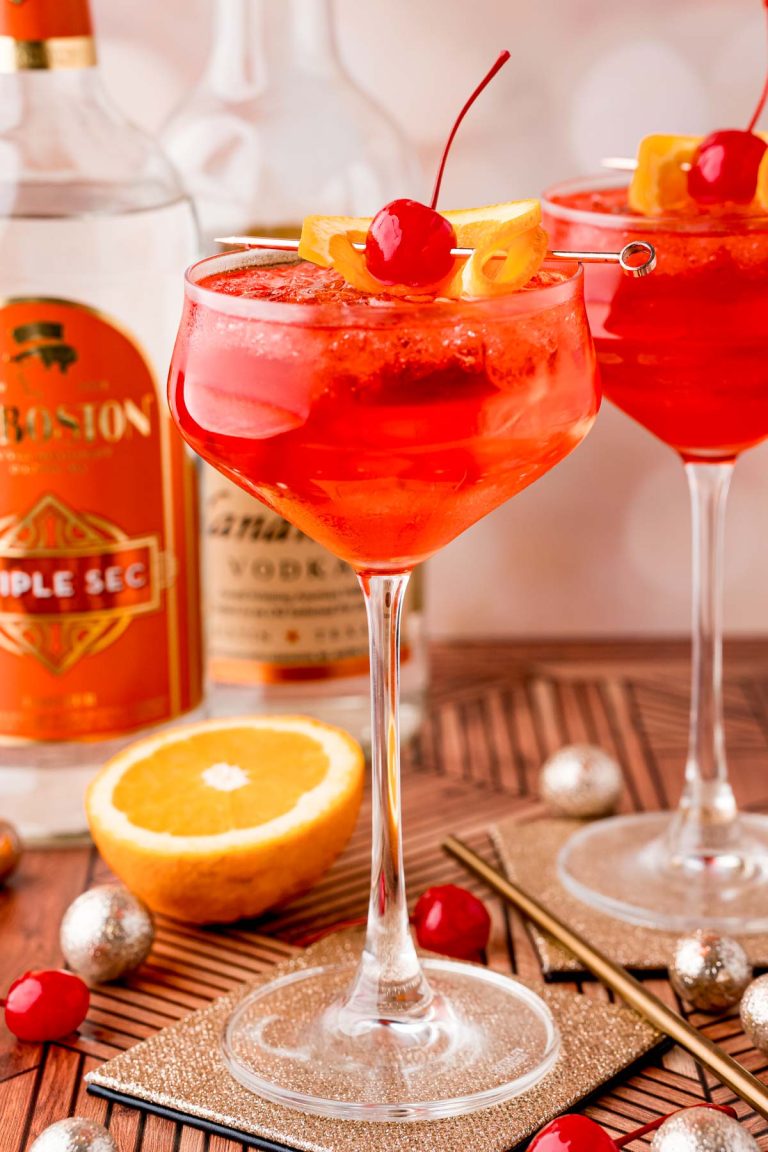 If you loved this Dirty Shirley Drink, check out some of these other fun cocktail recipes!
Dirty Shirley Drink Recipe
Pin For Later
CLICK THE BUTTON ABOVE TO SAVE THIS DELICIOUS RECIPE TO YOUR BOARD!
👋 Let's Connect!
If you've tried this recipe, please let me know how you liked it in the comments below and leave a review; I love hearing from you! And don't forget to tag me – @sugarandsoulco – on Instagram and Pinterest with your photos or join our Busy Family Recipes Facebook Community and share them there!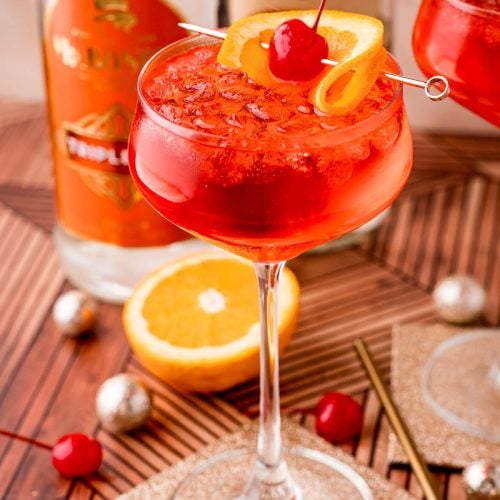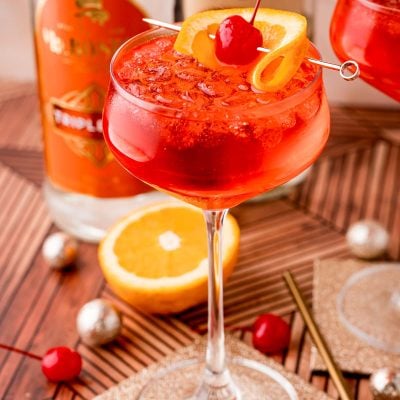 Dirty Shirley Drink
Dirty Shirley Temple Drink is a simple 4-ingredient cocktail made with vodka, triple sec, grenadine, and soda! It's a grown up version of everyone's favorite bubbly mocktail!
Instructions
Add vodka, grenadine, and triple sec to a glass with ice and stir.

Top off with lemon-lime soda.

Garnish with maraschino cherries and orange slices if desired.
Nutrition
Calories:
303
kcal
Carbohydrates:
37
g
Protein:
1
g
Fat:
1
g
Saturated Fat:
1
g
Polyunsaturated Fat:
1
g
Sodium:
22
mg
Potassium:
14
mg
Sugar:
31
g
Calcium:
4
mg
Iron:
1
mg