These Lemon Chicken Thighs are slow roasted, tender, and bursting with flavor!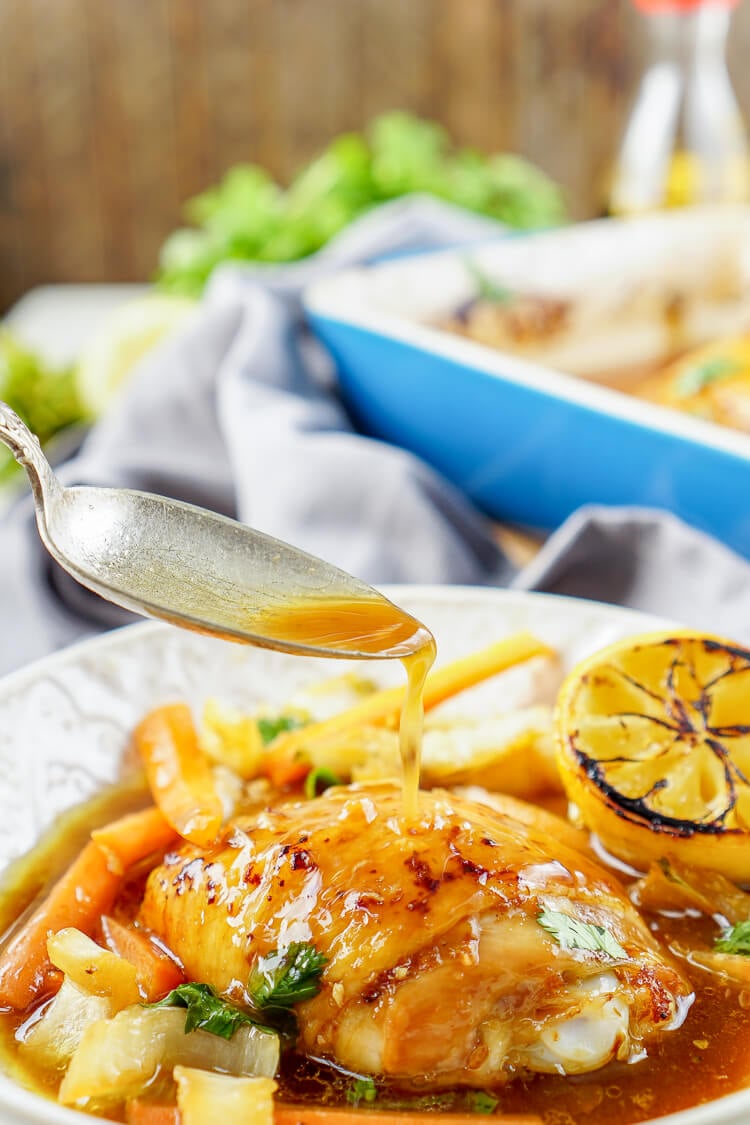 Did you know that today is the beginning of the Lunar New Year, also known as the Chinese New Year and Spring Festival? Those of us without Chinese heritage, probably don't celebrate the holiday, but I'm sure we're all familiar with the 12 zodiac symbols and each Lunar New Year, a new zodiac from the cycle begins.
When I was a child, I always loved learning about the Chinese Zodiacs. Oftentimes, people assume that because you were born during a certain year, you have a certain animal. And while that's true, it's the Lunar New Year, not the New Year based on the Gregorian calendar. I was born during the year of the Snake and since I was born in 1989, I have an elemental sign of Earth. Each Zodiac symbol is said to indicate certain characteristics and predictions for each year.
I found this statement to be pretty accurate of me:
"Snakes are very creative and extremely diligent. Though Snakes work very hard, they have a tendency to be job-hoppers, as they easily become bored. Snakes are great thinkers. Complex problems stimulate them. And of course, they're excellent problem-solvers and thrive under tight deadlines." – China Highlights
Which I think is indicative as to why my current job, this blog, works so well. I'm constantly coming upon new opportunities that both challenge and excite me! I always love looking at the predictions for the coming year, and 2016 is looking to be a bit Bittersweet for Snakes:
Kinda fun, right? Here's to hoping things are a little sweeter than bitter!
But enough with all that, let's get to the important stuff! You see, you can't celebrate without good food, right? And this recipe is just that: Good. So so GOOD! Everything about it is comforting, from the baking to the basting to the… I'm out of words that begin with B, how about devouring, because that's exactly what you're going to do to these chicken thighs! They're made with a traditional Chinese roasting technique and basted throughout the baking process with a homemade sauce.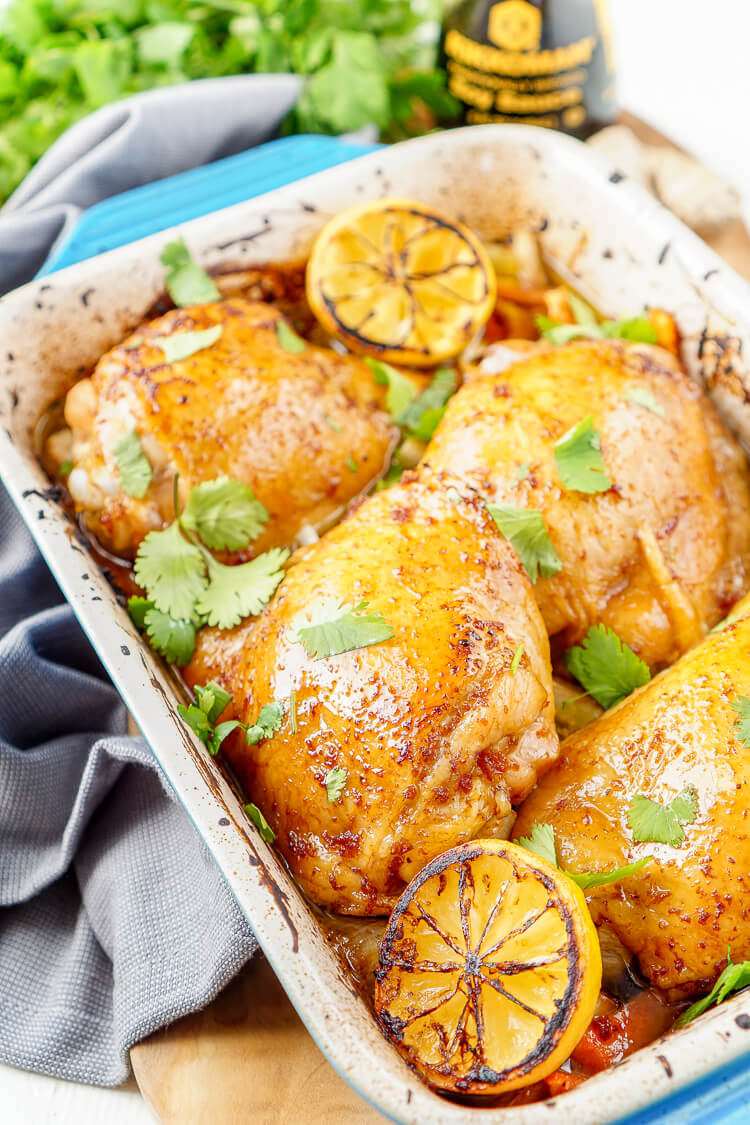 I made my sauce using Kikkoman Soy Sauce, grated ginger, lemon juice, and honey. Since I've been working more and more with Asian flavors, I come to find that simple ingredients work best. And I've also loved working more and more with chicken thighs because they're so tender and can be super flavorful when made right. Kikkoman Soy Sauce is traditionally brewed and allows for a natural browning of the chicken while enhancing its flavor. A staple in Chinese cuisine and perfect for adding a touch of flavor to all your Lunar New Year recipes!
This recipe does take a bit of attention to get it just right, but I promise it's worth it! In the end, that delicious sauce blends with the chicken juice and olive oil for a lovely broth and the vegetables are perfectly roasting with some exceptional flavor. You can make this recipe using other bone-in chicken pieces as well, just make sure the weight of the meat is around 2 lbs total.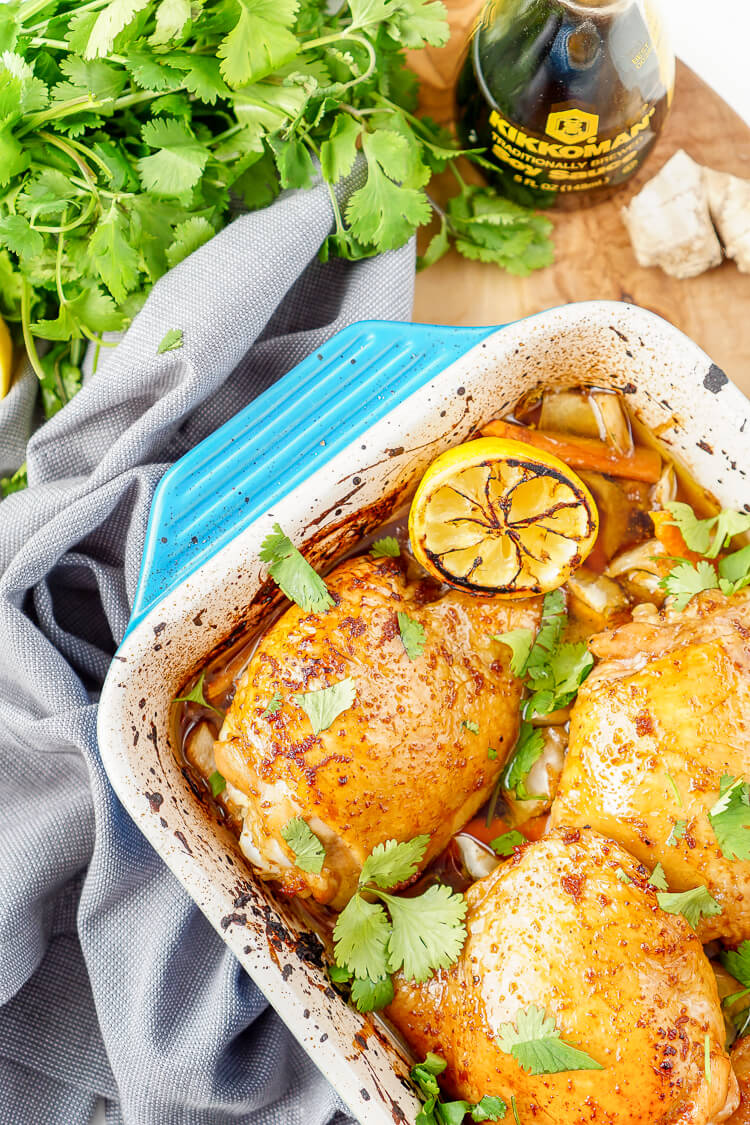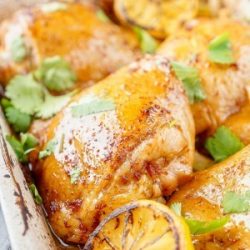 Lemon Chicken Thighs
These Lemon Ginger Soy Chicken Thighs are slow roasted, tender, and bursting with flavor! The chicken thighs are basted throughout the roasting process with a simple sauce made with lemon, soy sauce, honey, and ginger. Roasted over a dish of bok choy and carrots, this dish is filled with Asian influence!
Ingredients
4

tablespoons

olive oil

divided

2

cup

bok choy

chopped

2

cups

carrots

julienned

¼

teaspoon

kosher salt

plus a pinch

¼

teaspoon

ground black pepper

plus a pinch

4

bone-in chicken thighs

1

lemon

2

tablespoons

lemon juice

¼

cup

soy sauce

1

tablespoon

fresh ginger

peeled and grated

1

tablespoon

honey

Cilantro for garnish
Instructions
Preheat oven to 450°F and drizzle 2 tbsp of olive oil in a 3 to 4 qt. baking dish. Add prepped bok choy, carrots, salt, and pepper to the dish and toss until evenly coated.

Place chicken thighs on top of the vegetables, skin side up, and drizzle the chicken with the remaining 2 tbsp of olive oil. Sprinkle chicken with just a pinch of salt and pepper. Slice a lemon in half and place a half at each end of the dish. Roast for 15 minutes.

Meanwhile, whisk together Kikkoman Soy Sauce, lemon juice, ginger, and honey. After 15 minutes, remove chicken from oven and use a basting brush to brush the chicken with the sauce and pan drippings, then return to the oven. Repeat the process every 5 minutes for another 25 to 30 minutes, or until sauce is gone and the chicken has an internal temperature of 165°F.
Notes
Other bone-in chicken can be used, try to keep it around 2lbs total for this recipe.
Recipe adapted from Mark Bittman.
Nutrition
Calories:
505
kcal
Carbohydrates:
15
g
Protein:
26
g
Fat:
38
g
Saturated Fat:
8
g
Cholesterol:
142
mg
Sodium:
1135
mg
Potassium:
657
mg
Fiber:
3
g
Sugar:
9
g
Vitamin A:
12368
IU
Vitamin C:
34
mg
Calcium:
79
mg
Iron:
2
mg