The Monte Cristo Sandwich is a breakfast twist on a classic ham and cheese. Tender slices of deli ham are sandwiched between two pieces of French toast and melty cheese for an addictive dish you'll want to make over and over again!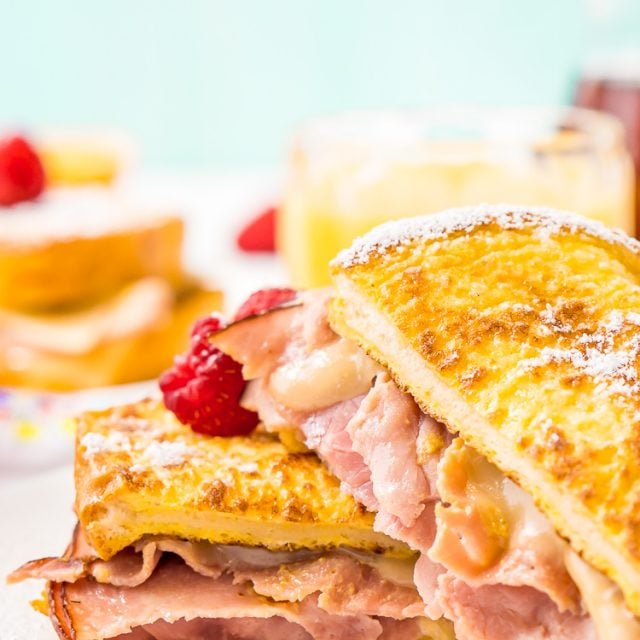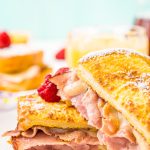 Monte Cristo Sandwich stuffs tender, smoky slices of deli ham and melty cheese between slices of French toast, great for breakfast, lunch, or dinner! An easy recipe that's ready to enjoy in just 20 minutes!
Serve these sandwiches up with mimosas, orange juice, coffee or tea for an easy brunch that everyone will love!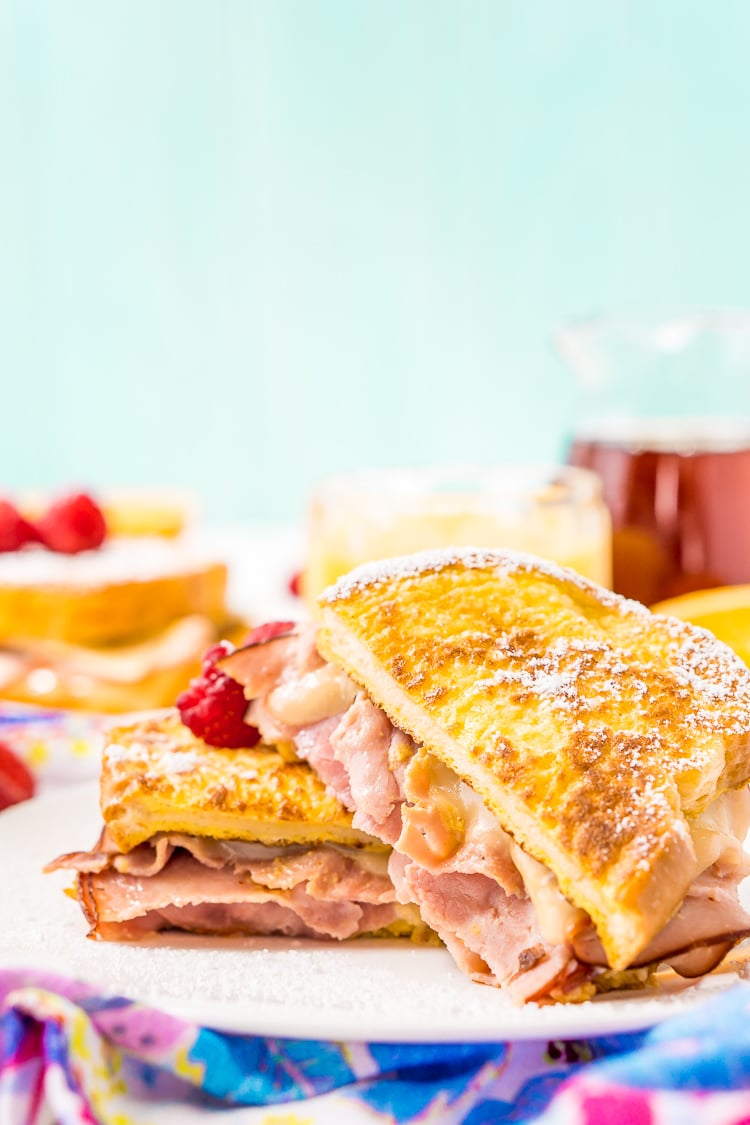 A Monte Cristo Sandwich is a tasty breakfast twist on a classic ham and cheese! Sprinkled with powdered sugar and dipped in maple syrup makes this the Best Monte Cristo Sandwich Recipe ever!
These sandwiches are a cross between French toast, a grilled cheese, and a ham sandwich. It's a combination of comfort foods you've loved since childhood!
If you crave salty-sweet foods at breakfast time, you'll love this Monte Cristo Sandwich! Though it's so good that you'll also want to enjoy it for lunch AND dinner!
Taking A Bite Out Of A Monte Cristo Sandwich!
Taste: Slices of white bread begin by getting a layer of a homemade sweet, savory spread made of mayo, mustard, and fruit preserves. They're then stuffed with smoky, salty ham and mild Swiss cheese before getting dipped in a cozy vanilla egg wash!
Texture: These sandwiches cook up to golden brown perfection! With a lightly crisp exterior that's filled with warm ham and melty cheese!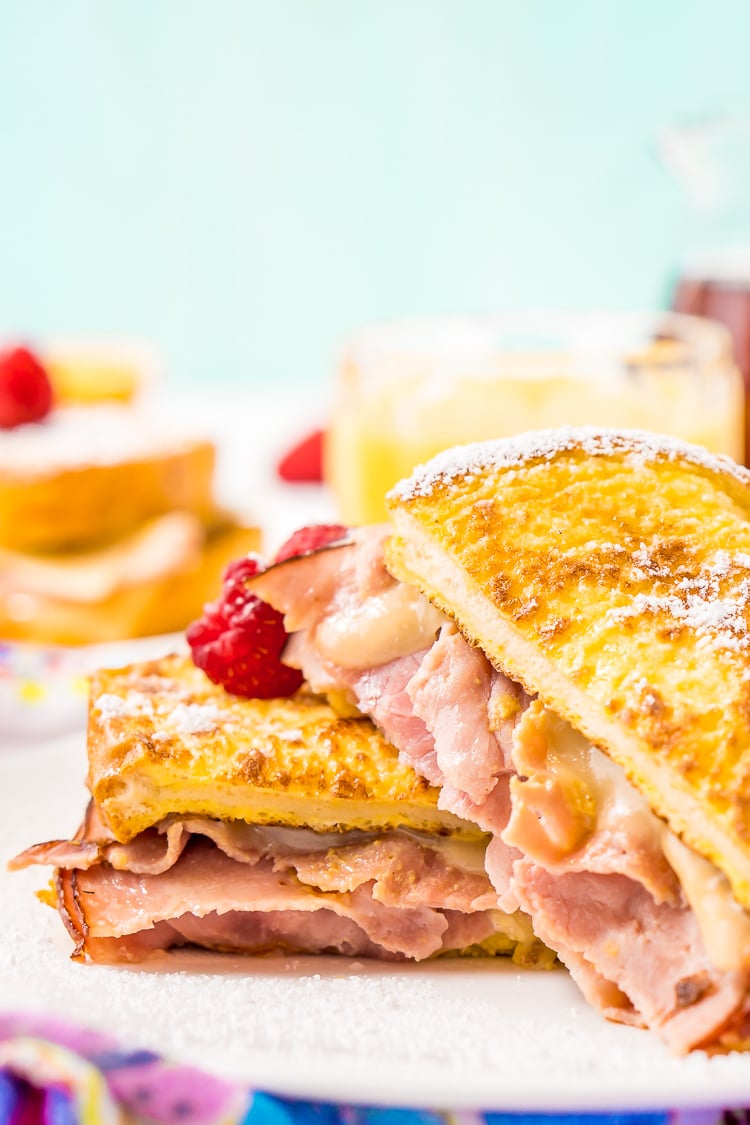 Honey Ham
When I make a Monte Cristo Sandwich, I usually use honey ham! I either grab it from the deli at my grocery store or grab a package of pre-sliced!
Feel free to use whatever type of ham you have on hand though. Or get your favorite flavor of ham from the deli such as smoked, honey maple honey roasted, or a kind that has a bold flavor.
You can even use leftovers from a Maple Ham Glaze dinner! For a delicious variation try using turkey to make a turkey Monte Cristo Sandwich!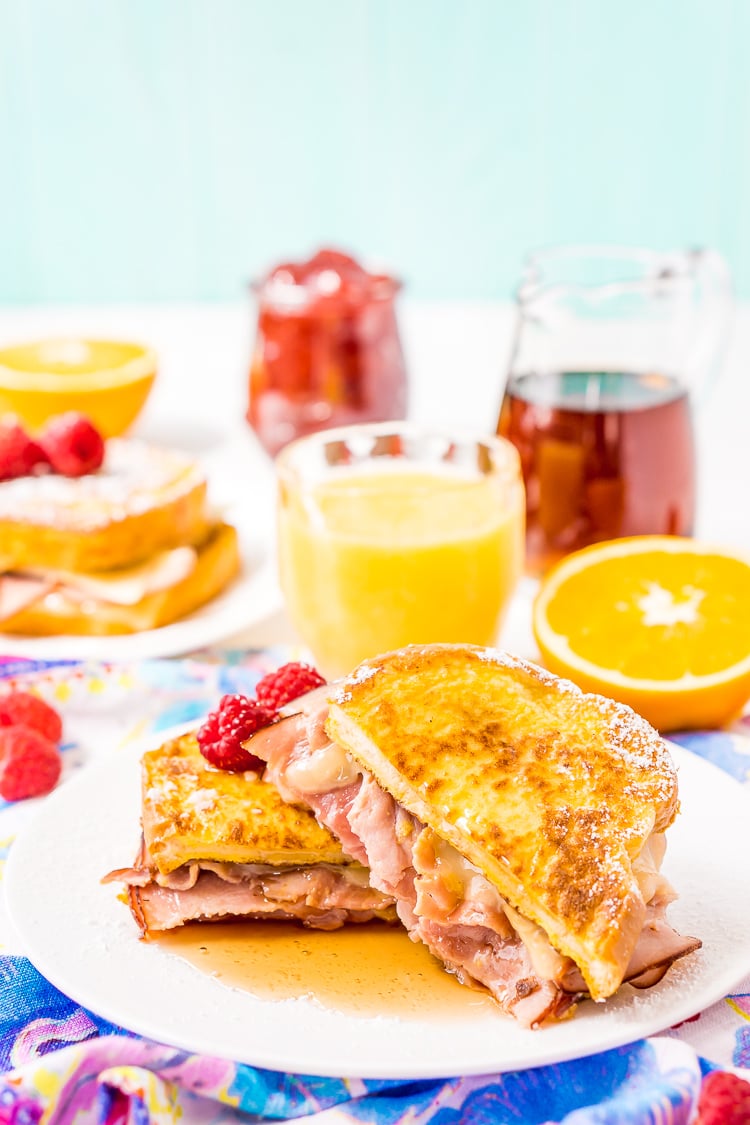 Helpful Kitchen Tips When Making This Monte Cristo Sandwich
Assemble The Sandwiches – Assemble all of the sandwiches that you plan to enjoy before beginning to dip them in the egg wash. Doing so will make for a quicker assembly line! That way you can avoid your cooked sandwiches from getting cold while you're busy assembling the rest.
Dip Them As A Whole – The entire sandwich gets dipped in the egg wash! Do not dip each slice of bread in the wash and then assemble the sandwich. This would cause the inside of the slices of egg-washed bread to not cook properly.
Cooking Them – Cook the sandwiches over medium-high heat. They're done cooking when the bread is perfectly golden brown, and the cheese has melted!
Toppings – Enjoy your monte Cristo sandwich with toppings! Add a sprinkle of powdered sugar or a drizzle of maple syrup! Trust me, you'll love the sweet touch on these salty sandwiches!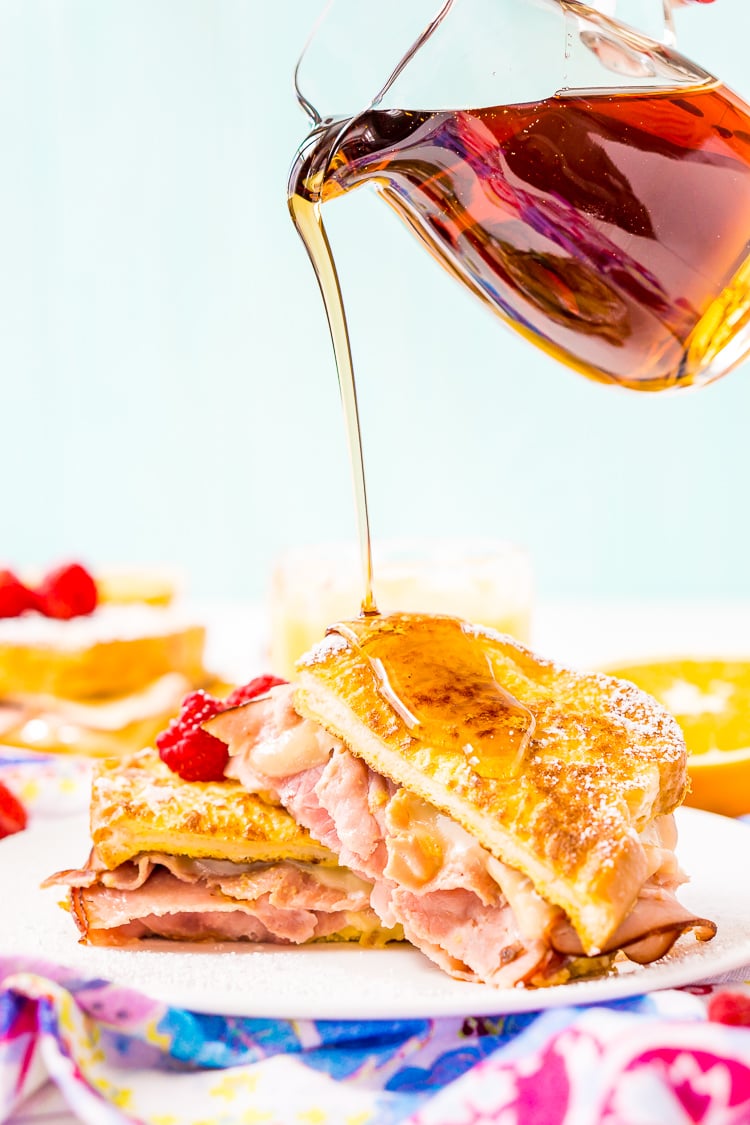 Making sandwiches at home doesn't have to be boring when delicious recipes like this one exist! Another family favorite is this Cuban Sandwich that's also enjoyed warm as are these French Dip Sandwiches!
When we're in the mood for something fun, we turn to Taco Grilled Cheese Sandwiches! Since it cooks in just 10 minutes it's perfect for busy weeknights or a weekend lunch!
You also can't go wrong with a classic Club Sandwich! After all, nothing beats all those layers of turkey, bacon, cheese, lettuce, and tomatoes!
Can I Store A Leftover Monte Cristo Breakfast Sandwich?
I find that these sandwiches have the best taste and texture when enjoyed the same day. However, you can store them in an airtight container and enjoy them for 2 to 3 days.
How Can I Make A Large Batch Of These Without Them Going Cold As I Cook Them?
Turn your oven on low heat and place the cooked monte cristo sandwiches on baking sheet. Place them in the oven to remain heated while you continue to cook through all the sandwiches on the stove top.
I find that using a griddle is also a great way to cook many sandwiches at once!
What Other Types Of Bread Can I Use To Make A Monte Cristo Sandwich?
You can really use any kind you'd like or have on hand! I just prefer to use thick slices of bread to make the bread to filling ratio perfect!
Let's Connect!
If you've tried this recipe, please let me know how you liked it in the comments below and leave a review; I love hearing from you! And don't forget to tag me – @sugarandsoulco – on Instagram and Pinterest with your photos or join our Sugar & Soul Show-offs Community and share them there, where you can join our recipe challenges and win prizes!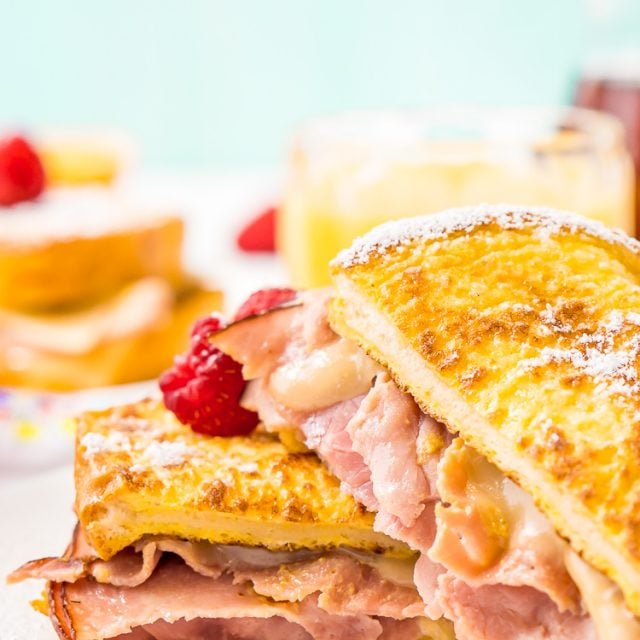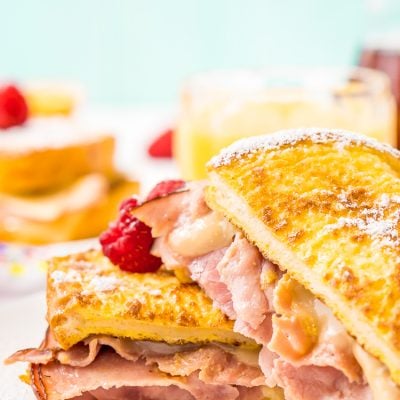 Monte Cristo Sandwich
The Monte Cristo Sandwich is a breakfast twist on a classic ham and cheese. Tender slices of deli ham are sandwiched between two pieces of French toast and melty cheese for an addictive dish you'll want to make over and over again!
Instructions
In a medium bowl, beat together the eggs, milk, and vanilla and set aside.

2 large eggs, 2 tablespoons whole milk, ½ teaspoon vanilla extract

Assemble two sandwiches using two slices of bread for each and dividing the Honey Ham, Swiss Cheese, mustard, mayo, and preserves evenly between the two sandwiches.

4 slices thick white bread, ½ lb Honey Ham, 4 slices Swiss Cheese, 2 tablespoons Dijon mustard, 2 tablespoons mayonnaise, 2 tablespoons fruit preserves

Carefully dip the sandwiches in the egg mixture to coat like you would French toast, keeping the sandwiches assembled while you do it.

Place the sandwiches in a large skillet with butter and cook over medium-high heat until the bread is a golden brown and the cheese has melted.

butter

Remove the sandwiches from the pan and dust with powdered sugar and serve with maple syrup.

powdered sugar, maple syrup
Nutrition
Calories: 802kcal | Carbohydrates: 29g | Protein: 50g | Fat: 52g | Saturated Fat: 20g | Cholesterol: 294mg | Sodium: 2027mg | Potassium: 526mg | Fiber: 1g | Sugar: 4g | Vitamin A: 700IU | Calcium: 631mg | Iron: 3.9mg