Apple Hand Pies are an easy and fun fall dessert recipe that's loaded with a thick spiced apple filling and can be topped with sugar or a glaze for a delicious finish!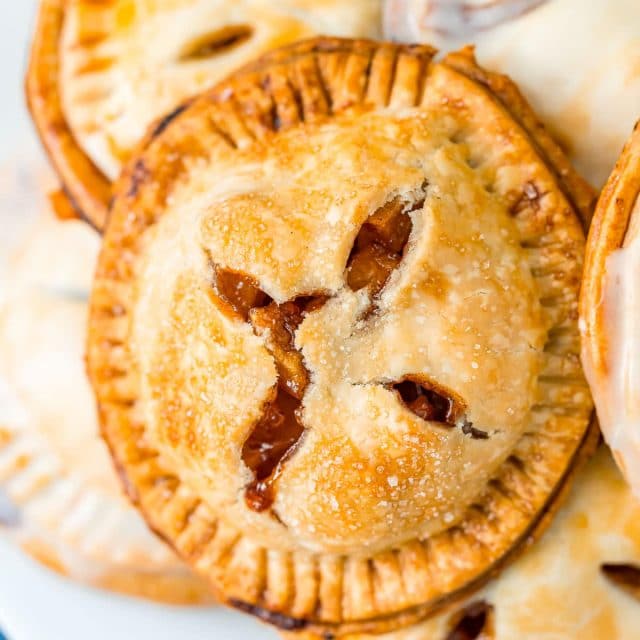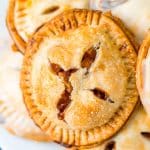 Apple Hand Pies are an easy and fun fall dessert recipe that's loaded with a thick spiced apple filling and can be topped with sugar or a glaze for a delicious finish!
The filling is adapted from my Caramel Apple Pie Dip and like my Mini Apple Pies, these are perfect for sharing to taking on the go! Plus they only take about 30 minutes to prepare!
This post was created in partnership with Stop & Shop, all opinions and experiences are 100% my own.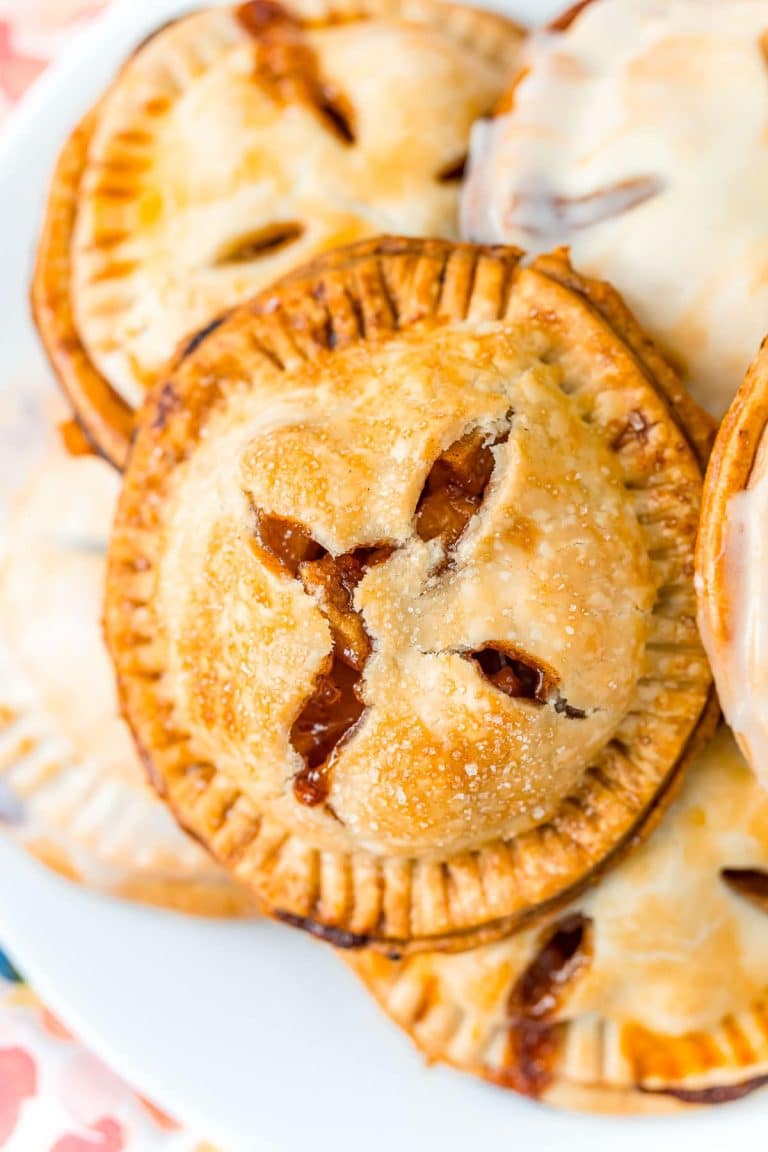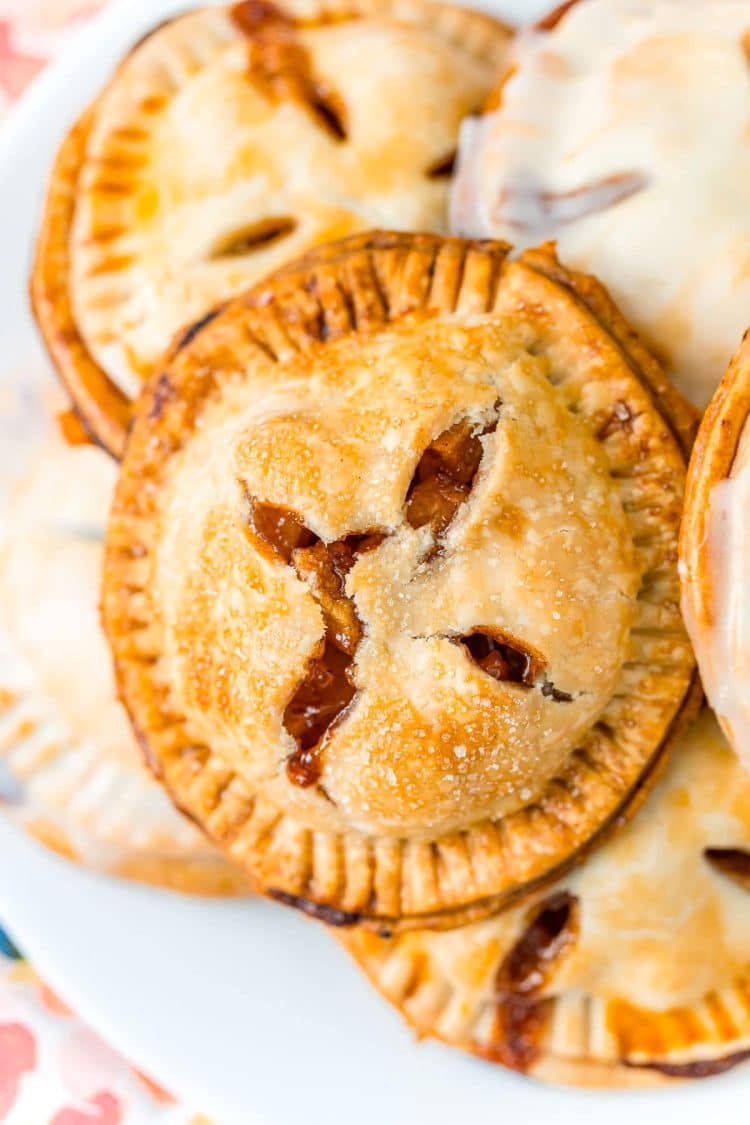 The Beach Days are over and the crisp air is moving in. But I'm not sad about it because it means it's time for all things fall, like these Apple Hand Pies. All in all, it's the perfect dessert to bake and share with friends and family!
Like every native New Englander, I love reigning in the autumn season with a day of apple picking. Now, I can't wait to share this tradition with my little family of three!
There's nothing like the tart-sweet taste of crisp, fresh apples — I always insist on picking more than we can eat. So, what do we do with all that extra fruit? We use it in recipes, of course!
What Is A Hand Pie?
True to its name, a hand pie can fit in your hand! Instead of a top and bottom crust that's baked in a pan, these goodies are made with two circular pieces of dough that are crimped closed to hold the filling.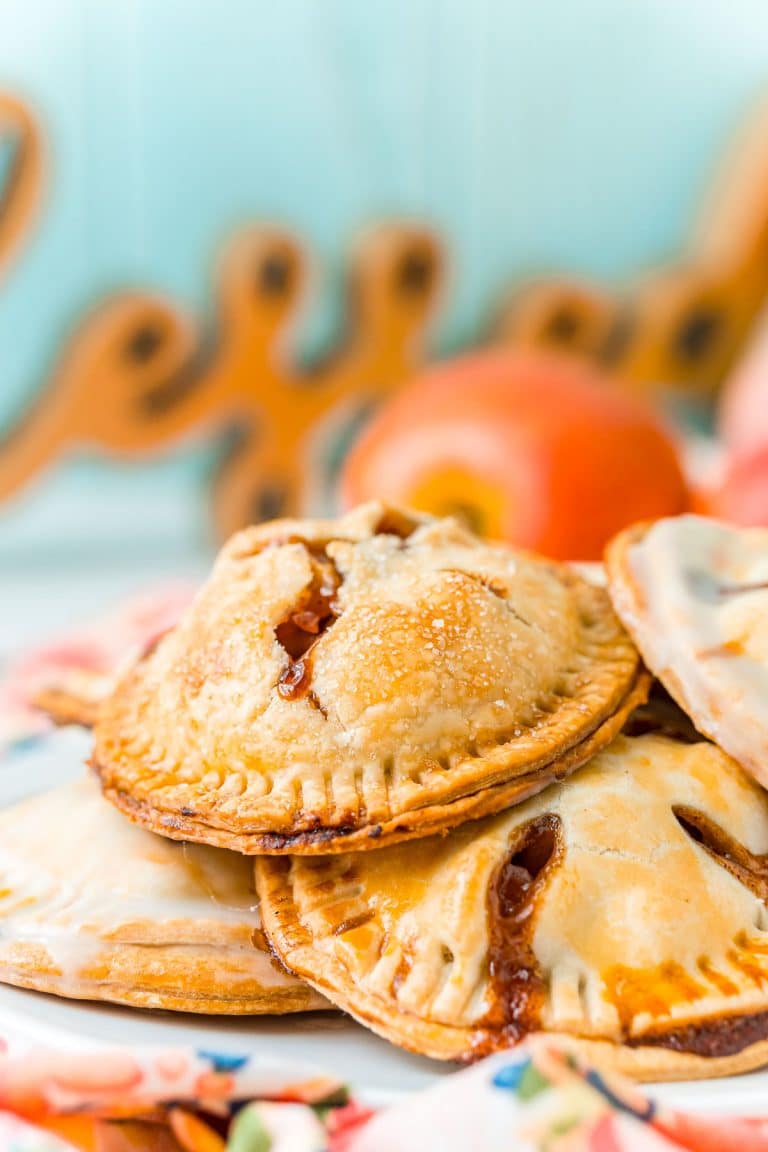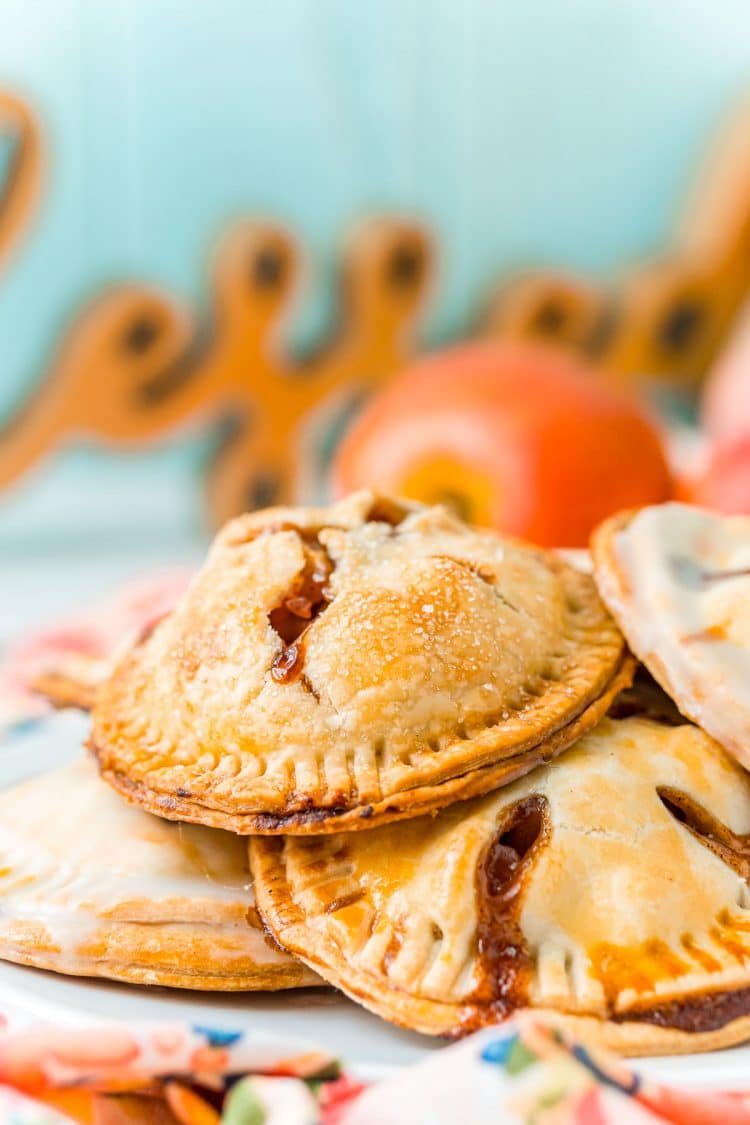 I love early fall, it's my favorite time of year. The nights are chilly and the days are warm. But best of all, the leaves are just beginning to burst with robust shades of red and orange.
This year, I'm even more excited because we get to start new family traditions now that Evie girl is around. I guess technically she was here last fall, but now that she's 1, she's leveled up and can enjoy Pumpkin Chocolate Chip Cookies and Apple Hand Pies — on occasion, of course.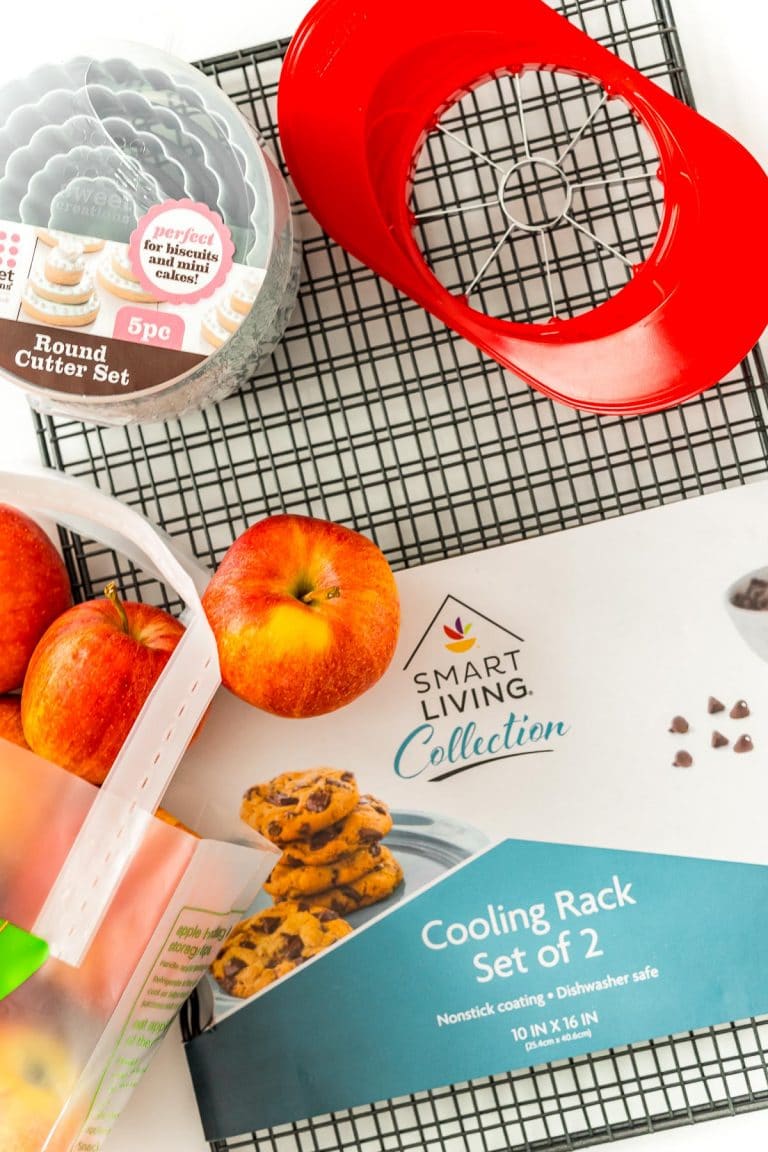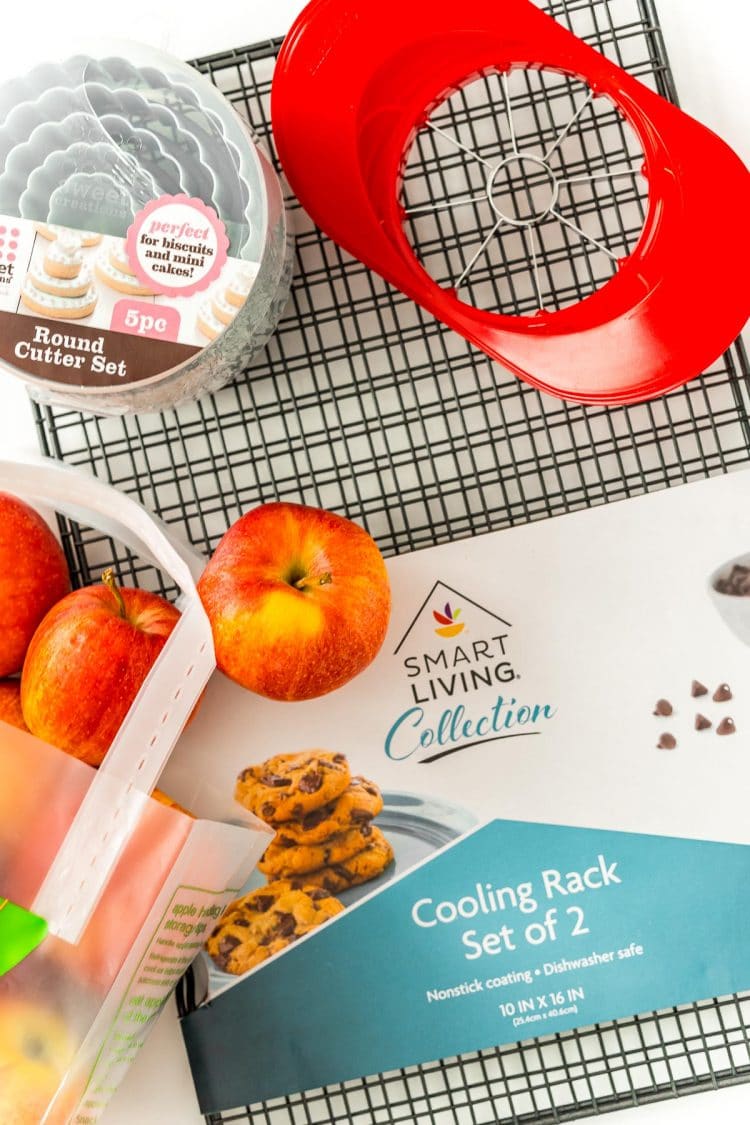 This recipe is so easy to make. You can keep it simple by using store-bought crust or make you own from your favorite recipe!
To make this recipe, you'll need a few tools like a round cookie or biscuit cutter as well as a rolling pin, paring knife, wire rack, and a silicone mat or parchment paper.
How To Make Hand Apple Pies
You'll begin by preparing and precooking the apple mixture. You'll add your diced apple, brown sugar, butter, lemon juice, and spices to a medium saucepan. Cook for a few minutes over medium heat before adding water and cornstarch to thicken the apple pie filling.
Next, you'll need to prepare the pic crust by cutting circles out of the larger crust. Half of your circles will need to have slits cut in them to vent while baking.
Then assemble your apple hand pies by arranging your bottom crusts on the baking sheet and adding 2 tablespoons of filling and adding the top crust. Crimp the edge with a fork to secure. Then whisk together the egg and milk and brush the top of each pie with egg wash. Bake until pies are golden brown.
This last step is completely optional. But if you want a delicious sugary glaze on the outside of your apples, prepare it and dip the tops in then allow the glaze to harden completely.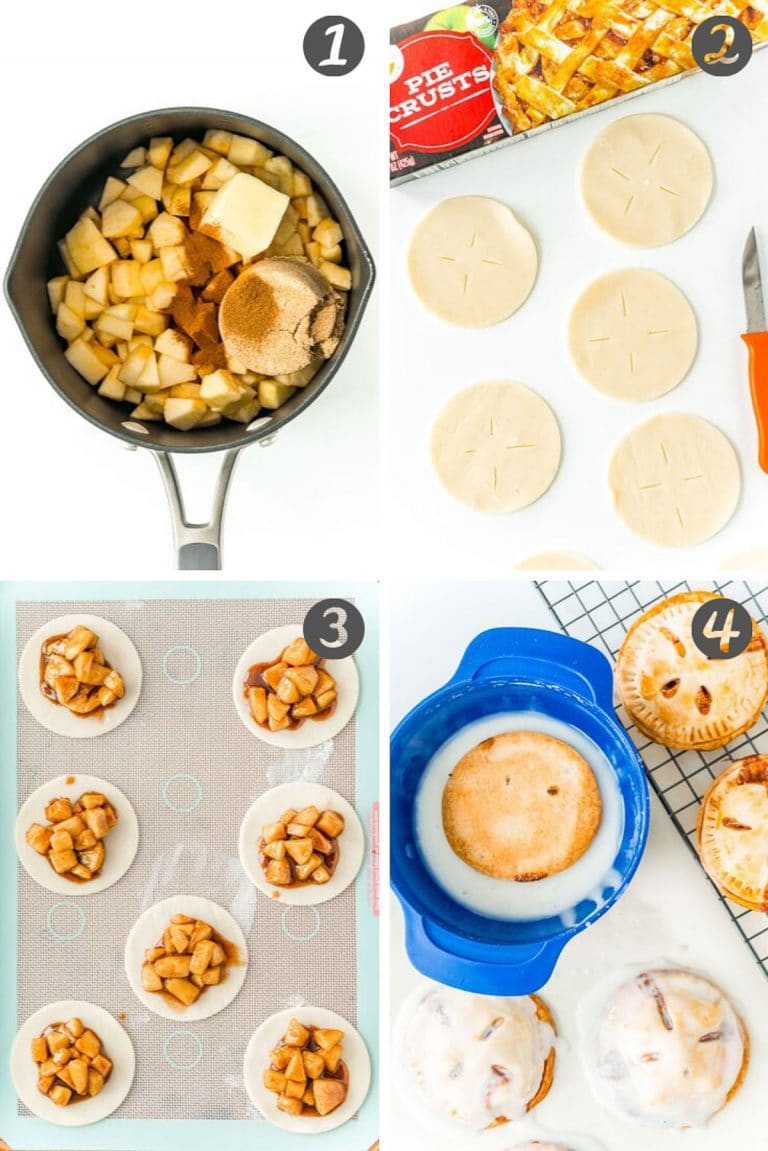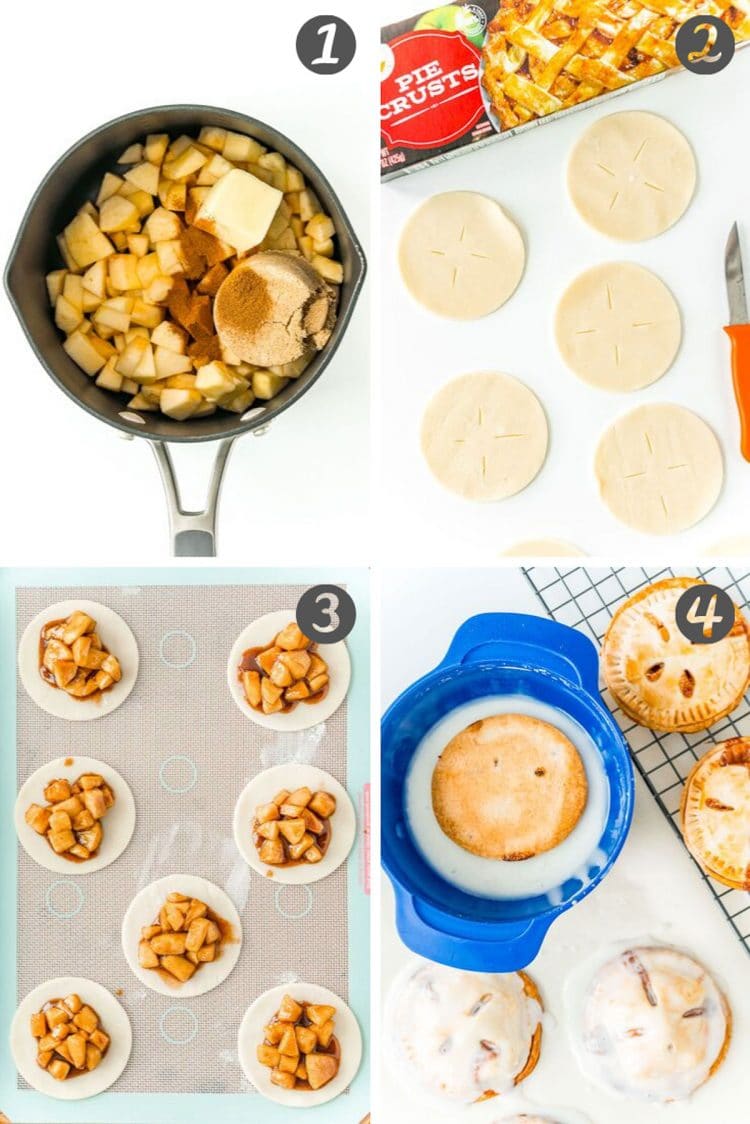 Tips For Making Apple Hand Pies

1. While you could just use uncooked apples, cooking them for a few minutes before baking helps them soften and infuses the spices, plus it helps make the filling a little gooier. YUM!

2. If using a store-bought crust, let it sit in the package at room temperature for 10 to 15 minutes to make it easy to work with. Lightly flour a clean surface and roll your dough out using a rolling pin and gently working out any cracks in the dough.

3. If you want the glaze to set faster, you can place the pies in the fridge for 10 to 15 minutes.
What Is The Difference Between A Hand Pie And A Turnover?
Turnovers and hand pies are very similar, but the biggest difference between the two is the crust. Turnovers are often made with puff pastry dough, or sometimes pie crust.
Also, turnovers are made with a folded piece of dough — like a calzone — so it looks like a half-moon shape. Hand pies are usually circular all the way around.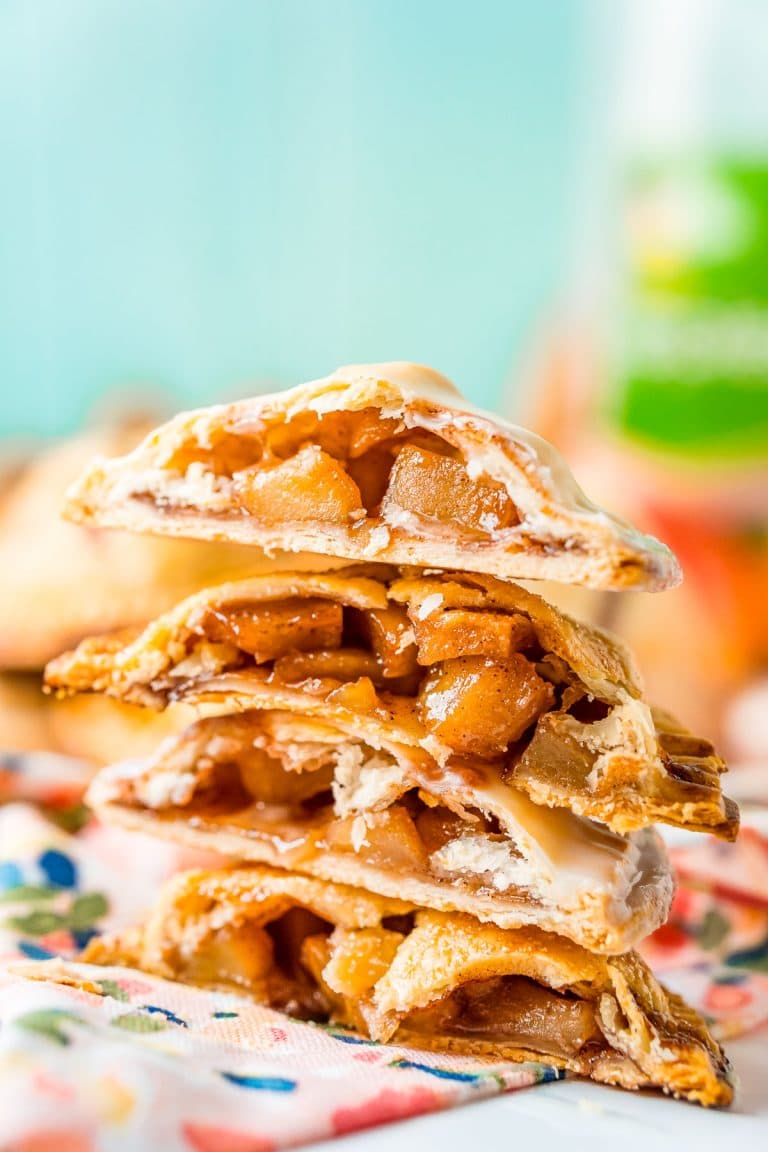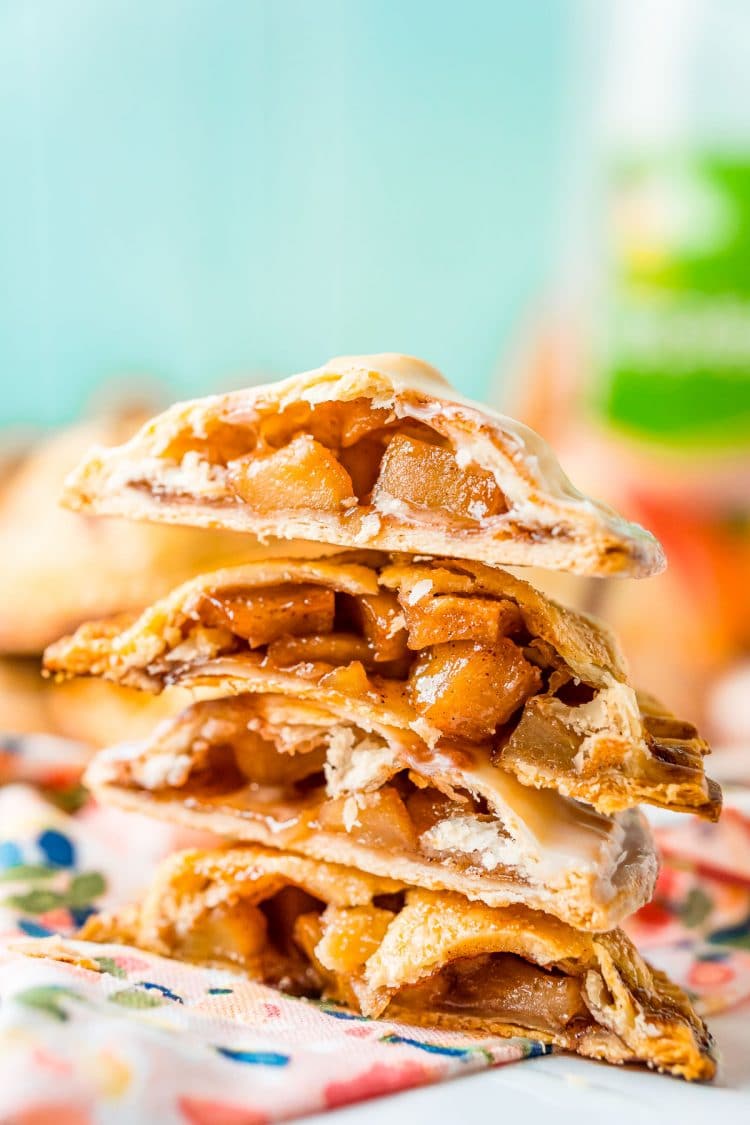 In the name of simplicity, I usually pick up all my kitchen essentials (and more) at the Amesbury, Massachusetts Stop & Shop.
In addition to my Apple Hand Pie ingredients, I snagged a bunch of other things that weren't my list, too. Like some pumpkins and mums for decorating our patio.
After all, Stop & Shop is my one-stop shop for all my pantry staples and fresh-picked decor. Everything is so easy to find, and even better, they offer great prices.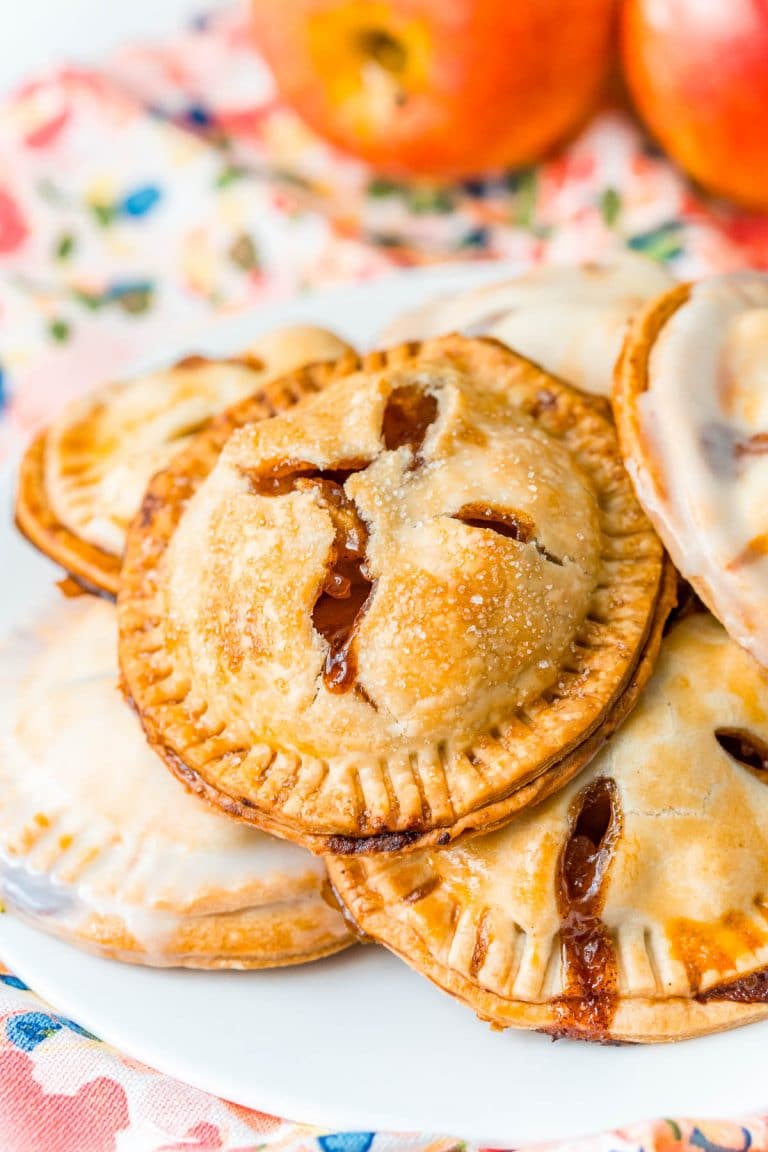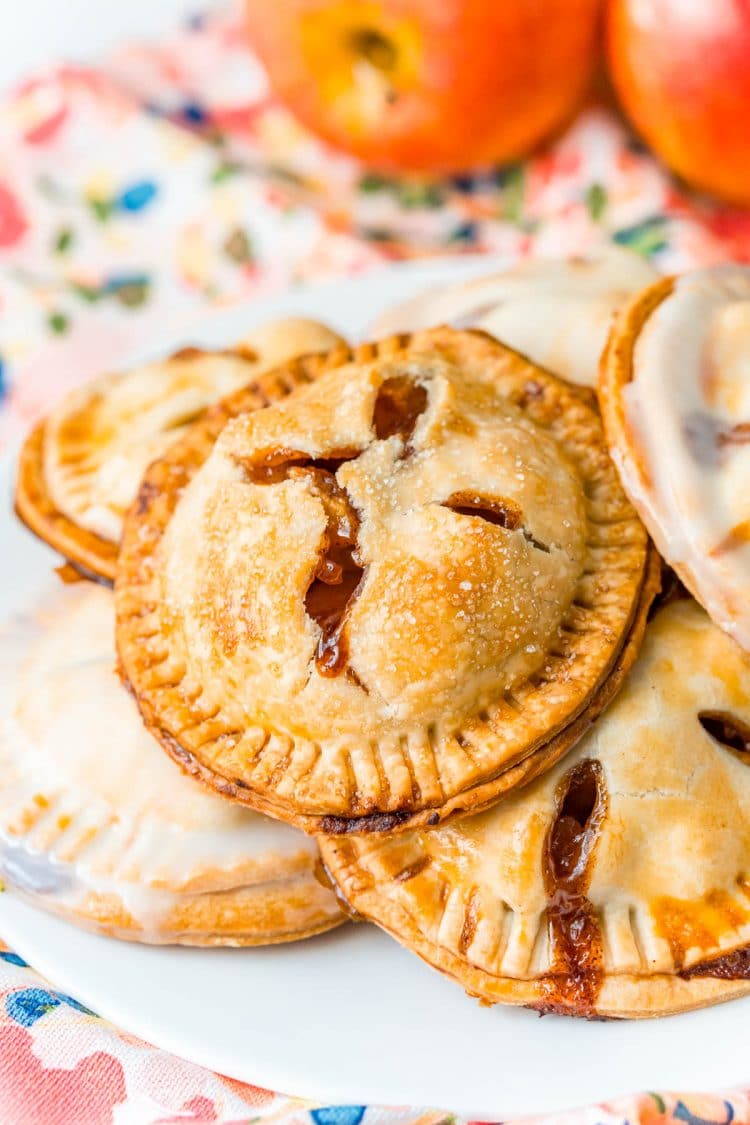 That means I save time and money with every trip, two things I really need, especially with a toddler on my hands.
In no time, the house will be filled with the aroma of cinnamon and apple spice from this Apple Hand Pie Recipe. Once I have my mums by the door and pumpkins on the steps, we'll definitely be feeling the fall spirit!
Then, we'll eat pie and hunker down for the rest of the evening. These are the memories I can't wait to share with my little girl! She's already growing so fast. Thanks to Stop & Shop, I know I'll be spending less time at the store and more time with family doing the things we love!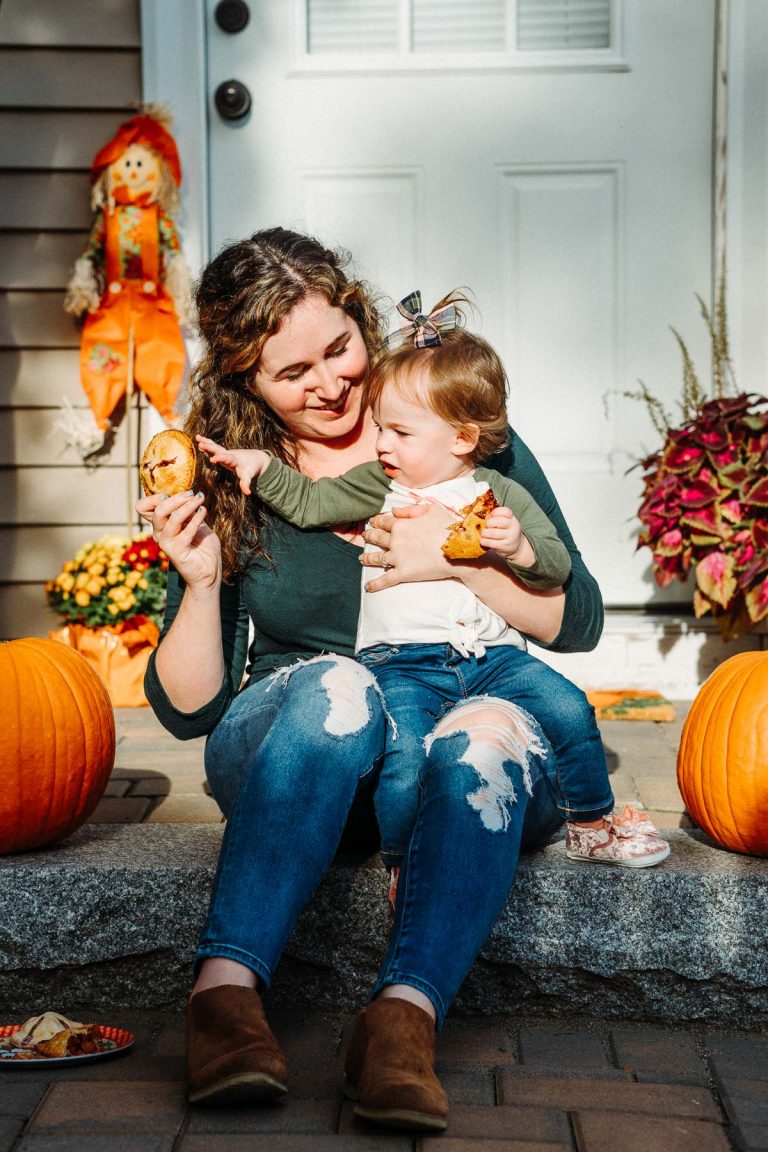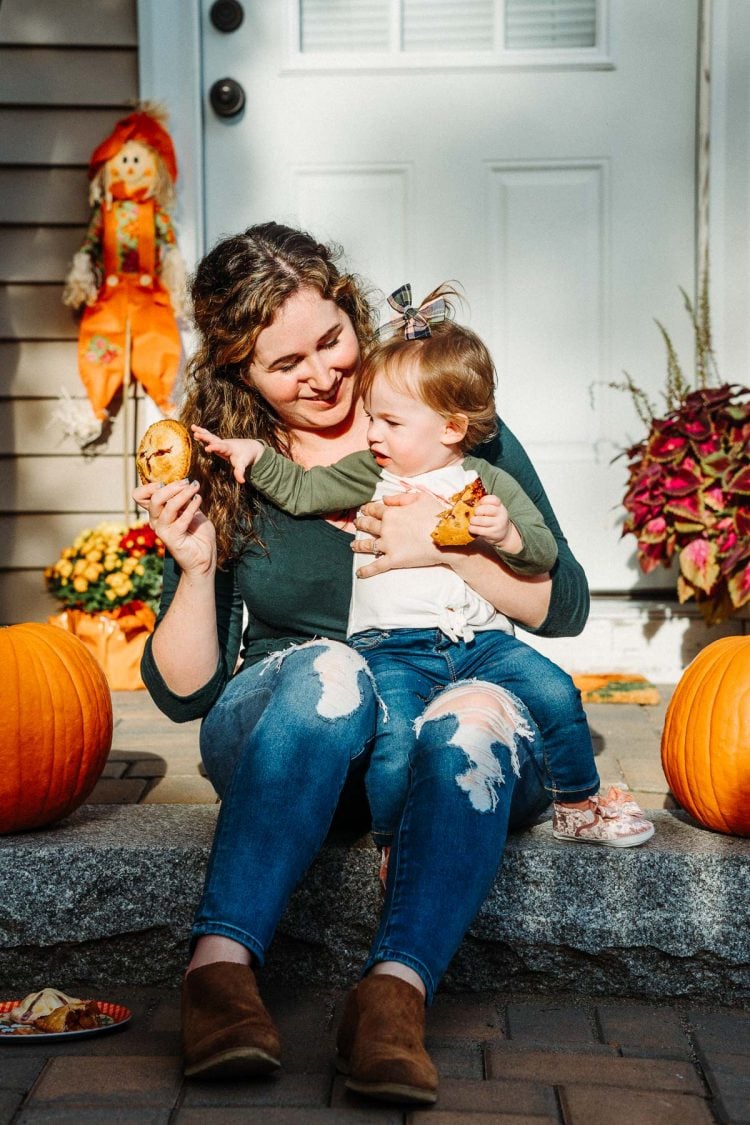 👋 Let's Connect!
If you've tried this recipe, please let me know how you liked it in the comments below and leave a review; I love hearing from you! And don't forget to tag me – @sugarandsoulco – on Instagram and Pinterest with your photos or join our Sugar & Soul Show-offs Community and share them there, where you can join our recipe challenges and win prizes!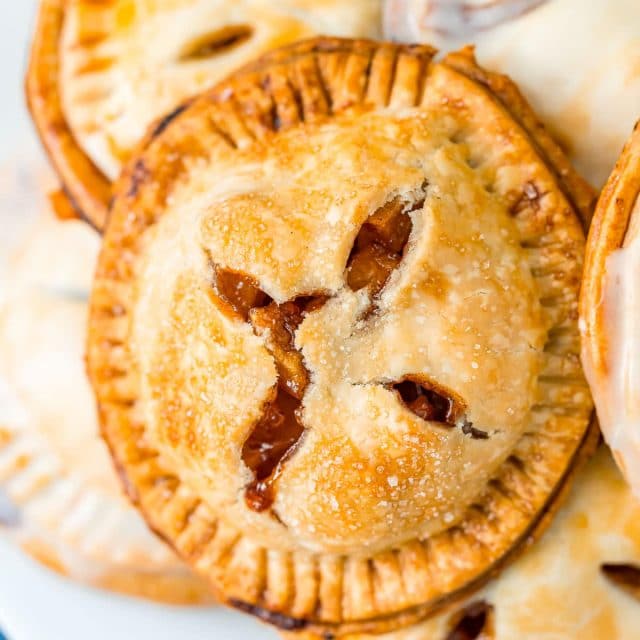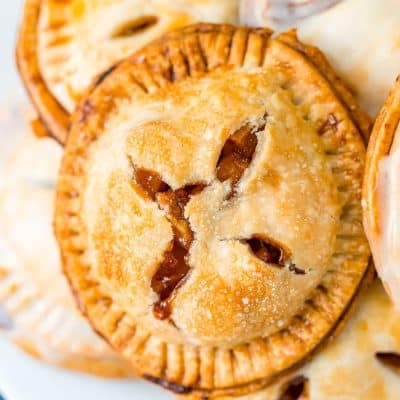 Apple Hand Pies
Apple Hand Pies are an easy and fun fall dessert recipe that's loaded with a thick spiced apple filling and can be topped with sugar or a glaze for a delicious finish!
Ingredients
Instructions
Preheat oven to 375°F and line a large baking sheet with a silicone baking mat or parchment paper.

Prepare your favorite pie crust recipe according to the directions OR pull your refrigerated pie crusts out of the fridge to sit for about 10 minutes before unpackaging and cutting.

Add the diced apples, brown sugar, butter, and spices to a small saucepan and cook over medium heat for about 4 minutes, stirring occasionally.

In a small bowl, mix together the cornstarch and water and add to the apple mixture and cook for another minute.

Turn off heat and allow the filling to sit for a few minutes while you prepare the crusts. Roll your crusts out and use 3½-inch round cookie cutters to cut out circles of crust. The pie crusts should yield about 28 circles. Cute small slits in half of the circles with a paring knife.

Place the uncut pie crust circles on the prepared baking sheet (you might have to bake in two patches). Spoon about 2 tablespoons of apple pie filling into the center of each.

Beat together the egg and milk in a small bowl and use a pastry brush to coat the edges of the crust around the filling with eggs wash.

Top with the cut circles and use a fork to press the edges together. Brush the tops of the pies with egg wash and top with sugar, if desired.

Bake for about 24 to 27 minutes or until the pies are golden brown. Remove from oven and allow to cool on a wire rack for 20 to 30 minutes before dipping in the glaze (optional).

To make the glaze, whisk together the powdered sugar and water. Then dip the tops of the pies in the glaze and place them on a parchment-lined surface.3
Notes
You can use store-bought crusts or you can use your favorite crust recipe.
You should have about 2 cups of diced apples. I like to use Gala, Honeycrisp, or Granny Smith.
If you want the glaze to set faster, you can place the pies in the fridge for 10 to 15 minutes.
Nutrition
Calories: 352kcal | Carbohydrates: 52g | Protein: 4g | Fat: 15g | Saturated Fat: 5g | Cholesterol: 17mg | Sodium: 208mg | Potassium: 106mg | Fiber: 2g | Sugar: 26g | Vitamin A: 95IU | Vitamin C: 2mg | Calcium: 24mg | Iron: 1mg