These Coconut Champagne New Year's Eve Cupcakes are a must have as you count down til midnight with friends and family!
Last year I made some pretty awesome White Chocolate Raspberry Champagne Cupcakes for New Year's Eve, but I didn't post them on the blog until New Year's Day. At the time I figured it was almost pointless, who was going to want a cupcake recipe when they were starting their resolutions and "being good". It seems like most of you had the same mentality as myself though, and decided you didn't care about the calories and gobbled these cupcakes up over the last year making them the most popular recipe on the blog EVER!
Champagne Buttercream is my all time favorite. I love the way the sugar and fruit essence comes together for a true burst of sophisticated flavor. Not to mention that the champagne makes the buttercream almost iridescent so it's super GORGEOUS too!
Yes, I just called a frosting Gorgeous, but it's the truth.
I couldn't let 2015 come upon us without another New Year's Eve cupcake recipe topped with that glorious frosting, but this time I'm giving it to you in advance, you know, so I don't totally murder any hopes of weight loss you might have for January.
So what goes with champagne and what would make for a great cupcake flavor combo. I make a lot of chocolate cupcakes and decided to stick with white cake, but what flavor? I've done so many and I'm always trying to dream up something a little different. That's when it hit me, instead of using a champagne with berry essence, let's switch it out for something with more of a tropical vibe and do COCONUT!
I know what you're thinking… Coconut and Champagne?
Yes, Coconut and Champagne.
Seriously, it's awesome!
Even one of my coconut hating friends ate these beauts right up!
Even though most of the holiday season has passed, it's still a little crazy. We're all trying to get back in some sort of routine while still trying to fit in family gatherings. That's why I decided to make these cupcakes much simpler than my standard recipe. I almost always start with a box cake mix and build it to make it better. I do the same here, I just didn't do as much building. A simple white cake with coconut milk and extract makes for the perfectly fluffy vessel for that insanely delicious and smooth champagne buttercream!
Ingredients
Frosting:
1

cup

2 sticks Unsalted Butter (room temp)

4 - 5

cups

Confectioners' Sugar

3- 4

tbsp

Barefoot Bubbly Moscato Champagne

Gold Sprinkles
Instructions
Cupcakes:
Preheat oven to 350 F.

Line cupcake pan with liners.

Combine cupcakes ingredients in a large bowl or stand mixer and beat until well combined.

Fill cupcake liners 2/3 of the way full.

Bake for 15-18 minutes or until toothpick comes clean when inserted into the center of a cupcake.

Remove from oven and allow cupcakes to cool in pan for a couple of minutes.

Transfer to a cooling rack and allow to cool completely before frosting.
Frosting:
Cream butter.

Add confectioner's sugar a ½ cup at a time.

Beat on high for about 3 minutes, frosting should be fluffy and smooth.

Add champagne and beat for 2 more minutes.

Frost cupcakes.

Dust frosting with shredded coconut and gold sprinkles.
Notes
If using a different white cake mix, just replace the amount of water with coconut milk and use the amount of egg whites indicated on the back of the box.
You might also like: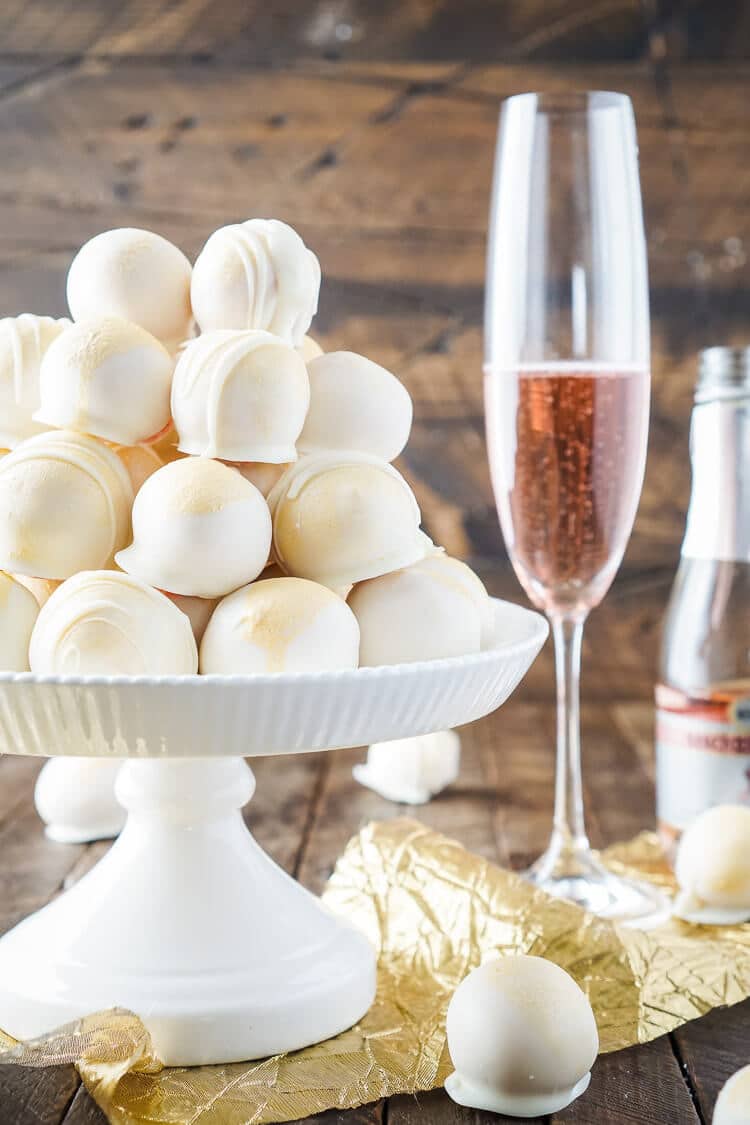 Strawberries & Champagne Cake Balls