Espresso with Tonic Water is a simple summer coffee drink made with espresso, tonic water, and fresh citrus.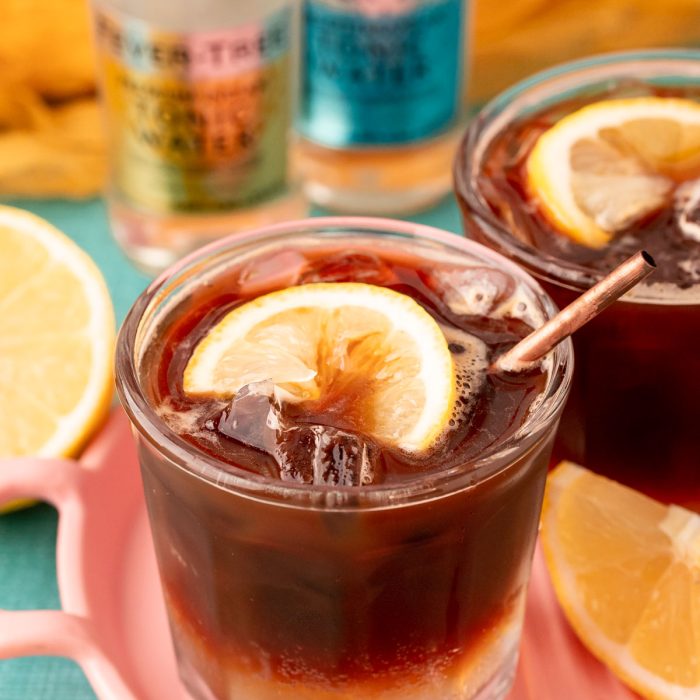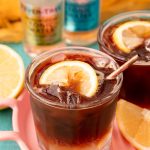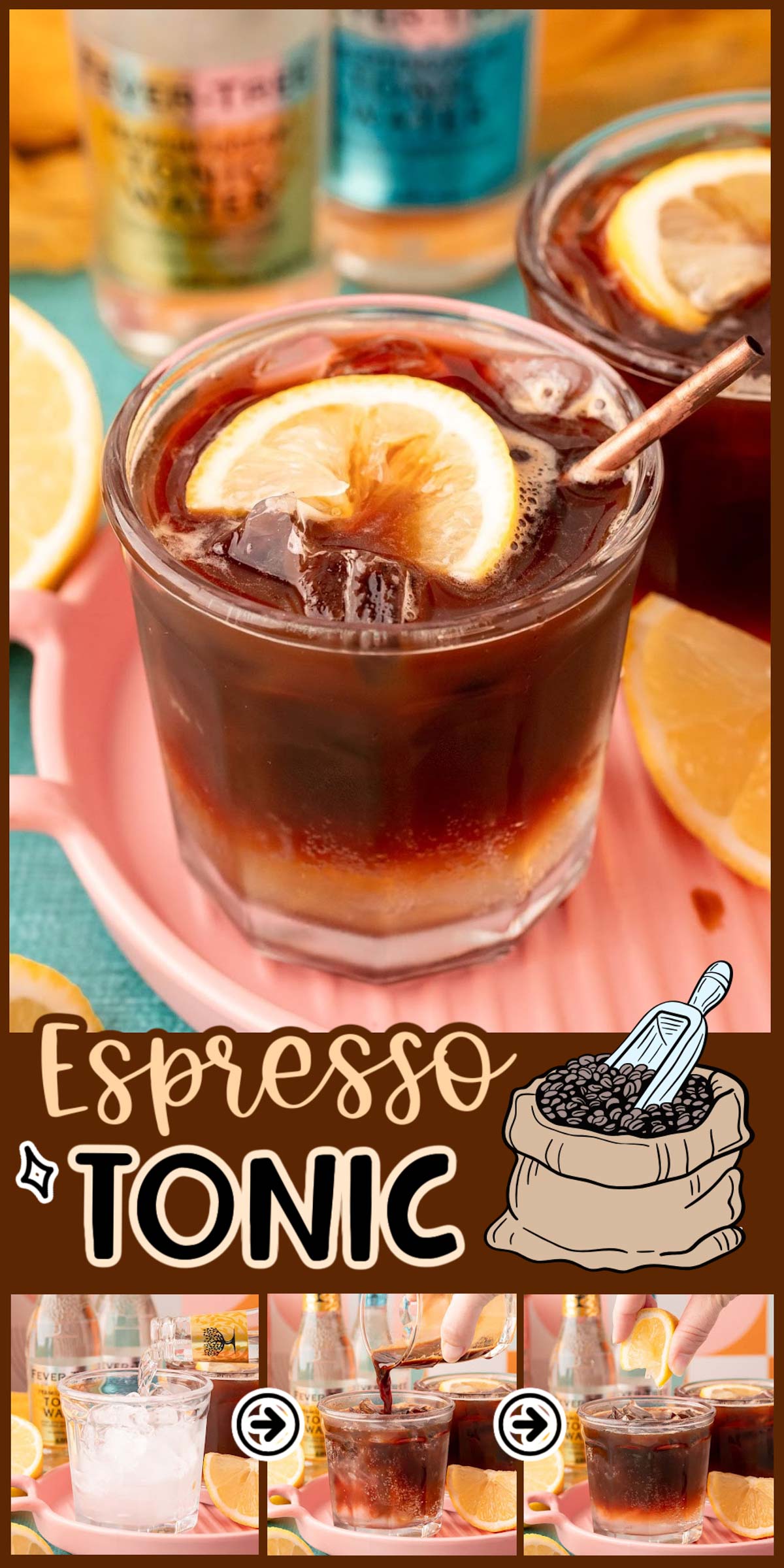 Espresso with Tonic Water is a cold bubbly coffee drink with a bittersweet yet zesty and refreshing flavor that will quickly become your go-to drink of summer! Simple to make and even easier to drink!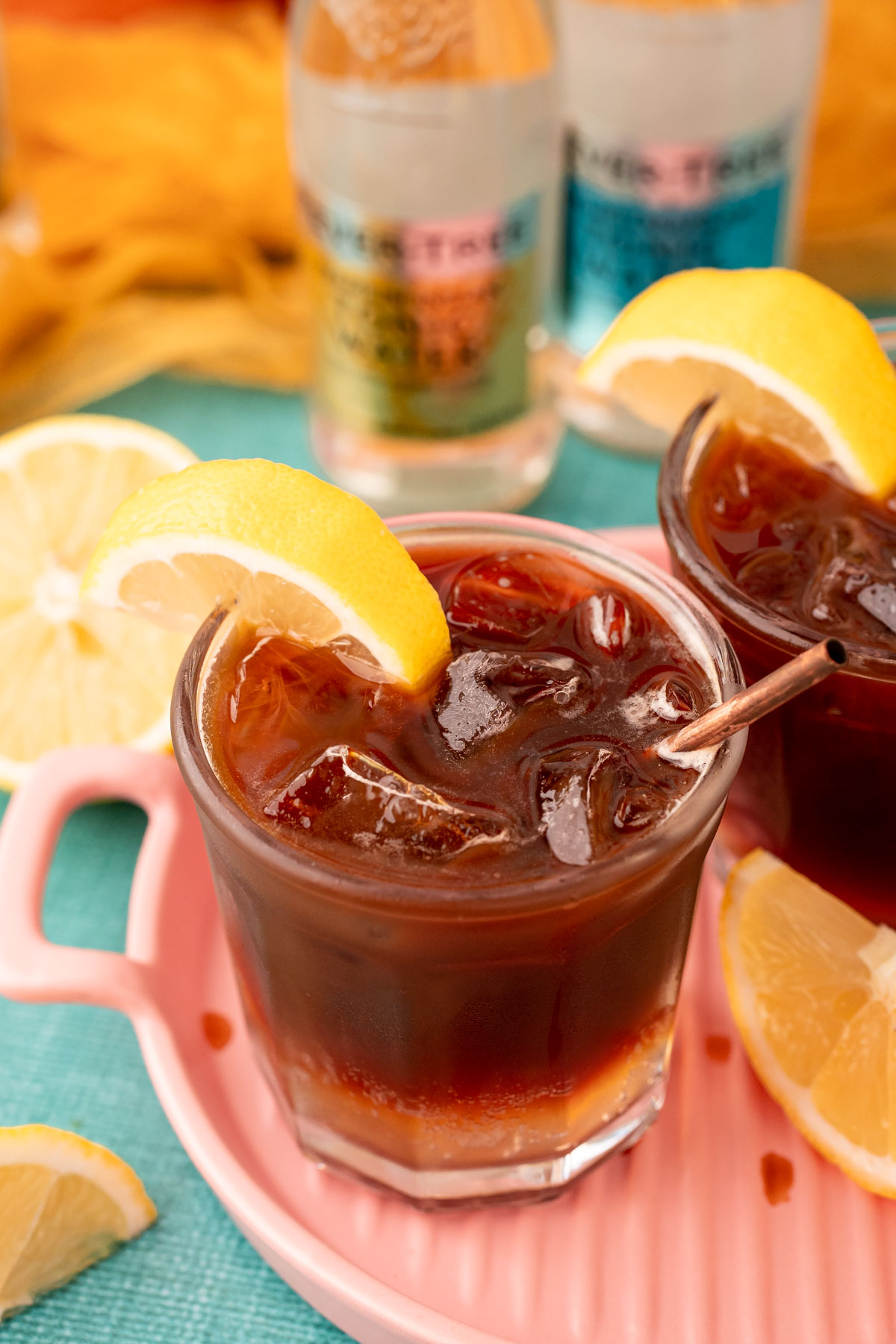 Espresso and Tonic: An Unlikely But Delicious Duo
This Espresso with Tonic Water will have you pushing your favorite iced coffees to the back burner after the first sip! This unlikely but delicious duo has a sweet, slightly bitter flavor profile with a citrus flare from a squeeze of fresh lemon, lime, or orange juice!
However, this coffee mocktail is quick and simple to customize no matter how you prefer your cup of caffeine. This light and easy coffee drink is the perfect midday pick-me-up or after-dinner sipper as you visit with friends and family!
What Is An Espresso Tonic?
An Espresso Tonic is a simple chilled coffee drink that's made with espresso and tonic water. It's served over ice in layers and can be topped with a squeeze of lime or lemon juice.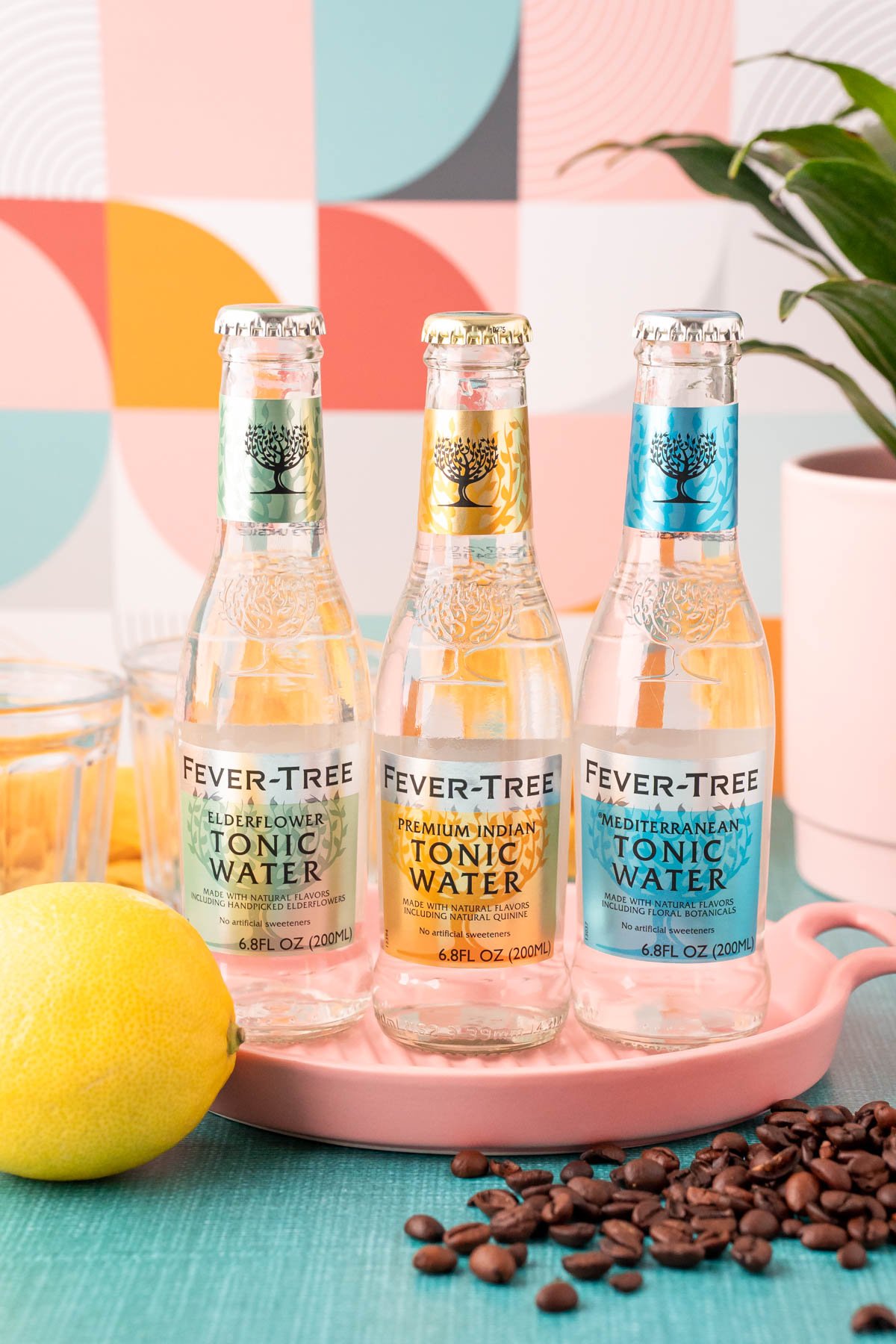 What You'll Need To Make A Tonic Espresso
Espresso
Tonic
Ice
Lime Or Lemon Juice
As you can see, all that's needed are simple and minimal ingredients to create this fun yet delicious coffee drink! An espresso machine is the easiest way to make this Espresso Tonic. However, a Nespresso will also work too.
You can also just use a bold roast in a French press or cold brew concentrate. Instant espresso is also a great option if you're really in a pinch!
For a perfectly chilled Espresso Tonic, be sure to brew the espresso ahead of time and allow it to chill in the fridge before serving.
Substitutions and Variations
Decaf Option – Use decaf espresso or a decaf cold brew option to make a Decaf Espresso Tonic.
Flavored Syrups – Feel free to use your favorite flavored coffee syrups to mix up an Espresso Tonic that you'll love! Vanilla or caramel would both be delicious flavors for an Espresso Tonic variation!
Fruity Espresso Tonic – Use flavored syrups such as Orange Simple Syrup or Raspberry Simple Syrup to create a fruity twist on this Espresso Tonic!
Sweetener – For a sweeter Espresso Tonic, add liquid sweeteners such as Simple Syrup, maple syrup, or agave to taste.
Alcohol – Add a splash of vodka, whisky, gin, or Kahlua for an easy Espresso Tonic Cocktail.
How To Make An Espresso And Tonic
Step 1: Add ice to a tall glass and pour in the tonic.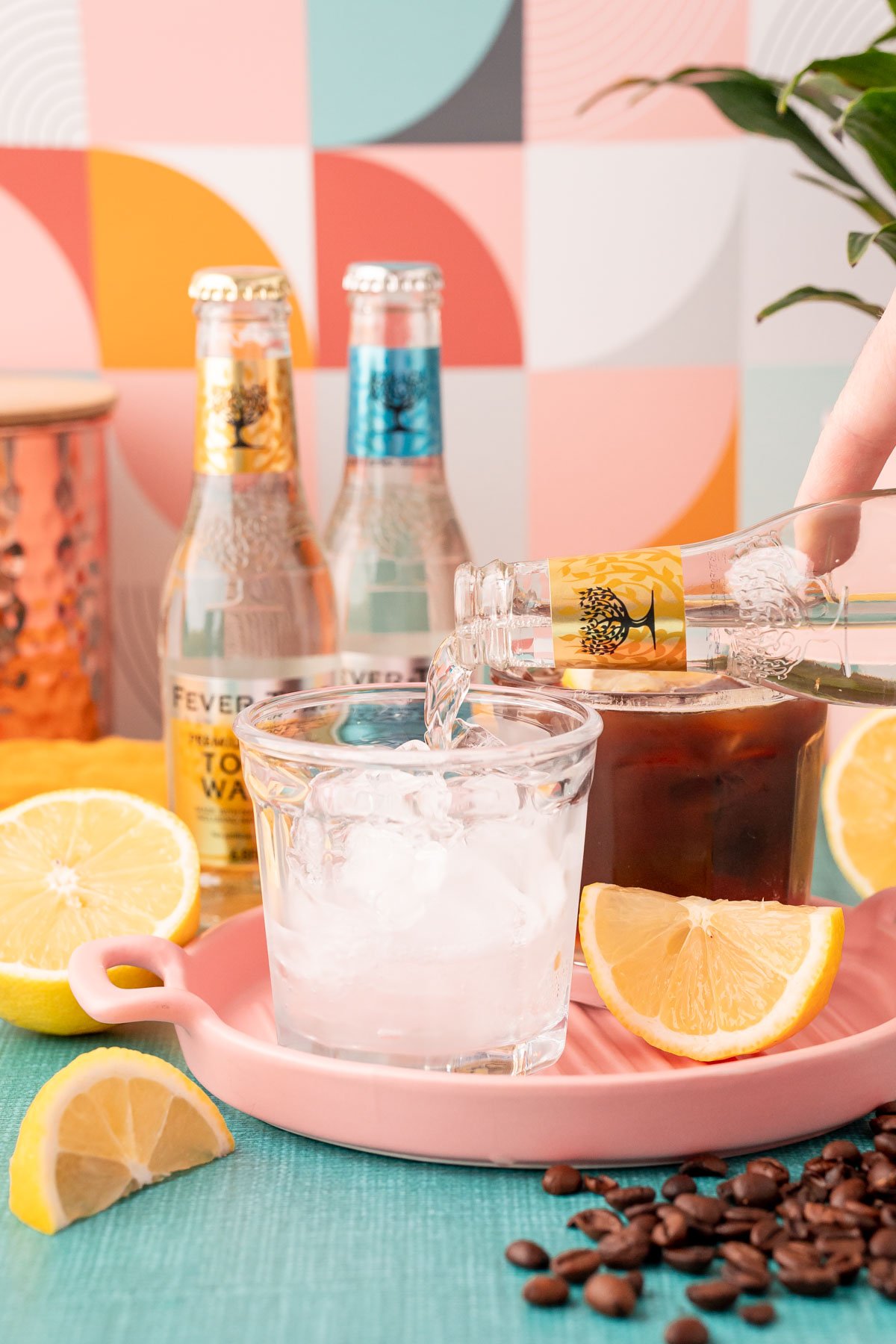 Step 2: Top with a double shot of espresso.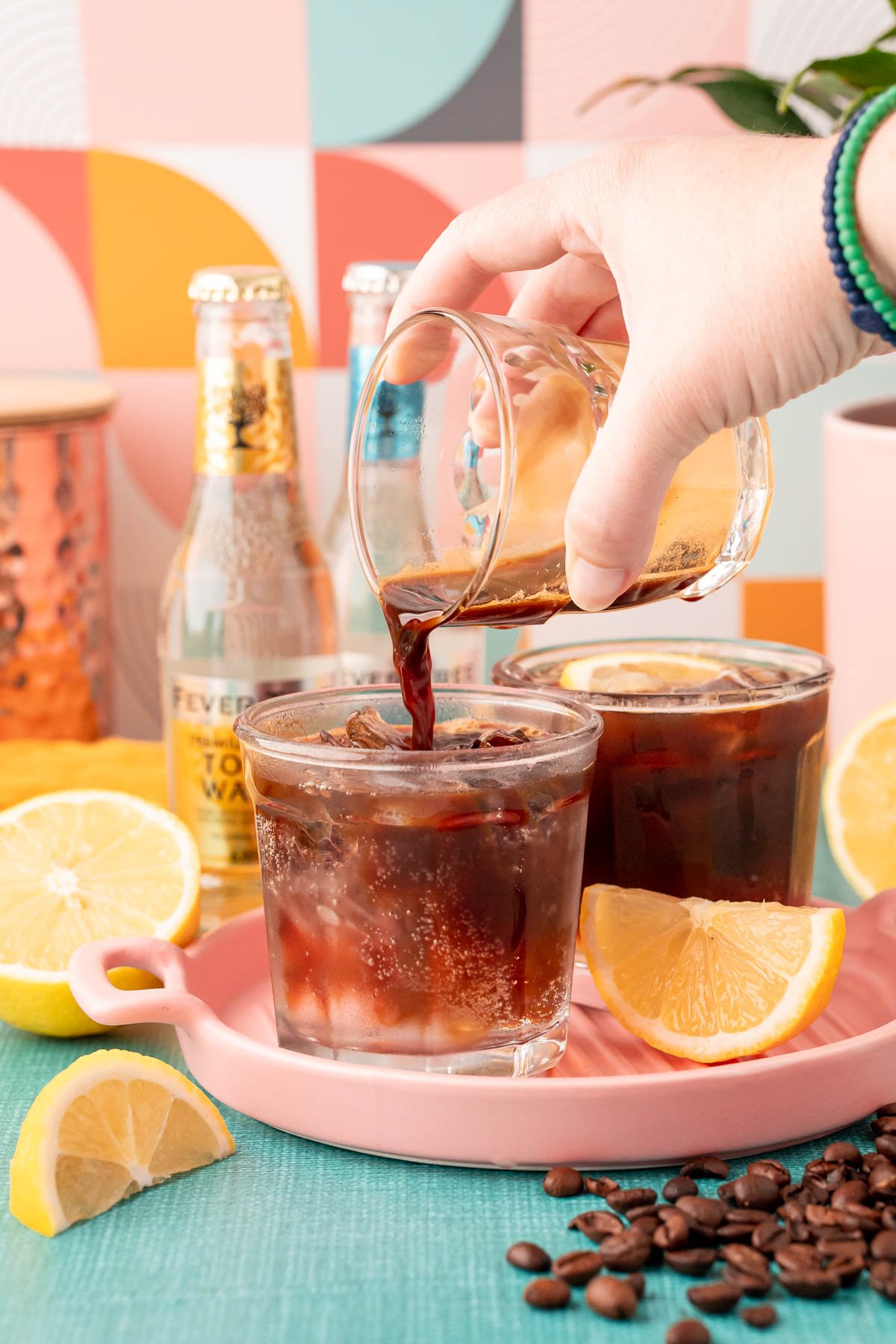 Step 3: Squeeze in a bit of lime or lemon juice if you'd like. Then garnish with a lemon or lime wedge or whipped cream.
We tried five varieties of tonic water, and we enjoyed the espresso tonic made with Fever Tree Mediterranean Tonic Water and a squeeze of lemon juice the most.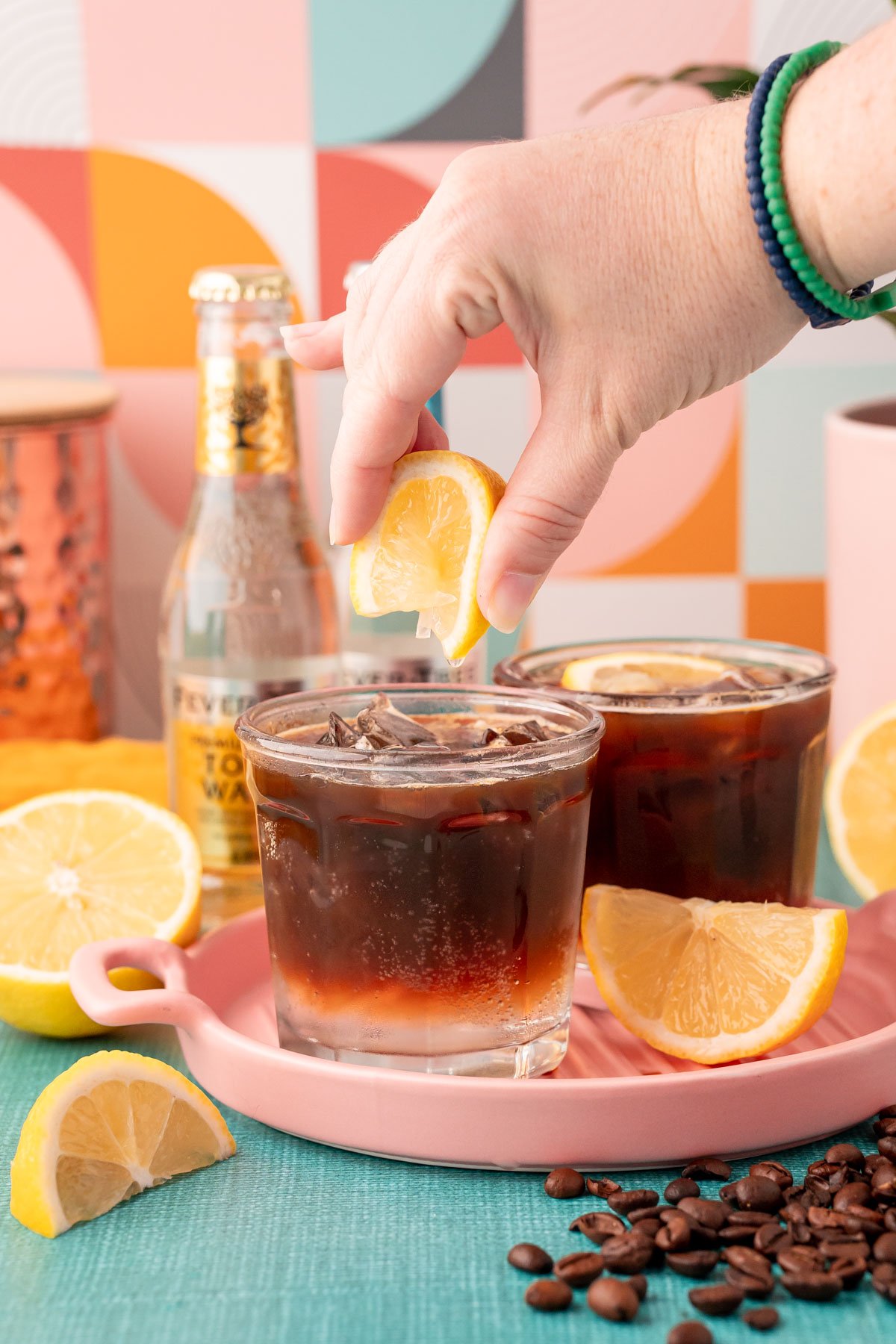 Espresso Tonic Recipe Tips
Chilled Ingredients – Since this coffee mocktail is served over ice, I recommend chilling the tonic water and brewed espresso before mixing and serving.
Ratio – Feel free to use as much or as little espresso and tonic as you want to create a drink that you'll love!
Layering – To achieve the layered look, be sure to pour the tonic in first and then top with the espresso layer. As the espresso sits on top of the tonic water, it will seep down through, giving it a fun appearance!
Flavoring – When mixing up flavored coffee tonics, I suggest adding a dash of syrup at a time until you find the perfect taste. Too much syrup could ruin the Espresso Tonic for you!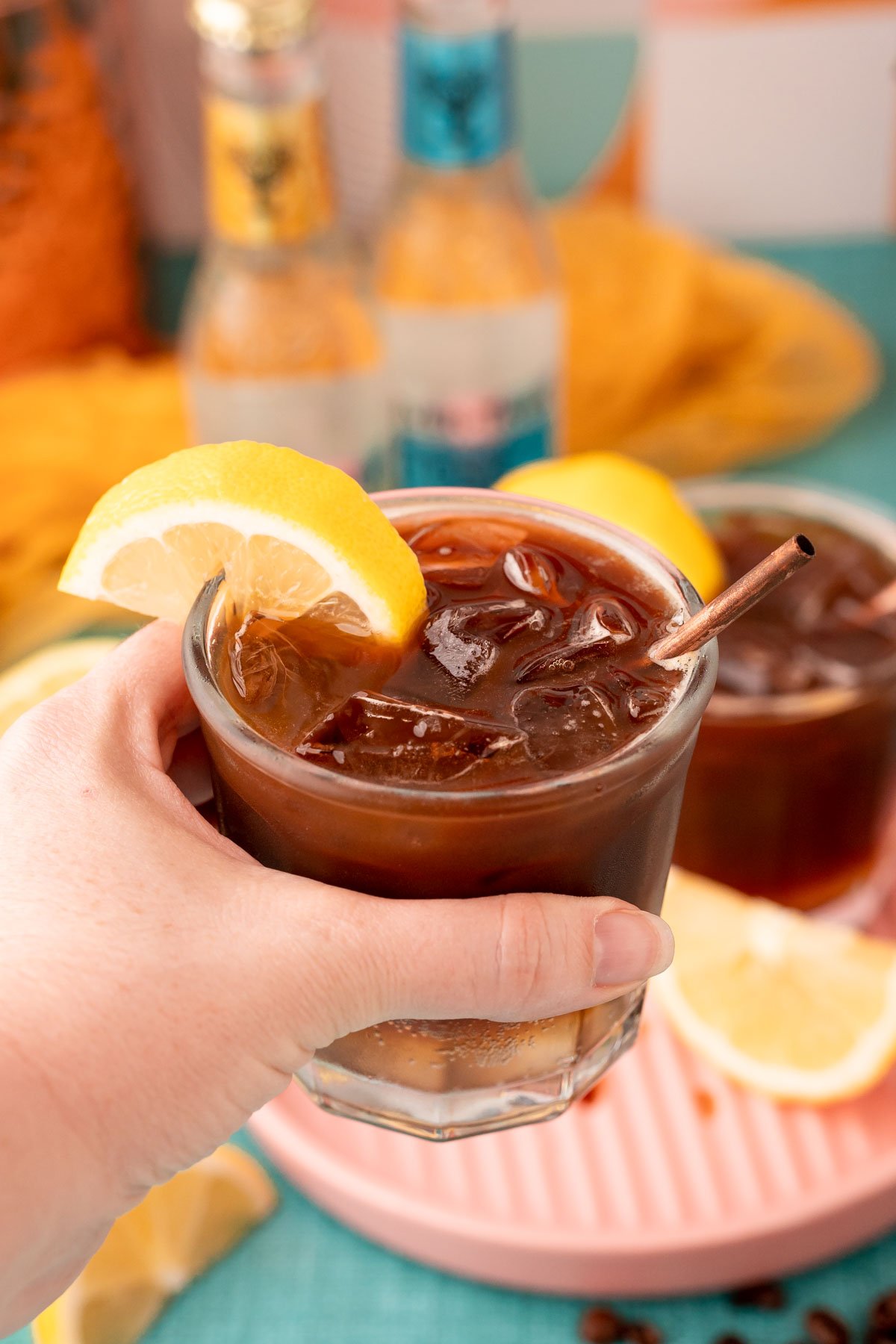 Ways To Serve Espresso Tonic
An Espresso Tonic can be served as a layered drink, or you can gently stir before serving if you'd like. Just be careful not to stir over, or the tonic water will lose some of its carbonation.
Espresso Tonic Recipe FAQs
How to drink espresso tonic?
Espresso Tonic is best enjoyed ice cold! Therefore, serve it with chilled ingredients over ice.
What's the history of the Espresso Tonic?
The Espresso Tonic originated in 2007 from a barista at Koppi Roasters. It then exploded in popularity by way of barista competitions. By 2014, the popular espresso drink could be found on menus at cafes in San Francisco and New York City.
Why did my Espresso Tonic foam up?
The Espresso Tonic may have foamed up if the drink was assembled out of order. Be sure to pour the tonic in first and the espresso second.
If it was layered correctly, then the espresso may have been poured onto the tonic too quickly.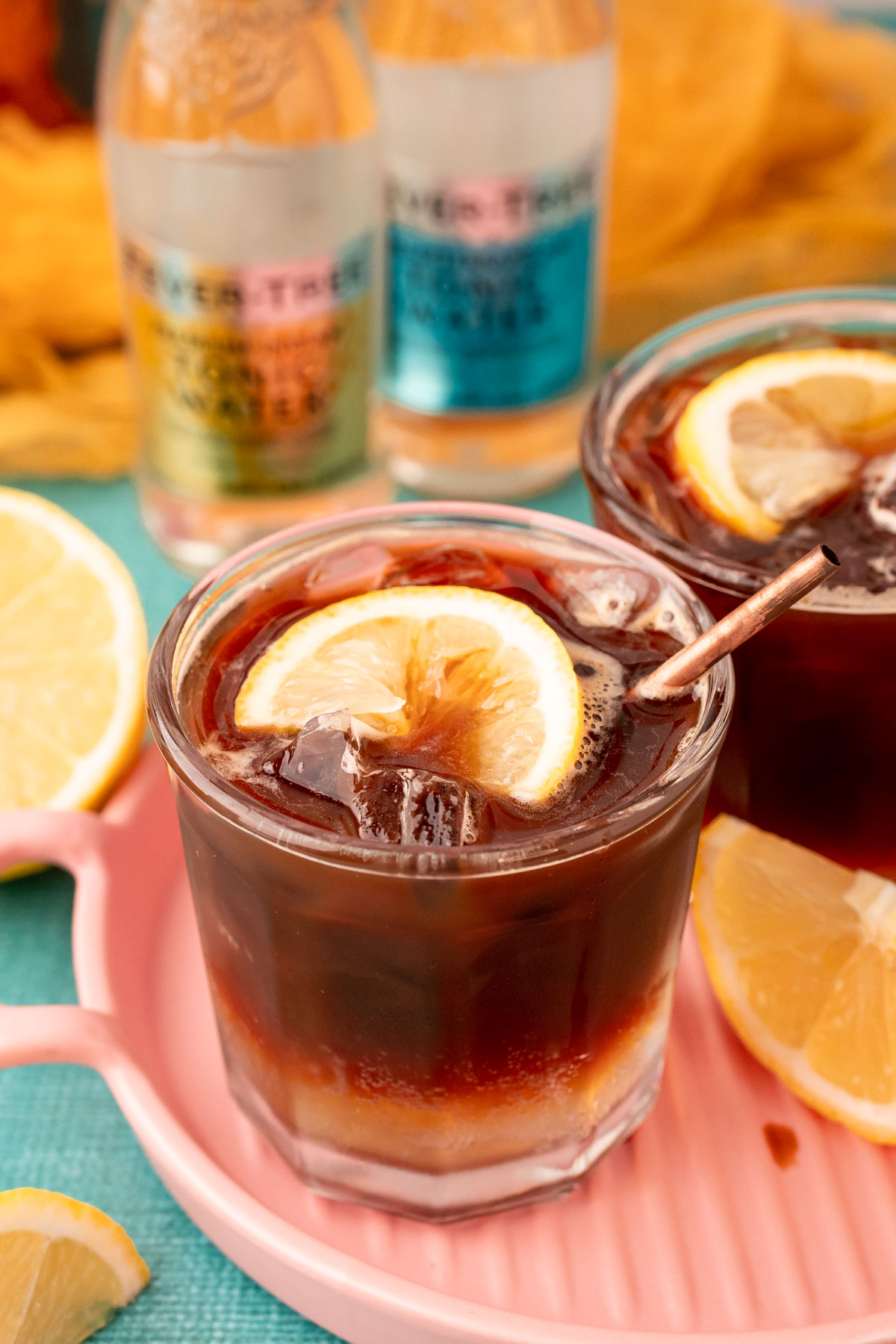 More Espresso Recipes
👋 Let's Connect!
If you've tried this recipe, please let me know how you liked it in the comments below and leave a review; I love hearing from you! And don't forget to tag me – @sugarandsoulco – on Instagram and Pinterest with your photos or join our Sugar & Soul Show-offs Community and share them there, where you can join our recipe challenges and win prizes!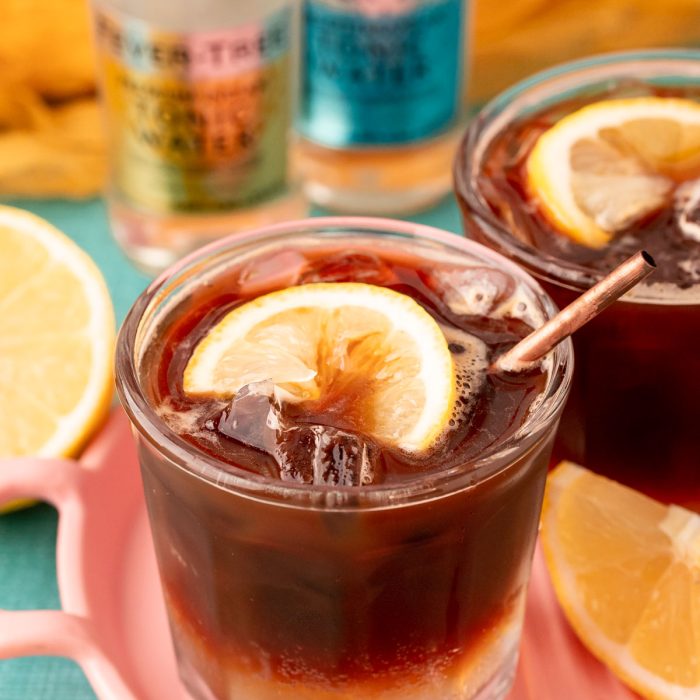 Espresso Tonic Recipe
Espresso with Tonic Water is a simple summer coffee drink made with espresso, tonic water, and fresh citrus.
Ingredients
2 ounces espresso
4 ounces tonic water
1 citrus wedge lemon, lime, or orange
ice
Instructions
Brew 2 ounces espresso and set aside.

Add ice to a glass and pour in 4 ounces tonic water.

Slowly pour in the espresso, then squeeze the 1 citrus wedge into the glass and drop it in.

Stir if desired and serve with a straw or sip.
Nutrition
Calories: 43kcal | Carbohydrates: 11g | Protein: 0.1g | Fat: 0.1g | Saturated Fat: 0.1g | Polyunsaturated Fat: 0.1g | Sodium: 21mg | Potassium: 65mg | Sugar: 10g | Vitamin C: 0.1mg | Calcium: 1mg | Iron: 0.1mg