Black Cat Cupcakes made with Oreos!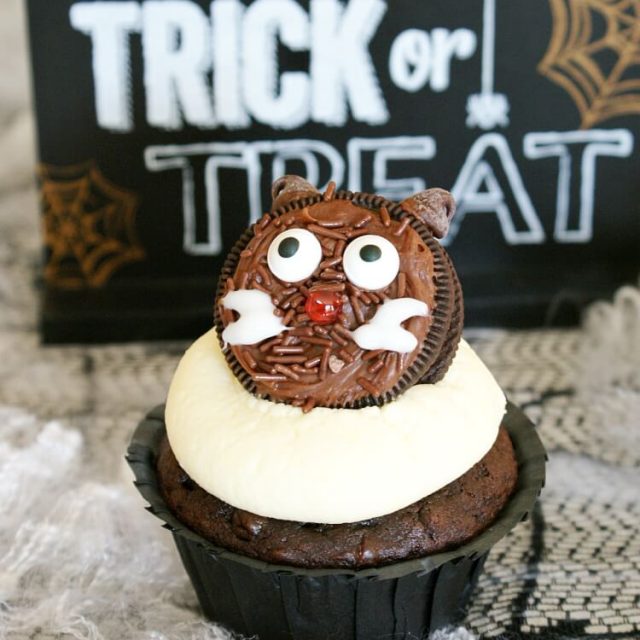 An easy Halloween Snacks party made by spooking up some of your favorite everyday snacks that everyone at the party will love!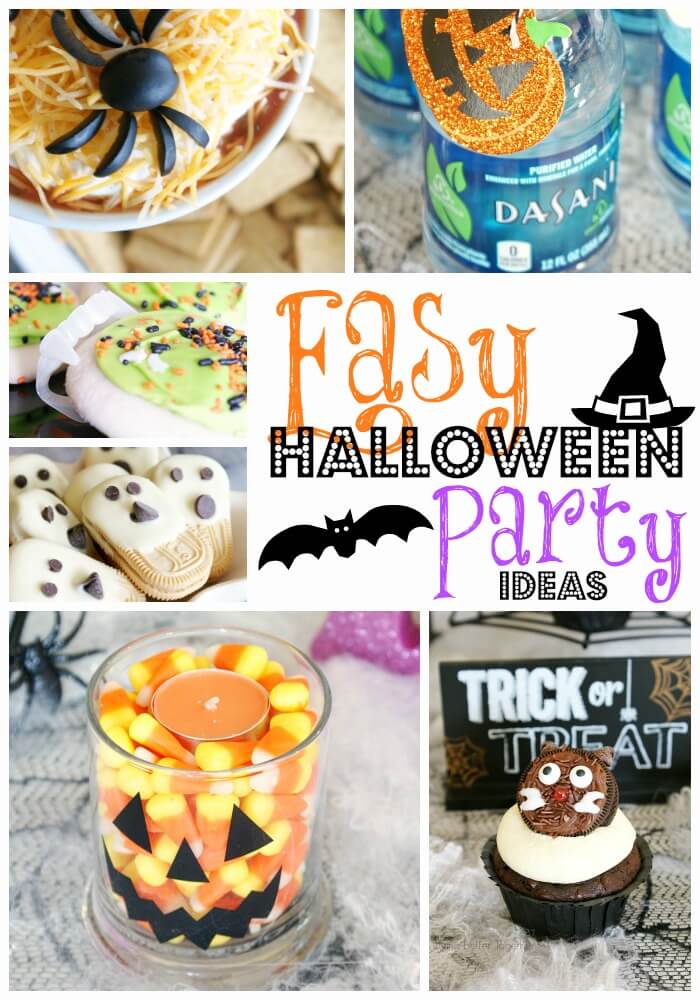 Halloween is sneaking up on us pretty fast, it always seems like the closer we get to the end of the year the faster time flies. We're going to be busy the weekend of Halloween this year and I won't get a chance to make a fun costume like the Effie Trinket one I wore last year. But of course, I'll use any excuse to still throw a party, so we decided to get together with some friends this weekend to enjoy some fun Halloween goodies and get into the Halloween spirit! Because life can be so crazy this time of year, I wanted to keep it simple and decided to do a fun Halloween Snacks spread for the party!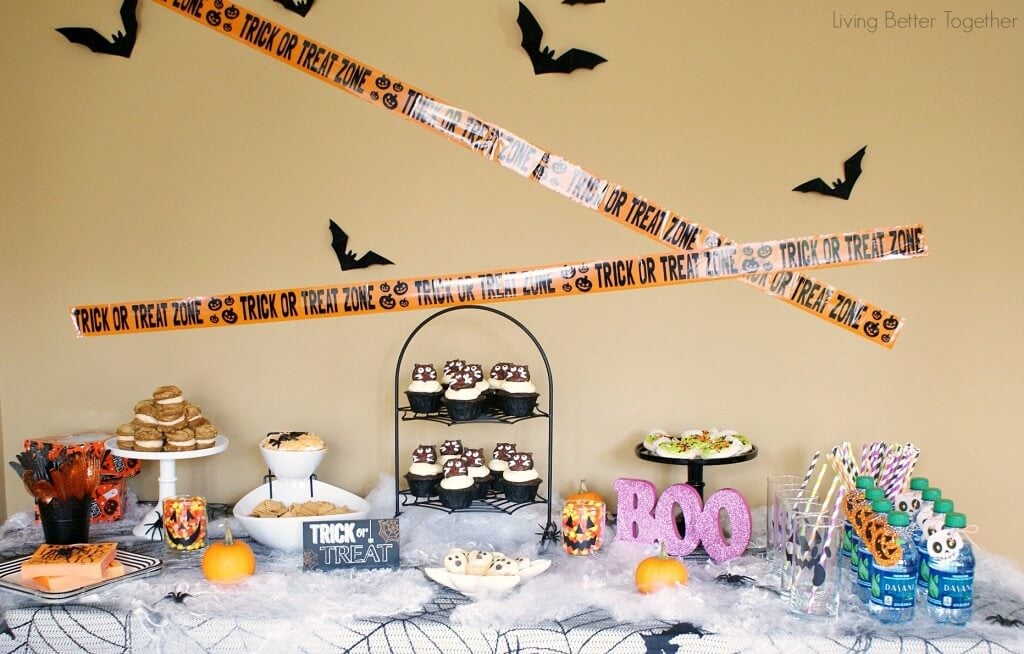 When I plan a party, I like to do my best to keep the stress and the mess down though I don't always succeed, you should see my craft room/office right now… it makes me want to cry. But I at least try and one of my favorite things to do is combine a mix of homemade treats and store-bought ones. These Black Cat Oreo Cupcakes are a bit of a mix of the two, I made my well-loved Dark Chocolate Fudge Cupcakes with a Vanilla Creme Frosting and turned the store-bought Oreos into adorable black cats! You can find everything you'll need as well as a fun step-by-step black cat Oreo video below!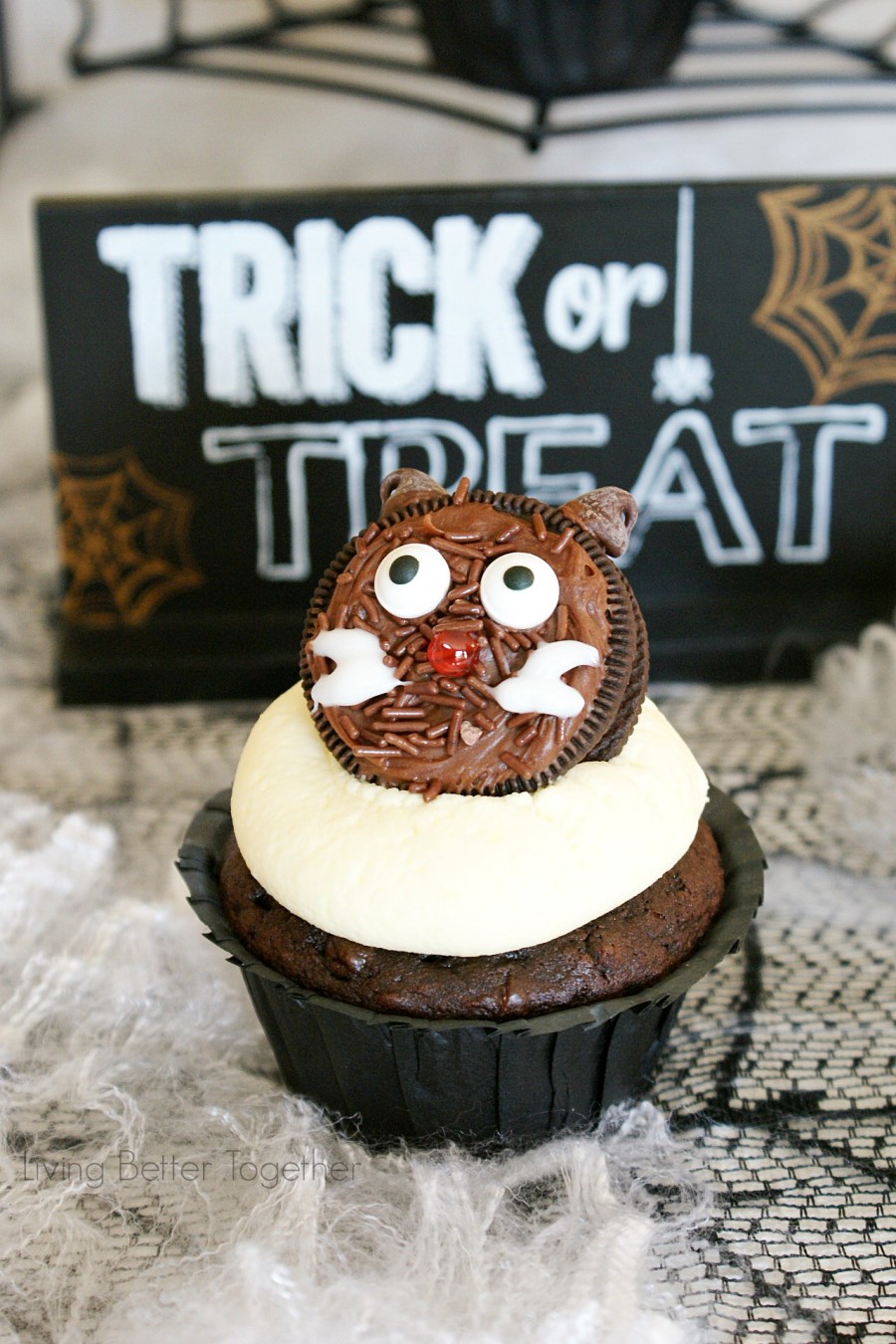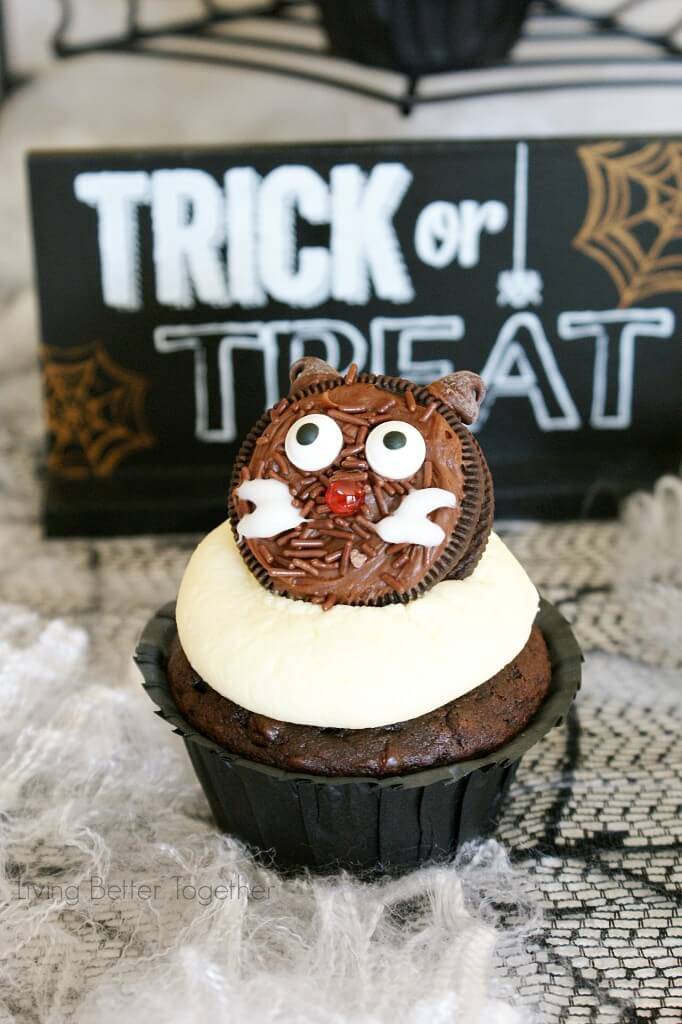 Black Cat Cupcakes made with Oreos!
Ingredients
Cupcakes:
3.9 oz. box Jell-O Instant Chocolate Fudge Pudding Mix
4 Eggs
1 cup Sour Cream
¾ cup Vegetable Oil
½ cup Milk
1 teaspoon Vanilla Extract
¼ teaspoon Sea Salt
1½ cups Mini Chocolate Chips
Frosting:
2 cups Heavy Cream
½ cup powdered Sugar
Black Cat Oreos:
24 Halloween Oreos
Store bought or homemade chocolate frosting
Chocolate Jimmies
Edible Eyes
Pink Decorating Gel
White Decorating Gel
Instructions
Cupcakes:
Preheat oven to 375°F and line cupcake pan with cupcake liners

Combine cupcake ingredients in mixing bowl and beat until well combined, making sure to scrape down the sides as needed.

Add about 2 tbsp of batter to liners so they're about 3/4 full.

Reduce oven to 350°F.

Bake cupcakes for about 18-20 minutes until toothpick comes clean.

Let set in pan for a couple of minutes before transferring to oven rack to finish cooling.
Frosting:
Combine heavy cream, powdered sugar, and pudding mix in mixing bowl and beat until stiff peaks form.

Pipe frosting onto cupcakes
Cats:
(See video below for visual step-by-step)

Using a spoon, spread frosting out on one side of the Oreos.

Sprinkle frosted side with chocolate jimmies.

Add just a dab of chocolate frosting to the backs of the eyes and stick on the Oreo.

Add a little dab of frosting to the chocolate chips and adhere two to the top of the Oreo to make the ears.

Use the pink gel to make a nose and the white gel to draw whiskers.

Stick in the frosted cupcakes and enjoy!
Nutrition
Calories: 331kcal | Carbohydrates: 39g | Protein: 4g | Fat: 19g | Saturated Fat: 9g | Polyunsaturated Fat: 2g | Monounsaturated Fat: 5g | Trans Fat: 1g | Cholesterol: 62mg | Sodium: 319mg | Potassium: 127mg | Fiber: 1g | Sugar: 26g | Vitamin A: 432IU | Vitamin C: 1mg | Calcium: 80mg | Iron: 1mg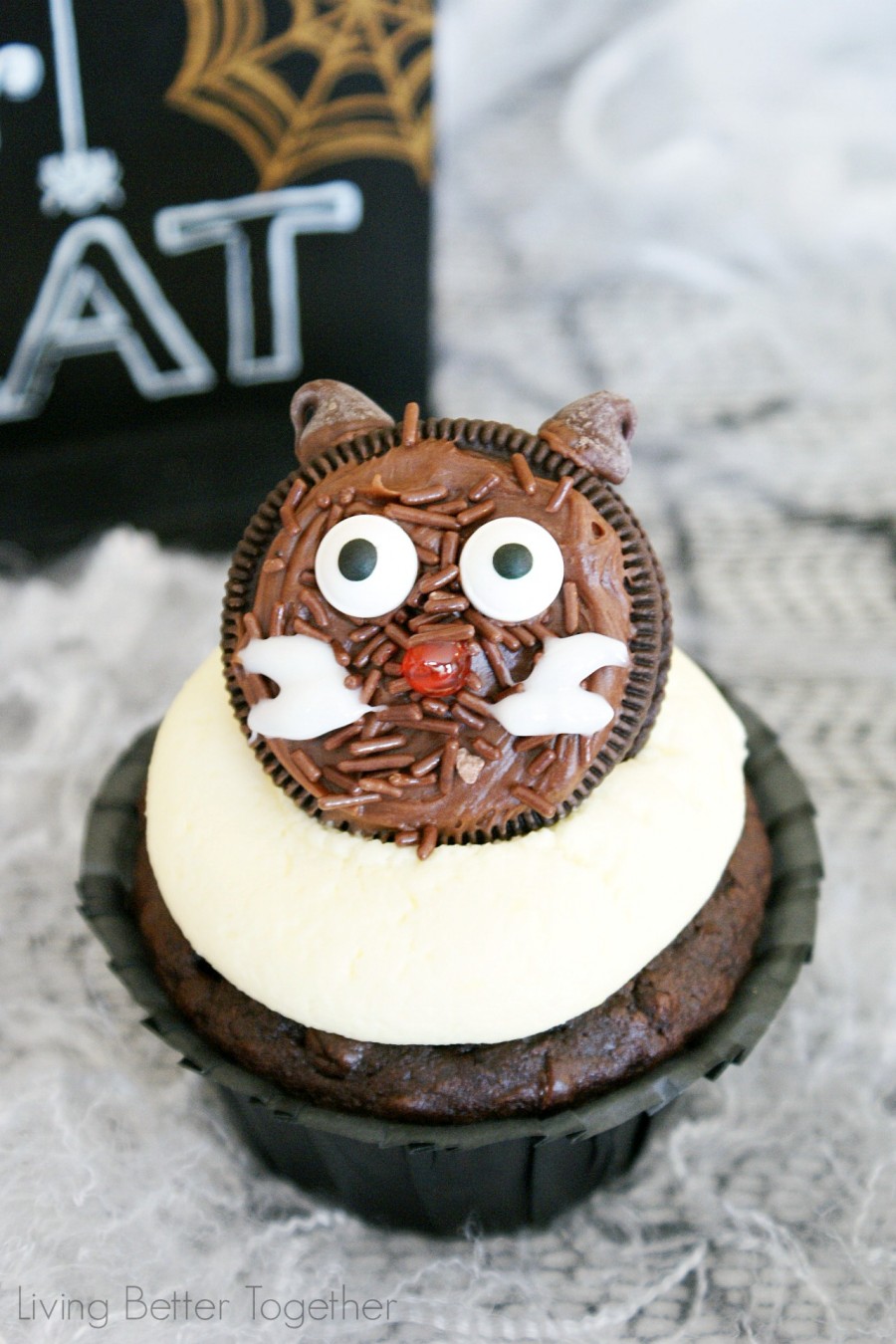 It wouldn't be a party without colorful paper straws!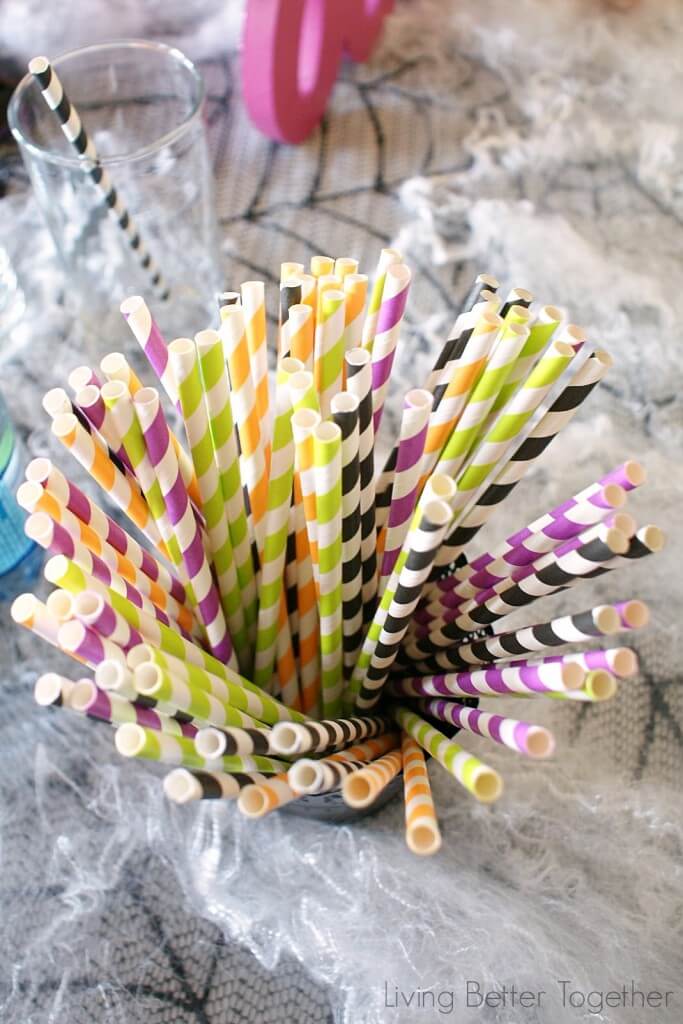 I love keeping things basic, like dressing up these adorable Dasani bottles with Halloween Tags and Baker's Twine that I found at Walmart. It makes them super festive without taking a ton of your time that could be better spent playing games with Fanta like this Ring Toss game at Play. Party. Pin, it's a fun game for kids and adults alike!
Alright, so if there's a cracker I truly love, it's Wheat Thins. I can eat them straight but I really love dipping them. I made an Easy 5-Layer Spider Dip for the party using salsa, refried beans, guacamole, sour cream, and shredded cheese. Just add everything to a dish in even layers and you're good to go! I topped mine with some super easy olive spiders. Simple take an olive, cut it in half, put one half cut side down and then slice the other half into thin legs and assemble around the body. Seriously, though, how creepy cute is that and you can do it in all of 20 seconds! Dive in with your Wheat Thins and enjoy!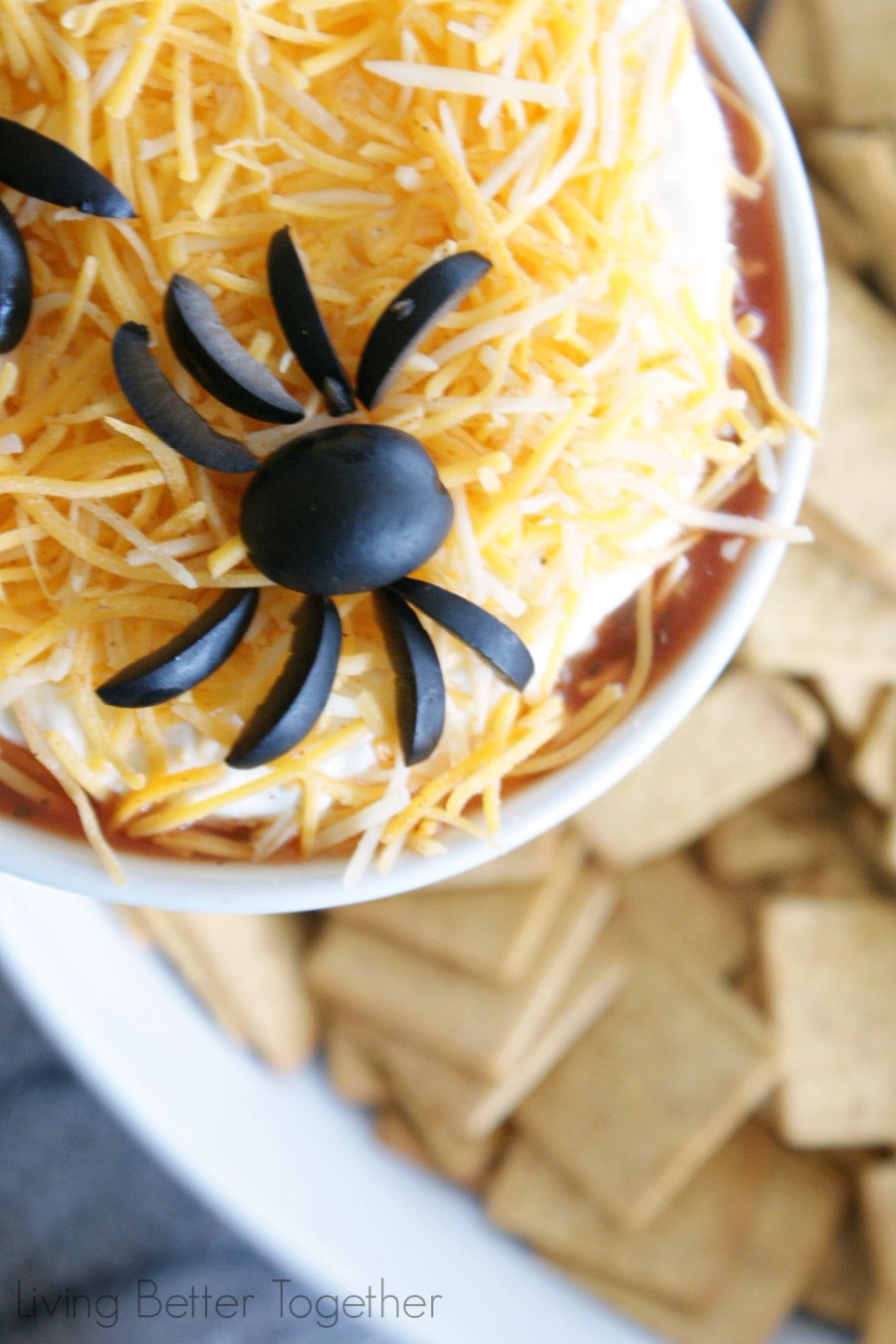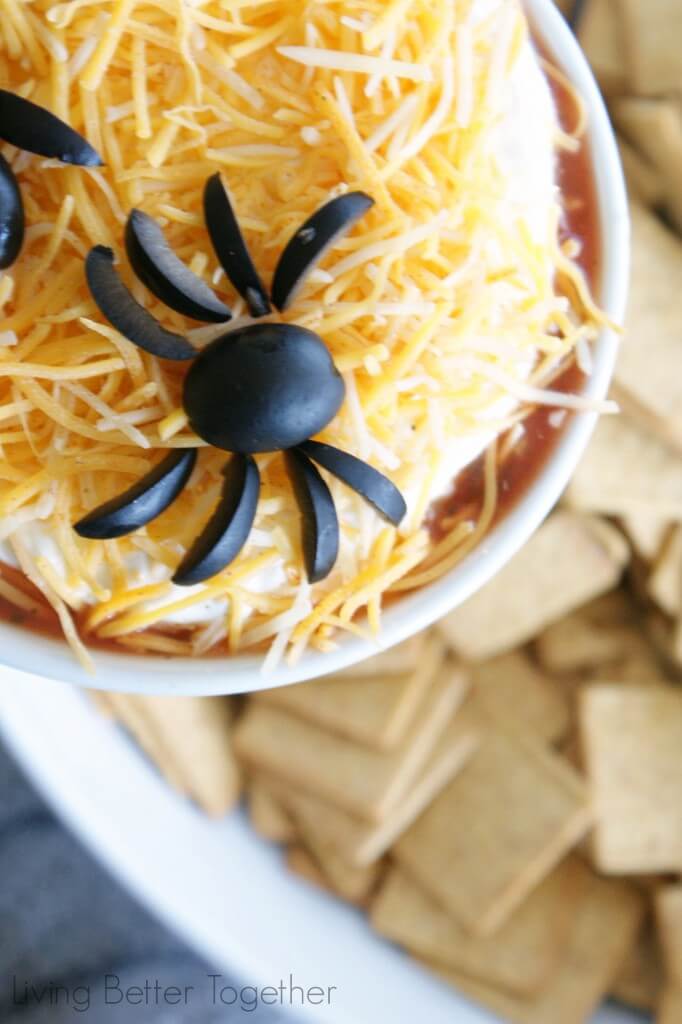 This is another great way to use store-bought goodies and dress them up! Lofthouse cookies have been a favorite of mine since I was a child! I found a package of vampire teeth at Walmart for just a buck and thought they would be really cute munching on the cookies! Easy and cute!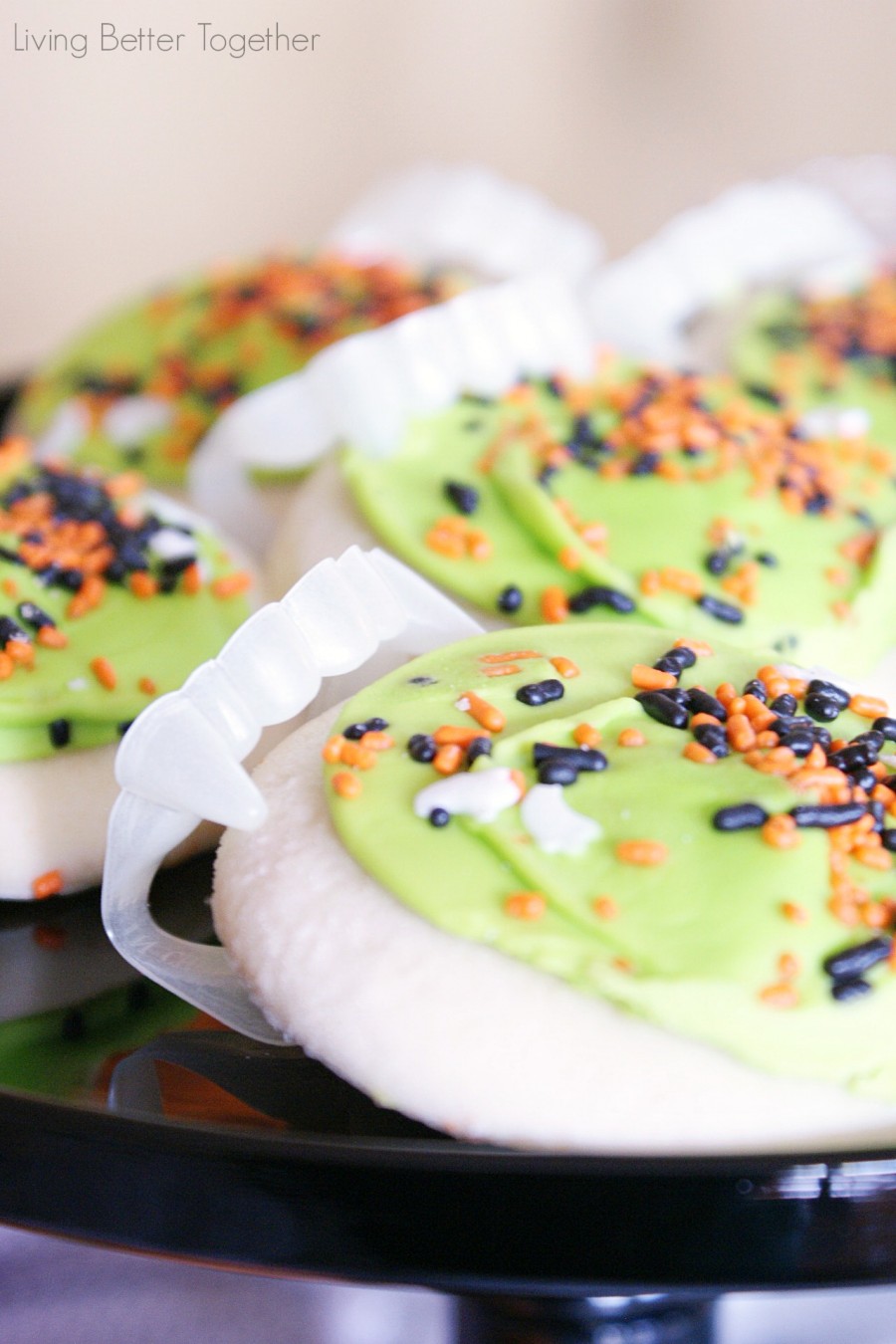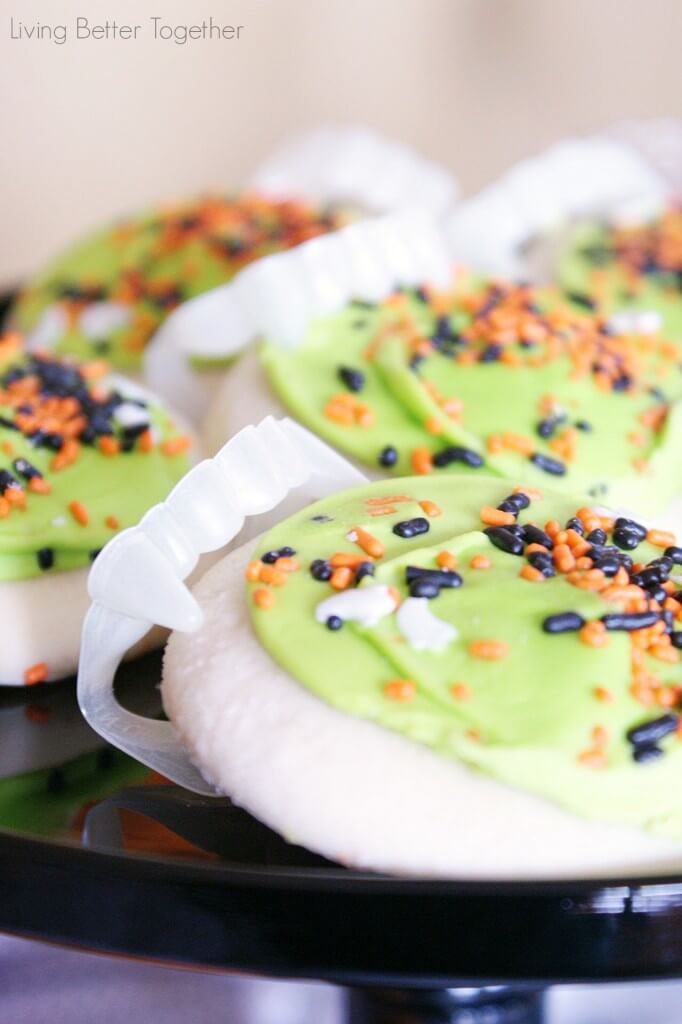 These Easy Candy Corn Tealight Holders were so simple and easy to make, and they make great party decor if the guests don't eat them, ahem. Check out the Tutorial here.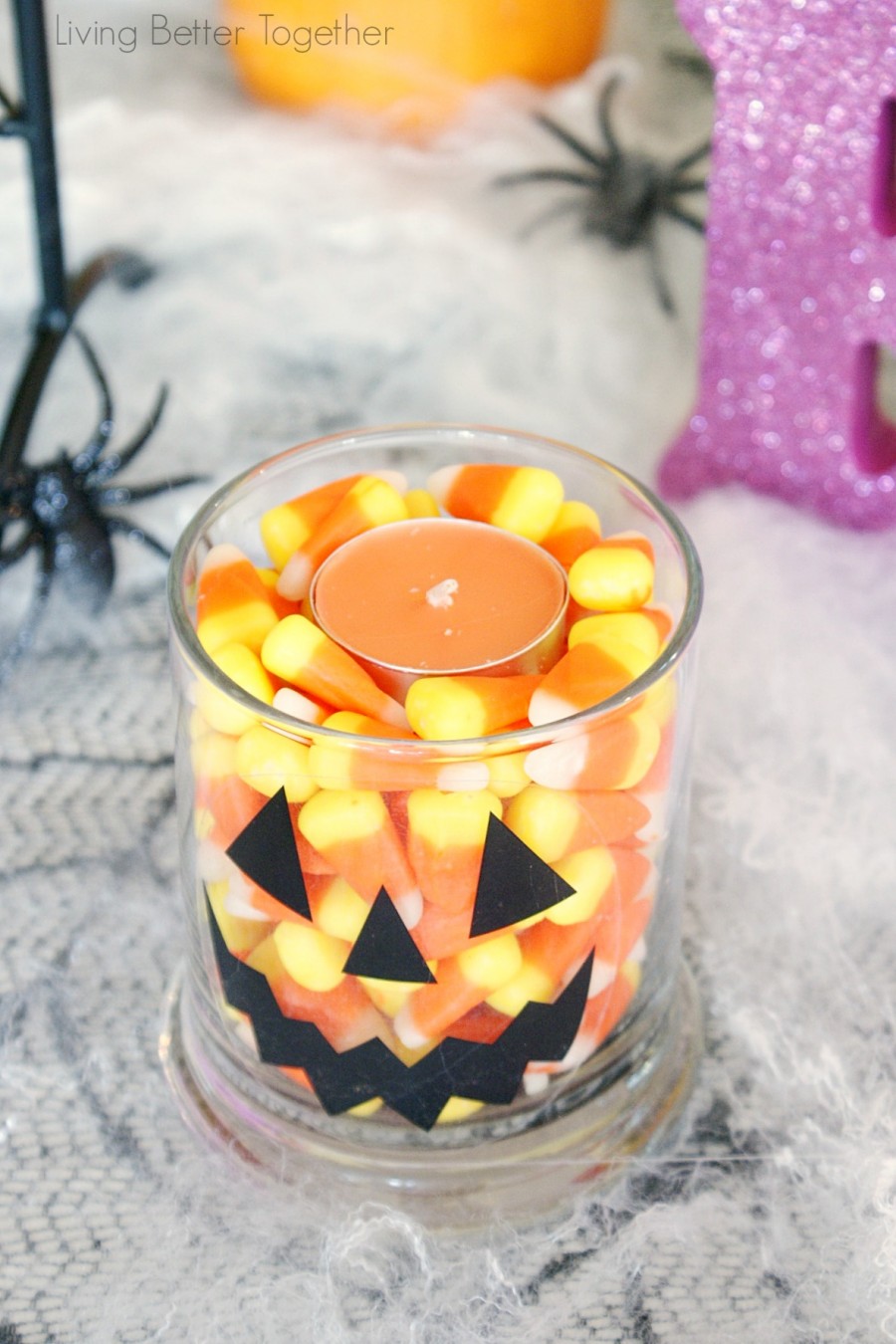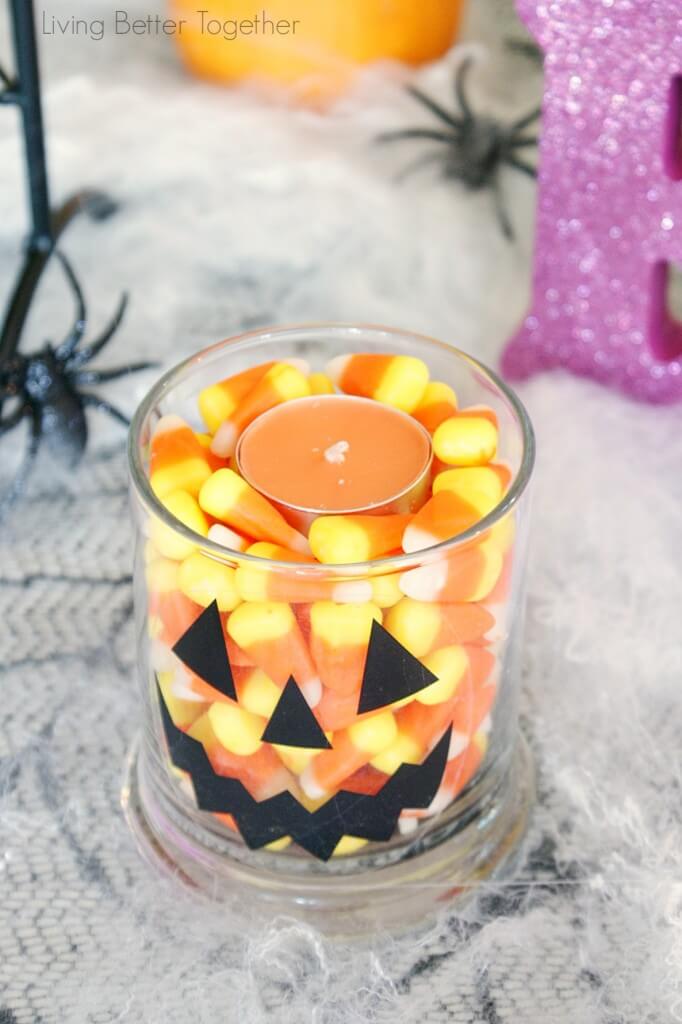 Last but not least, another easy Halloween treat! Simply take some sandwich cookies, dip them in white chocolate and then add chocolate chips to make the eyes and mouth! the kiddos will love them!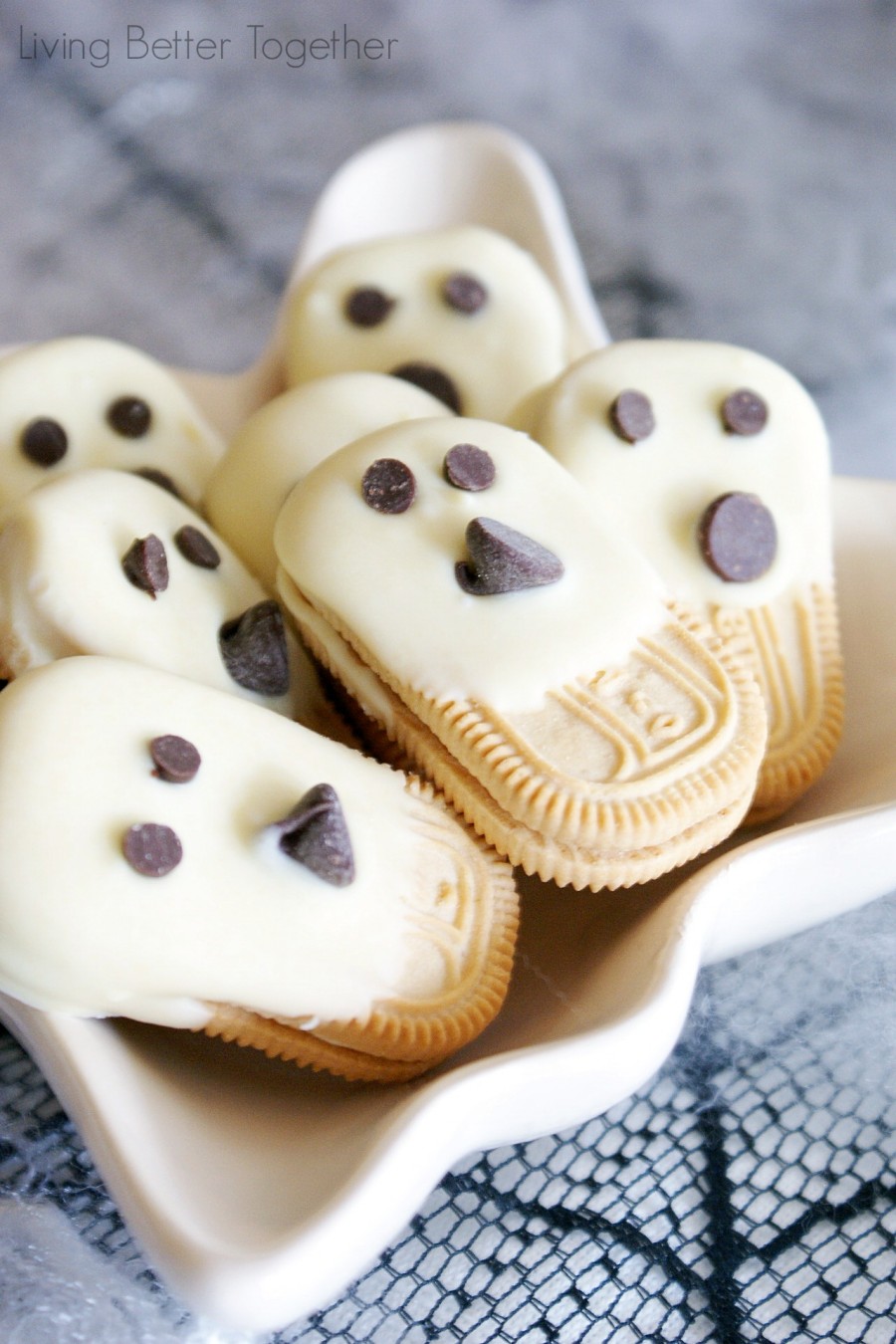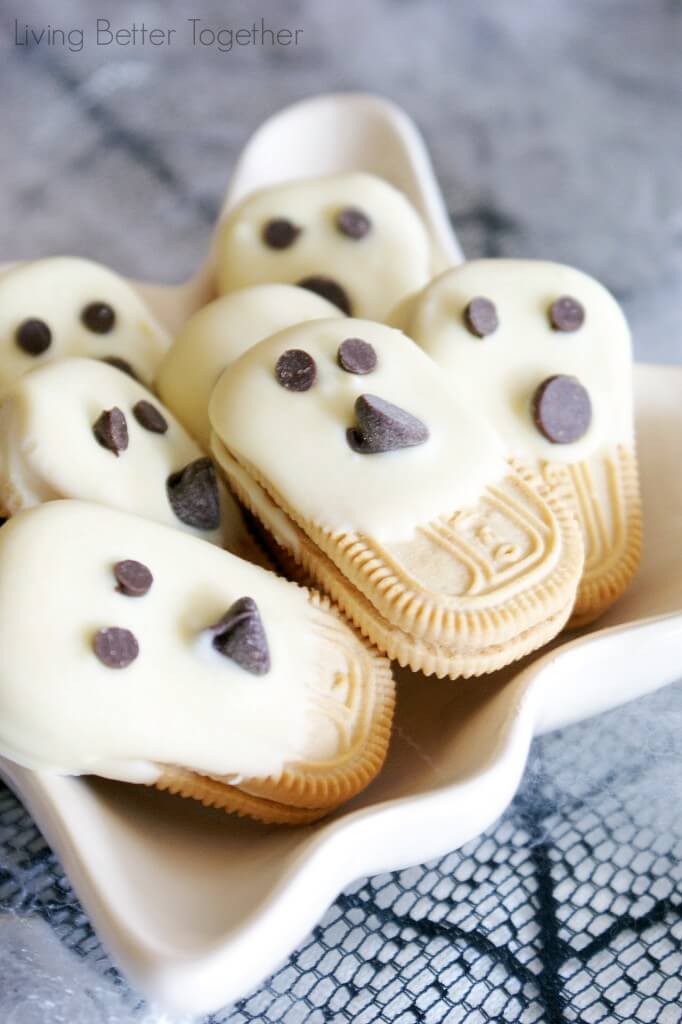 Seriously, though, how cute and easy was this Halloween Snacks party? Pretty easy, right? I hope I've inspired you to make some super fun treats for your upcoming Halloween events! For even more fun Halloween party ideas, check these out!