This Marinara Mac and Cheese is a quick and easy dinner option filled with love and flavor! It's everything you love about a classic creamy mac and cheese with a bright pop of thick and hearty marinara sauce. Have it on the table in less than 30 minutes!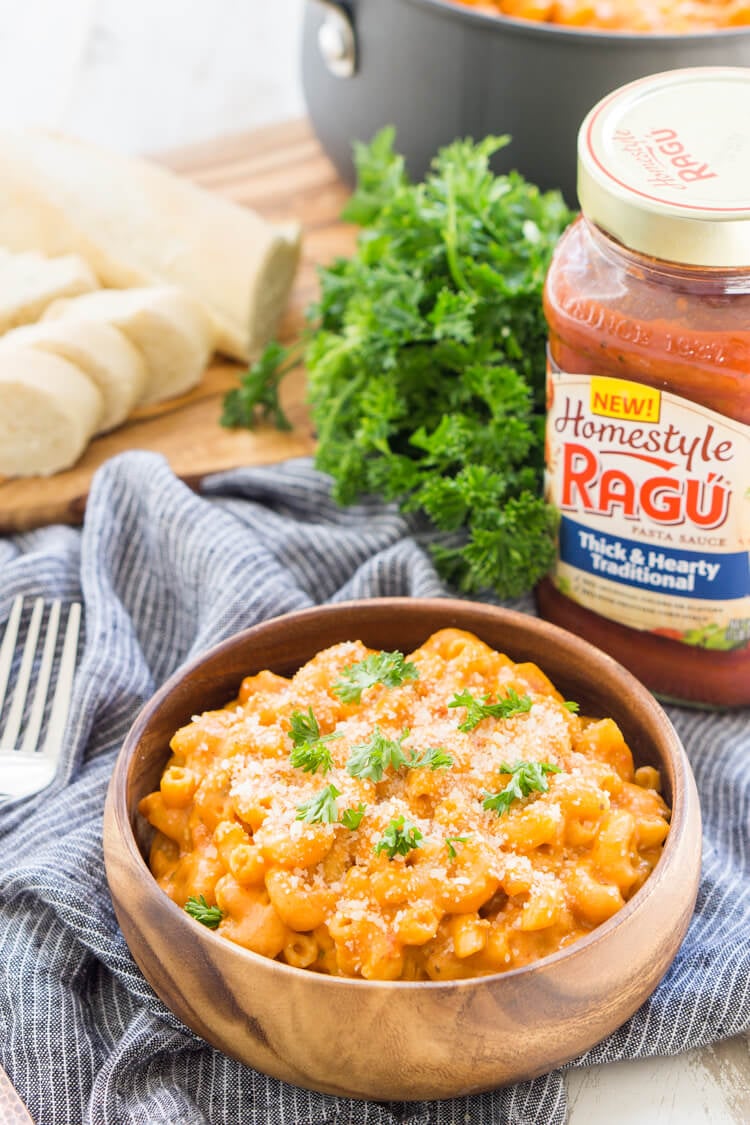 When Rob and I moved to the Carolinas in the fall of 2014, we were chasing our careers, adventure, and the pursuit of building our lives together. Fast forward two years, and we were desperately trying to make plans to move back home to Maine.
When jobs and an apartment finally aligned, we frantically (but gladly) sold all our furniture and stuffed two sedans full of our belongings, driving halfway up the coastline to high-tail it out of there.
In the South, the weather was nice and our apartment was fine; what we couldn't wait to escape was the loneliness of being so far away from everything, and everyone, that we loved.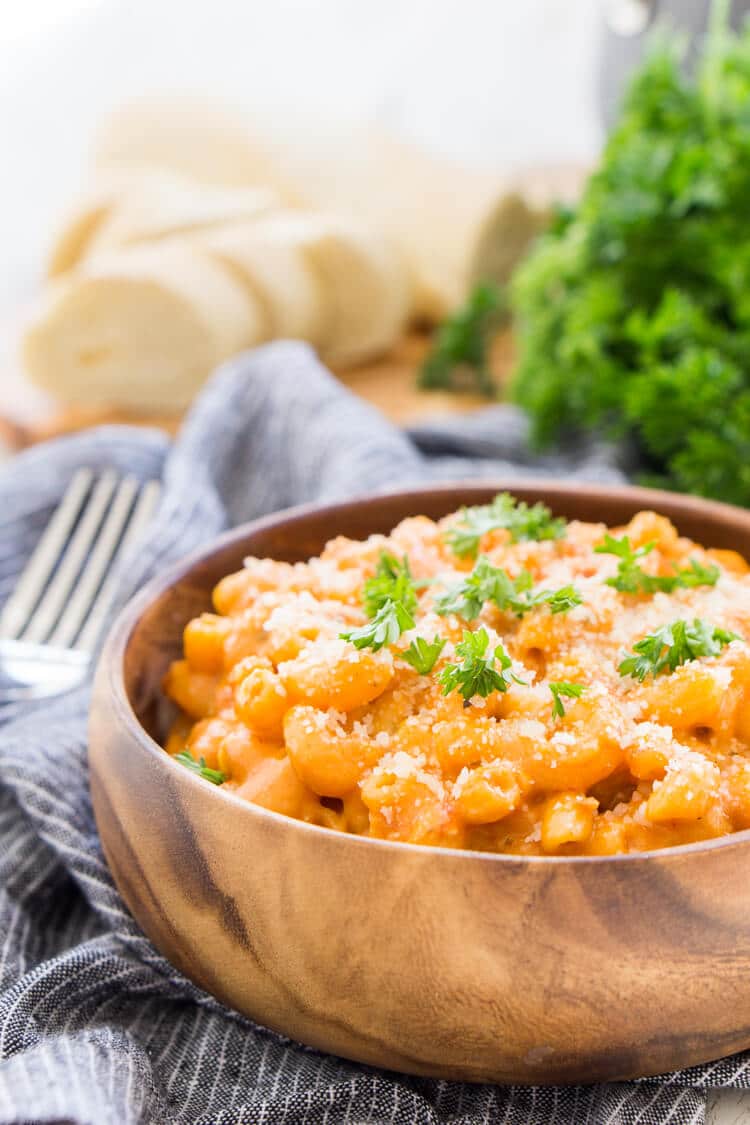 In the time we were away, two years' worth of holidays and birthdays had passed uneventfully. We had little money and energy to muster celebrations, and the occasions that were once filled with joy and nostalgia fell flat. Two Christmases came and went, filled with bittersweet anticipation as packages arrived from loved ones that were too far away. By the time the new year rolled around in 2016, we had finally had enough.
So Rob and I, newly engaged, found an apartment in midcoast Maine. It was located in a small town on the banks of the Androscoggin River, and through it wound quiet roads lined with locally owned shops. With scenic bridges and lush greenery, it captured the heart of Maine in the summertime, and we immediately felt at home when we moved there in July.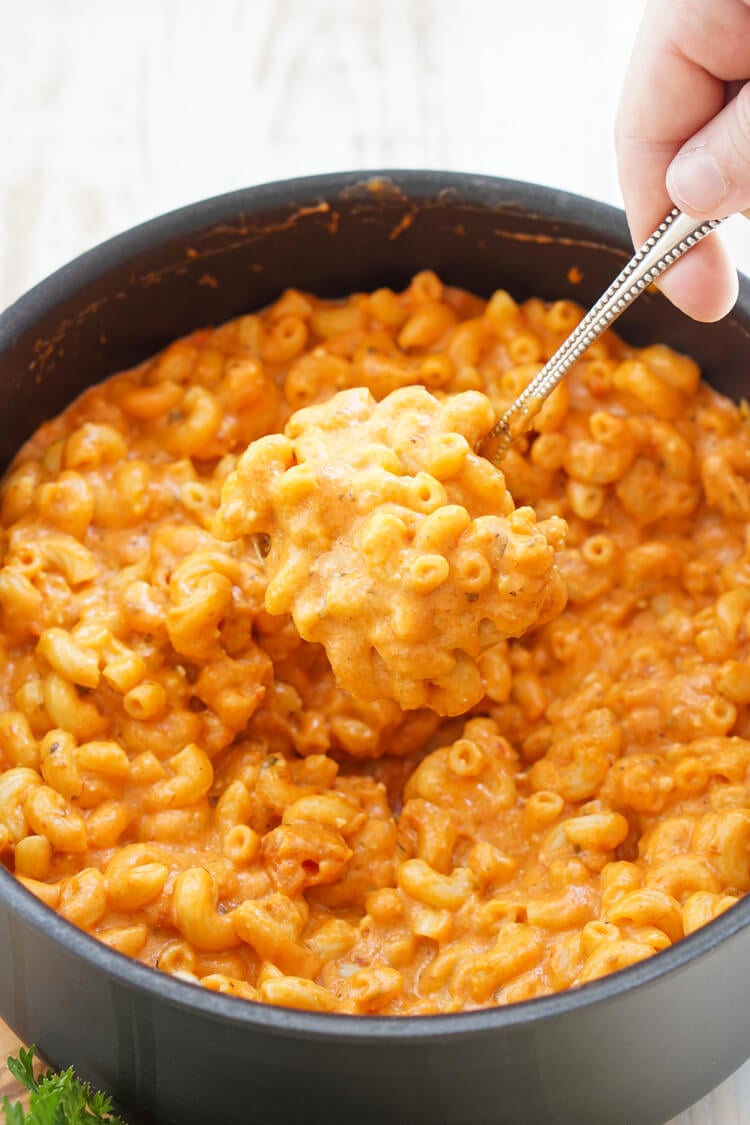 Although we loved our charming old apartment with the slanted wood floors and the host of buzzing restaurants that filled the heart of a quaint downtown, the best part by far was how close we were living to family.
A five-minute drive down tree-lined back roads took us to Rob's grandparents' house. It was located on a sprawling plot of land and filled with surprises: apple trees, peach trees, tomato and cucumber plants, raspberry bushes, fields of goldenrod, and clusters of birch trees. We'd let our pup, Luna, run and roam in the massive field as we picked produce from the garden, our feet perpetually dirty from trekking around in sandals, or often, no shoes at all.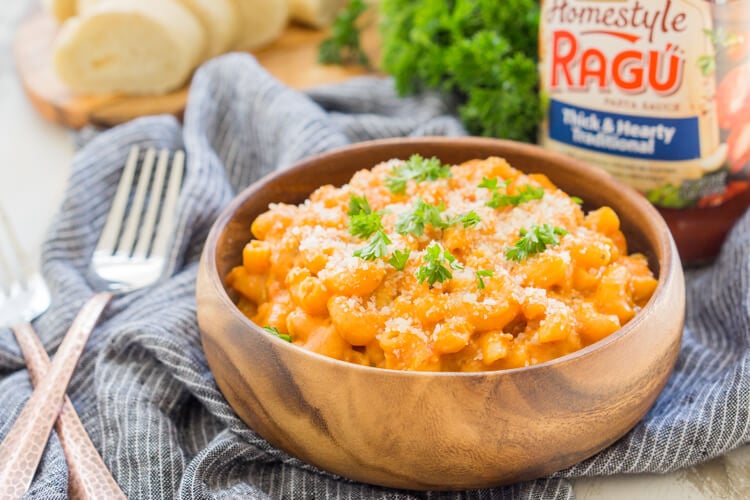 That first week, we spent more time at Mimi and Grandpa's than our own apartment, soaking in the sights, sounds, and smells of being in a family home again. Joined by Rob's mom and sisters, we enjoyed many family dinners to make up for lost time.
In the Carolinas, we'd had our fill of greasy pizza and cheap Chinese takeout. So when we sat around the table to a hot, home-cooked meal, we enjoyed every bite.
When we eat at Mimi and Grandpa's, we always leave feeling satiated and happy. But there was one meal that we ate together that stood out from the rest. It was a day or two after we'd hauled our belongs into our new apartment and had begun the tedious process of organizing and unpacking. Mimi called to invite us over for some macaroni and cheese, and we gladly accepted the home cooked meal and a break from the mess.
As we sat around the table that night, Mimi placed a heaping dish of steaming macaroni in the center. But it was immediately obvious that this wasn't your typical noodles-and-cheese recipe. With chunks of tomatoes and flecks of herbs, Mimi told us that she'd made us a family specialty: Marinara Mac and Cheese. Judging from everyone's eagerness to dig in, I could tell this dish had been a favorite for years. Now, it was my turn to give it a try!
From that first forkful, I loved this recipe's twist on nostalgia. The tender noodles were covered in a creamy cheese sauce, and the addition of a thick, herb-filled marinara gave depth to each bite. The rich taste of tomatoes complimented the smooth, melted cheese for a savory flavor that was irresistible to the last bite.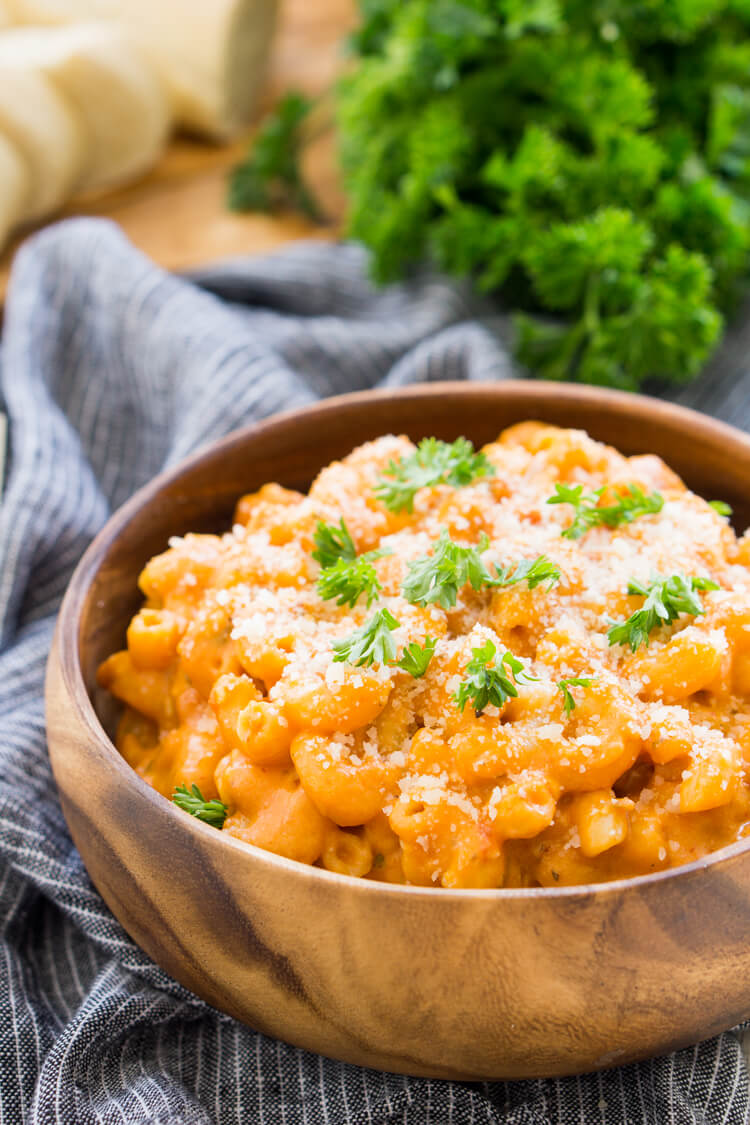 After we were stuffed, I told Mimi that I had to get that recipe! She told me that, while it had mostly remained the same throughout the years, there was one "secret" ingredient that she'd added that night: Ragú Homestyle sauce.
She told me that the "marinara" in the macaroni and cheese recipe used to consist of a heaping scoop of homemade red sauce that she'd make and store in huge batches. But without any extra on hand, Mimi had bought a jar of Ragú's new Homestyle sauce—a thick marinara made from vine ripened tomatoes, fresh herbs, and simmered until rich and thick—to add to her famous recipe. It had turned out so well, she said, that from now on, she'll skip the hassle of making a sauce and just pick up a jar of Ragú!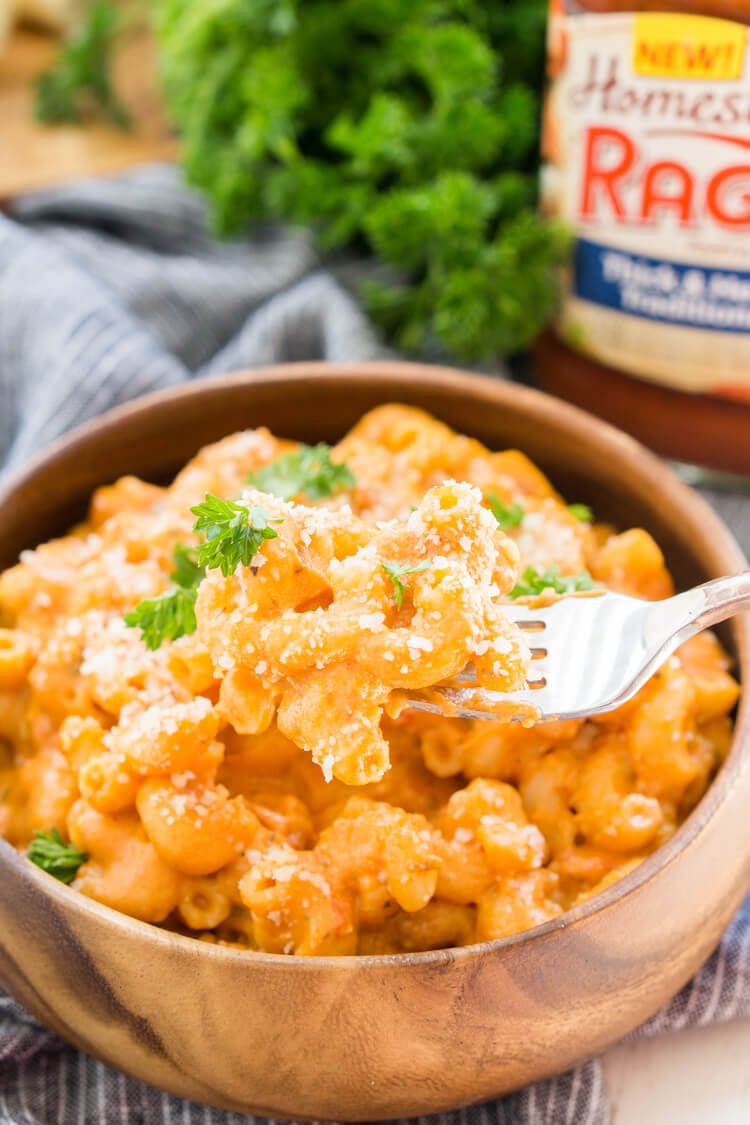 I couldn't wait to try making this recipe for myself and Rob in our new home, that crooked little apartment that we've finally settle into. But this Marinara Mac and Cheese really made the place feel like home!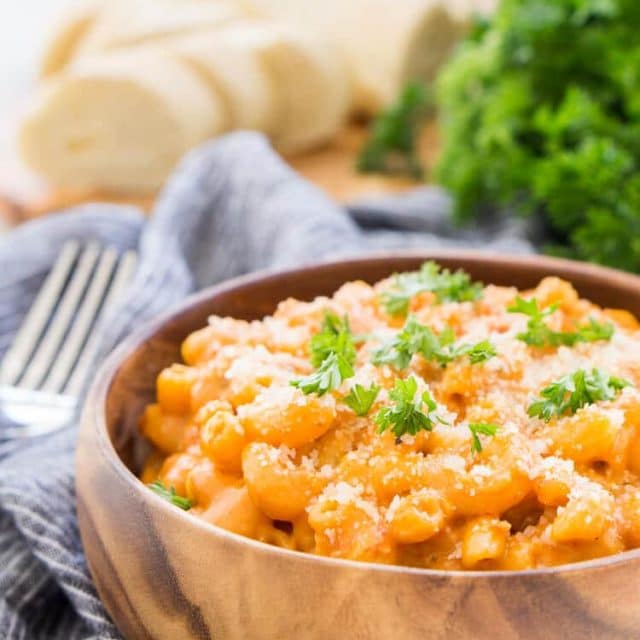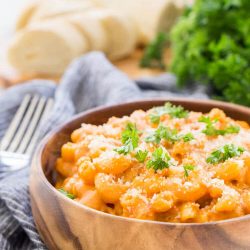 Marinara Mac and Cheese
This Marinara Mac and Cheese is a quick and easy dinner option filled with love and flavor! It's everything you love about a classic creamy mac and cheese with a bright pop of thick and hearty marinara sauce. Have it on the table in less than 30 minutes!
Ingredients
1

pound

dried elbow macaroni

1/2

cup

1 stick unsalted butter

6

tablespoons

all-purpose flour

2

cups

whole milk

1/3

cup

heavy cream

1/4

teaspoon

ground pepper

1

teaspoon

salt

1

tablespoons

mustard powder

1

teaspoon

garlic powder

3

cups

grated cheddar cheese

1

23-ounce jar Ragu Thick and Hearty Traditional Sauce

1/2

cup

finely grated Parmesan cheese + extra for garnish

Parsley for garnish
Instructions
Bring salted water to a boil in a large pot and add elbow macaroni, cooking according to package instructions until al dente, do not overcook. Drain pasta and run over with cold water to stop the cooking process and set aside when done.

Meanwhile, in a large pot, melt butter over medium-low heat. Once melted, sprinkle in the flour and whisk until a roux forms. Stir constantly for about 4 minutes until roux turns a light golden brown. Gradually pour in the milk and heavy cream, whisking constantly.

Raise the heat to medium-high and bring sauce to a low boil, whisk sauce constantly. Reduce heat so that sauce remains at a simmer and continue to whisk until the sauce is thick and coats the back of a spoon, about 3 minutes.

Add in the pepper, salt, and mustard powder, garlic powder, and whisk until blended. Then whisk in the cheese one cup at a time, mixing and letting melt before each addition.

Pour in the Ragu Thick and Hearty Traditional Sauce

Add the cooked pasta to the sauce and stir until evenly coated, garnish with additional Parmesan cheese, pepper and chopped parsley. Serve immediately for best taste.