This recipe is a fun flavor twist on the traditional Eggs in Purgatory. Made with crushed tomatoes, eggs, herbs, pancetta, spinach, and Parmesan cheese.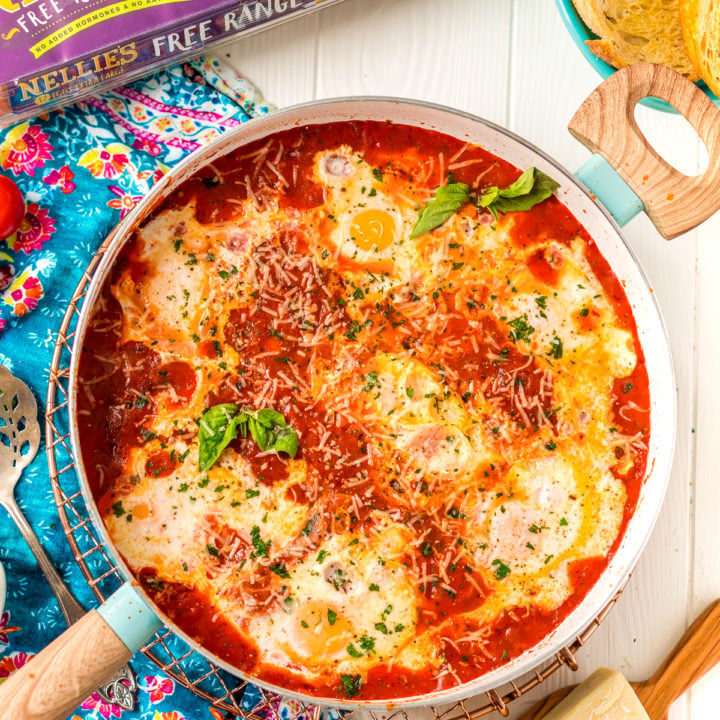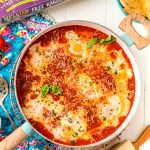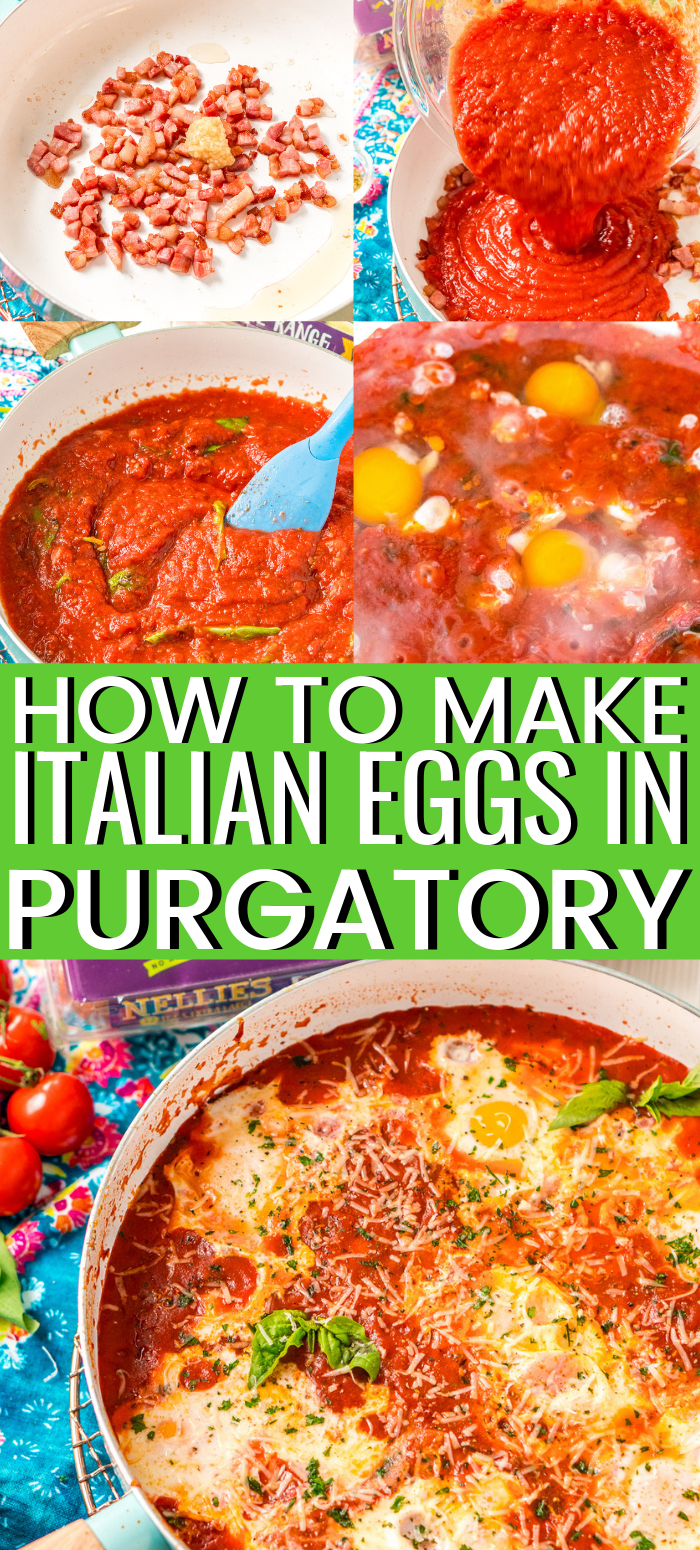 Italian Poached Eggs are fun flavor twist on the traditional Eggs In Purgatory. Made with crushed tomatoes, eggs, herbs, pancetta, spinach, and parmesan cheese.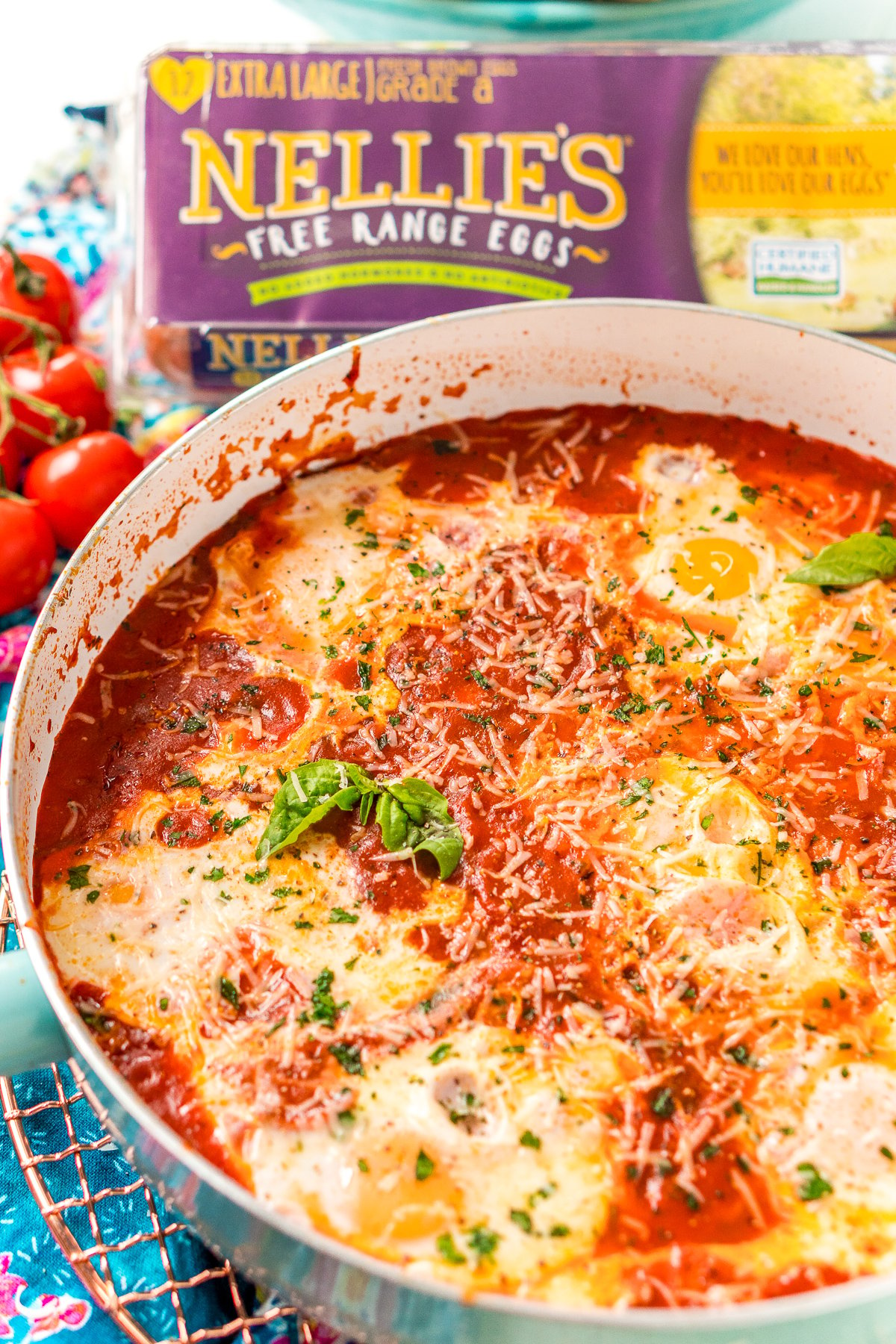 Eggs In Purgatory
Eggs in Purgatory is such a classic recipe for brunch and one of my favorites to whip up when I'm short on time.
I love brunch, and in my opinion, the perfect spread has equal parts sweet and savory dishes.
For the latter, I usually turn to eggs, because they're satiating and versatile and they cook up in minutes.
A big thank you to Nellie's Free Range Eggs for helping bring this post to life. This is the final installment in a four-part series of blog posts to promote timeless recipes.
I am very grateful for @nelliesfreerange support and company mission and hope you enjoy the upcoming content.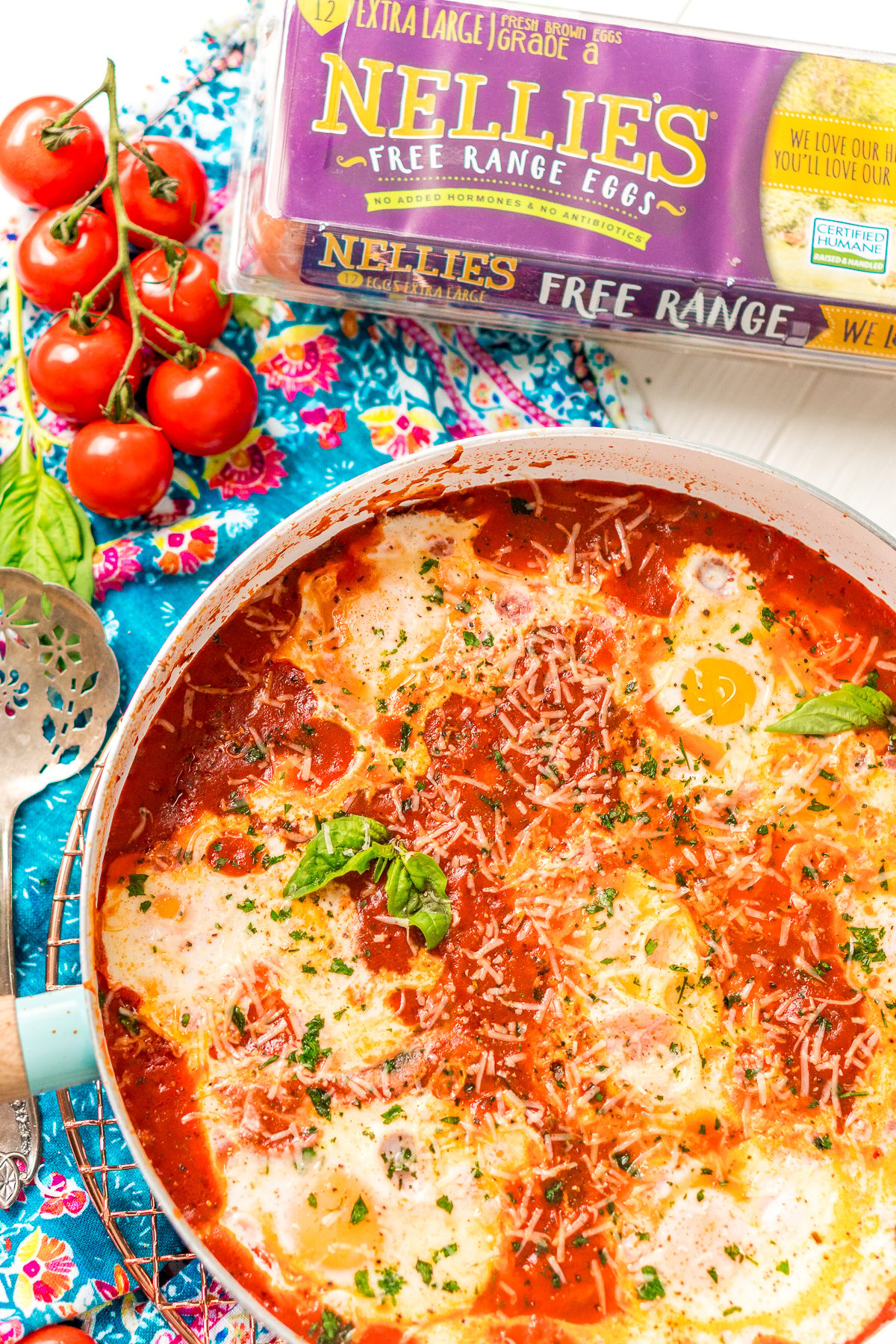 This is especially true because Matt and I switched to Nellie's Free Range Eggs last year.
They always have the most delicious, freshest eggs, which are perfect for featuring in wholesome recipes.
The quality is obvious. The shells are thicker and the yolks are a lovely orange color compared to most store brands. This is because the hens get to spend time outdoors, foraging for insects and spreading their wings.
Needless to say, this really makes a difference in taste (and nutrition, too)!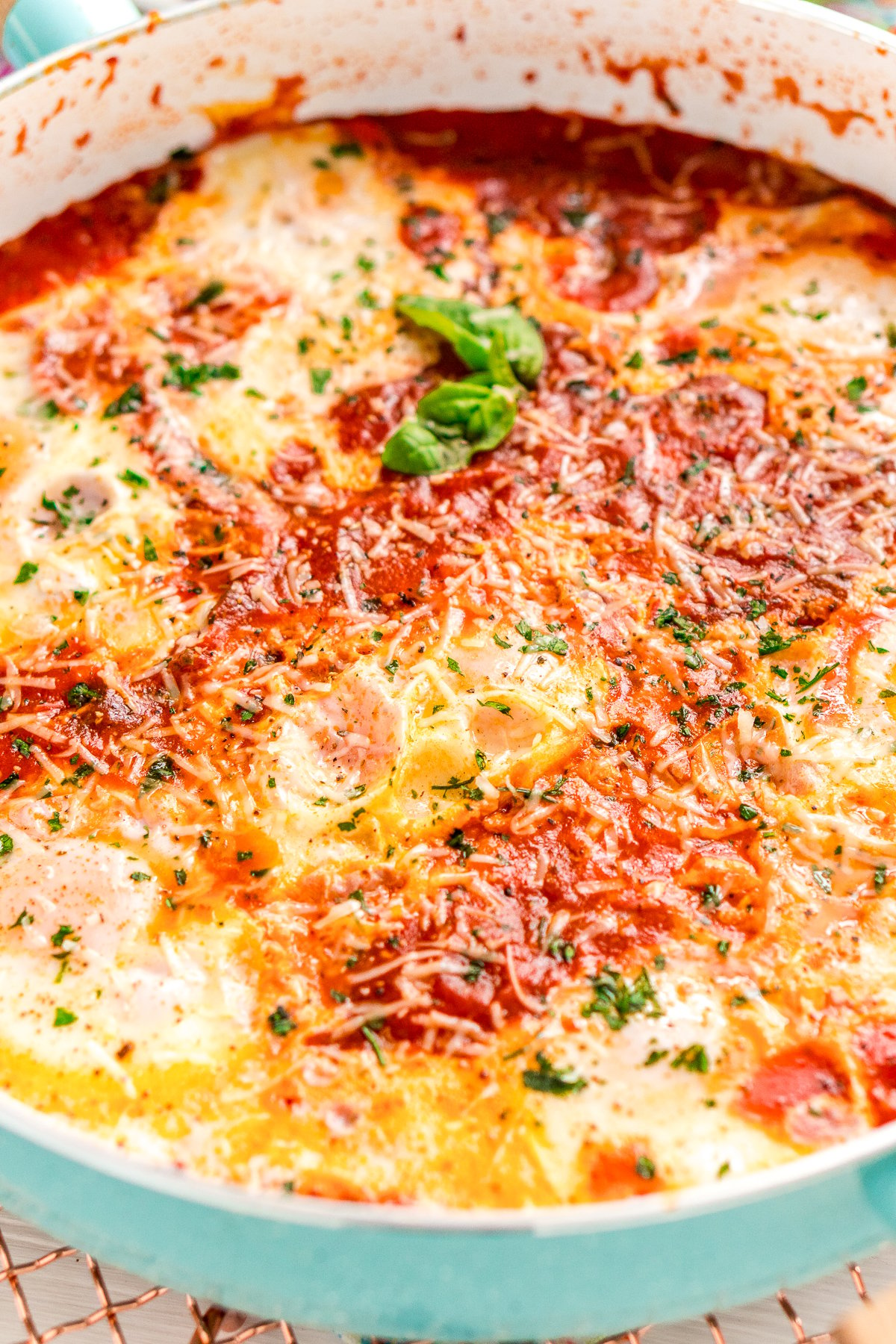 And quality is super-important to our family. Between cooking for ourselves and for my blog, we can go through a dozen eggs a day!
But when it comes to whipping up a healthy breakfast, scrambled eggs can get boring after awhile.
That's why I love searching for new ways to serve this protein-packed breakfast food.
Hence this Eggs in Purgatory recipe, which has just the right amount of spice, plus tons of rich flavor.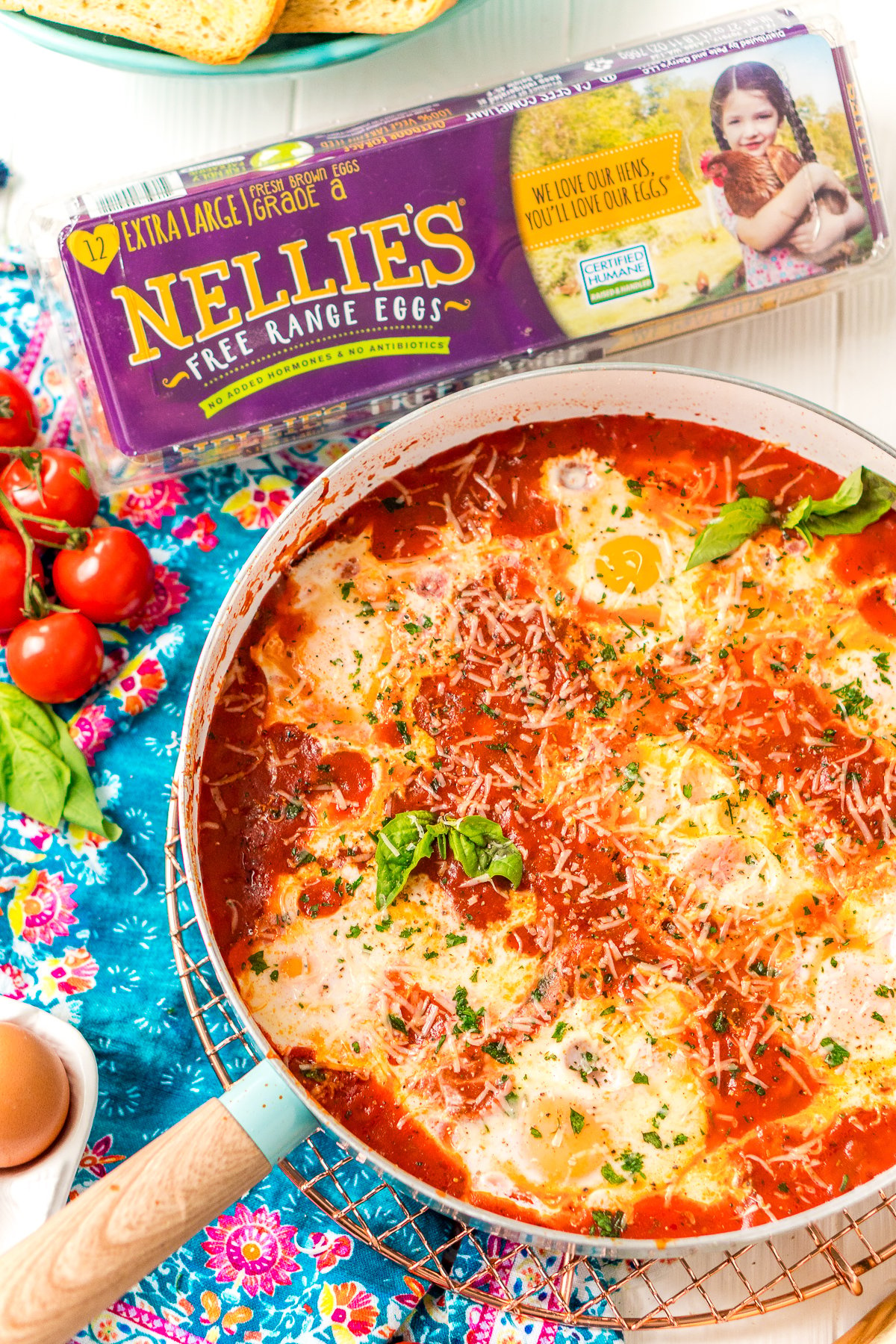 What Does Eggs in Purgatory Mean?
The Italian name, Uova in Purgatorio, pulls the name from the cult of the Souls of Purgatory.
The eggs play the role of souls seeking purification, and the sauce represents the flames of purgatory.
Where Did Eggs in Purgatory Originate?
There are a few versions from different regions of the world, and it's hard to say which came first.
Eggs in Purgatory is the Italian version and originated in Naples. Shakshuka is a Middle Eastern/North African version of the dish. It can also be compared to huevos rancheros, which originated in Mexico.
The biggest difference between the three is the spices and accouterments.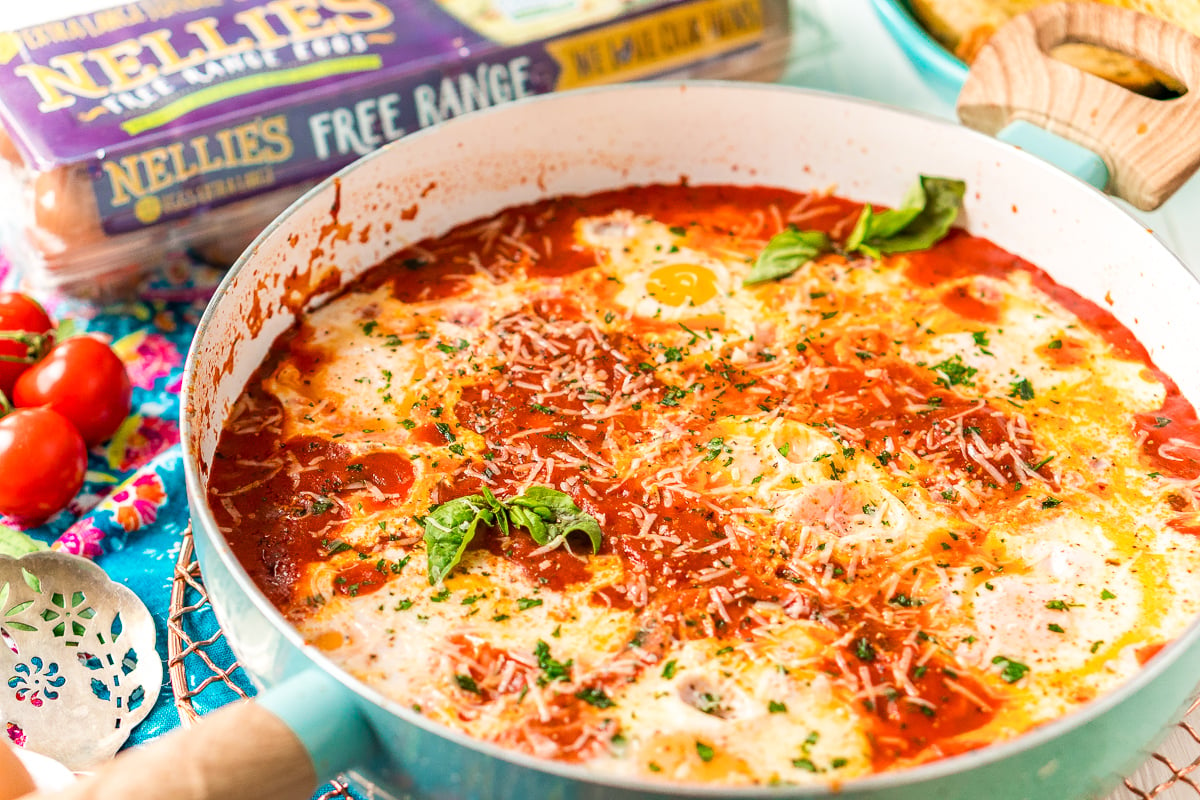 What are Eggs in Purgatory?
If you've never tried this dish, you're missing out. It basically consists of eggs that are poached in a rich tomato sauce made with crushed tomatoes and spices.
Although it's originally a Neapolitan dish, my version includes Italian spices, fresh Parmesan cheese, pancetta, and a handful of spinach, which gives it more of a Florentine finish.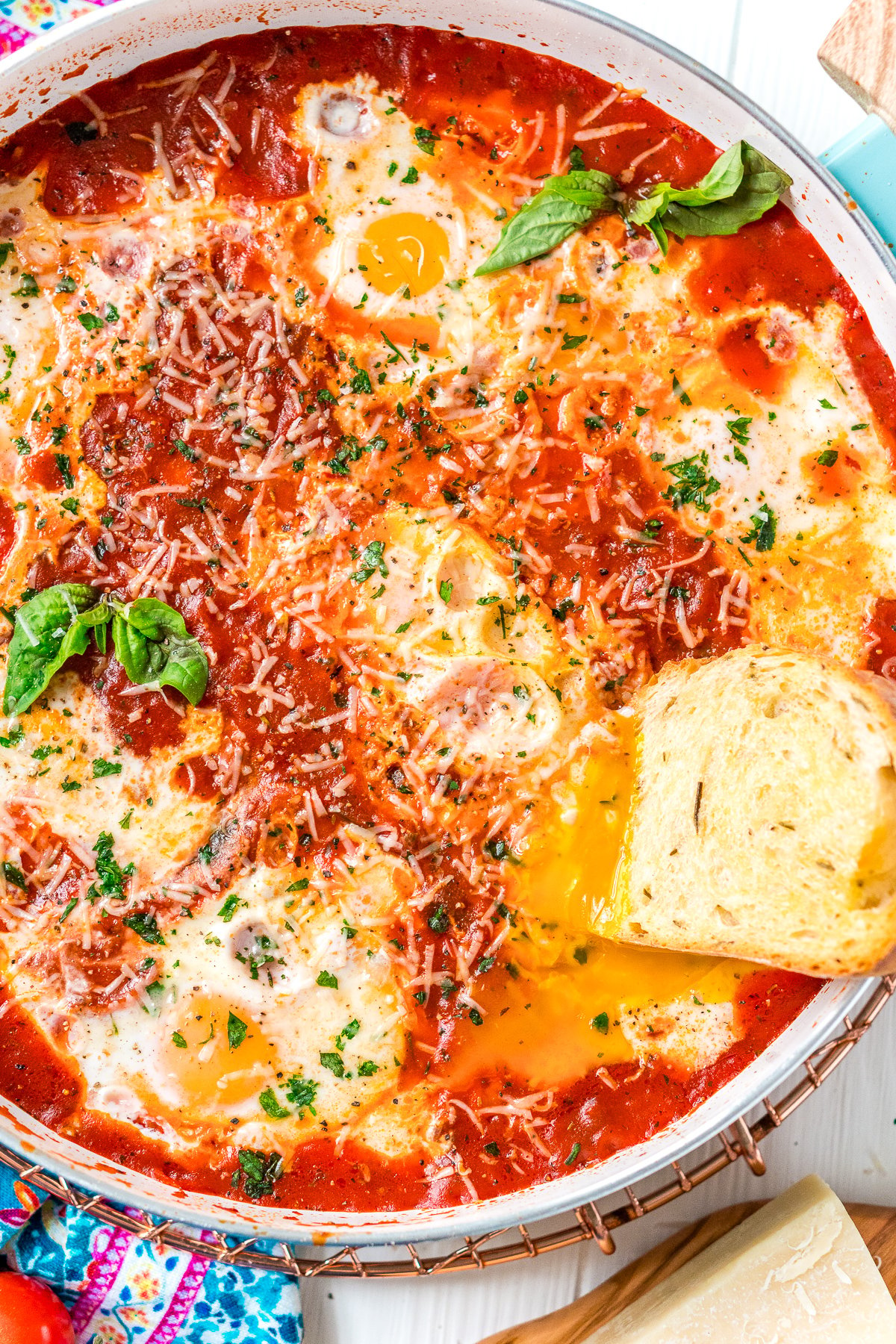 What to Serve with Eggs in Purgatory
Shakshuka is often served with flatbread, and huevos rancheros is often eaten with tortillas and beans.
I like pairing Eggs in Purgatory with crusty bread or even English muffins, but some serve it over grits or polenta (YUM!).
How's that for a balanced breakfast? And the best part? Eggs in Purgatory may look fancy, but it's super easy to make!
Yep, this dish only takes about 15 to 20 minutes to prepare, homemade tomato sauce included.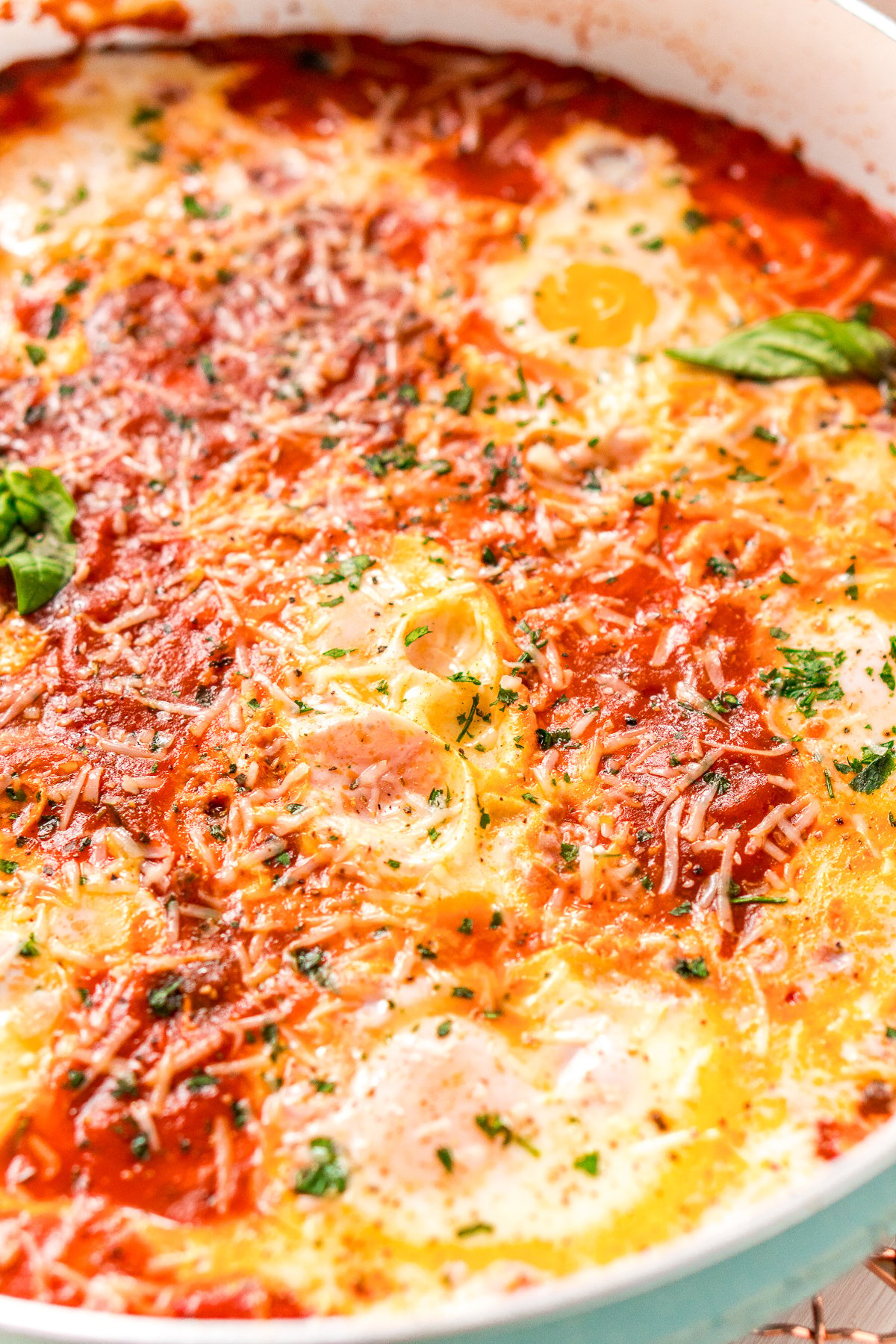 How to Make Eggs in Purgatory:
To make this Eggs in Purgatory, start by sauteing pancetta for a couple of minutes over medium heat. Then add the garlic, and cook for an additional minute.
If you want to keep this dish vegetarian, skip the pancetta and add olive oil instead.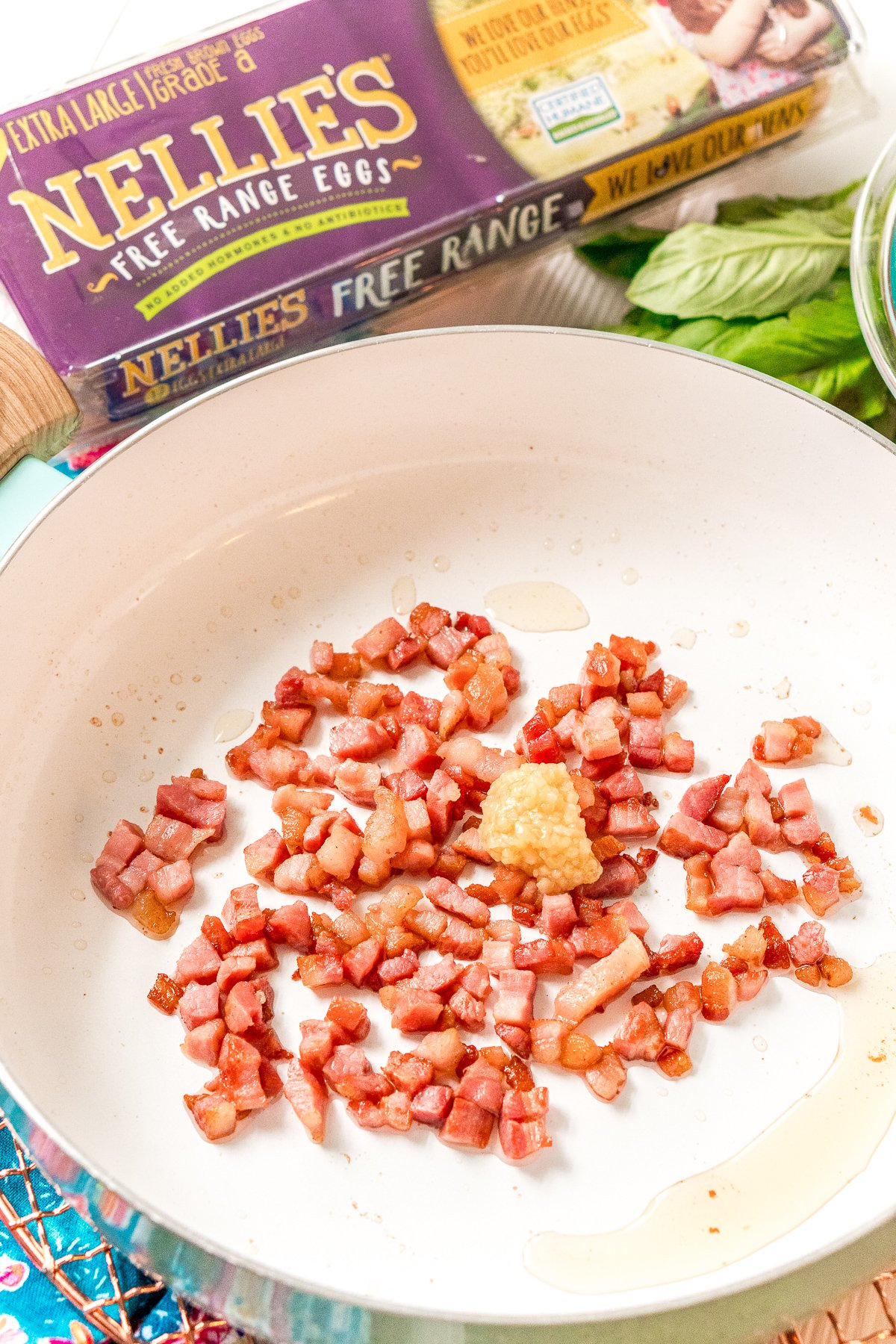 Then, pour in a can of crushed tomatoes and some spices, and let it simmer so the flavors infuse.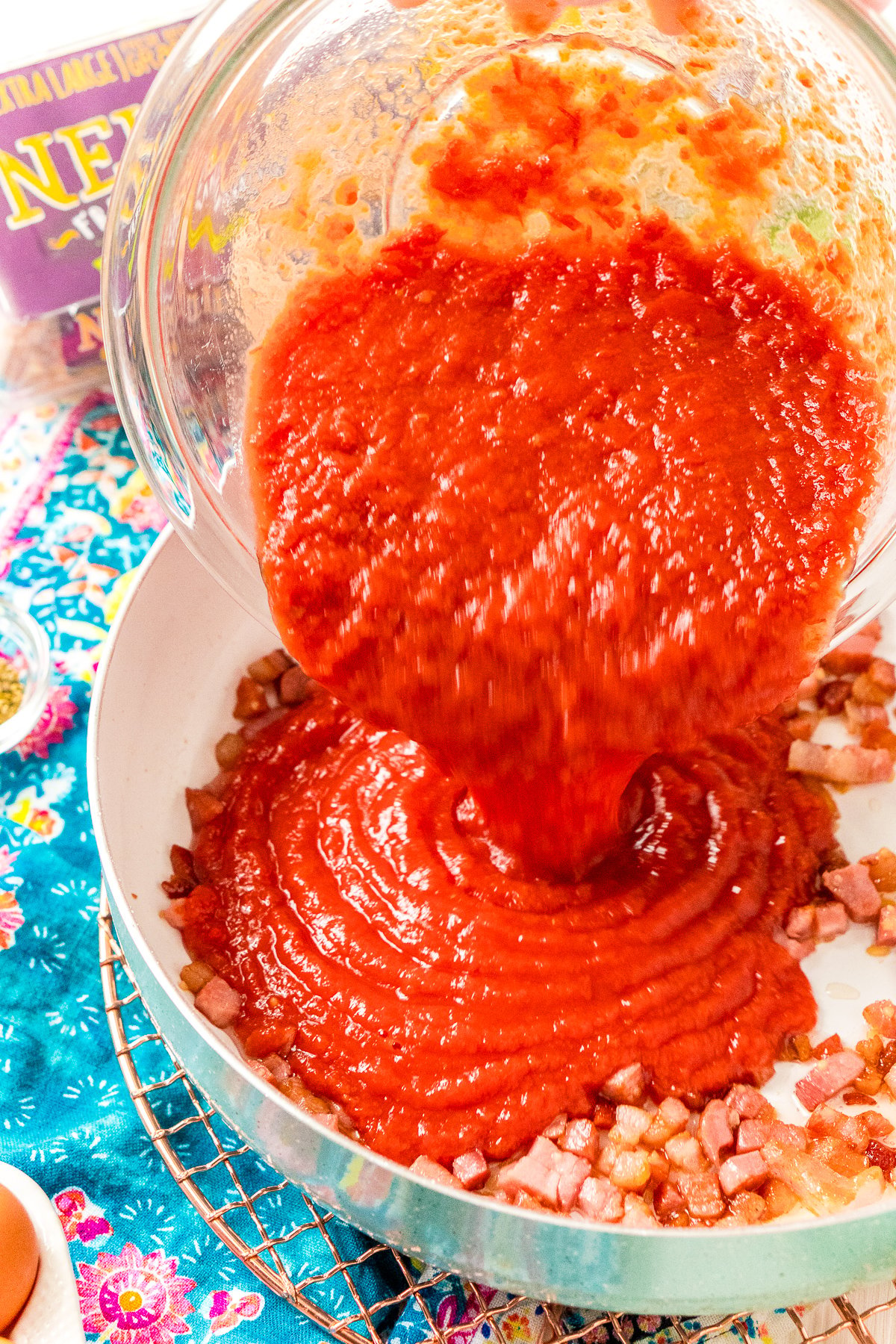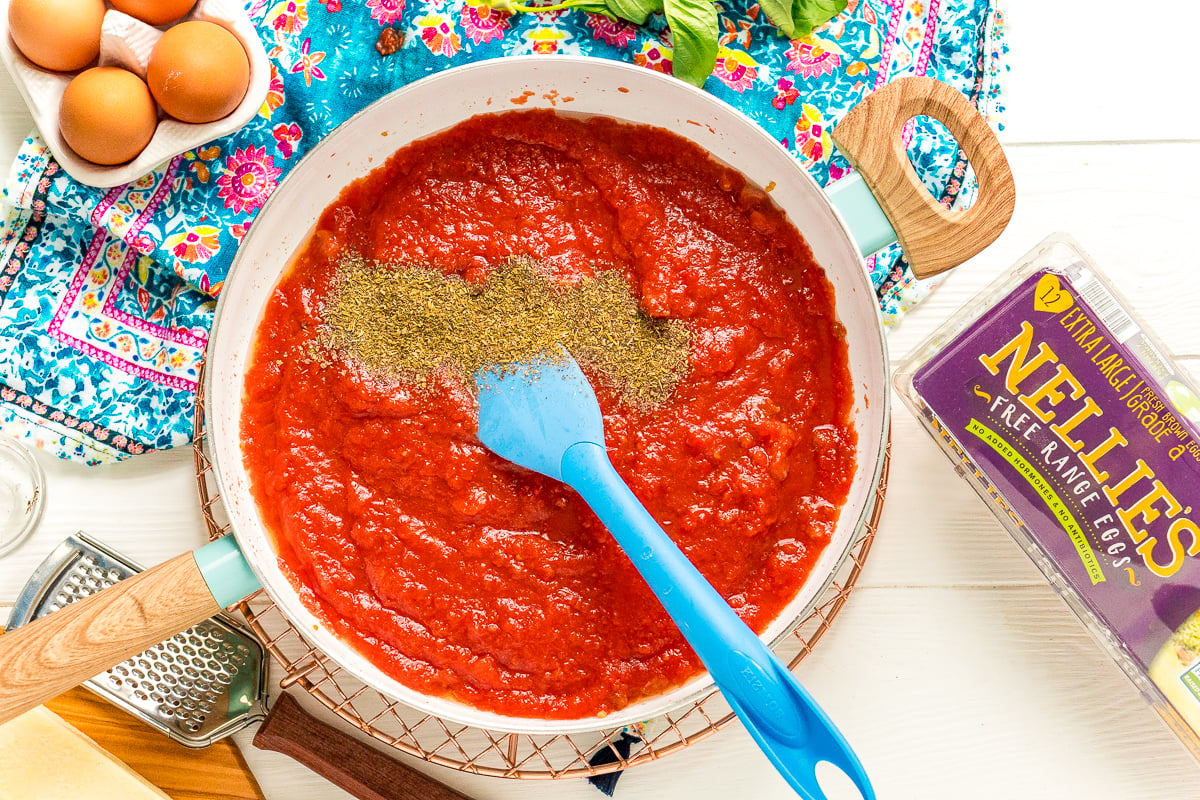 Next, throw in a handful of spinach and basil, and cook until the leaves wilt.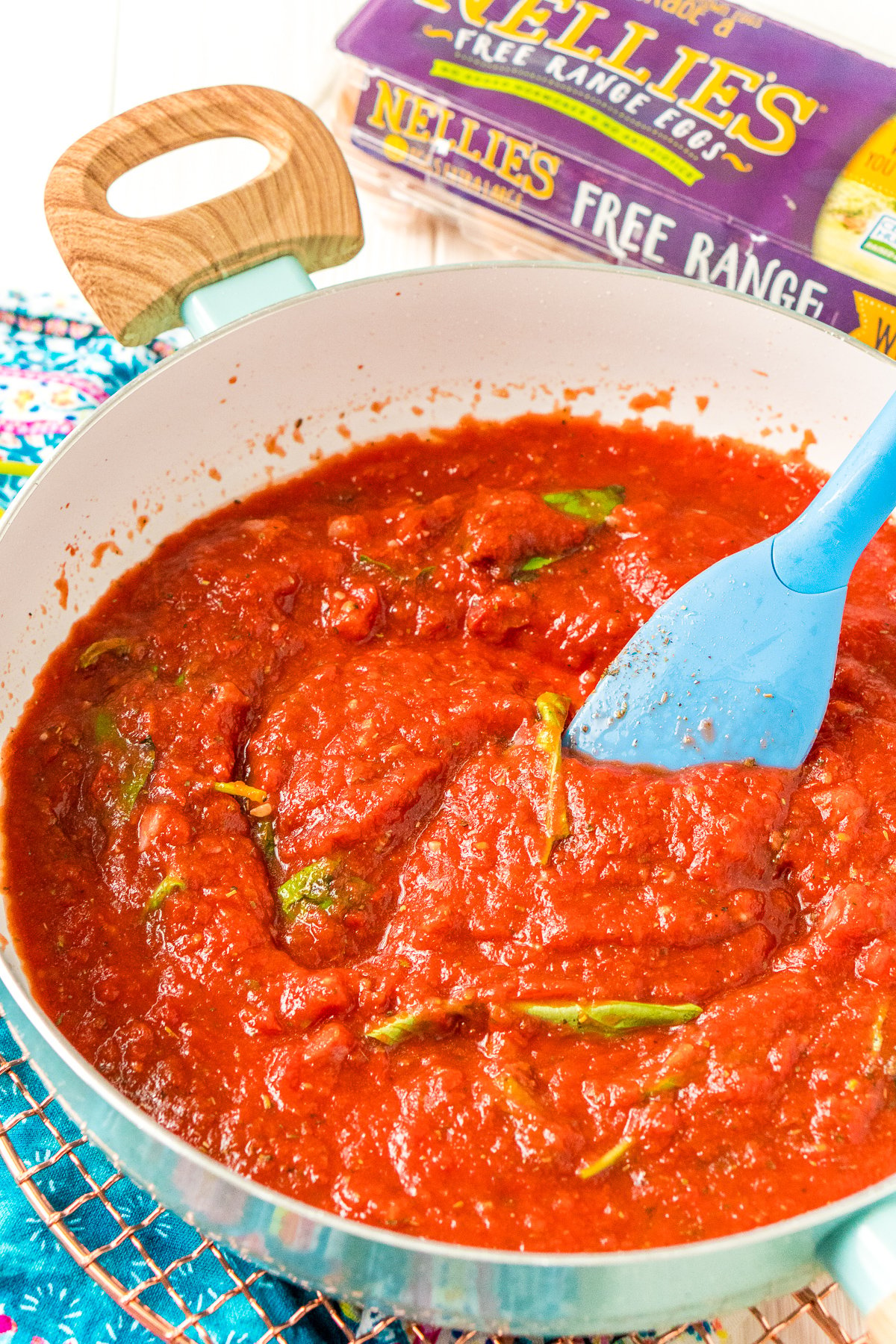 Then it's time to add the star of the dish: the eggs!
Carefully drop the eggs in tomato sauce, and they'll poach within all those aromatic flavors.
The best way to do this, in my experience, is to crack the eggs one at a time into a small prep bowl and slowly pour the egg into a well that you make in the sauce, using a rubber spatula to pull back the sauce. Repeat until all of the eggs have been added.
Cover the pan, and allow the steam to cook the eggs. Once the whites are firm but the yolks are still runny, they're done!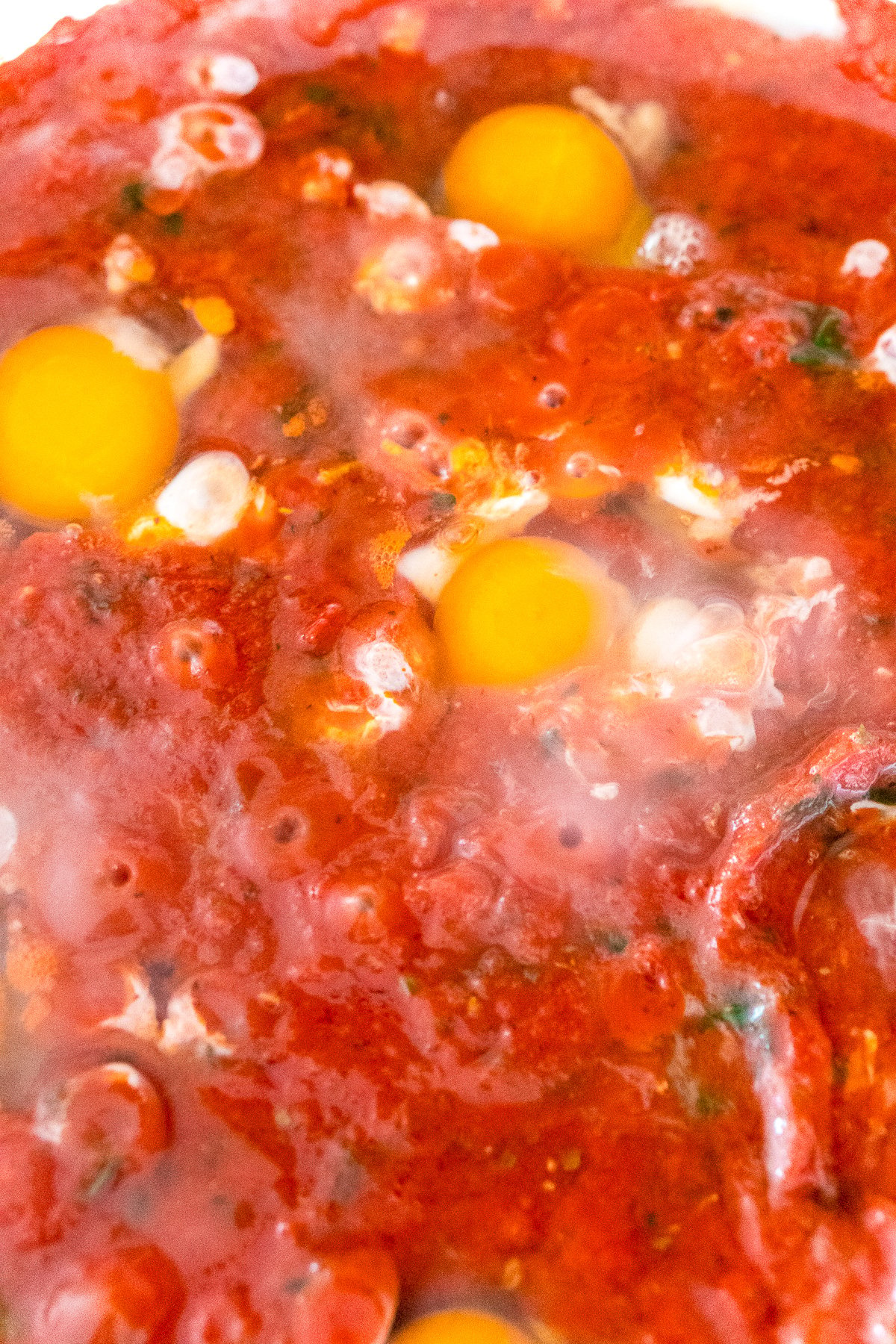 Season with salt and pepper. The finishing touch is minced basil or parsley and freshly grated Parmesan cheese, which starts to melt, making even more comforting goodness.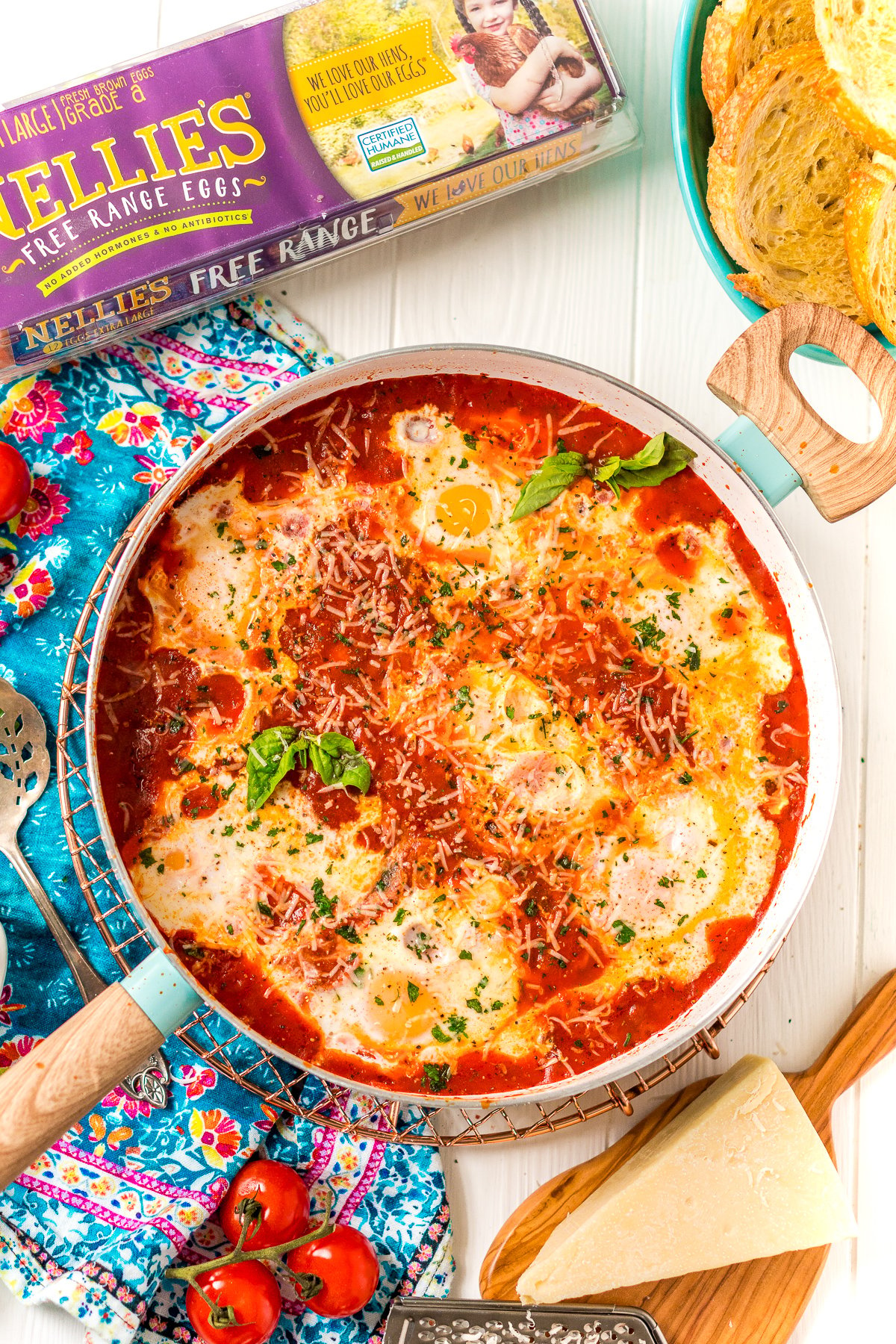 You can add a side of bacon or sausage, and you've got a hearty breakfast that the whole family will love.
And if you're hosting guests, be sure to add this recipe to the brunch spread. You can serve it right in the skillet (just tell everyone to be careful—it's hot!).
Use a spoon to scoop underneath the eggs to lift them out of the pan.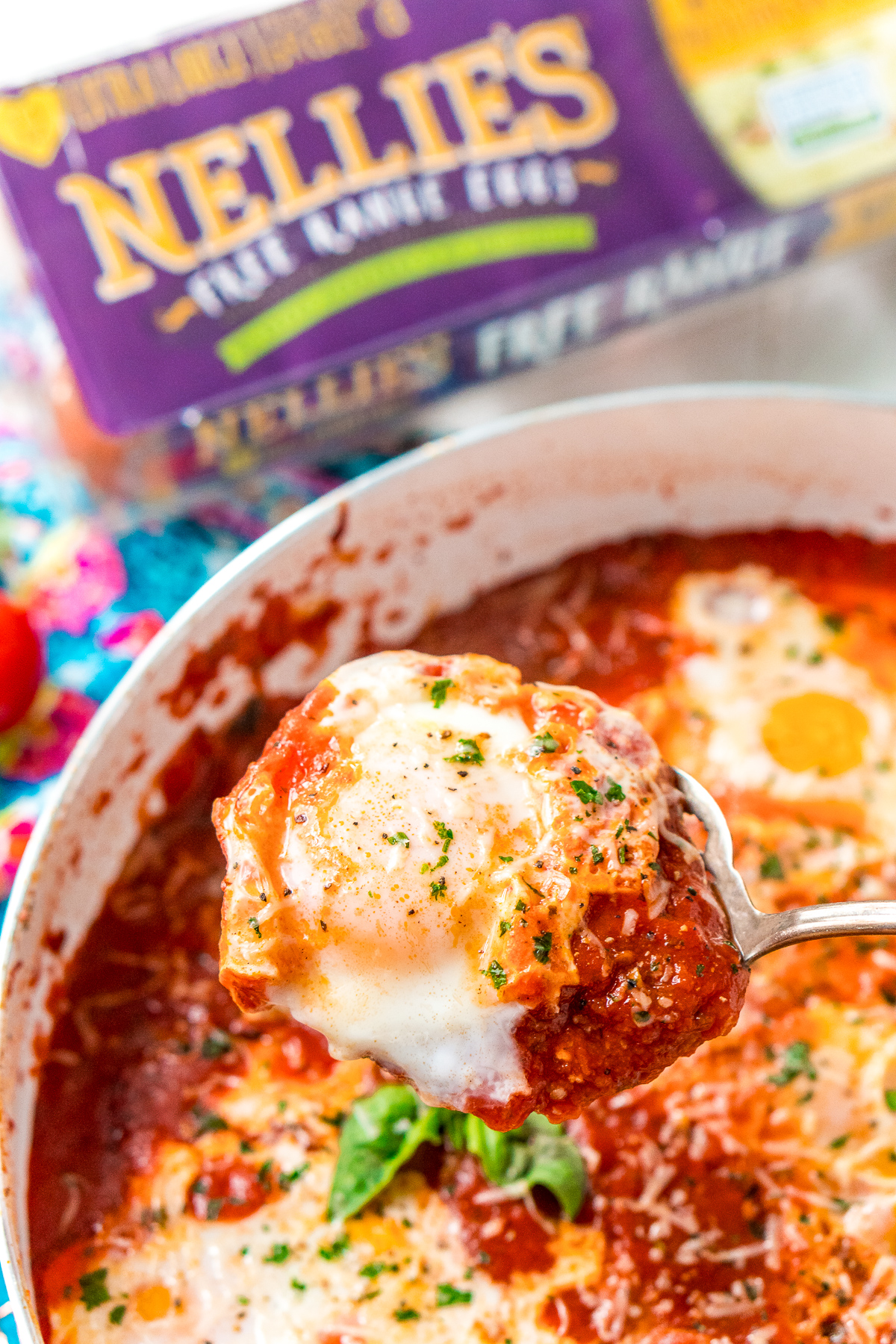 Eggs in Purgatory are a Brunch Favorite!
Whether you're cooking for a crowd or for your family on Sunday morning, you can whip up a batch or two of Eggs in Purgatory in minutes.
That means you can spend more time with the family and less time in the kitchen. And that's really what it's all about, right?
The next time you're at the grocery store, stock up on Nellie's Free Range Eggs and make this spicy Italian Eggs in Purgatory recipe this weekend.
I guarantee you'll enjoy this wholesome dish and the ability to spend more time with loved ones, too!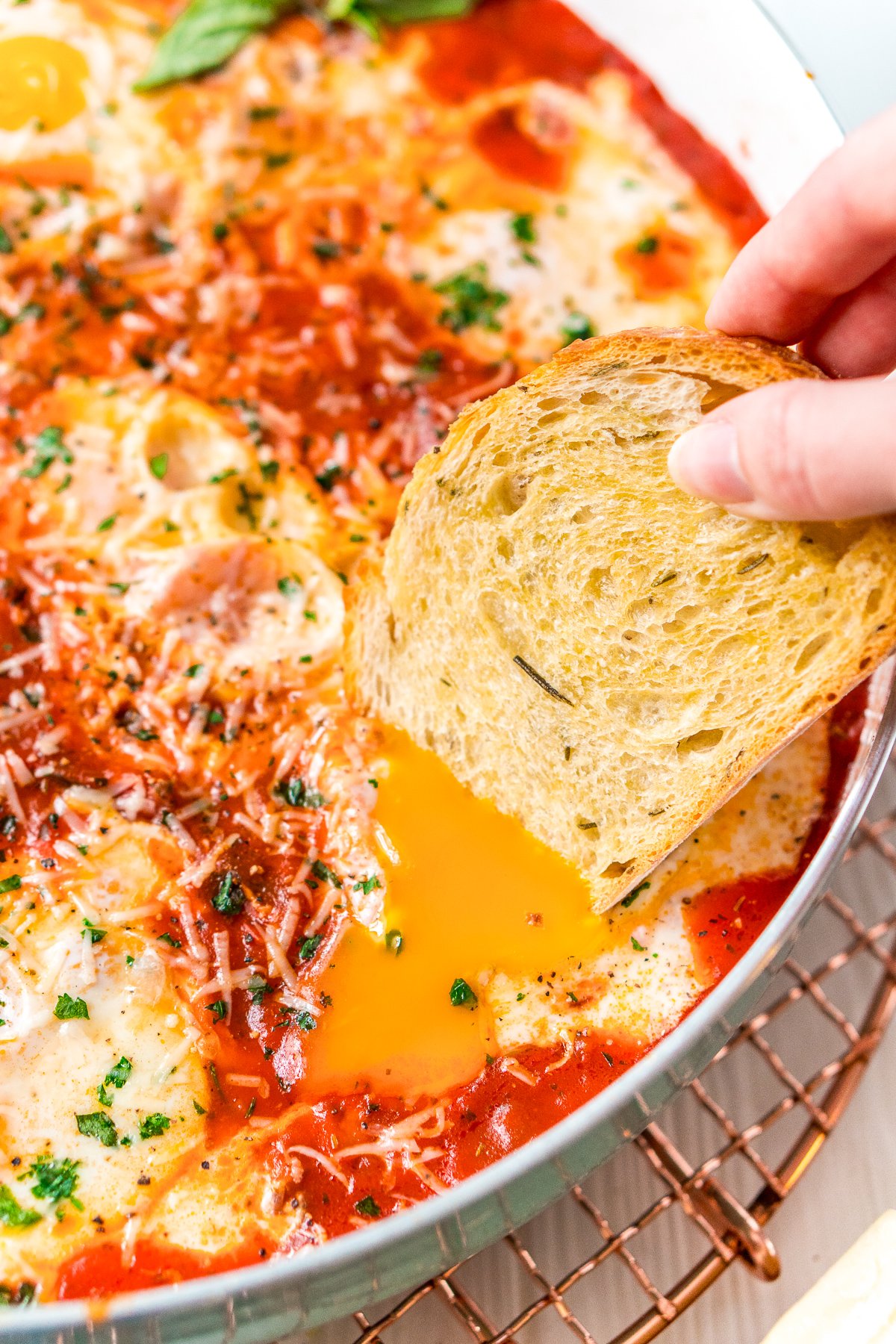 More Delicious Breakfast Recipes
Eggs In Purgatory
Click the button above to save this delicious recipe to your board!

Let's Connect!
I created a fun little group on facebook and I'd love for you to join in! It's a place where you can ask questions and see what's new with Sugar & Soul! If you'd like to check it out, you can request to join HERE.
Be sure to follow me on Instagram and tag #sugarandsoulco so I can see all the wonderful recipes YOU make from this site! You can also Subscribe to my Newsletter so you never miss a delicious recipe again!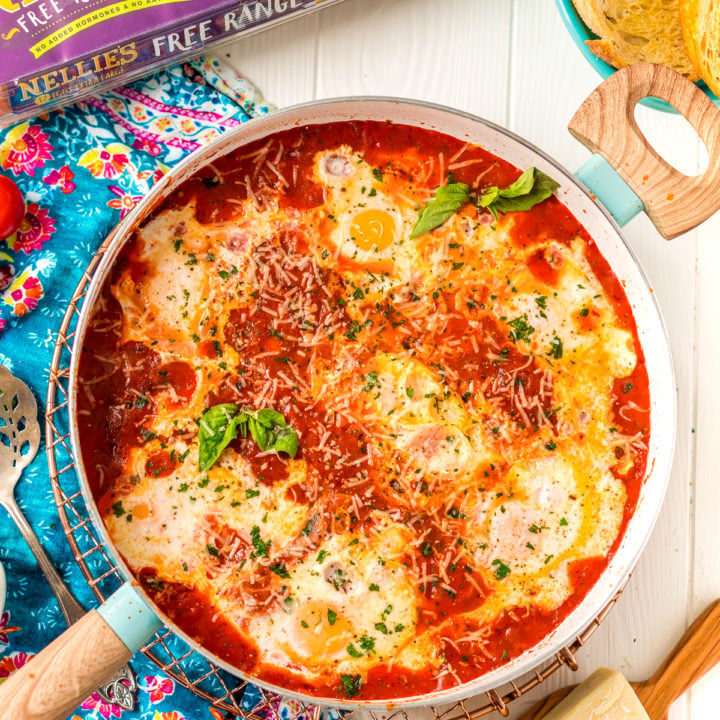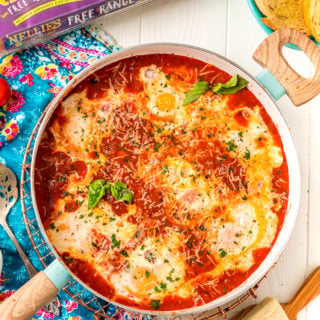 Italian Eggs In Purgatory
This recipe is a fun flavor twist on the traditional Eggs in Purgatory. Made with crushed tomatoes, eggs, herbs, pancetta, spinach, and Parmesan cheese.
Instructions
In a 10- or 12-inch skillet, sear the pancetta for 2 to 3 minutes over medium heat, stirring regularly.

Add in minced garlic and cook for an additional minute before adding the crushed tomatoes, seasoning, and salt. Let the mixture simmer for 7 to 8 minutes.

Stir in the fresh spinach and basil leaves.

You can crack your eggs directly into the sauce, but it's much easier to crack them into a small prep bowl one at a time and add them that way. To add the eggs, use a mixing spoon to pull back some of the sauce to create a well, and slowly pour the egg in. Repeat until all the eggs have been added.

Cover the pan, reduce the heat to low, and allow the eggs to cook for 4 to 6 minutes until the whites are cooked but the yolks are runny.

Remove from heat and top with additional salt, black pepper, fresh herbs, and Parmesan cheese, as desired.

Serve with crusty bread or over grits.
Notes
This recipe will work in a 10- or 12-inch pan; make sure it has a lid and is at least 2 to 3 inches deep.
You can add additional eggs if you have room. I usually make this in a 12-inch skillet and have room for 7 eggs. A 10-inch skillet will only allow for 5 or 6.
If you want to keep this dish vegetarian, you can omit the pancetta. But make sure you add 3 tablespoons of olive oil to the pan with the minced garlic.
If desired, you can also add 1/4 cup of finely chopped onions to the recipe; just add them with the pancetta.
Fresh cherry or grape tomatoes can also be added; mix in 1 cup when you add the crushed tomatoes to make the dish even heartier.
Nutrition
Calories: 234kcal | Carbohydrates: 12g | Protein: 13g | Fat: 16g | Saturated Fat: 5g | Cholesterol: 228mg | Sodium: 635mg | Potassium: 549mg | Fiber: 3g | Sugar: 6g | Vitamin A: 1110IU | Vitamin C: 14mg | Calcium: 113mg | Iron: 3.2mg
Reader Interactions
Share your thoughts!
Love this recipe? Share your thoughts with me below and leave a review! And don't forget to connect on your favorite social platform below!