Present that traditional pumpkin pie in a more festive way with this White Chocolate Pumpkin Cheesecake Tart! Pumpkin cheesecake, infused with white chocolate and nestled in a gingersnap crust, is going to be your new favorite holiday dessert!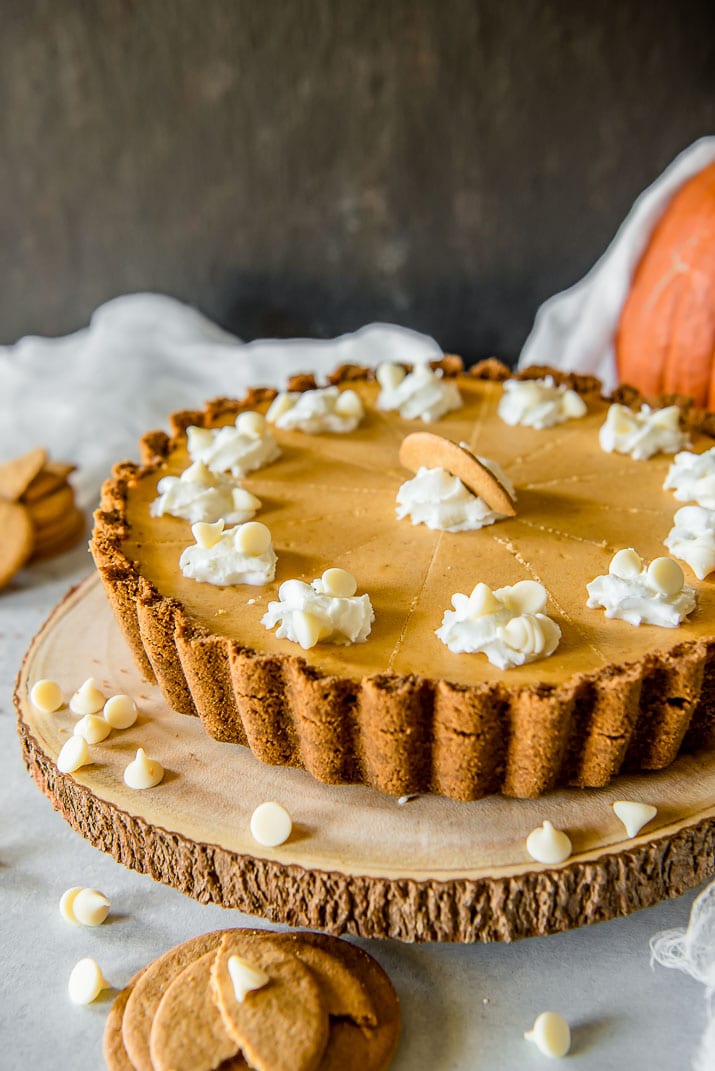 White Chocolate Pumpkin Cheesecake
As far as I'm concerned, it's just not the holidays without pumpkin pie. That creamy, dreamy filling, wrapped up inside a delicious buttery crust…the smell alone is enough to send me into a fall dessert frenzy!
I'm here today to prove that you can switch up the presentation of this classic pie a bit, and it will still feel (and taste) like the holidays! This White Chocolate Pumpkin Cheesecake Tart isn't quite a pie, or a cheesecake, or a tart for that matter. It's a fun, festive mashup that will have your family and friends begging you to bring it to your next holiday get-together!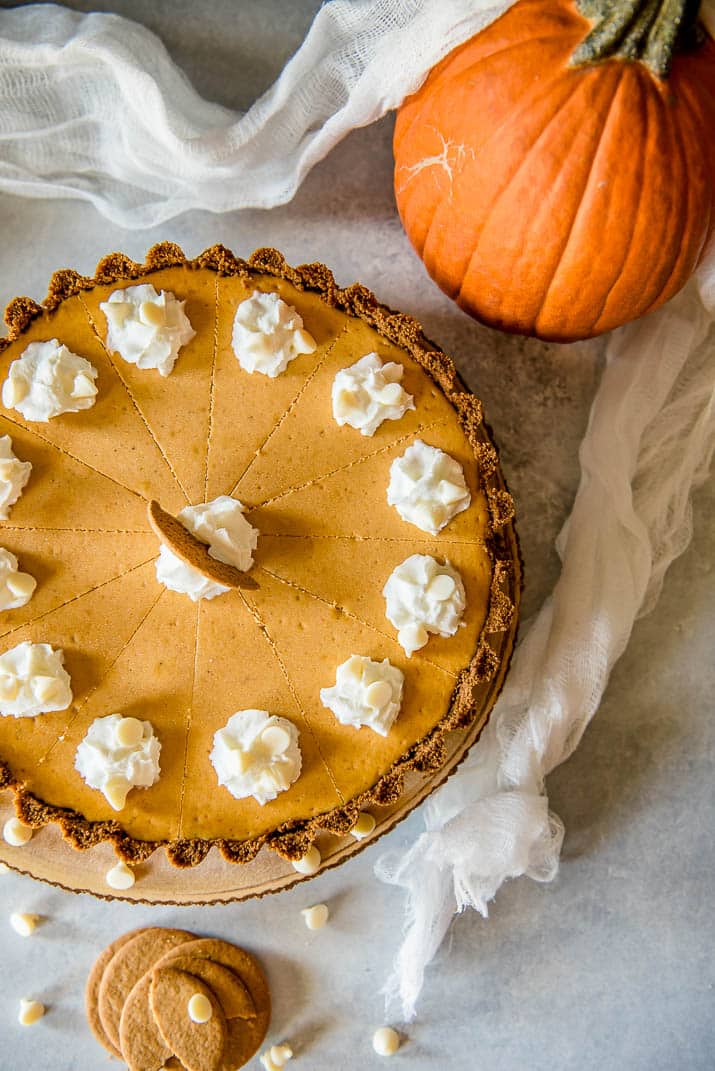 I'm one of those basic chicks who starts getting excited for all the pumpkin spice things in July. I'm a Florida native, so by the time Independence Day rolls around, I'm already over summer and all the things that come with it.
I'm really a displaced Northerner. My family hails from upstate New York, so I suppose it's in my blood to crave cool, leaf changing, cider-sippin' weather.
Or, in this case, pumpkin spice weather.
In the last 3 years that I've been blogging at The Crumby Kitchen, I've amassed well over a dozen pumpkin recipes, from savory dishes to sweets to even a couple of fun cocktails (one of which you Harry Potter fans would love.) I just can't help but love experimenting with my fave gourd.
More Delicious Pumpkin Recipes: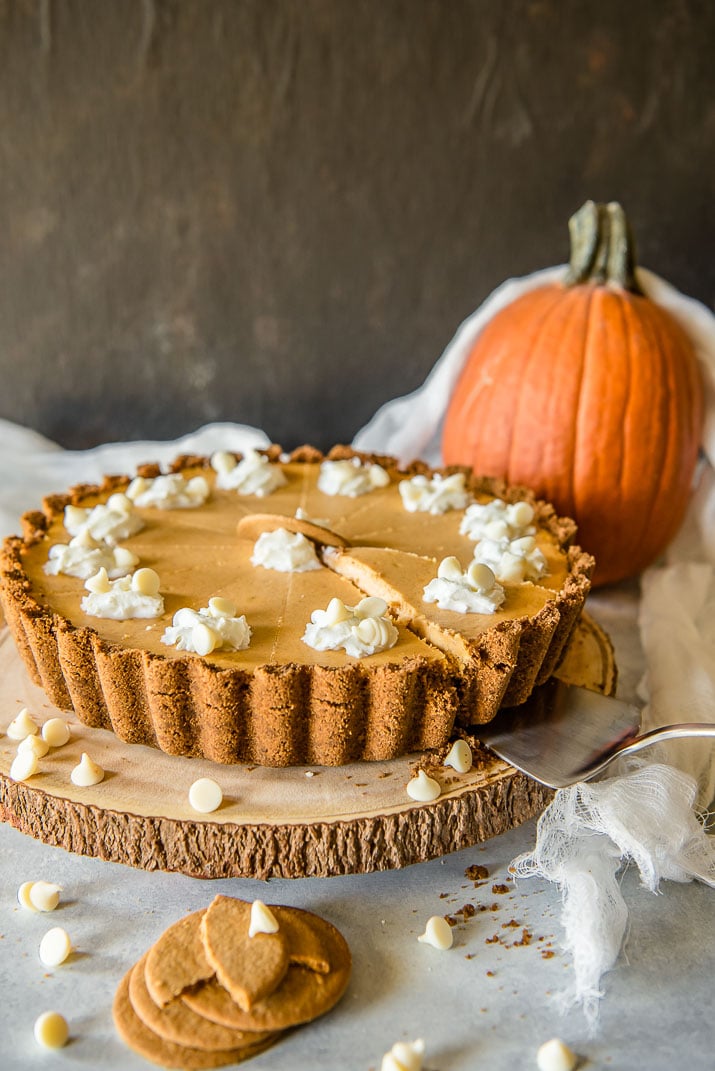 For this cheesecake tart, I was really feeling the pumpkin-white chocolate feels. The chocolate is super subtle, but it adds a bit more sweetness to a dessert that doesn't really contain a whole lot of sugar. The gingersnap crust has no additional sugar added to the already sweet & spicy cookies, and the cheesecake filling itself has less sugar than a normal one would have.
Plus, I feel like white chocolate is so often neglected. I'm personally not a fan of eating it straight (more of a dark chocolate gal) but it's perfection in baked goods. It deserves a place on a holiday table, even if only once a year.
This tart also bakes up like a dream. How many cheesecakes have you made that looked perfect when you cracked the oven to let them cool, then when you come back hours later you find a huge Wolverine-sized gash cut right through the middle of it? You'll have no problems with this guy, and you don't have to worry about spilling a water bath all over yourself, either.
As far as decorations? They couldn't be any easier. A little bit of whipped cream (homemade is best, but a store-bought can never hurt in a pinch,) or a lot if you're into it. Some white chocolate chips or shavings if you're feeling fancy, and a couple gingersnaps and you're good to go!
An elegant pumpkin pie/tart/cheesecake that looks fancy, but really only took you less than an hour and a few spoon strokes to throw together. Happy freakin' holidays to you!
Tools You'll Need for this Pumpkin Cheesecake Recipe:
Tart Pan: I like using a tart pan with a removable bottom like this one for easy baking and serving.
Food Processor: The easiest and quickest way to turn the gingersnaps into crumbs is with a food processor or blender.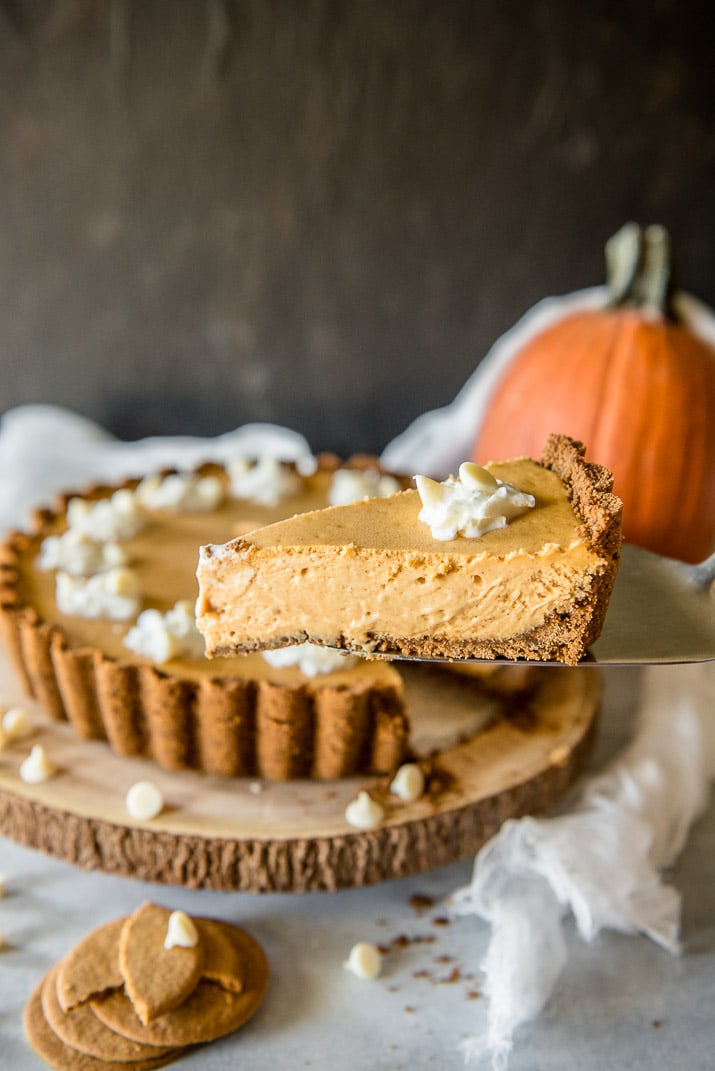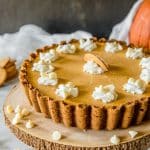 White Chocolate Pumpkin Cheesecake Tart
Present that traditional pumpkin pie in a more festive way with this White Chocolate Pumpkin Cheesecake Tart! Pumpkin cheesecake, infused with white chocolate and nestled in a gingersnap crust, is going to be your new favorite holiday dessert!
Instructions
Position a rack in the center of the oven and heat the oven to 325°F.

Pulse the gingersnaps in a blender or food processor until fine. In a medium bowl, mix the crumbs and melted butter until evenly moistened.

Put the crumbs in the tart pan and use your hands to spread the crumbs so that they cover the bottom of the pan and sides. Using your fingers, pinch and press some crumbs around the inside edge of the pan, covering the sides evenly in a 1/4 inch thick wall.

Spread the remaining crumbs evenly over the bottom of the pan and press firmly.

Bake the crust 8-10 minutes, then remove to a wire rack.

While the crust is cooling, Add the cream cheese, brown sugar, melted white chocolate, and pumpkin spice in a medium bowl. Use a hand mixer (or stand mixer) to blend the ingredients together until smooth, 3-4 minutes.

Add the pumpkin puree and mix until combined. Add each egg one at a time, mixing well between, until the mixture is smooth and evenly blended.

Pour the cheesecake mixture into the cooled tart crust, spreading it with a spatula to even it out. Bake at 325°F for 30-35 minutes, or until filling is just set. Transfer tart pan to a wire rack to cool completely.

When ready to serve, top with whipped cream and garnish as desired with extra gingersnaps and/or white chocolate.
Nutrition Facts
White Chocolate Pumpkin Cheesecake Tart
Amount Per Serving
Calories 377
Calories from Fat 234
% Daily Value*
Total Fat 26g 40%
Cholesterol 91mg 30%
Sodium 239mg 10%
Potassium 198mg 6%
Total Carbohydrates 32g 11%
Protein 5g 10%
* Percent Daily Values are based on a 2000 calorie diet.