These Birthday Cake Pudding Cookies are sweet, chewy and loaded up with sprinkles. A hint of vanilla make them the perfect alternative to cake. Or, you know, have both!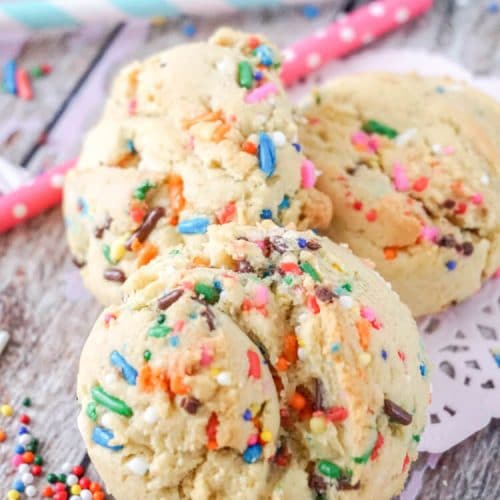 These Birthday Cake Pudding Cookies are sweet, chewy and loaded up with sprinkles. Tempting vanilla makes them the perfect alternative to cake, or you know, have both! I did!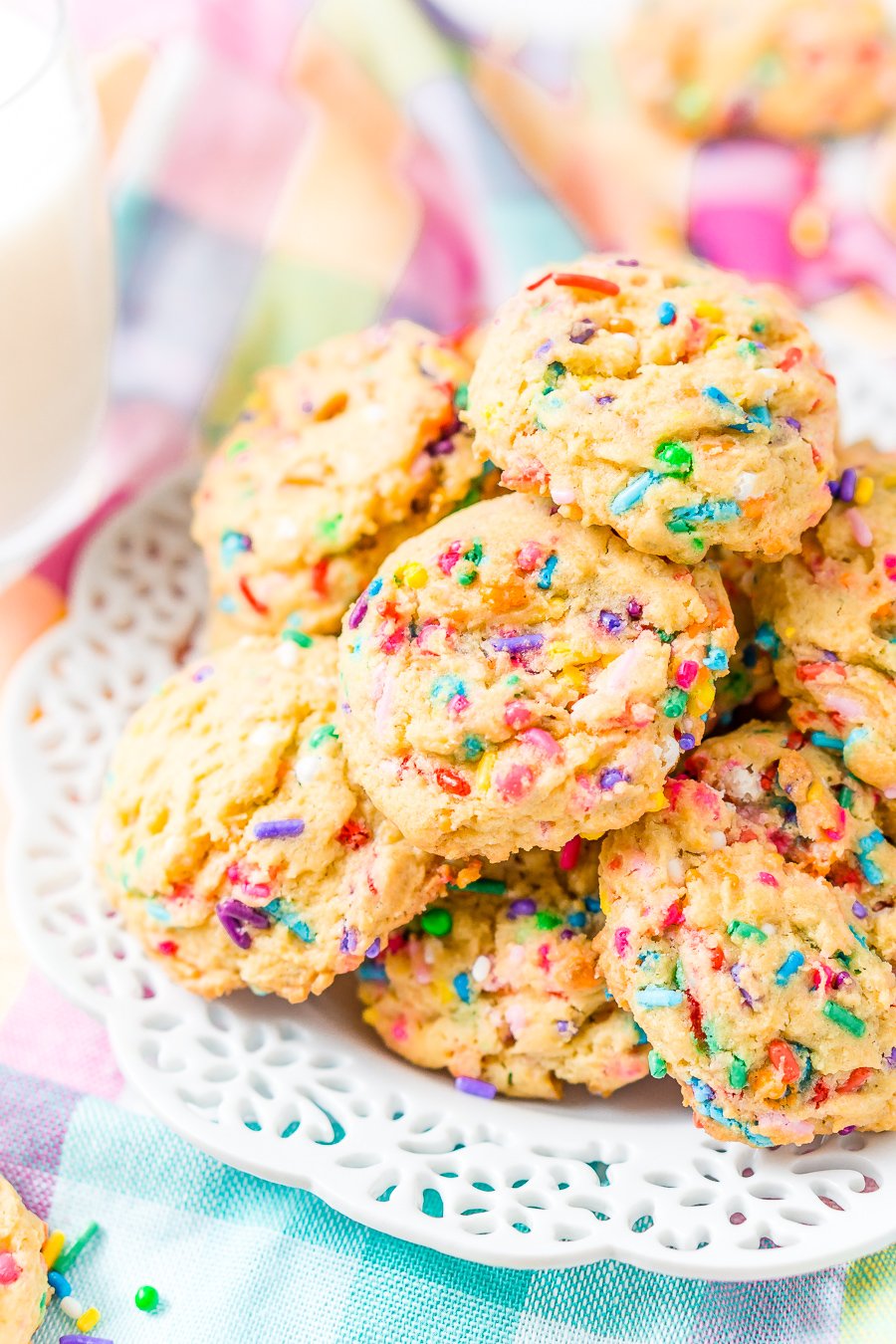 Birthday Cake Pudding Cookies
These Birthday Cake Pudding Cookies are such a fun alternative to a classic birthday cake!
Yesterday I turned 25. Yup, the big TWO-FIVE, and I've been having a lot of anxiety over it since this past summer.
Why? I'm not really sure, I think it's a lot of things. I'm officially closer to 30 than my teens. I haven't yet seen the world. I haven't taken enough risks.
You know, the usual quarter-century crisis stuff.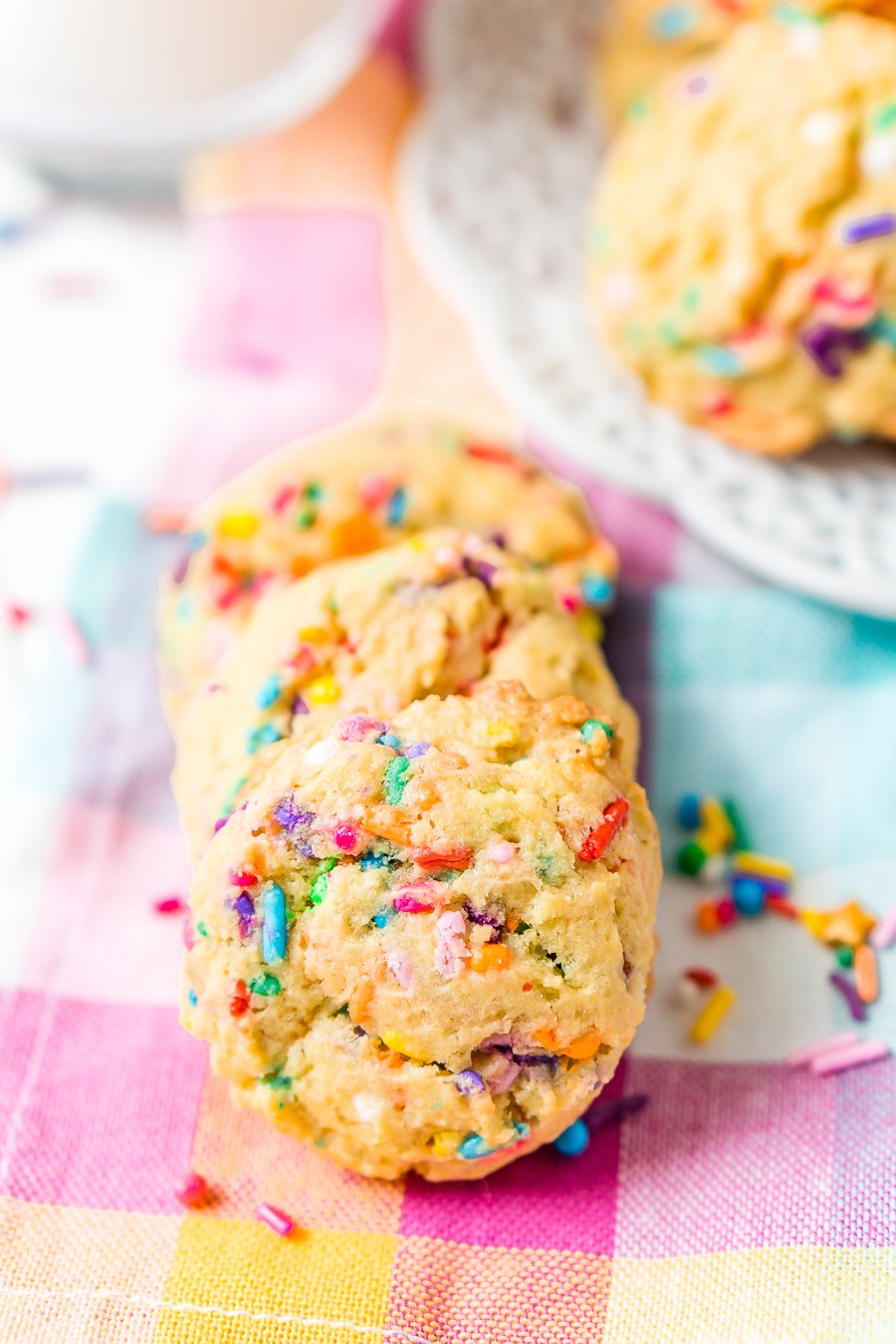 It's funny because most people say those who dread 25 are those who don't have their life on track. But I do. I went to college, I bought a house, I married my high school sweetheart, I have two great jobs and I make good money.
See, I've been going right down that checklist. I've even had a 401K for 4 years.
I've always been responsible and so has Matt, but for the most part that meant that we worked two or three jobs in college, decided not to study abroad, and we never went on any fun trips with friends.
And now that we're both in our mid-twenties we've settled into this routine of responsibility and boredom.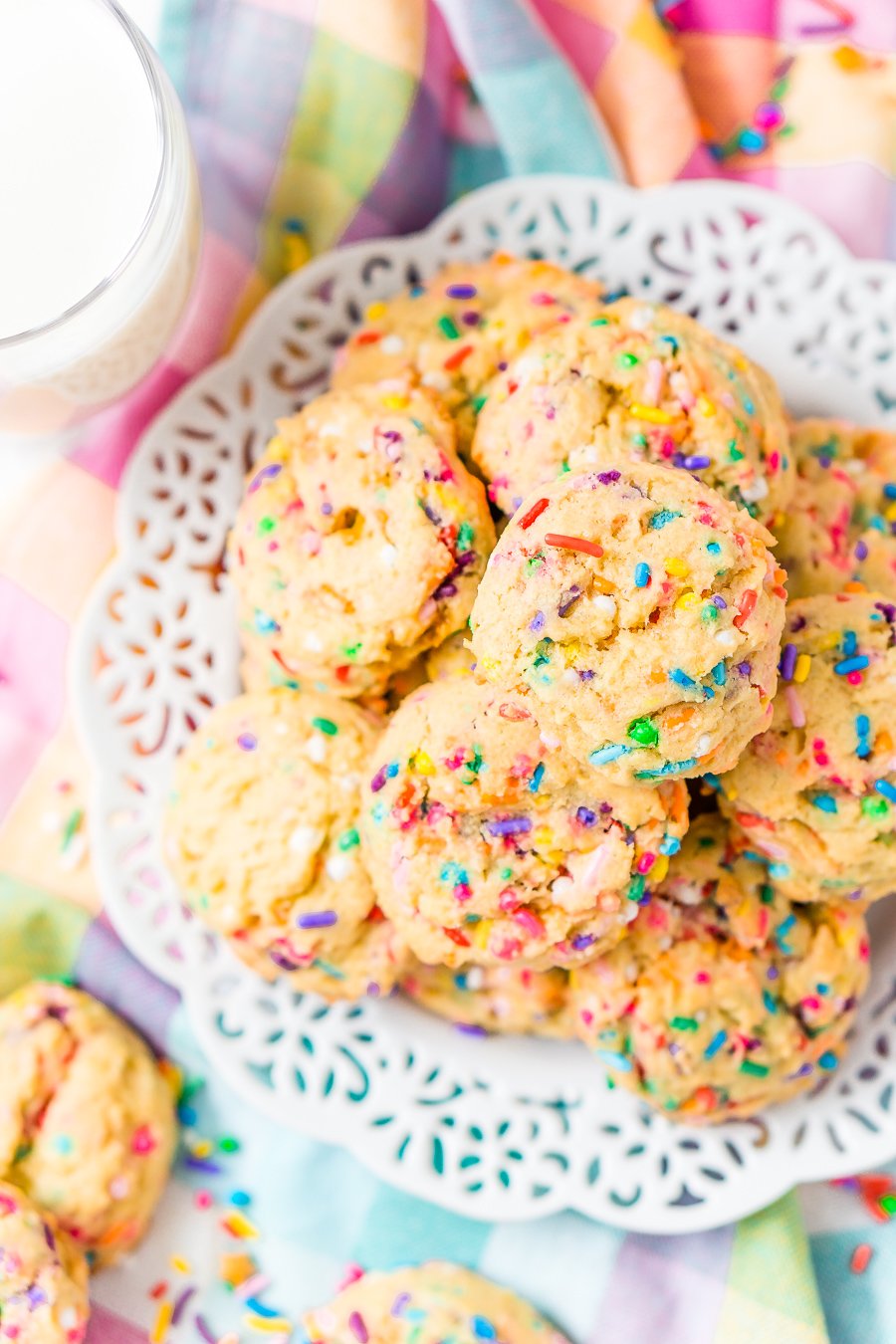 Wait, did I say I turned 25, I meant 40.
Actually, I take that back, my parents are in their early 40s and I think they have way more fun than me.
Is this was 25 is like for everyone?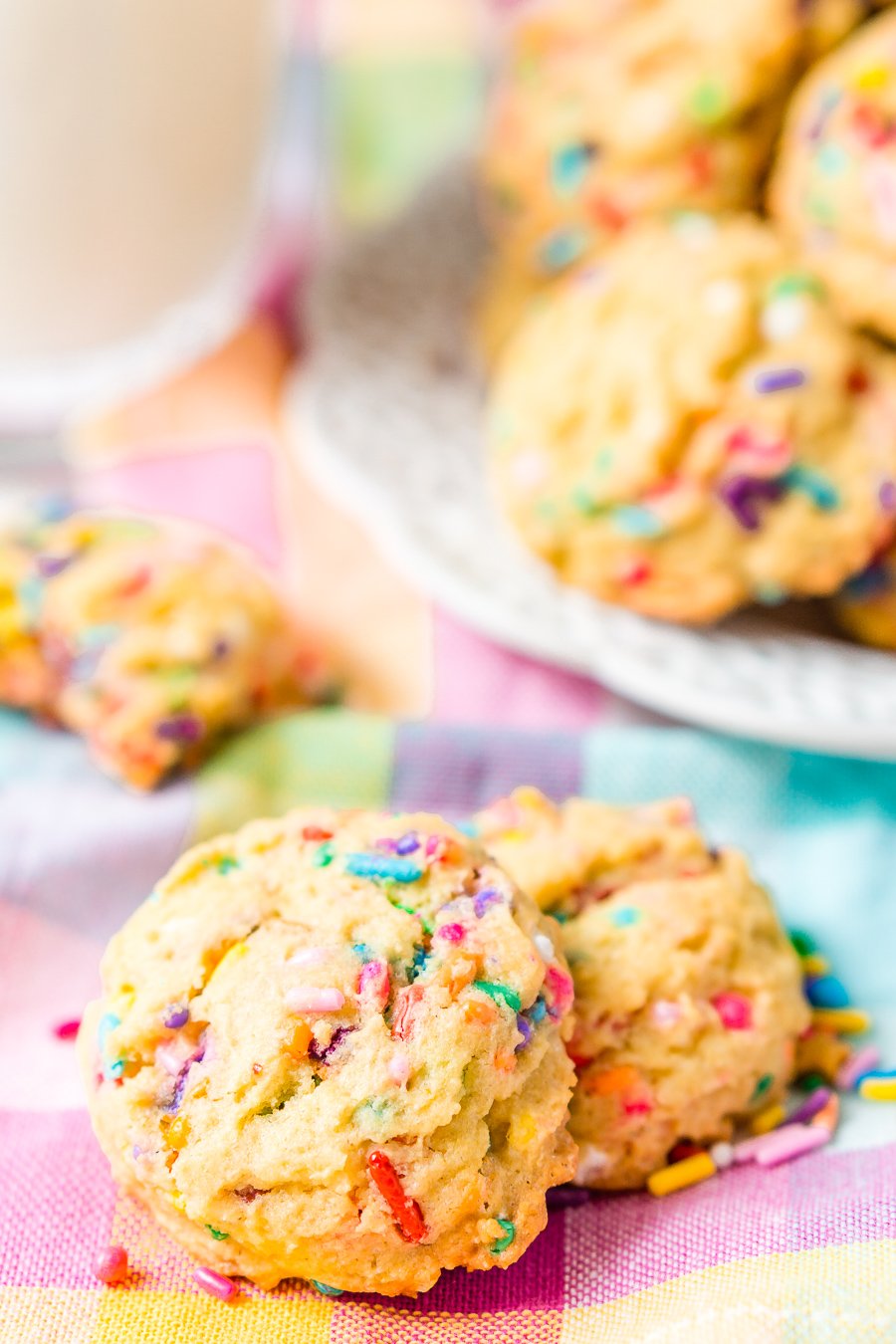 I think the biggest thing though, is that on the checklist of life, the next things for us is kids.
It's like now that I've left my early twenties, I feel like the pressure is on to get everything I want to do for ME done before I run out of time.
I've heard a couple quotes this year that have really gotten me worked up, the first was "We live two lives; one for us and one for our children" from Sam on True Blood.
The second was "Once you're a parent, you're the ghost of your children's future… Now we're just here to be memories for our kids" from Interstellar.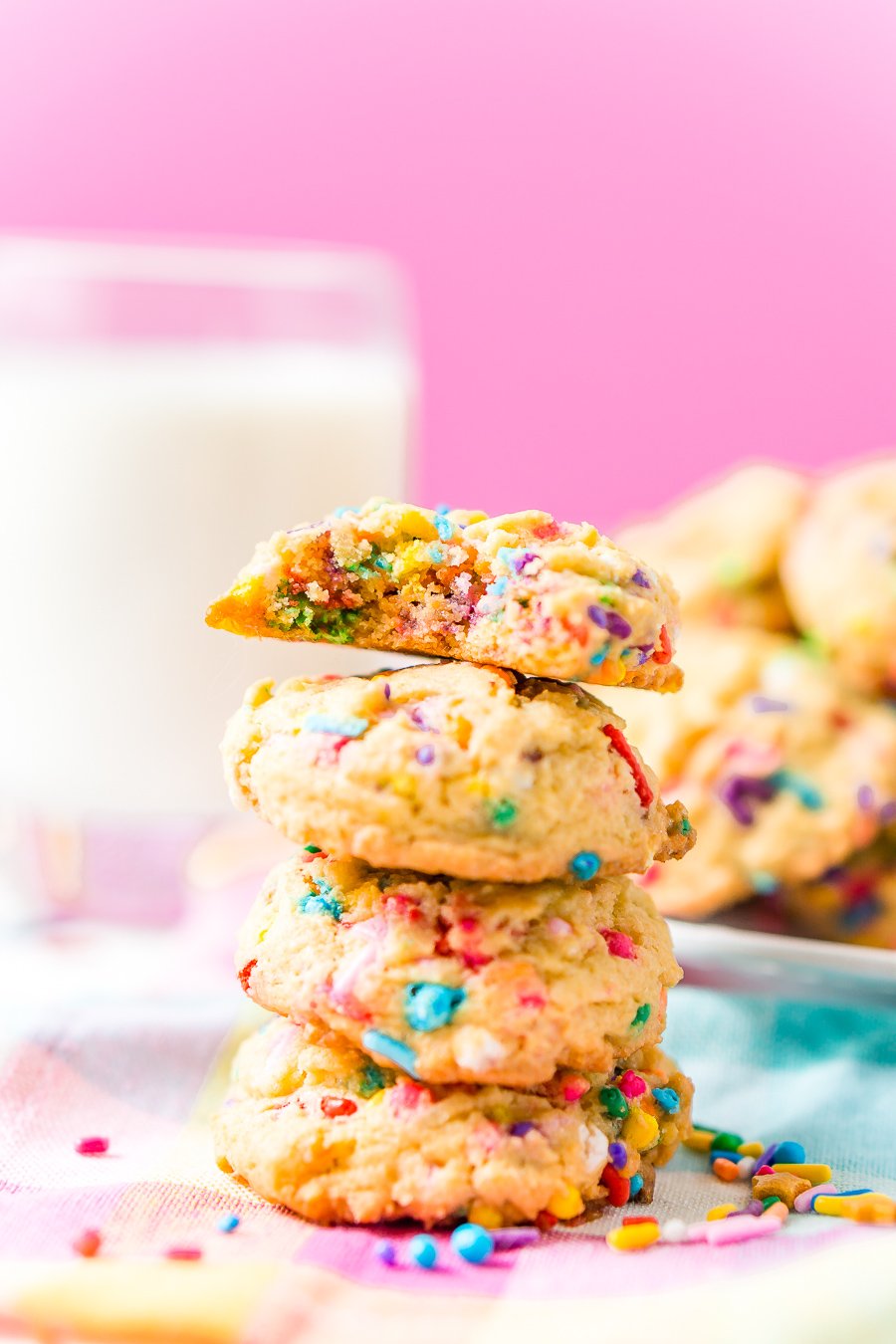 Yup, both of them kinda sent me reeling into a fit of panic that I'd barely lived my own life, that first life. I can feel it starting to flee and it scares the crap out of me.
Now, don't get me wrong, I WANT kids, but I have some things I NEED to do in this first life before I start in on that second one.
So I decided to make a list, a list of 25 things I'm going to do at 25.
I may not get all of them done, but 365 days from now I want to be able to look back and say "that was a good year, that was a good first life, and I'm ready for whatever comes next."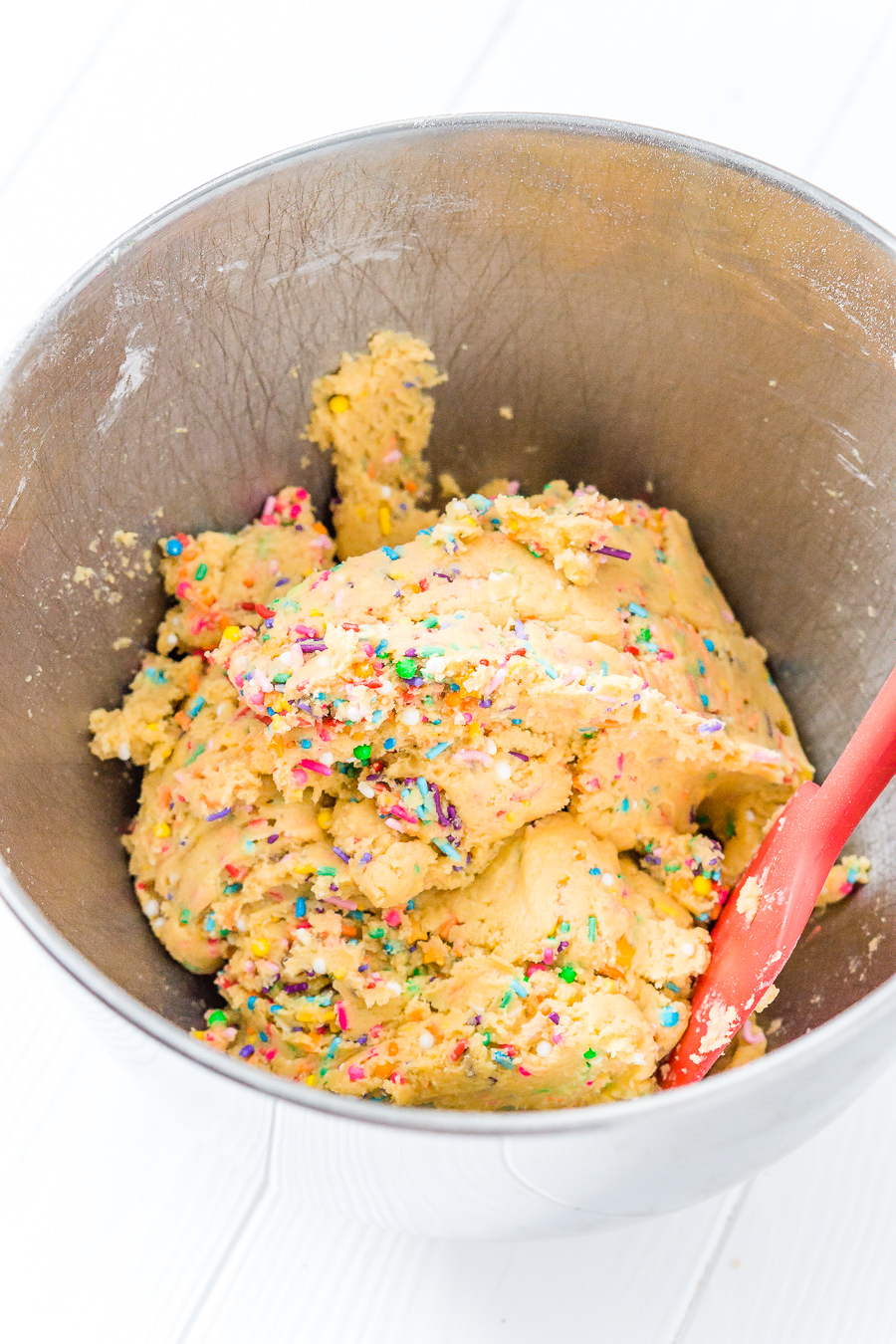 25 Things To Do When You're 25
1. See the Fairy Pools in Scotland.
2. Lose 20 lbs.
3. Read 50 books.
4. Make macarons.
5. Hike Katahdin.
6. Start writing a book.
7. Stand on the Cliffs of Moher in Ireland.
8. Hike in Glacier National Park.
9. Go Skydiving.
10. Laugh more.
11. Visit Seattle.
12. Make homemade pie crust.
13. Take the train.
14. Swim in the Pacific.
15. Watch the sunrise somewhere pretty.
16. See a Broadway Musical.
17. Learn how to sew.
18. Go on a hot air balloon ride.
19. Have more sex.
20. Visit Gettysburg.
21. Go on a road trip.
22. Get published with a major media channel.
23. Be completely disconnected for a weekend.
24. Stay in a castle.
25. Love myself more.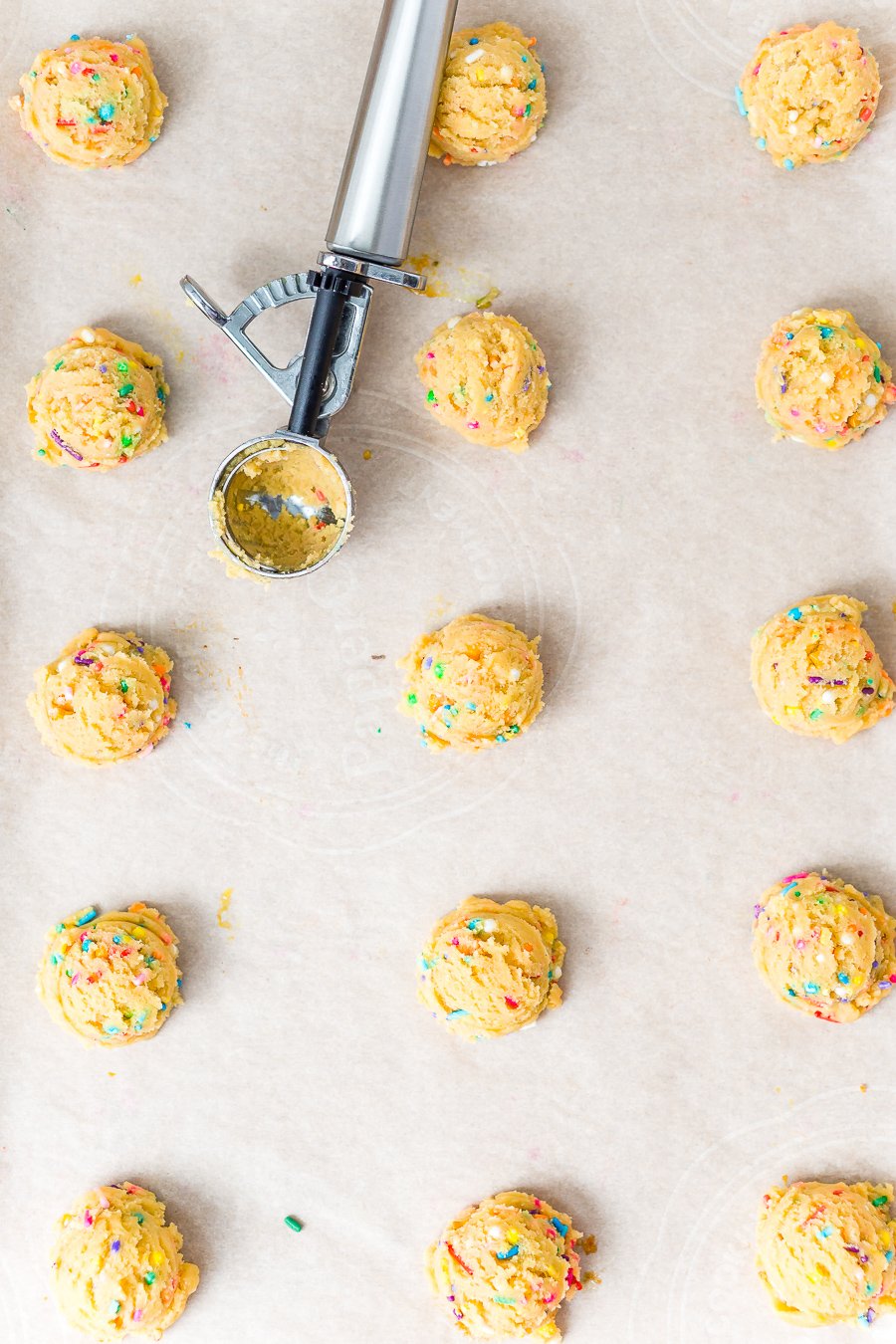 So there it is, my list of 25 things I'm going to (attempt) to do while I'm 25.
And honestly, since I decided to make this list a few weeks ago and really embrace a quarter century of life, I've been feeling a lot more optimistic.
I think 25 is going to be a great magical year for so many aspects of my life.
To celebrate turning 25, I decided to bake up some sweet little Birthday Cake Pudding Cookies and share the recipe with all of you!
I threw myself a fun little party too, but that won't be on the blog for a couple of weeks! So in the meantime, enjoy these rainbow sprinkle loaded vanilla pudding cookies!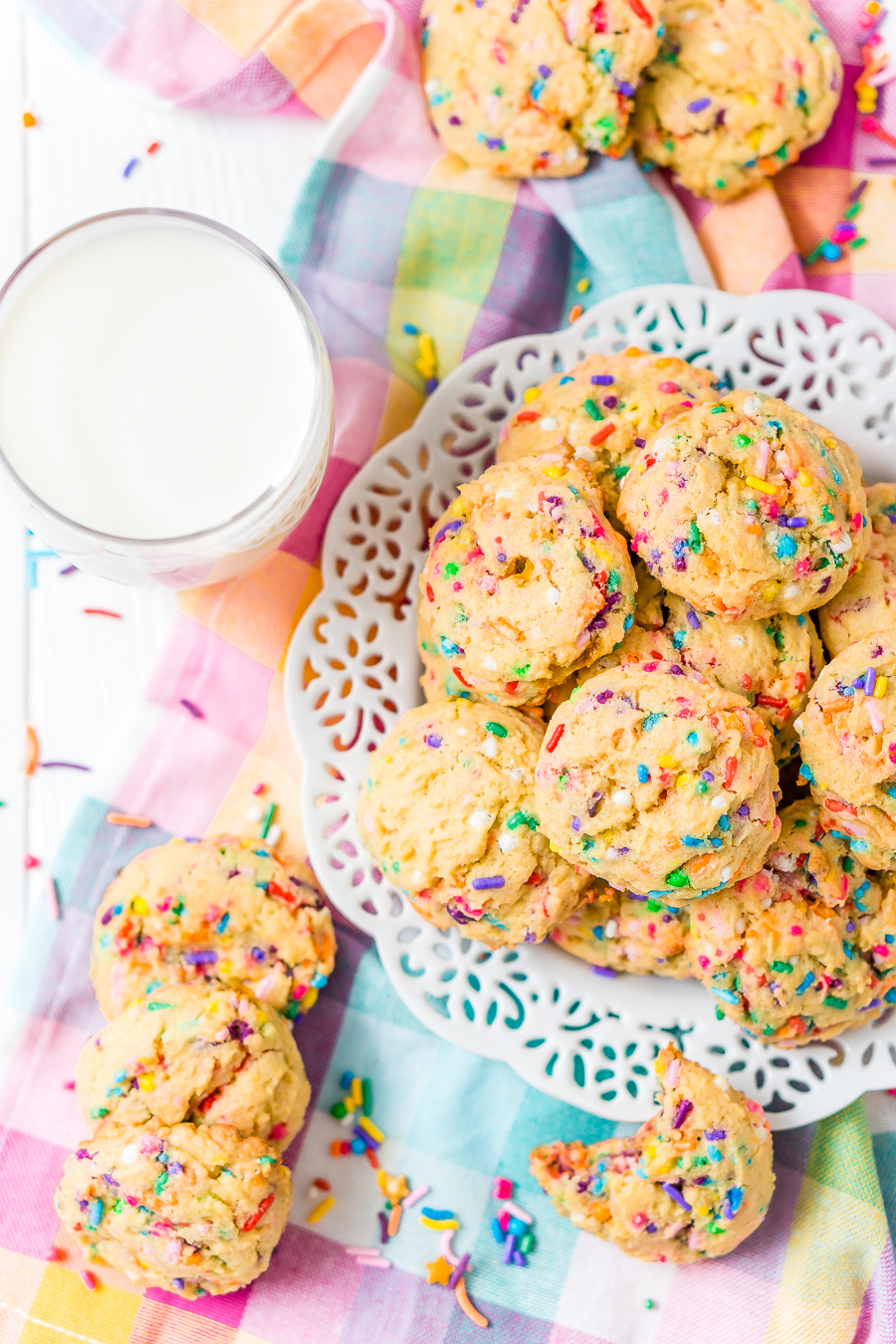 More Fun Birthday Recipes:
Birthday Cake Pudding Cookies
Click the button above to save this delicious recipe to your board!

Let's Connect!
I created a fun little group on facebook and I'd love for you to join in! It's a place where you can ask questions and see what's new with Sugar & Soul! If you'd like to check it out, you can request to join HERE.
Be sure to follow me on Instagram and tag #sugarandsoulco so I can see all the wonderful recipes YOU make from this site! You can also Subscribe to my Newsletter so you never miss a delicious recipe again!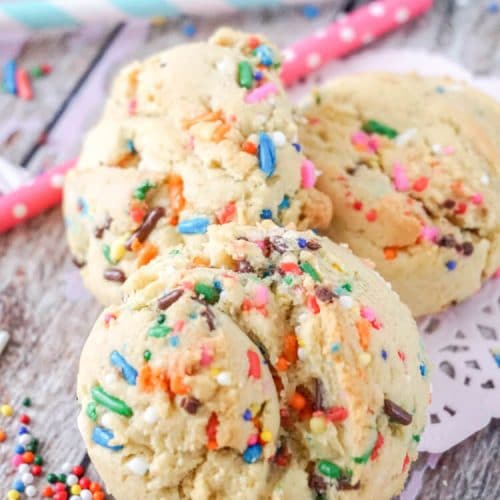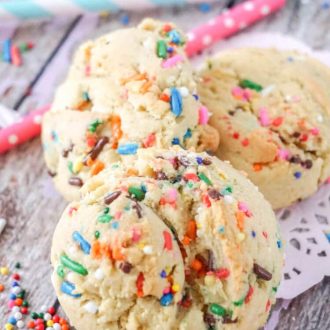 Birthday Cake Pudding Cookies
These Birthday Cake Pudding Cookies are sweet, chewy and loaded up with sprinkles. A hint of vanilla make them the perfect alternative to cake. Or, you know, have both!
Instructions
Cream butter and sugars together until smooth.

Add pudding, eggs, additional egg yolk and vanilla. Beat for about one minute on medium speed.

In a separate bowl, combine flour, baking soda, and salt.

Add dry ingredients to the wet ingredients a ½ cup at a time and mix until combined.

Fold in rainbow sprinkles.

Mold into a giant ball and wrap tightly in plastic wrap.

Chill for at least two hours. Remove from fridge a little while before baking so the dough can soften a bit and is easier to work with.

Scoop 1½ tablespoon sized scoops onto a nonstick baking sheet about two inches apart.

Bake at 350 F for 13-15 minutes.

Cool on pan for a couple of minutes before transferring to a cooling rack.
Nutrition
Calories: 59kcal | Carbohydrates: 8g | Fat: 2g | Saturated Fat: 1g | Cholesterol: 16mg | Sodium: 50mg | Potassium: 8mg | Sugar: 4g | Vitamin A: 80IU | Calcium: 3mg | Iron: 0.3mg
Reader Interactions
Share your thoughts!
Love this recipe? Share your thoughts with me below and leave a review! And don't forget to connect on your favorite social platform below!