Red Velvet Cake, aka President Snow's White Rose Cake, is a red velvet cake frosted in cream cheese buttercream and inspired by The Hunger Games trilogy and perfect for Valentine's Day too!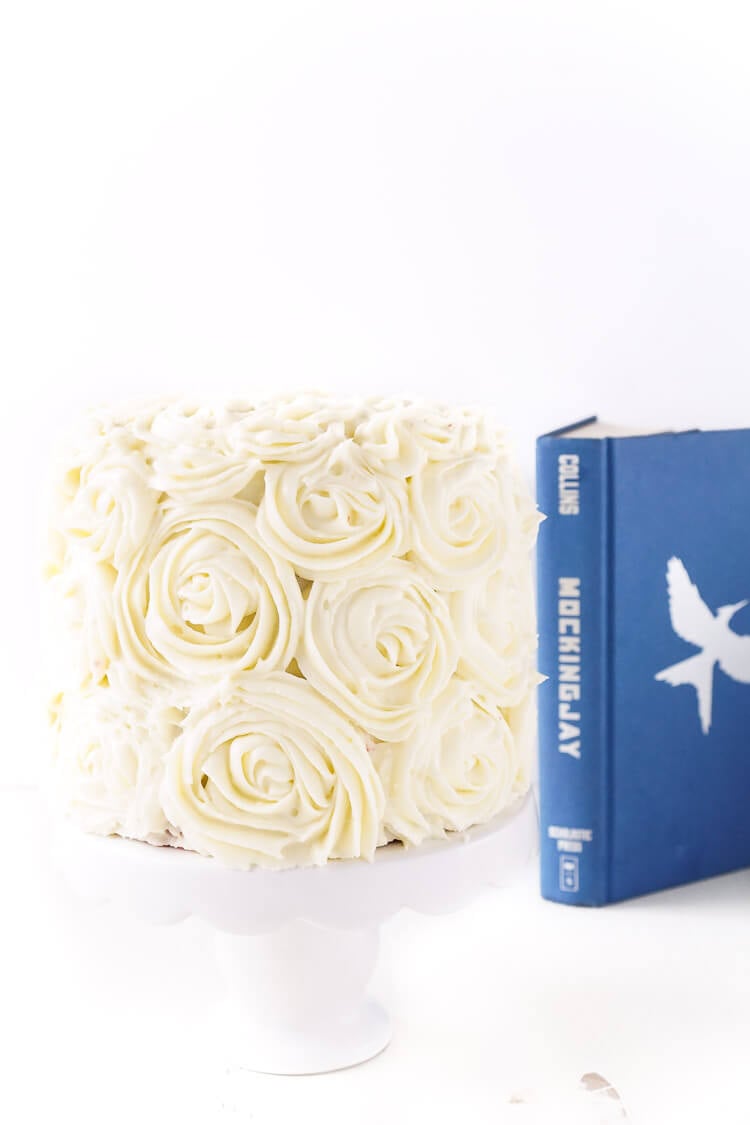 First things first, can you believe that out of all my Food & Fiction posts, this is the first Hunger Games inspired recipe? Nuts, right! What might be even more unbelievable is that there was a time when I REFUSED to read the books, and you know how much I love books! When I worked at Yankee Candle in college, one of my coworkers also worked at Borders and had picked up the series after a recommendation, pretty soon our whole staff was reading them. Except for me.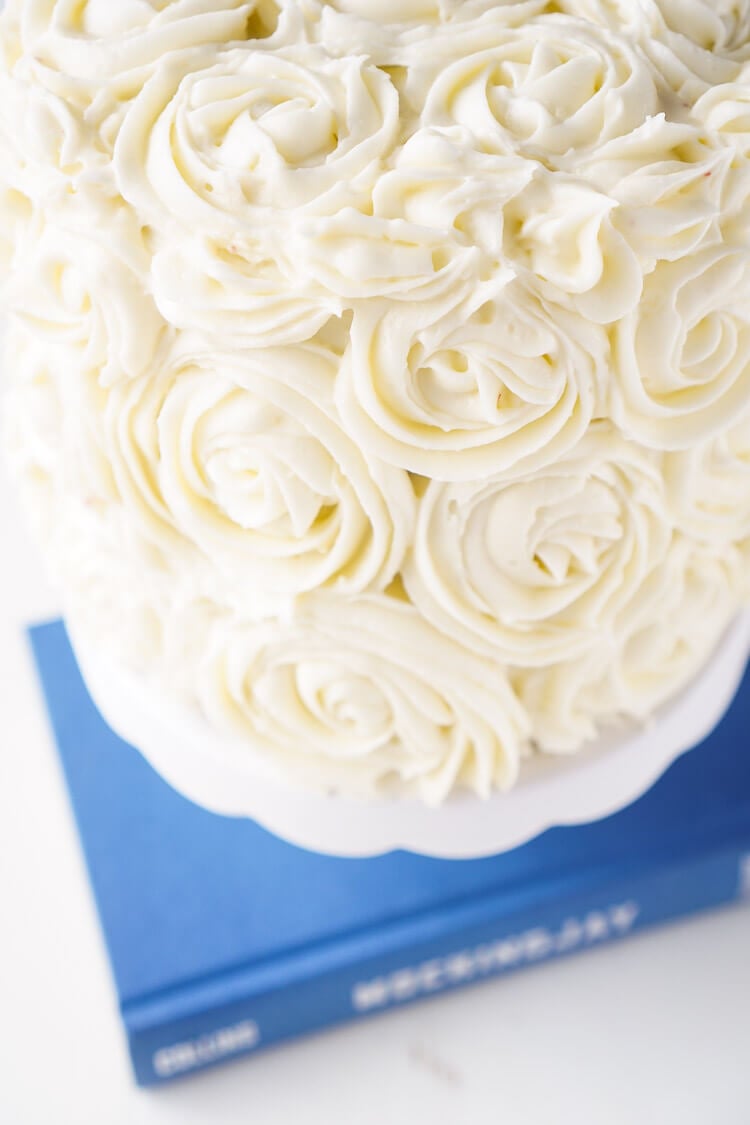 So here's the thing, I have this problem. If everyone is raving about it, I tend to shy away from it. It was three years before I finally watched Avatar (and it was awful if I do say so myself) and I still won't watch Orange is the New Black, yeah, yeah, yeah, try to convince me all you want, but it's just not going to happen. Shortly after everyone had finished the first two books at work and before the third had come out, Matt asked me for a book recommendation and I told him everyone was reading and ranting and raving about this new series and it sounded right up his alley.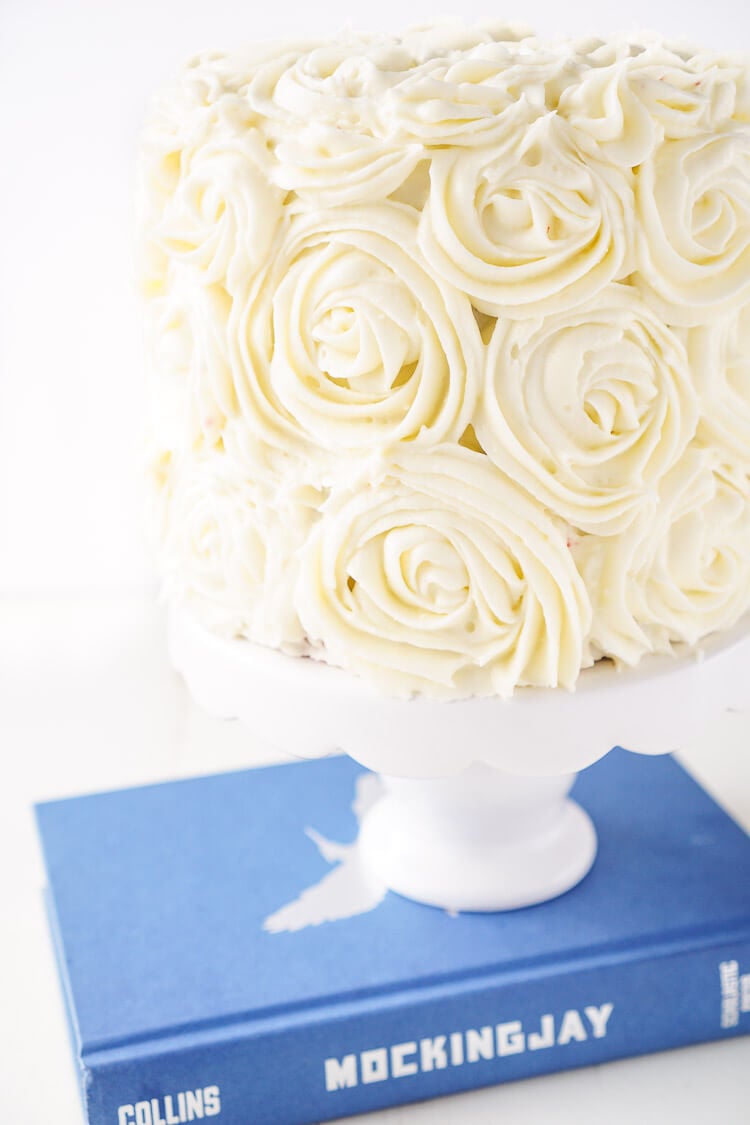 Well, it was right up his alley and eventually, I got suckered into reading it. And by suckered I mean I read all three books in less than 24 hours and may have skipped a few classes and not slept at all because let me tell ya, this series is AMAZING! I'm sure most of you already know that, but for those of you who still haven't read them… eh hem, Mom… the time is now!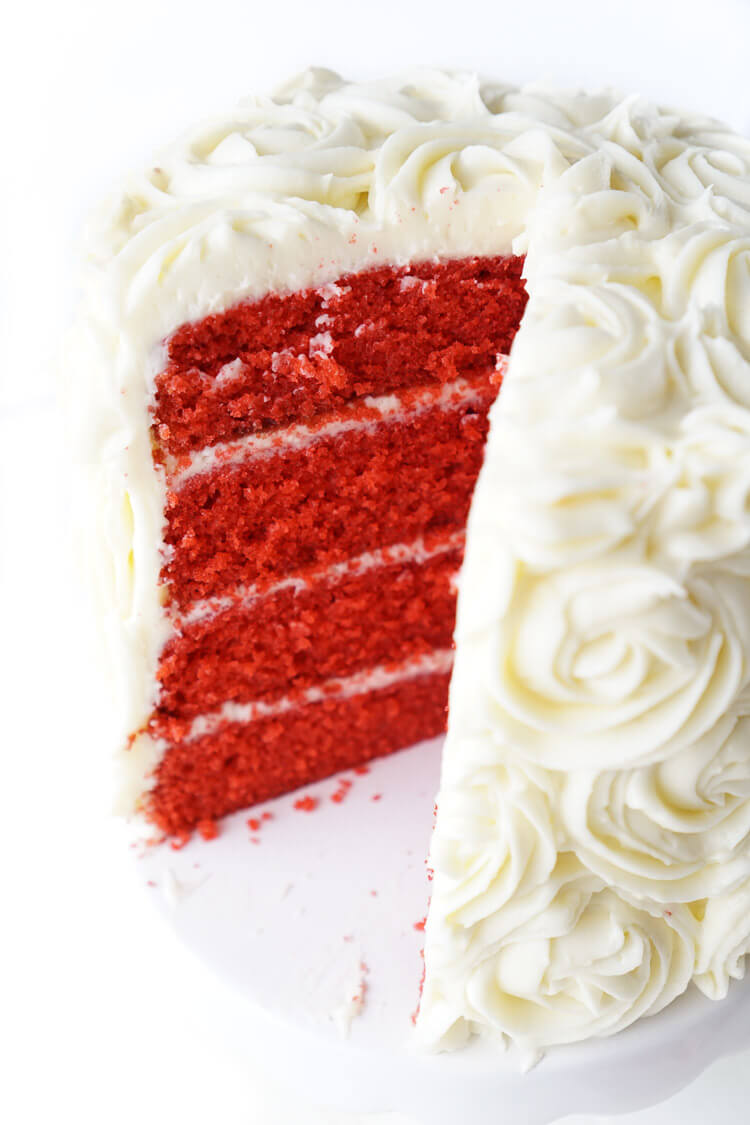 The books were amazing and the movies have been great, but Matt and I can't help but feel like people have lost interest. Is this the case, are we no longer excited? I for one am PUMPED! You see, Mockingjay was my favorite installment in the series. I know most people prefer the games and the third book gets seriously dark, not that teenagers killing each other wasn't dark already, but book three really pulls the feels out of you. "Real or Not Real" – cue tears.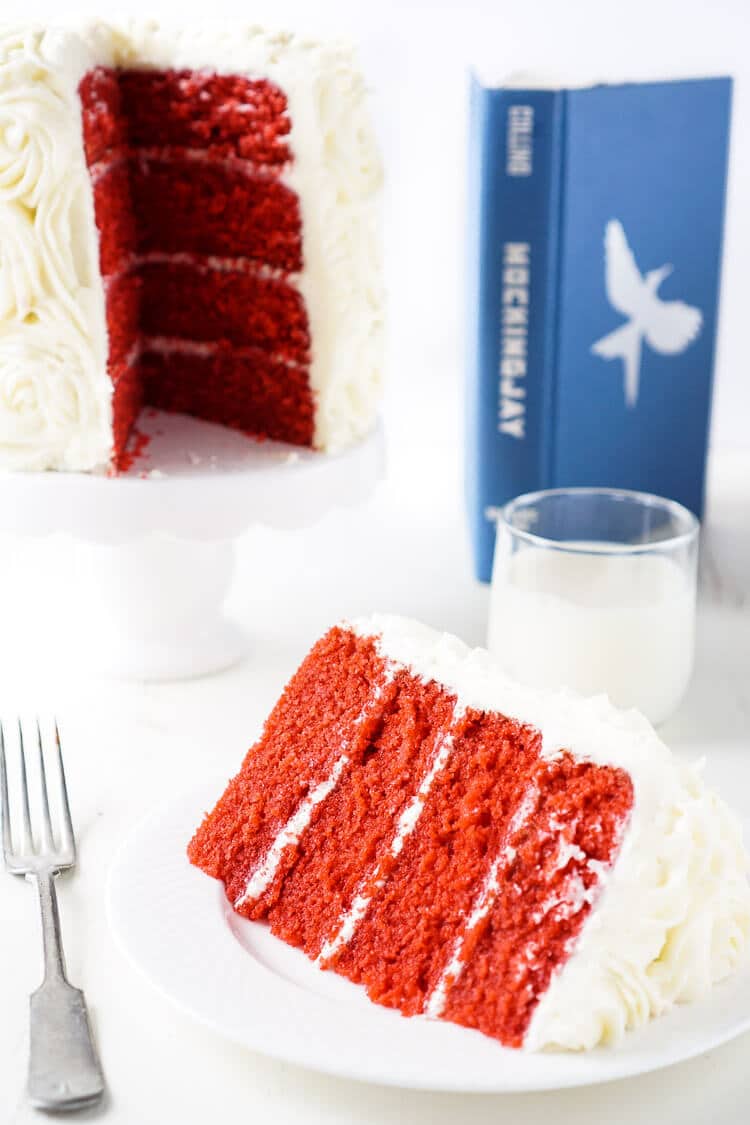 Honestly, though, I can't help but feel like another chapter is getting ready to close with this final film. Just like Harry Potter, How I Met Your Mother, and True Blood. I'm so glad I found Outlander this past year and that Game of Thrones is still going strong because I'd be lost!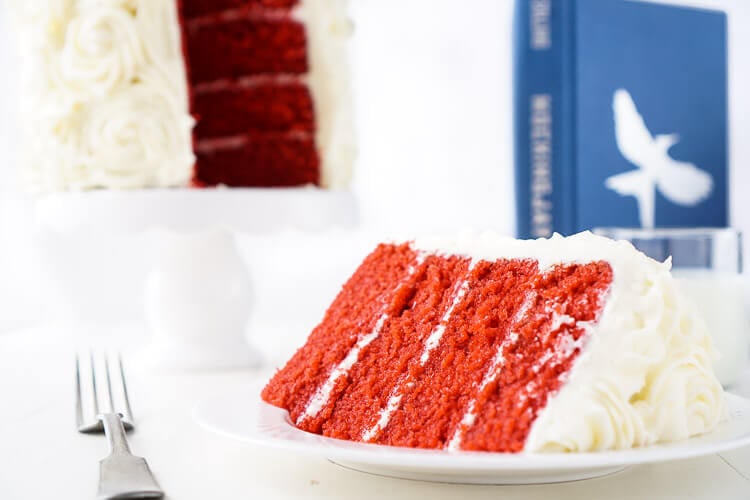 Okay, okay, let's get back to this cake, shall we? I bet you're probably wondering how a red velvet cake ties into The Hunger Games, right? Well, I thought it was a pretty clever bit of inspired baking myself. You see, in the series, President Snow is always surrounded by white roses. He's always wearing them in lapel he drops them on District 13 after the bombing and leaves them in Katniss' home. But they're not normal white roses, their fragrance has been enhanced to cover the smell of blood. Hence red velvet cake in the inside and white cream cheese roses on the outside… pretty poetic, right?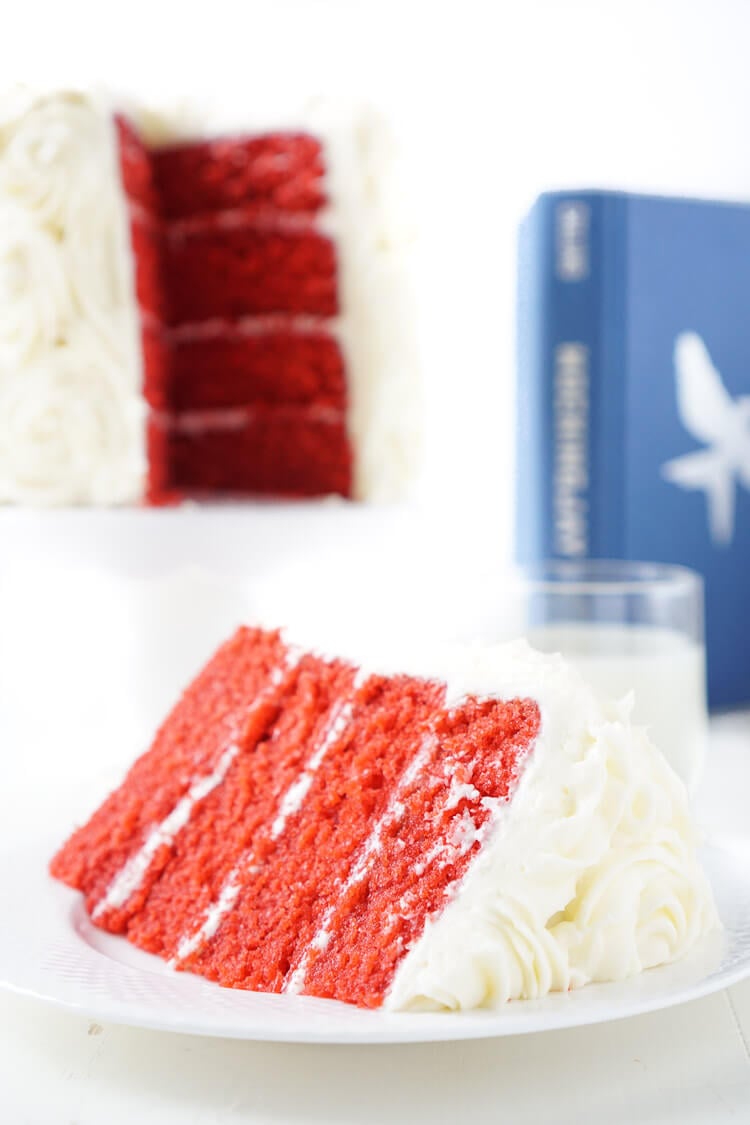 Originally I was going to do a white cake with a raspberry filling, but then last week Matt had an episode of Throwdown with Bobby Flay on and they were doing red velvet cake. Since I don't have the best of luck with white cakes and I've never made a red velvet one from scratch, I thought this would be a fun opportunity to give it a go! So I used Cakeman Raven's recipe and the results were pretty freakin' delicious!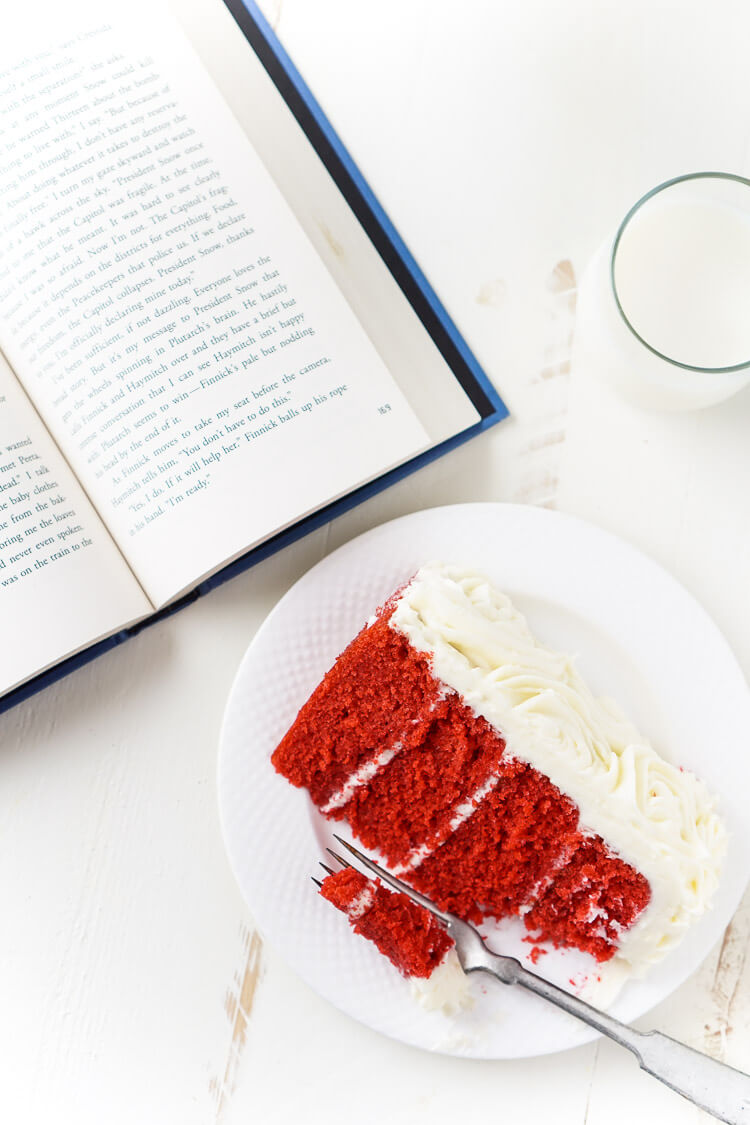 Well, I hope you guys are as excited as I am about the movie and if you haven't read the books yet, there's still time before the movie hits theaters next week! I will probably be bawling like a baby throughout most of it and I'll be sad that it's over, but I still can't wait! My friends are sharing some other awesome Hunger Games inspired creations, so don't forget to check them out after the recipe!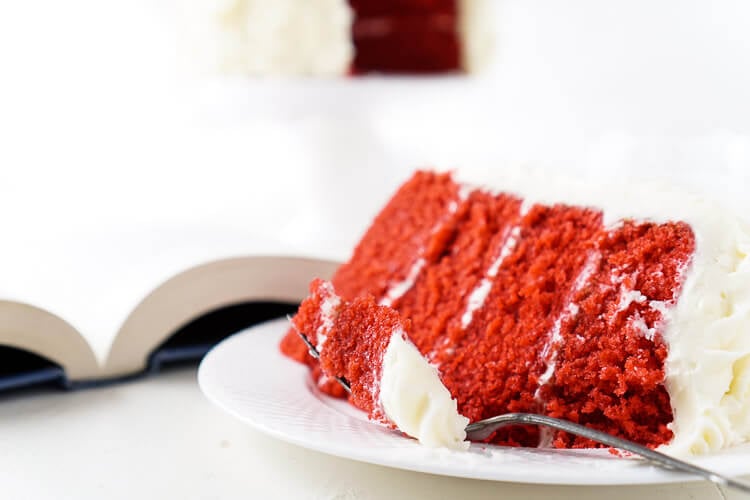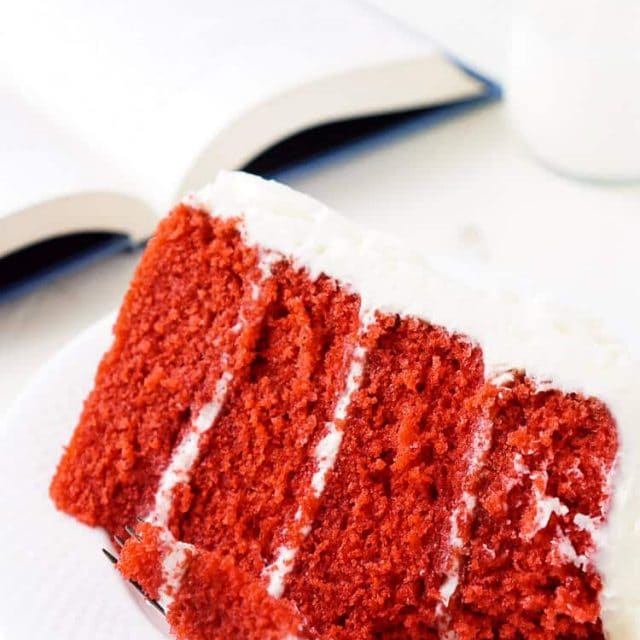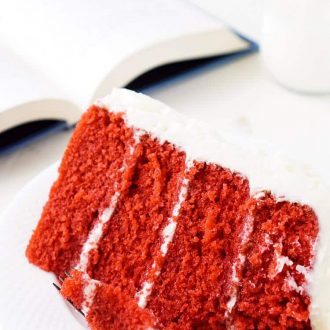 Red Velvet Cake
Red Velvet Cake, aka President Snow's White Rose Cake is a red velvet cake frosted in cream cheese buttercream and inspired by The Hunger Games trilogy!
Ingredients
Frosting:
16

oz.

cream cheese

softened

1

cup

unsalted butter

4-5

cups

powdered sugar

1

teaspoon

vanilla extract

2

tablespoons

heavy cream
Instructions
Prep four 6in. (can bake in batches) cake pans by greasing with vegetable oil and lining the bottoms with parchment paper.

Sift together flour, sugar, baking soda, salt, baking powder, and cocoa in a medium bowl and stir to mix.

In a large bowl or stand mixer fitted with a whisk attachment, mix together oil, buttermilk, eggs, food coloring, vinegar, and vanilla.

Slowly mix dry ingredients into the wet ingredients just until combined.

Add 1¼ cups of batter to each pan and bake for about 30 minutes until toothpick comes clean from center.

Remove cakes from the oven and run a knife around the edge to separate from the pan, flip out onto a plate then re-invert onto a cooling rack, rounded-sides up and allow to cool completely.

Slice the rounded top off of the cakes so they're nice and flat.

In a large bowl or stand mixer fitted with a paddle attachment, beat cream cheese and butter until smooth, gradually beat in powdered' sugar followed by vanilla and heavy cream and beat until light and fluffy, about 5 minutes.

Place one layer on a cake board on a cake stand, you can use parchment or wax paper along the edges to prevent the frosting from getting everywhere.

Use a frosting spatula to spread out about a ¼-inch thick layer of frosting, add the next layer and repeat until layers are done.

Use the spatula to spread a thin crumb coat around the sides of the cake, let set or chill for 20-30 minutes.

Using a decorator tool or frosting bag fitted with a large star tip, make roses by starting in the center and working your way out and around until your roses are the size you want them to be. Do this all over your cake.

Cake best within 24 hours.
Notes
Recipe from Cakeman Raven.
You can also make two 9 in. layers instead of four 6 in. layers.
Nutrition
Calories:
647
kcal
Carbohydrates:
87
g
Protein:
7
g
Fat:
31
g
Saturated Fat:
18
g
Polyunsaturated Fat:
1
g
Monounsaturated Fat:
8
g
Trans Fat:
1
g
Cholesterol:
116
mg
Sodium:
443
mg
Potassium:
127
mg
Fiber:
1
g
Sugar:
66
g
Vitamin A:
1102
IU
Vitamin C:
1
mg
Calcium:
76
mg
Iron:
2
mg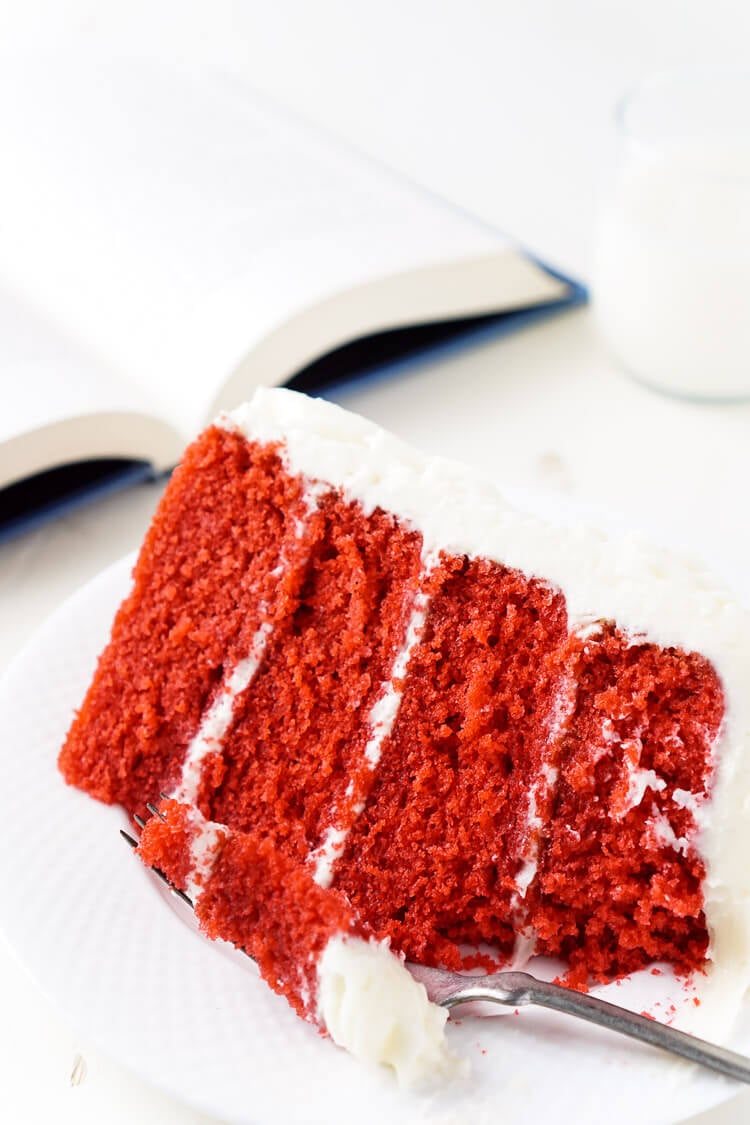 Check out the other great Hunger Games: Mockingjay inspired posts!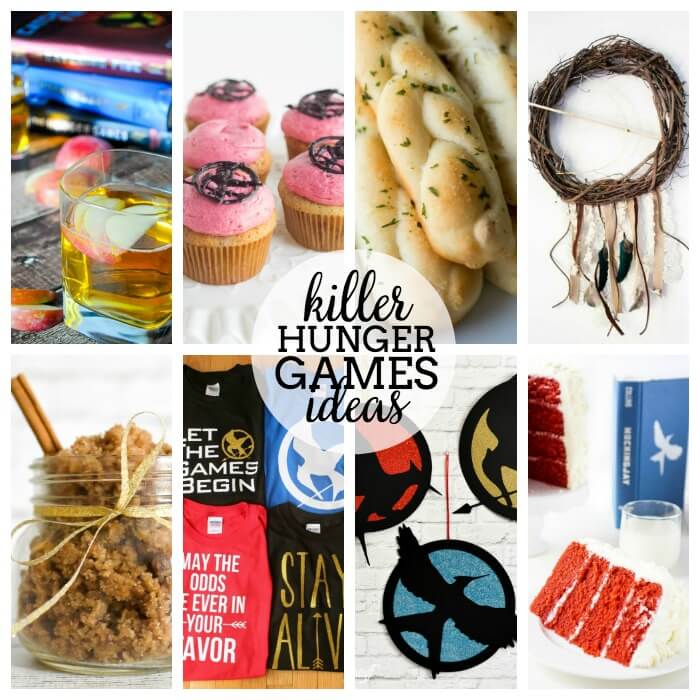 The Girl on Fireball Cocktail from The Love Nerds
Katniss Braided Breadsticks from Eat It & Say Yum
Hunger Games Logo Cut Files from Hey, Let's Make Stuff
Cinna-mon Sugar Scrub from Hey, Let's Make Stuff
"Nightlock" Berry Cupcakes with Berry Frosting from Cookie Dough and Oven Mitt
Hunger Games Wreath from illistyle
Ultimate Collection of Hunger Games Party Ideas from Play. Party. Pin.
Hunger Games T-Shirts from Play. Party. Pin.