This Black Forest Cobbler has a sweet cherry filling and a rich chocolate crust that's finished off with homemade whipped cream!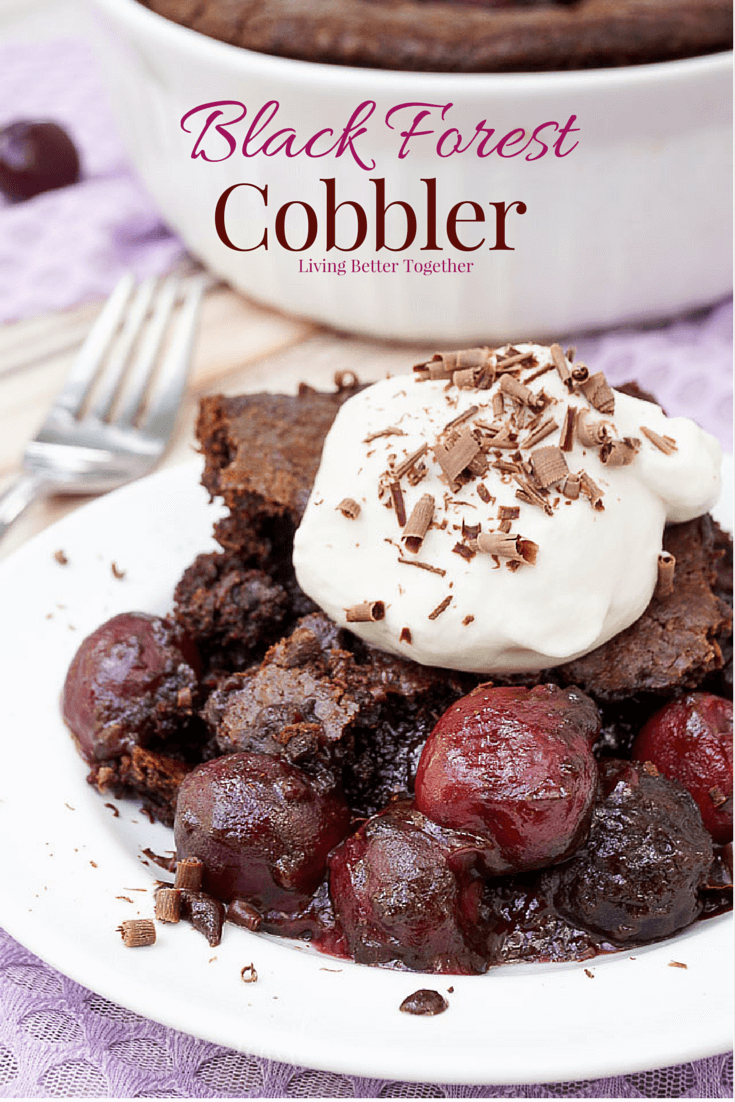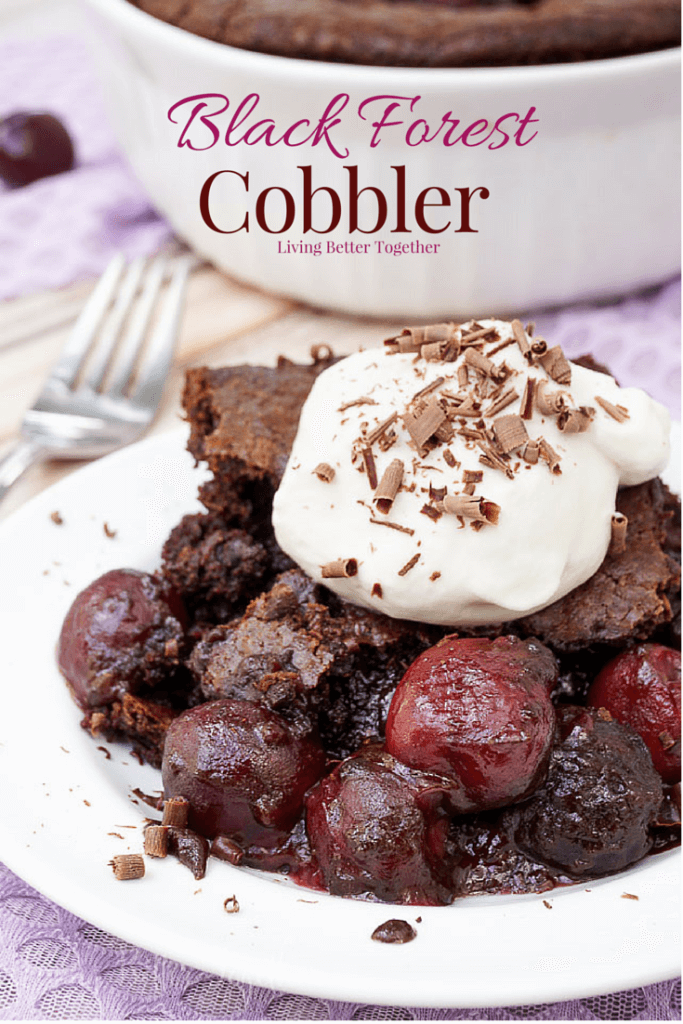 Black Forest Cobbler
So I've really been craving cobbler lately, not sure why, but I made two last weekend, plus a crisp!
Now, I'm not talking about a standard ole' Peach Cobbler, though there's nothing wrong with that.
I'm changing your idea of cobbler up a little with this amazing Black Forest Cobbler.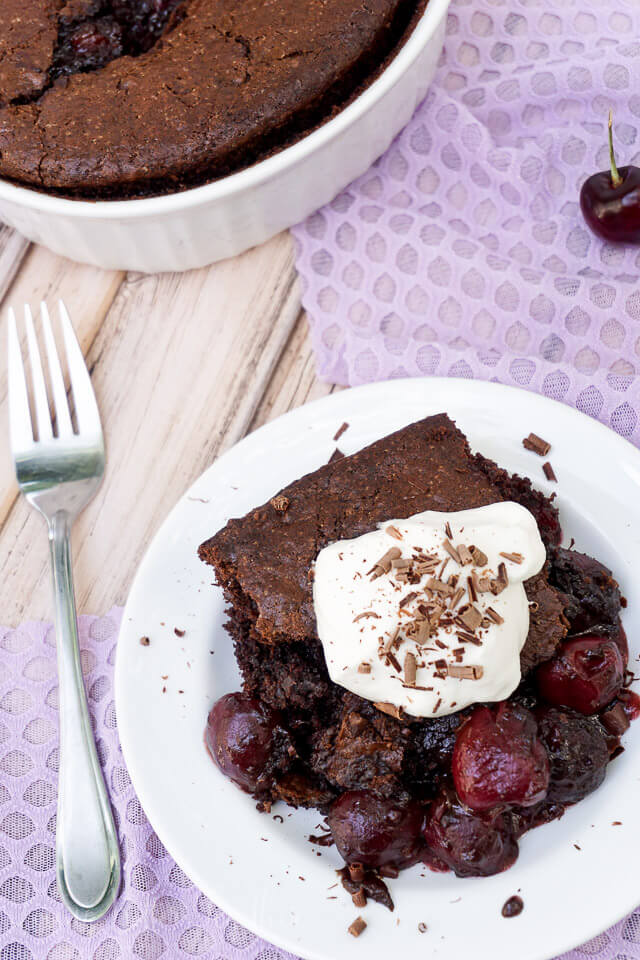 Now, I don't know about you, but I kind of love black forest.
Last year I made Black Forest Cupcakes and made Black Cherry Bourbon Hot Chocolate reminiscent of one of those gorgeous German cakes!
Oh and I've totally been daydreaming about these Black Forest Waffles from Baking a Moment, I can't get enough of Allie's stuff, check her out!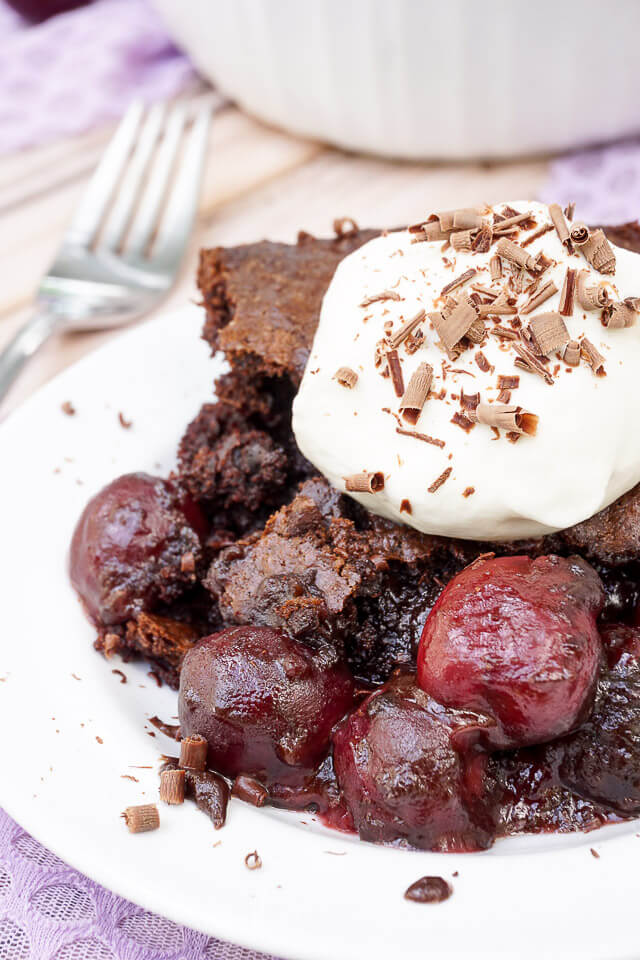 Anyways, back to this cobbler, because it deserves A LOT of attention.
The crust in itself is incredible (rich like a brownie), then add the cherry filling made with fresh black cherries and top it all with the perfect homemade whipped cream… oh lord, I'm done for.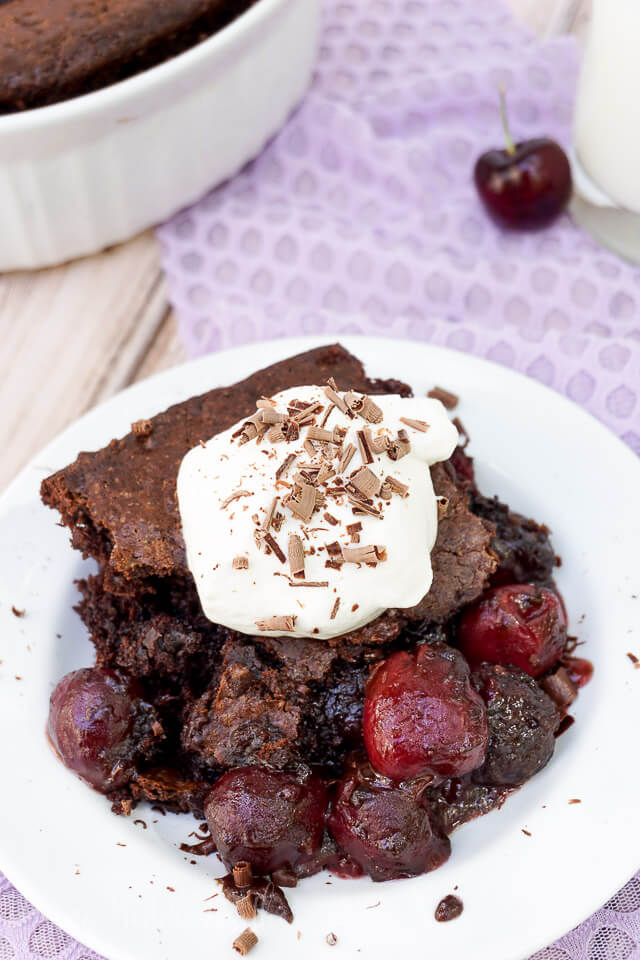 I know what you're thinking, chocolate and cherries don't exactly scream summer.
Well let me tell ya, cherries are in season right now and you can never go wrong with chocolate, am I right?
If you're still not convinced this is the perfect summer cobbler, scoop some ice cream on it, that should do the trick.
So go, go fast and get this thing in the oven.
Your whole family will love you for it, if you find it in your heart to share, that is.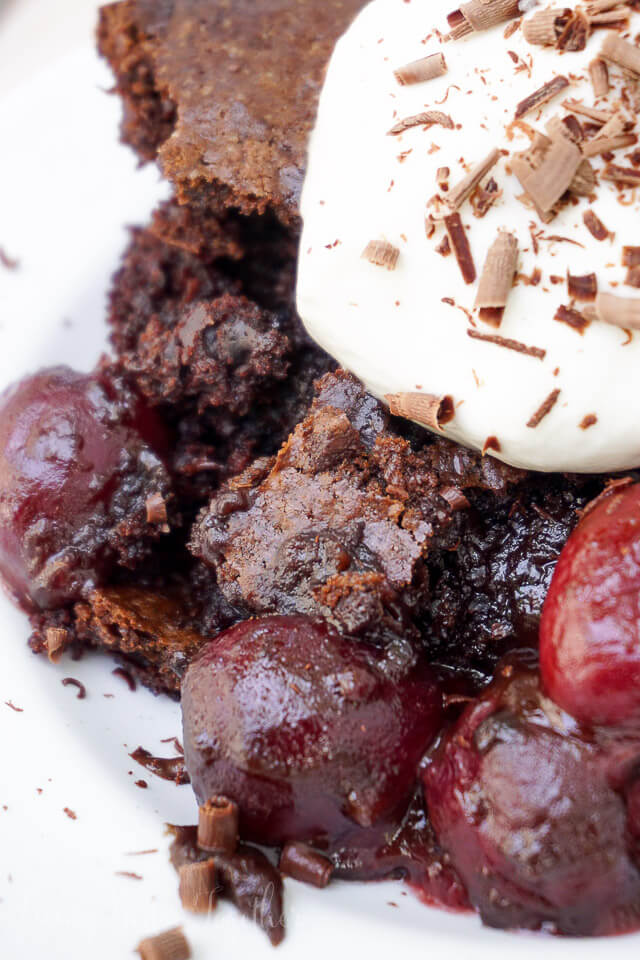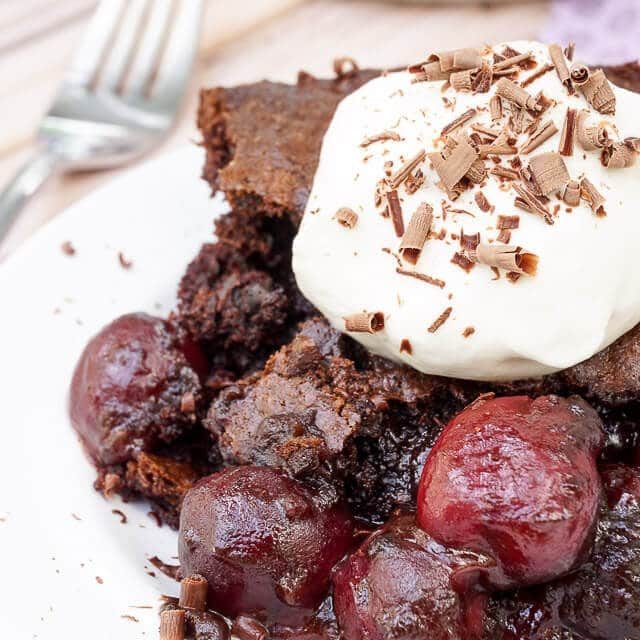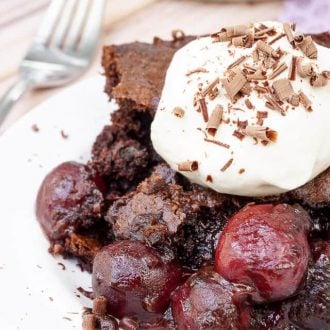 Black Forest Cobbler
This Black Forest Cobbler has a sweet cherry filling and a rich chocolate crust that's finish off with homemade whipped cream!
Ingredients
Topping:
Perfect Homemade Whipped Cream

Chocolate Shavings
Instructions
Preheat oven to 375 degrees F.
Filling:
Add cherries, 3/4 sugar, corn starch, lemon juice and almond extract to a large bowl and mix until evenly coated. Pour into a 9 x 9 baking dish.
Crust:
Sift together flour, cocoa, baking powder, baking soda, into a medium bowl.

Add 1/2 cup sugar and the salt and mix well.

Mix the softened butter in with your hands until mixture resembles course crumbs.

Mix in the chocolate chips.

Stir in buttermilk, just until combined.

Pour batter over the cherry mixture.

Bake for 45-50 minutes until toothpick comes clean.

Let stand for 30 minutes before serving.
Notes
Recipe Adapted from PIL Cookbooks July 2015.
Nutrition
Calories:
374
kcal
Carbohydrates:
70
g
Protein:
4
g
Fat:
10
g
Saturated Fat:
6
g
Cholesterol:
21
mg
Sodium:
251
mg
Potassium:
433
mg
Fiber:
4
g
Sugar:
49
g
Vitamin A:
345
IU
Vitamin C:
10.7
mg
Calcium:
80
mg
Iron:
1.7
mg