A favorite English dessert gets a summertime makeover!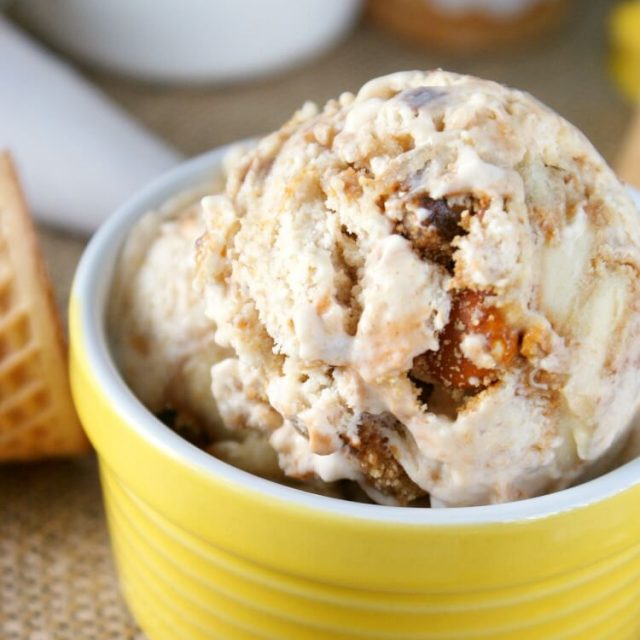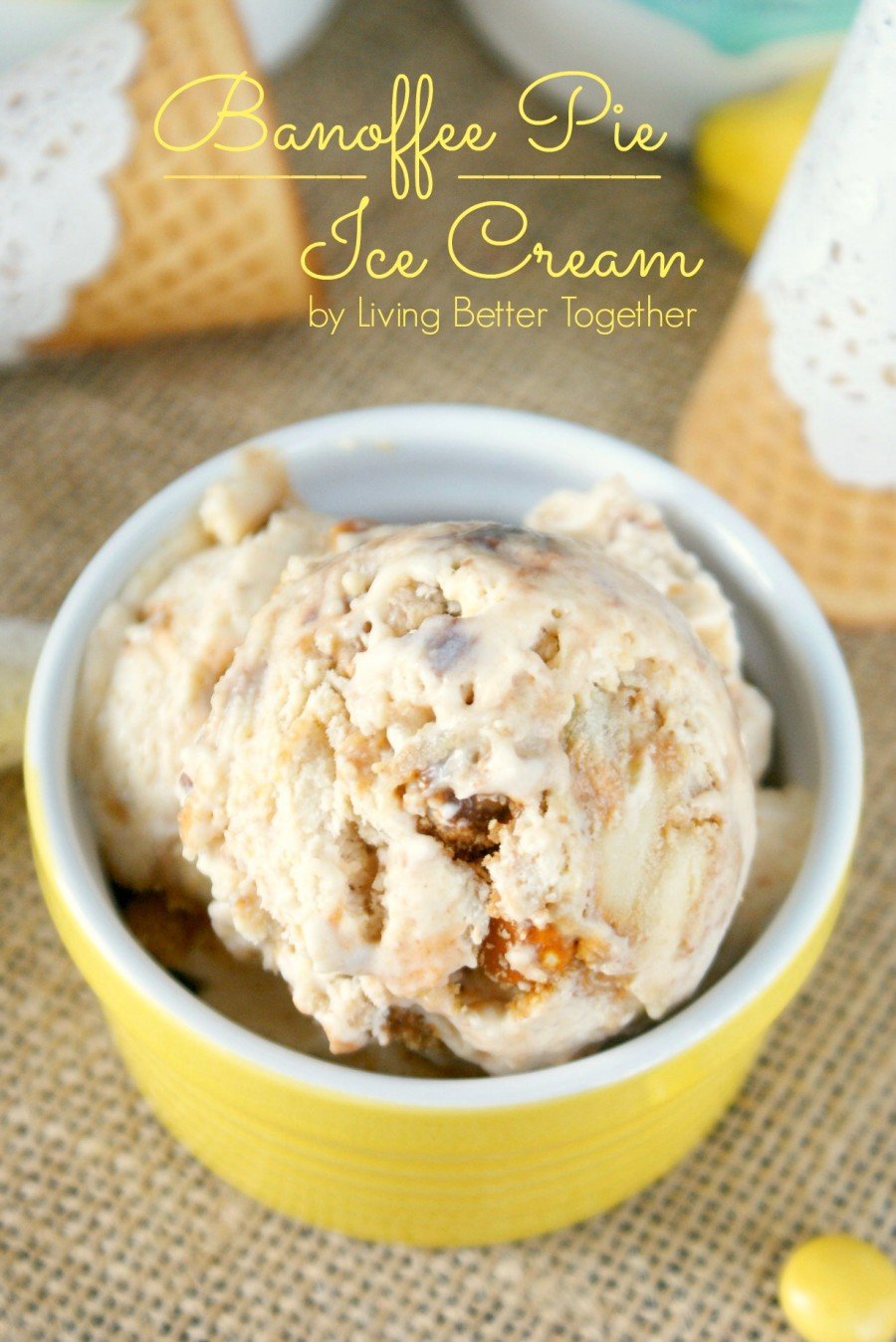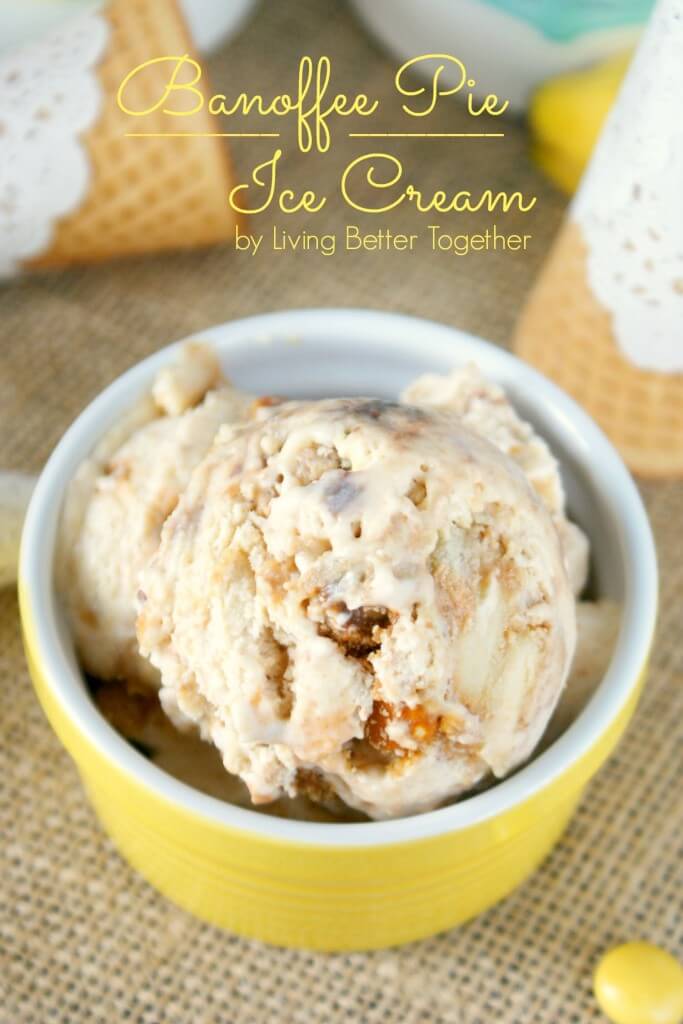 As some of you may recall from my Banoffee Pie back in January, it's my absolute FAVORITE dessert! I love my cupcakes and I enjoy a good creme brulee, but put a Banoffee Pie in front of me and I'm not likely to share any of it… it's all mine ya hear? I decided to experiment with this beloved dessert of mine and give it a summer twist: Ice Cream. Yup, that's right, Banoffee Pie Ice Cream, and it might just be better than the pie itself! Crazy I know… but this is some seriously awesome stuff!
In case you're wondering what Banoffee Pie is to begin with, it's okay, most people have never even heard of this English dessert. Banoffee come from it's two main ingredients, banana and toffee, then you add graham crackers and chocolate and whipped cream and we're talking about something absolutely heavenly! Are you guys getting how much I love my Banoffee Pie yet? Did I mention that I caramelized the bananas in this ice cream? Yup, they're pure bliss, just sayin'!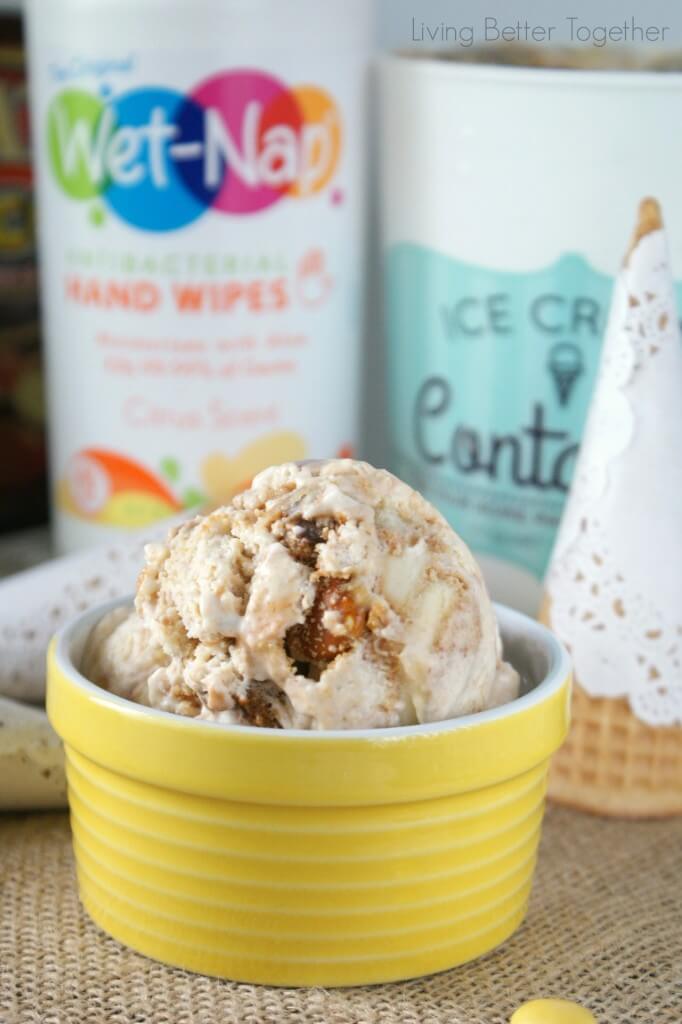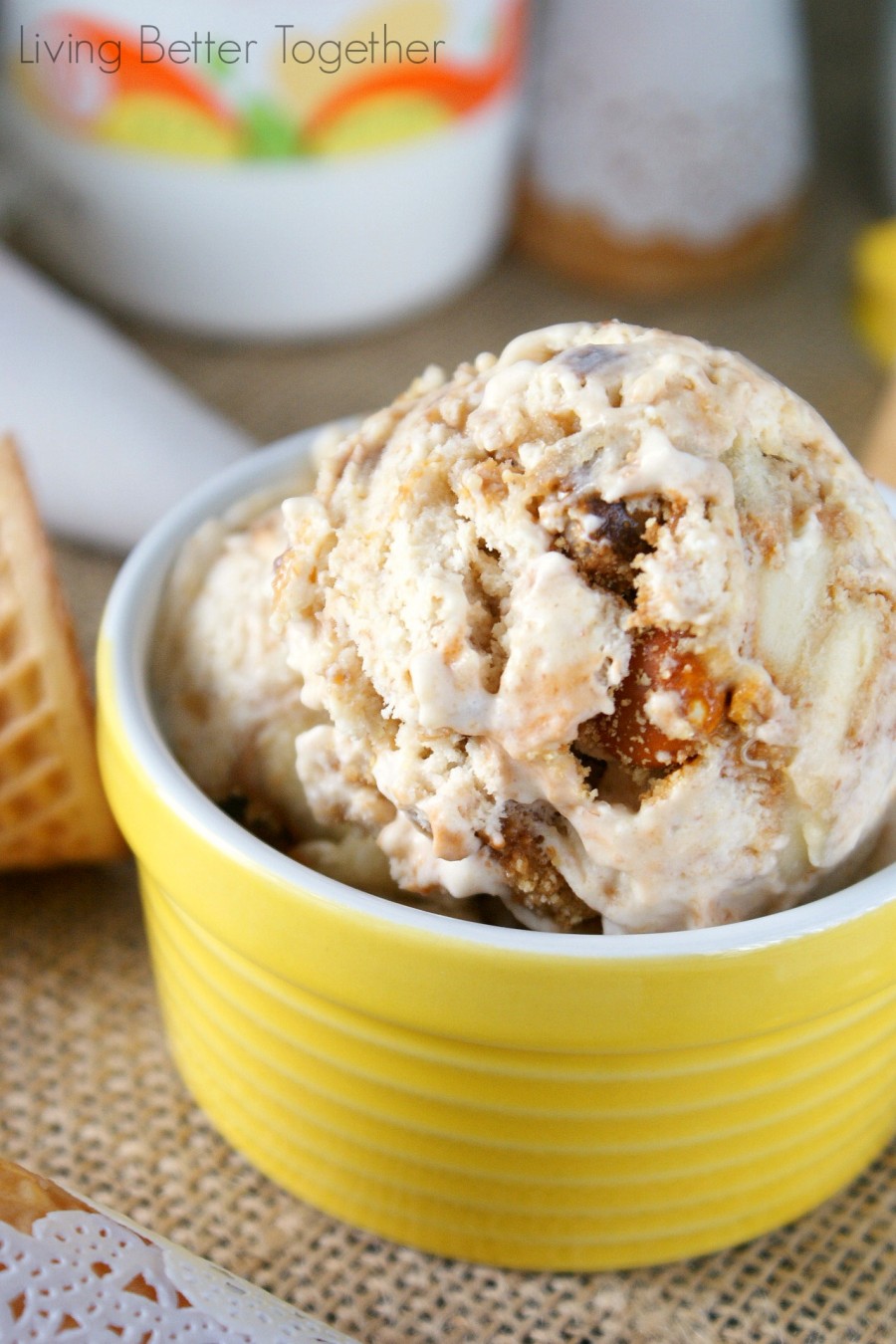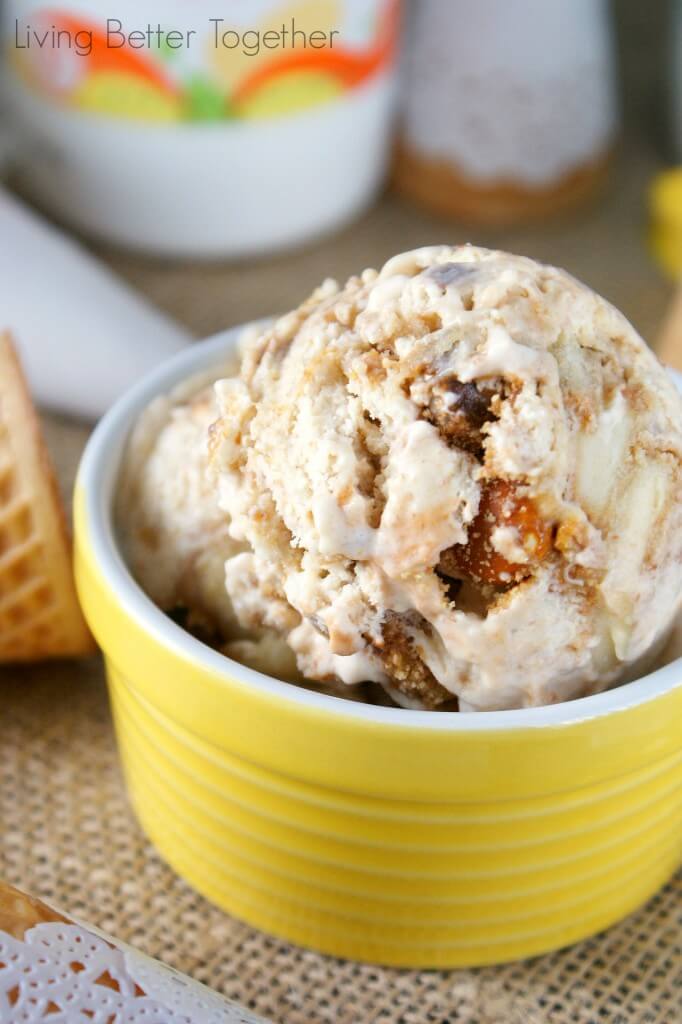 So I've already told you what the best part about this ice cream is, the flavor, but the second best thing is that there's no churning or shaking or weird equipment involved. See, why would you want to go out for ice cream when you can make your own right at home?
A favorite English dessert gets a summertime makeover!
Ingredients
2 cups Heavy Cream
14 oz. Can Sweetened Condensed Milk
3 Bananas
3 tbsp Brown Sugar
9 Whole Graham Crackers
1 1/2 cups Heath Pieces or Toffee Bits
1/2 cup Caramel or Toffee Sauce
1/2 cup Hot Fudge
Instructions
In a large bowl or stand mixer, whip heavy cream until stiff peaks form.

Fold in sweetened condensed milk.

Slice up bananas and add to a skillet with a little butter and the brown sugar. Stir them around over medium heat for about 3-4 minutes.

Add graham crackers to a food processor or blender and pulse until they're just fine crumbs.

Stir graham crackers crumbs and Heath Pieces into whipped cream mix.

Stir in caramelized bananas.

Pour into two quart sized containers and evenly swirl in hot fudge and caramel sauce.

Place in the freezer to chill for at least 6 hours before serving.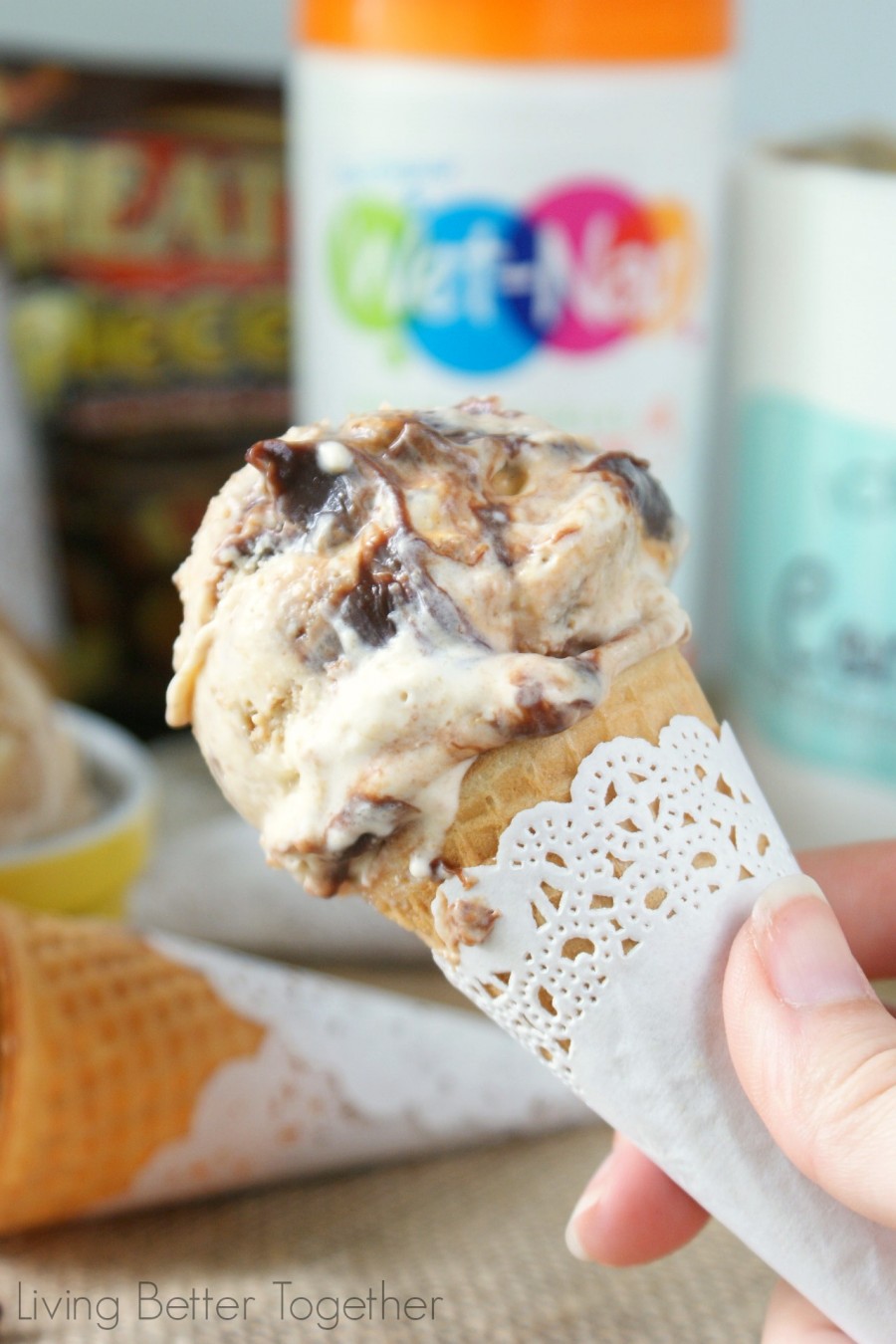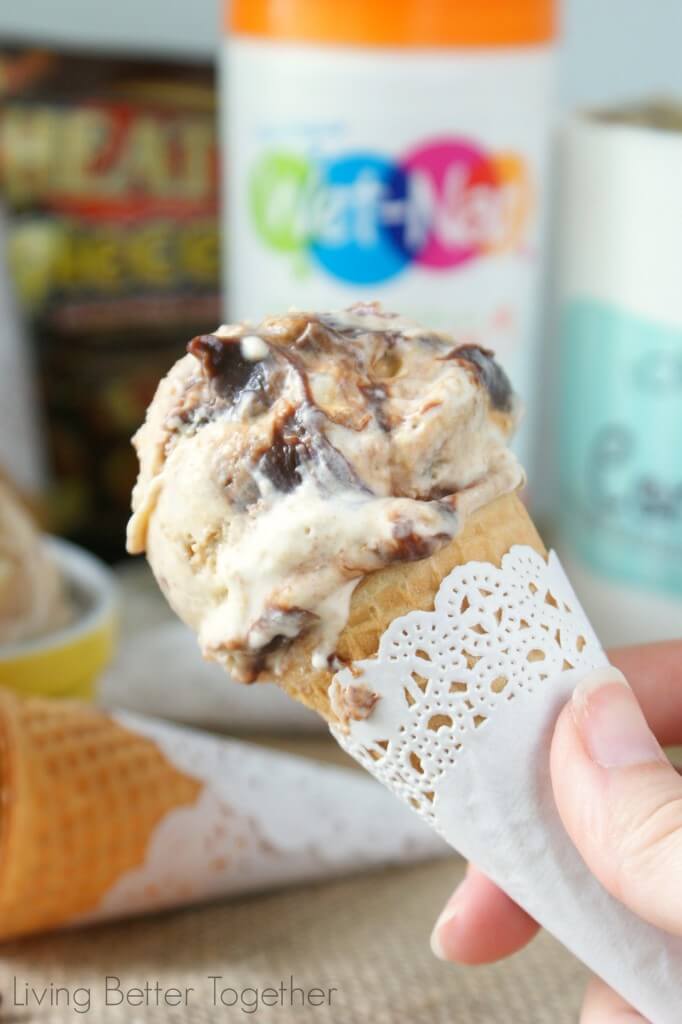 So you wanna know how to make your ice cream cones look all cute with doilies like mine? It's really easy!
What you'll need:
Sugar or Waffle Cones
4 in Paper Doilies
Edible Glue
How to:
Squeeze a small line or dots of edible glue on the lower portion of your cone and adhere one edge of the doily, make sure your doily is high enough up so it doesn't shoot over the tip of the cone.
Add a little more glue to the edge you just glue down and wrap the other edge around to adhere.
Set on wax paper to try for a few minutes and wipe any excess glue off your fingers with a Wet-Nap.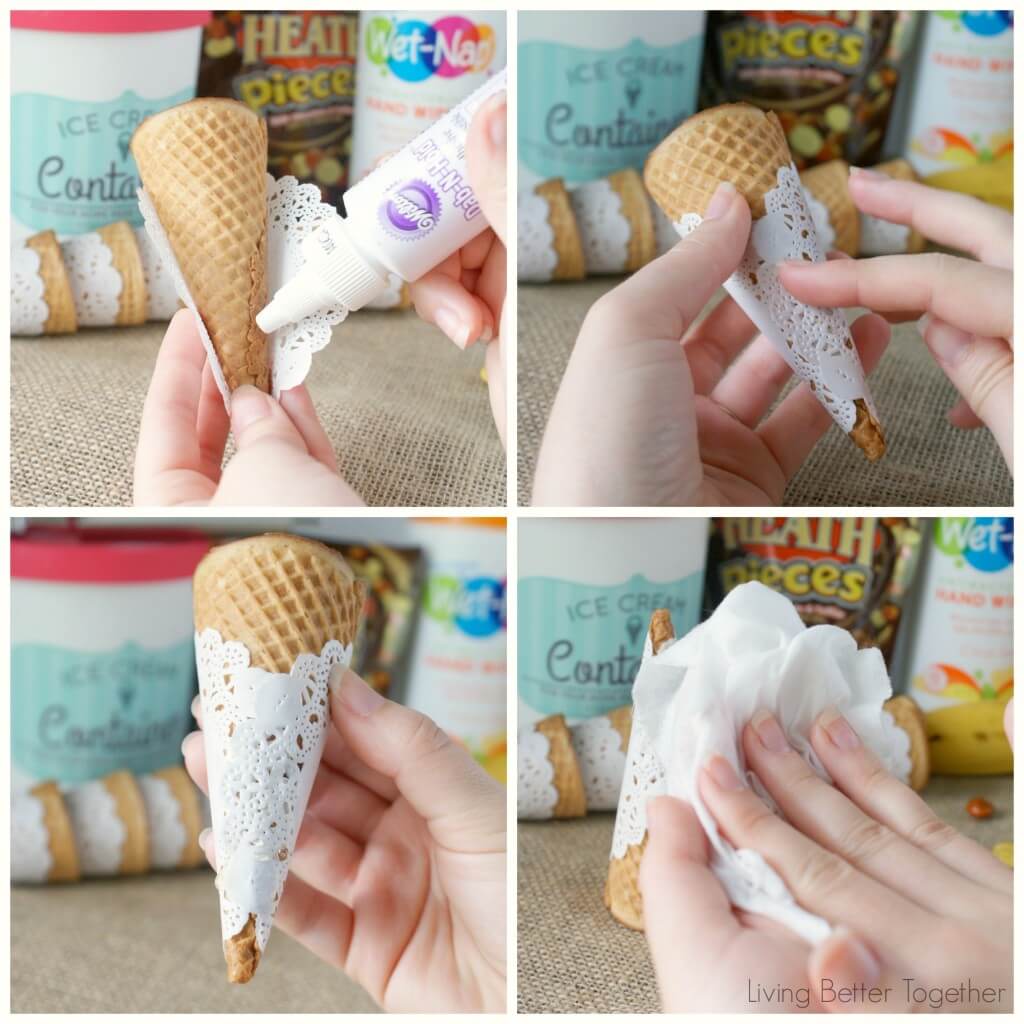 See now you have beautifully wrapped ice cream cones. These are the perfect way to add a little detail to an ice cream bar at a bridal shower or birthday party or even just for yourself! Don't forget to pair it with this killer ice cream… you won't be sorry. Promise!