This Irish Cream Pie is an easy dessert laced with Baileys and perfect for St. Patrick's Day! A chocolate cookie crust filled with a cream marshmallow and Irish Cream filling and topped with vanilla whipped cream!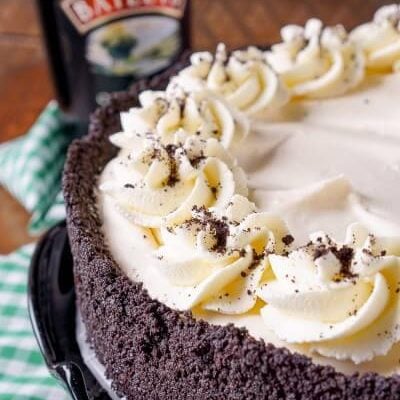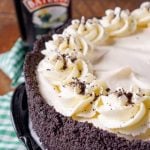 Irish Cream Pie is the perfect St. Patrick's Day dessert that's made with a 4-ingredient filling, a chocolaty Oreo crust, and whipped cream! A chilled no bake dessert that requires minimal hands-on prep time!
Grab another dessert recipe that's also made with Irish cream such as my Irish Cream Poke Cake or these 15-minute Irish Cream No Bake Cookies!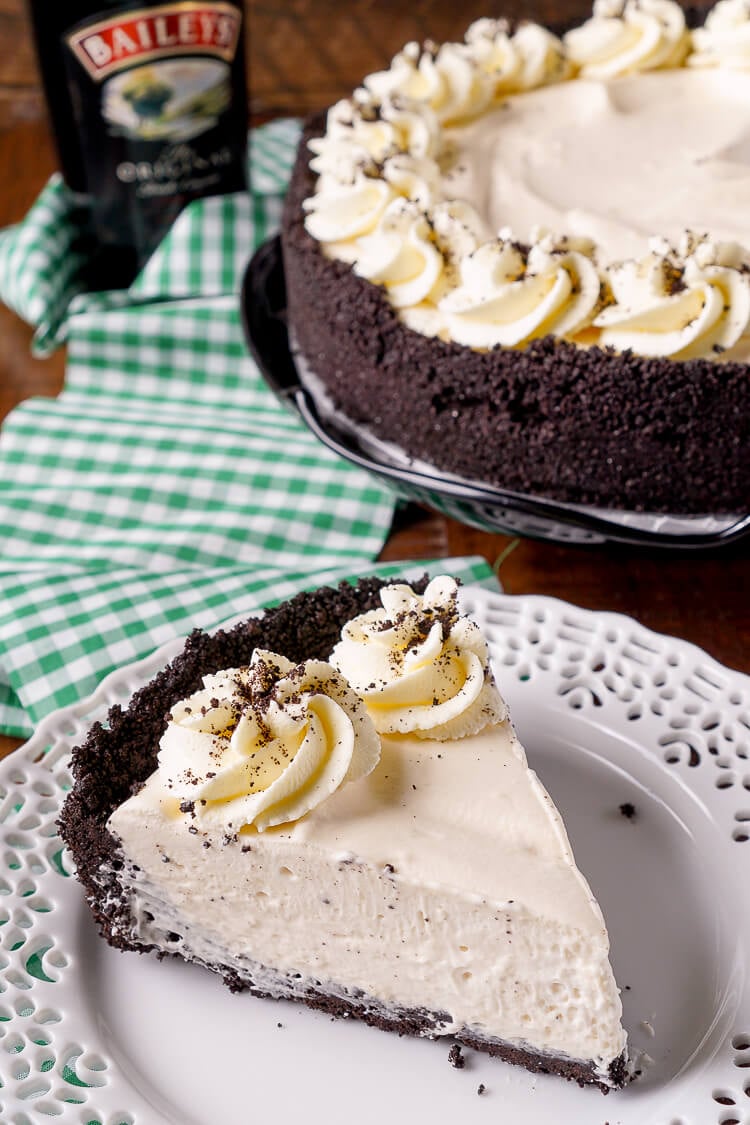 Just one taste of this Irish Cream Pie will have you feeling like the luckiest person ever! It's creamy, silky texture filled with liqueur is the ideal sweet treat for your Saint Patrick's Day Party!
And one of the best parts – all of this goodness comes together after only 15 minutes of hands-on prep time! Even if you aren't having a big party, this would be a wonderful ending to a Corned Beef And Cabbage meal!
All About This Irish Cream Pie
Taste: If you're a fan of Irish Cream then you'll definitely appreciate the way the bold flavor in this pie comes to life in your mouth! That delicious flavor combines with the chocolaty cookie crust and vanilla whipped cream topping for a dessert that impresses!
Texture: Melted marshmallows combine with milk, Irish Cream, and heavy cream that's been whipped until stiff peaks form. This means that you can count on this pie having an amazingly silky-smooth filling that melts in your mouth!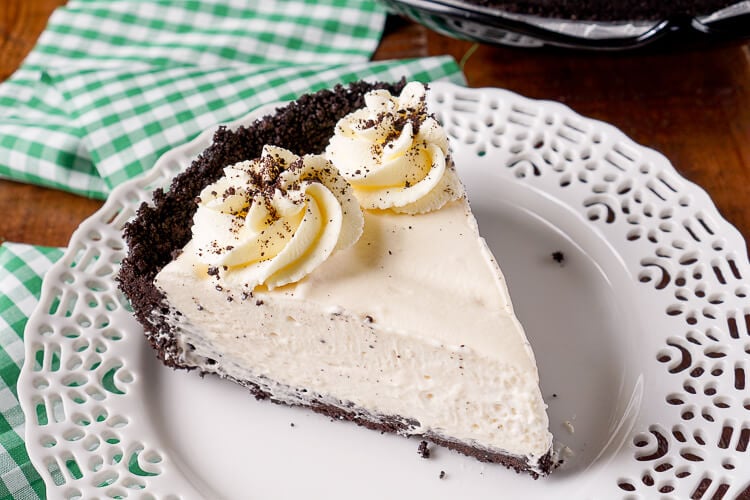 The Key Ingredient In This Saint Patrick's Day Dessert!
You can't have a dessert in March without a splash of Saint Patrick's Day flavor! To achieve that delicious taste in this pie we turn to Baileys Irish Cream Liqueur.
Baileys has a creamy texture that has a combination of chocolate and vanilla flavoring with a slightly nutty taste. You can either make this recipe with storebought Irish Cream or make my simple homemade version!
Homemade Irish Cream takes just 10 minutes to make using ingredients such as Irish whiskey, sweetened condensed milk, and four different extracts. The final result is SO much better than the storebought, you just can't beat the taste of anything homemade!
The recipe also makes 5 cups of Irish cream. Meaning, you can make lots more Irish Cream Recipes to share with friends and family!
If you'd prefer, this No Bake Pie Recipe can be made without alcohol while keeping the Irish flavoring. Just swap the alcoholic Baileys out for an equal amount of Baileys Original Coffee Creamer.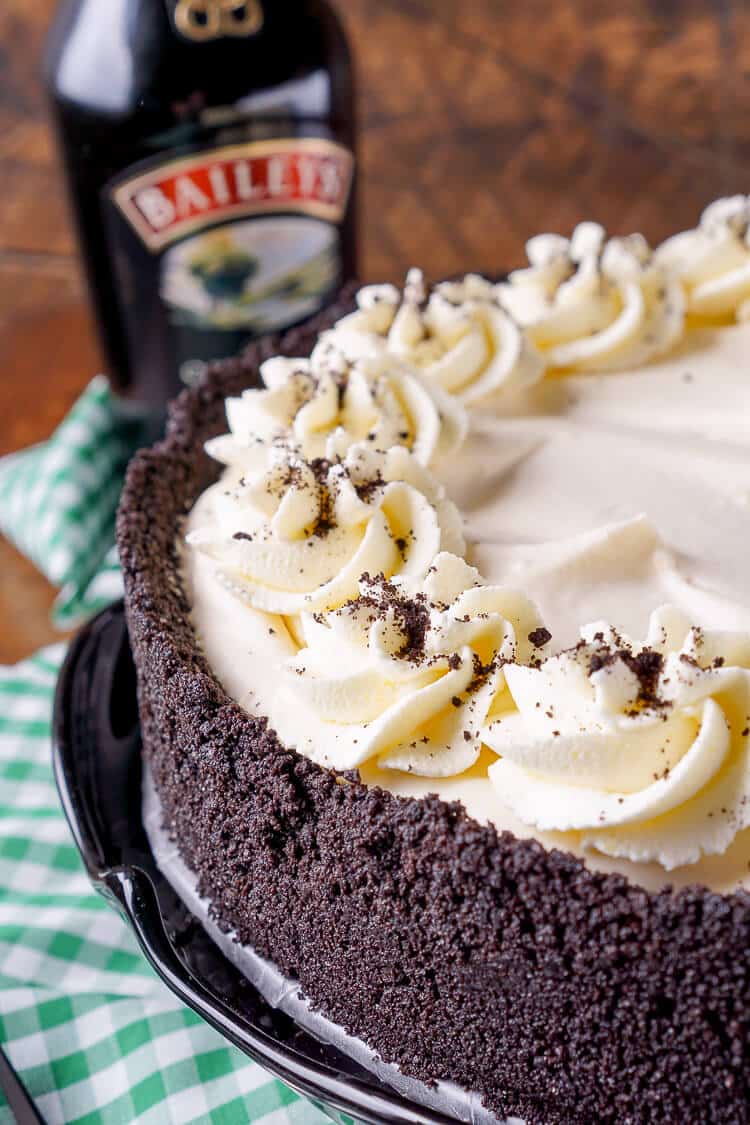 Recipe Tips & Tricks To Help You Make The Best Irish Cream Pie!
Crust Tips – Using a food processor works best to pulse the cookies into fine crumbs. I then just add the melted butter and salt right in to mix it all up together! When pressing the crust into the bottom and up the side of the pan I like to use a flat bottomed and sided drinking glass. It's such a great way to press it in evenly instead of using your fingertips!
Melting Marshmallows – Be sure to melt the marshmallows over low heat while keeping a close eye. Only heat them until they're just melted and then remove the saucepan from the heat immediately. You don't want to overcook them as this would cause the sugar to burn, altering the flavor of the filling.
Chill The Pie – Since this is a no bake pie it does need plenty of time to chill before serving! Don't let the 4 hours and 35 minute prep time scare you away though since 4 hours and 20 minutes of it is inactive chill time! Meaning the dessert basically makes itself!
Garnishes – Finish the pie off with the homemade vanilla whipped cream and a dusting of cookie crumbs! These garnishes really dress the dessert up to match its delectable flavor!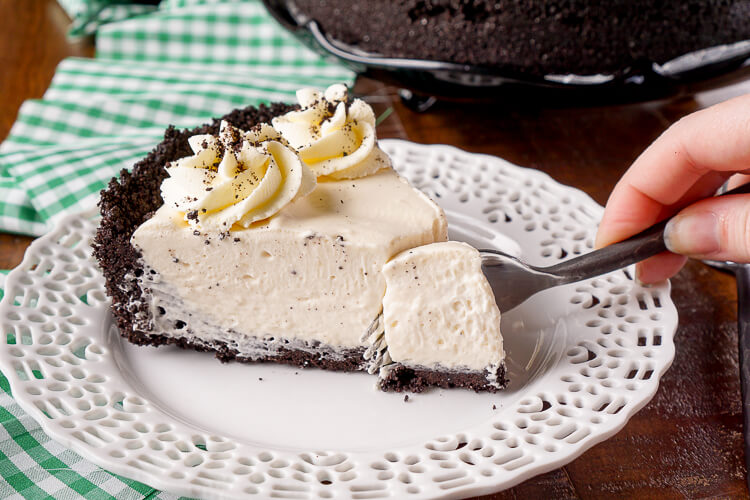 Once you devour a slice of this pie you'll quickly realize that desserts made with Irish Cream are a must-have! Therefore, you'll also want to check out my No Bake Baileys Cheesecake Balls or this Irish Cream Edible Cookie Dough!
I also love sipping on a mug of Irish Cream Hot Chocolate or even this 2-ingredient Irish Cream Milkshake!
Storage Instructions
Tightly wrap the pie plate or transfer individual slices into an airtight container. Afterward, store the pie in the refrigerator to enjoy for up to 4 days.
Why Is There Salt In The Crust Recipe?
Adding salt to the crust ingredients cuts back on the overall sweetness of it. This is totally optional though so if you prefer a sweeter crust skip the salt!
Am I Supposed To Make The Vanilla Pudding Or Just Use The Powder?
No, do not make the vanilla pudding itself when preparing the whipped cream. Instead, all you have to do is dump the powder mix into the bowl as is!
Can I Make This Pie And Then Freeze It To Enjoy Later?
Yes! Allow the pie to completely chill in the fridge first. Afterward, place it in the freezer on a baking pan to flash freeze. Afterward, tightly wrap it with plastic wrap and again with tin foil.
The double wrap will prevent any freezer burn! Store the pie in the freezer and enjoy it within 3 months.
When you're ready to eat the pie transfer it to the fridge to thaw. Before serving prepare the whipped cream and top the pie with it!
Can I Use A Premade Oreo Pie Crust Instead Of Making My Own?
Of course, you just may have a little leftover filling.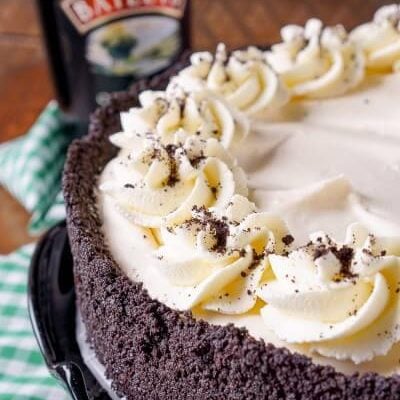 Irish Cream Pie
This Irish Cream Pie is an easy dessert laced with Baileys and perfect for St. Patrick's Day! A chocolate cookie crust filled with a cream marshmallow and Irish Cream filling and topped with vanilla whipped cream!
Ingredients
Crust:
28 Oreos about 1 1/2 boxes
6 tablespoons salted butter melted
½ teaspoon salt see notes
Filling:
½ cup milk
32 large marshmallows
⅓ cup Baileys Irish Cream liqueur
1½ cups heavy cream
Instructions
Crust:
Add the 28 Oreos for the crust to a food processor and pulse until fine crumbs form. Add in the melted butter and salt and pulse until combined.

Transfer the crust mixture to a 10-inch springform pan and press evenly into the bottom and up the sides of the pan. I find that a flat bottomed and sided drinking glass helps with this.
Filling:
In a medium saucepan, heat the milk and marshmallows over low heat, stirring constantly, just until marshmallows are melted. Pour into a medium bowl and refrigerate for about 20 minutes, stirring occasionally, until mixture mounds slightly when dropped from a spoon. Gradually stir in Irish Cream until smooth.

Whip the heavy cream on medium-high speed in a large bowl or stand mixer until stiff peaks form, fold the marshmallow mixture into the heavy cream and mix gently until fully combined. Pour filling into prepared pie crust. Refrigerate for at least 4 hours and up to 48 hours.

Just before serving, in a medium bowl or stand mixer fitted with a whisk attachment, beat the heavy cream, confectioners' sugar, and pudding mix on medium-high speed for about 2 minutes until light and fluffy. Pipe cream around the edges of the pie and dust with the reserved cookie crumbs.
Notes
I like to add salt to my Oreo crusts because I really think it cuts the sweetness but also adds a lot of flavor, but it's completely optional.