Irish Fried Cabbage and Bacon is a simple recipe that's pan-fried in bacon grease and loaded up with bacon pieces and onion and seasoned with brown sugar, salt, and pepper.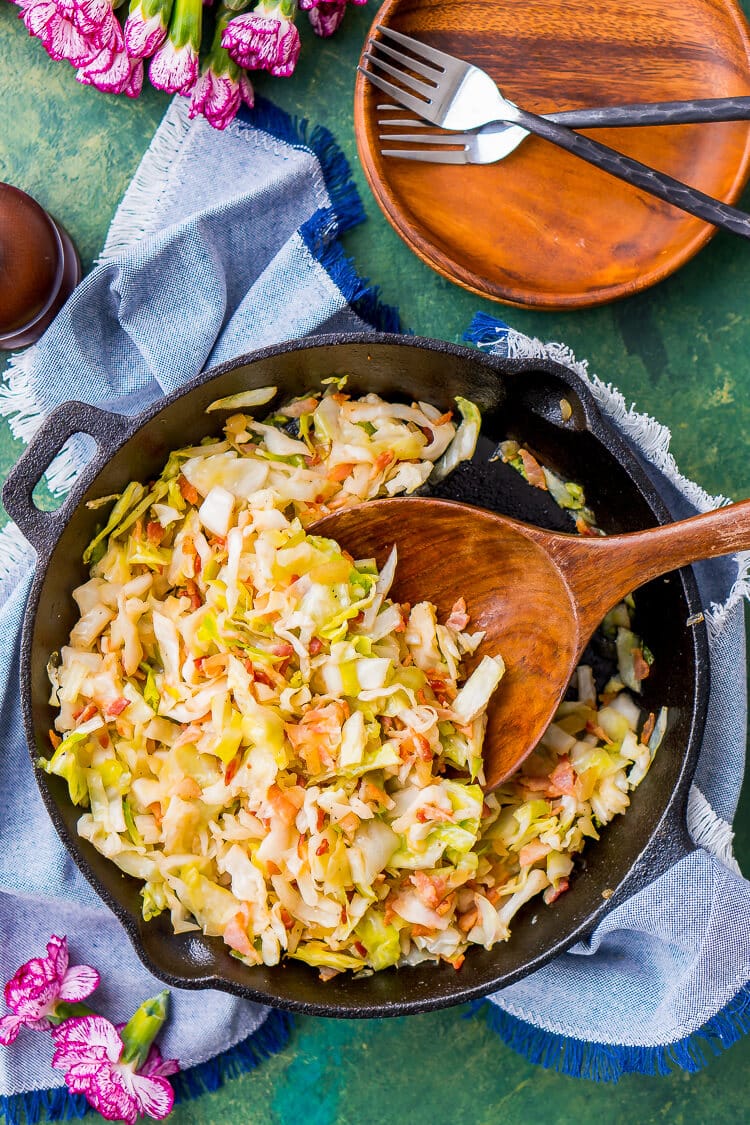 IRISH FRIED CABBAGE and BACON
Irish Fried Cabbage is the perfect accompaniment to a St. Patrick's Day meal! Most people know that St. Patrick's Day is March 17th, using the holiday to celebrate their Irish heritage (or at least, become an "honorary Irishman" for a day) and the primary patron saint of Ireland. But did you know that today, exactly one month before St. Patrick's Day, marks another "holiday" that gives a nod to the Irish — specifically, their cuisine?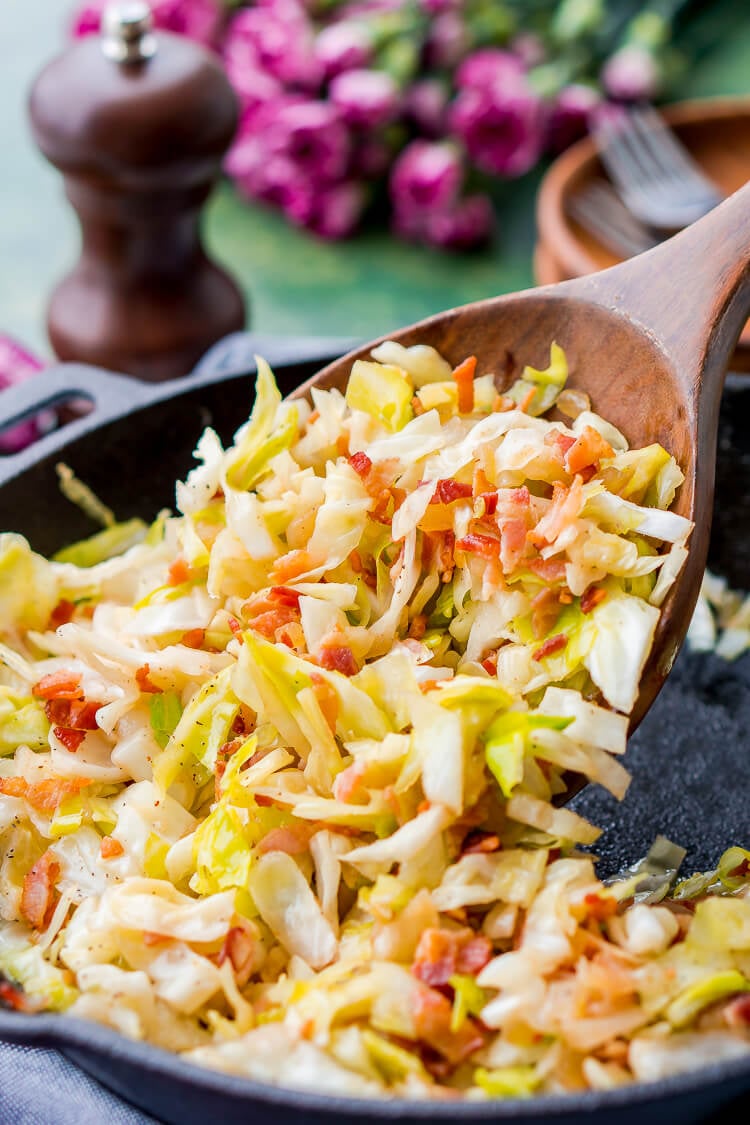 Well if you're reading this post, you're in luck (get it?!) because you're about to learn that today is National Cabbage Day! That's right: it's one of those random, quirky holidays that give us a reason to celebrate because — well, why not?
Cabbage is one of those things that people seem to either love or hate, and personally, I'm a fan of the stuff. (Of course, it also depends on how you cook it, so before you make a decision, you have to try this recipe!)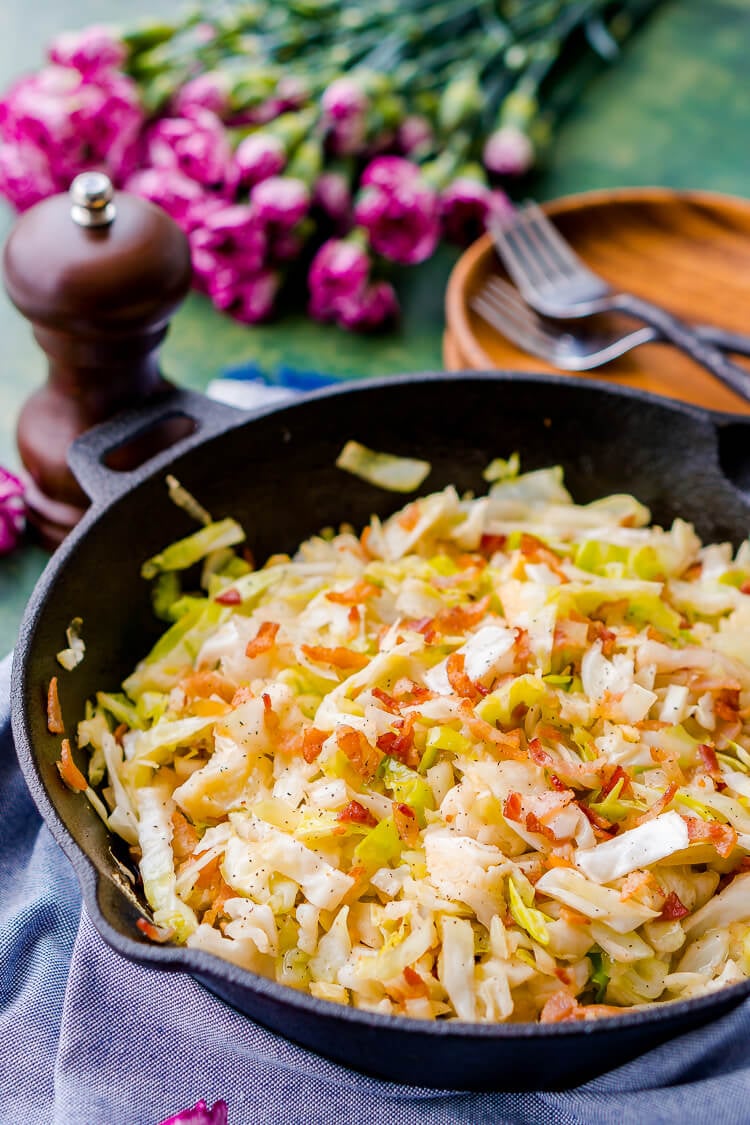 Aside from all the delicious ways you can prepare it, I love how cabbage reminds me of one of my most memorable trips, which was to Ireland. Those rocky coasts and all the lush greenery is drenched in deep-rooted history.
Most people think that corned beef and cabbage are a classic Irish dish, but in reality, the cruciferous vegetable was traditionally served with ham or bacon. Corned beef began getting paired with cabbage when Irish immigrants started coming to America because beef was more widely available and cheaper here than in Ireland.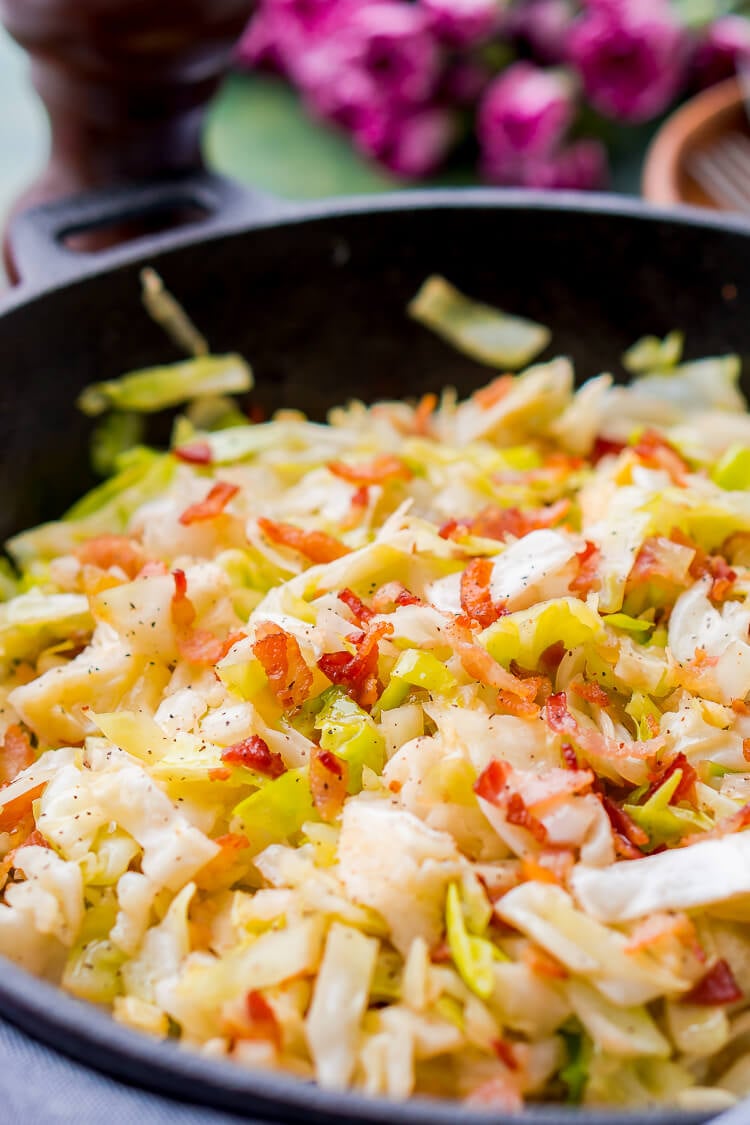 So in a sense, this Irish Fried Cabbage with Bacon recipe aligns with tradition… but with a modern twist! Crispy bacon adds smokiness to pan-fried cabbage, which turns golden brown in a cast iron skillet. Onions, salt, and pepper lend a savory flavor, while a touch a brown sugar brings out the natural sweetness of the cabbage.
[su_button url="https://amzn.to/2vLBqtV" target="blank" background="#708e44″ size="5″ center="yes" desc="Buy Now!" rel="nofollow"]Cast Iron Skillet[/su_button]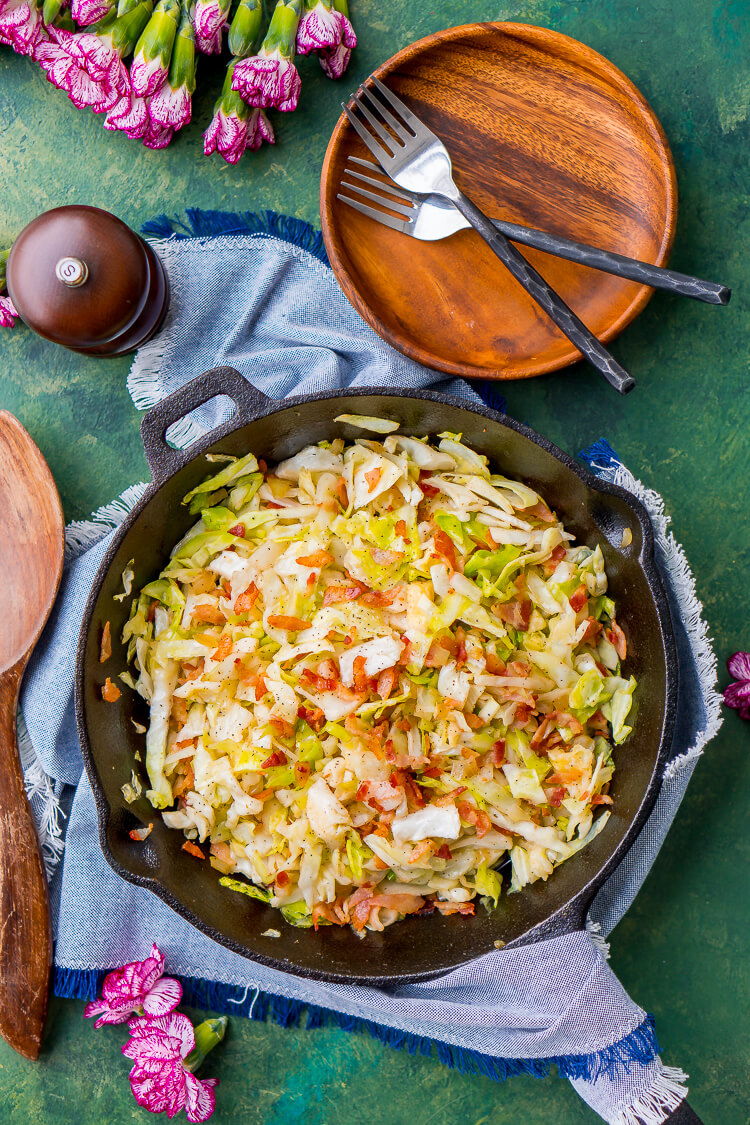 This is the perfect side dish to serve on St. Patrick's day with corned beef, ham …or anything! Plus, it's so yummy and easy to make, you'll find yourself reaching for this recipe for get-togethers, holidays, and quiet family dinners all year round. Think you don't like cabbage? Give this dish a try, and see if it changes your mind!
And If you're a big fan of Colcannon, you can combine this Irish Fried Cabbage with my Mashed Potatoes recipe! And don't forget to make my Irish Cream No Bake Cookies for dessert!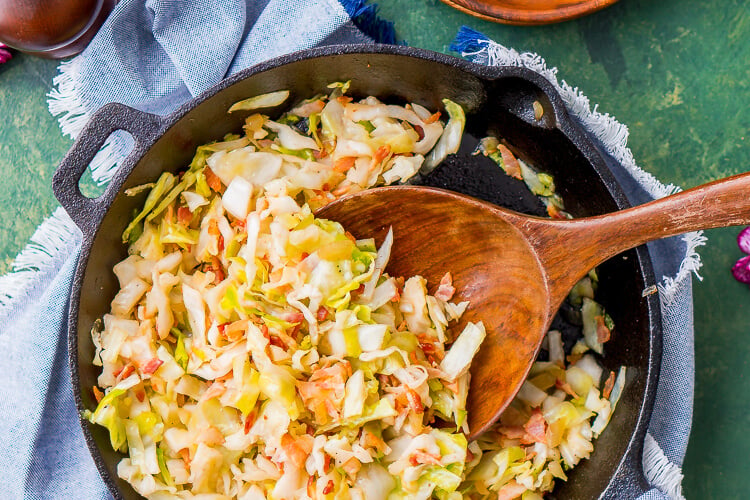 More Delicious Cabbage Recipes!
More Delicious Dinner Ideas: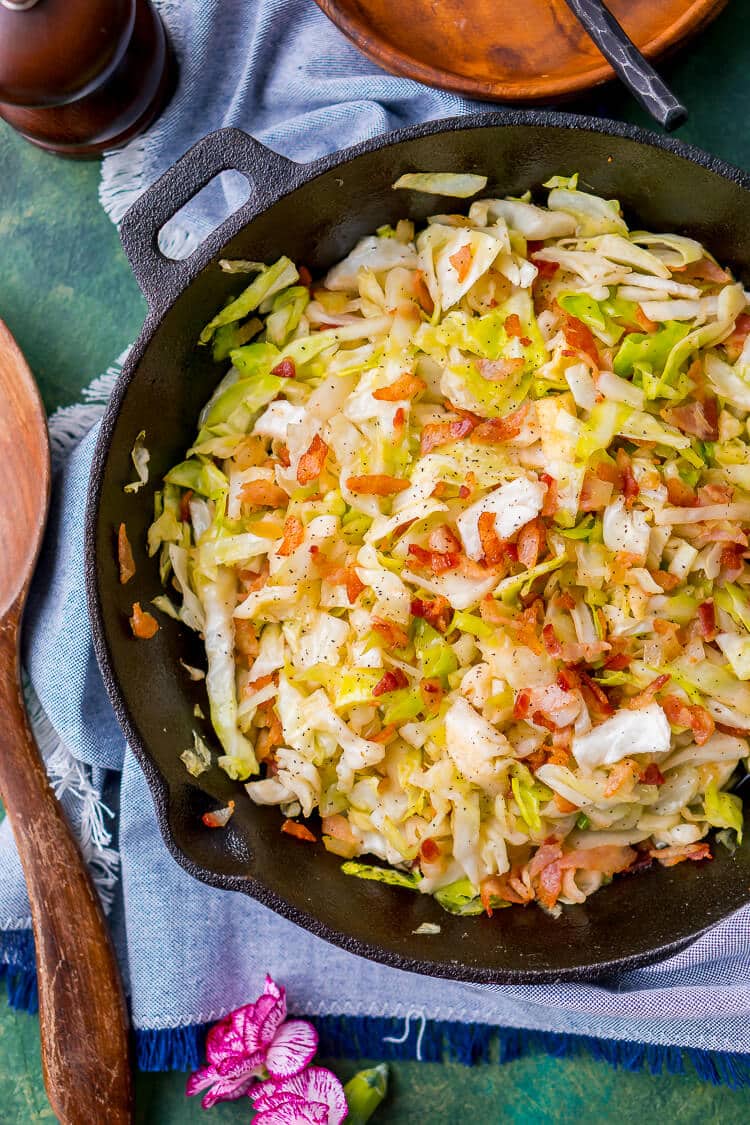 Watch How To Make This Fried Cabbage Below!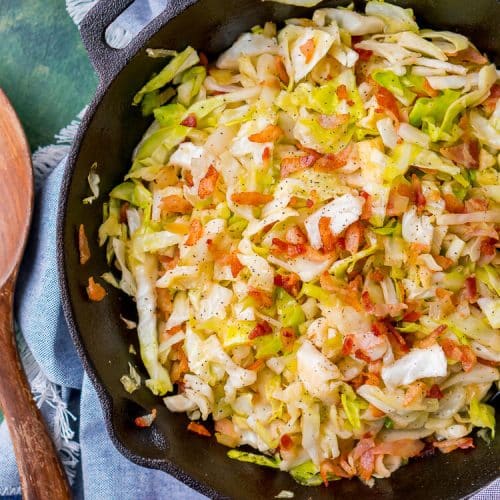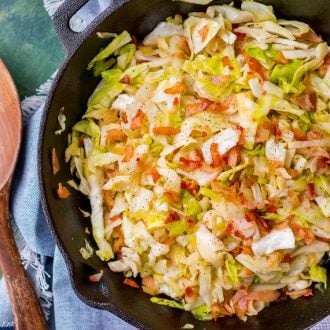 Irish Fried Cabbage with Bacon
Irish Fried Cabbage and Bacon is a simple recipe that's pan-fried in bacon grease and loaded up with bacon pieces and onion and seasoned with brown sugar, salt, and pepper.
Instructions
Cook bacon in a deep cast iron skillet over medium-high heat until crisp, about 4 to 6 minutes. Use a slotted spatula to remove the bacon pieces and transfer to a paper towel-lined plate.

Add the diced onion to the bacon drippings and cook until translucent, about 1 to 2 minutes.

Add shredded cabbage to the pan and toss to coat. Add in brown sugar, salt, and pepper and cook until cabbage is tender, about 5 to 7 minutes.

Add the bacon back to the cabbage and cook for another 2 to 3 minutes. Serve hot and season with additional salt and pepper if desired.
Notes
Brown sugar can be left out if desired.
Leftover boiled cabbage can also be used, reduce cooking time.
This recipe is common in many regions with many variations, this one is mine.
Nutrition
Calories:
148
kcal
Carbohydrates:
7
g
Protein:
4
g
Fat:
11
g
Saturated Fat:
3
g
Cholesterol:
18
mg
Sodium:
299
mg
Potassium:
198
mg
Fiber:
2
g
Sugar:
4
g
Vitamin A:
85
IU
Vitamin C:
28.4
mg
Calcium:
32
mg
Iron:
0.5
mg
Pin this Fried Cabbage Recipe for Later!