This Lemon Olive Oil Cake is brightened up with fresh and vibrant lemons making it perfect for brunch or dessert! It's just 5-ingredients and 300 calories per serving, are you in love with this dessert yet?
Slice and serve another fresh, lemony dessert by baking Mary Berry's Lemon Drizzle Cake! It's deliciously tender with a slight crunch from the 2-ingredient lemon drizzle!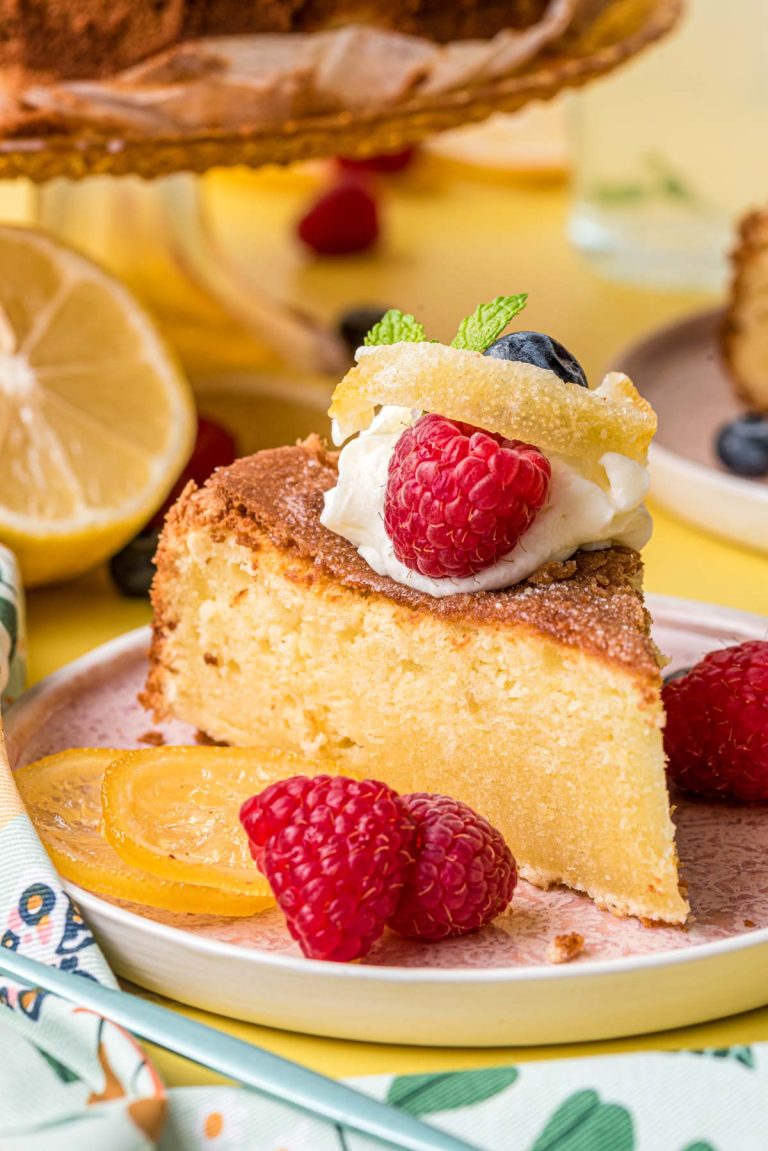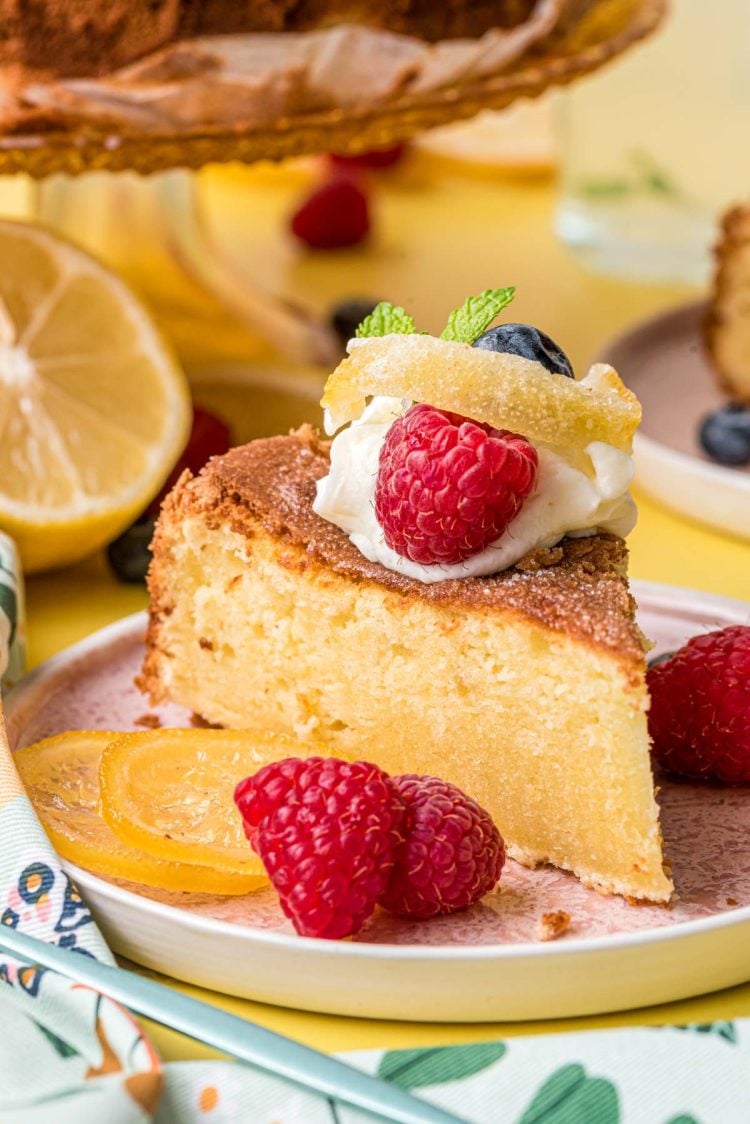 If you're looking for a nice summery, vibrant treat that's light in texture, flavor, and calories then look no further than this Lemon Olive Oil Cake! And even if you weren't looking – you'll be more than happy that you found this recipe!
Lemon Olive Cake is the perfect after-dinner treat that doesn't sit heavy in the belly! The cake itself is light in flavor with a hint of fresh-squeezed lemon juice and zest.
Yet is just the right amount of sweetness to hit the spot! Making it a dessert you can indulge in without feeling guilty!
What To Expect With This Easy Lemon Olive Oil Cake
Taste: Since fresh lemon juice and lemon zest are used in this cake every bite is filled with the best fresh lemony flavor! Just before you pop the cake batter in the oven to bake it gets a sprinkle of sugar. This gives the cake a sweet, slight crunch!
Texture: Olive oil cakes are very light and fluffy yet have a tougher crust. Making this cake a cross between chiffon and an angel food cake. You'll love the way the crust cracks during baking, giving it a nice rustic finish!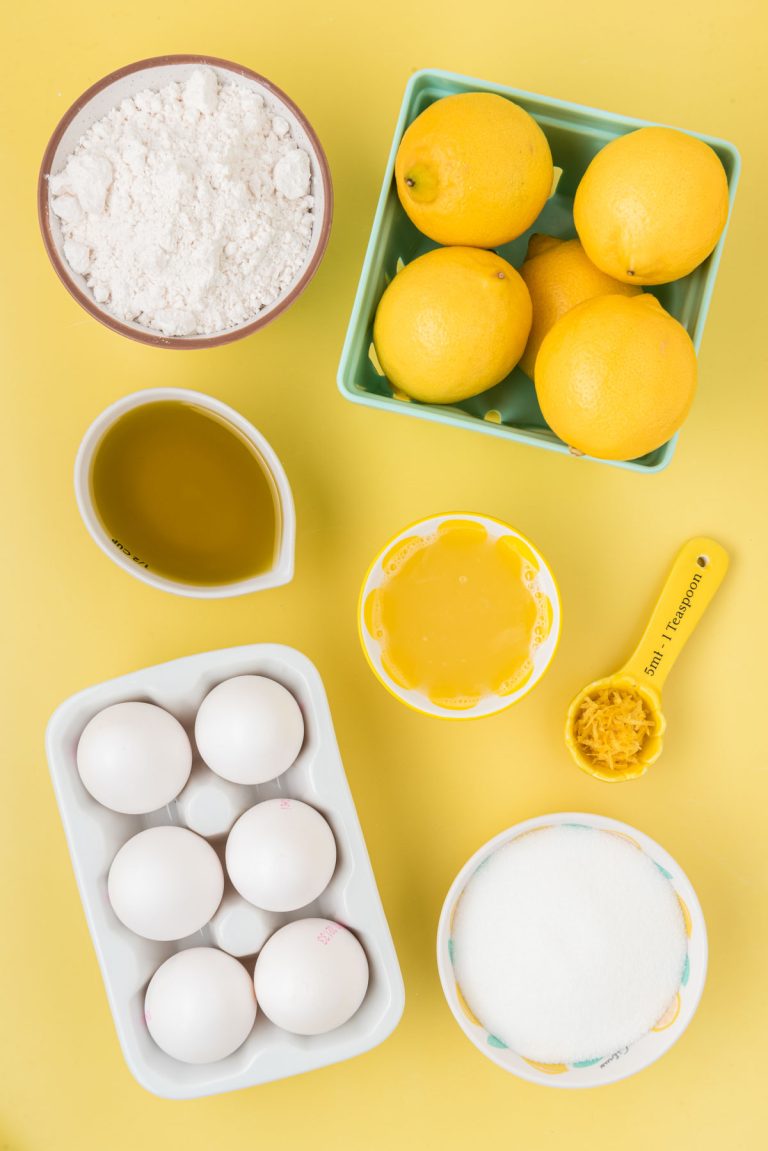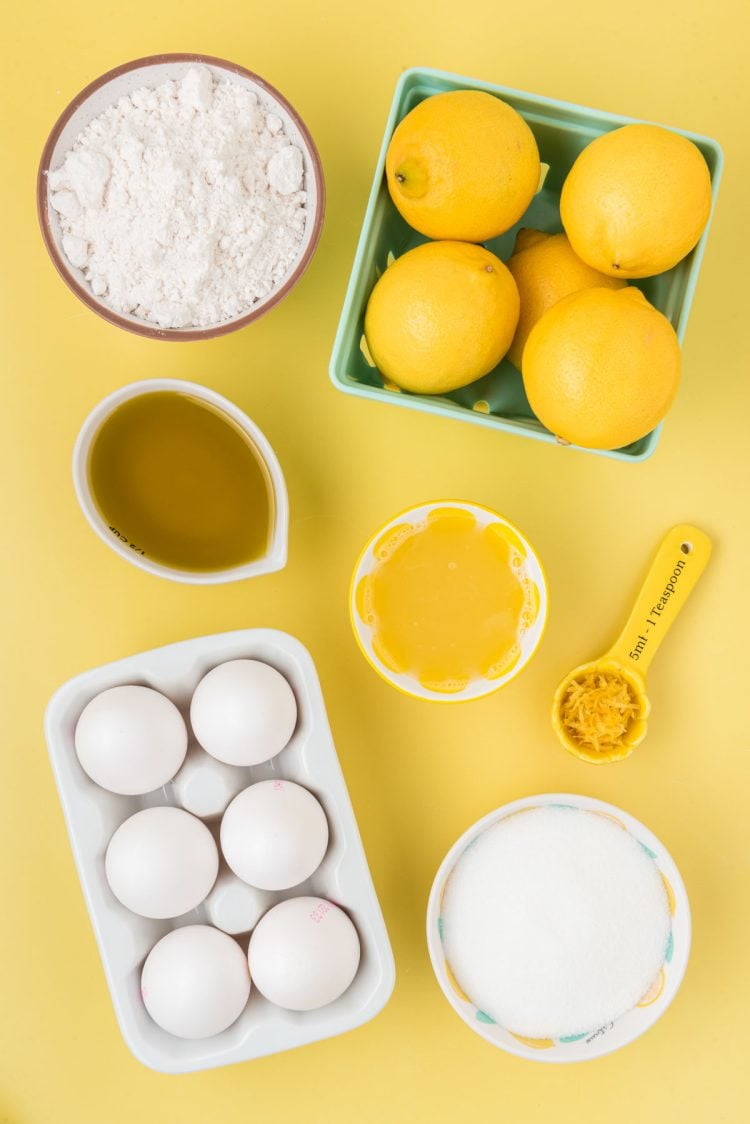 Helpful Tips When Making This Lemon Cake
One of the reasons this cake has a tender, light crumb is because the recipe calls for cake flour! Making it essential that you use cake flour and not all-purpose flour.
Be sure not to beat the dry ingredients into the wet ingredients when following the recipe instructions. Doing so will result in a dense cake and that's not the texture we're aiming for!
To easily remove the cake from the springform pan for serving you'll want to take a minute to properly prep it! The parchment paper coupled with drops of olive oil makes for a perfectly prepared pan to do so.
I chose to use Extra Virgin olive oil in this recipe, but you could also use regular olive oil.
Fresh lemon juice and lemon zest are best! There's a big difference in lemon flavor between freshly squeezed juice, lemon extract, and store-bought lemon juice.
Make sure to use an 8-inch springform pan for best results, a 10-inch pan is much too big.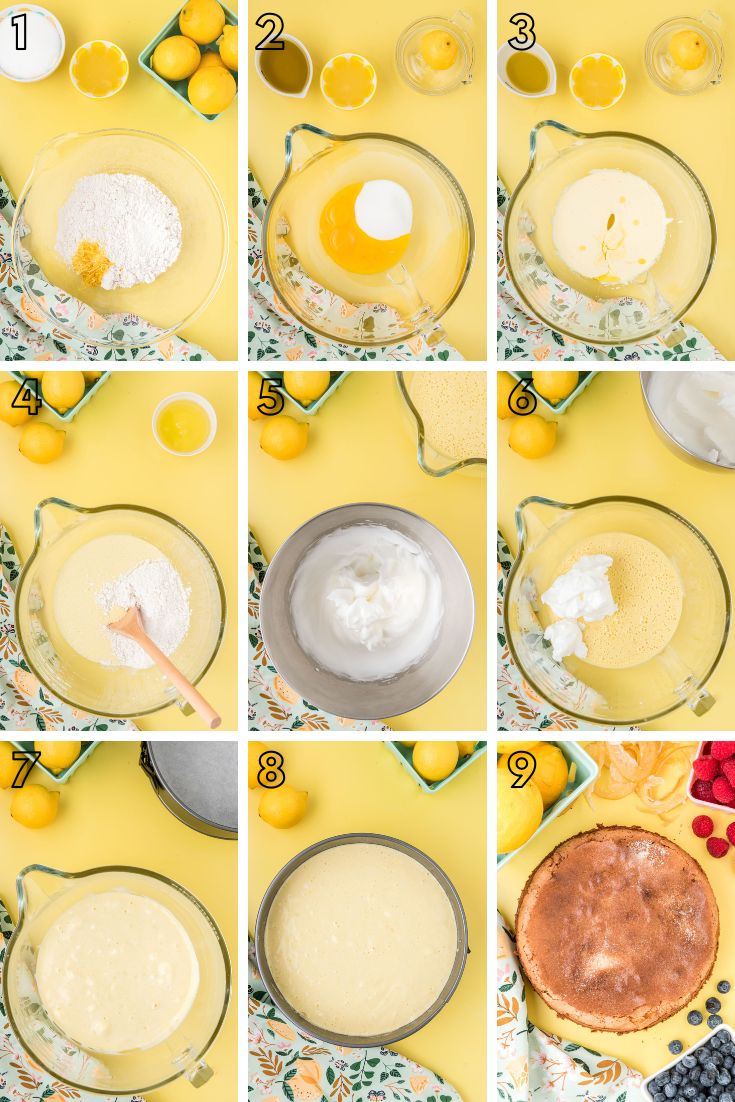 How To Serve & Enjoy!
I've found that this Olive Oil Lemon Cake is best when served at room temperature. And with lots of tasty toppings options!
I like to arrange fresh toppings such as raspberries, strawberries, blueberries, and fresh mint leaves on the cake. Then serve it with a sprinkle of powdered sugar and/or a dollop of light, fluffy, homemade whipped cream.
When I really want to dress this cake up, I'll also make some candied lemon slices! The edible slices make for a fun touch and take just 15 minutes to prep a batch!
For easier prep, you can even make the cake up to one day ahead of time! Then simply add the toppings at the last minute for peak taste and freshness!
Storage Instructions
You can store this Lemon Olive Oil Cake at room temperature for 2 to 3 days. Or in the refrigerator in an airtight container for 4 to 5 days.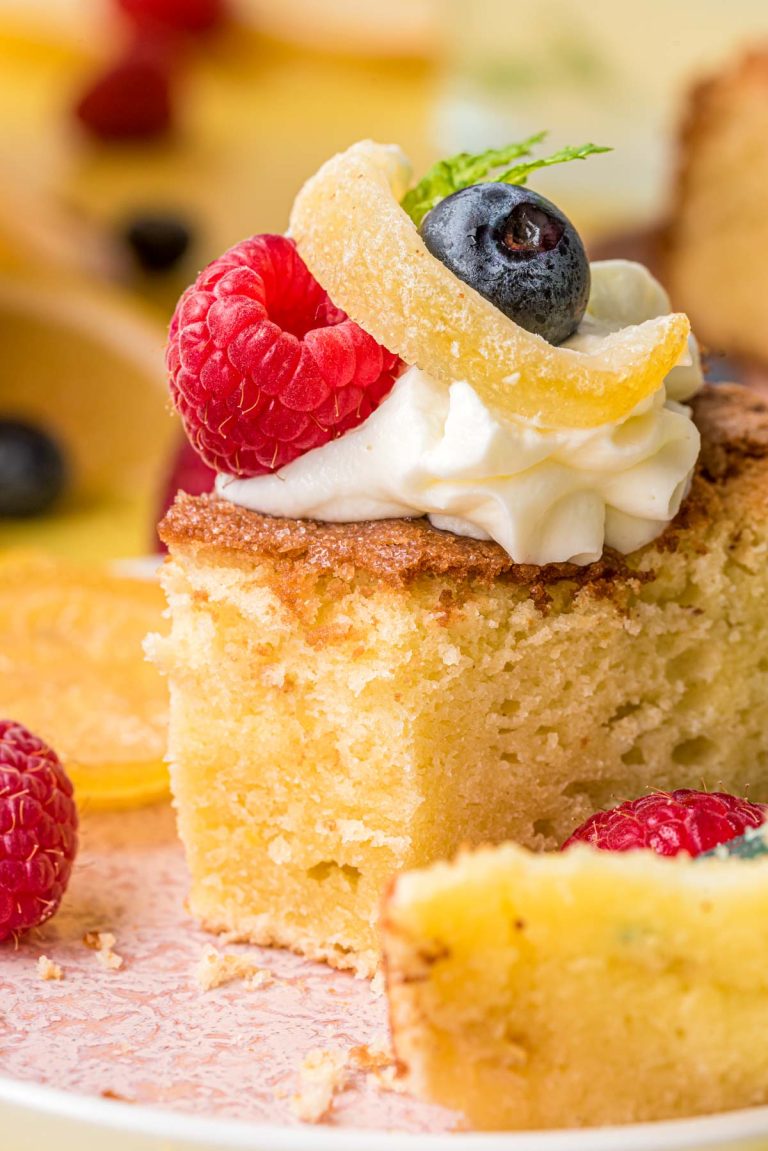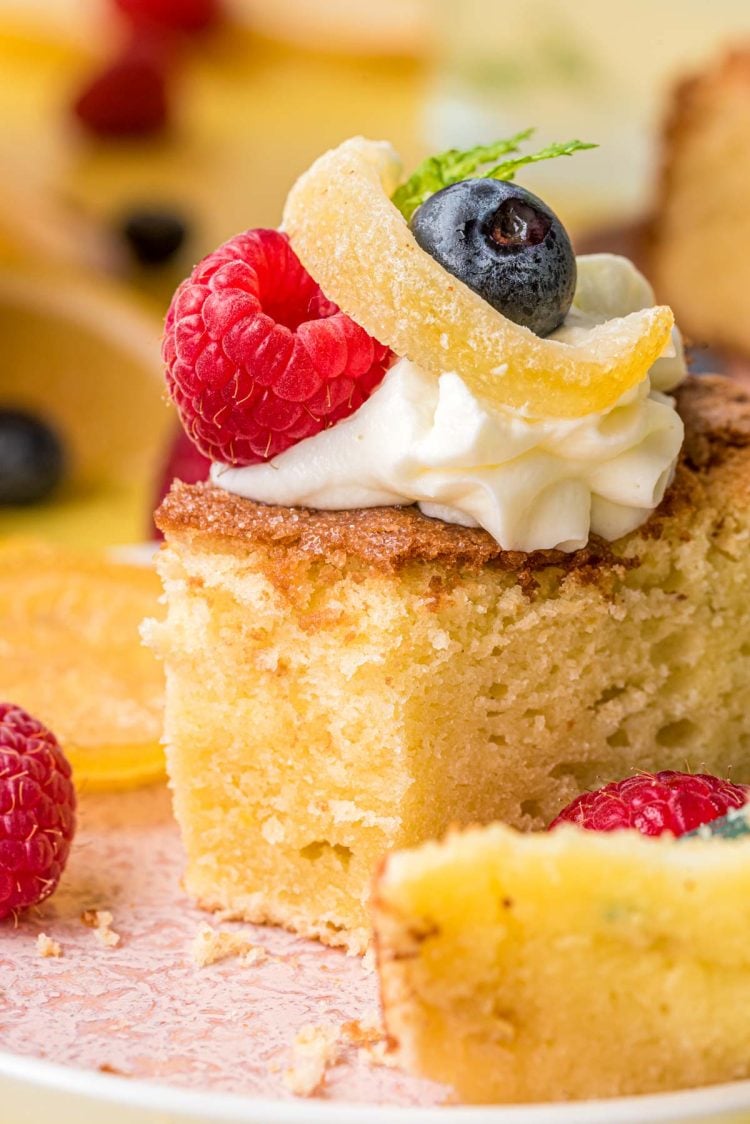 Is There A Substitute For Cake Flour?
To make a cake flour substitute you can use all-purpose flour and cornstarch. Take one cup of the flour and remove 2 tablespoons from it. You can place the 2 tablespoons back in the flour bag since you won't need it.
Then add 2 tablespoons of cornstarch to the remaining flour. Sift this mixture together three times and then it's ready to use in this recipe.
If you don't have a sifter, you can whisk the 2 ingredients together by hand or in a stand mixer using the whisk attachment.
Can I Use Other Citrus In This Olive Oil Cake Recipe?
Yes, you can swap the lemon zest and lemon juice out for another citrus. This recipe was originally published as a grapefruit recipe and was absolutely delicious!
What Else Can I Use To Bake This Cake In If I Don't Have A Springform Pan?
No problem, you can just use a 9-inch cake pan or a deep 8-inch cake pan. Just be sure to properly prepare the round cake pan with parchment paper and olive oil.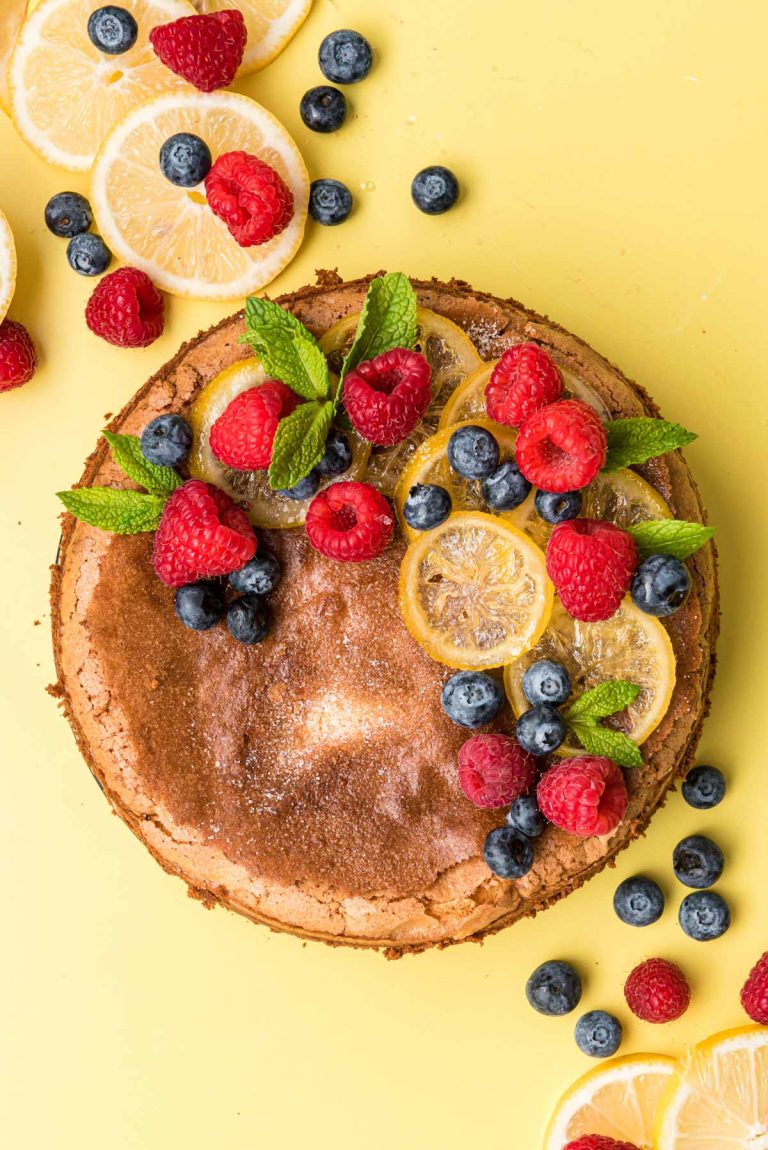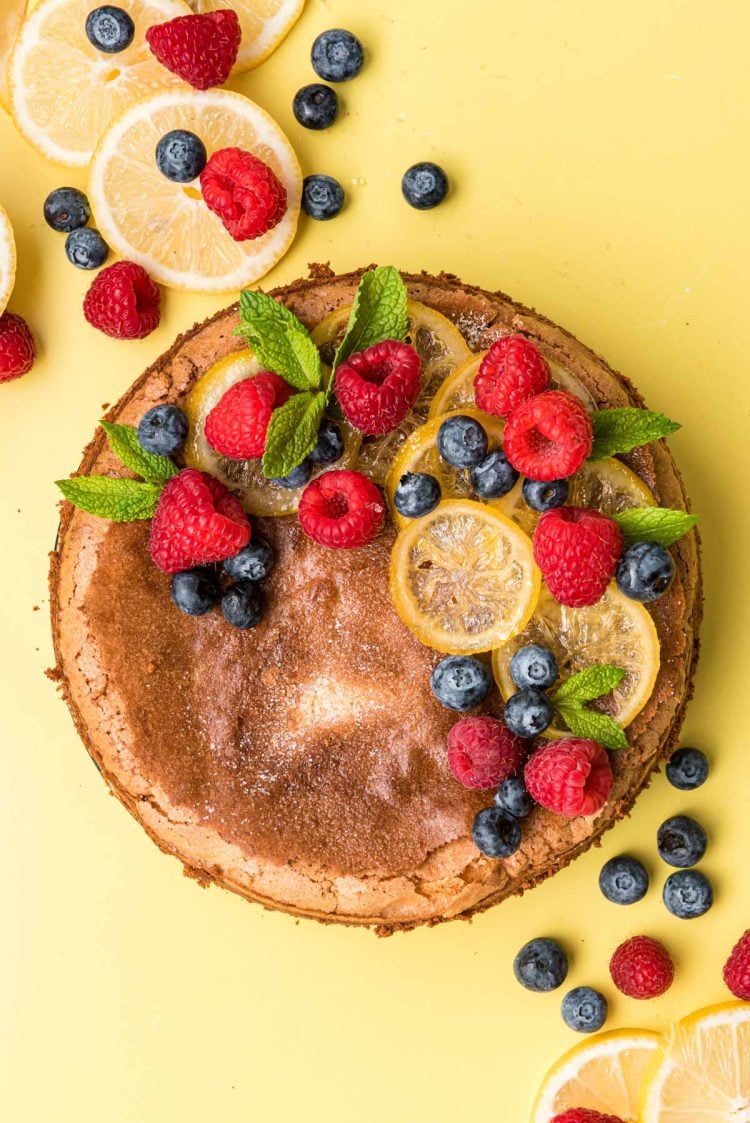 There's always room at the table for a vibrant lemony treat like this Olive Oil Lemon Cake! These are my other lemon-flavored desserts that are just as deliciously vibrant as this one!
👋 Let's Connect!
If you've tried this recipe, please let me know how you liked it in the comments below and leave a review; I love hearing from you! And don't forget to tag me – @sugarandsoulco – on Instagram and Pinterest with your photos or join our Busy Family Recipes Facebook Community and share them there!
This post was originally published in January 2015 as a grapefruit-flavored cake. It was updated in July 2022 as lemon, but any flavor citrus can be used.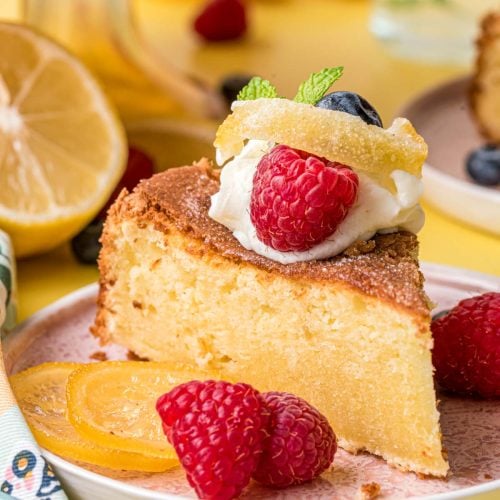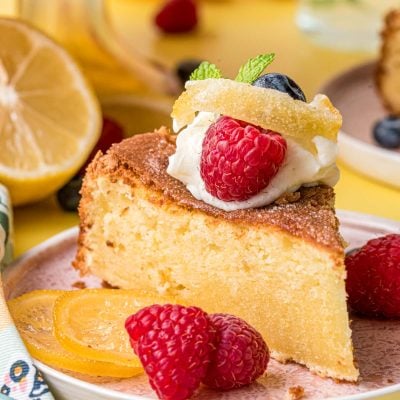 Lemon Olive Oil Cake
This Lemon Olive Oil Cake is brightened up with fresh and vibrant lemons making it perfect for brunch or dessert! It's just 5-ingredients and 300 calories per serving, are you in love yet?
Ingredients
Cake
1

cup

cake flour

spooned and leveled

2

teaspoons

lemon zest

3

tablespoons

lemon juice

fresh is best

5

egg yolks

¾

cup

extra virgin olive oil

4

egg whites

¾

cup

+1 tablespoon granulated sugar

divided
Instructions
Preheat the oven to 350°F.

Place a piece of parchment paper over the bottom of an 8-inch springform pan and then clip the sides around it. Trim away the excess parchment paper, leave just a bit of a lip.

Add a couple drops of olive oil to a paper towel and rub down the sides of the pan with it.

Grate the lemon zest into a large bowl with the cake flour, stir and set aside.

1 cup cake flour,

2 teaspoons lemon zest

In a large bowl or stand mixer, beat together ½ cup of sugar and the egg yolks on high speed until pale and creamy, about 3 minutes.

¾ cup +1 tablespoon granulated sugar,

5 egg yolks

Reduce speed to medium and slowly add the olive oil and lemon juice. Beat until just combined, mix may look separated.

¾ cup extra virgin olive oil,

3 tablespoons lemon juice

Use a wooden spoon or rubber spatula to gently incorporate the flour mixture into the wet ingredients, DO NOT BEAT!

In another bowl, or after transferring the batter to the flour bowl and cleaning your stand mixer, beat the egg whites at medium-high speed until foamy.

Slowly begin adding ¼ cup of sugar and continue beating on high until soft peaks form, about 3 minutes.

¾ cup +1 tablespoon granulated sugar

Gently mix ⅓ of the egg whites into the batter to lighten it, then gently but thoroughly fold in the remaining egg whites.

Pour batter into the prepared springform pan and lightly rap a couple times on a flat surface to remove air bubbles.

Sprinkle top of the batter with 1 tablespoon of sugar and bake for 42 to 45 minutes until the cake is puffy and golden brown and a toothpick comes clean from the center.

¾ cup +1 tablespoon granulated sugar

Cool the cake in the pan on a cooling rack for 10 minutes, then run a paring knife around the edge of the pan and remove the sides and bottom to let the cake finish cooling.

Once the cake has cooled and you're ready to serve. Top with whipped cream, candied lemons, fresh berries, and mint if desired.

Whipped Cream,

Candied Lemons,

Fresh Berries,

Fresh Mint
Notes
This cake was originally published as grapefruit but has been updated. Any citrus will work with this recipe.
Cake can be made up to one day ahead of time.
Extra Virgin or regular Olive Oil can be used. I chose to use Extra Virgin because it brings out the zest in the cake, but regular olive oil will yield a lighter texture.
This cake is best served at room temperature.
Slightly Adapted from Epicurious.
Nutrition
Calories:
282
kcal
Carbohydrates:
25
g
Protein:
4
g
Fat:
19
g
Saturated Fat:
3
g
Polyunsaturated Fat:
2
g
Monounsaturated Fat:
13
g
Cholesterol:
97
mg
Sodium:
25
mg
Potassium:
48
mg
Fiber:
0.4
g
Sugar:
15
g
Vitamin A:
131
IU
Vitamin C:
2
mg
Calcium:
15
mg
Iron:
0.5
mg