This Raspberry & Peach Cobbler only requires 10 minutes of prep and has just 6 ingredients in it!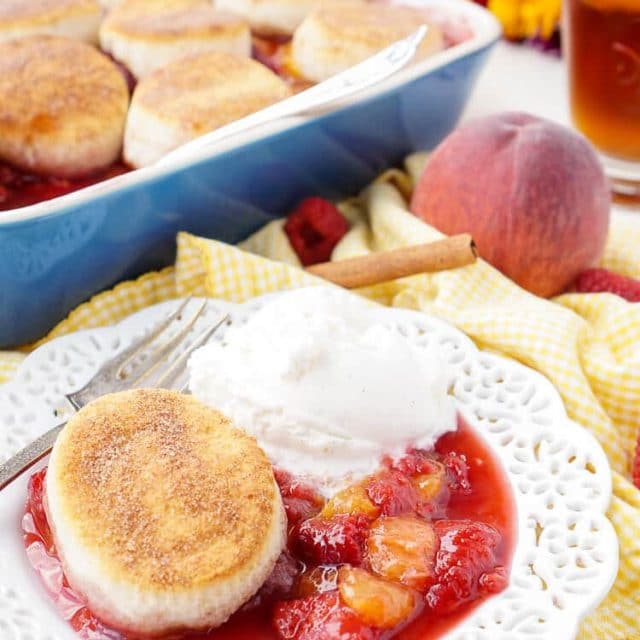 This Raspberry & Peach Cobbler only requires 10 minutes of prep and has just 6 ingredients in it!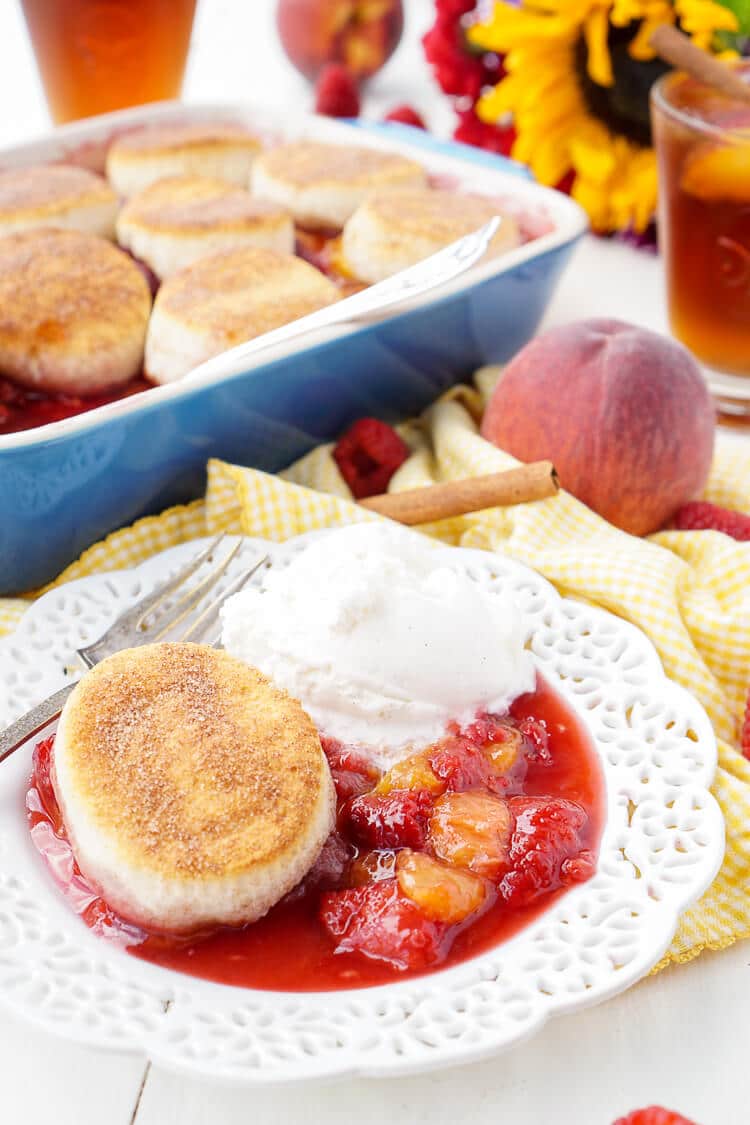 With peaches and raspberries both in season, I thought what better way to bring their bold flavors to life than with a sweet, warm cobbler that screams summer! I've also been doing Weight Watchers for about a month now and a serving of this dessert is only 8 points, not amazing, but pretty good for a hot and sweet after dinner treat!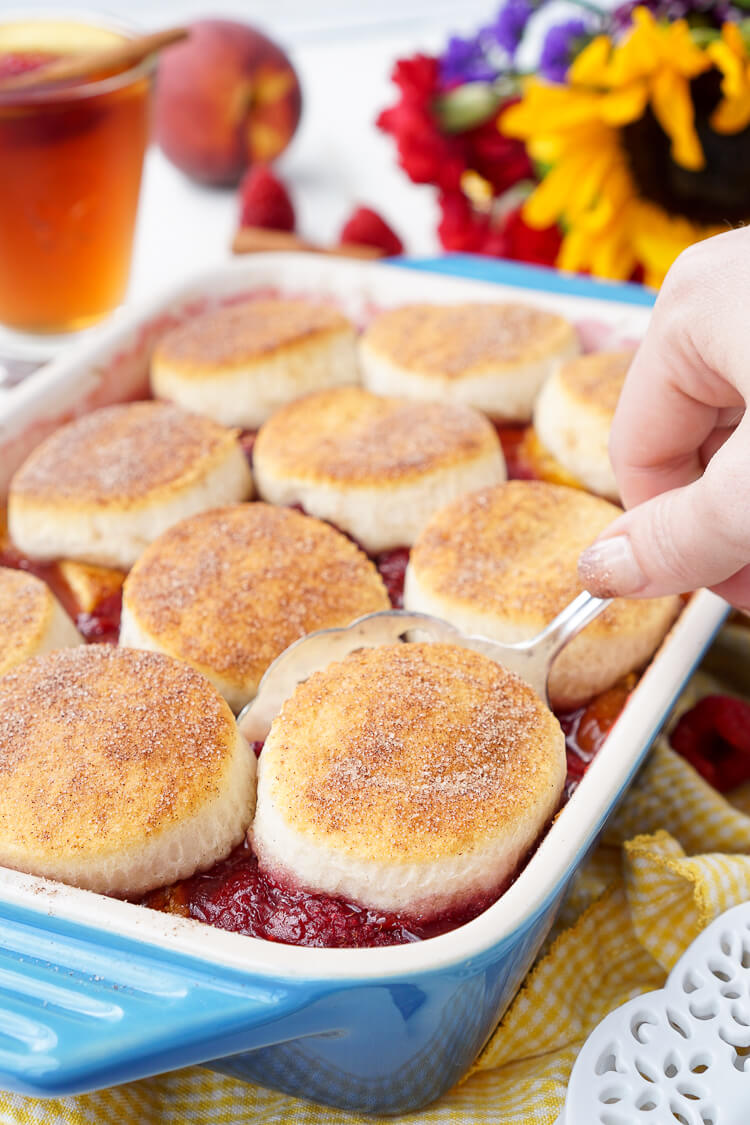 So far I've lost about 5 lbs, which is great. I'm heading to the beach next week and also working towards a killer bikini body for my trip to Jamaica in October! Goodies like this are what keep me going, I get to have a little something sweet without sacrificing flavor or going overboard in the sugar dapartment. You can also switch out the fruit for any others you might enjoy, the versatility is really what I love about this recipe!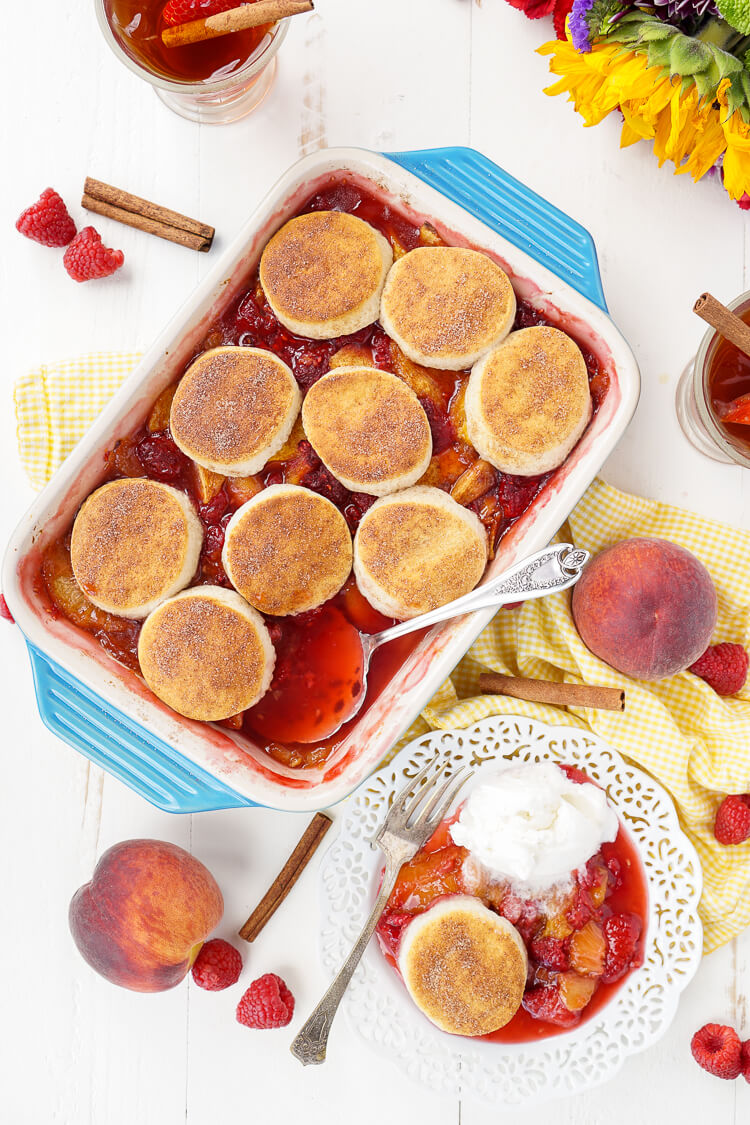 It only takes about 10 minutes to prep everything and another 50 or so to bake! The biscuits get added on for the last 10 minutes so they result in a perfectly golden topping you won't be able to resist. The addition of cinnamon makes this dish super cozy and something that can be enjoyed in the summer and fall, or really all year round!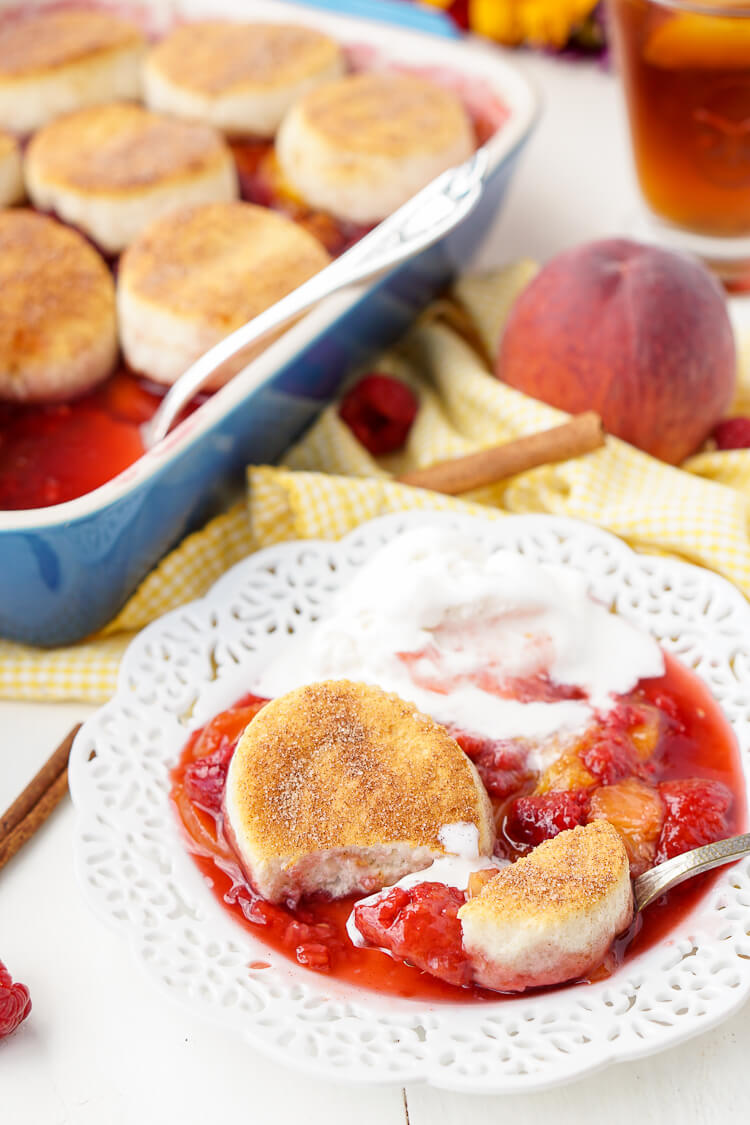 This Raspberry & Peach Cobbler only requires 10 minutes of prep and has just 6 ingredients in it!
Ingredients
6 cups fresh sliced peeled peaches
2 cups fresh raspberries
3/4 cup sugar divided
2 tbsp cornstarch
2 tsp cinnamon
1 12 oz can on small buttermilk biscuits
2 tbsp cinnamon sugar
Instructions
Preheat oven to 375 degrees F. Spray a 9 x 13 baking pan with cooking spray and set aside.

In a large bowl, mix together peaches, raspberries, sugar, cornstarch, and cinnamon until evenly coated. Pour fruit mixture into the prepared baking pan.

Bake for approximately 40 minutes, remove from oven and space raw biscuits evenly apart on the top of the fruit, sprinkle with cinnamon sugar and bake for another 10 minutes until golden brown.

Remove from oven and serve warm with ice cream if desired.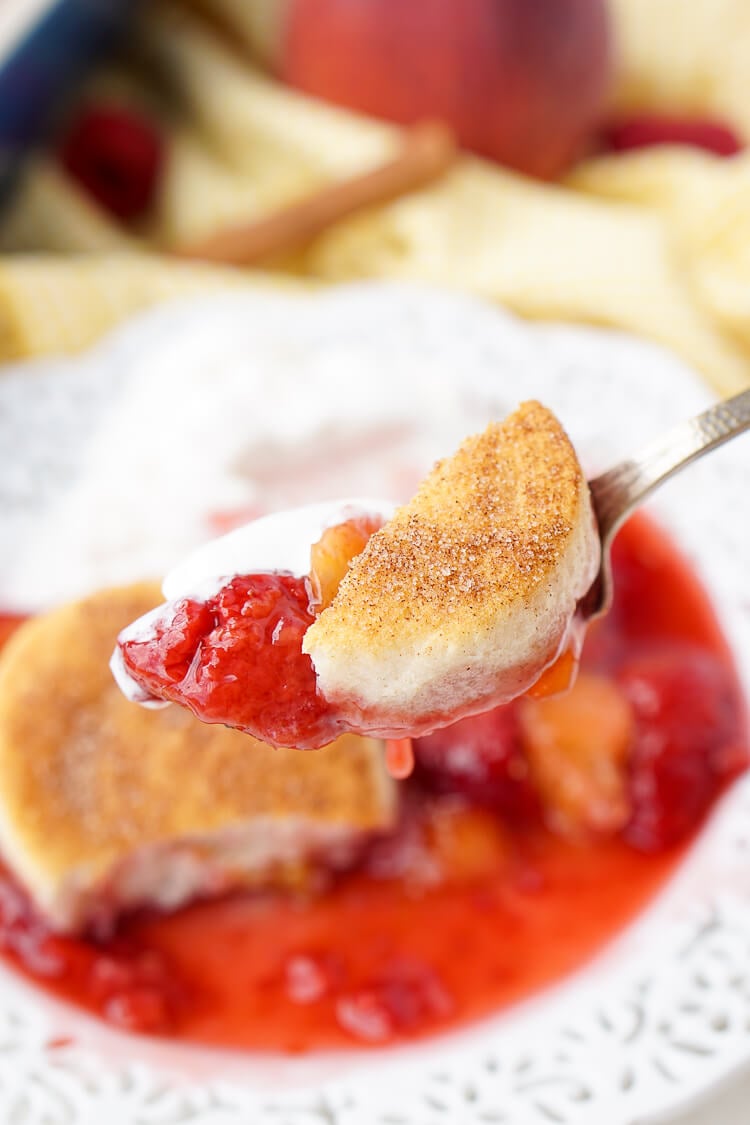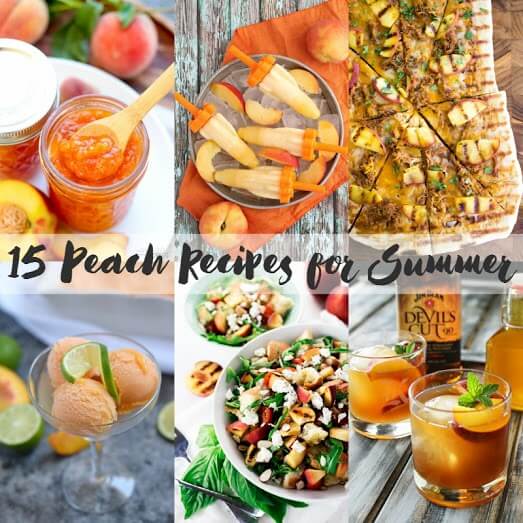 Grilled BBQ Pulled Pork & Peach Pizza from Bread Booze Bacon
Peach Cobbler Loaf Cake from I Heart Eating
Peach Bourbon Arnold Palmer from Kleinworth & Co.
Peach Margarita Sorbet from Cooking with Curls
Peach Rose Tarts from Home.Made.Interest.
Light Peach & Berry Tart from The Creative Bite
Peach Vanilla Jam from Celebrating Sweets
Sparkling Peach Cucumber Lemonade from Life is but a Dish
Grilled Peach Bellini from Nomageddon
Peach Shinesicles from Frugal Foodie Mama
Easy Peach Cobbler from Julie's Eats & Treats
Peach Ice Cream from Liz on Call
Peach Sangria from Around My Family Table
Grilled Peach Panzanella Salad from A Simple Pantry
Reader Interactions
Share your thoughts!
Love this recipe? Share your thoughts with me below and leave a review! And don't forget to connect on your favorite social platform below!