This easy Tiramisu recipe swaps out traditional coffee for a rich coffee liqueur. It's a shortcut version made with mascarpone laced pudding instead of a traditional egg custard. Topped with a silky vanilla whipped cream.
Easy Tiramisu Recipe
Some of my favorite recipes are the ones that put a twist on traditional dishes, and this Boozy Tiramisu makes a classic Italian dessert a little more fun!
Did you know that Tiramisu means "pick me up" in Italian? And this dessert is just that, a pick me up after a delicious meal! It is one of those treats that almost everyone knows and loves.
I think every home baker should have a solid recipe for this dessert because it's a crowd-pleaser that never ceases to impress guests. I'd even venture to say that this is the perfect final course to serve when you have the in-laws over for dinner (it's that good!).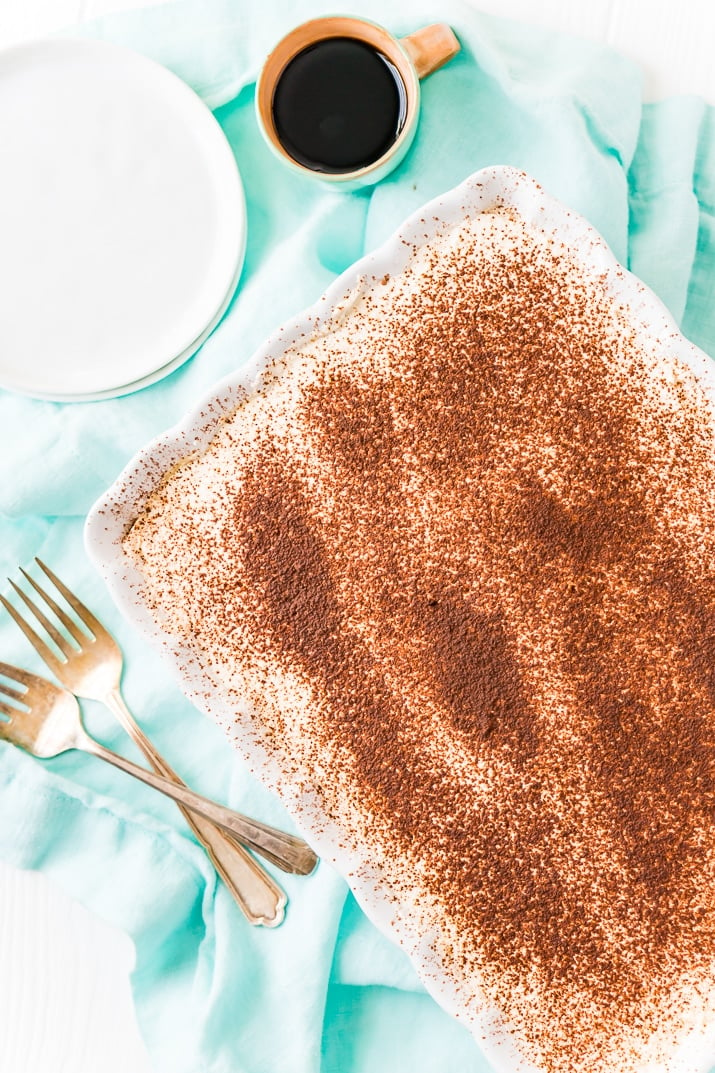 A Million Ways To Make Tiramisu!
Like many traditional dishes, tiramisu is made a little different everywhere you go. I often order it when we go out to an Italian restaurant because it's always interesting to try different preparations.
While I've tasted some truly great versions and some not-so-great. I think that this boozy version can hold its own amongst most restaurant and store-bought versions. Plus, the kick of coffee liqueur is what makes this recipe truly memorable.
Alcohol is not an uncommon ingredient in this classic recipe. Many have been known to include cognac, dark rum, or Marsala wine, usually mixed together with the coffee.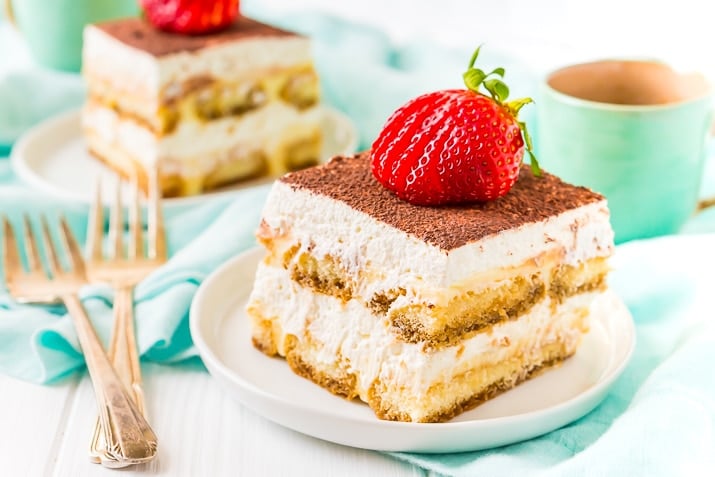 Until now, you may have thought that tiramisu was difficult to make, but it doesn't have to be! My easy recipe preparation includes a time-saving hack that doesn't sacrifice flavor or texture.
Instead of making the egg custard layer from scratch, I use instant vanilla pudding and mix it with mascarpone cheese, a traditional ingredient in this dessert.
The result is a custard-like layer that's luscious and creamy, and no one will ever know that you took a shortcut! Okay, your husband's Italian grandmother might know, but you can likely fool your friends 😉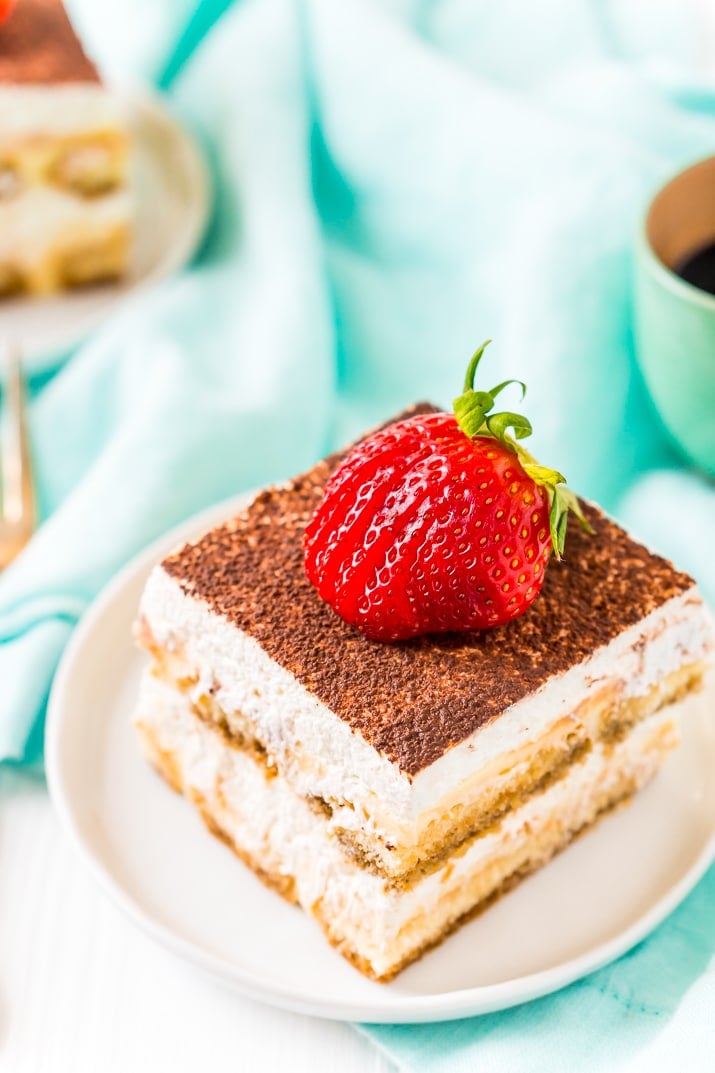 What Kind of Liquor Is Best In Tiramisu?
On to the fun part: spiking it! To infuse this treat with a healthy dose of booze, dip the ladyfingers into the coffee liqueur instead of regular coffee.
Keep in mind, you can really make this recipe your own, depending on what you use. Sweet Kahlua or bold Tia Maria can each have their own unique flavor, by my personal preference is Allen's Coffee Brandy.
I also know people who prefer using Amaretto or Frangelico for a touch of sweet almond or hazelnut flavor.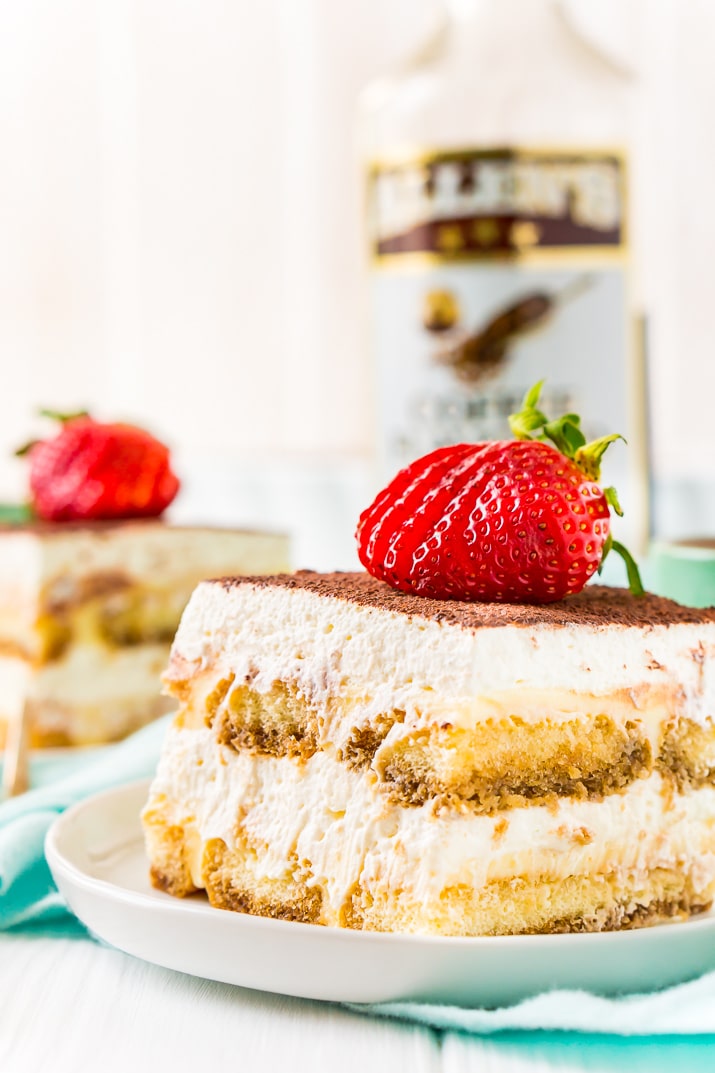 Coffee Brandy – A Maine Tradition!
For those of you who haven't heard of it, Allen's Coffee Brandy is notoriously loved in Maine and is in the liquor cabinet of just about everyone who lives here!
We actually call it the Champagne of Maine – not kidding. And it's cheap, clearly we keep things pretty classy up here in the sticks!
They say this spirit used to be enjoyed by local fisherman who'd add a couple glugs to their coffee mugs in order to thaw out from a day at sea, and it's been a statewide favorite ever since.
What can I say; if there's one thing we Mainers love, it's tradition! Since Allen's Coffee Brandy gives a nod to my roots, I love incorporating it into my Tiramisu (and if you're ever serving this recipe to Mainers, I highly recommend you do the same).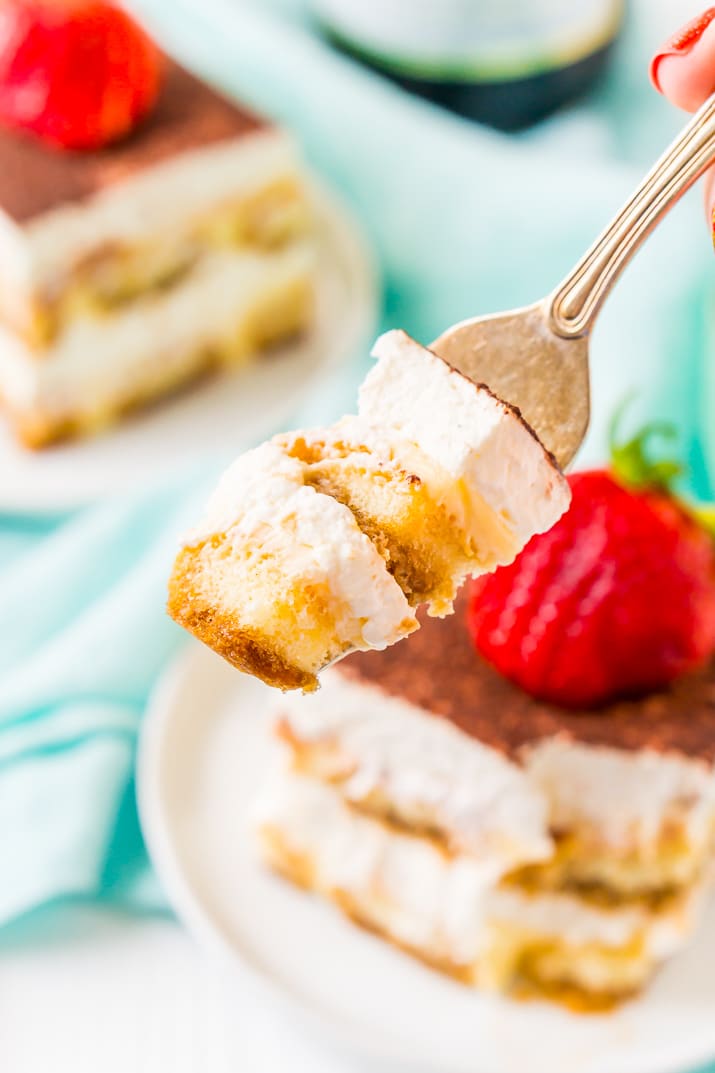 Tiramisu is Decadent and Easy!
The finishing touches on this decadent dessert are a couple thick layers of sweet homemade whipped cream and a dusting of cocoa powder. When it's all assembled, it makes a beautiful presentation that you'll be proud to serve to your guests.
Did I mention that this would be a wonderful treat to make for a romantic Valentine's Day dinner at home?
This Italian dessert recipe pairs perfectly with a shot of espresso, or my personal favorite, a frothy cappuccino! And if you're really having a good time, try sipping a Sambuca alongside this classic dessert.
How Do You Make Tiramisu Dessert?
No matter how different each recipe is, they all have the same essential layers. The first layer is made of coffee or liqueur-soaked ladyfingers that have been arranged in a nice, even layer that covers the bottom of the pan.
The second layer is a custard base (or pudding in this case) that's thick, rich, and creamy. The third layer is made of sweetened whipped cream. Then you repeat the layers once more and dust with cocoa powder for a beautiful finish.
Can Tiramisu Be Made Ahead Of Time?
Yes! This recipe actually needs to be made in advance no matter what because it needs at least 6 hours to set and soften in the refrigerator before serving.
However, it can be made up to two days in advance and stored in the refrigerator covered in plastic wrap to lock in freshness.
You can also freeze this dish for up to three months! Simply transfer from the freezer to the refrigerator the night before serving and it's best to dust with the cocoa once it thaws.
More Italian Dessert Recipes:
Tools You'll Need For This Recipe:
Easy Tiramisu
Click the button above to save this delicious recipe to your board!

Let's Connect!
I created a fun little group on facebook and I'd love for you to join in! It's a place where you can ask questions and see what's new with Sugar & Soul! If you'd like to check it out, you can request to join HERE.
Be sure to follow me on Instagram and tag #sugarandsoulco so I can see all the wonderful recipes YOU make from this site! You can also Subscribe to my Newsletter so you never miss a delicious recipe again!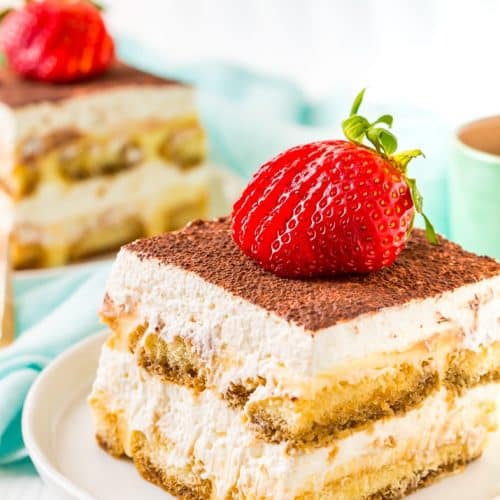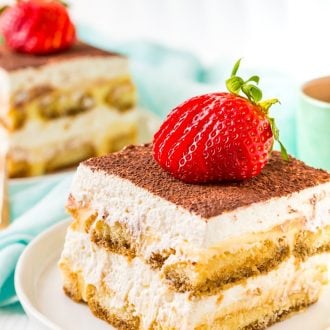 Boozy Tiramisu
This Boozy Tiramisu recipe swaps out traditional coffee for a rich coffee liqueur. It's a shortcut version made with mascarpone laced pudding instead of a traditional egg custard. Topped with a silky vanilla whipped cream.

Print
Pin
Rate
Total Time:
6
hours
20
minutes
Instructions
In a medium bowl, make the pudding according to package instructions with the milk listed in the recipe. If for some reason your recipe calls for a different measurement, use that. Set aside to thicken up.

While the pudding is setting up, dip the top and bottom of each ladyfinger in the coffee liqueur and arrange in rows in a 7x11-inch pan until the bottom is covered in one layer.

Add the Mascarpone cheese to the pudding mixture and use a hand mixer to whip them together until smooth. Spread half of the pudding mixture out over the top of the ladyfinger mixture in the pan making sure to cover evenly.

In a large bowl or stand mixer fitted with a whisk attachment, beat the heavy cream, vanilla, and powdered sugar together until light and fluffy, about 3 to 4 minutes. Add half of the whipped cream mixture to the top of the pudding layer in the pan, spreading out evenly.

Layer with another layer of coffee liqueur soaked ladyfinger cookies, then the remaining half of the pudding mixture and then the remaining whipped cream, leveling out the top layer.

Dust the top of the whipped cream with cocoa powder and place the whole pan in the refrigerator to set for at least 6 hours.

After the dish has set, use a large, sharp knife to cut the dessert into squares, serve with a strawberry, if desired.
Video
Nutrition
Calories:
357
kcal
|
Carbohydrates:
28
g
|
Protein:
5
g
|
Fat:
22
g
|
Saturated Fat:
13
g
|
Cholesterol:
120
mg
|
Sodium:
75
mg
|
Potassium:
101
mg
|
Sugar:
11
g
|
Vitamin A:
880
IU
|
Vitamin C:
0.2
mg
|
Calcium:
91
mg
|
Iron:
1
mg