These Banana Muffins are loaded with crunchy walnuts and sweet cinnamon, then topped with a sugary crumble no one can resist!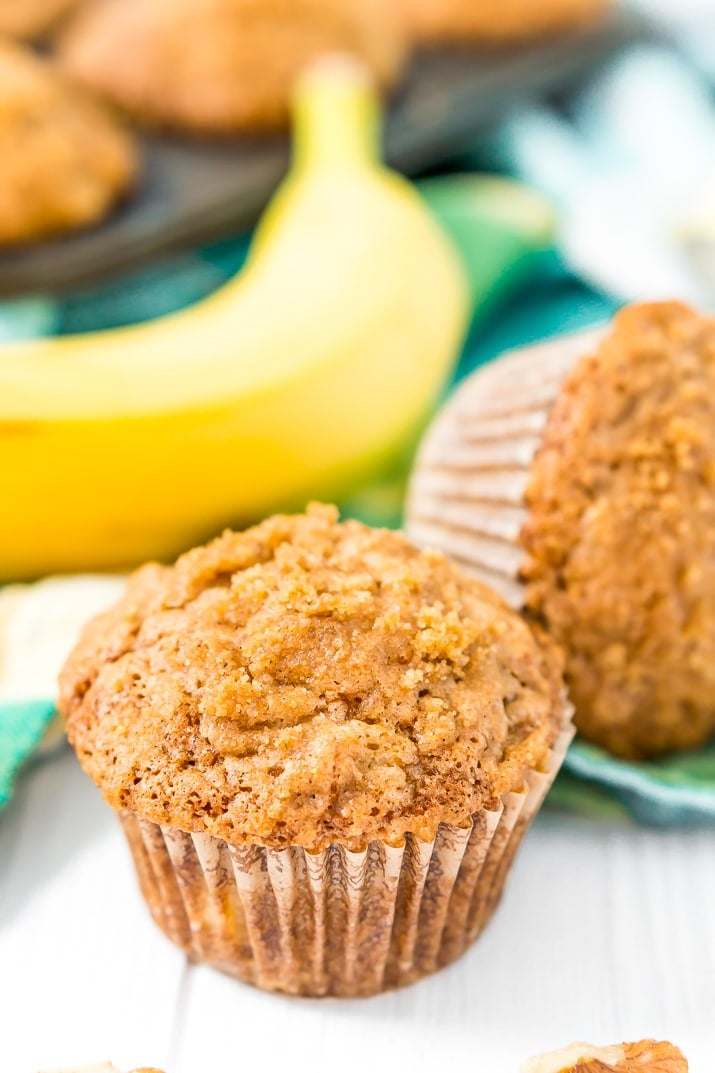 Banana Muffins
It sounds silly, but breakfast is often the hardest meal for me to prepare and eat. That's why I always keep recipes like Banana Muffins on hand so I can bake them ahead of time, then grab one as I head out the door!
These Banana Nut Muffins are as tasty as they are convenient, and they're perfect to feed the whole family in the midst of morning chaos.
If you struggle to get your kids to eat something before they start their day — heck, maybe it's a challenge for you, too — these crumbly muffins will make your mornings a little bit easier.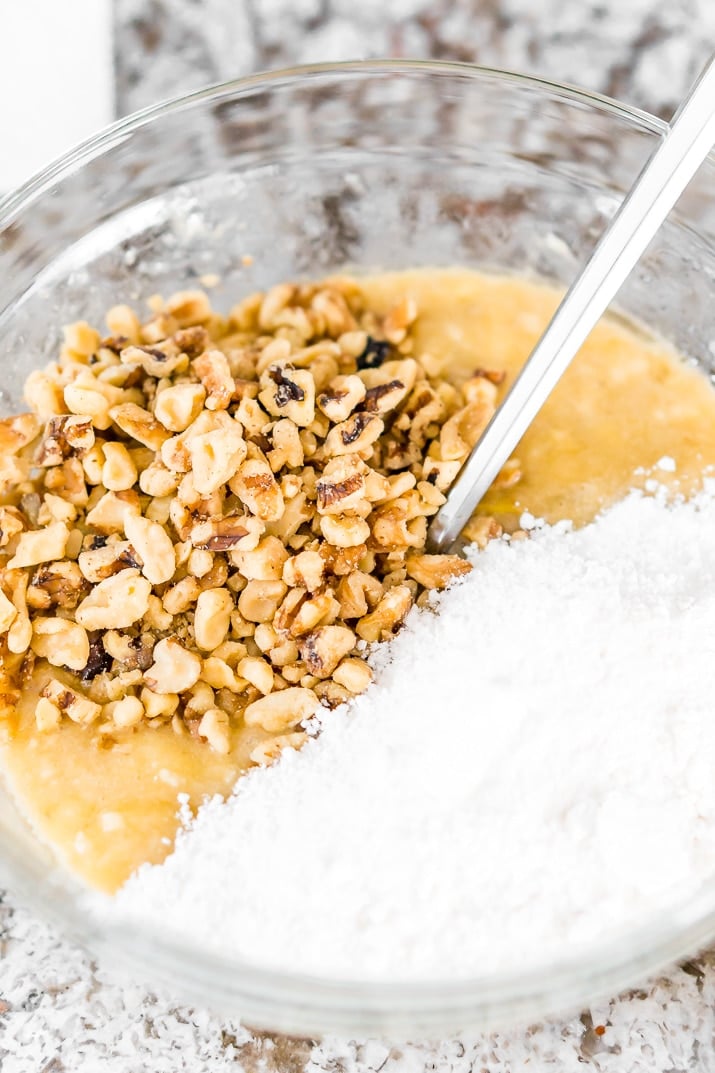 They're also a wonderful treat to enjoy during leisurely brunches, combining the nostalgic flavors of banana bread and coffee cake. Plus, there are no utensils required… unless you want to spread on a little butter, of course!
Packed with crunchy walnuts and topped with a cinnamon and brown sugar crumble, even the pickiest eaters will love these sweet muffins. And if anyone in the family doesn't like nuts or is allergic to them, don't worry, just don't add 'em.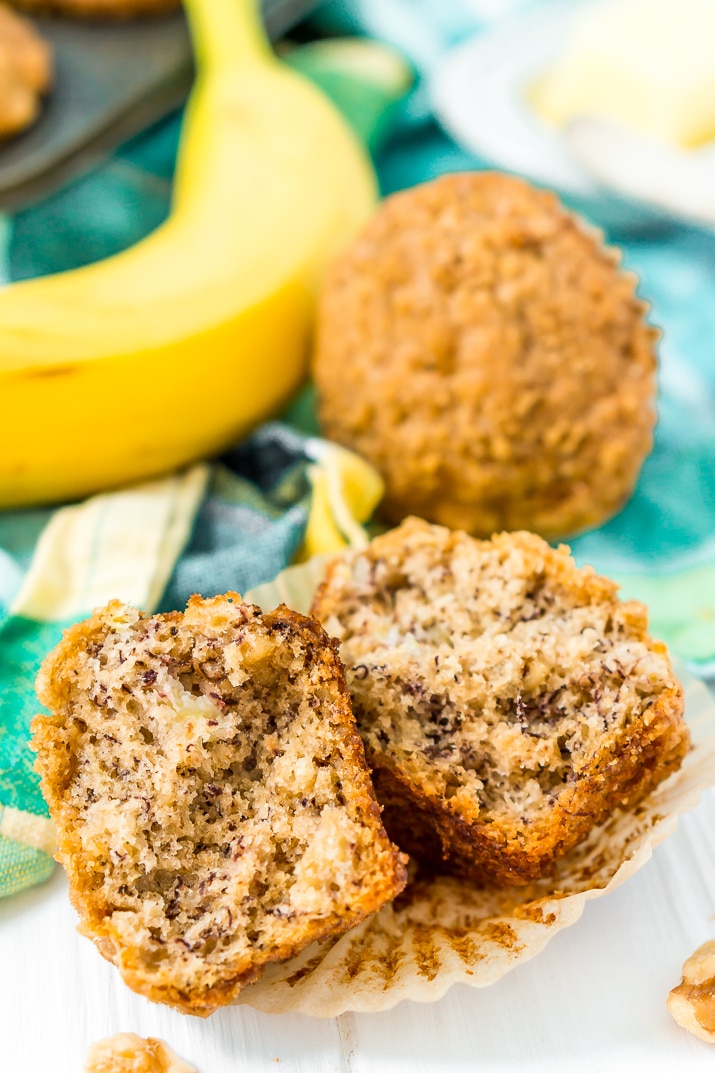 Best of all, this recipe is super simple to make. In fact, you can whip up a batch in about 35 minutes.
I always enjoy my Banana Muffins with a fresh cup of coffee (yes, sometimes it's a to-go cup), or with a mug of tea as an afternoon snack. After all, who said that muffins were only for the morning?
More Delicious Banana Recipes: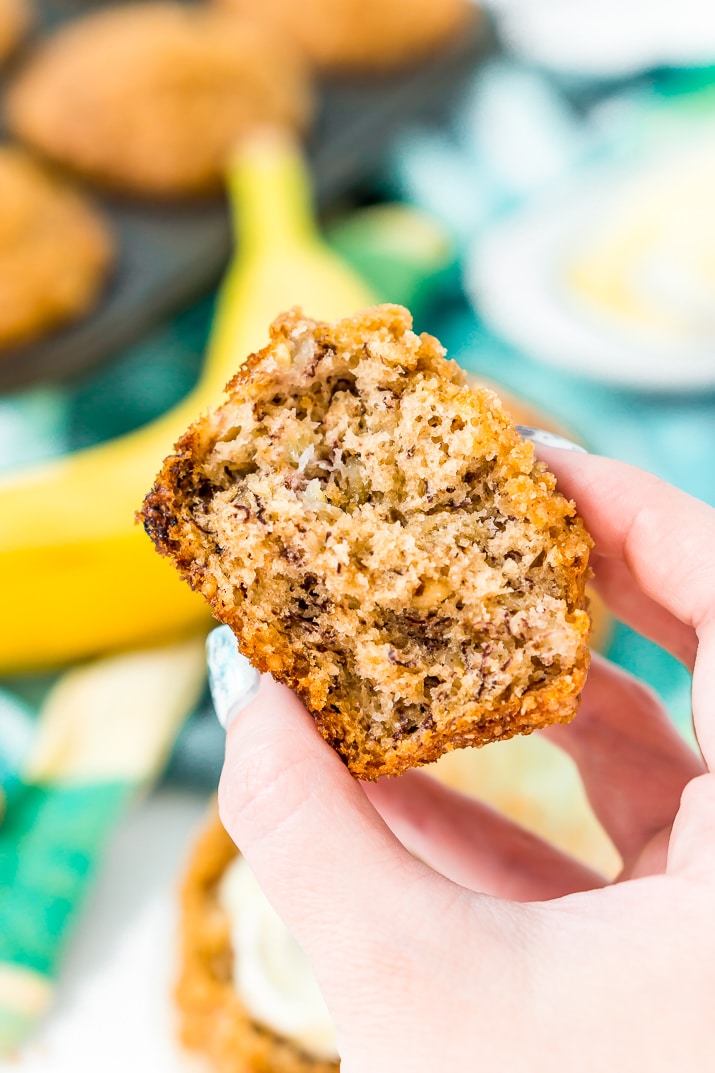 Whenever I have bananas that get too ripe, I try to incorporate them in a recipe rather than toss them out. Banana Nut Muffins are a great way to use those brown bananas, and their overripe sweetness actually makes the muffins taste better!
Whether you need a quick bite, a use for your brown bananas or you just want something scrumptious to savor, these crumbly Banana Nut Muffins are sure to be a family favorite!
Pin these Banana Muffins for Later!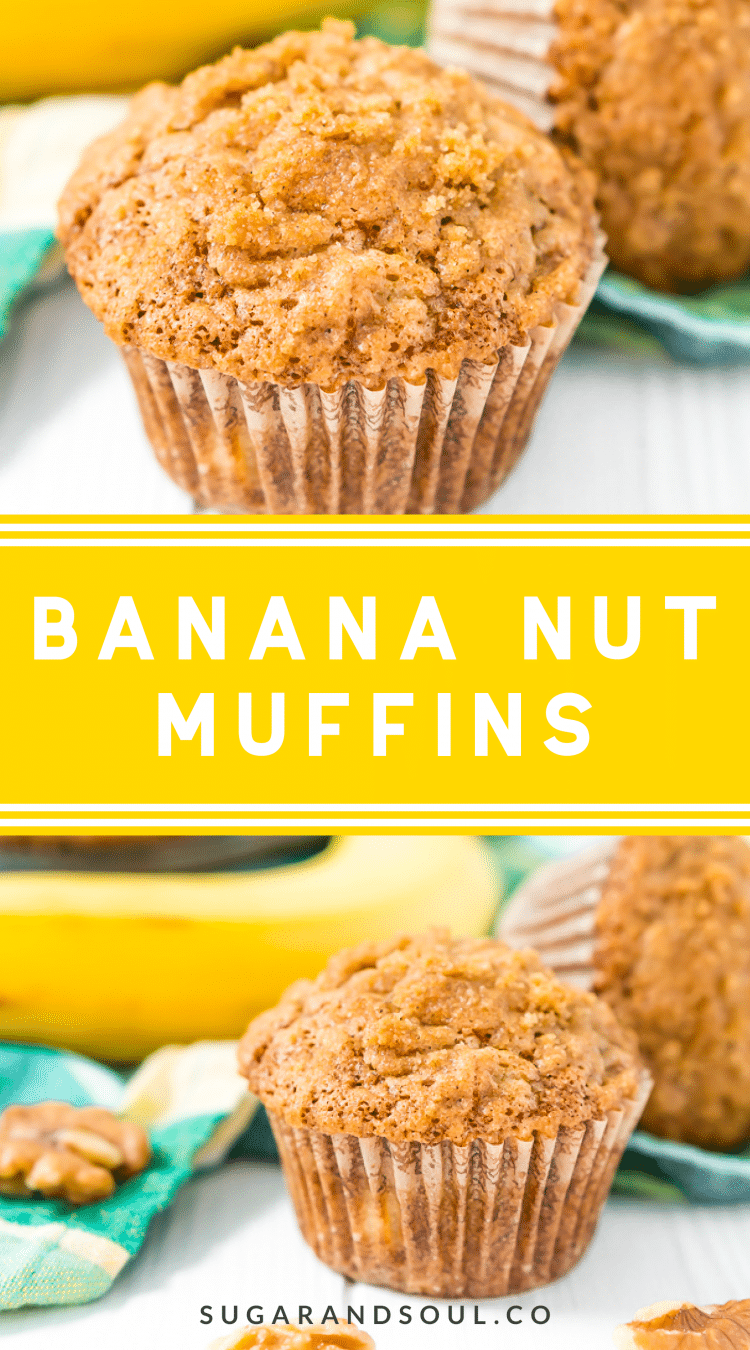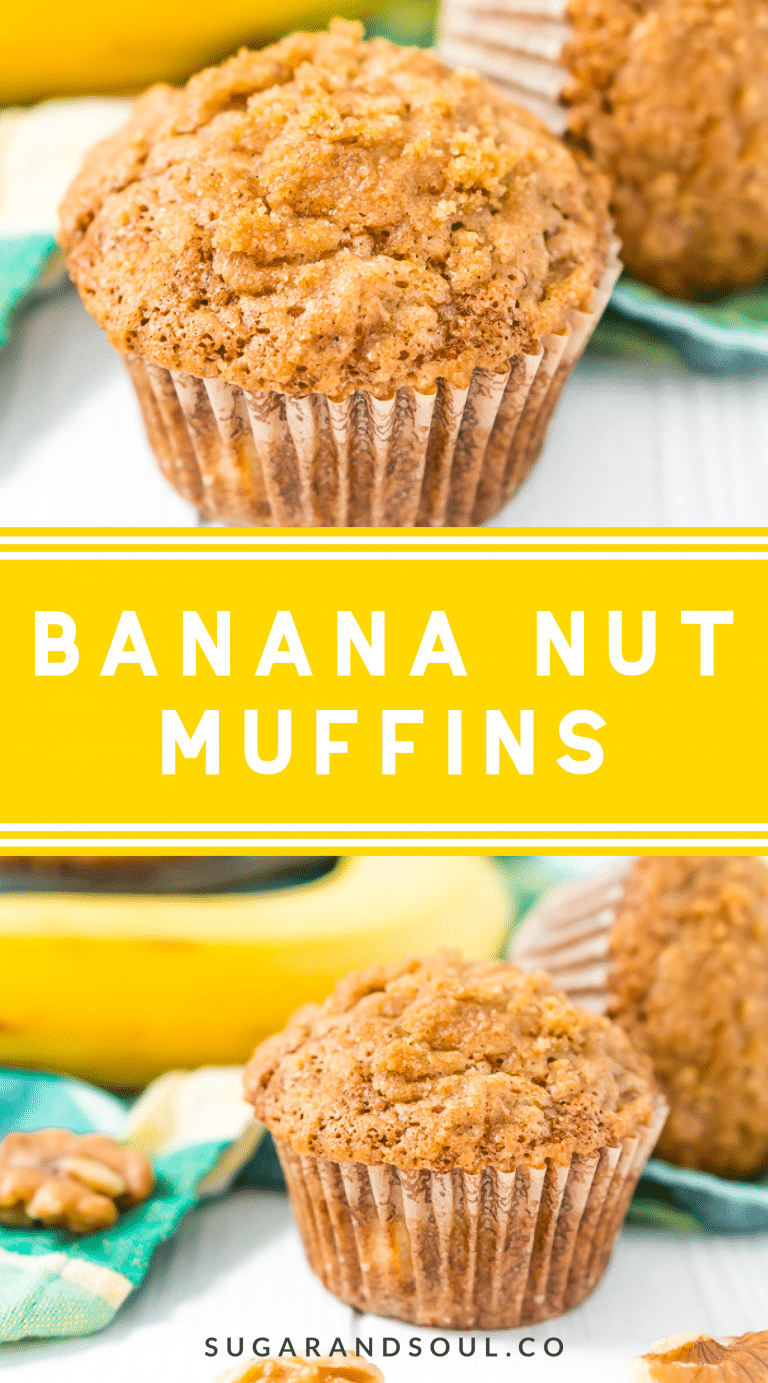 Tips for How To Make Banana Muffins:
1. Extra Ripe Bananas Always! – Yes, you can take a barely ripe banana and mush it to the point where it would technically work for this recipe, but you'd be leaving a whole lot of flavor on the table!
For best flavor, make sure your bananas are fully brown or even black, this means that those bananas that have been sitting on the counter for 3 weeks are absolutely perfect for this recipe!
2. Use A Fork – Just like momma used to do, a fork really is the best way to mash a banana and reduce the number of lumps!
3. Mix by Hand – I know in a world of KitchenAids, it seems like a foreign concept, but this will prevent overmixing and make for lighter and fluffier muffins. Plus, this recipe uses oil instead of butter so it's very easy to mix everything with a large bowl and a wooden spoon.
4. Walnuts are Optional – Personally, I love them, but I know not everyone likes them or can eat them. So feel free to leave them out OR replace them with chocolate chips for some banana chocolate chip muffins!
5. Use a Measuring Cup for Distributing – By using a 1/4 cup measuring cup to distribute your batter into the muffin tin, you'll ensure evenly sized and perfectly baked muffins!
6. With or Without Crumb – You can make these muffins without the crumb topping, but honestly, why would you? 😉
7. Share them or Freeze them – If you have a lot of banana muffins left over, freeze them for a later date. Just let the muffins cool to room temperature before transferring them to a gallon sized freezer bag.
If you plan on enjoying them one at a time, wrap each muffin individually with plastic wrap. When you're ready to enjoy one, take it out and let it thaw on the counter for a few hours.
Banana Muffins
These Banana Muffins are loaded with crunchy walnuts and sweet cinnamon, then topped with a sugary crumble no one can resist!
Instructions
Preheat oven to 375 degrees F. Line a muffin tin with liners and set aside.

Whisk together the flour, sugar, baking soda, and salt in a medium bowl and set aside.

In a large bowl, mash the bananas with a fork until only small lumps remain. Mix in the egg, vegetable oil, vanilla, and walnuts.

Add half of the dry ingredients to the wet ingredients and mix just until combined. Add in the rest and mix just until combined.

Use a 1/4 cup measuring cup to measure the batter into the baking liners.

In a small bowl, mix together the topping ingredients and mix with a fork or your fingers until a fine crumble forms. Sprinkle the crumble over the top of the cupcakes and bake for 18 to 22 minutes.
Nutrition Facts
Banana Muffins
Amount Per Serving
Calories 240
Calories from Fat 99
% Daily Value*
Total Fat 11g 17%
Cholesterol 13mg 4%
Sodium 156mg 7%
Potassium 141mg 4%
Total Carbohydrates 33g 11%
Protein 3g 6%
* Percent Daily Values are based on a 2000 calorie diet.