Homemade lemonade just got better. When you roast the lemons, the sugars in the fruit begin to caramelize and add a deep and intense flavor that lends perfectly to lemonade.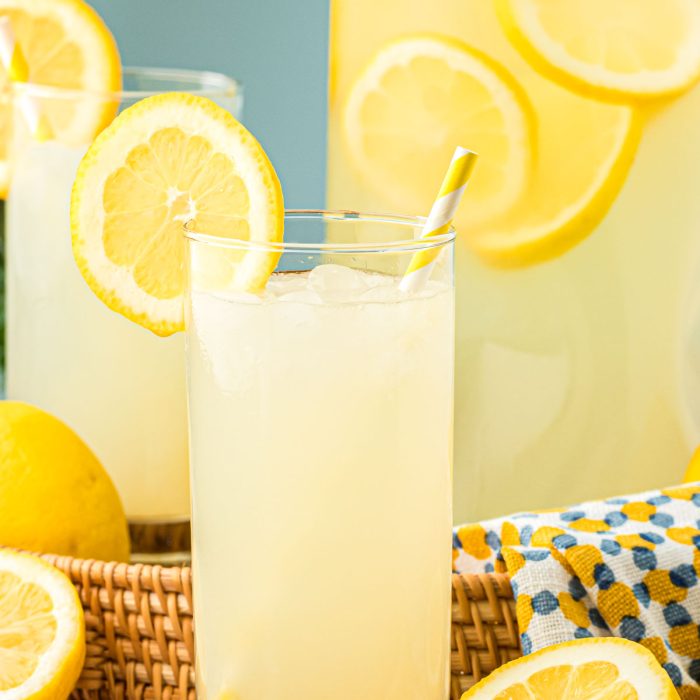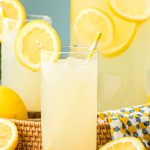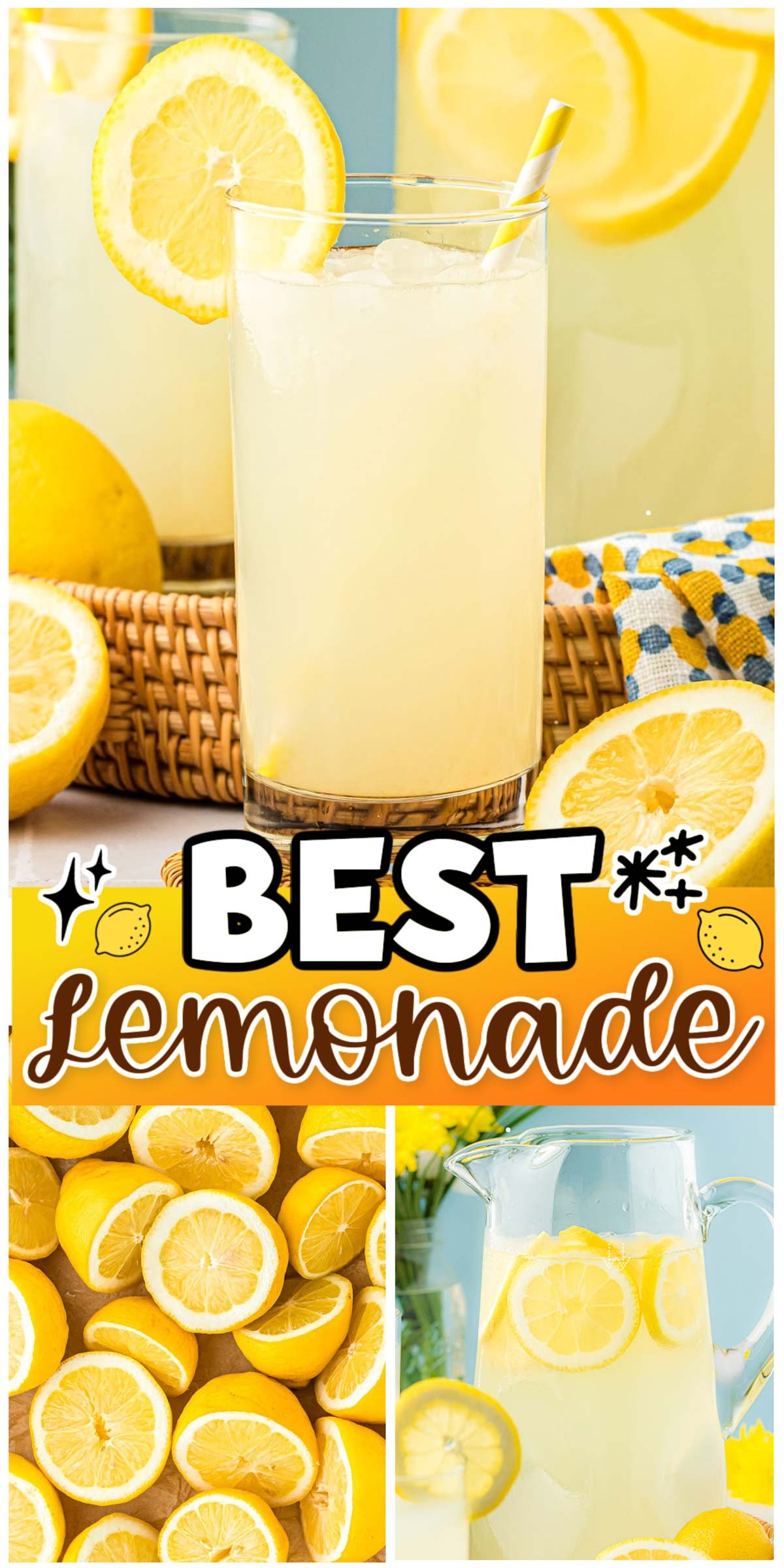 This Best Lemonade Recipe combines freshly squeezed roasted lemon juice with water and sugar to make an irresistible summertime drink! Plus, I've included my secret step for making the most incredible-tasting homemade lemonade!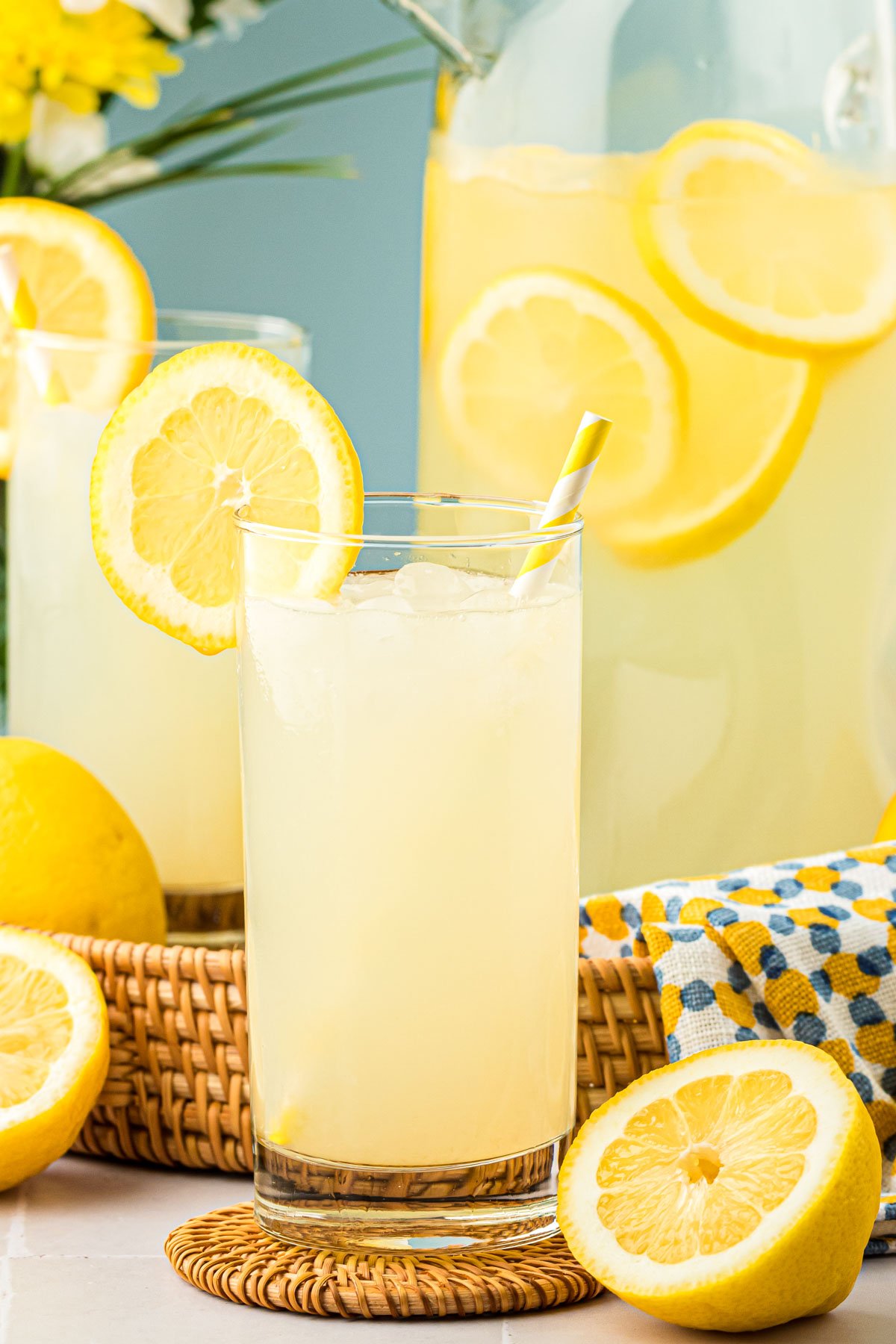 This Is The Best Lemonade Recipe!
Your search for the best lemonade recipe is over! All it takes is one sip of this homemade lemonade to realize this recipe will be your go-to summer sip all season long!
Wondering what makes this recipe the best? Two words: roasted lemons. That's right; this recipe starts off hot before it cools you down! But don't worry; this recipe is still super quick and easy to make, and well worth the extra step.
Roasting the lemons in the oven not only makes it easier to juice them, but it also loads this popular summertime beverage up with delicious dynamic flavor! As the lemons roast, their natural sugars caramelize, giving them a stand-out sweet, rich flavor that has a lower acidic taste.
This roasted, caramelized lemon juice then combines with cold water and simple syrup to deliver the best-tasting lemonade that's the perfect balance of tart and sweet!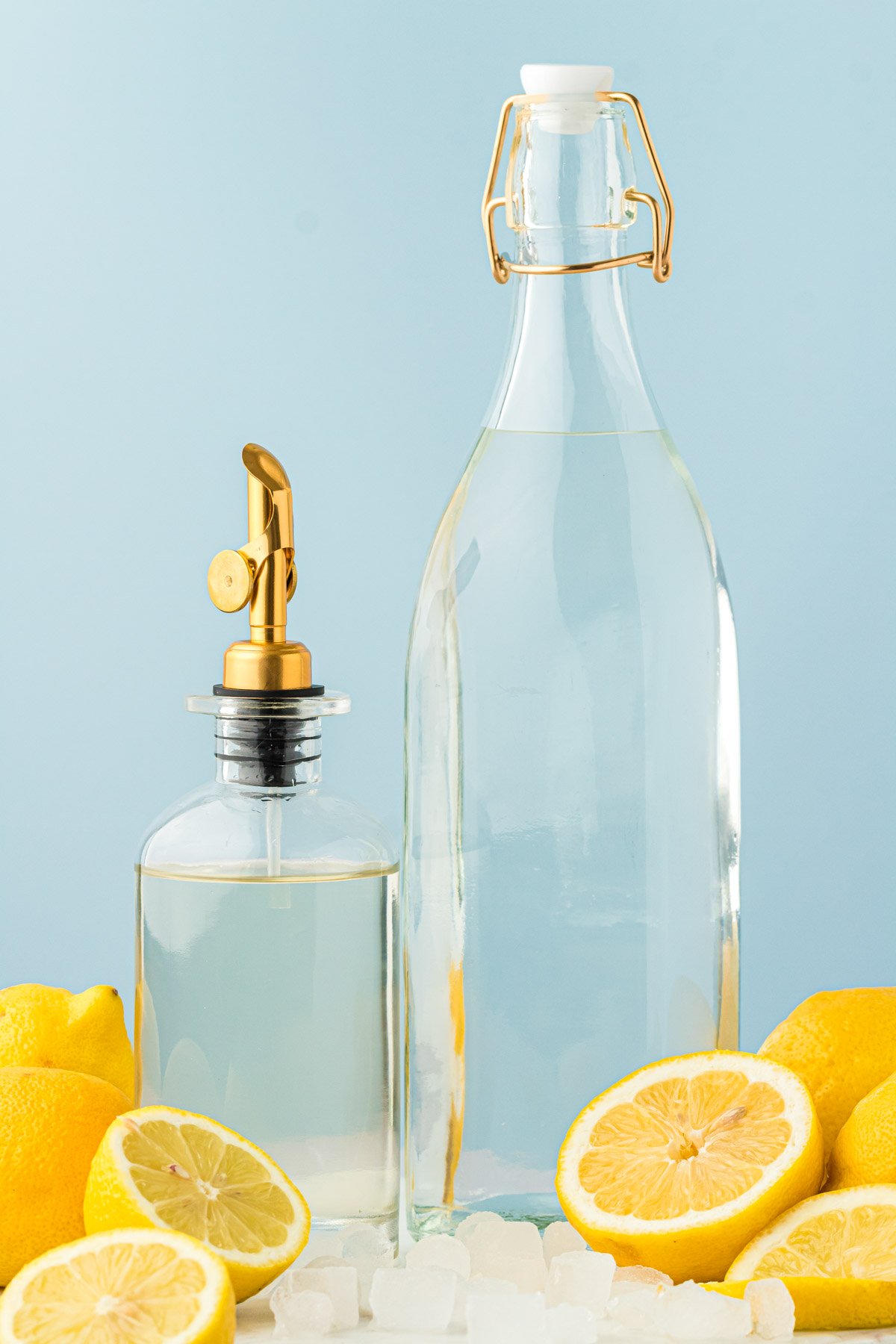 Homemade Lemonade Recipe Ingredients
Recipe Substitutions: When making this recipe, you can substitute simple syrup for 1 cup of granulated sugar and an additional cup of cold water. You can also swap the simple sugar out for a different sweetener, such as honey or maple syrup!
Roasted Lemonade Recipe Variations
Fruit – For a fruity variation, toss some hulled and halved strawberries onto the baking sheet when roasting the lemons. The result is this Roasted Strawberry Lemonade that's the perfect mix of fruity and citrusy!
Pulpy Lemonade – If you prefer pulpy lemonade, simply skip straining the lemon juice through the fine mesh sieve. Just be sure to pick out any lemon seeds if you see them!
Adult Version – Add in some vodka, gin, or bourbon to mix up an adult version of this roasted lemonade!
Lemonade Slushy – Cool off even more by whipping up frozen lemonade slushies for everyone! Just add ice to a blender, pour in the finished lemonade mixture, and blend.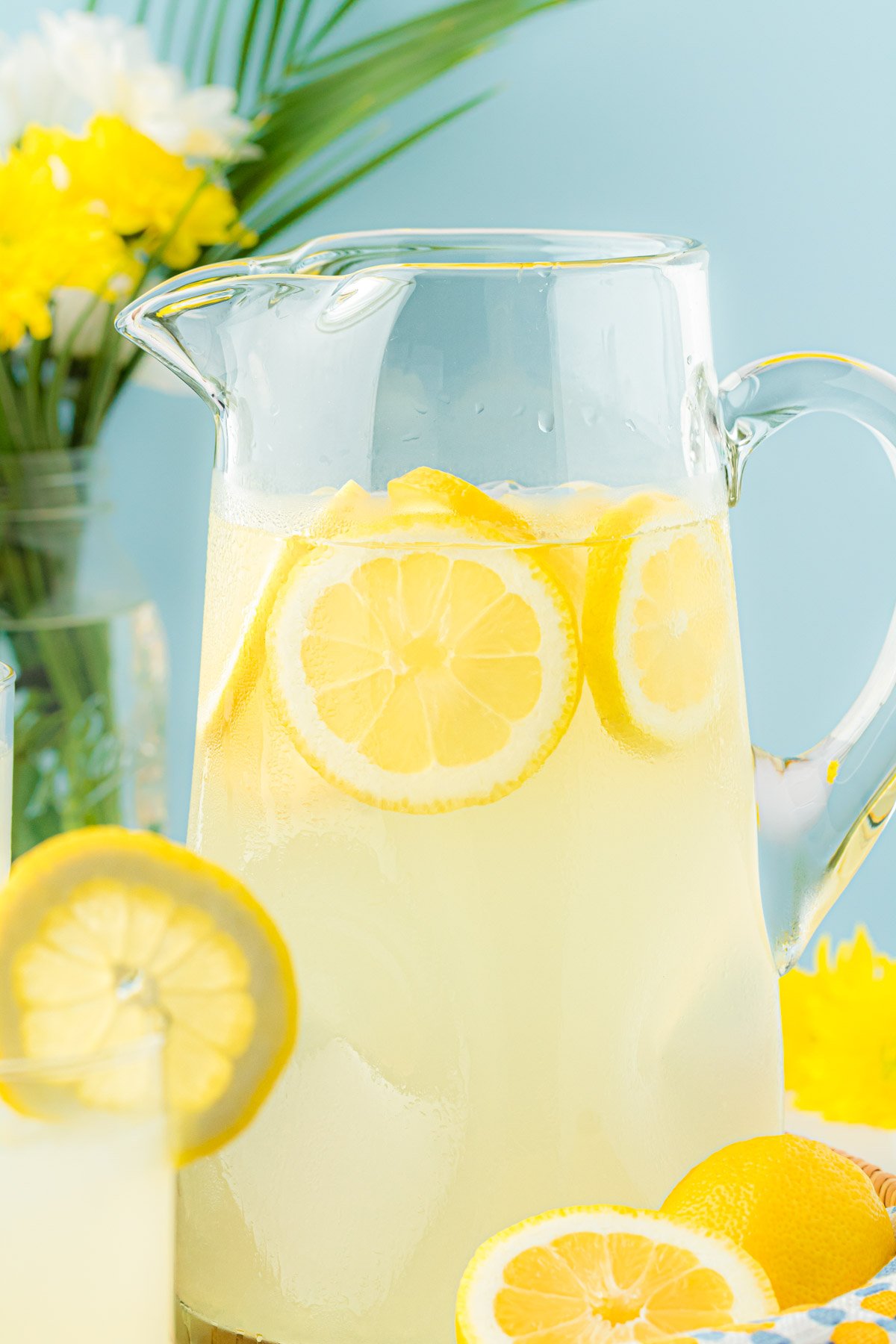 How To Make Homemade Lemonade
Step 1: Squeeze the juice from lemons into a liquid measuring cup.
Step 2: Using a fine mesh sieve, strain the freshly squeezed juice to remove any seeds or pulp.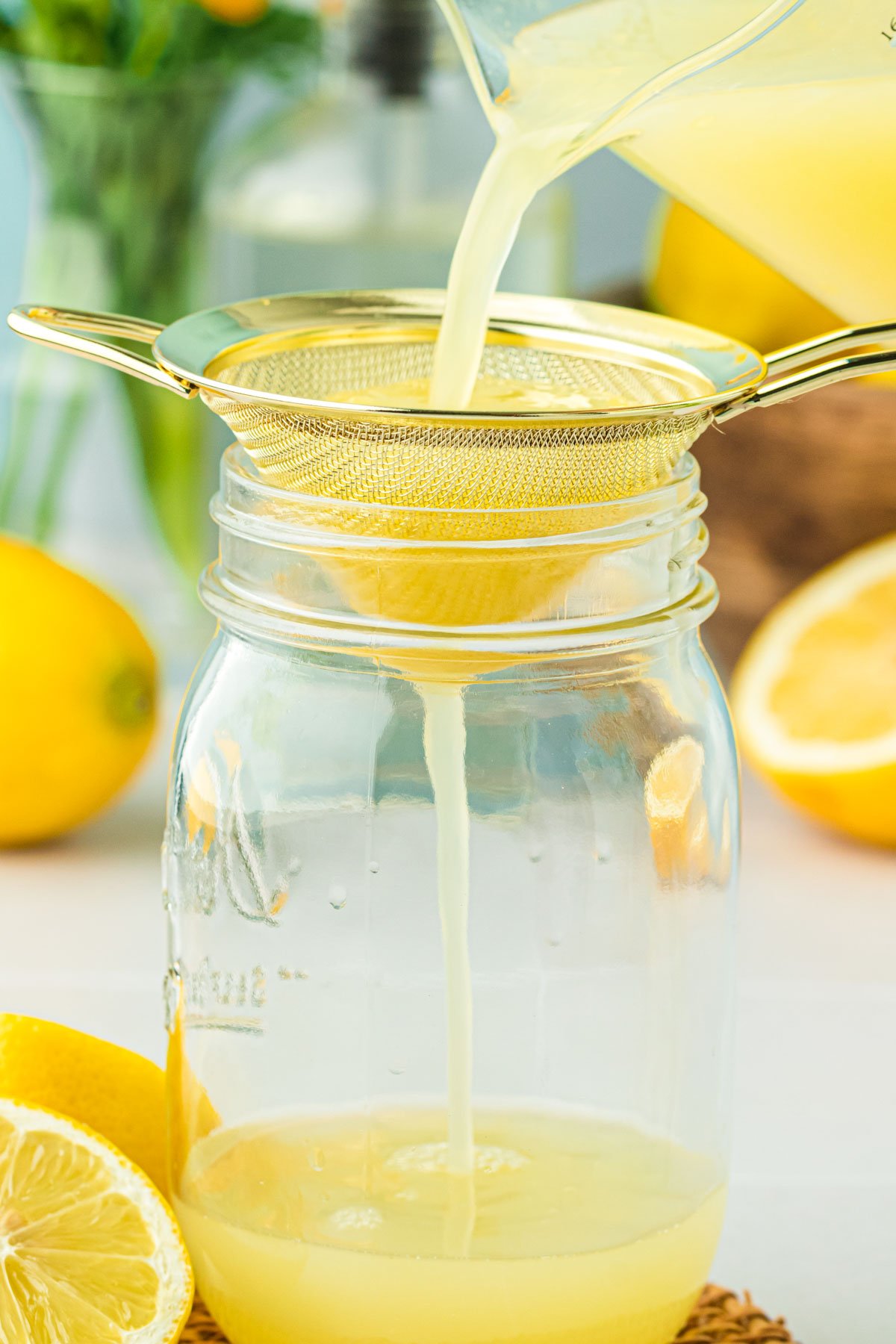 Step 3: Stir the fresh lemon juice, simple syrup, and cold water together in a large pitcher.
You can make simple syrup fast by microwaving equal parts water and sugar until the sugar has dissolved.
You can also make it on the stovetop with our Homemade Simple Syrup Recipe.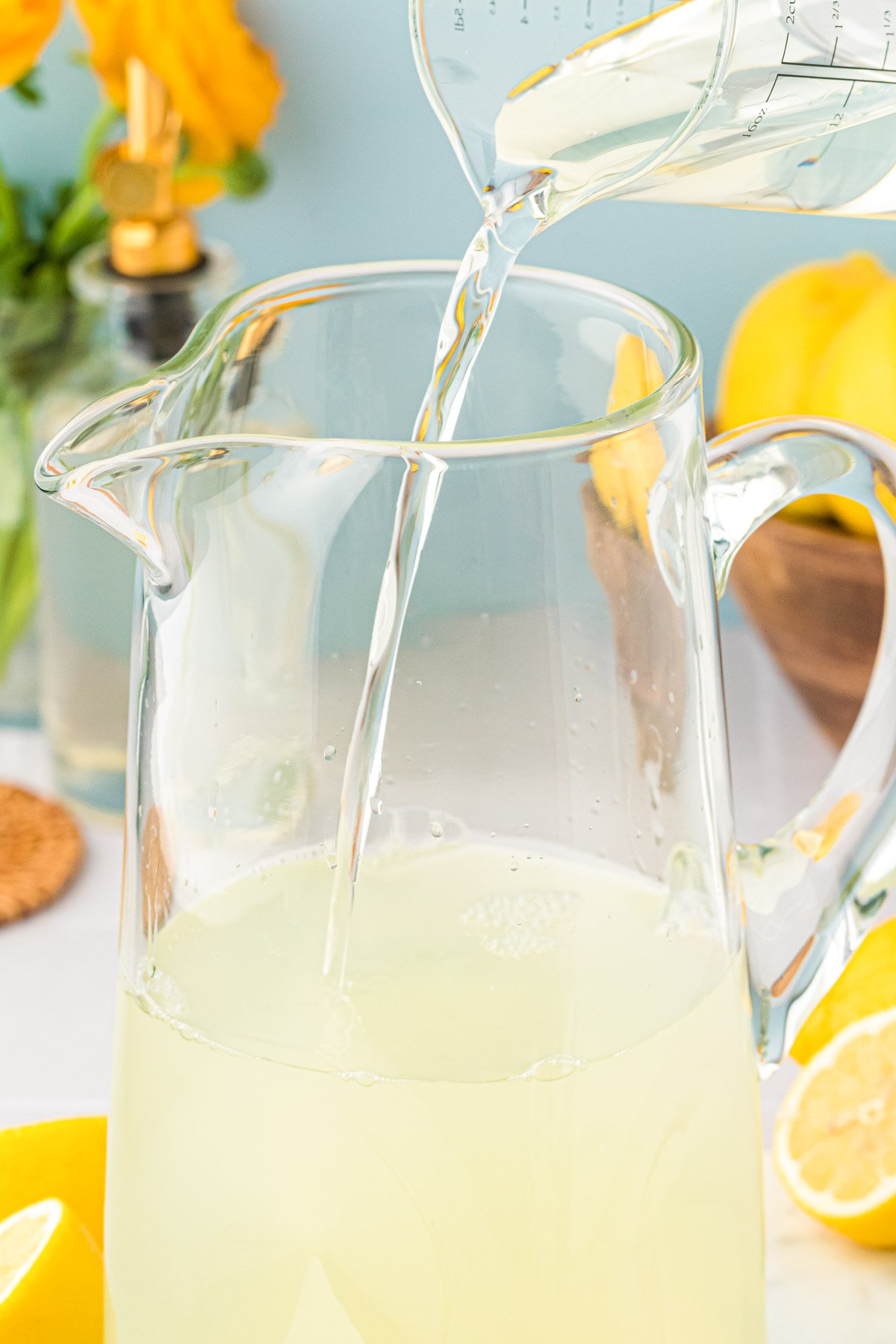 Step 4: Garnish with lemon slices, then serve with ice and a straw!
How To Make Roasted Lemonade
To make this recipe a roasted version of lemonade, all you have to do is simply roast the lemons! This is an easy step that's mostly hands-off time yet adds an unforgettable flavor to this lemonade!
How To Roast Lemons In The Oven
Step 1: Wash the lemons and then slice them in half. Afterward, place them in a parchment-lined baking dish and roast them in the oven for 25 minutes.
Step 2: Remove the lemons from the oven and allow them to cool for 10 to 15 minutes. Once cooled, use a citrus press to squeeze the juice into a liquid measuring cup.
Step 3: Strain the roasted lemon juice through a fine mesh sieve or use it as is to create a pulpy lemonade.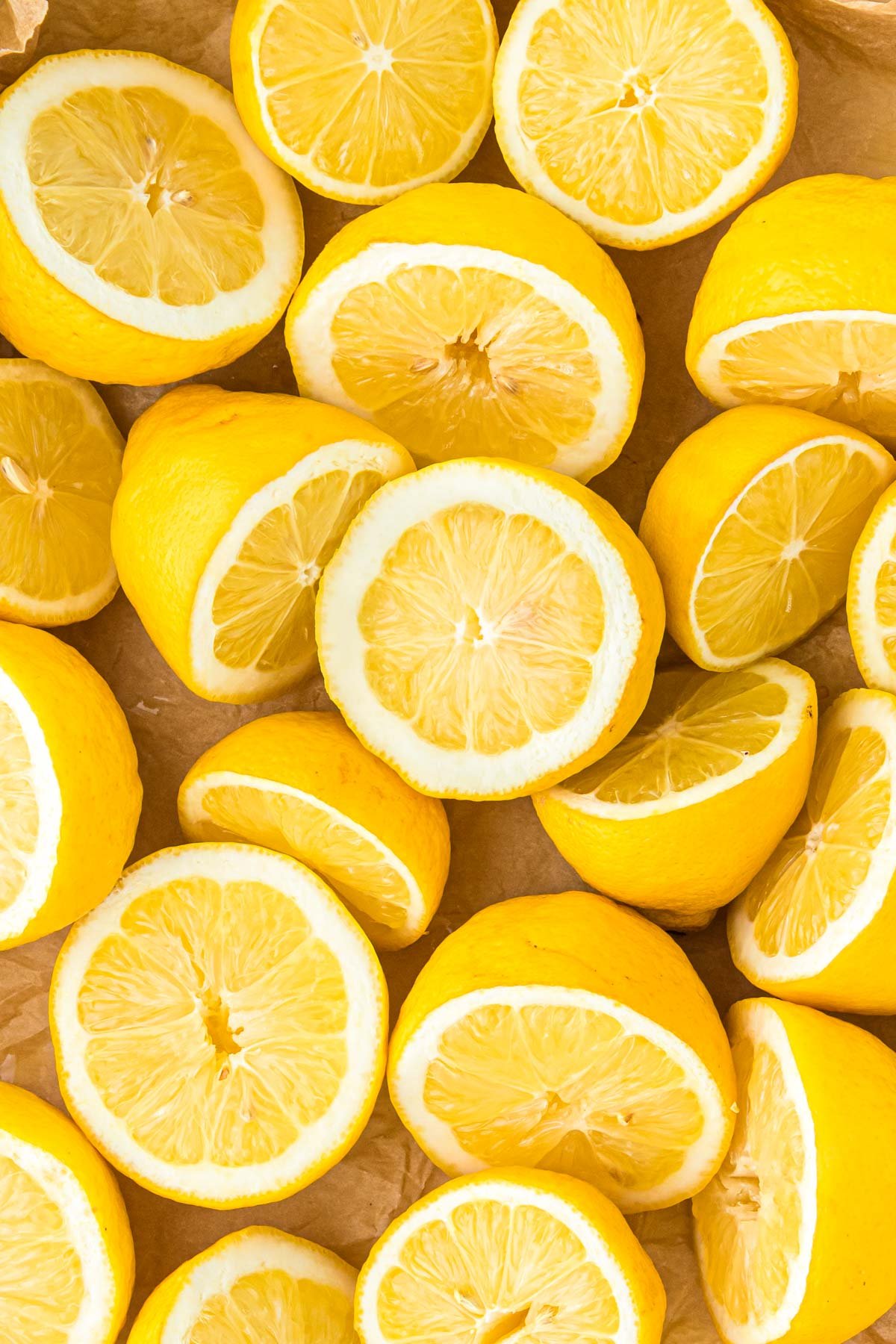 What to Serve with this Roasted Lemonade Recipe
Roasted lemonade always tastes best on those hot summer days! Therefore, serve it up ice-cold at all your cookouts and barbecues this summer as you enjoy all the grilled and smoked food!
Our favorite summertime eats are Grilled Baby Back Ribs that are finished on the grill as well as this recipe for Smoked Turkey Breast!
This lemonade can also be happily sipped as you snack on yummy appetizers such as this TikTok Smoked Queso Dip!
And, of course, anything goes well with a casserole, so you can definitely serve this lemonade up with one too! My Ranch Chicken and Rice Casserole and Three Cheese Bacon Mac and Cheese would both be delicious choices.
Fresh Lemonade Recipe Storage
Store fresh lemonade in a pitcher, airtight containers, or jars with a lid, such as mason jars. The homemade lemonade then needs to be stored in the refrigerator to preserve it.
You can also freeze fresh lemonade to make ahead and enjoy later! To do so, first, roast the lemons and then juice them. Then combine the lemon juice with the simple syrup.
Afterward, store the mixture in a freezer-safe container or jar in the freezer for 4 to 6 months. When ready to enjoy, thaw and combine the lemon concentrate with 4 cups of cold water.
How Long Will Freshly Made Lemonade Last in the Fridge?
Freshly made lemonade with last for 5 to 7 days when stored in the fridge.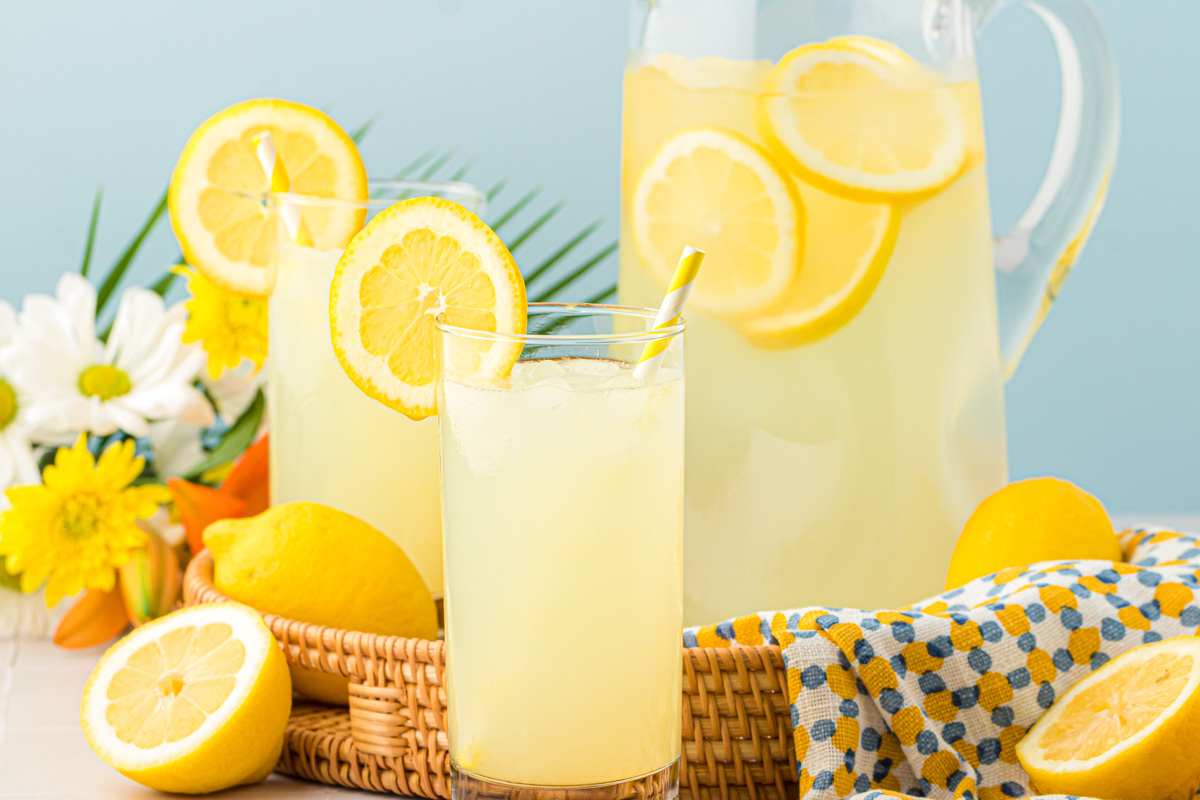 Roasted Lemonade FAQs
Is roasted lemon bitter?
No, the process of roasting the lemons causes their natural sugars to caramelize. This results in sweeter lemons that have a decreased acidic flavor.
Does lemon become sweeter if you roast it?
Yes, the lemons do become sweeter from roasting them. This is because their natural sugars caramelize in the oven while roasting.
Is fresh homemade lemonade good for you?
Since homemade lemonade is made with fresh lemons, it does make it rich in Vitamin C while loading up on antioxidants.
Is homemade lemonade healthier?
Homemade lemonade cuts out all the extra, unnecessary ingredients that are often found in the store-bought version. However, it is still made with sugar, but the perk is that you can control how much sugar you put into it.

This allows you to decide how healthy you make homemade lemonade.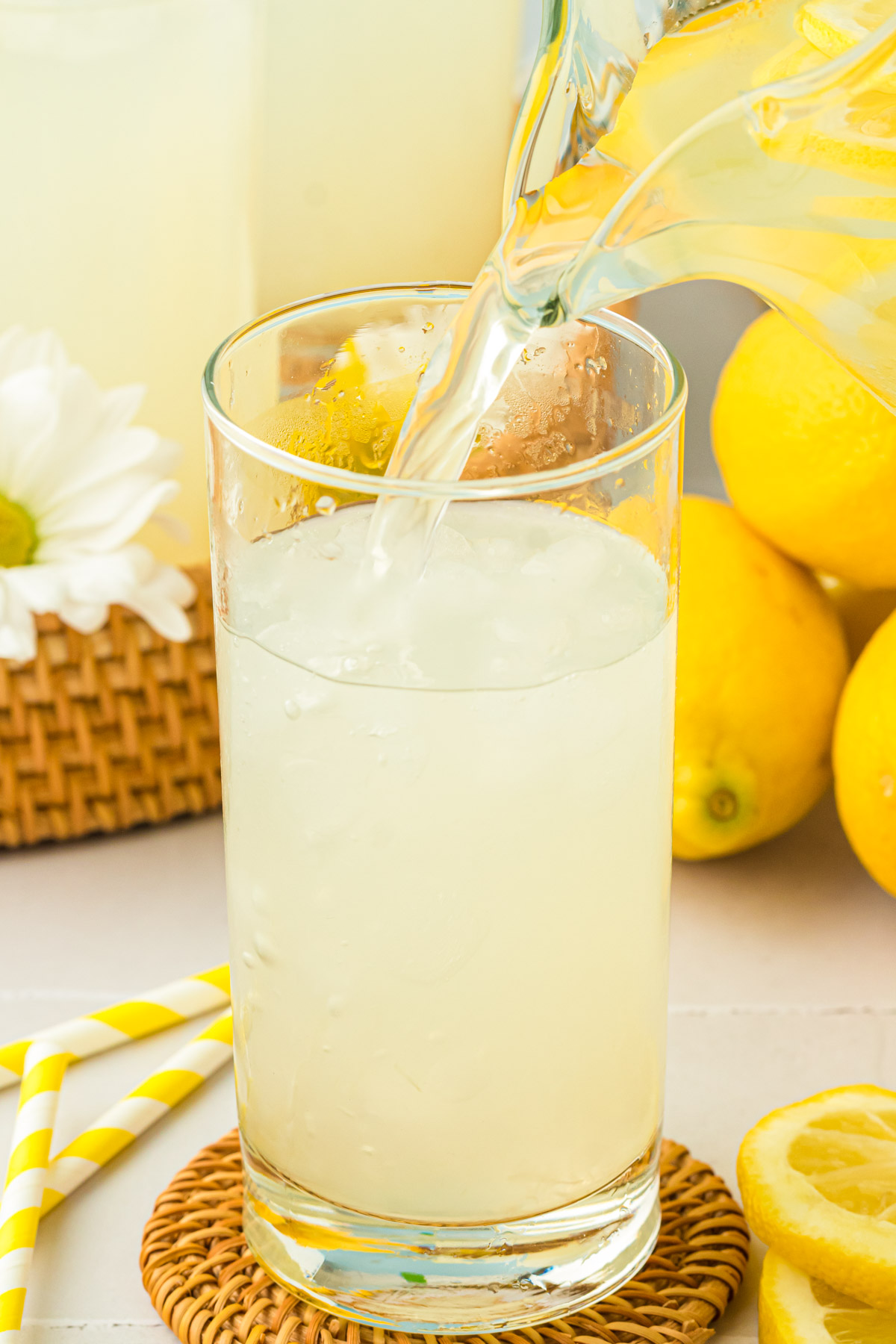 👋 Let's Connect!
If you've tried this recipe, please let me know how you liked it in the comments below and leave a review; I love hearing from you! And don't forget to tag me – @sugarandsoulco – on Instagram and Pinterest with your photos or join our Sugar & Soul Show-offs Community and share them there, where you can join our recipe challenges and win prizes!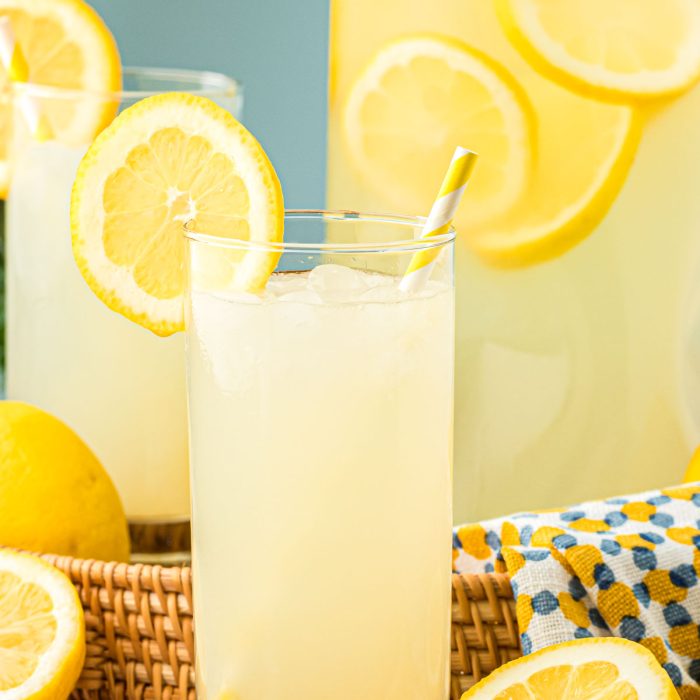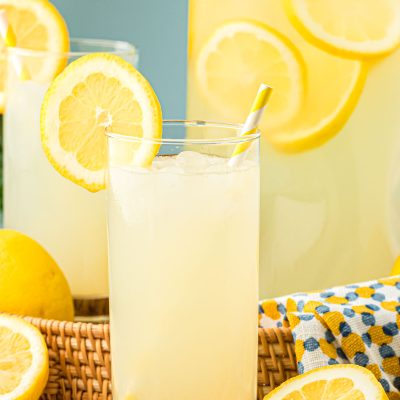 Fresh Lemonade Recipe
Homemade lemonade just got better. When you roast the lemons, the sugars in the fruit begin to caramelize and add a deep and intense flavor that lends perfectly to lemonade.
Instructions
Optional Roasting Step
Preheat the oven to 375°F and line a 9×9-inch baking dish with parchment paper and set aside.

Wash the 5-8 lemons, then slice them in half and place them in the baking dish.

Roast the lemons for 25 minutes.

Remove from the oven and let the lemons cool for 10 to 15 minutes.
Lemonade
Use a citrus press to squeeze the juice out of the roasted lemons into a liquid measuring cup.

Strain the roasted lemon juice by pouring it through a fine-mesh sieve or use it as is for a pulpy lemonade. Cool to room temperature before using.

In a pitcher, combine the cooled roasted lemon juice, 1 cup simple syrup, and 4 cups cold water.

Slice 1 lemon into 8 slices and add 4 to the lemonade, then stir to combine.

Serve in a highball glass with ice and garnish each with a lemon slice. Serve with a straw.
Notes
You can use 1 cup of strained roasted lemon juice or 1¼ cups of unstrained lemon juice if you prefer it with pulp.
This recipe can also be used to make traditional lemonade, simply skip the roasting and use fresh lemon juice. However, you will need about 7 to 8 lemons to get the amount of lemon juice needed instead of the 5 used when roasting.
Nutrition
Calories: 274kcal | Carbohydrates: 77g | Protein: 2g | Fat: 0.5g | Saturated Fat: 0.1g | Polyunsaturated Fat: 0.1g | Monounsaturated Fat: 0.02g | Sodium: 64mg | Potassium: 277mg | Fiber: 5g | Sugar: 66g | Vitamin A: 36IU | Vitamin C: 86mg | Calcium: 60mg | Iron: 4mg