This Spiked Coconut Vanilla Steamer is one of the coziest winter cocktails you'll ever have!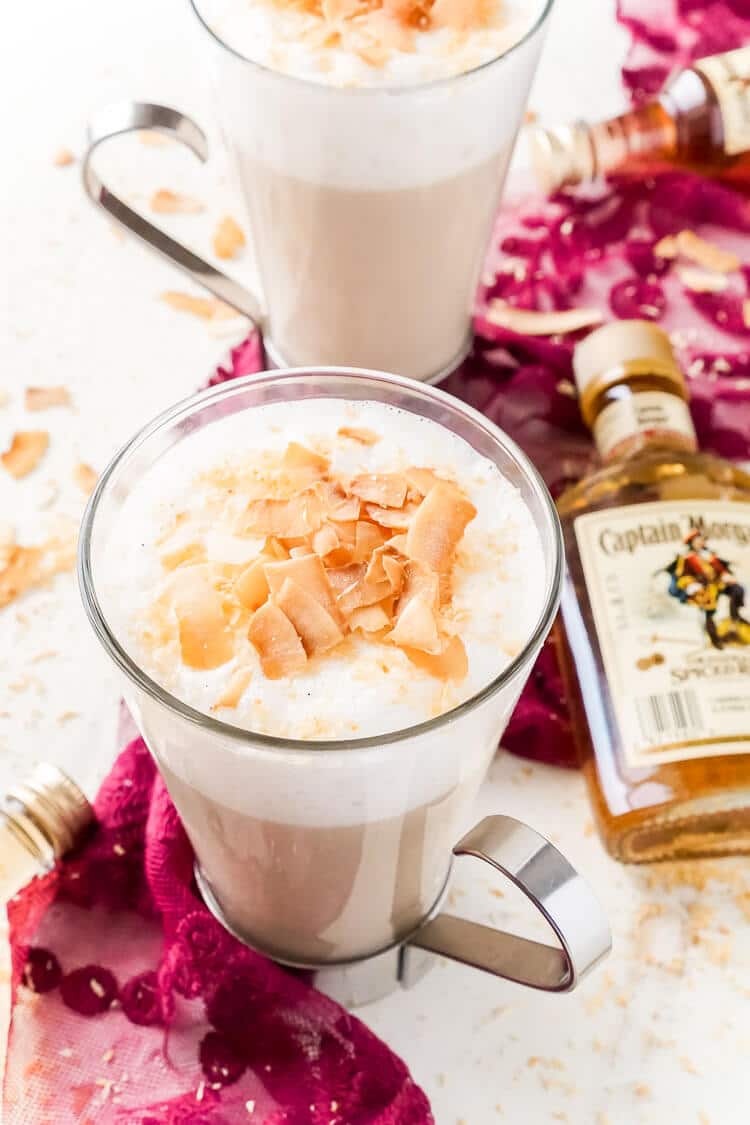 It's been snowing here the last few days and I continuously find myself shivering because we still haven't reprogrammed our thermostat to account for me being home during the day. I'm usually so consumed in my work that I forget to turn the heat up until my blue lips remind me… okay, I'm being a little extreme, it doesn't get below 60 degrees.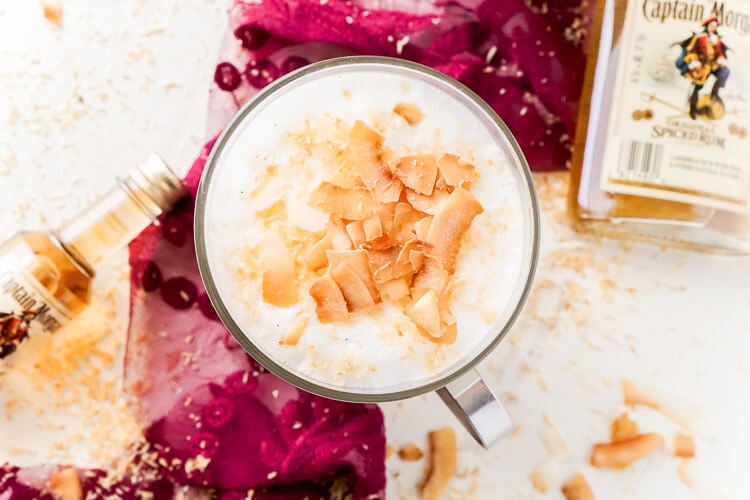 But it's still cold and the howling wind doesn't help things, but winter cocktails sure do! This one, in particular, has all kinds of warmth to it from the vanilla bean simmered in frothy hot milk laced with coconut to the spiced rum it's spiked with! And I just love using my new frother, this thing is only $6.99 and it's awesome!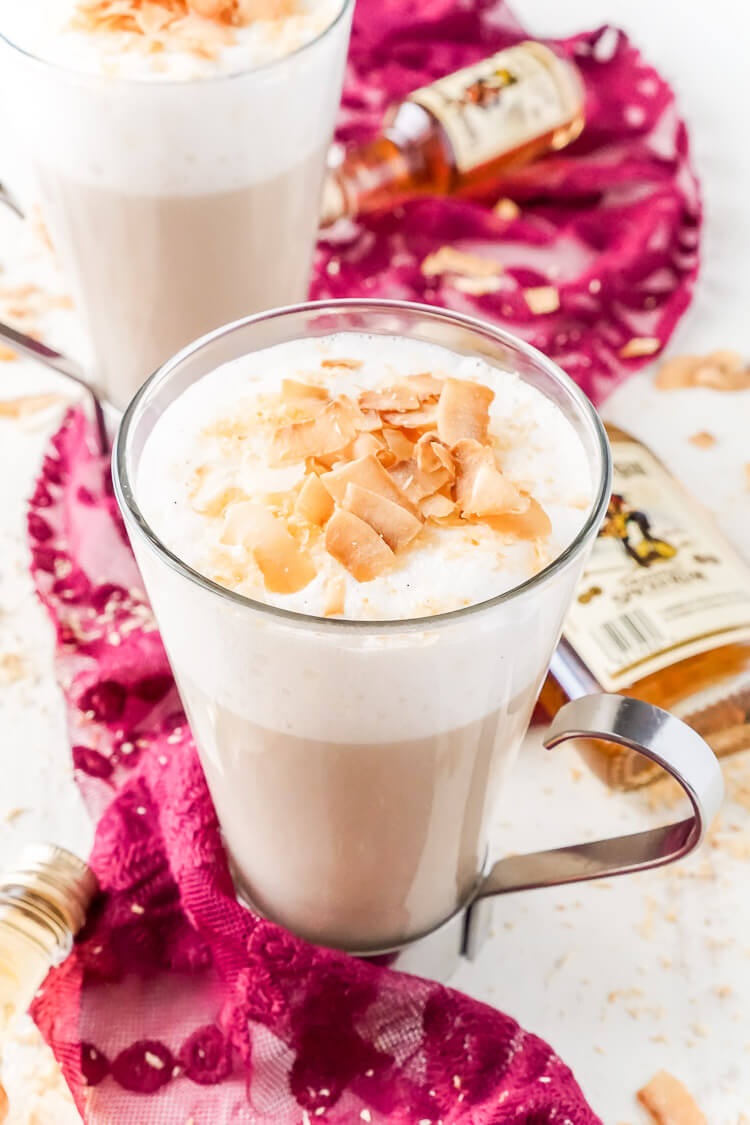 Seriously, though, you won't be sure if you're snuggled up by the fire or if you're soaking up the sun in the Caribbean. Okay, well, one of those is a litter more likely and in all reality, if you're like me, you're probably huddled over the furnace vent with a blanket wrapped over you. Either way, I think you will thoroughly enjoy this cocktail!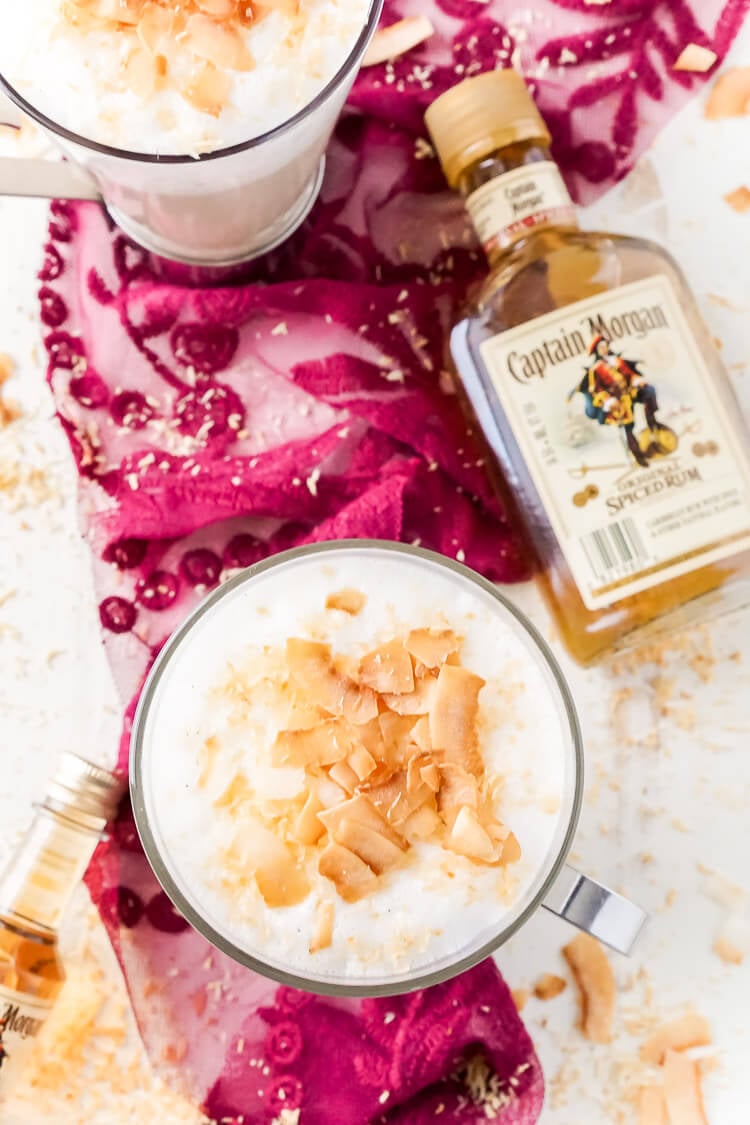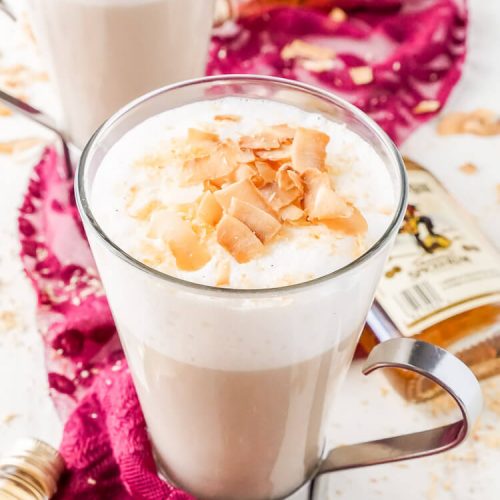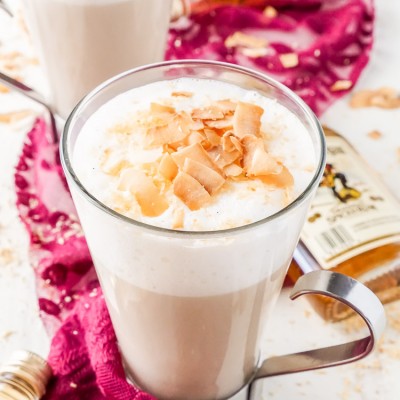 Winter Cocktails: Spiked Coconut Vanilla Steamer
This Spiked Coconut Vanilla Steamer is one of the coziest winter cocktails you'll ever have! Made with real vanilla beans, coconut, milk, and spiced rum! It's delicious and frothy and topped with toasted coconut!
Ingredients
3

oz.

Spiced rum

1 1/2

cups

whole milk

1/2

cup

canned coconut milk

1 1/2

tsp

coconut extract

Toasted coconut for garnish

You will also need a frother.
Instructions
Add 1 1/2 ounces of spiced rum to each of two mugs.

Add milk, coconut milk, and coconut extract to a small pot.

Slice vanilla bean lengthwise, scrape the paste out of the bean and add both paste and bean to the milk, bring to a simmer over medium heat and simmer for 2 to 3 minutes.

Remove from heat and remove the vanilla bean.

Use a frother to froth the milk for 1 minute, evenly pour milk mixture into the mugs, holding back the foam with a spoon and then spoofing it onto the top of the liquid.

Garnish with toasted coconut and serve immediately.
Nutrition
Calories:
358
kcal
Carbohydrates:
12
g
Protein:
7
g
Fat:
20
g
Saturated Fat:
16
g
Cholesterol:
18
mg
Sodium:
88
mg
Potassium:
399
mg
Fiber:
1
g
Sugar:
11
g
Vitamin A:
295
IU
Vitamin C:
1.7
mg
Calcium:
216
mg
Iron:
1
mg
You might also enjoy: