This creamy honey butter is whipped to perfection and laced with sweet honey flavor! You'll want to put it on everything from dinner rolls, to pancakes, to sweet potatoes!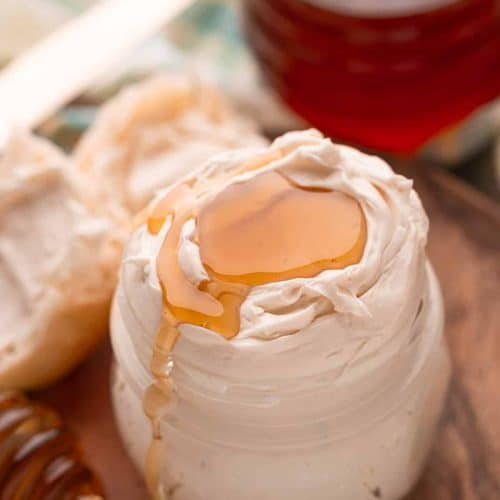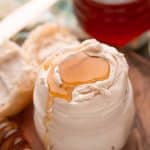 This Whipped Honey Butter combines just 4 ingredients in 10 minutes, creating light and fluffy butter that's laced with sweet honey flavor! Put this on anything from dinner rolls to waffles and even sweet potatoes!
Serve this sweet butter up with a savory option such as my Herb Butter! Its herb-infused flavor makes for a delicious spread on garlic bread!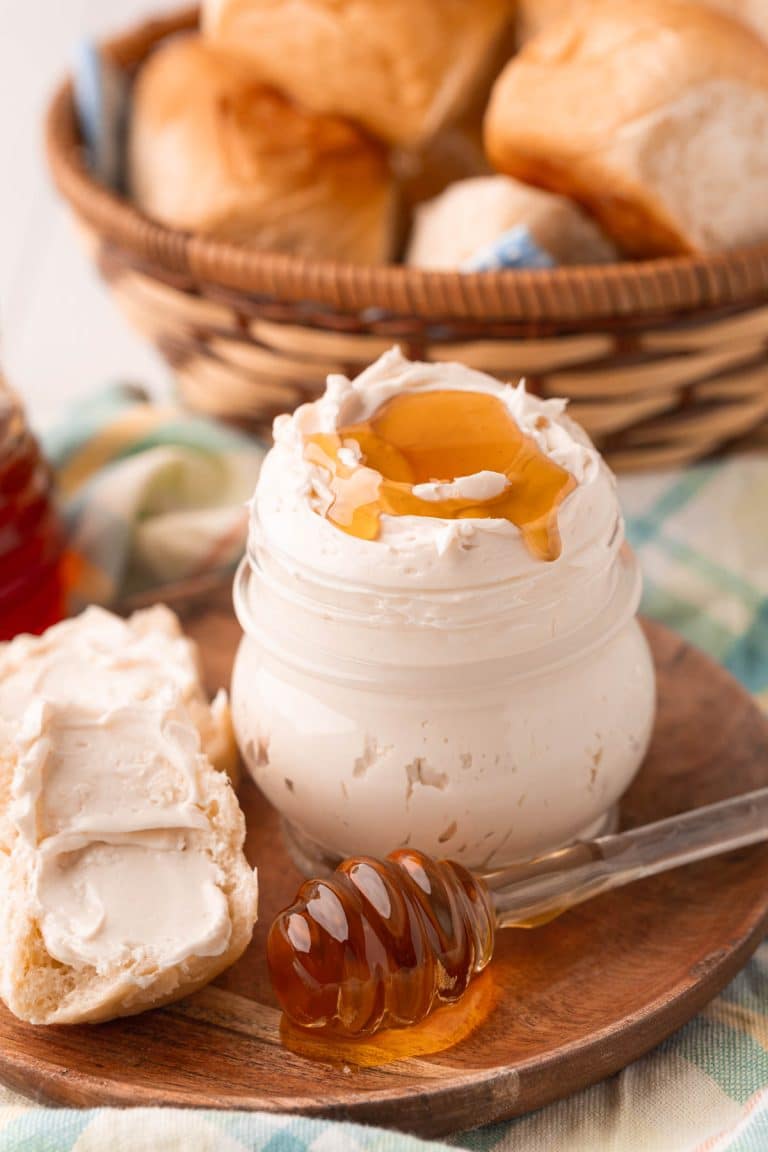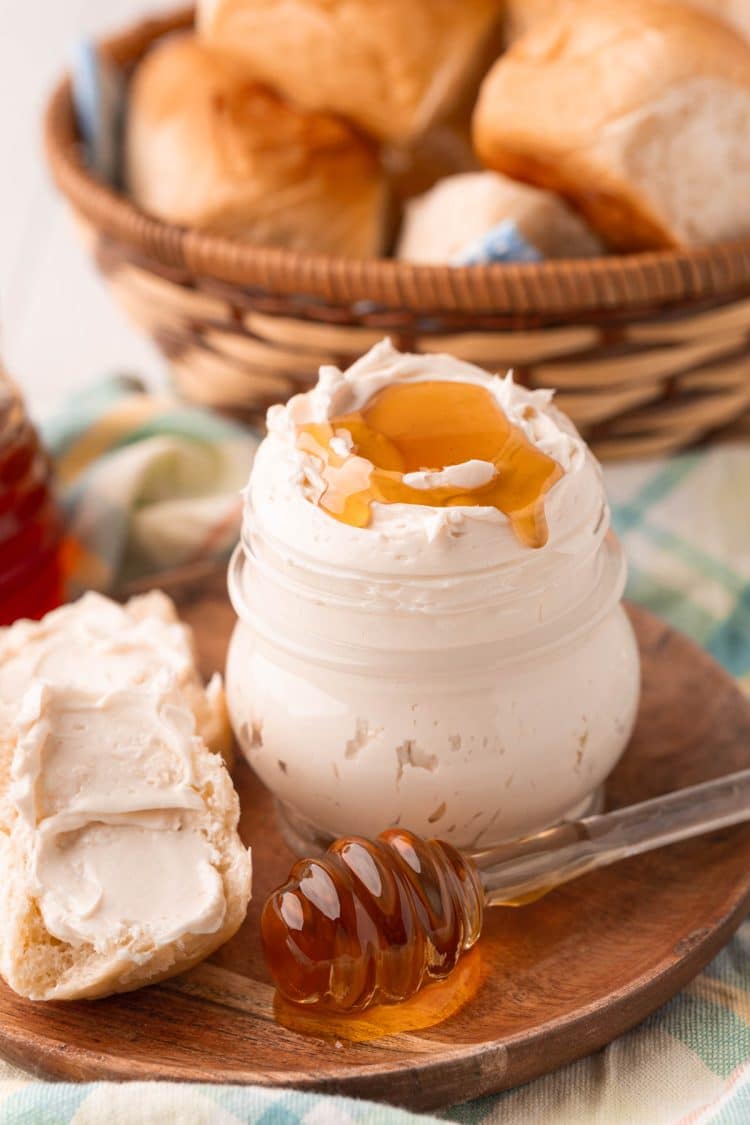 All it takes is one batch of this Whipped Honey Butter to get you hooked on it! The sweet, fluffy butter makes for the tastiest spread on all those warm yeast rolls this holiday season!
However, this honey butter will stick around long after the holidays pass! Especially once you figure out how absolutely necessary it is on pancakes and homemade bread!
About This Homemade Whipped Honey Butter
Taste: This butter is everything you want it to be! Wonderfully sweet from the honey and powdered sugar while still having that slightly salty butter taste. Making it a sweet and salty butter that you won't be able to get enough of!
For a tasty flavor variation, you could also add some ground cinnamon to taste. Giving you cinnamon honey butter!
Texture: The simple ingredients in this recipe spend 5 minutes in a stand mixer or being beaten with an electric hand mixer. Whipping up to a deliciously light and fluffy texture that's incredibly easy to spread on anything and everything!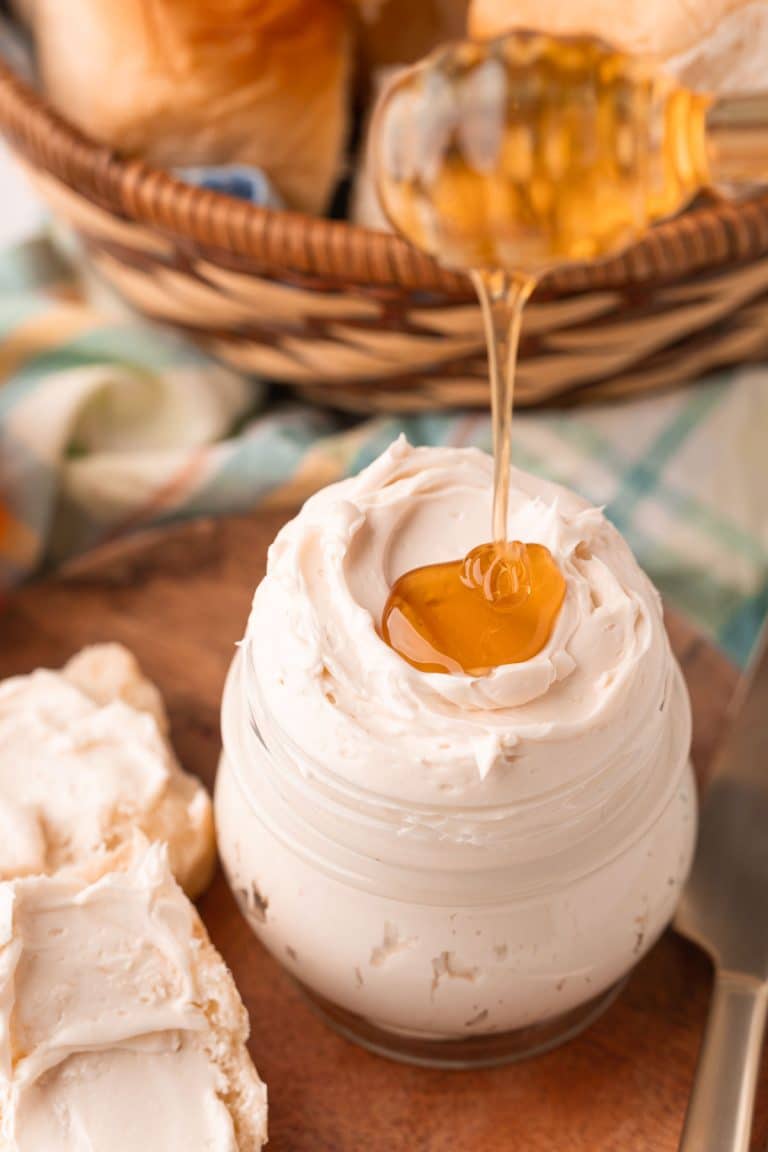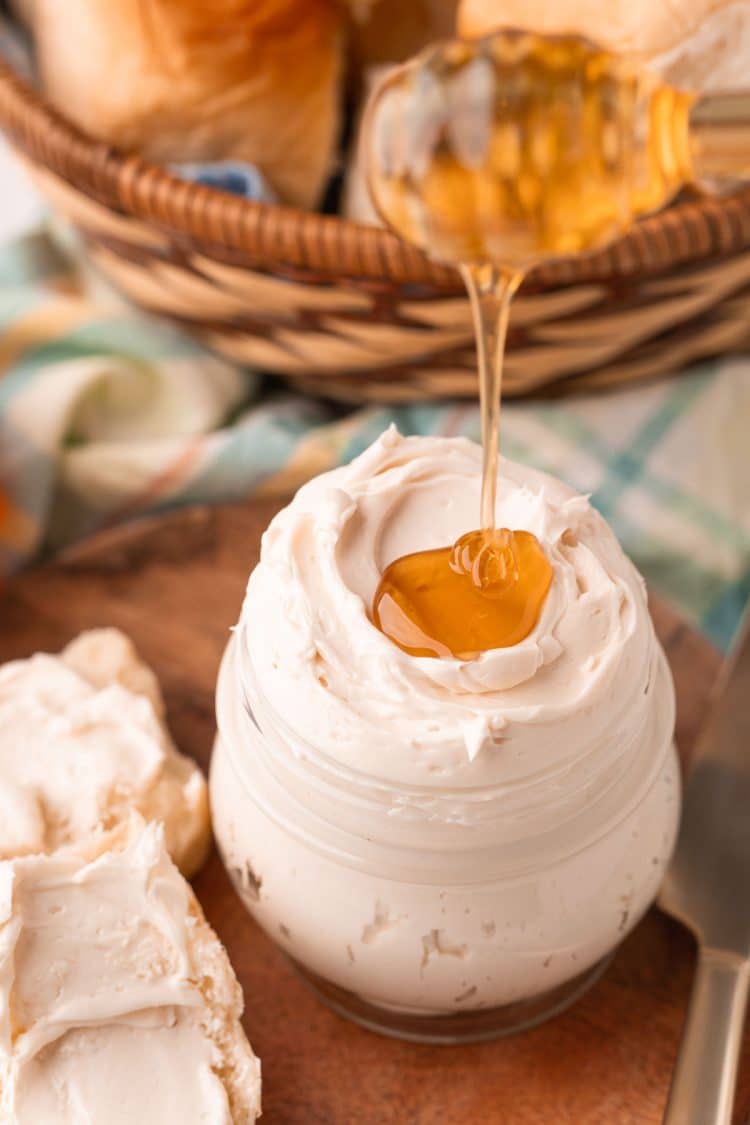 Ways To Enjoy This Delicious Honey Butter
This butter can truly be enjoyed with breakfast, lunch, dinner, or even on a snack! Here are some of my favorite ways to devour it!
With warm homemade muffins! Perfect for a quick, yet delicious breakfast in the morning or afternoon snack!
On top of a tall stack of Buttermilk Pancakes! As the pancakes come off the griddle, I smear some onto each warm pancake, allowing the sweet butter to melt into them!
When I have a slow cooker filled with my favorite chili recipe, I make sure to set some of this butter out with the Buttermilk Cornbread. The flavor combination of cornbread and honey butter is out-of-this-world delicious!
This butter is also a tasty addition to Baked Sweet Potatoes!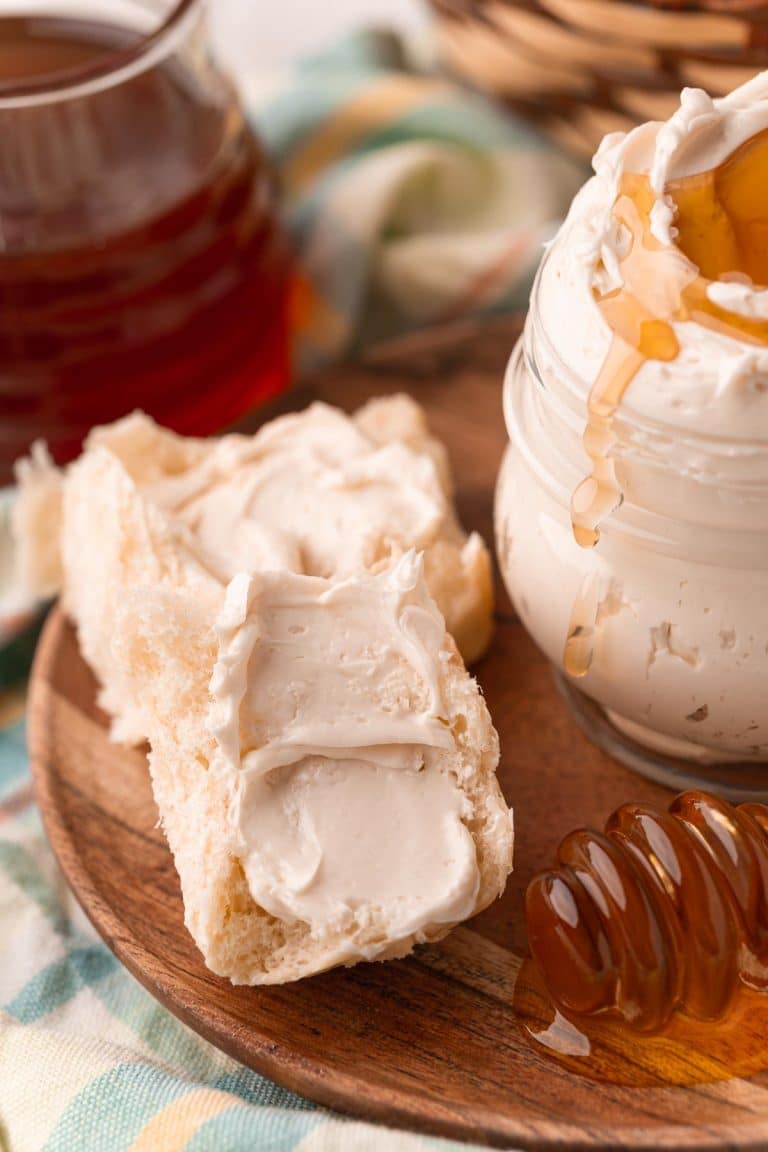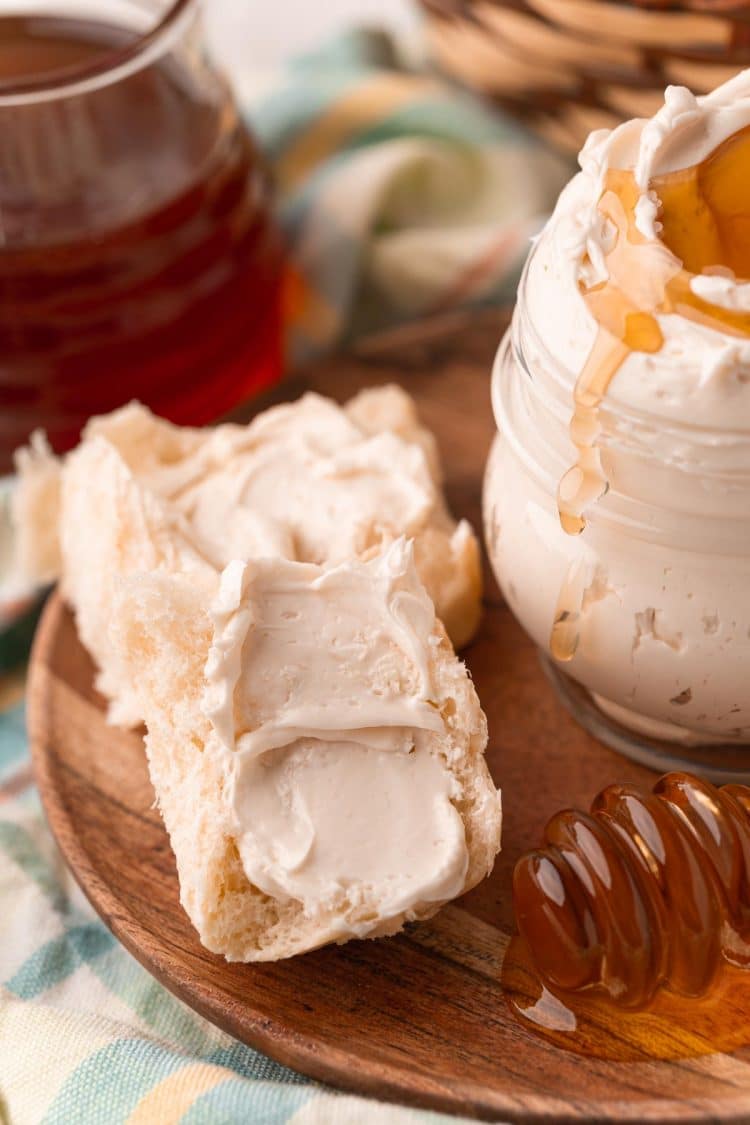 Recipe Tips On How To Make Whipped Honey Butter
Adding Salt – This recipe calls for unsalted butter as well as salt. Adding the two separate ingredients allows you to have more flavor control when making this butter.
Softened Butter – Remove the butter from the refrigerator a few hours before you plan to make this recipe. Doing so brings the butter to room temperature while softening it. Allowing it to whip up better when it's in the mixer.
Using A Mixer – This homemade whipped honey butter does call for the use of a hand or stand mixer! High-speed mixing is necessary for getting this butter to its light and fluffy consistency.
Gifting Tip – If you plan to gift jars of this honey butter, transfer the butter into a piping bag with a large piping tip. Pipe the butter into clear glass jars for a pretty presentation!
Homemade condiments like this whipped honey butter always taste better than store-bought! Just like my Homemade Tartar Sauce and Shrimp Cocktail Sauce do!
I've even perfected a copycat Chick-fil-A Sauce Recipe that whips up in just 5 minutes! So, when I make the kids Healthy Baked Chicken Nuggets you can bet I have that sauce as well as my Maple Mustard Dipping Sauce ready for them!
How Do I Store This Whipped Honey Butter?
Store the finished honey butter in the fridge in an airtight container. I like storing mine in a mason jar but any Tupperware or tightly sealed container works! Honey butter stored in the fridge lasts for up to 1 month.
I Prefer Storing My Butter At Room Temperature – Can I Do That With This Butter?
Yes, I prefer this whipped honey butter stored at room temperature too because it keeps it's texture as long as it doesn't get too warm. If storing this butter at room temperature you'll want to use it up within 1 week.
Why Do My Butter Ingredients Look Wet And Thick?
That's normal for the butter mixture to look wet and thick before using the mixer. After it's beaten with the mixer it'll become the light and fluffy texture that we're looking for!
Can I Use Honey That I Harvested From My Own Bee Hive In This Whipped Honey Butter Recipe?
I haven't tried and tested that with this recipe. Feel free to give it a try though!
Can I make this fruity?
Yes, if you're looking for a whipped strawberry honey butter or even raspberry or blackberry, simply add a few tablespoons of jam to the mix. You may find you don't need the powdered sugar if you add any fruit preserves though.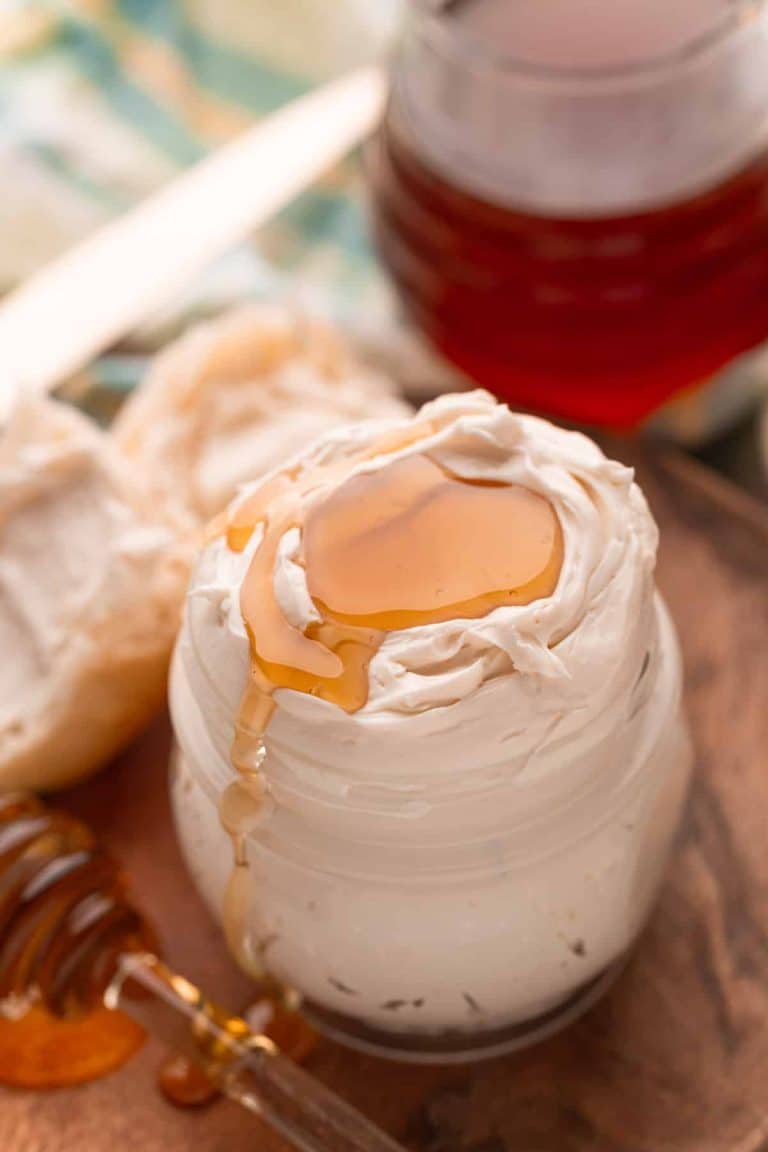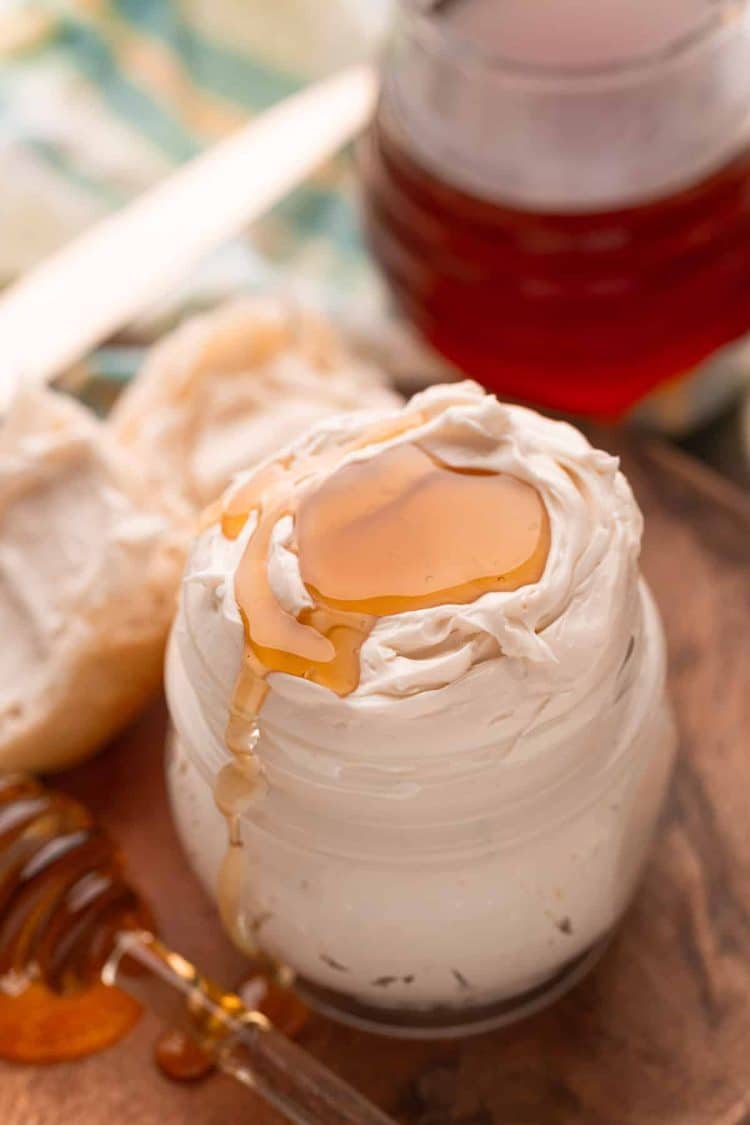 👋 Let's Connect!
If you've tried this recipe, please let me know how you liked it in the comments below and leave a review; I love hearing from you! And don't forget to tag me – @sugarandsoulco – on Instagram and Pinterest with your photos or join our Sugar & Soul Show-offs Community and share them there, where you can join our recipe challenges and win prizes!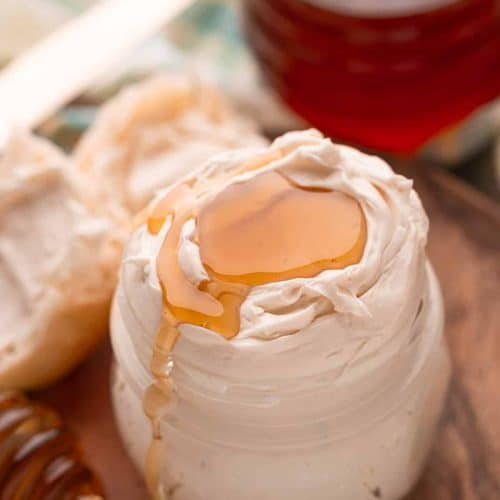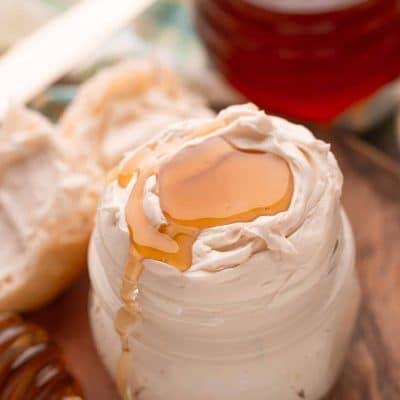 Whipped Honey Butter
This creamy honey butter is whipped to perfection and laced with sweet honey flavor! You'll want to put it on everything from dinner rolls, to pancakes, to sweet potatoes!
Instructions
Add soft butter, honey, powdered sugar, and salt to a large bowl or stand mixer and beat on high speed for 5 minutes.

1 cup unsalted butter, ½ cup honey, 2 tablespoons powdered sugar, ¼ teaspoon salt

Scrape down the sides of the bowl as needed (usually every minute or so). The butter will look thick and wet to start but will whip up into a really smooth and soft spread.
Notes
Ground cinnamon can be added to taste for a cinnamon honey butter.
Store in the refrigerator for up to 1 month or on the counter (covered) for up to 1 week. Just note that if stored in the fridge, the butter will lose that silky whipped texture.
Nutrition
Calories: 92kcal | Carbohydrates: 6g | Protein: 0.1g | Fat: 8g | Saturated Fat: 5g | Polyunsaturated Fat: 0.3g | Monounsaturated Fat: 2g | Trans Fat: 0.3g | Cholesterol: 20mg | Sodium: 26mg | Potassium: 6mg | Fiber: 0.01g | Sugar: 6g | Vitamin A: 236IU | Vitamin C: 0.04mg | Calcium: 3mg | Iron: 0.03mg