These Hazelnut Brownies are made with just four ingredients! Hazelnut spread, egg, flour, and salt yield a delicious chocolaty treat. You can add chocolate chips and chopped hazelnuts too!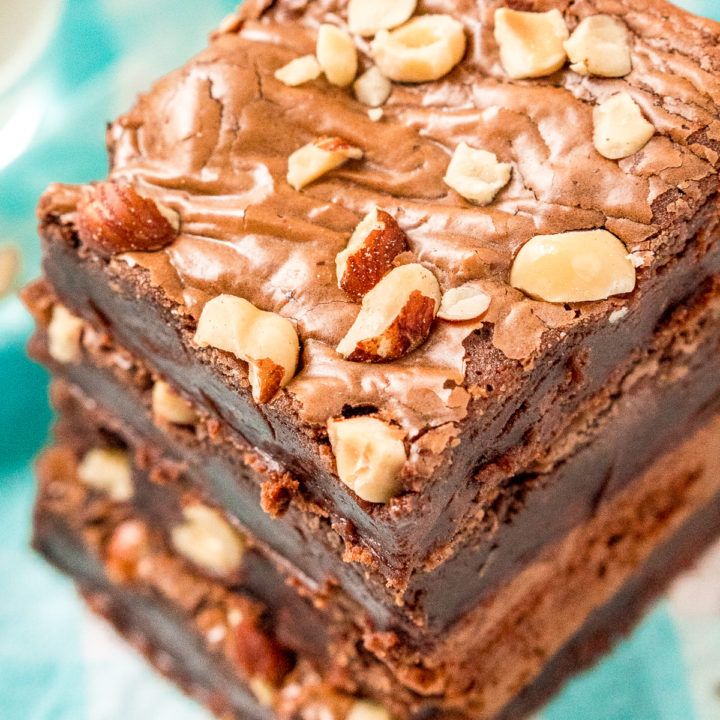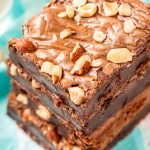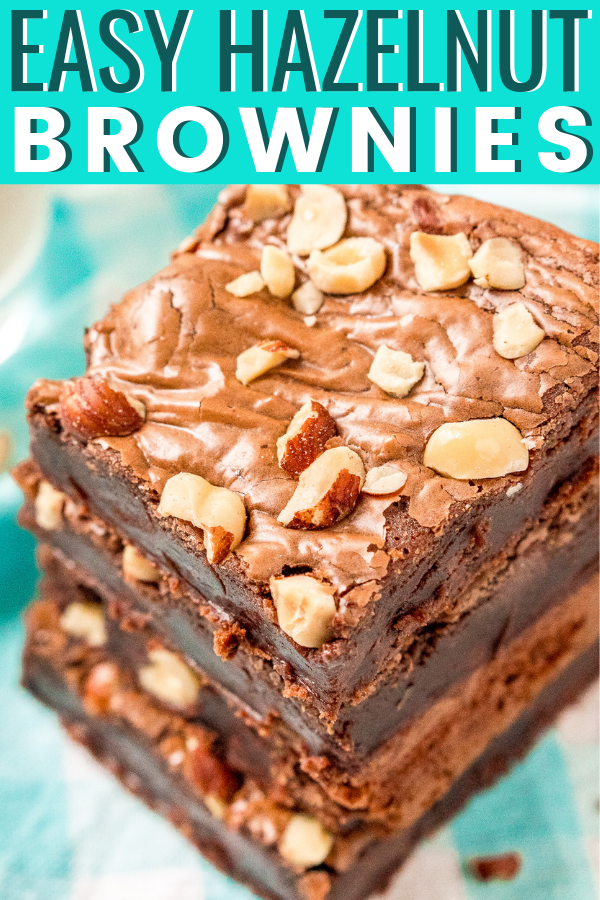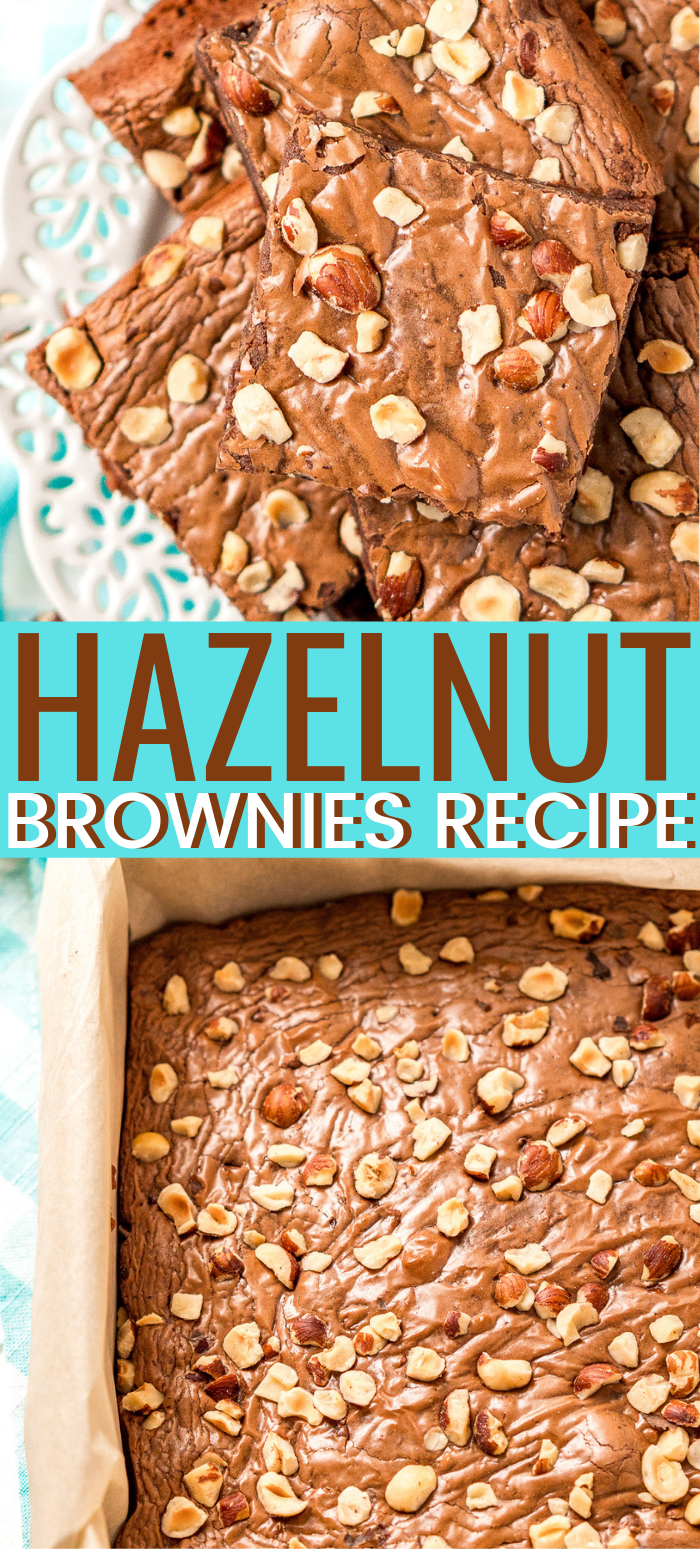 These Hazelnut Brownies are made with 4 ingredients and are ready in just 25 minutes. Hazelnut spread, egg, flour, and salt yield a delicious chocolaty treat! You can add chocolate chips and chopped hazelnuts too.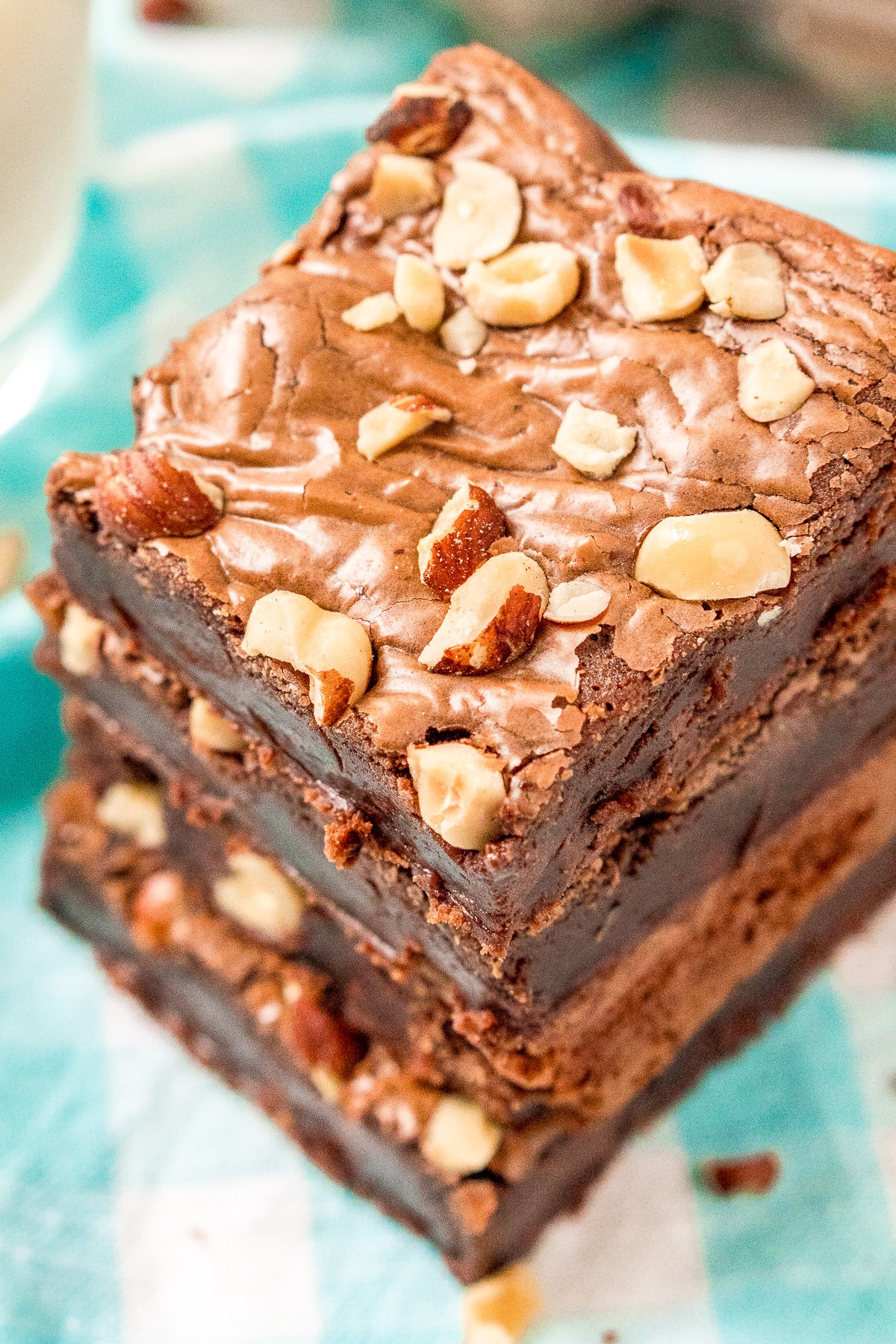 Quick, easy, and chocolatey, this four-ingredient recipe can't be beat. Better yet, it's made with items that you probably already have in your kitchen.
(This is good news because if you ask me, there is such a thing as a chocolate emergency. 😉 )
And don't you hate when you're craving brownies and the recipe says to bake for 45 to 50 minutes? Well, this one bakes in just 20!!!
A big thank you to Nellie's Free Range Eggs for helping bring this post to life. This is the third in a four-part series of blog posts to promote timeless recipes.
I am very grateful for @nelliesfreerange support and company mission and hope you enjoy the upcoming content!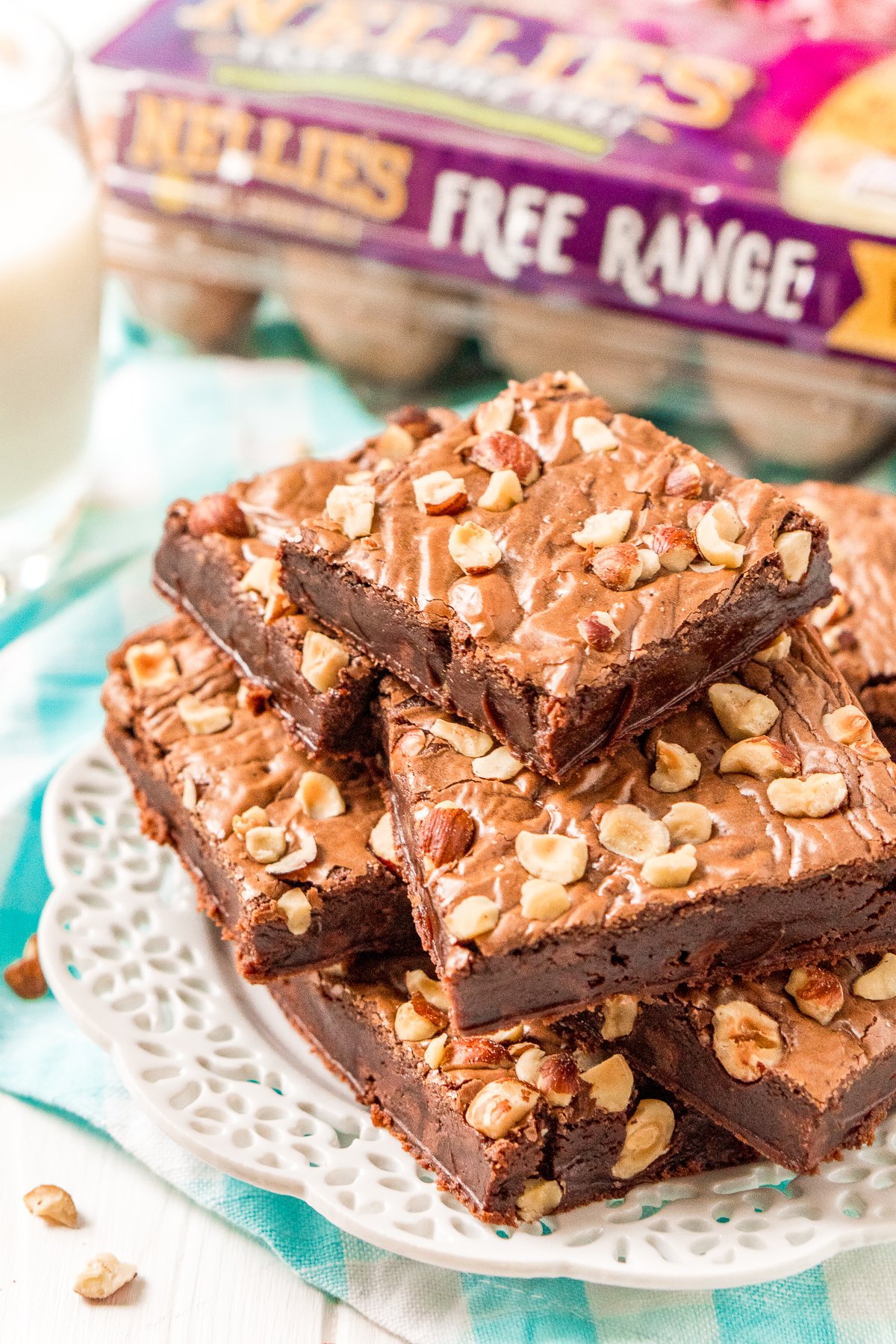 Made with creamy hazelnut spread, eggs, flour, and a dash of salt, these decadent treats couldn't be simpler.
Plus, if you're already a fan of chocolatey-hazelnut goodness, this recipe is a must.
You won't believe how four basic ingredients can make a dessert that's soooo good!
Be sure to keep this recipe in mind for when those after dinner chocolate cravings hit
…although, you can savor a homemade brownie any time of day.
My pantry is always stocked with flour, salt, and, of course, a jar of chocolate-hazelnut spread.
And with all the cooking and baking I do, I always have eggs in our refrigerator.
Matt and I switched to Nellie's Free Range Eggs last year, and after tasting the difference, we'll never go back!
These eggs are fresh and nutritious, and they make all my recipes as delicious as can be.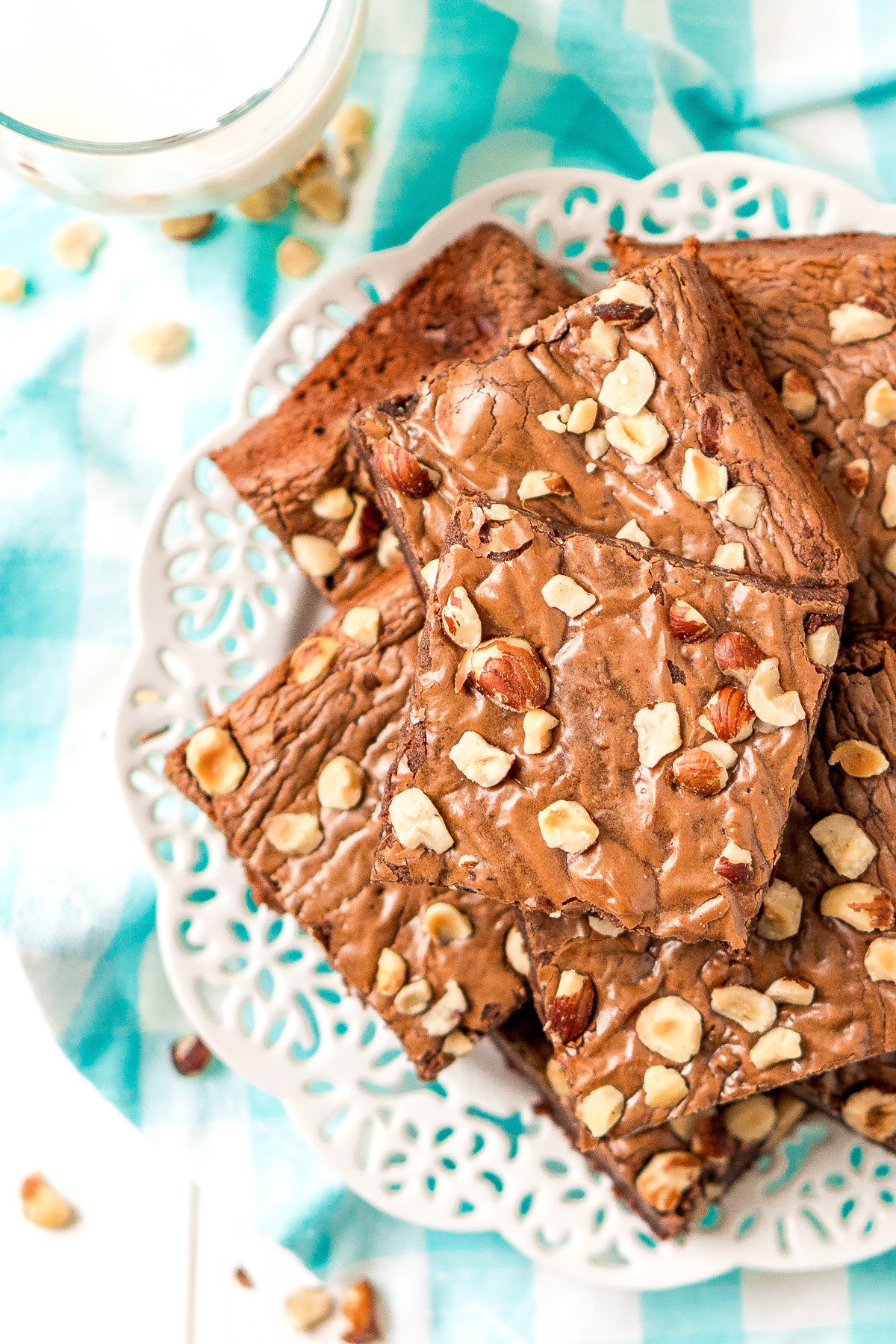 And we would know; we go through a lot of eggs.
Between our appetites and my job, we've been known to go use a dozen in a day!
Whether eggs are the star of the dish or they're baked into cookies or cakes, quality is key., which is why I only use Nellie's. Their eggs are Certified Humane free range, so I feel good knowing the hens are treated well (and the delicious taste is an added bonus!)
When your recipe only has four ingredients, each one of them better be good.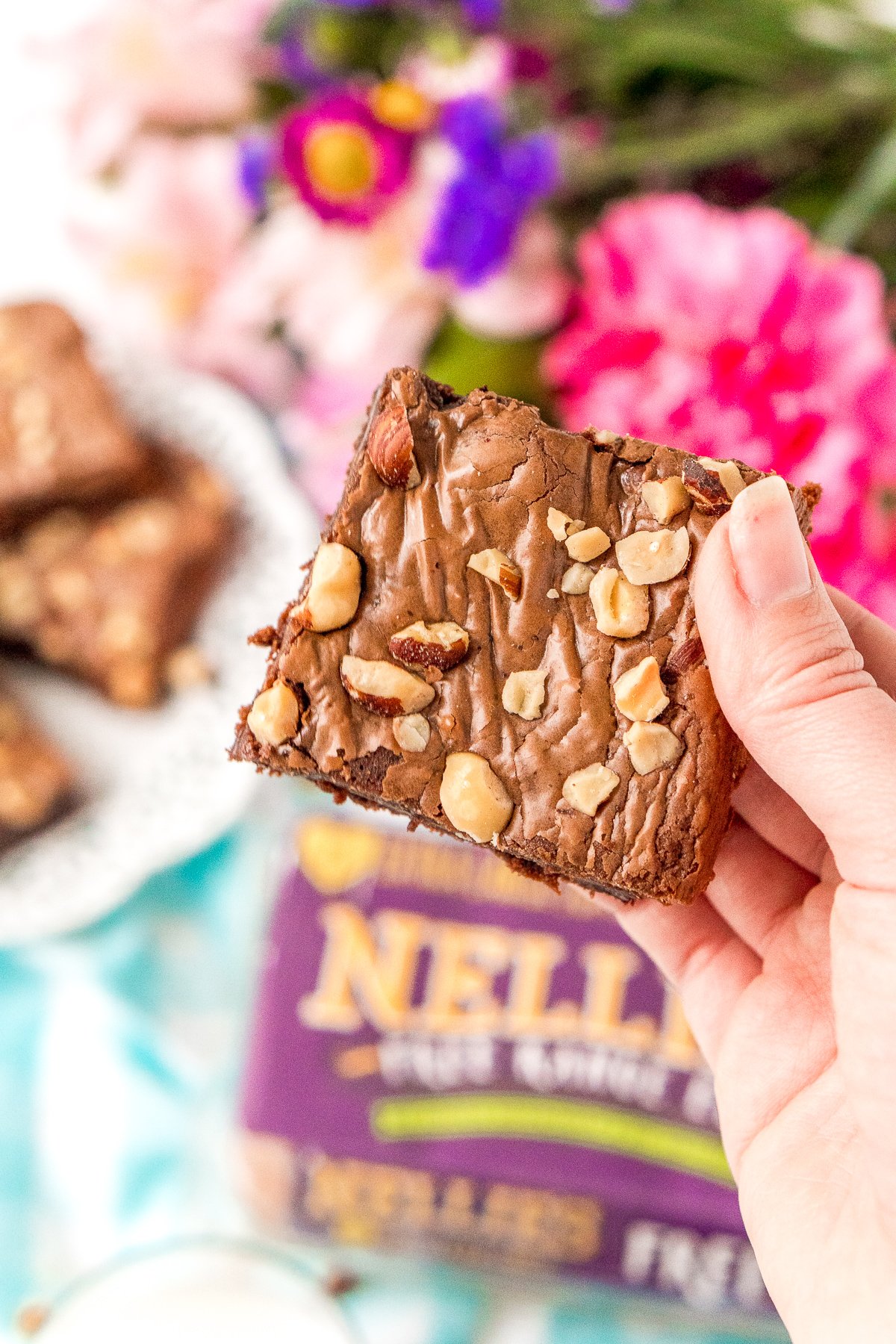 Needless to say, Nellie's Free Range Eggs are an essential ingredient in Hazelnut Brownies (and all my recipes).
You'll definitely want these on hand for when your sweet tooth strikes.
Here's the best part: These four-ingredient brownies only take about 5 minutes to prep, then 20 minutes of baking time.
So while they're in the oven, you can catch up on some laundry, put the kids to bed … or watch some TV.
How To Make Them
These brownies are so easy to make. Begin by preheating your oven to 350 degrees, lining an 8-inch square baking pan with aluminum foil or parchment paper. Then, add hazelnut spread to a large mixing bowl.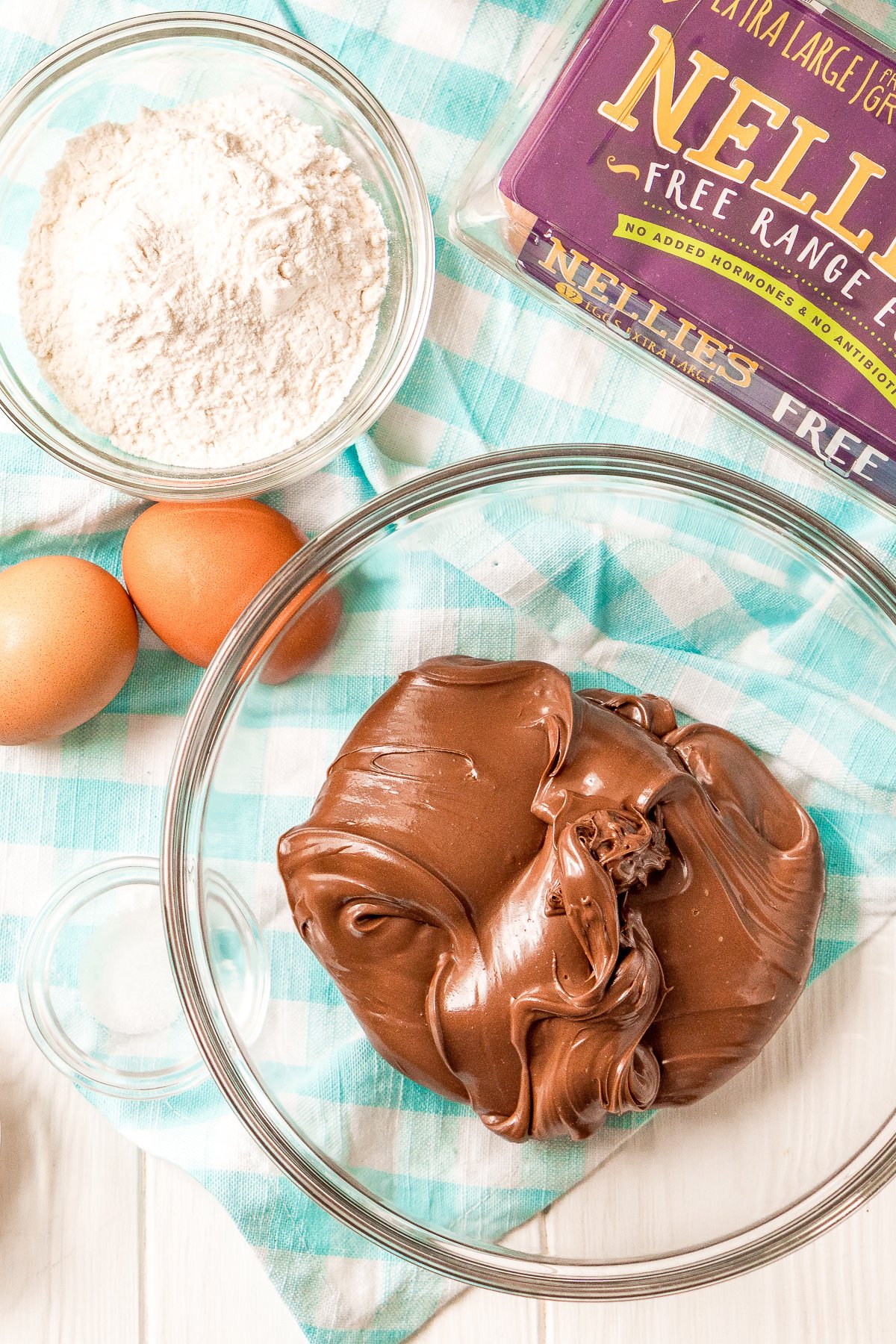 Next, add in Nellie's Free Range eggs.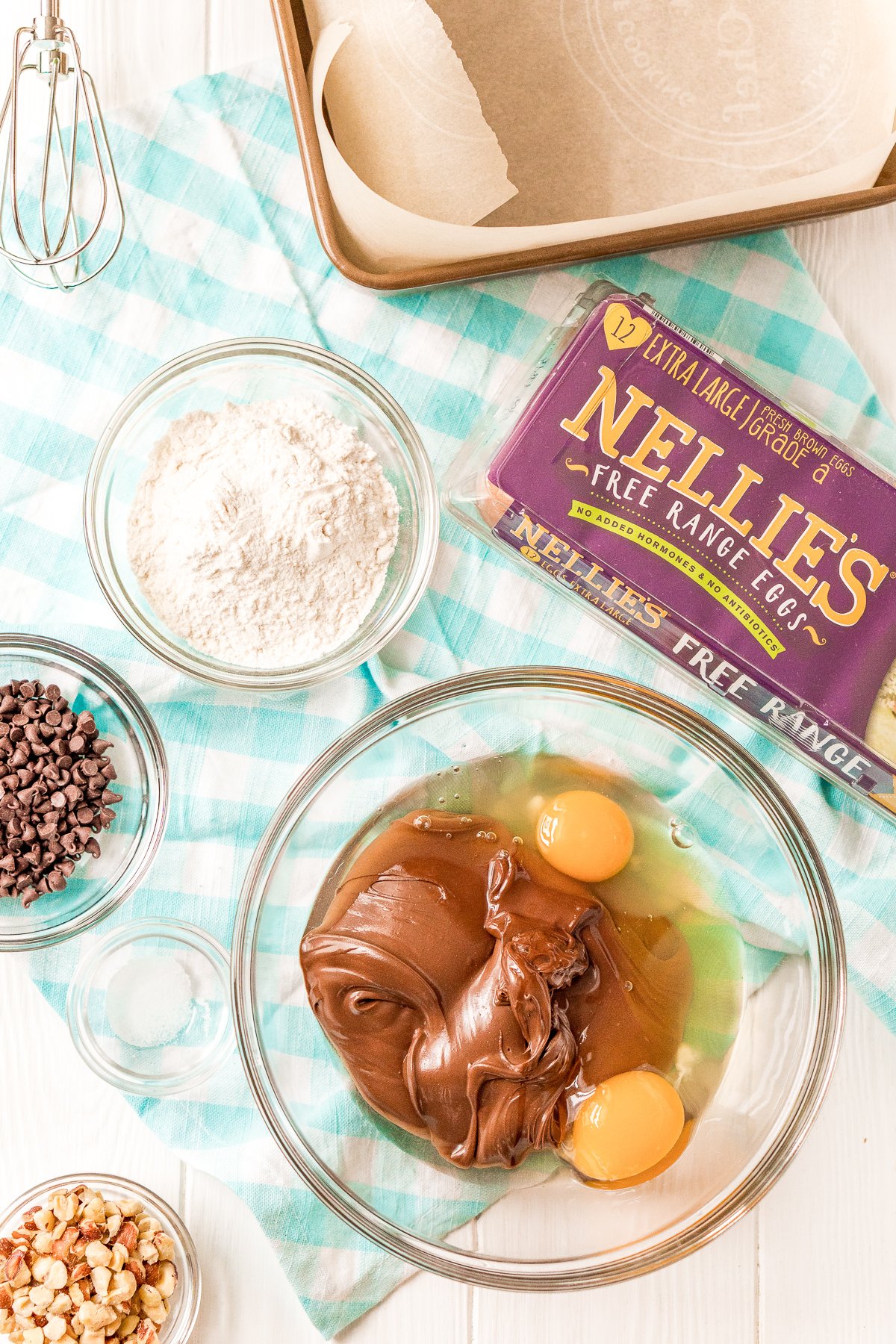 Use a hand mixer to beat the eggs and hazelnut spread together until smooth. A stand mixer would also work, but because of the sticky nature of the hazelnut spread, I wouldn't recommend mixing by hand.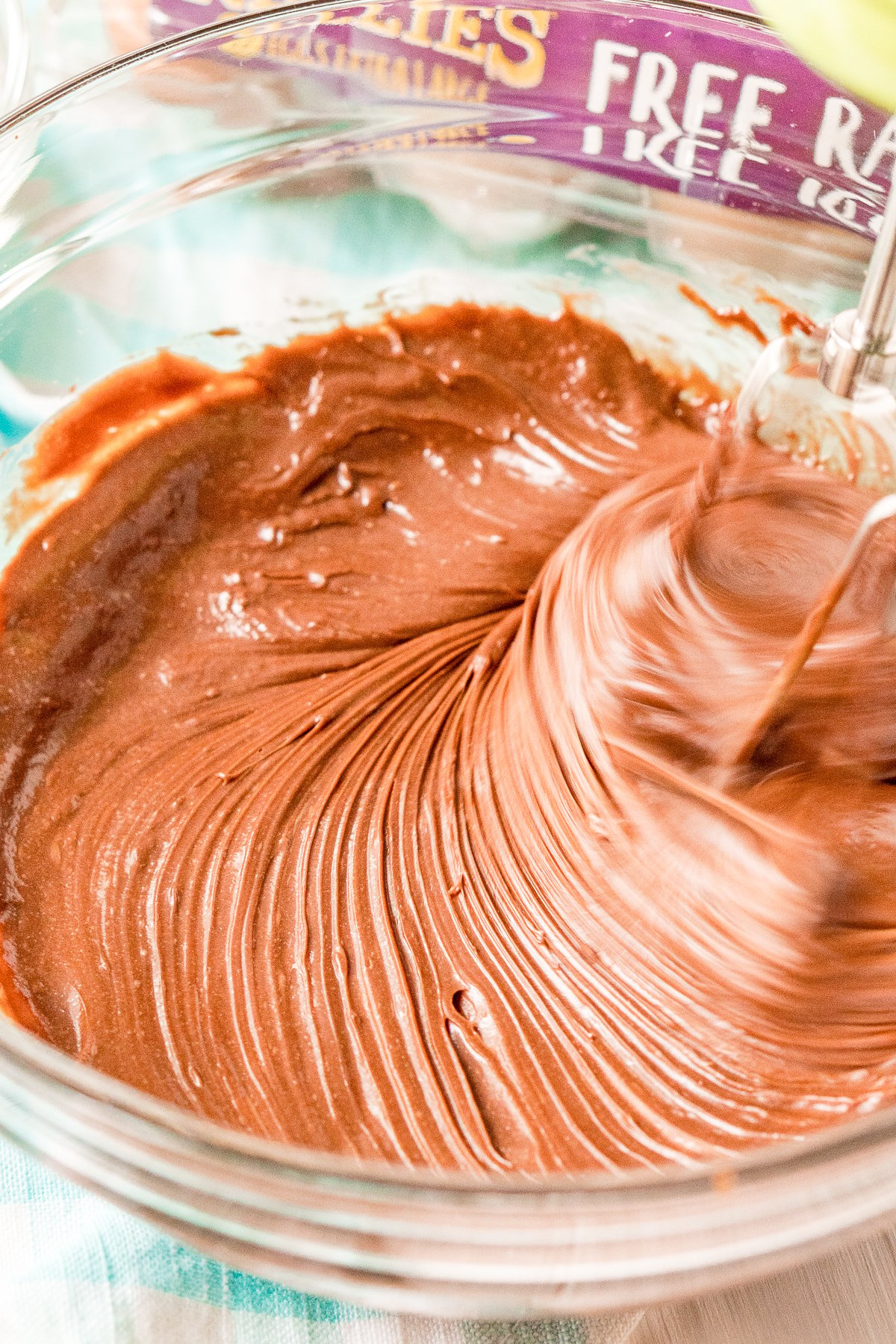 Add in the flour.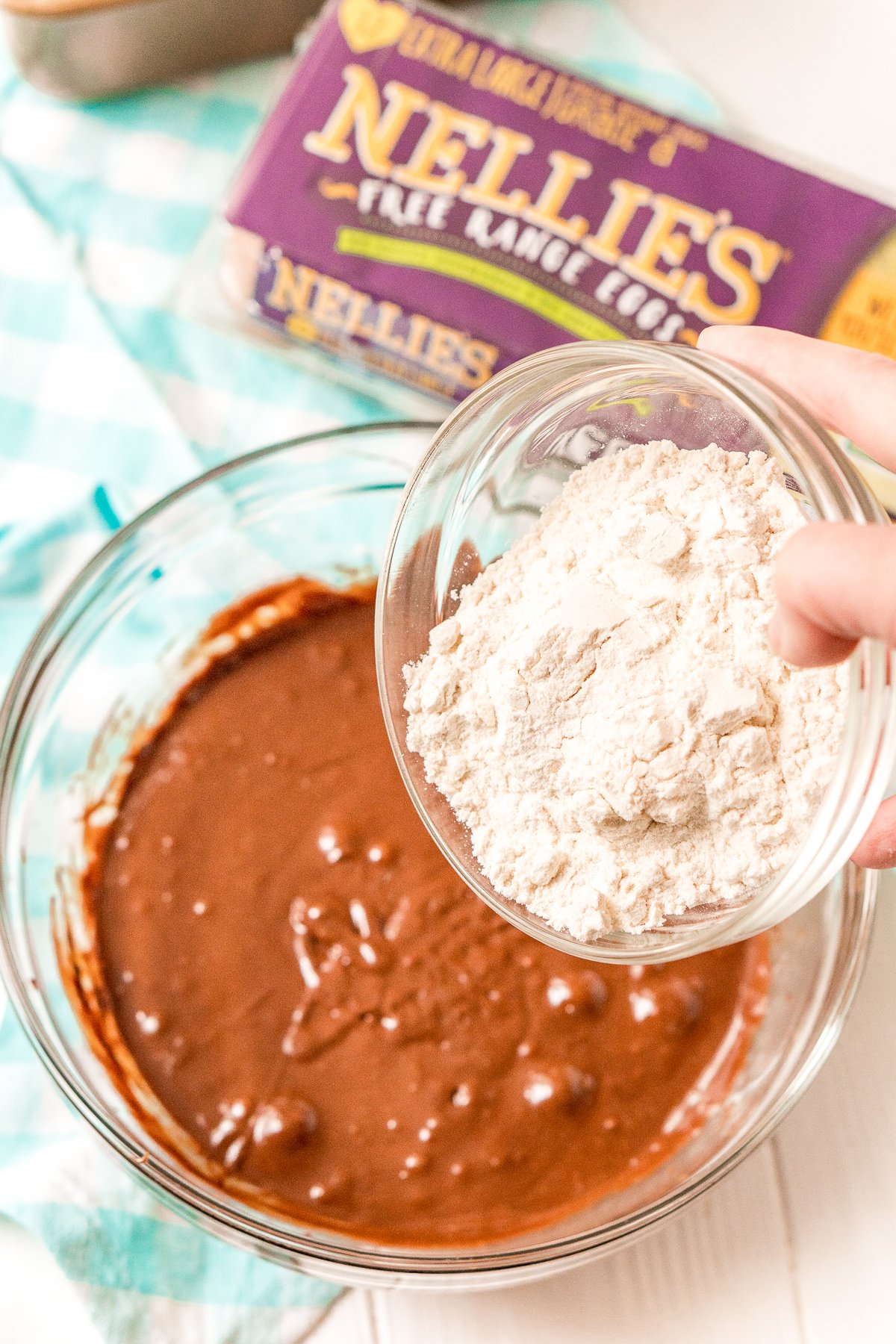 Then add in the salt.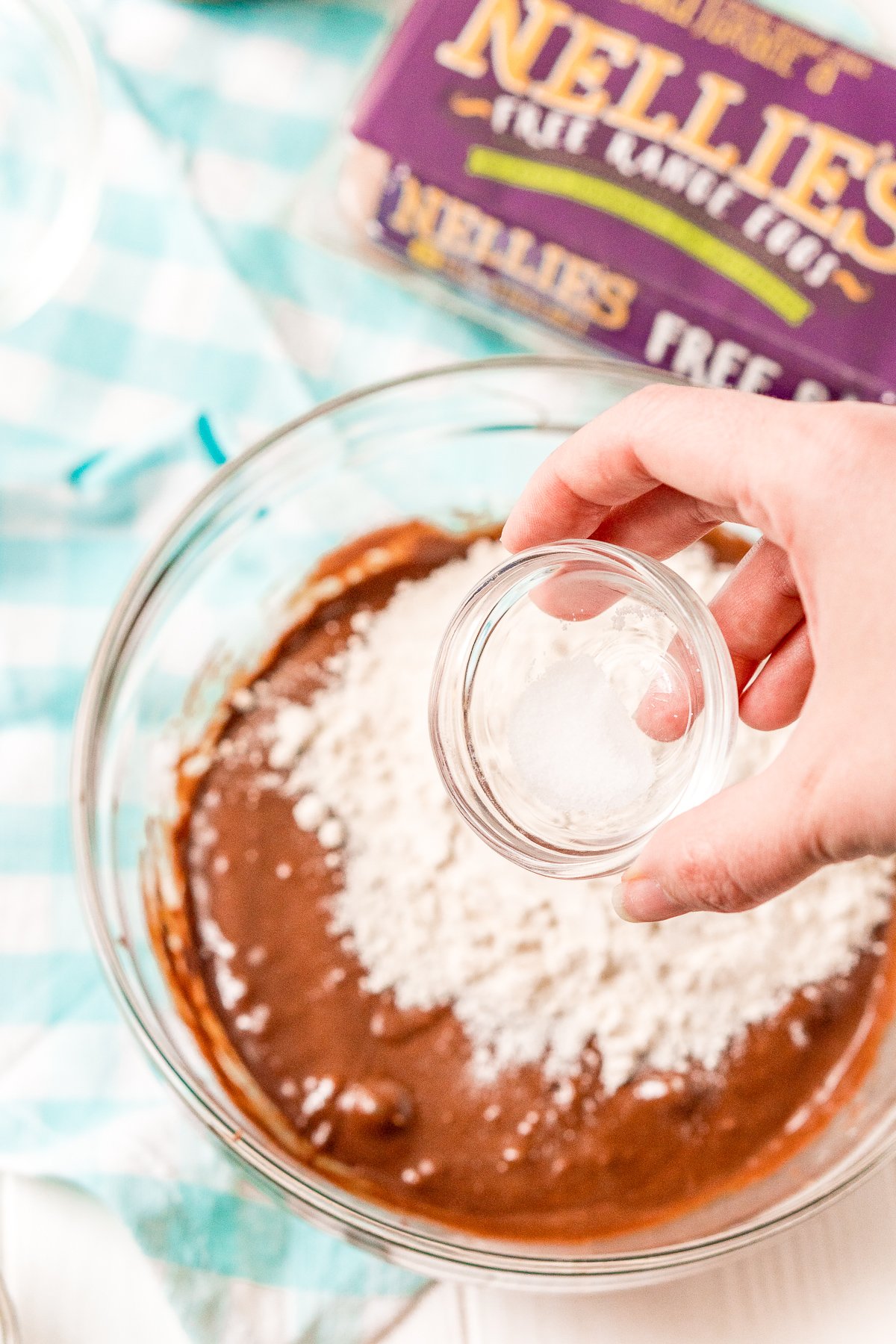 Now you have some options. If you like cakey brownies, simple transfer the batter to the prepared pan and bake.
OR, if you love fudgy brownies, stir in mini chocolate chips. Semisweet or dark chocolate is fine. Then spread the batter in the prepared pan.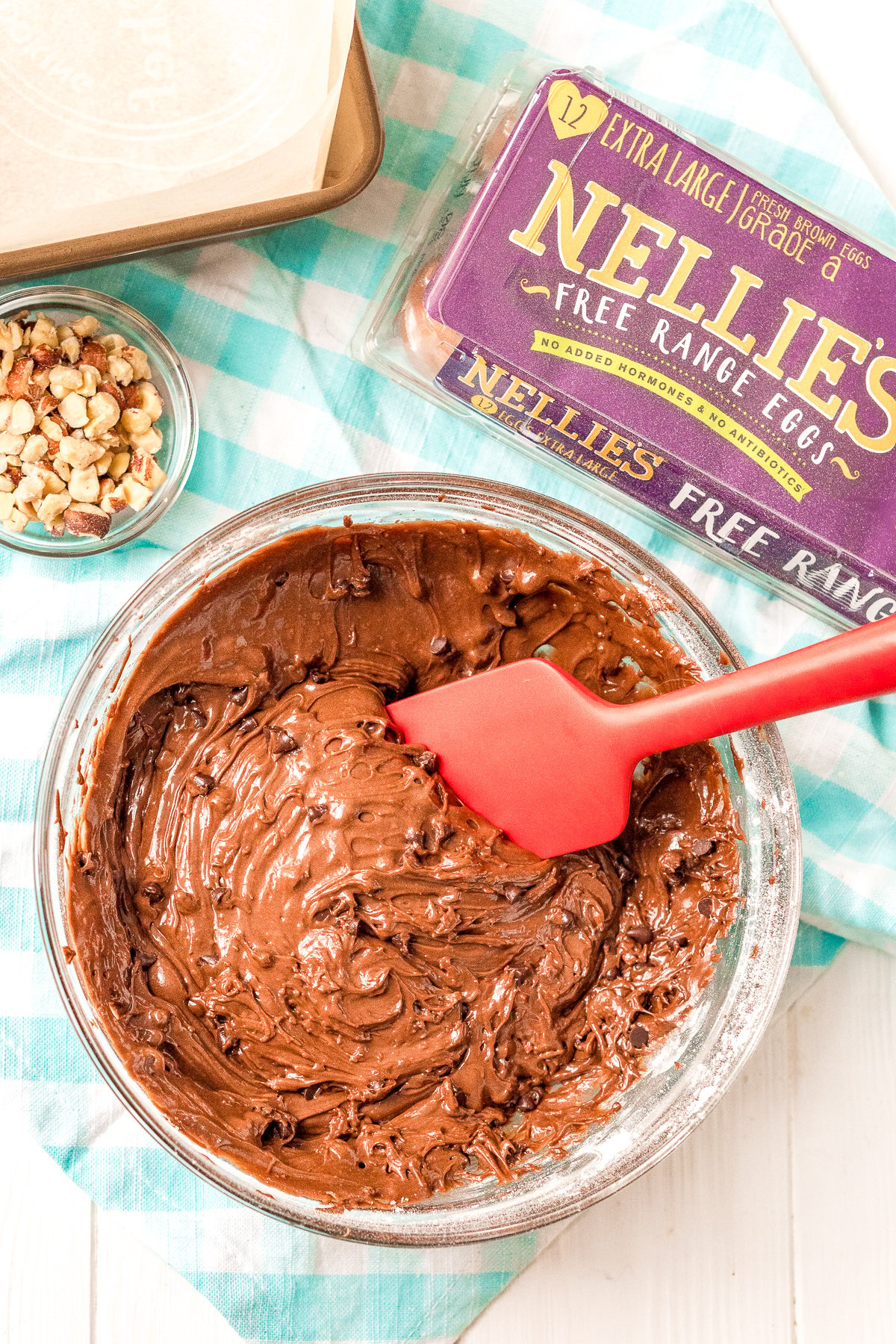 Now, you have even more options. If you love a bit of crunch to your brownies (like I do), you can top the batter with chopped hazelnuts before baking.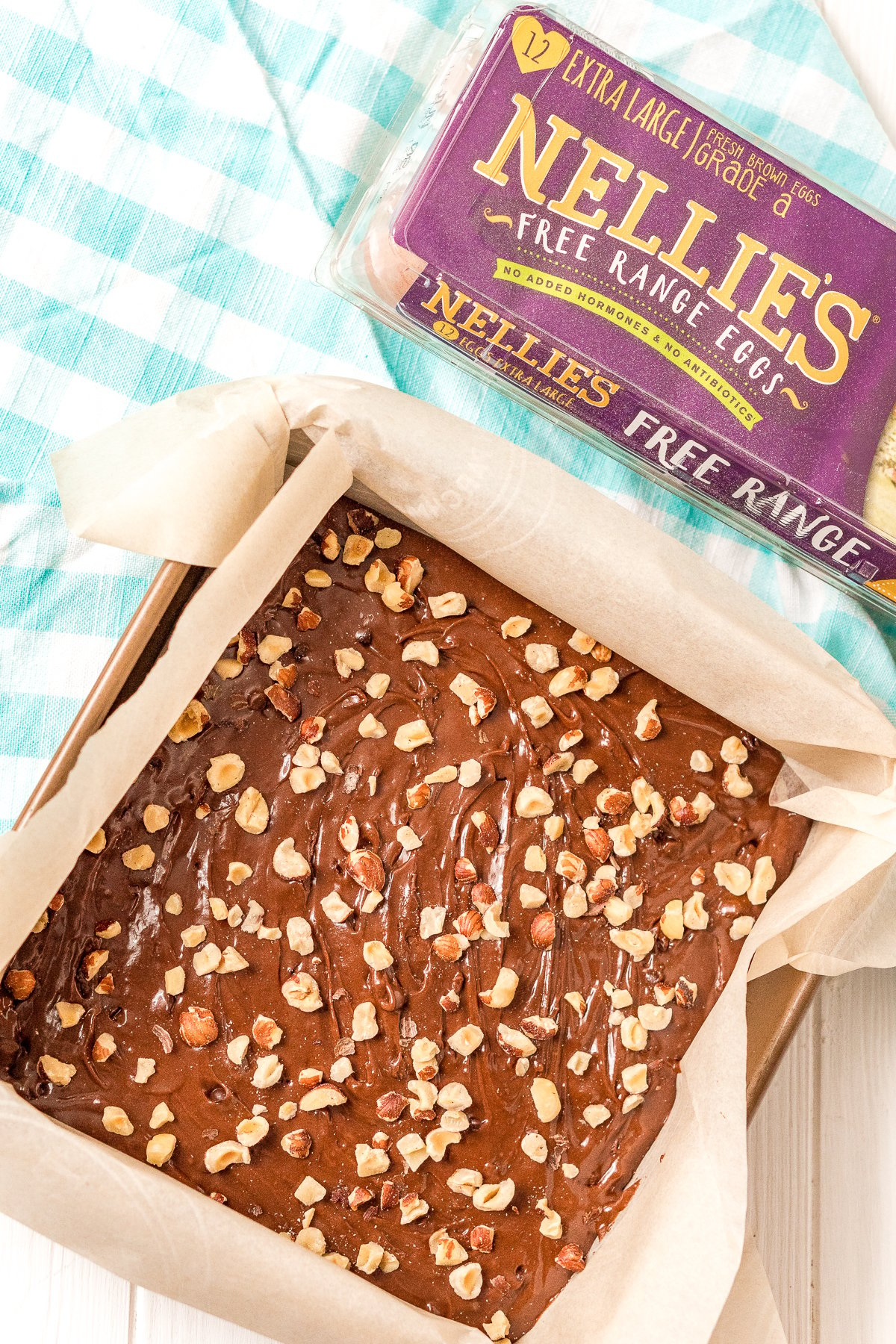 Then, 20 minutes later, you have yourself a delicious batch of Hazelnut Brownies!
Pro Tip: Did you know that you can use a plastic knife to cut through warm brownies cleanly?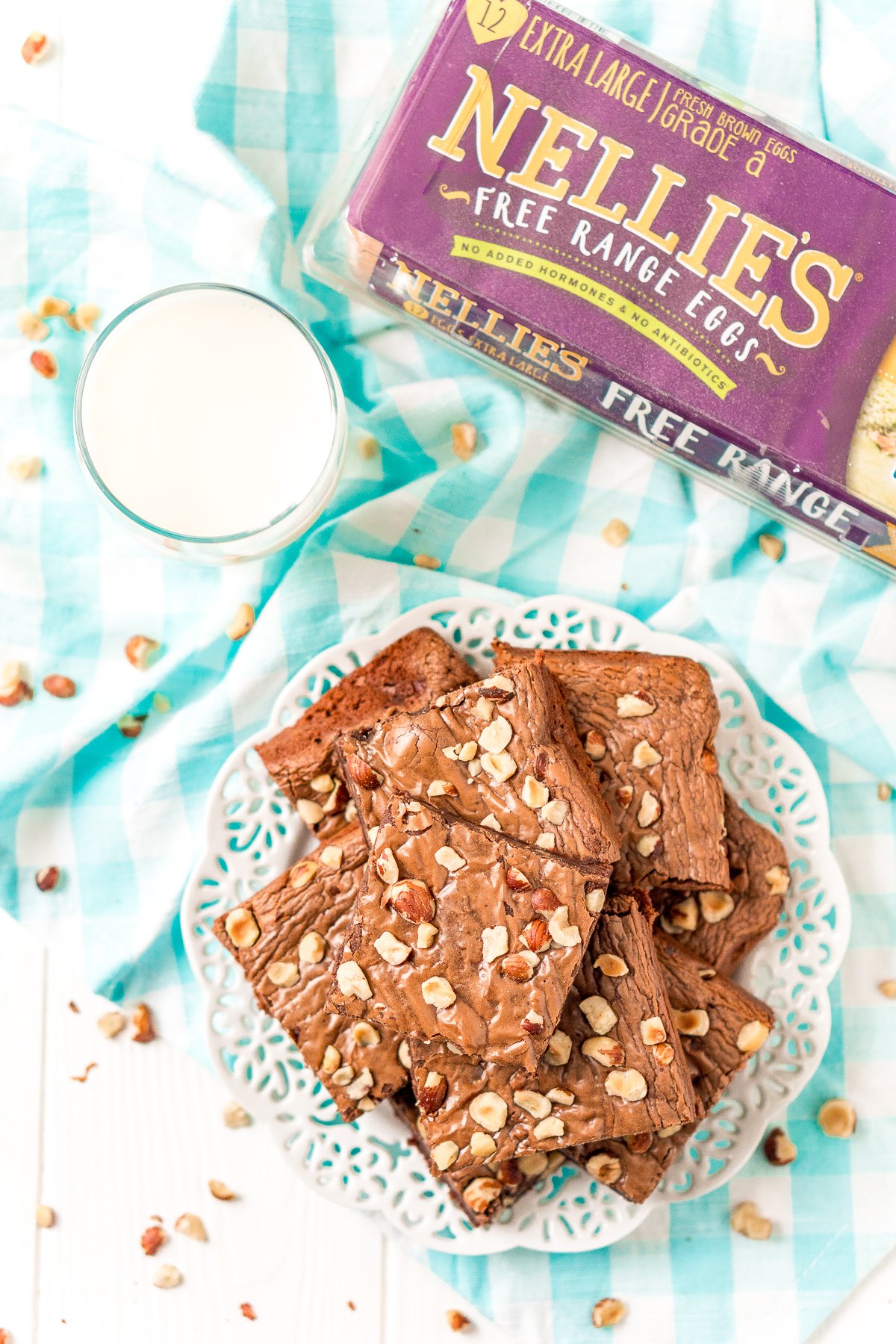 I guarantee this decadent dessert will hit the spot. Dense, moist, and deliciously fudgy, these crave-worthy brownies will make your mouth water.
Enjoy them warm from the oven, and they'll still be a little gooey.
Sometimes, I even add a scoop of vanilla ice cream for a mouthwatering hazelnut brownie à la mode.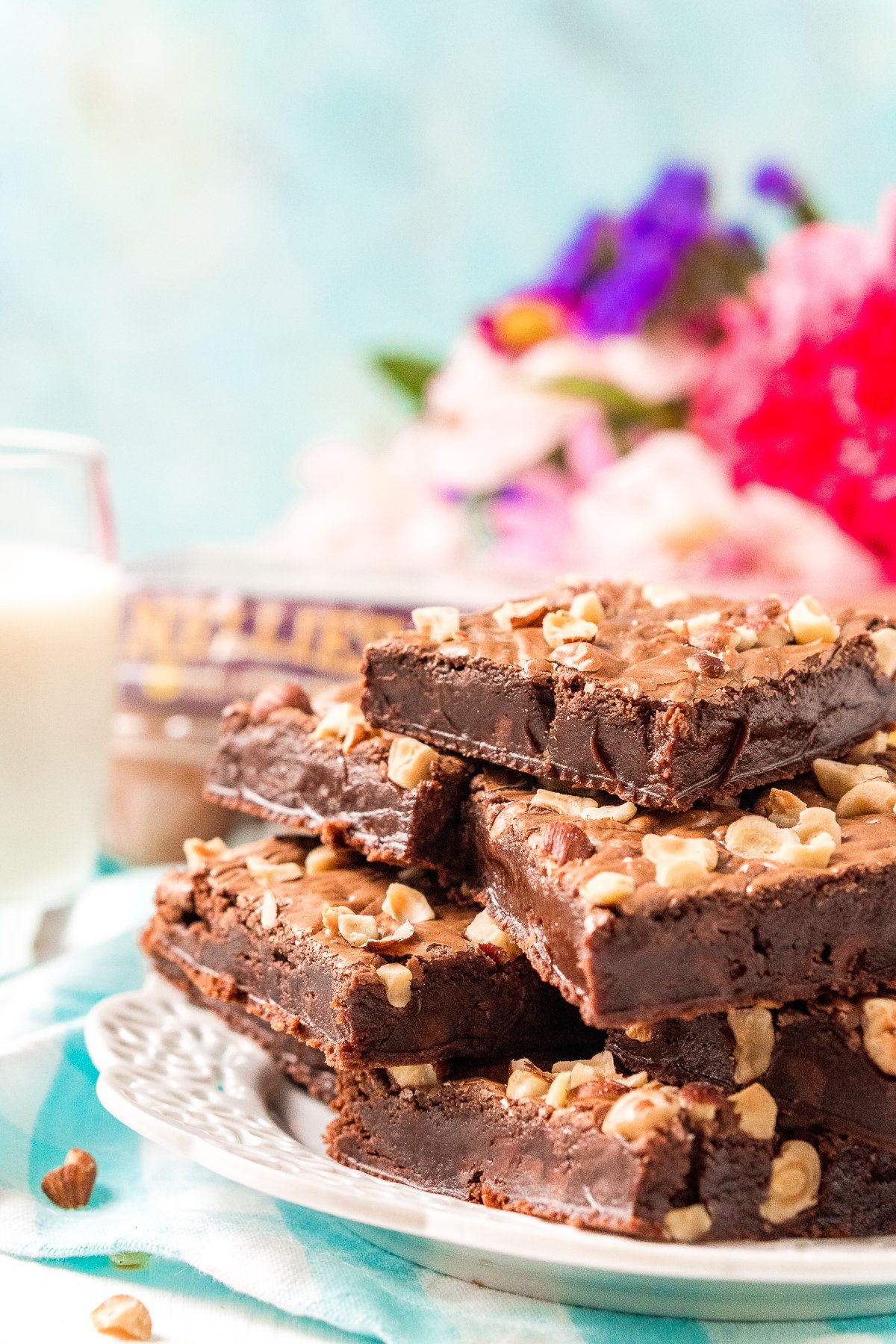 This quick and easy recipe can also be thrown together for an after-school snack, especially if the kiddos are bringing friends over.
Ever have unexpected guests drop by, or a last-minute invite where you don't want to show up empty-handed?
You can whip up a batch of these tasty treats in no time!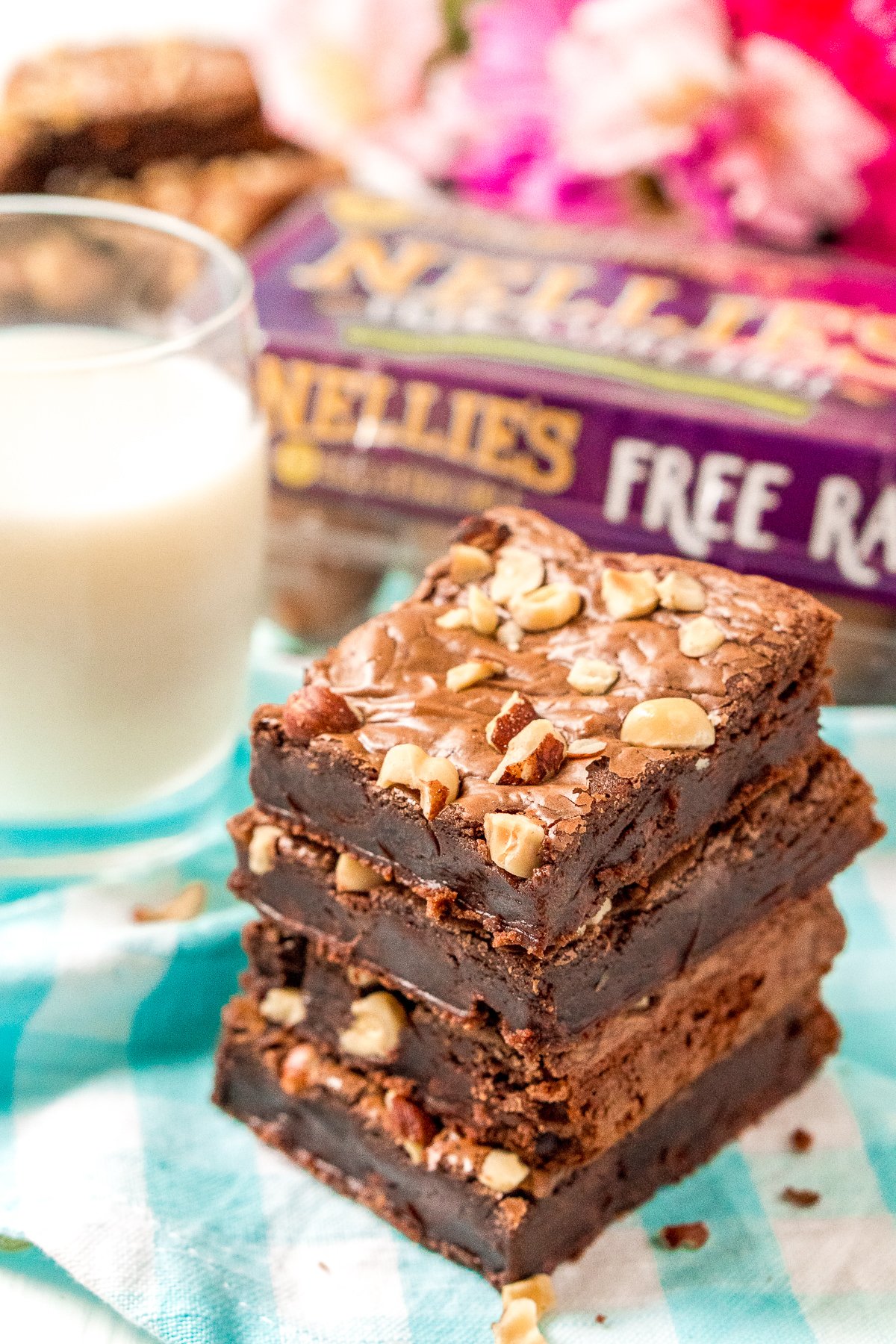 Then, there are those random weeknights when the family just wants a little dessert. This recipe works for those occasions, too.
No matter how you enjoy Hazelnut Brownies or who you choose to share them with, a recipe this simple guarantees less time in the kitchen and more time with loved ones.
Make a batch for your friends and family, and trust me, they'll keep asking for more!
More Brownie Recipes
4-Ingredient Hazelnut Brownies
Click the button above to save this delicious recipe to your board!
Let's Connect!
If you've tried this recipe, please let me know how you liked it in the comments below and leave a review. I love hearing from you!
Don't forget to tag me – @sugarandsoulco – on Instagram and Pinterest with your photos or join our Sugar & Soul Show-offs Community and share them there, where you can join our recipe challenges!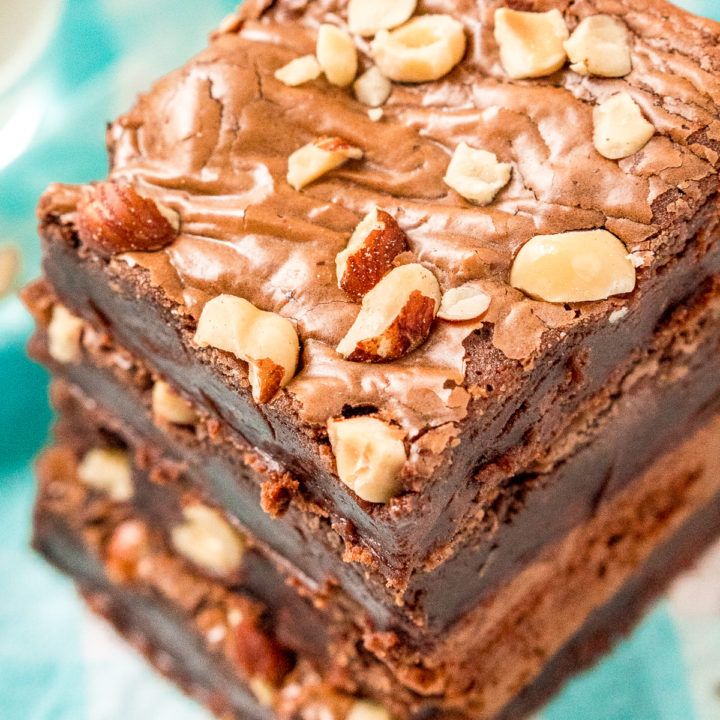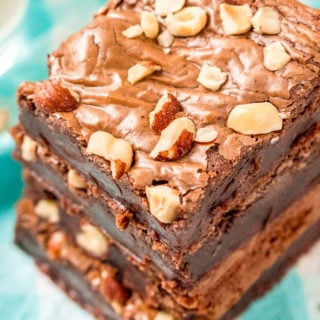 Hazelnut Brownies
These Hazelnut Brownies are made with just four ingredients! Hazelnut spread, egg, flour, and salt yield a delicious chocolaty treat. You can add chocolate chips and chopped hazelnuts too!
Instructions
Preheat oven to 350°F and line an 8-inch square baking pan with parchment paper or aluminum foil and set aside.

In a large mixing bowl with a hand mixer or a stand mixer fitted with a whisk attachment, beat together the chocolate-hazelnut spread and eggs until completely combined, about 1 minute. Do not mix by hand.

To accurately measure the flour, spoon it into the measuring cup so that it's heaping, then gently shake the measuring cup from side to side to remove some of the excess flour but DO NOT level off. Add the flour and salt to the hazelnut-egg mixture, and mix just until combined, scraping the sides of the bowl as needed.

Spread the brownie batter into the prepared baking pan.

Bake for 18 to 20 minutes or until a toothpick inserted comes out clean.
For fudge-like brownies:
Prepare the recipe as directed through Step 3. Stir in the chocolate chips before transferring the brownie batter to the prepared baking pan, and bake as directed.
For nutty brownies:
Prepare the recipe as directed through Step 4. Sprinkle the top of the brownie batter with the chopped hazelnuts. You can do this with both the cake or fudge brownies. Bake as directed.
Notes
Nutritional information is an estimate that includes the use of chocolate chips and chopped nuts and 9 servings.
X-Large Nellie's Free Range Eggs may also be used in the recipe. Simply increase the bake time to 20 to 22 minutes.
Nutrition
Calories: 315kcal | Carbohydrates: 35g | Protein: 5g | Fat: 17g | Saturated Fat: 13g | Cholesterol: 48mg | Sodium: 103mg | Potassium: 217mg | Fiber: 3g | Sugar: 26g | Vitamin A: 80IU | Vitamin C: 0.2mg | Calcium: 62mg | Iron: 2.6mg