Mai Tai Jello Shots takes all the classic Mai Tai ingredients and turns them into a fun, tasty Jello shot that's perfect for your next party! Only 10 minutes of prep time is needed to make over a dozen!
For more fun party shots check out my Fuzzy Navel Jello Shots or these celebratory Champagne Jello Shots!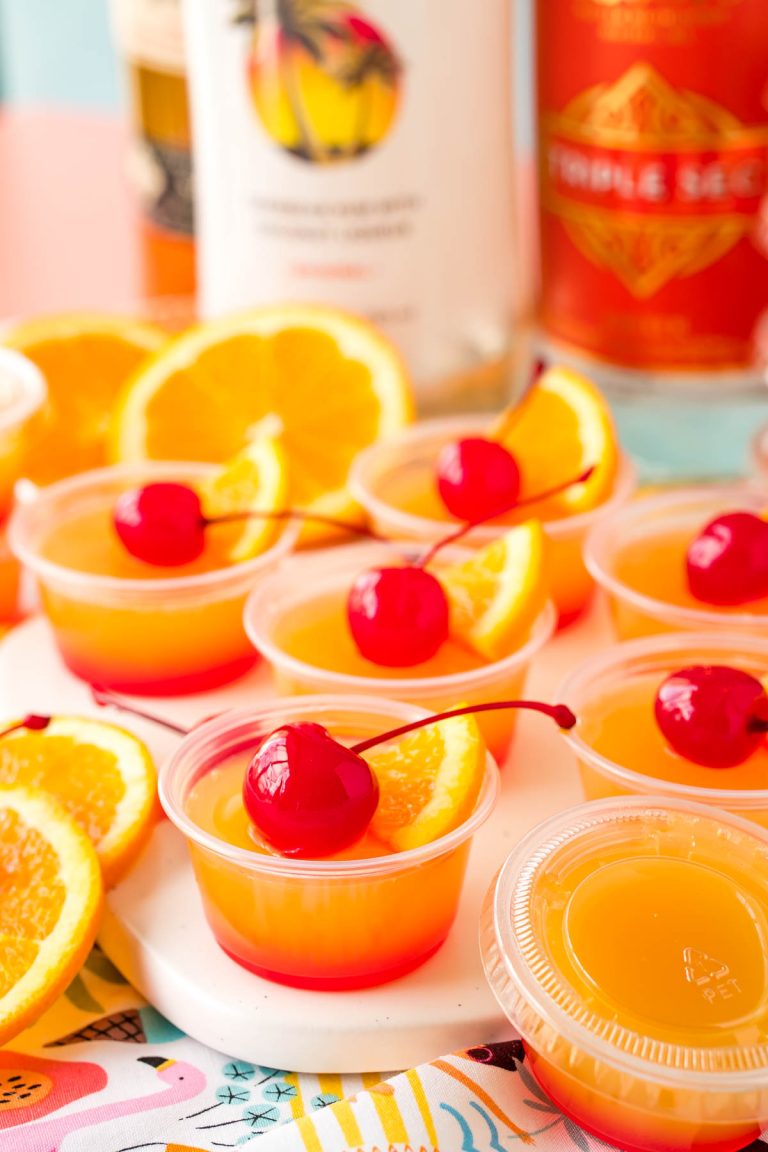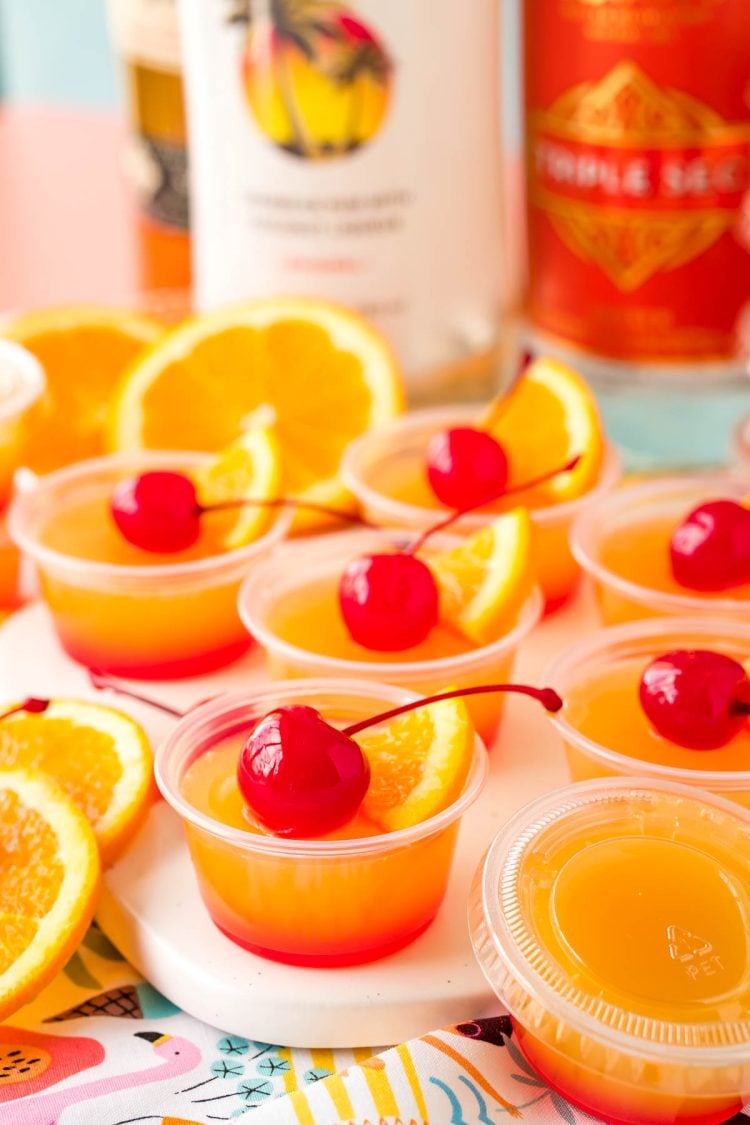 These Mai Tai Jello Shots are everything you love about the popular taste of a classic Mai Tai Cocktail! Only slightly heavier on the booze factor!
I love making these fun layered Jello Shots for summertime parties! Because if we can't actually be in a tropical paradise then at least we get to enjoy the flavors of being in one!
What To Expect When You Grab A Shot!
Taste: These shots have both spiced and coconut rum all wrapped up in the tropical flavors of pineapple juice and orange juice! Since these shots are made with unflavored gelatin you have more control over the flavor, and it certainly pays off with how easy these go down!
Texture: You'll find the texture is just like classic Jello! Cool, jiggly, and refreshing, all in one little cup! Only you're tossing back the adult version.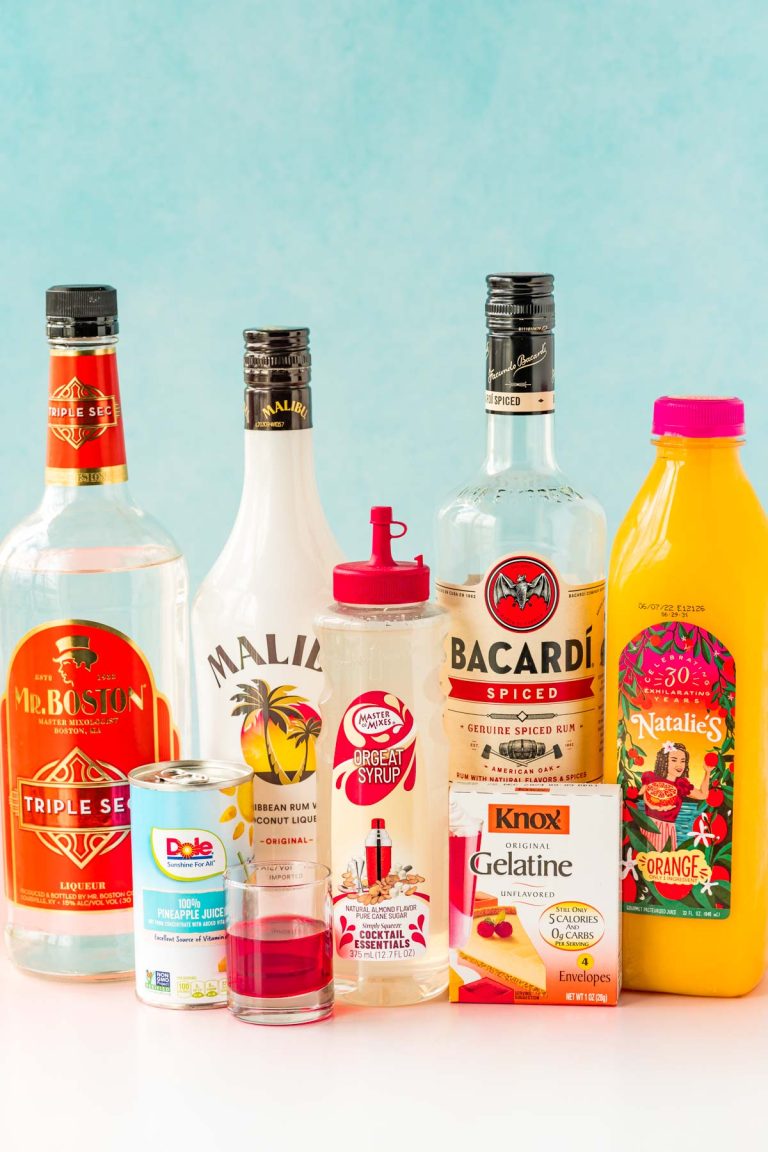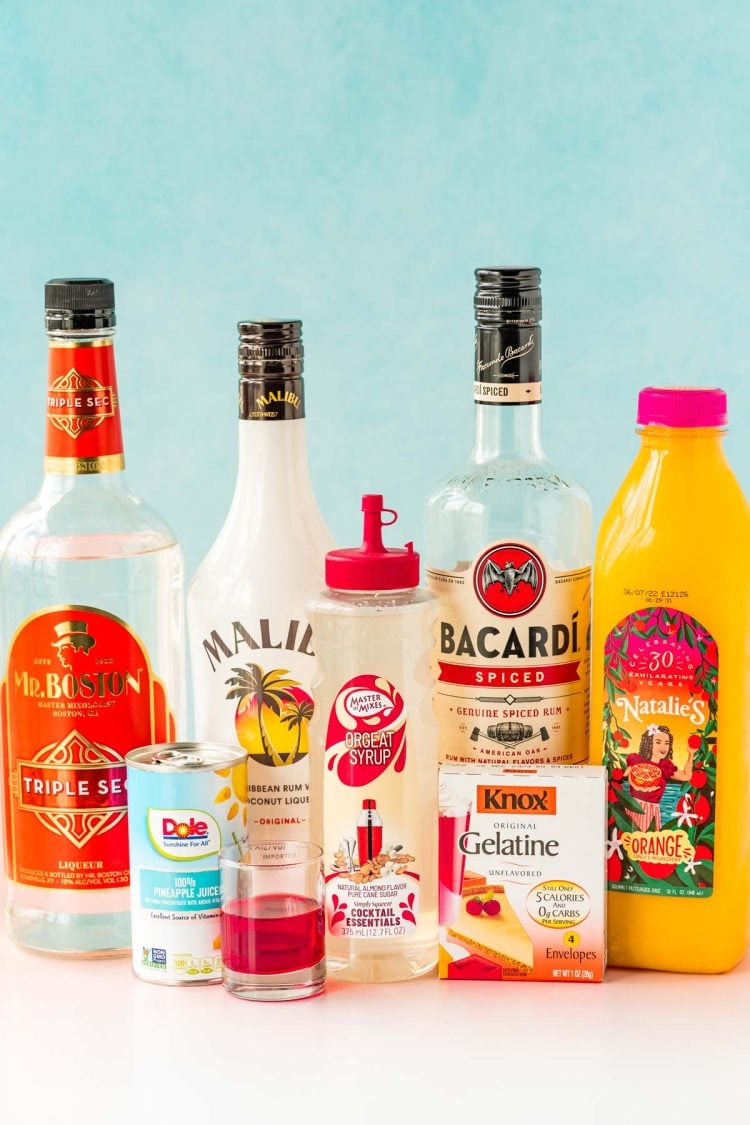 Helpful Tips & Tricks For Making Mai Tai Jello Shots
Skip The Jello Molds – Though Jello molds can be fun I've found they're just not the best choice. Usually, you need to spray the molds with cooking spray to be able to remove the Jello Shots. Giving them a weird texture and taste.
Easy Pouring – A mini baster or a measuring cup with a spout works best for pouring the Jello shot mixture. Both make for clean, easy pouring, meaning less mess and a quicker process!
Don't Overfill – If you're planning to serve these to guests later, be careful not to overfill the cup! This way there's plenty of room at the top for the lids.
Transporting – For the easiest transporting from the counter to the fridge use a cookie sheet! Arrange the cups on the cookie sheet before filling, then pour, and slide the cookie sheet into the fridge.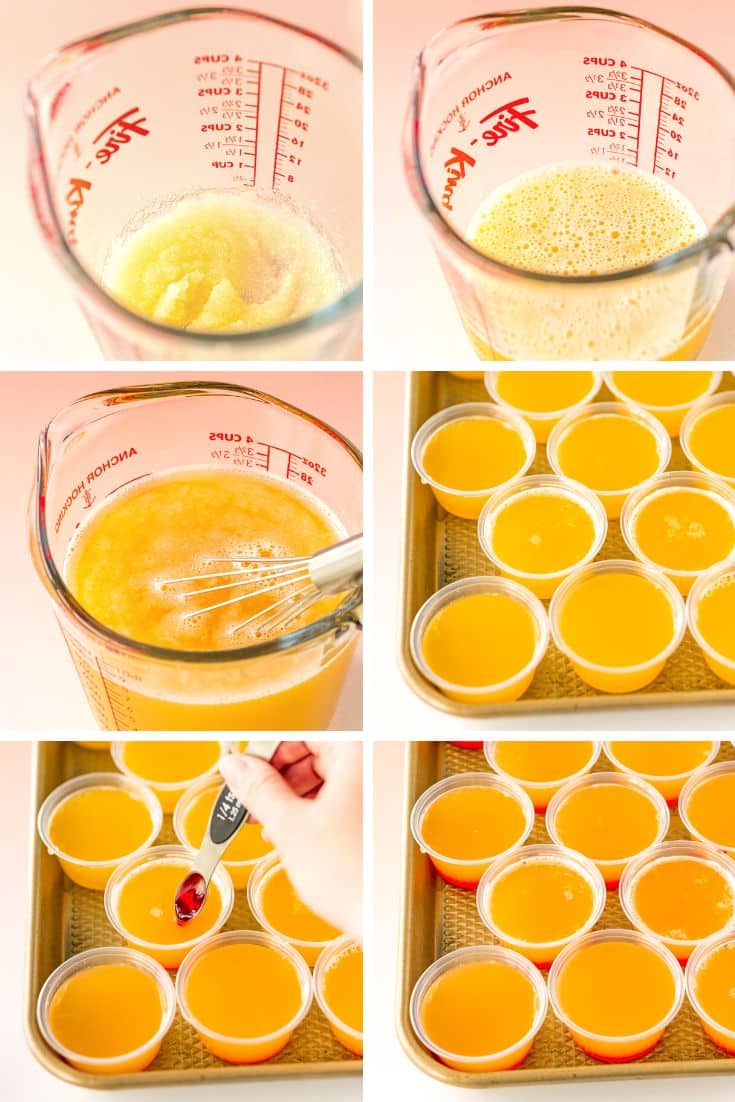 Drinks make or break any party! So, I also serve up a large bowl of Hippie Juice and some Beer Margaritas to accompany these shots!
And is any party complete without some snacks? I think not! This TikTok famous Boat Dip and my 7 Layer Dip Cups would both be great choices guests would love!
Once the savory snacks are taken care of, I move on to figuring out tasty recipes to satisfy everyone's sweet tooth! Usually, I turn to a batch of cookies or a pan of these Strawberry Blondies!
Mai Tai Jello Shots Storage Instructions
Keep the Jello Shots stored in the refrigerator and consume them within 1 week.
How Long Does It Take For These Shots To Set Up?
These will take about 1.5 to 3 hours to fully set up.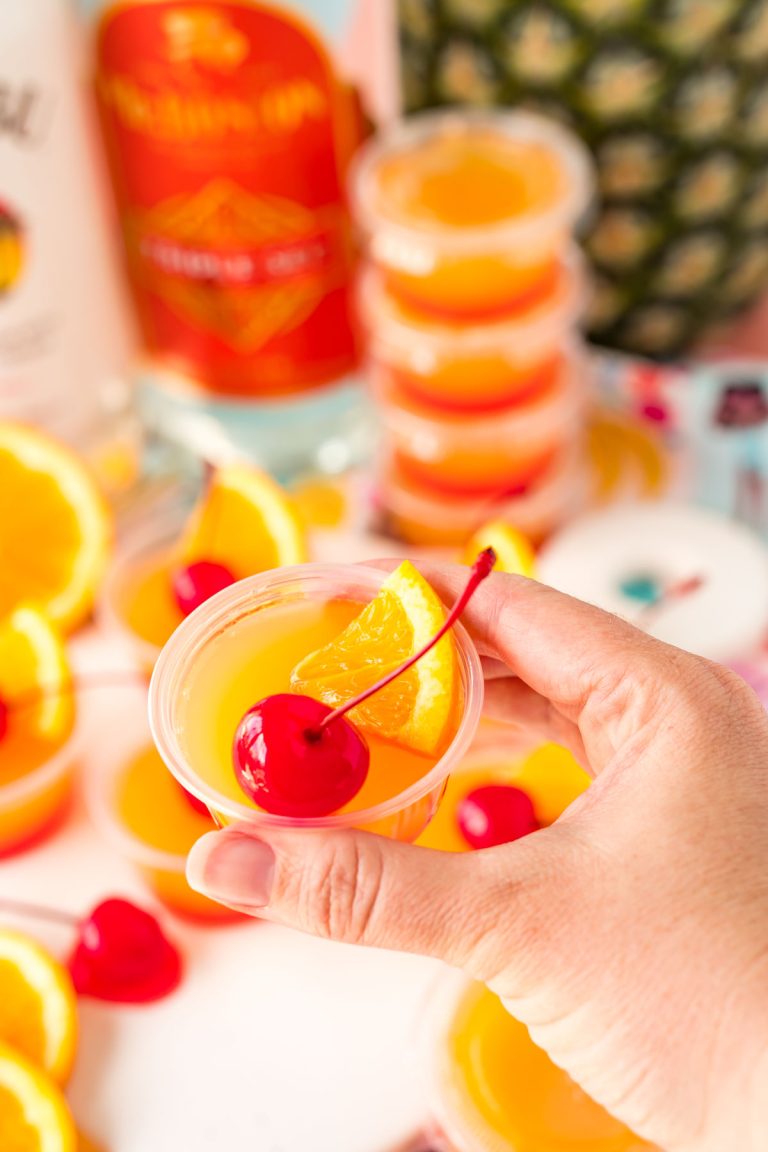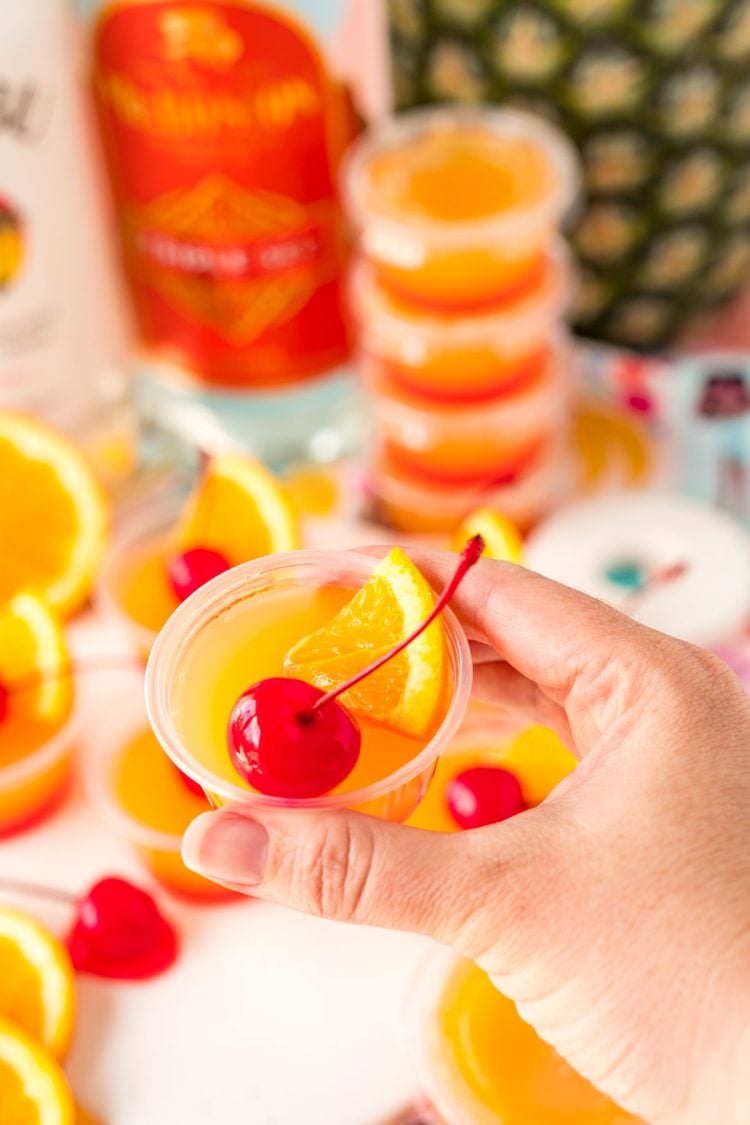 Can I Place The Shots In The Freezer To Speed Up The Setting Up Process?
You could pop them in the freezer for 20 to 30 minutes to speed up the process. Then just transfer them back to the fridge to finish setting.
Just be sure not to leave them in the freezer for longer than that!
What Size Plastic Cups Should I Use For These Jello Shots?
I used 2 oz plastic cups with lids however most small cups would work! Small disposable plastic shot glasses or even small dixie cups would work just fine.
I've also found 2oz ez-squeeze cups at party stores that work really nice too!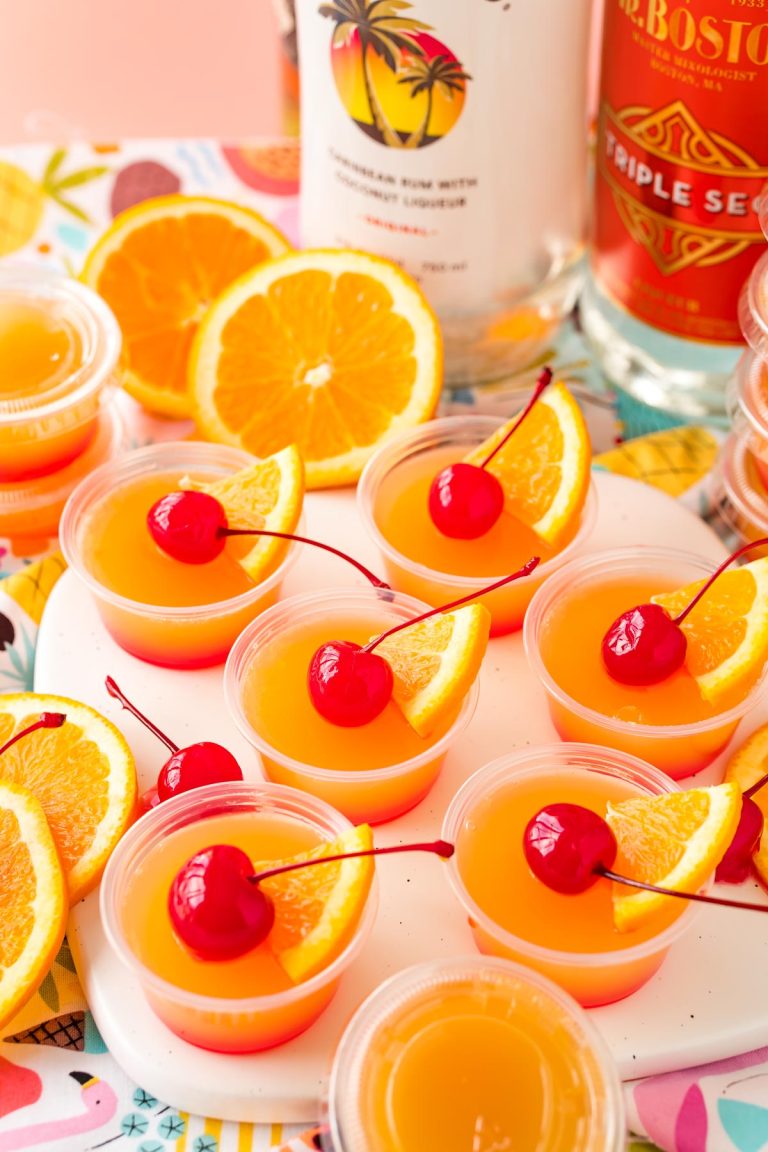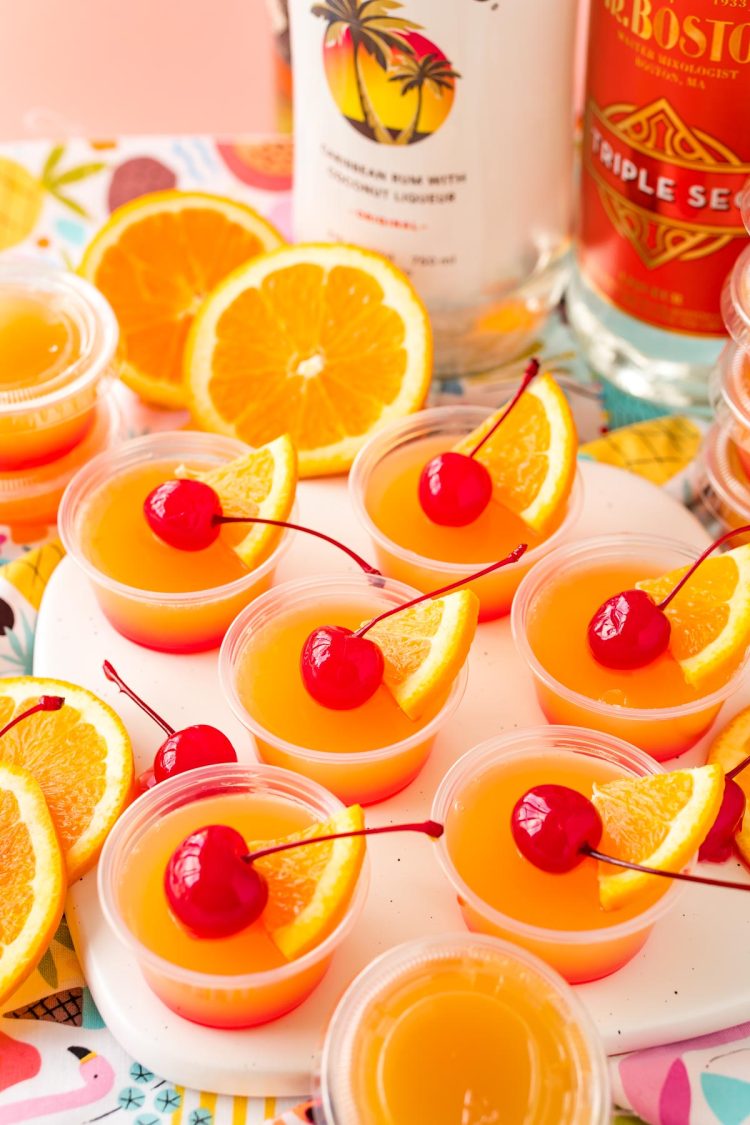 Mai Tai Jello Shots
Pin For Later
CLICK THE BUTTON ABOVE TO SAVE THIS DELICIOUS RECIPE TO YOUR BOARD!
👋 Let's Connect!
If you've tried this recipe, please let me know how you liked it in the comments below and leave a review; I love hearing from you! And don't forget to tag me – @sugarandsoulco – on Instagram and Pinterest with your photos or join our Busy Family Recipes Facebook Community and share them there!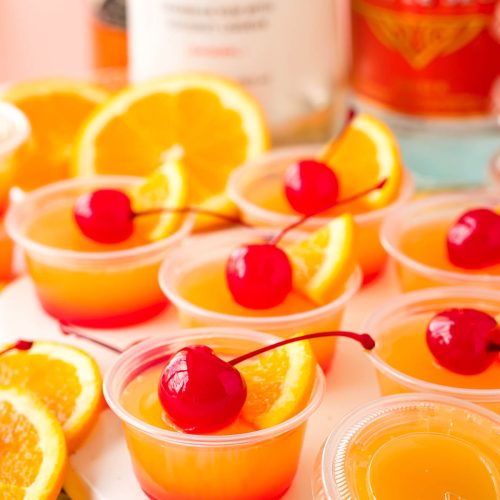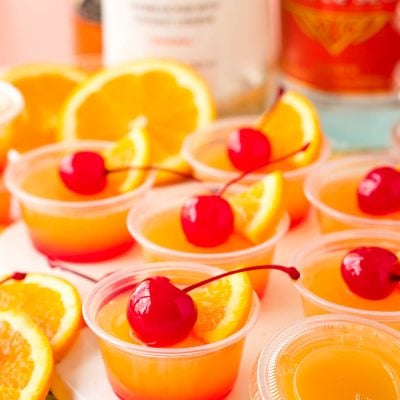 Mai Tai Jello Shots
Mai Tai Jello Shots takes all the classic Mai Tai ingredients and turns them into a fun, tasty Jello shot that's perfect for your next party! Only 10 minutes of prep time is needed to make over a dozen!
Instructions
Whisk together gelatin and 2 ounces of pineapple juice in a large heat-safe mixing bowl and let sit so the gelatin can bloom.

2 tablespoons unflavored gelatin,

6 ounces pineapple juice

Heat the remaining pineapple juice and the orange juice in a pot until just barely simmering, remove and pour into the bowl with the gelatin mix and whisk until combined.

6 ounces pineapple juice,

6 ounces orange juice

Whisk in the rums, triple sec, and orgeat syrup, and pour the mixture into 18 2-ounce sized plastic cups on a baking sheet. Do not fill to the brim, leave room for the grenadine and lid.

5 ounces spiced rum,

5 ounces coconut rum or white rum,

2 ounces triple sec,

1.5 ounces orgeat syrup

Use a measuring spoon to add ½ teaspoon of grenadine to each cup, pouring it slowly near the edge so that it settles to the bottom to create a layer.

1.5 ounces grenadine syrup

Place jello shots in the refrigerator to set for 1.5 to 3 hours.

Add a maraschino cherry just before serving.
Notes
Final Amount Varies – The amount of shots recipe makes will vary based on the size of the cup you use and how full you fill it.
Skip The Molds – In my experience, fun shaped silicone molds aren't the best and you usually have to use cooking spray with them for jello shots which makes them kind of gross.
Don't Overfill – If you're not planning on serving these right after they set and are storing them in the fridge for a few days, make sure to leave room at the top for the lid.
Mini Baster – This is actually the cleanest and easiest way to fill up your shot glasses. I love this mini baster!
Measuring Cup – I have found that a small measuring cup also works great for distributing the shots into the cups. I really like this cup because it has a nice spout for easy, no mess pouring.
Cookie Sheet – The easiest way to transport from the counter to the refrigerator after filling is by arranging the cups on a cookie sheet.
Shelf Life – They should be consumed within 1 week of being made.
Nutrition
Calories:
94
kcal
Carbohydrates:
7
g
Protein:
1
g
Fat:
1
g
Saturated Fat:
1
g
Sodium:
3
mg
Sugar:
7
g