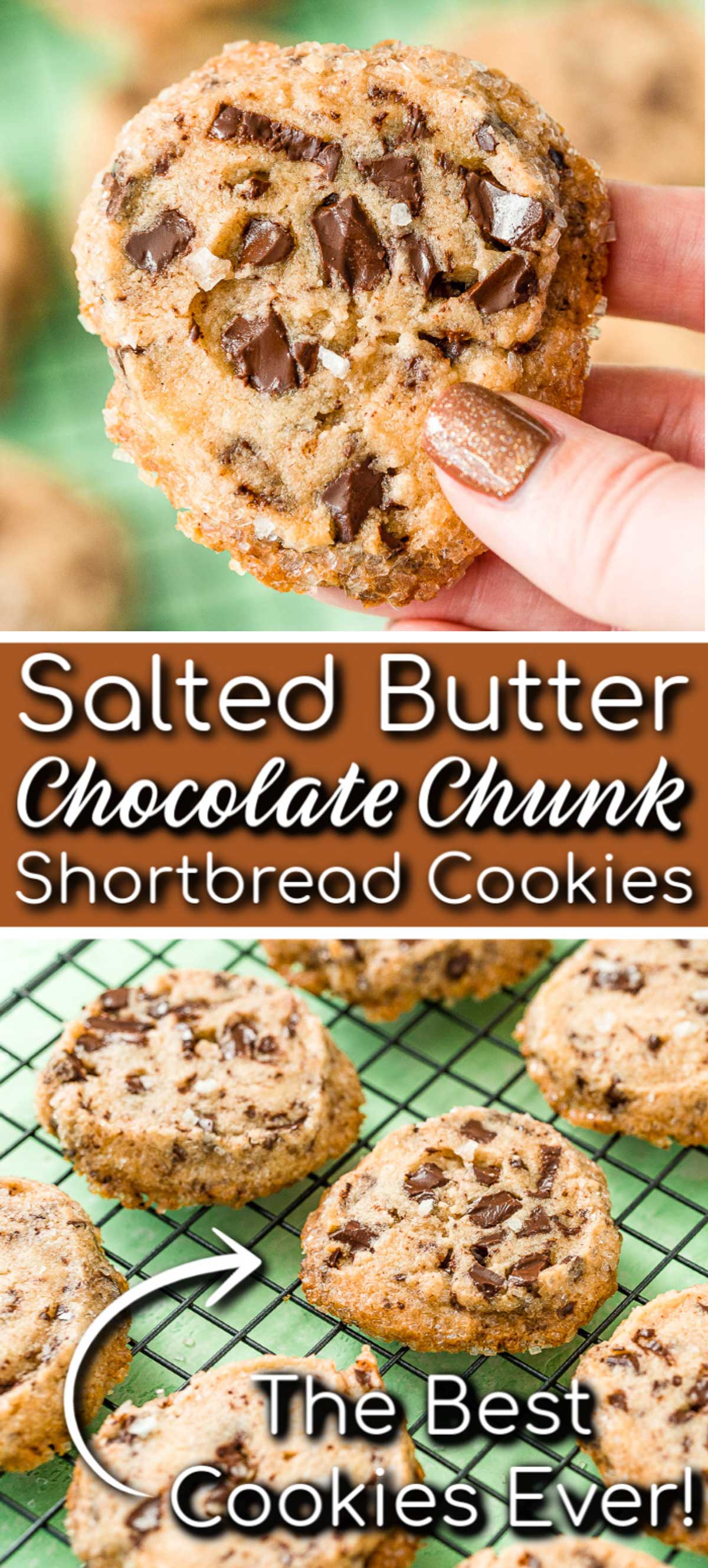 Salted Chocolate Chunk Shortbread Cookies took the internet by storm with their delicious sugar crust and crisp texture laced with chocolate and sprinkled with flaky sea salt!
Also known as "The Cookie(s)", these Shortbread Cookies are made with just seven ingredients, are egg and nut-free, and are a nice break from traditional Chocolate Chip Cookies.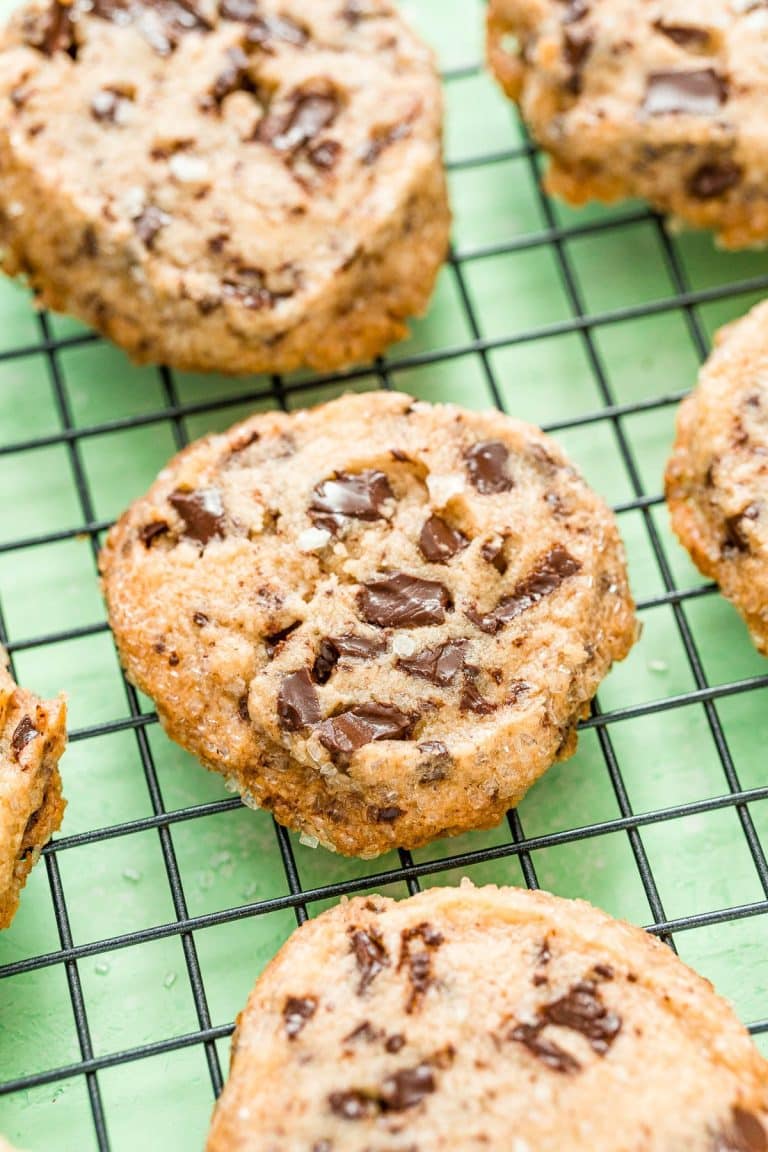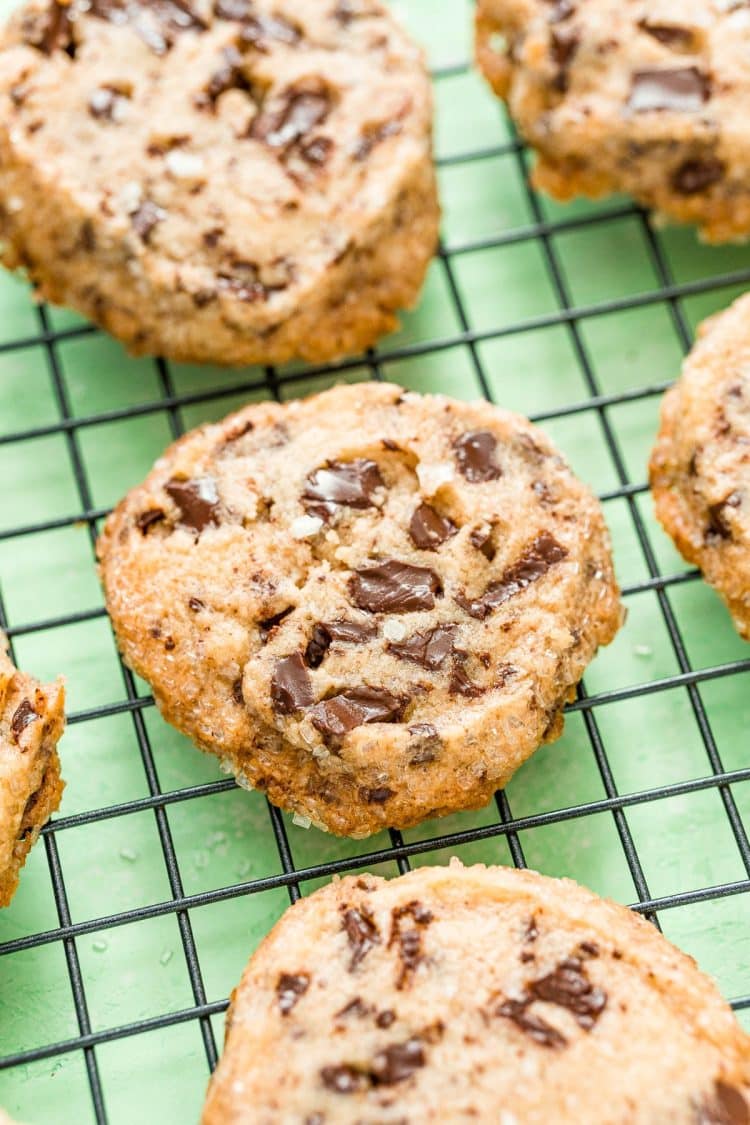 When these Alison Roman cookies nearly broke Instagram a couple of years ago and of course, I had to see what the fuss was all about!
The original recipe can be found in her cookbook, Dining In. But after making and trying, I made some changes to her recipe that I think makes it even easier – and dare I say better?
How To Make Chocolate Chunk Shortbread Cookies
Step 1: Begin by creaming together the butter, sugar, and vanilla paste in an electric mixer on medium speed for 5 minutes. Scrape down the sides of the bowl as needed.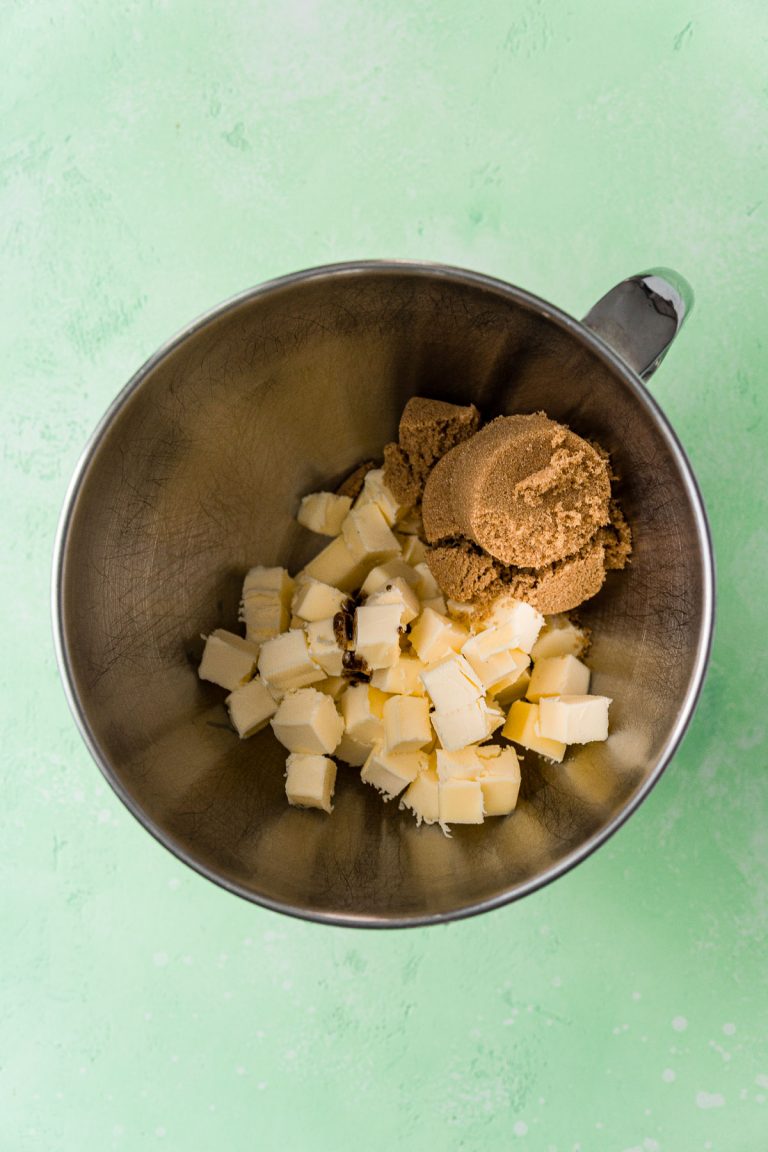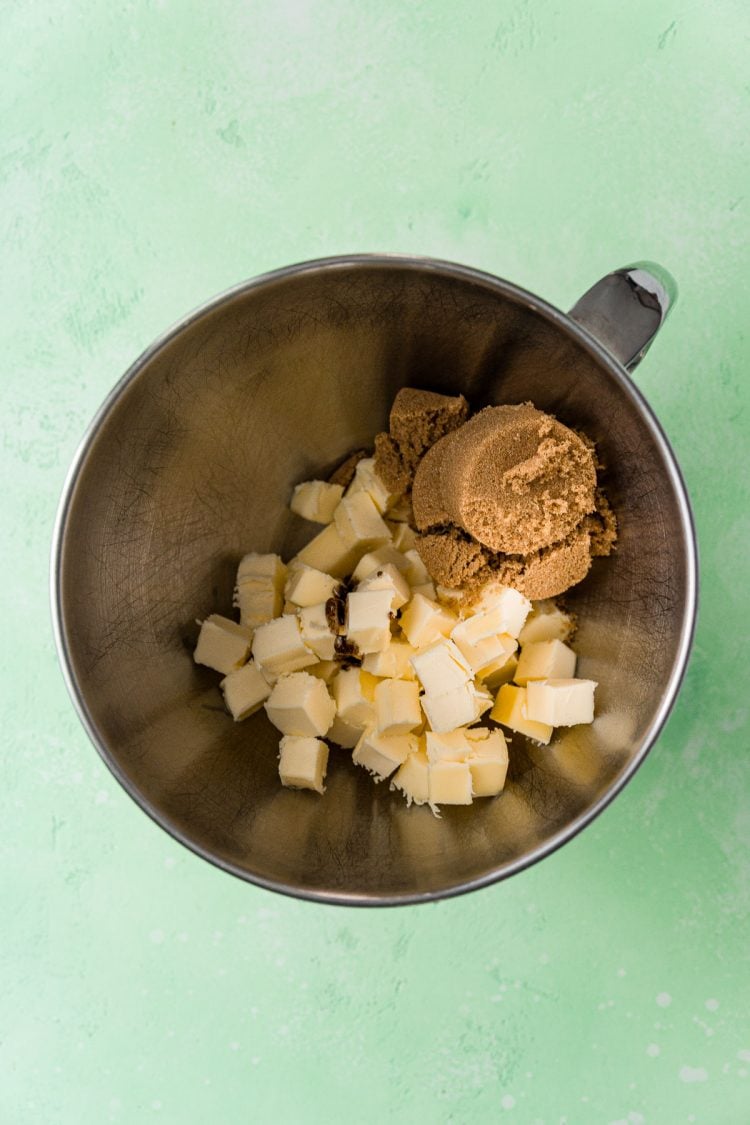 Step 2: The, with the mixer on low speed, slowly add the flour and mix just until blended. The dough will look a bit lumpy, this is normal. See the photo for reference.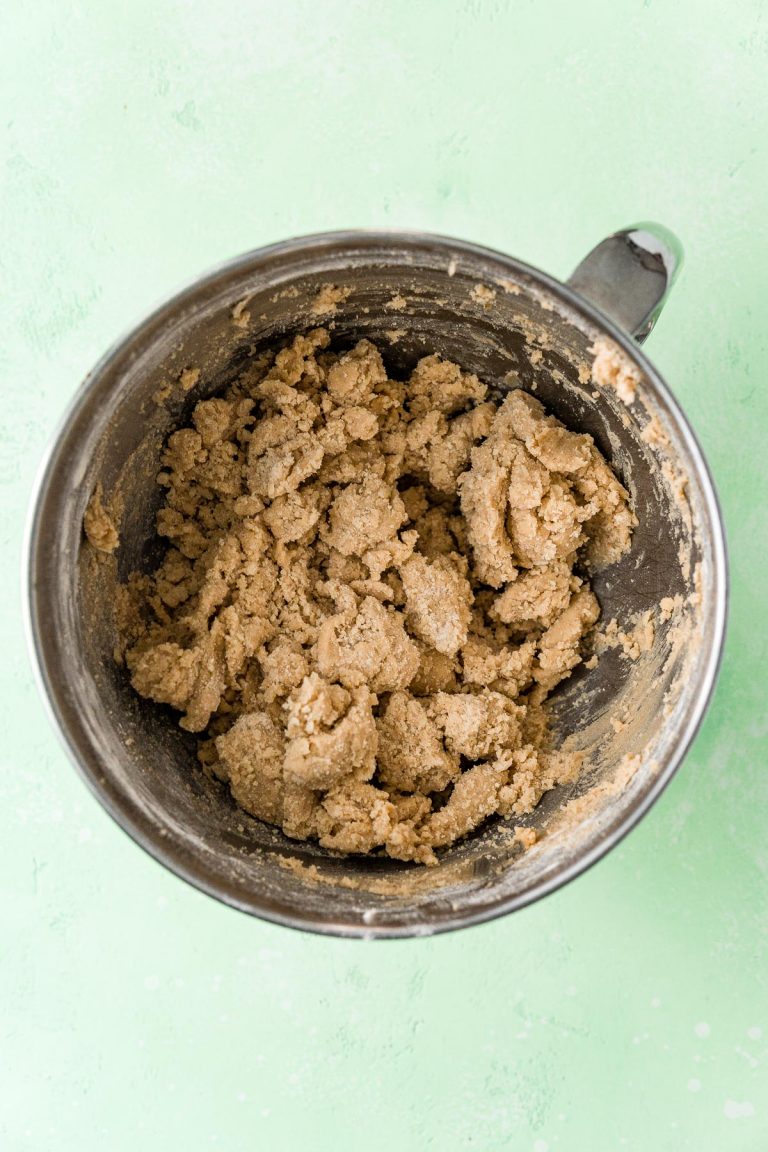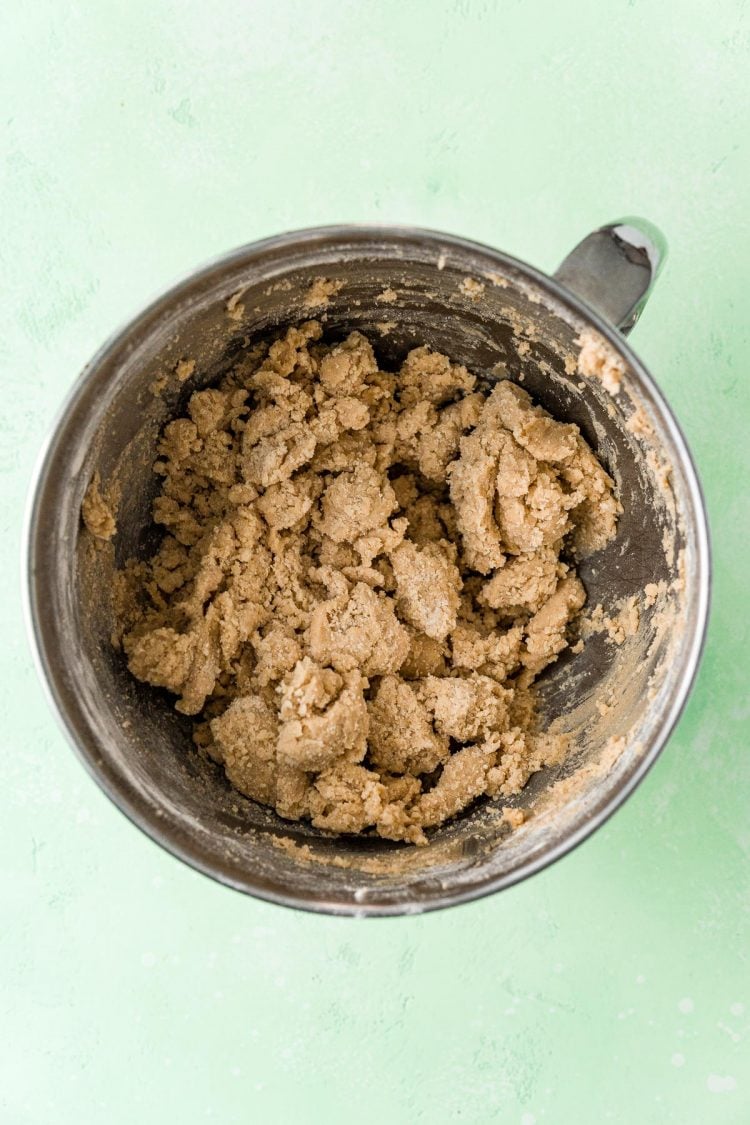 Step 3: Fold in the chopped dark chocolate just until combined.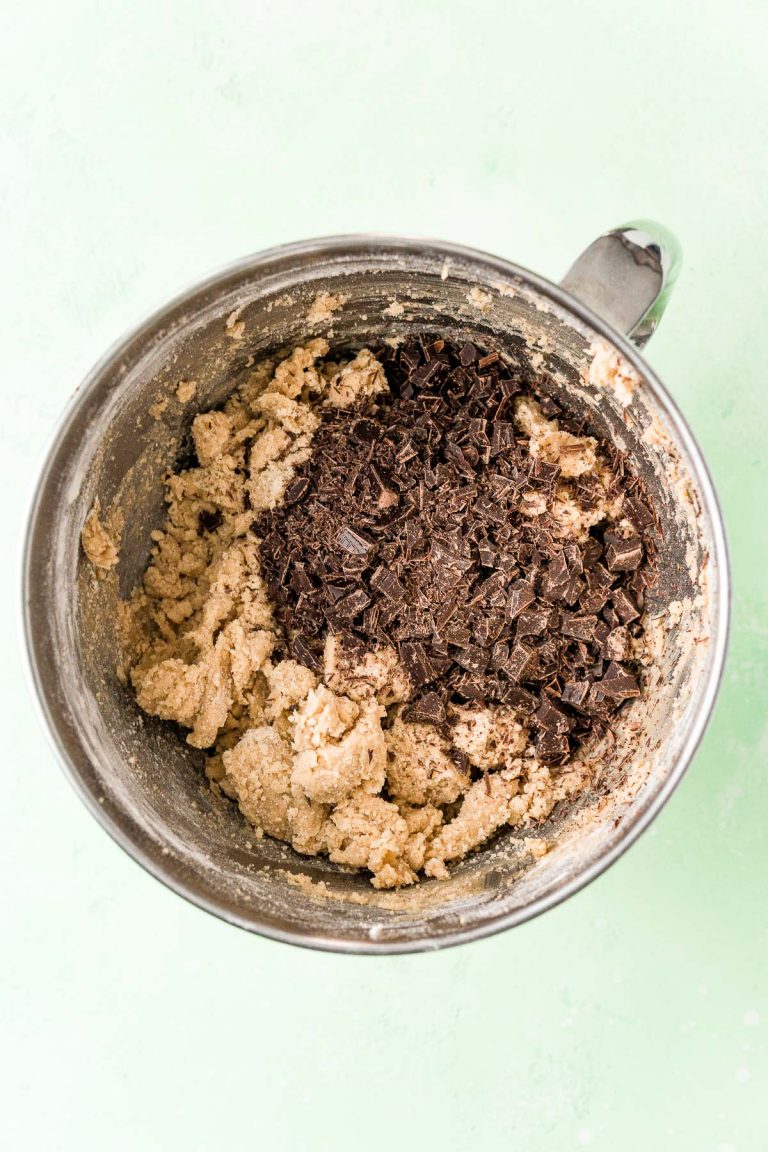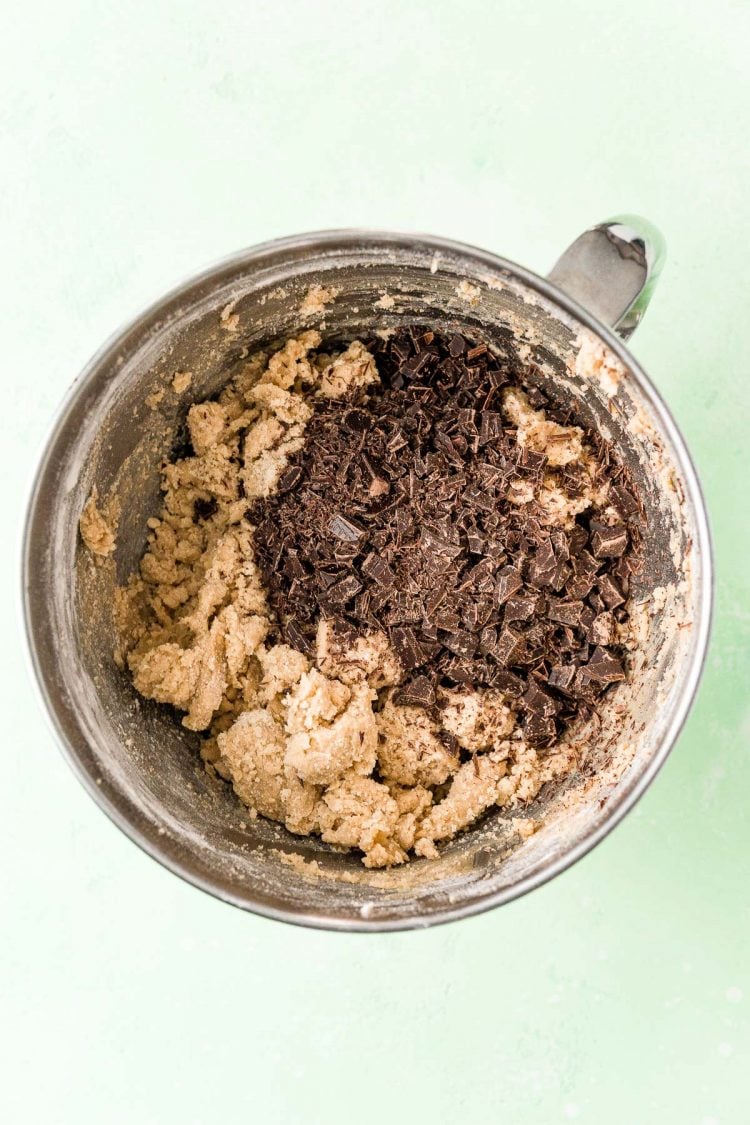 Step 4: Divide the dough in half on two large pieces of parchment paper.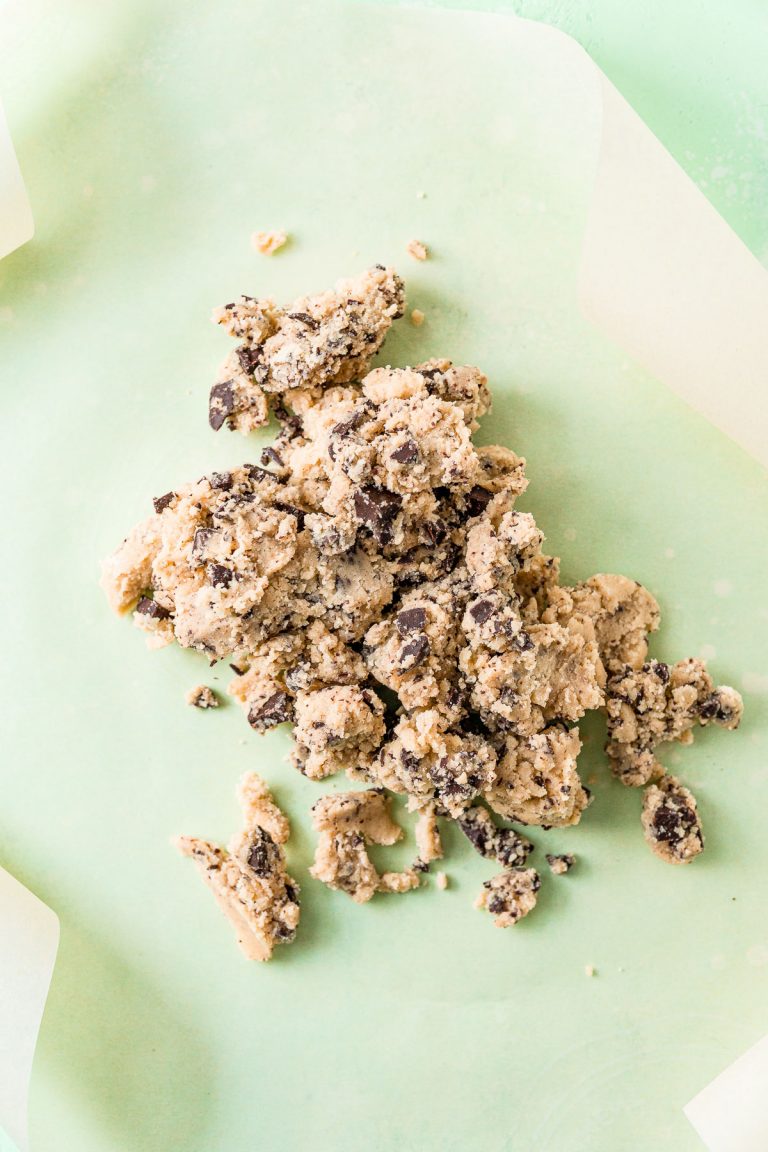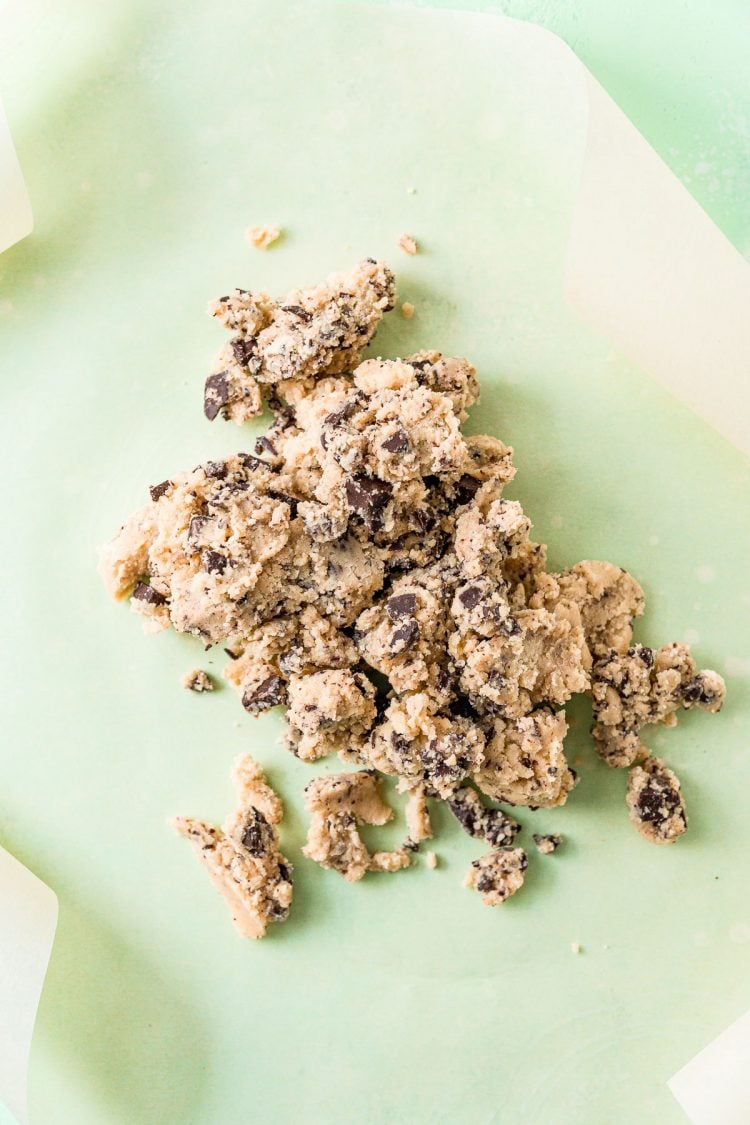 Step 5: Use your hands form the dough into a log. You can use the parchment to help you roll and round out the log.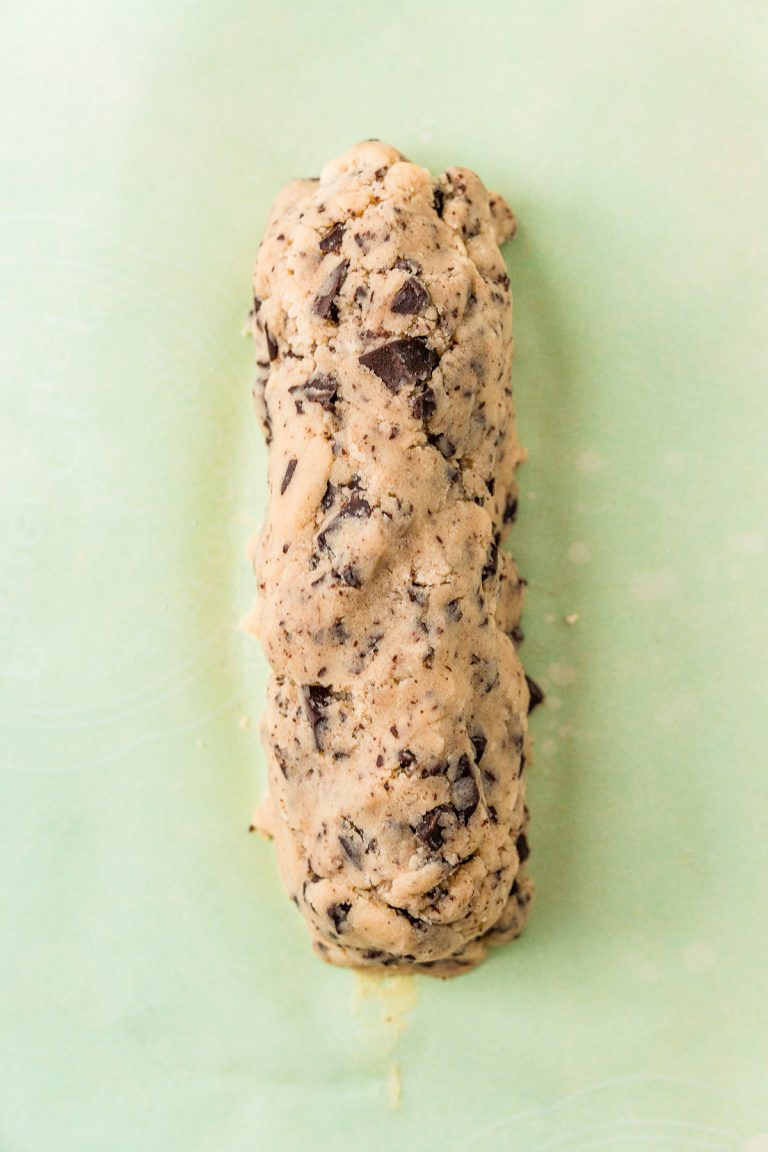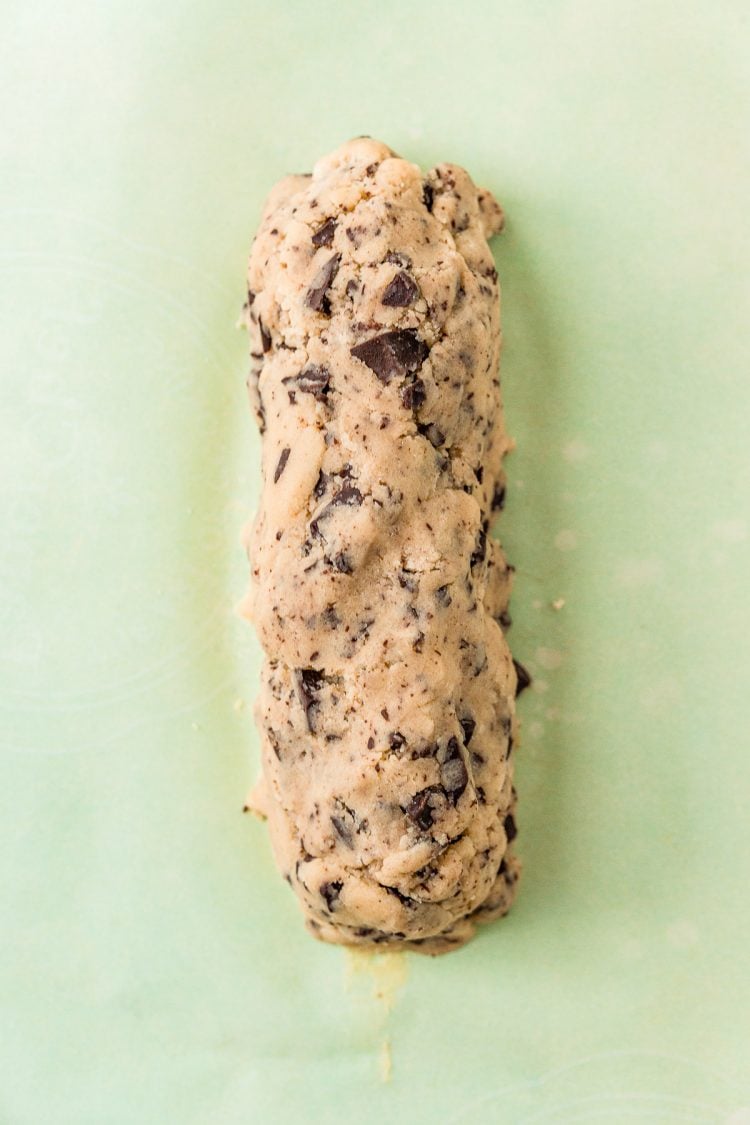 Step 6: Sprinkle about ¼ cup of coarse sparkling sugar on each of the parchment papers and roll the logs in it.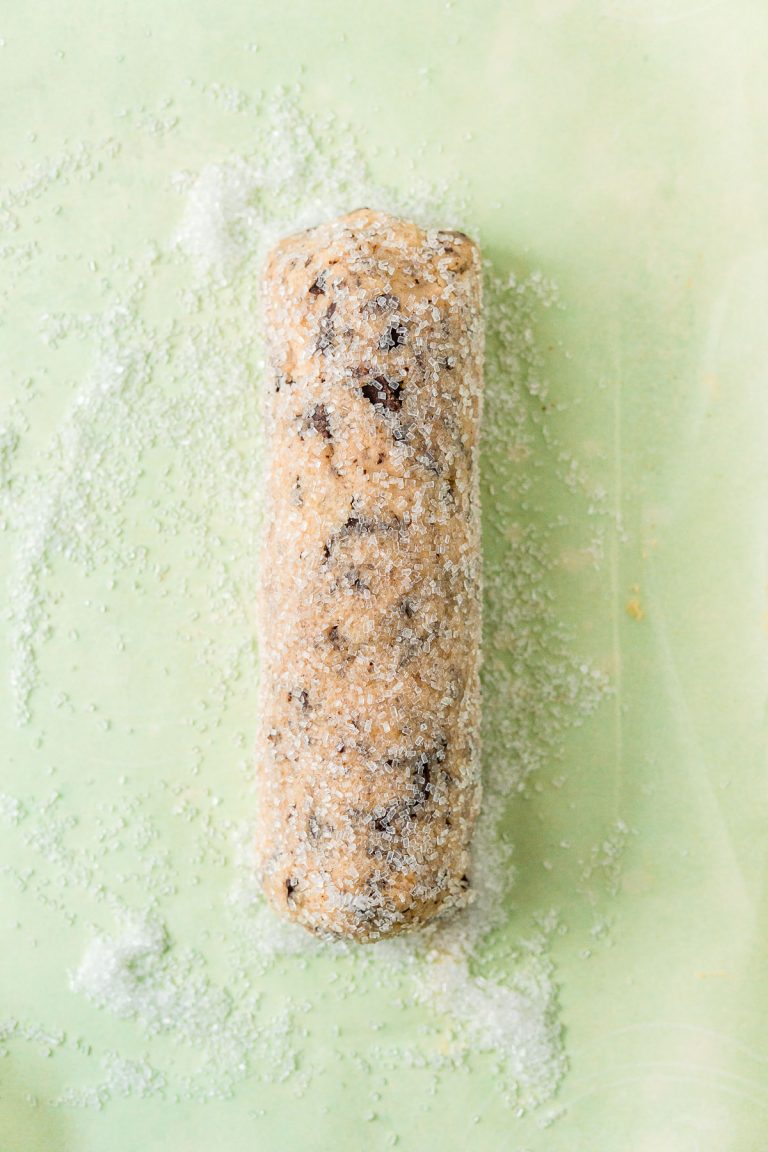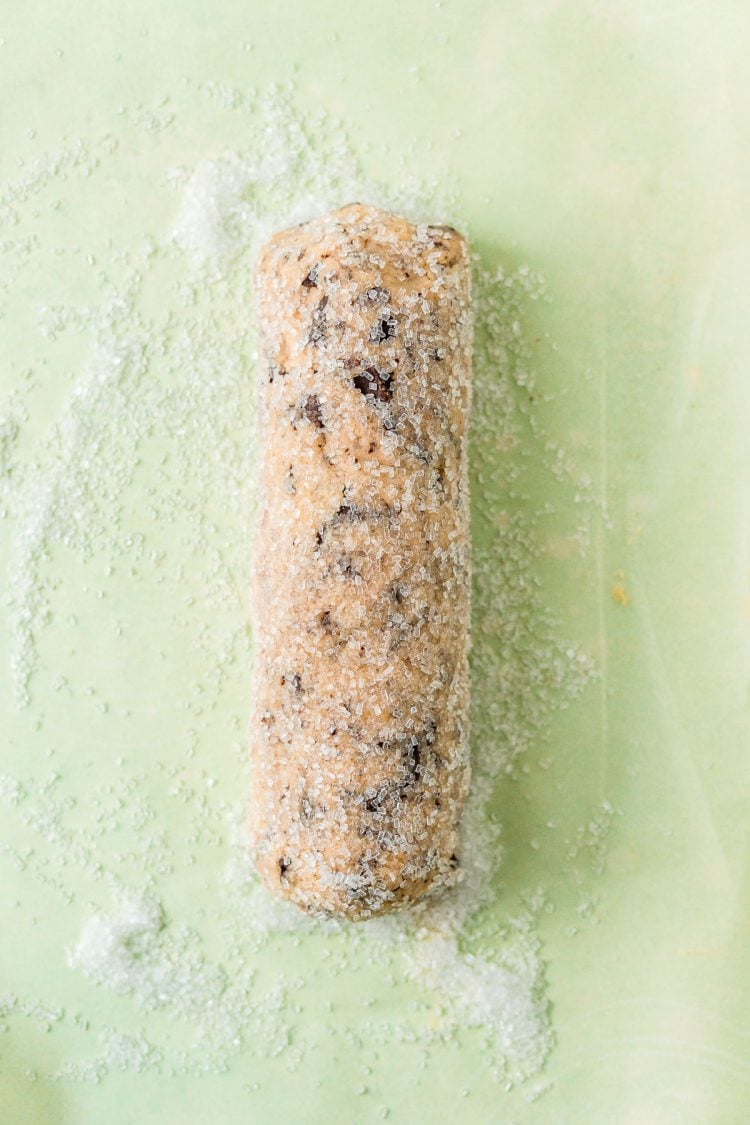 Step 7: Roll the cookie dough logs up in the parchment paper and chill until totally firm, about 2 hours. You want to chill the dough to reduce spreading while baking.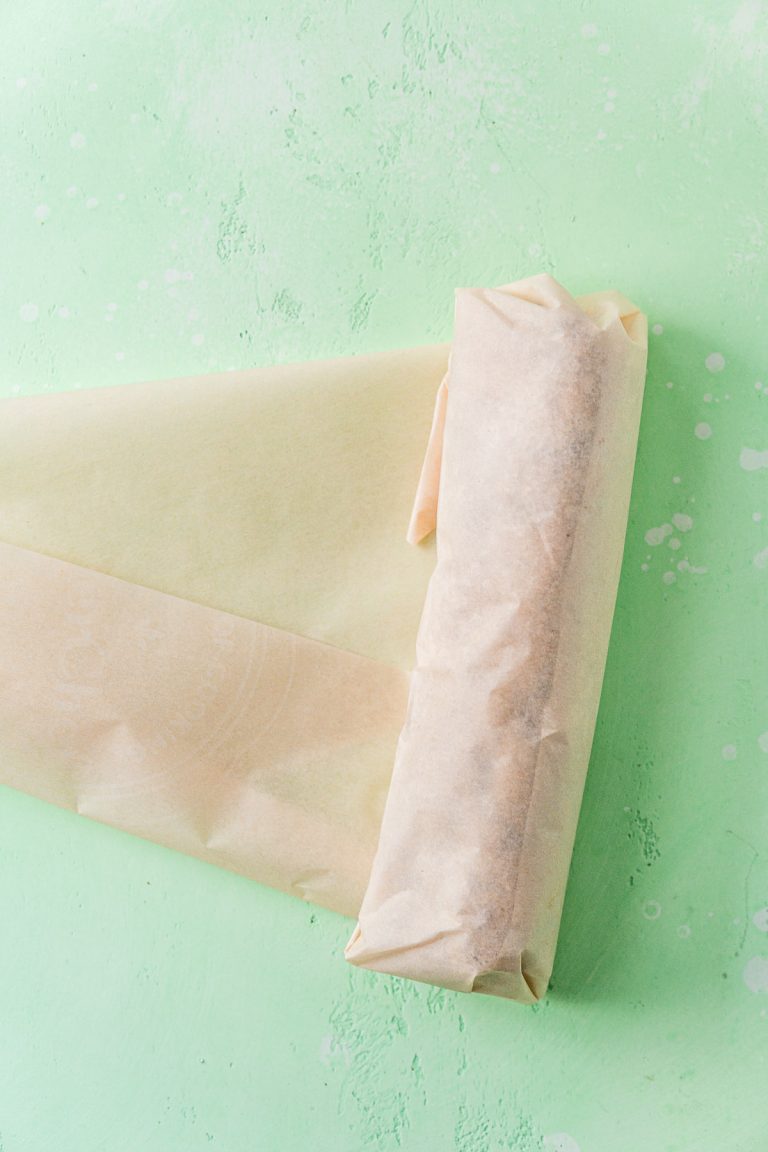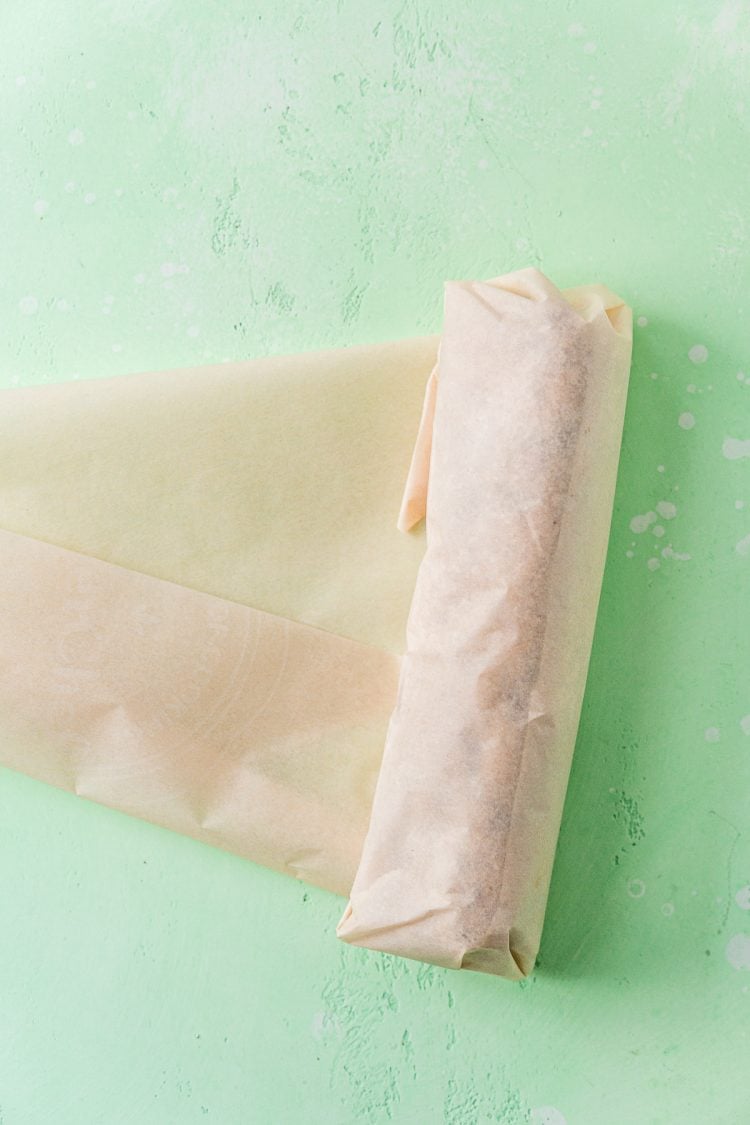 Step 8: After the dough has chilled, unroll and slice each log into 12 even slices. Use a very sharp or a serrated knife to slice. The slices might break apart slightly, gently use your hands to press them back together. They will still bake up beautifully.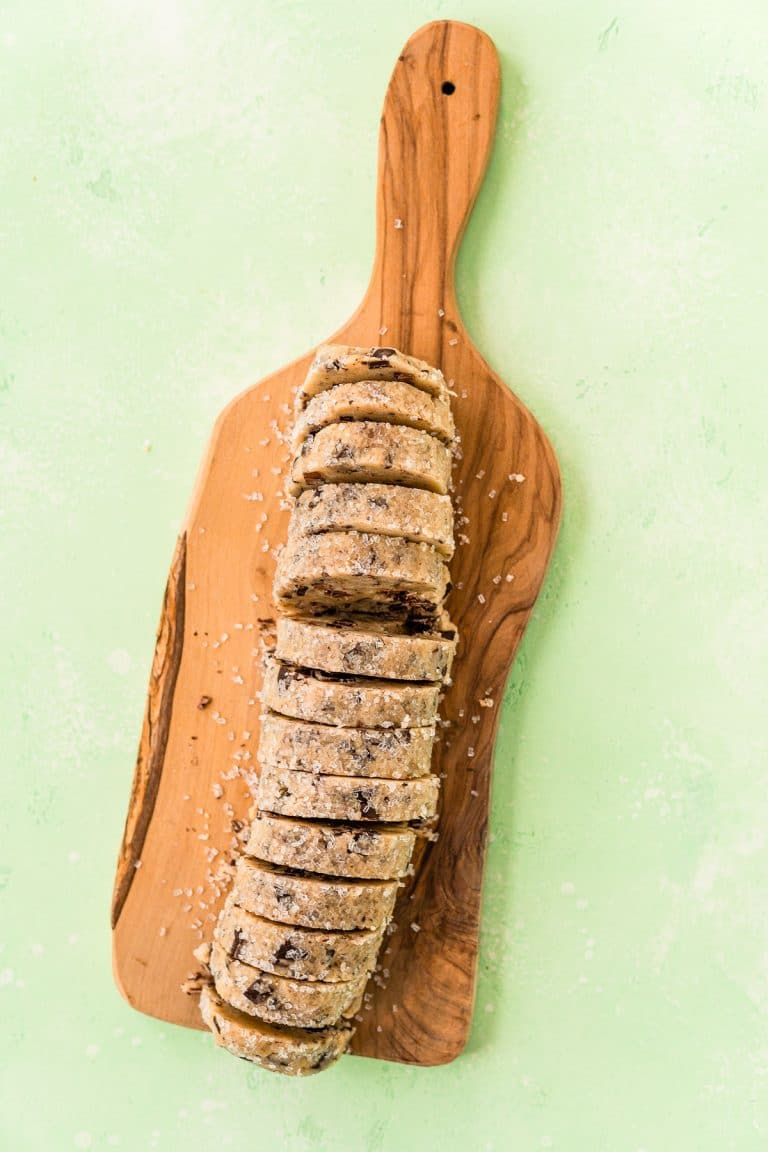 Step 9: Preheat the oven to 350 degrees. Arrange the cookies on a parchment-lined baking sheet about 1 inch apart (these cookies don't really spread) and sprinkle with flaky sea salt.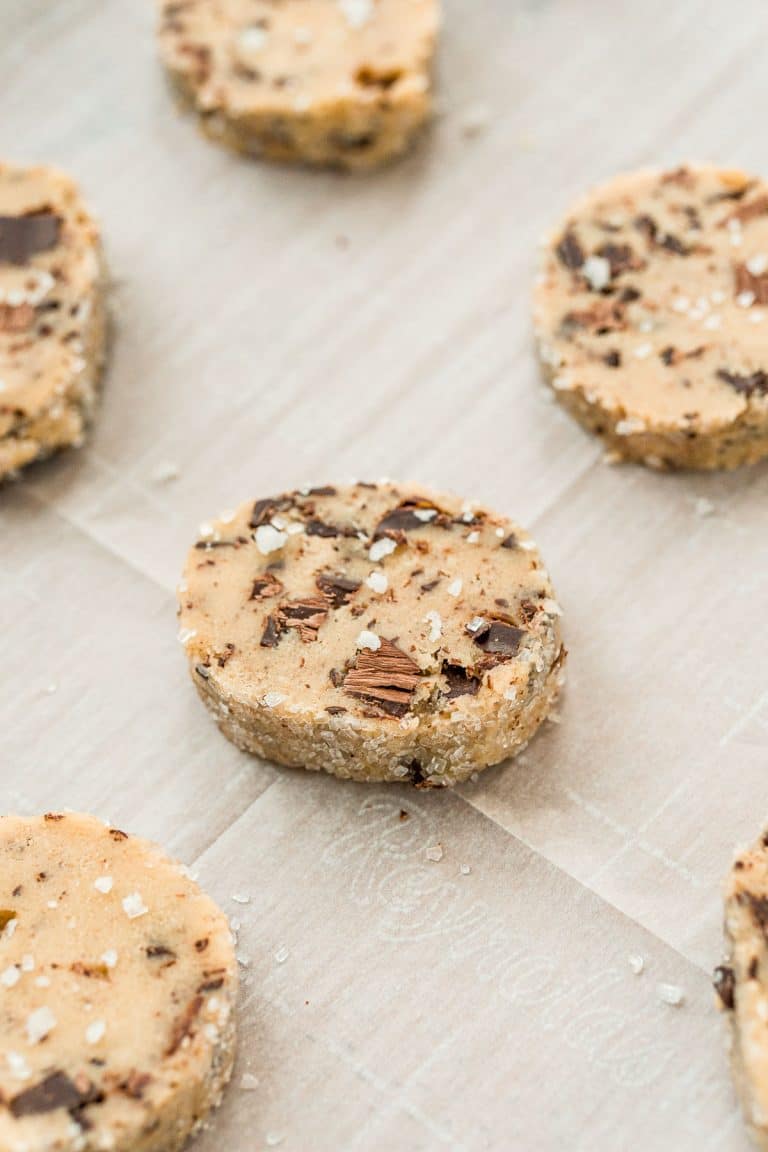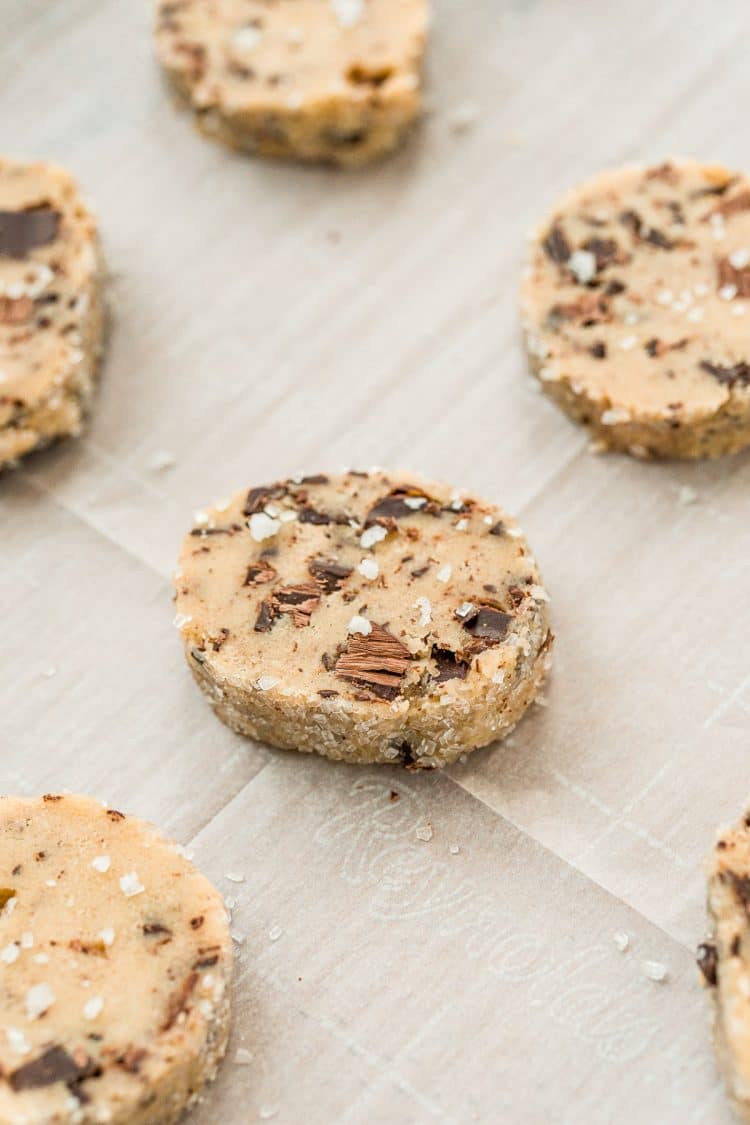 Step 10: Bake for 12 to 15 minutes until the edges are golden brown and the chocolate in the center is shiny.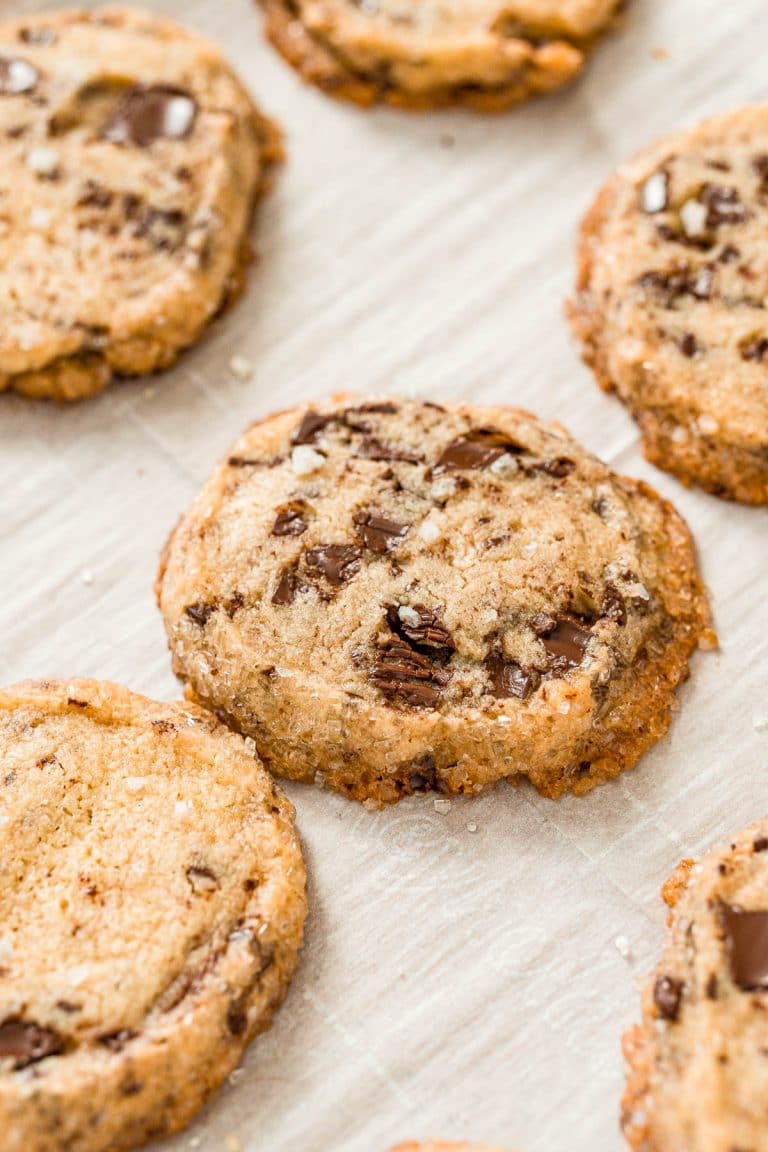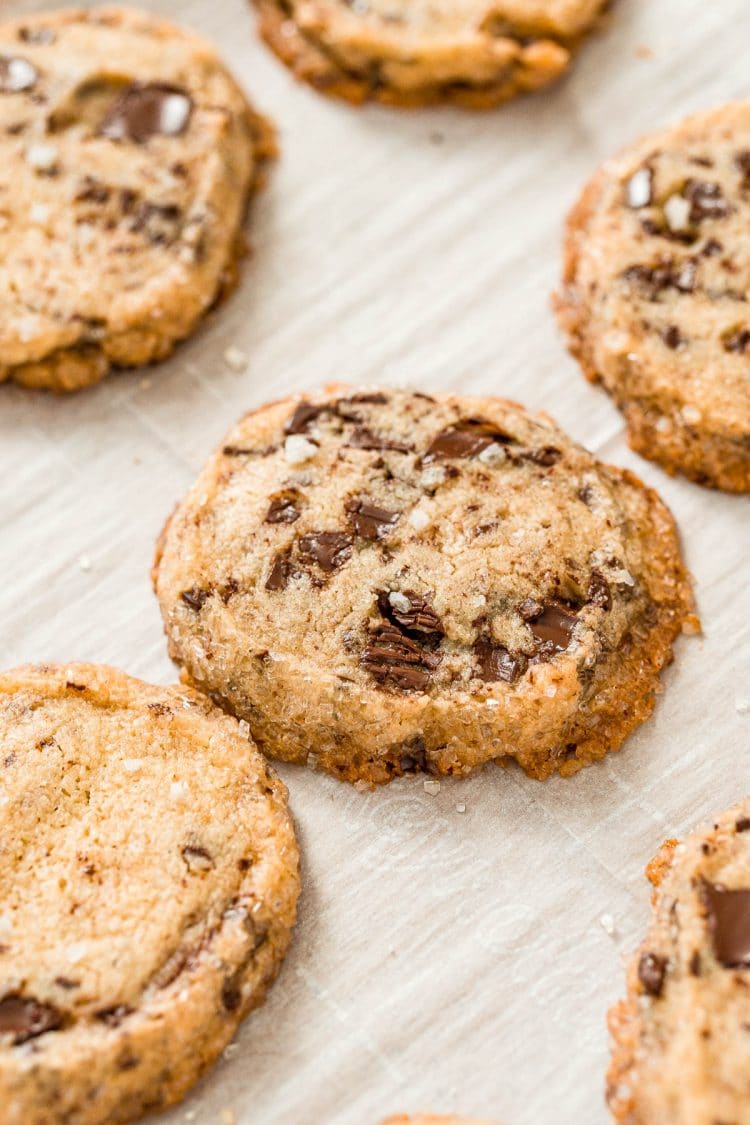 As I mentioned above, my version of the Salted Chocolate Chunk Shortbread Cookies has a few changes to the original recipe.
What's Different About My Version:
All Brown Sugar – I'm a huge fan of brown sugar and since this is a chocolate chip cookie recipe, I thought it was worth going all-in on the brown sugar and omitting the granulated sugar. I love the deep flavor it adds to these cookies. And the hint of molasses pairs perfectly with the salt and chocolate.
Less Flour – One of the biggest complaints about these cookies in reviews across the internet was that the cookie dough was too crumbly to work with even after excessive mixing. I found this to be the case as well when I first tried them. So this recipe has slightly less flour in it.
Vanilla Paste Instead of Vanilla Extract – You don't have to make this change, but I really love the extra vanilla flavor this adds to the cookies. Vanilla Bean Paste is one of my favorite baking items!
No Egg – If you roll the logs of dough in sugar before chilling, you can completely eliminate the egg wash. Plus, I think the sugar sticks better this way. You do lose some of that extra crispiness on the edge of the cookie, but it's still there.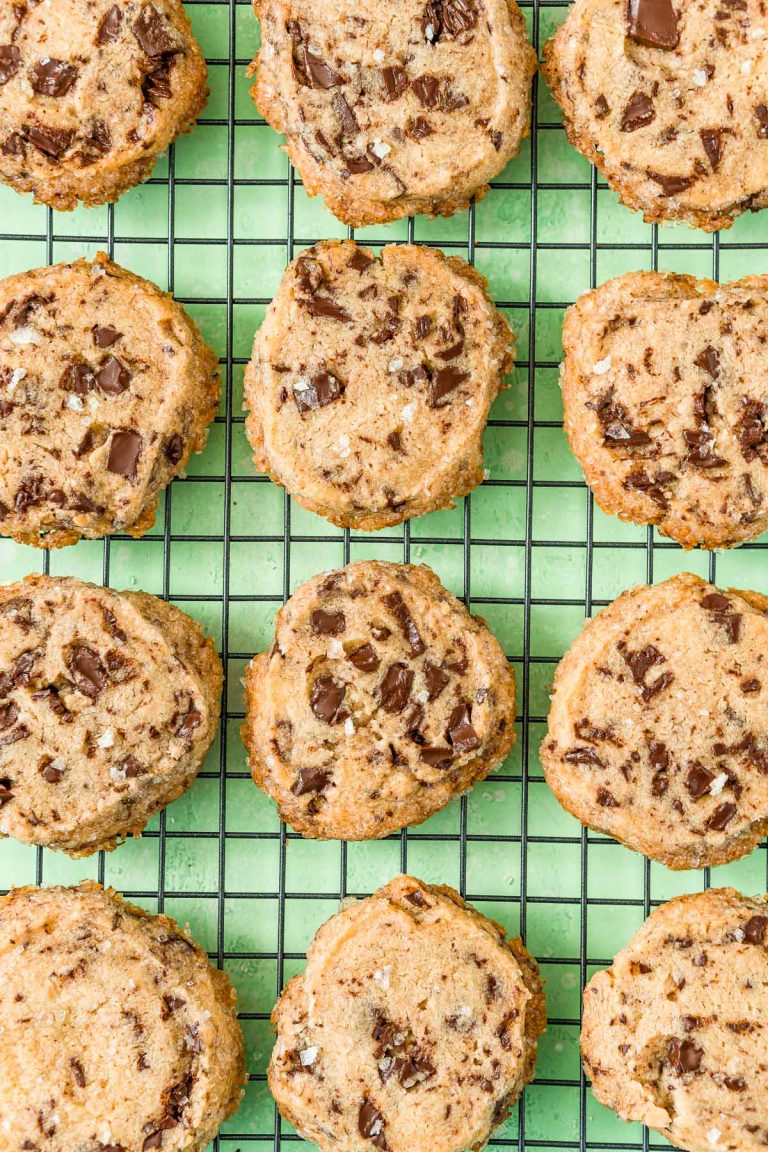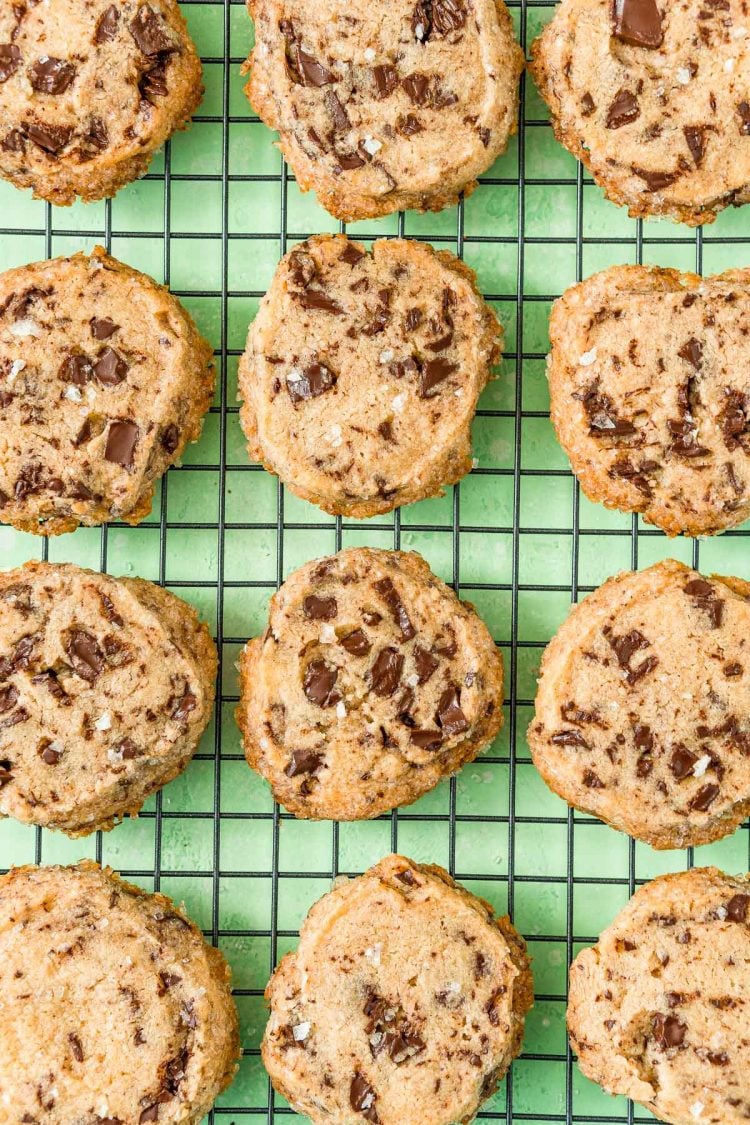 These Salted Chocolate Chunk Shortbread Cookies are unlike any shortbread cookie you've had before and I promise they're worth the wait and the extra bit of work!
How Long Do They Last?
The honest answer is hours… because as soon as you eat one, you won't be able to stop. Plus, this makes a small batch, just two dozen cookies total. Most of the cookie recipes on my site make at least three dozen.
Baked Cookies: The cookies are good for about 5 days stored in an airtight container.
Unbaked Dough: The cookie dough can be prepared up to 1 week in advance. Store tightly wrapped in plastic wrap or an airtight container in the refrigerator. I just put my parchment wrapped logs in a large Ziploc bag.
Frozen Dough: To freeze, wrap the dough in plastic wrap or place parchment wrapped logs in a freezer bag for up to 1 month. Allow the dough to thaw in the fridge before slicing and baking.
Frozen Cookies: To freeze, allow cookies to cool completely after baking. Then transfer to a freezer bag and squeeze out any excess air before freezing for up to 3 months.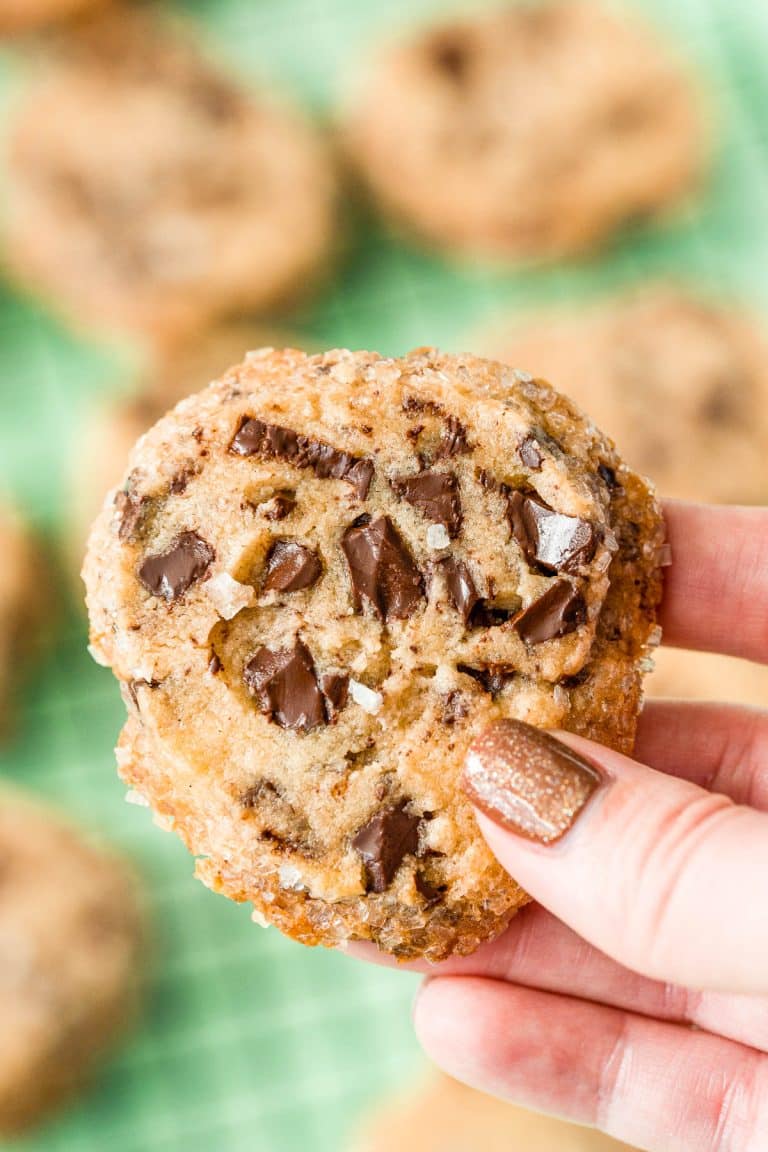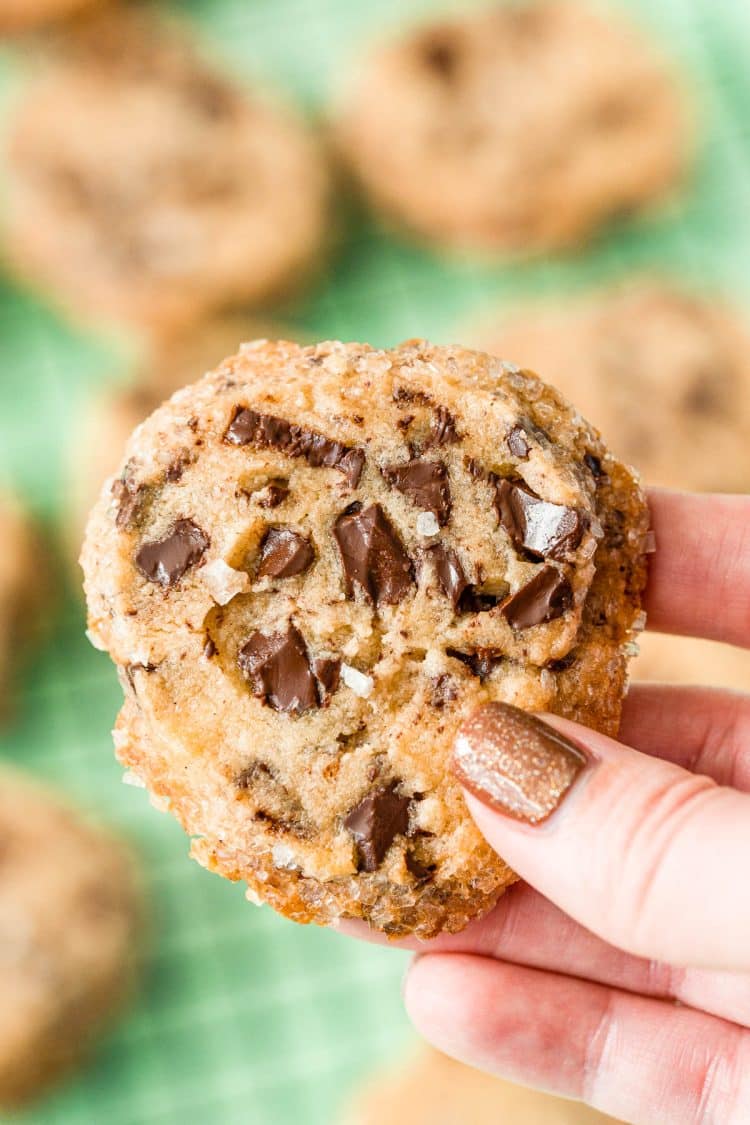 More Delicious Cookie Recipes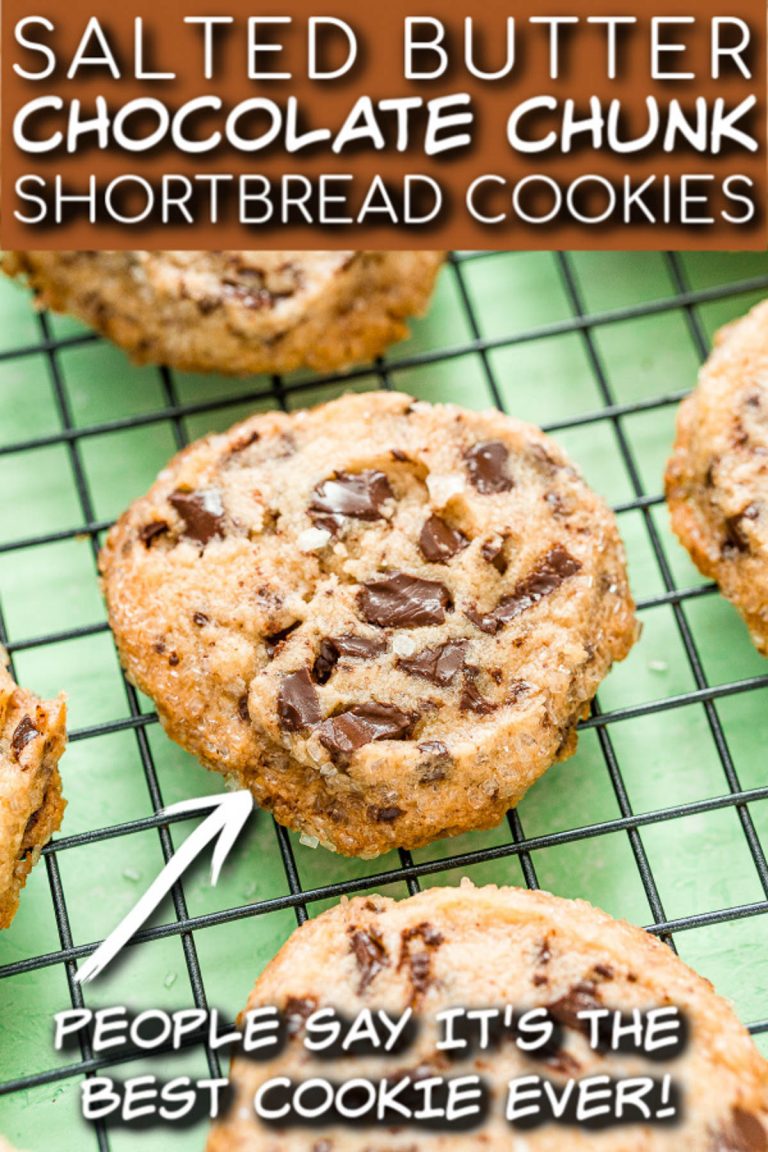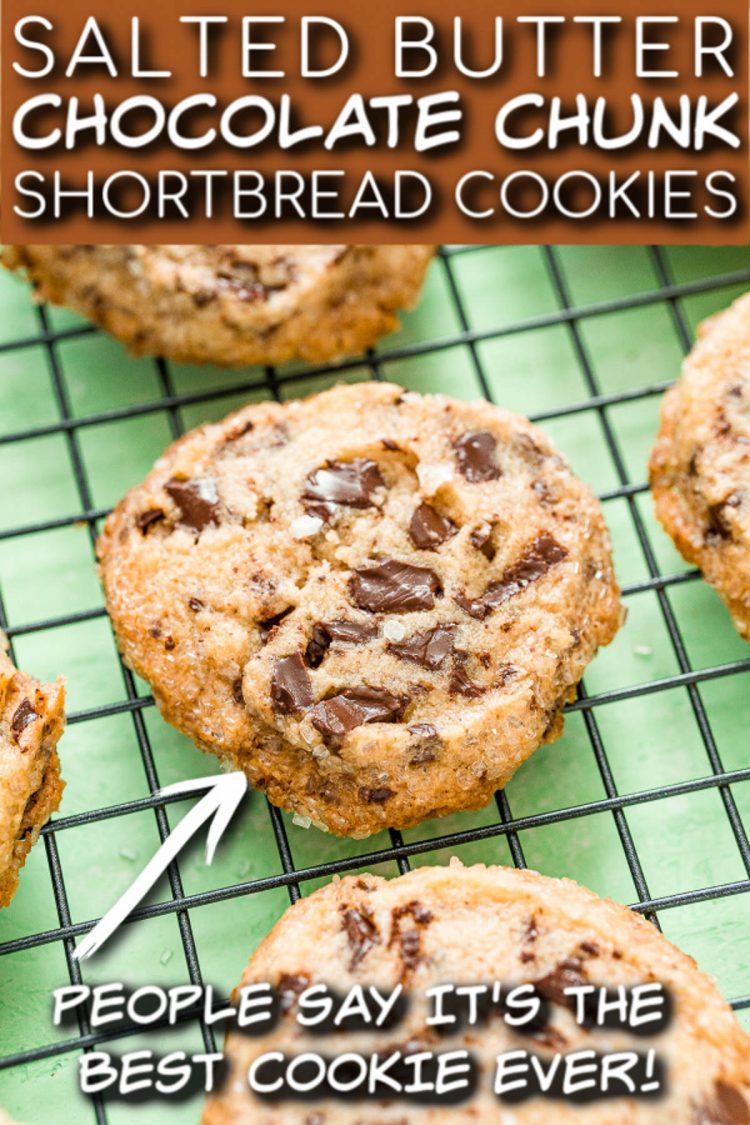 👋 Let's Connect!
If you've tried this recipe please let me know how you liked it in the comments below, I love hearing from you! I've also created a fun group on Facebook and I'd love for you to join in! If you'd like to check it out, you can request to join HERE. You can also Subscribe to my Newsletter so you never miss a delicious recipe again!