Berry Shortcake Cookies have a soft, tender cookie that's topped with silky cream cheese frosting and macerated berries! Prep two dozen cookies in just 30 minutes!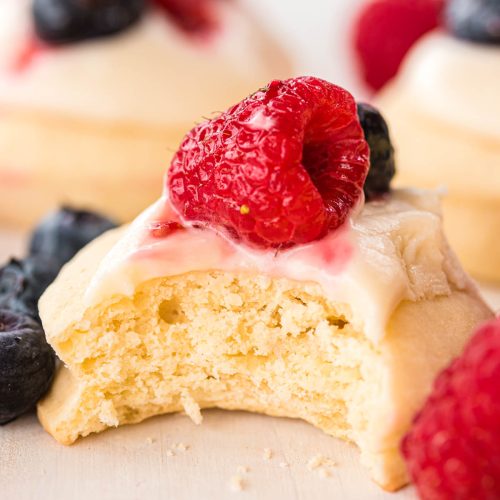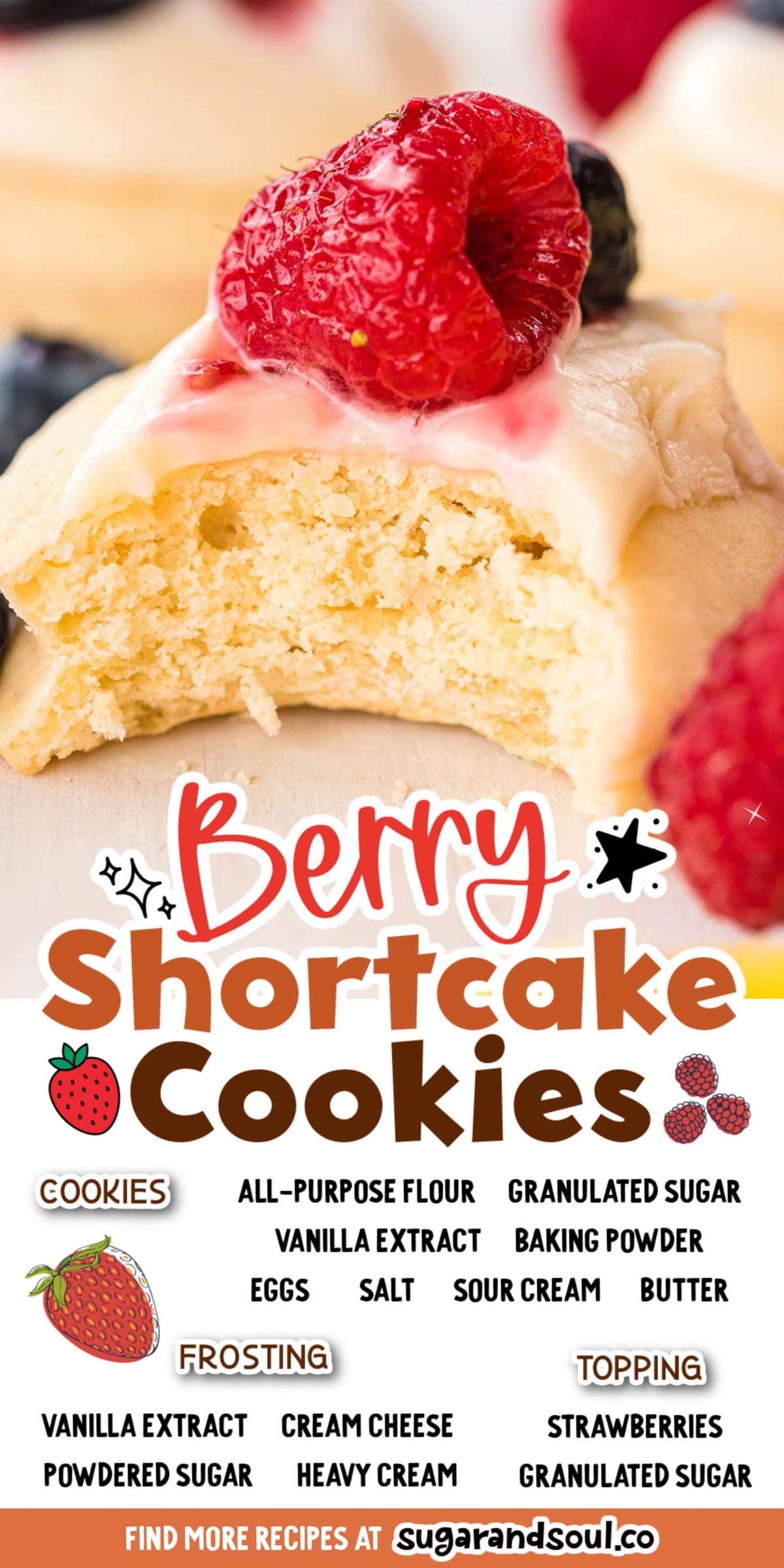 Berry Shortcake Cookies have a soft, tender cookie that's topped with silky cream cheese frosting and macerated berries! Prep two dozen cookies in just 30 minutes!
Nothing says Summer quite like a dessert packed with delicious strawberry flavor! This is why I also love these Strawberry Blondies and Strawberry Cheesecake Bars!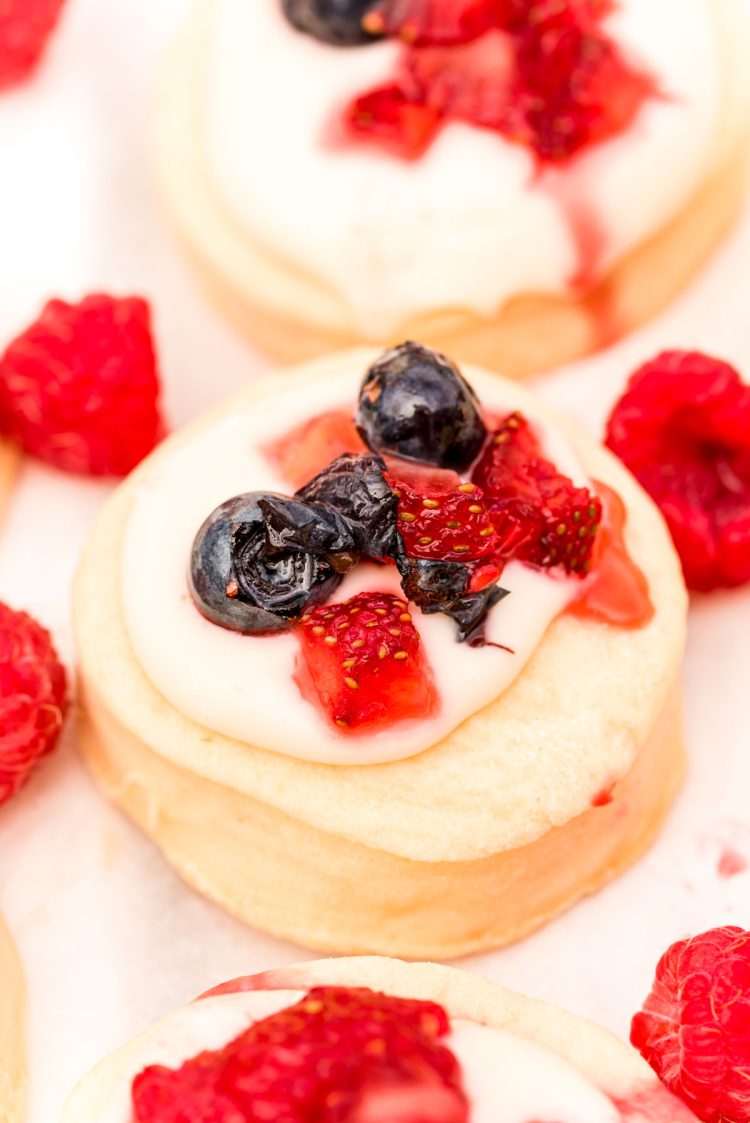 These Berry Shortcake Cookies are a tasty spin-off from the classic Strawberry Shortcake Dessert that we all love! They have a soft, tender texture, sweet frosting, and an explosion of fruity, berry flavor that will have you reaching for seconds!
The delicious cookies make the best dessert at cookouts, graduation parties, and all those summertime family gatherings. Plus – with berry season upon us, we all could use a new tasty recipe for all of our freshly picked berries!
To get your first taste of a cookie all you need are easy ingredients and your choice of berries!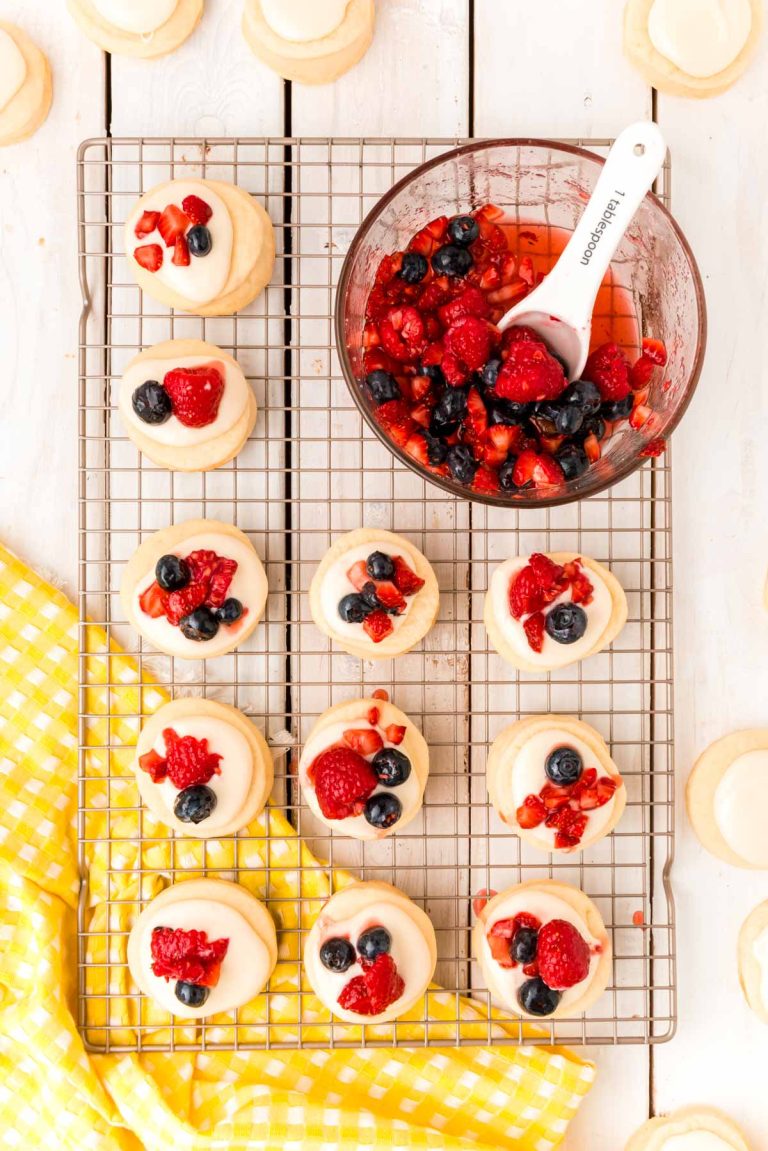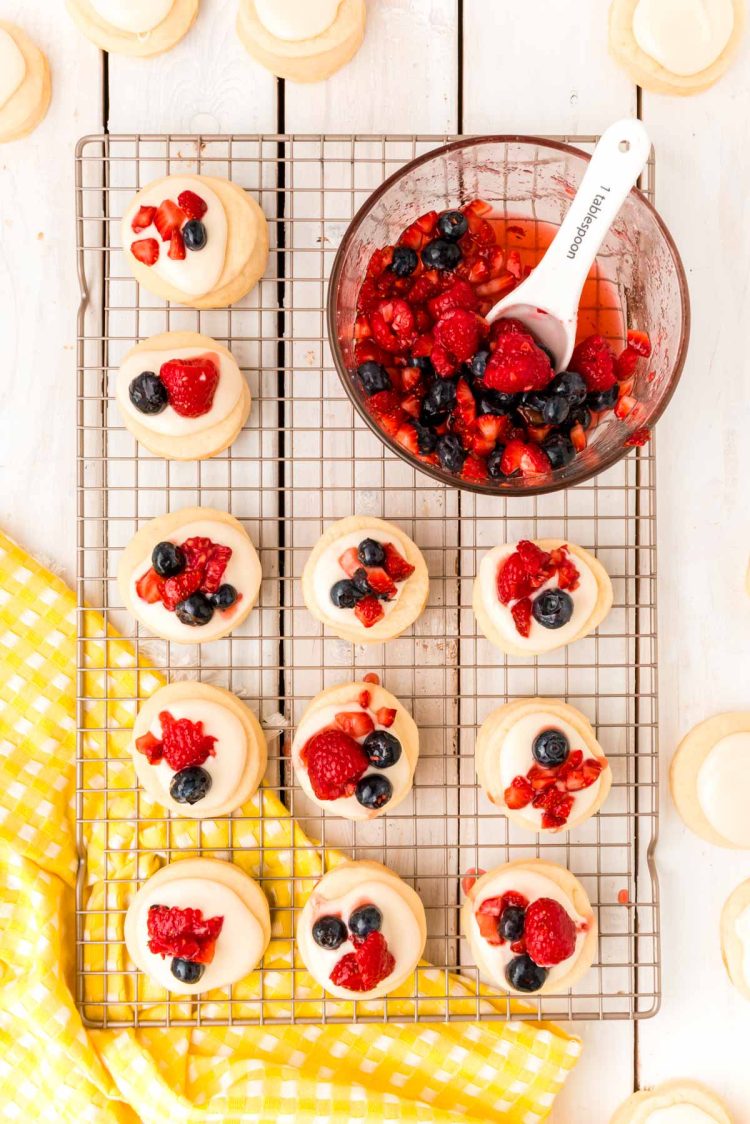 Ingredient Notes
These soft, fruity cookies come together in no time by preparing just three easy parts! The tender cookies, fluffy frosting, and the sweet berry topping!
The base of the cookies is made with pantry staple ingredients such as all-purpose flour, baking powder, salt, granulated sugar, and vanilla extract. Then to finish off the dough you'll need unsalted butter, eggs, and sour cream.
While the cookies are baking the macerated berries are prepared. All that's needed for this part are your choice of berries and granulated sugar.
Afterward, the frosting is whipped together using cream cheese, vanilla extract, powdered sugar, and heavy cream. Once all three delicious parts are completed the cookies are assembled and enjoyed!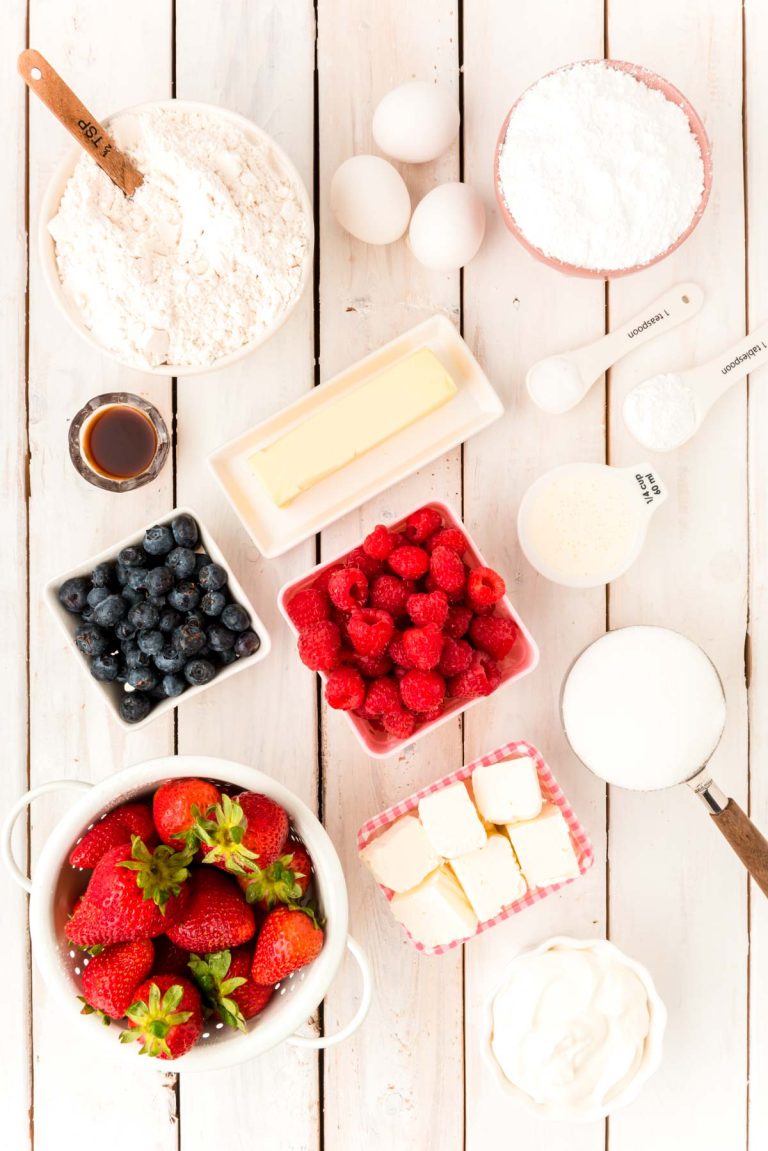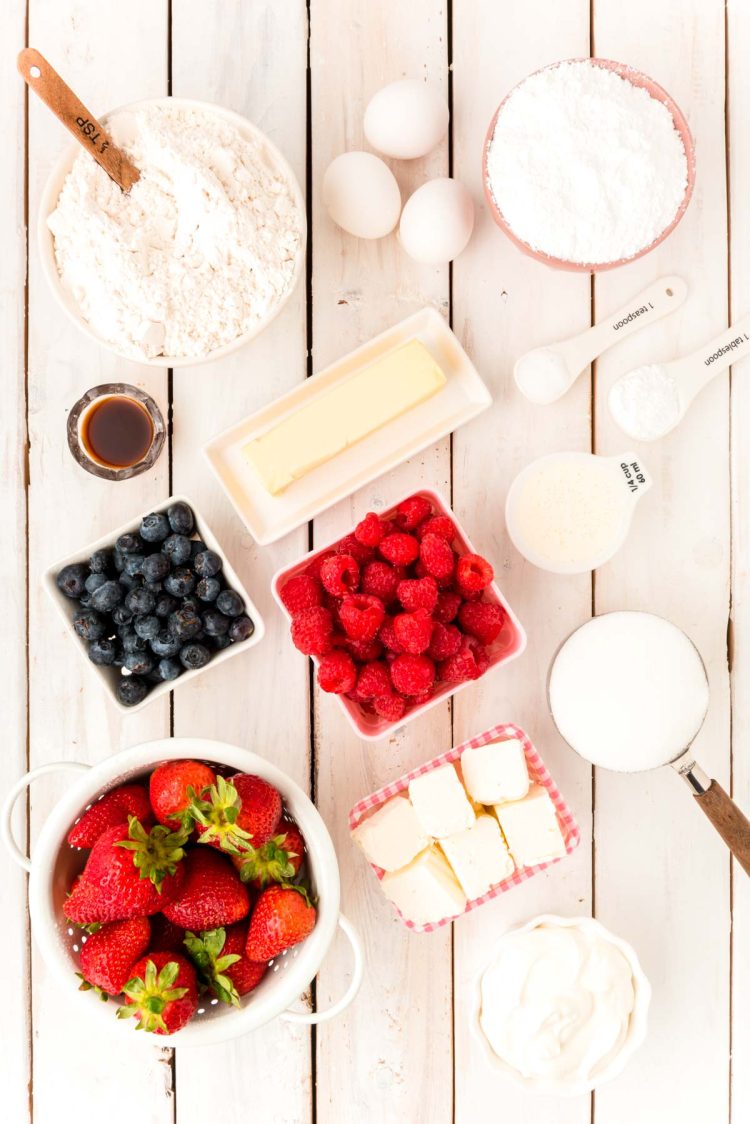 How To Make Strawberry Shortcake Cookies
Prepare the cookies by sifting the baking powder, flour, and salt together in a large bowl.
Beat the cream, butter, and sugar together until light and fluffy in a separate bowl.
Add one egg at a time into the sugar mixture.
Then beat in the vanilla and half of the sour cream until thoroughly combined.
Mix in the flour mixture just until incorporated. On low speed, add in the remaining sour cream, being careful not to overmix the cookie dough.
Wrap the dough with a piece of lightly floured plastic wrap and place it in the refrigerator to chill.
Roll the cookie dough out onto a lightly floured surface and cut out the cookies. Place them onto the prepared baking sheet and bake them in the preheated oven.
Remove them from the oven once the edges have started to turn brown. Then transfer them to a wire rack to cool.
Prepare the topping by chopping up the strawberries and combining the fruit with the sugar, and stir to coat. Set them aside.
Prepare the frosting by beating the cream cheese, vanilla, and a portion of the powdered sugar together until smooth.
Alternately add in the remaining powdered sugar and heavy cream. Then beat the mixture until light and creamy.
Assemble the cookies by spreading frosting over each one. Afterward, top them with the macerated berries.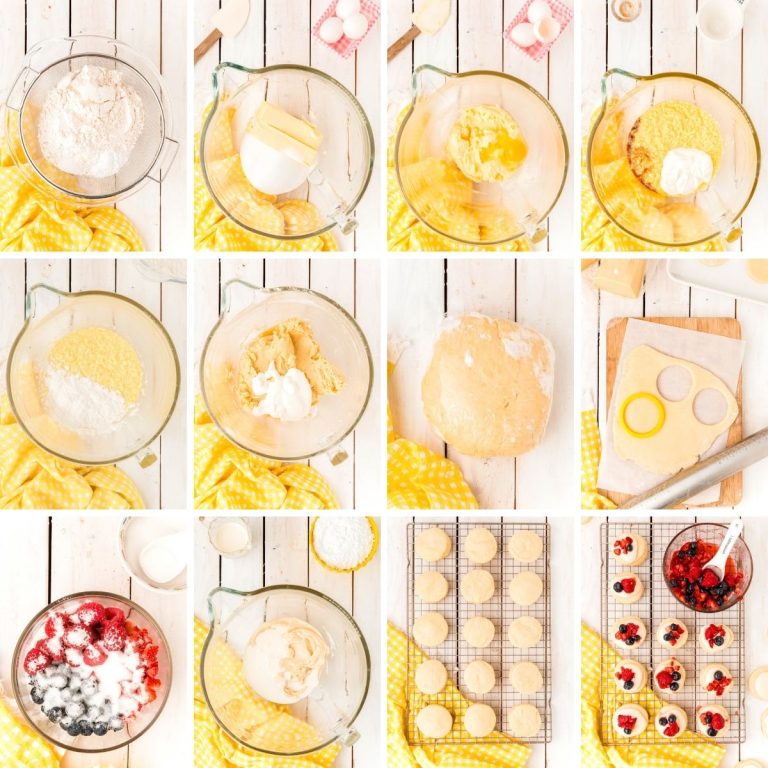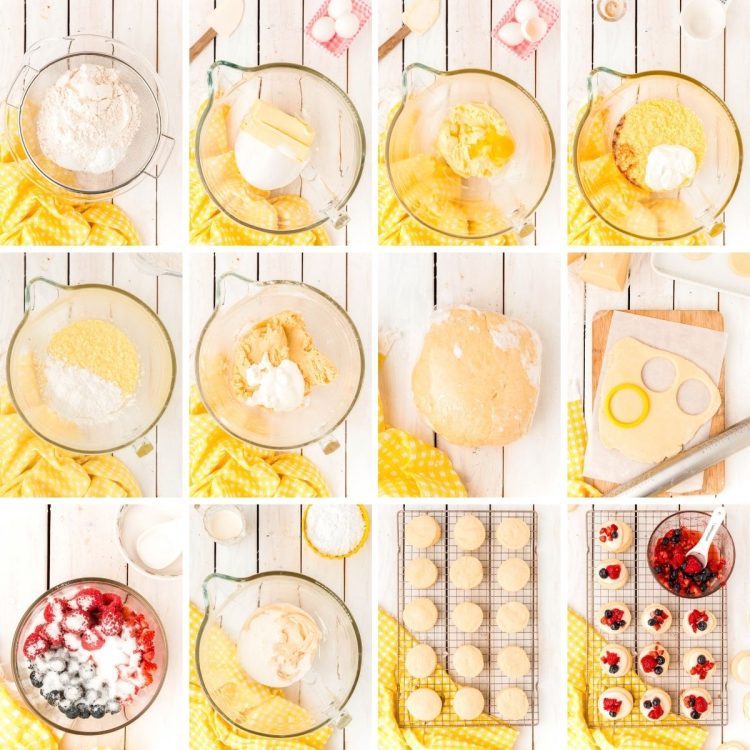 Frequently Asked Questions
What Should I Do If The Cookie Dough Is Sticking To The Rolling Pin And Surface?
Sprinkling flour onto the rolling pan and surface will prevent the dough from sticking. Making it easier to roll out and lift the cut cookies off the surface.
Can I Use A Combination Of Berries On These Cookies?
Yes! Feel free to use whatever berries you'd like for these cookies. I often enjoy them with 2/3 cup of each: strawberries, blueberries, and raspberries.
You could even make the cookies with just one type of berry if you prefer!
How Do I Store Leftover Cookies?
If the cookies are frosted and topped with berries you'll want to eat them the same day. If you're looking to make these cookies ahead of time I'd suggest just baking the cookies and then storing them in an airtight container.
Then the next day, prepare the frosting and macerated berries. Assemble the cookies just before serving them.
What Size Cookie Cutter Is Best To Use In This Recipe?
I recommend using a 3-inch cookie cutter. This will deliver about two dozen cookies!
Can These Cookies Be Baked On A Silicone Baking Mat Instead Of Parchment Paper?
Of course! I just reach for parchment paper for an easier clean-up, however, feel free to use a mat instead!
How Do I Prevent Too Much Macerated Berry Juice From Getting Onto The Cookies And Making Them Soggy?
Before using the macerated berries you could drain off some of the juices. To do so, just place them in a strainer.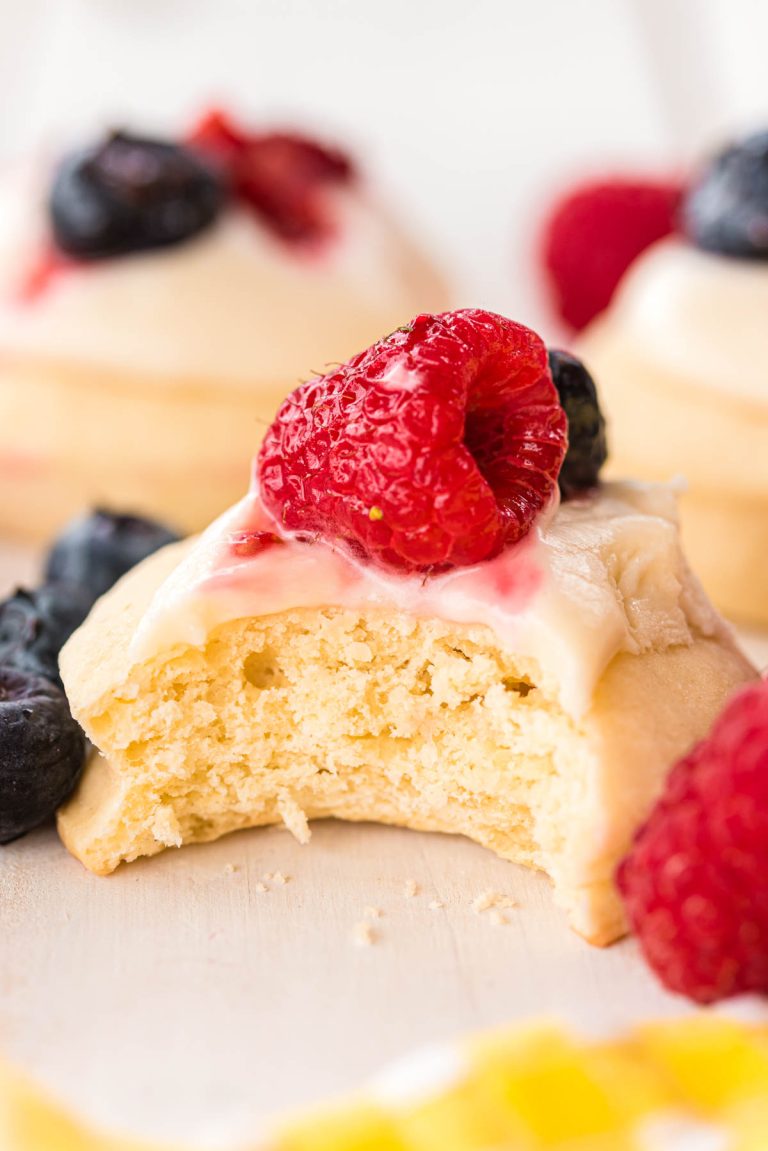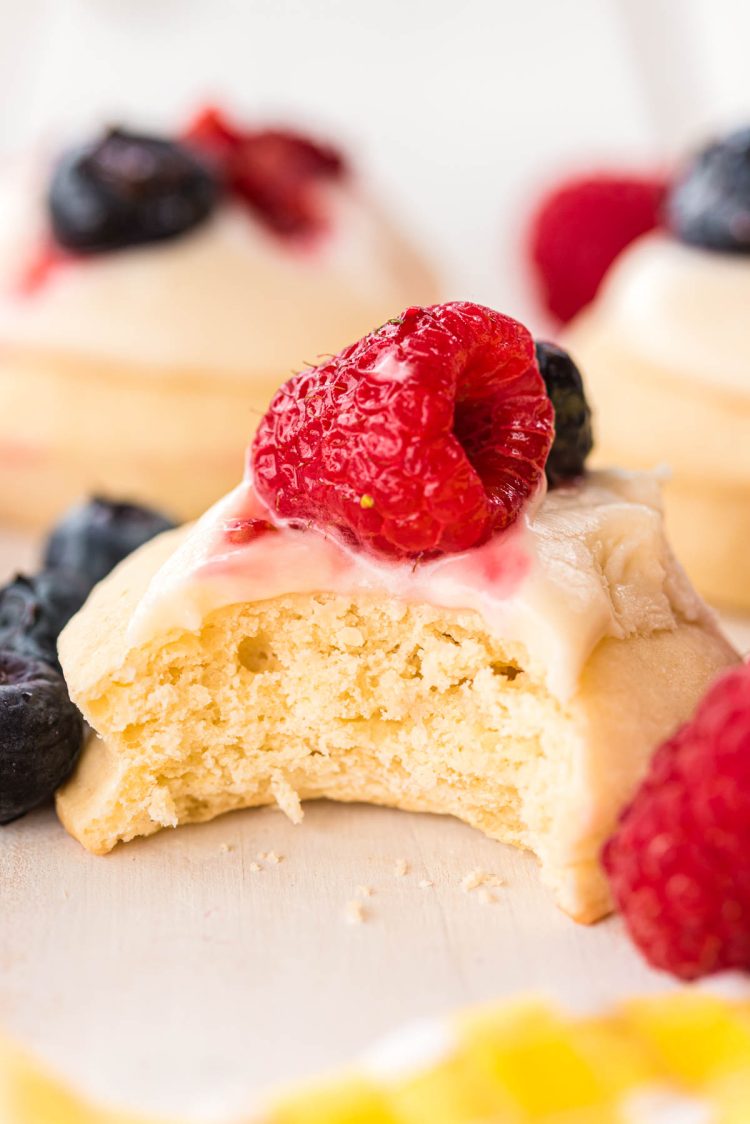 These Strawberry Cookies are an easy way to get your fix of a fruity, sweet dessert! Check out more fruity, delicious dessert recipes you may love just as much!
👋 Let's Connect!
If you've tried this recipe, please let me know how you liked it in the comments below and leave a review; I love hearing from you! And don't forget to tag me – @sugarandsoulco – on Instagram and Pinterest with your photos or join our Sugar & Soul Show-offs Community and share them there, where you can join our recipe challenges and win prizes!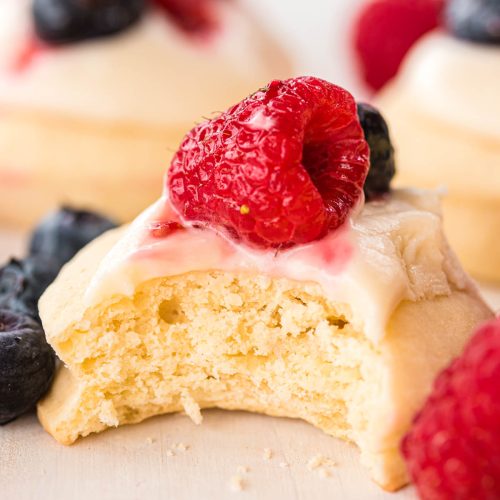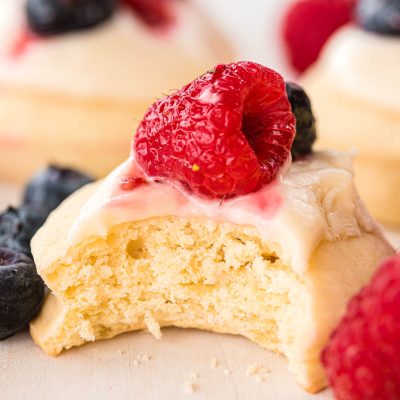 Strawberry Shortcake Cookies
Berry Shortcake Cookies have a soft, tender cookie that's topped with silky cream cheese frosting and macerated berries! Prep two dozen cookies in just 30 minutes!
Ingredients
Cookies:
4½ cups all-purpose flour plus more for rolling
1 tablespoon baking powder
1 teaspoon salt
1 cup unsalted butter softened
1 cup granulated sugar
3 large eggs room temperature
1 teaspoon vanilla extract
1 cup sour cream room temperature
Topping:
2 cups fresh strawberries diced
3 tablespoons granulated sugar
Frosting:
8 ounces cream cheese softened
1 teaspoon vanilla extract
3 cups powdered sugar
¼ cup heavy cream
Instructions
Sift together the flour, baking powder, and salt into a large bowl and set aside.

In a separate large bowl or stand mixer fitted with a paddle attachment, cream together the butter and sugar at high speed until light and fluffy, about 2 minutes.

Add the eggs one at a time, scraping down the sides of the bowl as needed.

Add the vanilla and half of the sour cream and mix until combined.

Add the dry ingredients to the wet ingredients slowly, mixing just until incorporated.

Mix in the rest of the sour cream at low speed just until combined, do not overmix.

Flour a large piece of plastic wrap and scoop the dough out onto it. It might be easier to split the dough in half and use two pieces. Refrigerate the dough for 1 hour.

Preheat the oven to 325°F and line a baking sheet with parchment paper and set aside.

Remove the chilled dough from the refrigerator and dust a large flat surface with flour.

Divide the dough into thirds and use a rolling pin to roll out a portion of the dough until it's 1/4 inch thick. Use a 3-inch round cookie cutter to cut out the cookies and place them on the prepared cookie sheet about 2 inches apart. These cookies don't spread much. Repeat with the remaining portions of dough.

Bake for about 10 to 12 minutes, just until edges start to brown, remove from the oven and transfer to a cooling rack to cool completely. Bake off the remaining cookies.
Topping:
Add the chopped strawberries and sugar to a medium bowl and allow them to set while the cookies cool.
Frosting:
In a large bowl, beat the cream cheese, vanilla, and 1 cup of powdered sugar until smooth.

Alternately add the remaining powdered sugar and heavy cream until combined. Then beat at high speed for 2 to 3 minutes until light and creamy.

Spread on cooled cookies and top with macerated strawberries. Serve the same day they are frosted.
Notes
The cookies can be baked a day in advance, but these should be served the same day they are frosted and topped with berries.
Feel free to use 2/3 cup each of strawberries, blueberries, and raspberries for the topping.
This recipe was originally published on Real Housemoms where I was a contributor.