Blueberry Hand Pies are bursting with juicy blueberry filling and baked to a beautiful golden brown, all made easy using store-bought ingredients!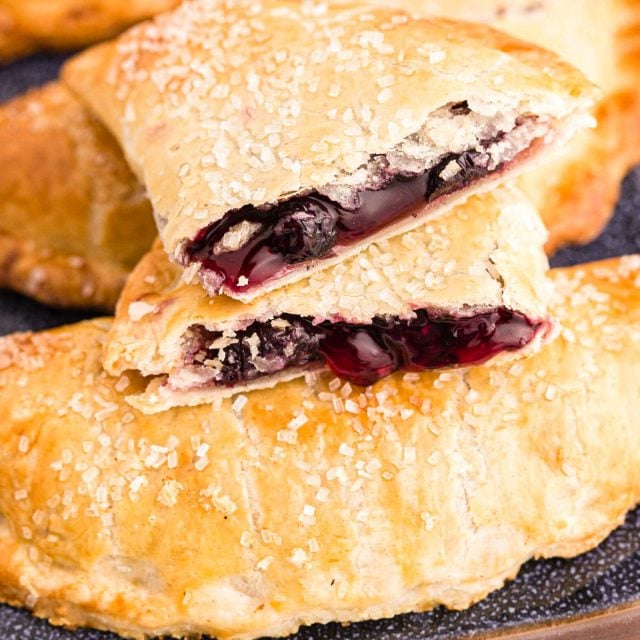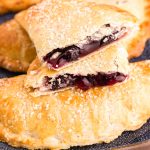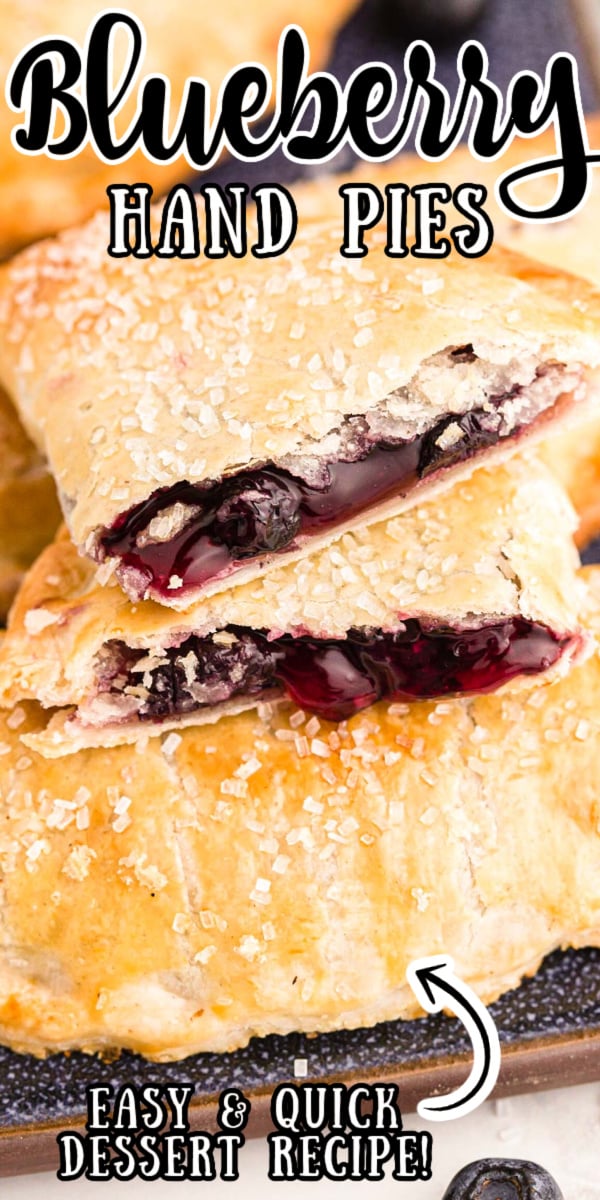 Blueberry Hand Pies are bursting with juicy blueberry filling and baked to a beautiful golden brown, all made easy using store-bought ingredients!
Try more tasty hand pies by whipping up my tart yet sweet Easy Cherry Hand Pies or perfectly spiced Apple Hand Pies!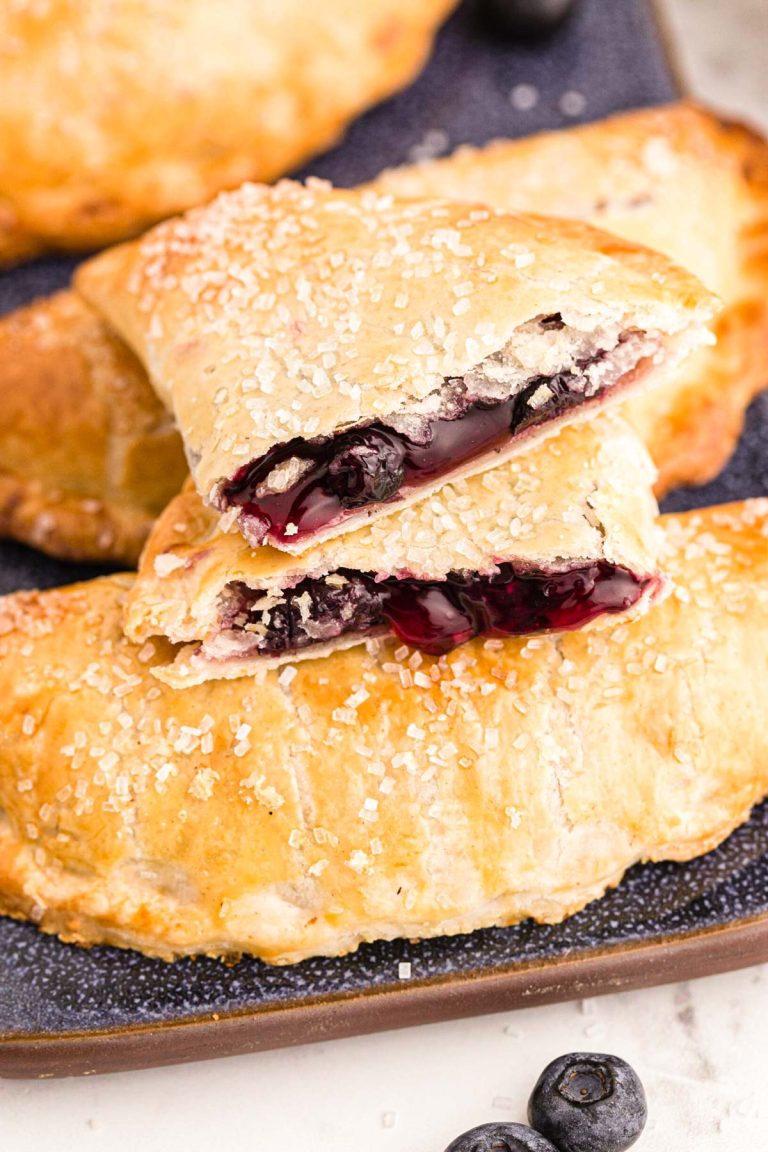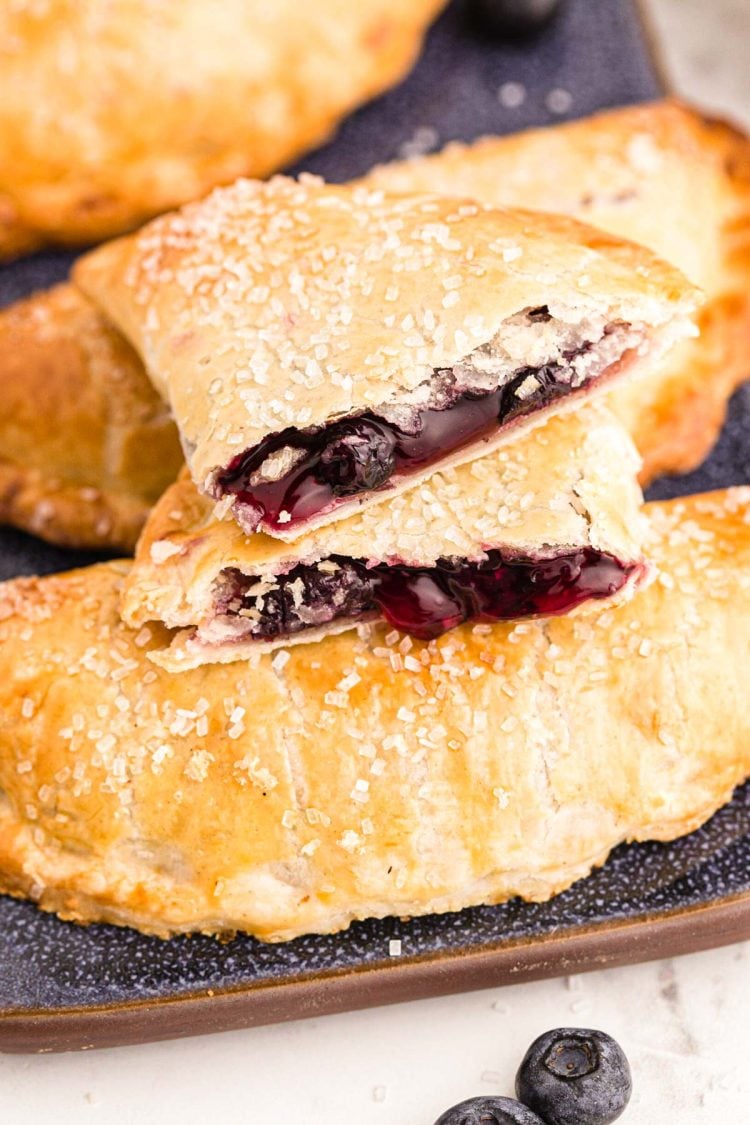 These Blueberry Hand Pies use only five ingredients to create homemade taste! One bite into the crisp crust and blueberry filling explodes in your mouth, introducing you to your new favorite pie recipe!
Bring these to your next family gathering or potluck and watch as your friends and family are amazed at your baking skills! There's no doubt that once they try a blueberry hand pie, they'll be requesting you to make them and bring them over and over again!
Which is totally fine, because they're SO easy to make!
5 Reasons Why I love This Recipe!
Delicious Variations! This recipe makes it is super simple to swap out fillings to make other delicious pie variations! Scroll down to the bottom to see what tasty ideas I've come up with that I think you'll love!
Easy Ingredients! Canned filling and store-bought pre-made pie crust take away any excuse not to make these pies! Basically, you're only job is to put the pies together and bake, so easy and effortless!
Quick! From start to finish, prepping to baking, this recipe takes just 30 minutes to complete!
Fruity Taste! Don't underestimate canned pie filling! It has such a wonderful flavor that you'll swear you're eating the fresh, homemade version!
Perfect For Sharing! The end result is 8 delicious, blueberry-packed pies! Save some for yourself and hand the rest out for others to enjoy as well!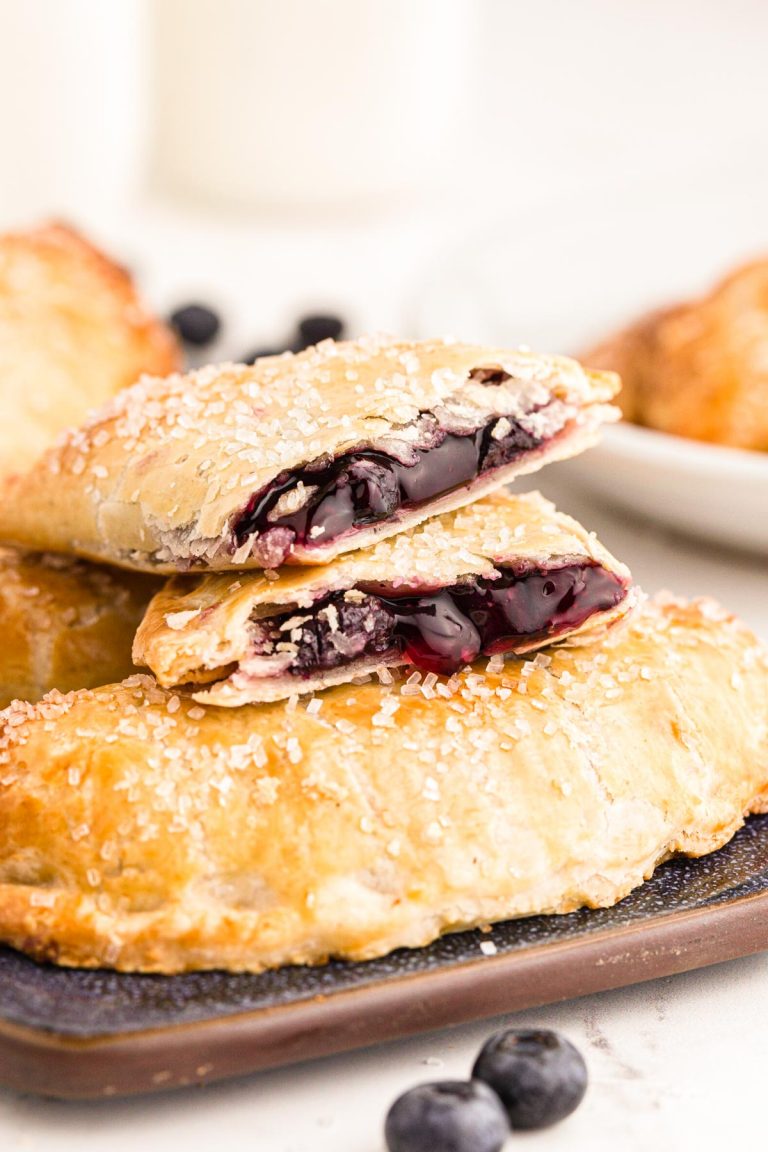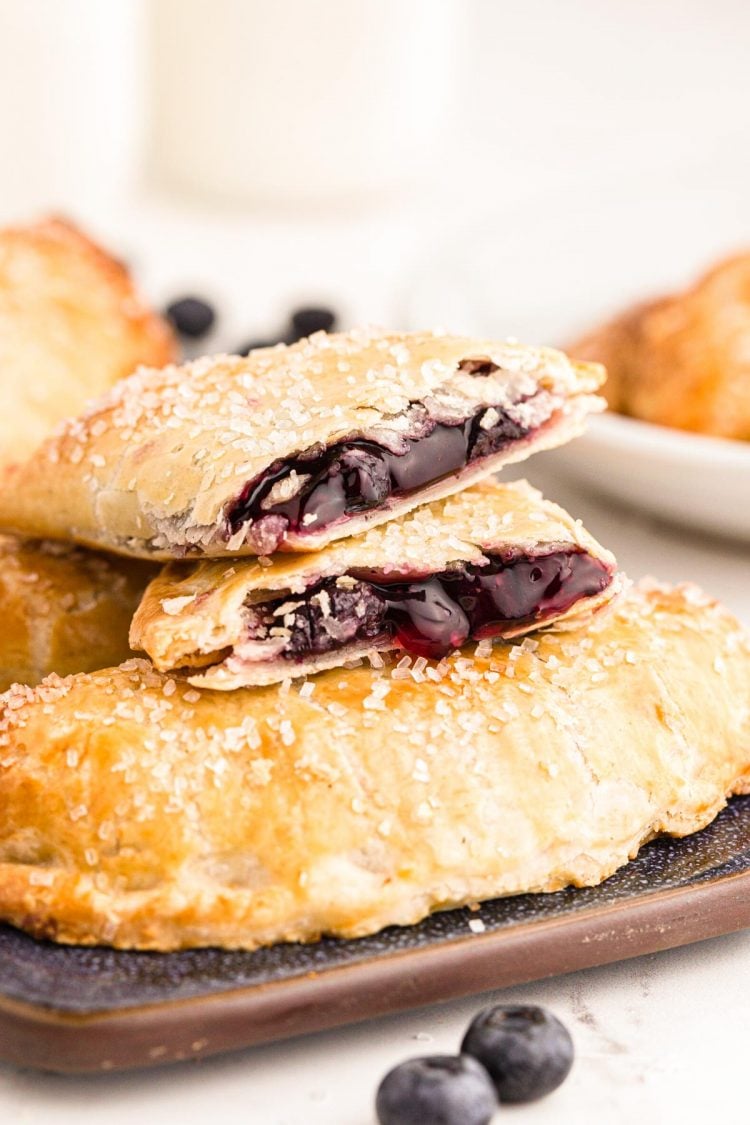 Ingredient Notes
This homemade blueberry pie recipe uses minimal ingredients to deliver a delicious treat! You'll likely only need to grab two ingredients from the store and the rest you'll have on hand! This quick and easy recipe calls for:
Canned Blueberry Filling – Yup, you guessed it! This is all the filling is made of, making pies has never been so easy!
Refrigerated Pie Crust – You could also use your favorite homemade pie crust recipe as well! This ingredient just allows this recipe to come together quickly and without a lot of mess!
Unsalted Butter – When added on top of the blueberry filling before folding and baking it adds a touch of creaminess that is absolutely heavenly!
Egg – Used to create the egg wash that gets brushed on to seal the edges of the pie as well as on top before baking.
Coarse Sugar – This gets sprinkled on top for an added dash of sweetness! Use a mixture of both sugar and salt for a salty-sweet kick!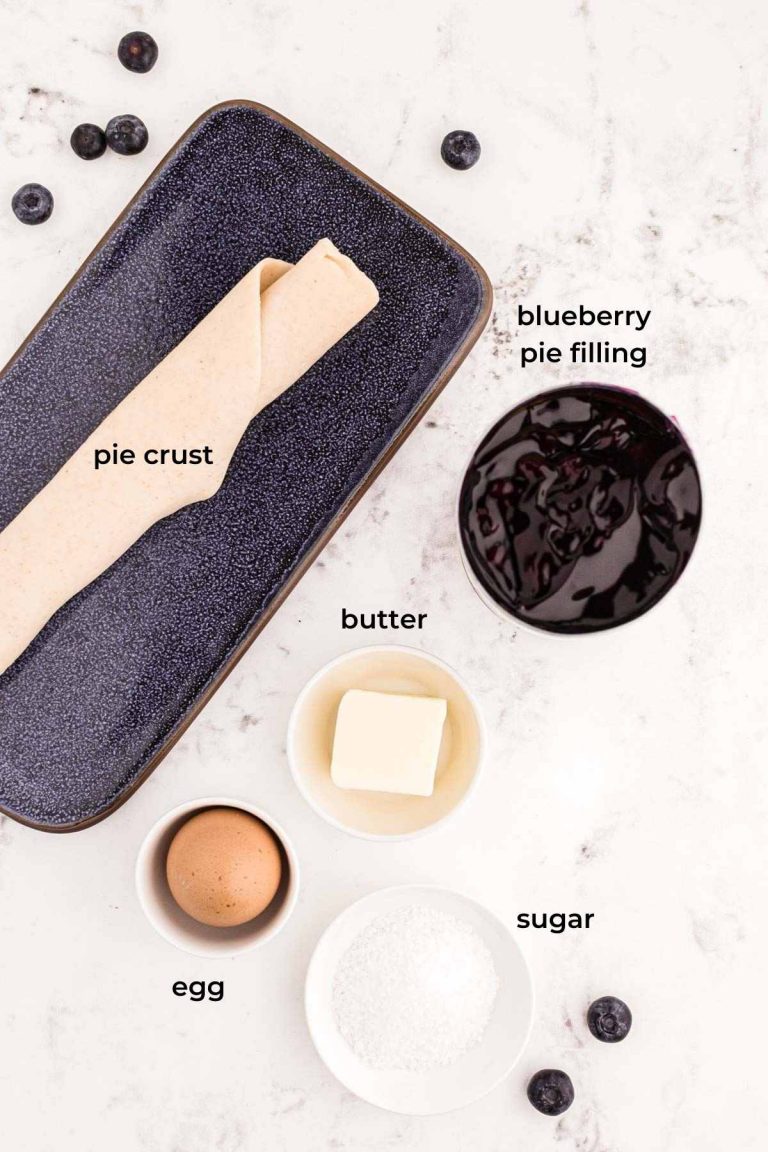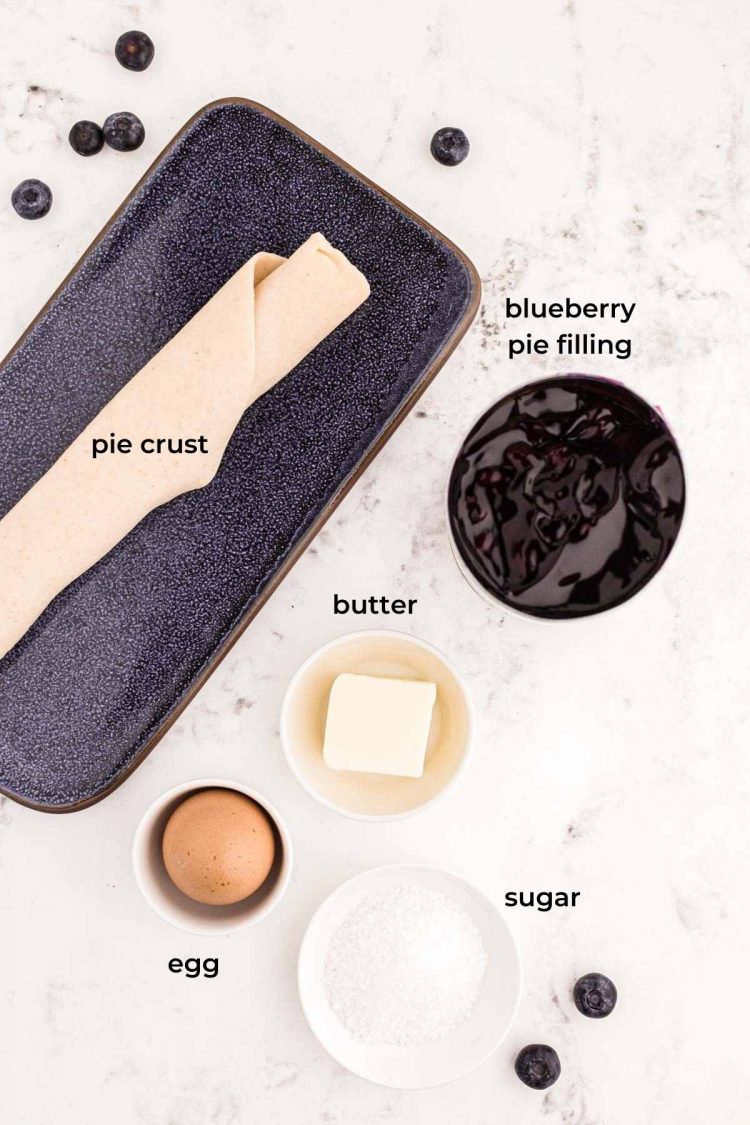 How To Make Blueberry Hand Pies
Preheat the oven while you cut out two smaller circles from the pie crusts on a lightly floured work surface.
Place the crusts on a baking sheet sprayed with non-stick cooking spray. Then scoop blueberry filling onto the pie dough circles.
Add a slice of butter on top of the pie filling. This adds a little bit of creaminess to the pie filling!
Brush a bit of egg wash around the edges of the circle.
Fold the pie in half, forming a crescent shape. Pressing the edges to seal.
Brush the top crust with more egg wash and sprinkle on coarse sugar.
Bake until the pies are golden brown and have a crispy crust!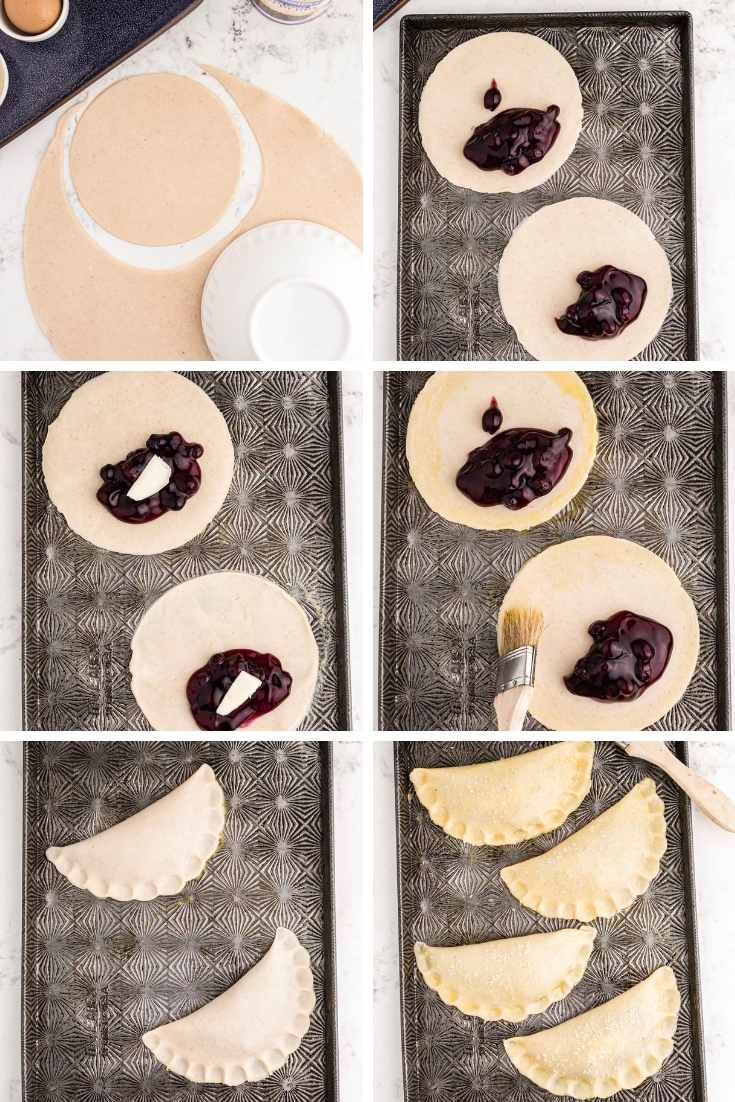 Delicious Variations To Try!
Exchange the blueberry filling for apple pie filling!
Make lemon hand pies by using canned lemon filling!
Love cherries? Whip up cherry hand pies instead by grabbing cherry pie filling!
Strawberry hand pies would be perfect this summer! Just pair strawberry pie filling with this recipe!
Blackberry fruit filling would make a delicious treat!
Add a sweet glaze to these hand pies by mixing powdered sugar with a few drops of water! Then brush the glaze over the hot hand pies!
Try different sheens by using an egg white wash, an egg yolk and a teaspoon of water wash, brush with milk, or even vodka!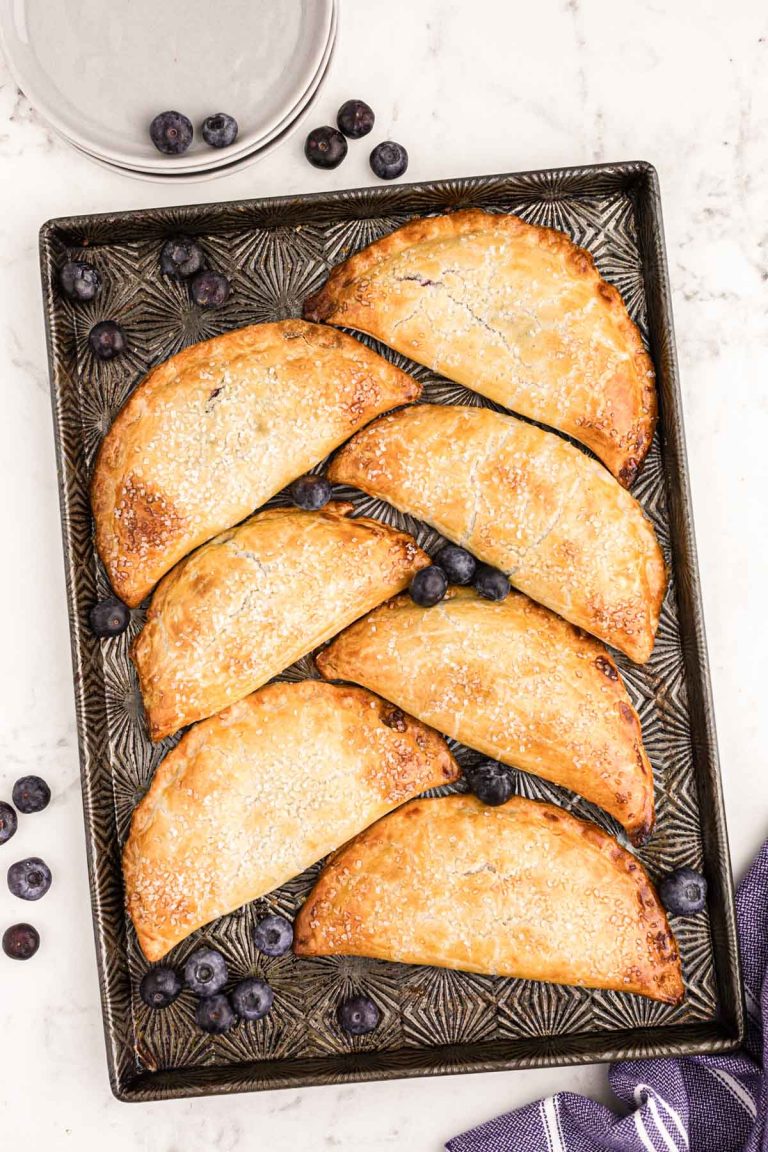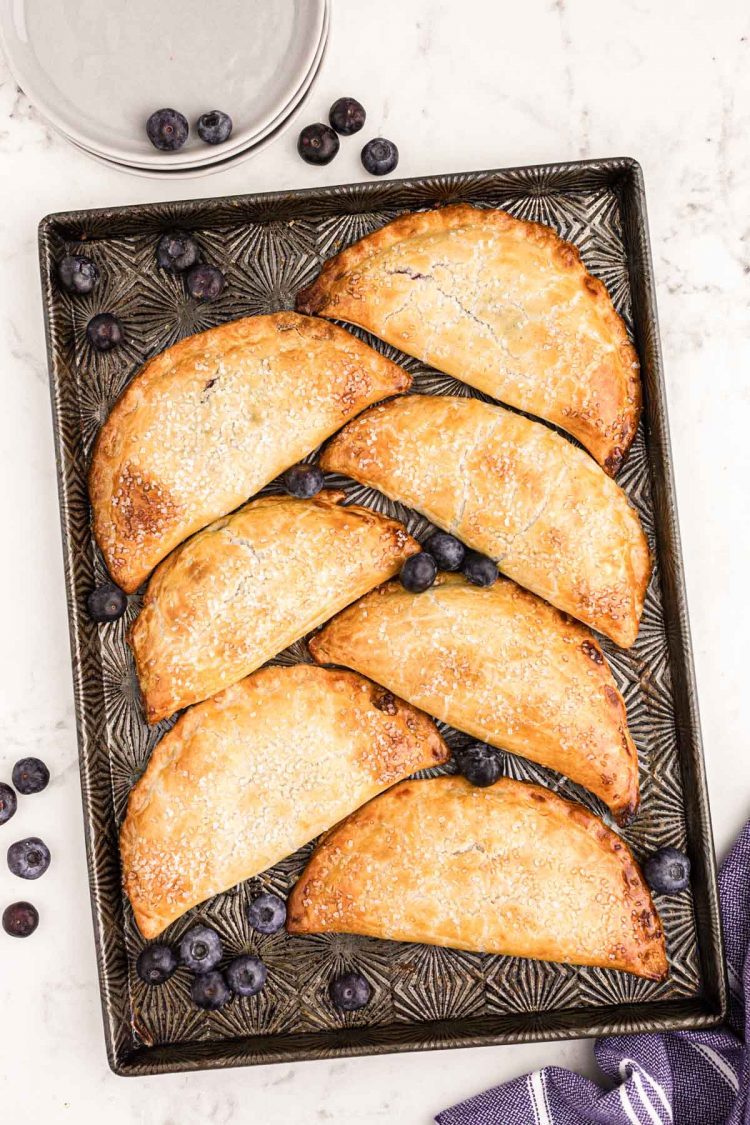 How To Store Blueberry Hand Pies
These blueberry pies are best when eaten right away! However, if you happen to have leftovers you can store them on the countertop or refrigerator in an airtight container for 2 to 3 days!
Why Did The Crust Spilt During Baking?
This is likely because the crusts were too thin! Be sure to make your crust thick enough that it can be folded and handled before baking. If the crust is thick enough to handle it should hold up during baking!
Can I Use A Fresh Pie Filling With This Recipe?
I actually don't recommend it! If you'd like to use fresh fruit I suggest simmering it on the stove with plenty of sugar and a bit of water first!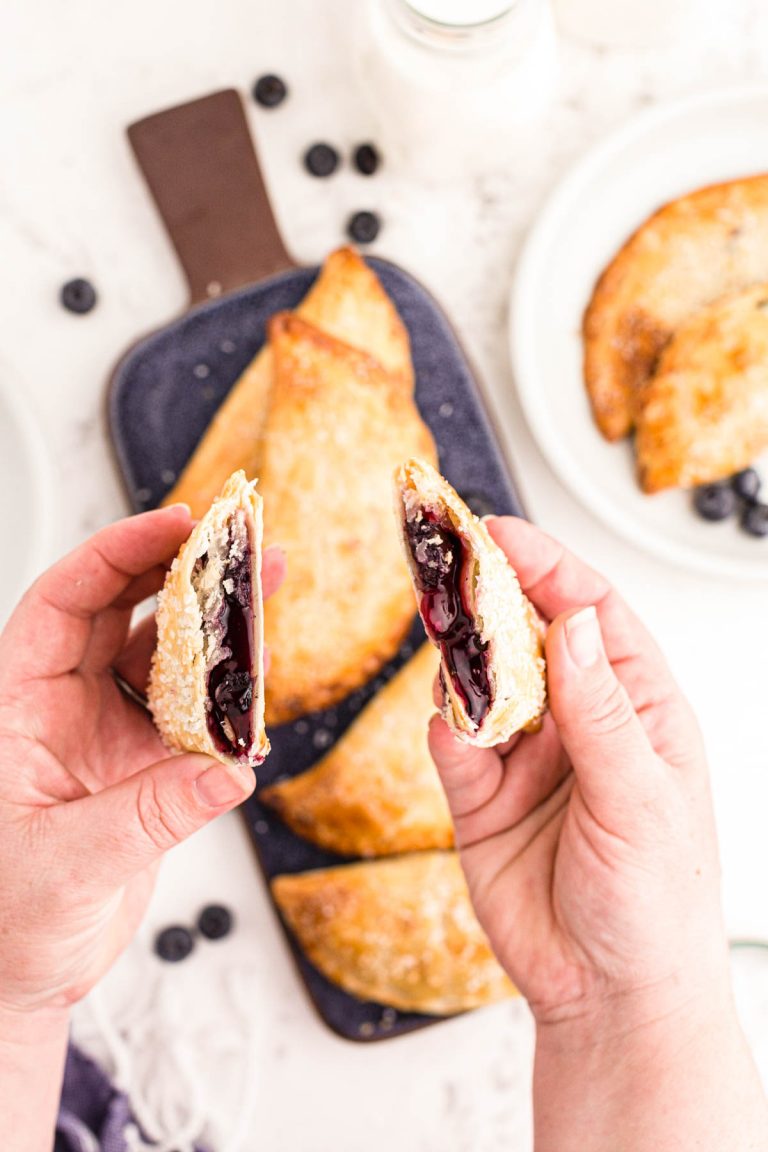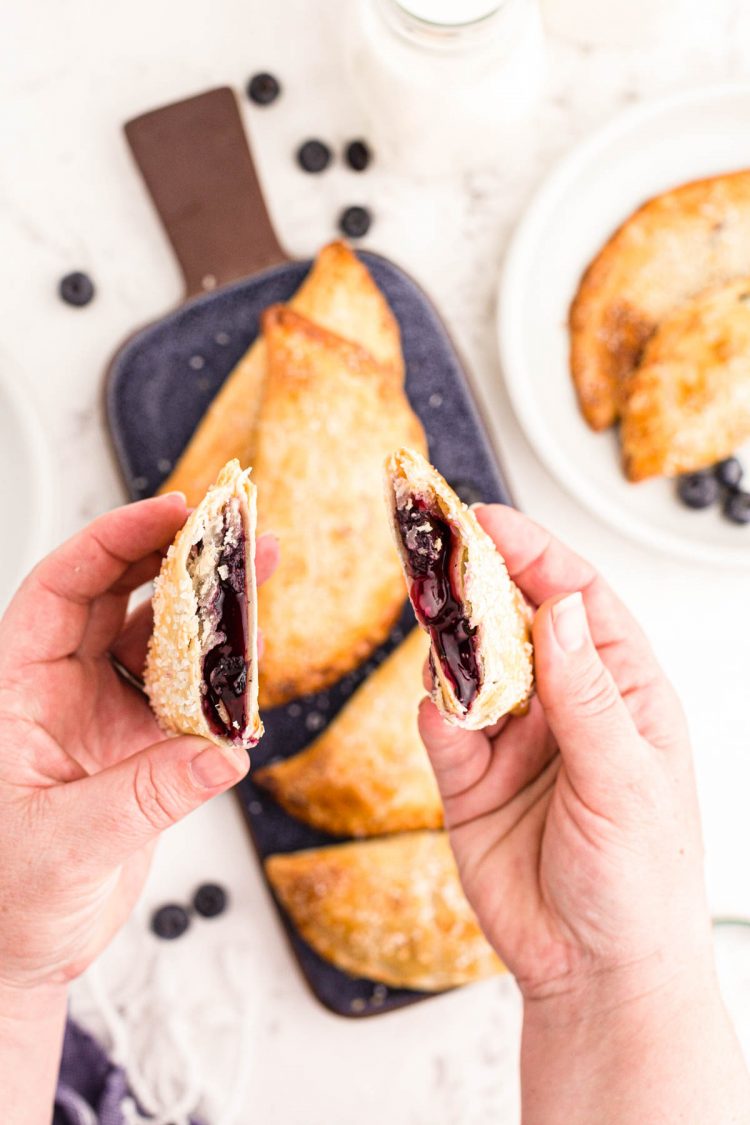 Juicy, sweet blueberries really go a long way in flavoring up desserts to create crowd-pleasing treats! Check out more of my favorite blueberry recipes that I love bringing to potlucks, parties, and simply just enjoying at home!
Easy Blueberry Dump Cake – Just three ingredients to make this delicious dessert that's great when topped with vanilla ice cream or whipped cream!
Best Ever Blueberry Cheesecake Bars – Made with a graham cracker crust, a layer of cheesecake, blueberry filling, and topped with spiced oatmeal crumble!
Blueberry Buckle – Moist blueberry cake that's topped with a sugary, buttery crumble!
Homemade Blueberry Muffins – Tangy buttermilk and delicious blueberries collide for an incredible breakfast the whole family loves!
Blueberry Cake – Loaded with juicy blueberries, this single-layer snack cake is perfect to whip up and enjoy all summer long!
👋 Let's Connect!
If you've tried this recipe, please let me know how you liked it in the comments below and leave a review; I love hearing from you! And don't forget to tag me – @sugarandsoulco – on Instagram and Pinterest with your photos or join our Sugar & Soul Show-offs Community and share them there, where you can join our recipe challenges and win prizes!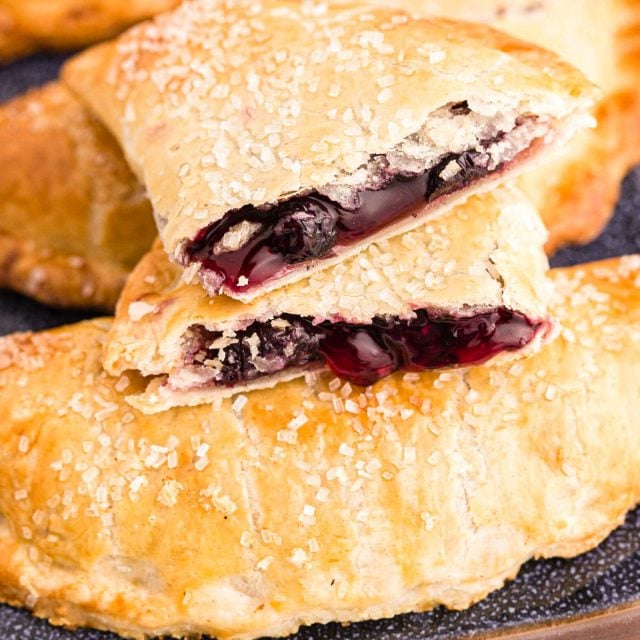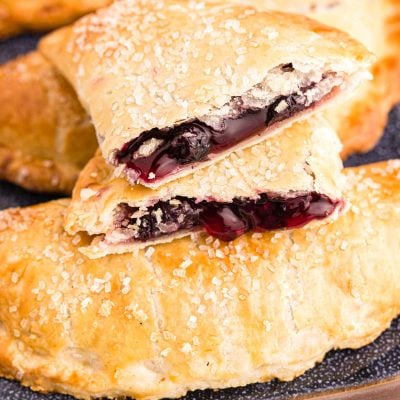 Blueberry Hand Pies
Blueberry Hand Pies are bursting with juicy blueberry filling and baked to a beautiful golden brown, all made easy using store-bought ingredients!
Ingredients
1 (21oz.) can blueberry pie filling
1 package Refrigerated pie crust double crust
2 tablespoons unsalted butter optional
1 large egg slightly beaten
2 tablespoons coarse sugar optional
Instructions
Preheat the oven to 450°F.

Prepare pie crusts by removing pie crust from the packaging. Unroll one crust on a lightly floured surface. It is important to keep the crusts thick enough to hold the pie filling, so I did not roll the crusts out any thinner than they came in the package.

Use a bowl (6-inch diameter used here), placed upside down, to cut out two circles from the dough. Gently gather together the scraps, roll out just enough to cut two additional circles (you may even need to do one at a time).

Place three crust circles onto a baking sheet sprayed with non-stick cooking spray.

Place a scoop of the blueberry pie filling into the center of the circle.

If desired, place a small piece of butter over the pie filling (this isn't necessary, it adds a little creaminess to the hand pie).

Use a fork to beat the egg lightly. Then, brush a bit of the egg wash around the edge of the circle to help the sides seal.

Fold the pie crust in half to form a crescent shape. Press down (work from the outer edge in) and then crimp with your fingers or a fork to seal the edges.

Brush the exposed sides of the hand pie with the egg wash. Sprinkle the desired amount of coarse sugar over the egg wash.

Bake for 10 to 12 minutes or until the pies are golden brown and the crust is crispy. (The filling does not need to be cooked so we're really just cooking the crust here.)
Notes
Storage: Best if eaten right away. Leftover hand pies can be stored in an airtight container on the countertop or in the refrigerator for 2-3 days.
Reheat in the oven or in a toaster oven for best results.
The egg wash will give the hand pies a nice golden sheen. It is also helpful to seal the edges together.
For best seal, be sure that the filling and/or any excess flour is away from the edge of the dough.
For different sheens, try an egg white wash, an egg yolk+ a teaspoon of water wash, brush with milk, or brush with vodka.
Only a couple of tablespoons of the filling mixture will fit in the pie. Do not overfill.
If the crusts are too thin, the pie will split apart during baking. The crust should be thick enough that the folded pie can be lifted and handled before baking – this provides a good gauge for durability. If the crust is thick enough to handle, it should be thick enough to hold up during baking. If the pie splits apart during baking, it still tastes yummy!
I found that pinching the crust edges provides a better seal than crimping with a fork; just make sure you really press the edges together that they seal. If they're not sealed well, the filling will leak during baking – it can be messy and burns easily and the finished pie will be sad and empty.
There are so many pie fillings available – apply the same steps to make apple hand pies, lemon hand pies, cherry hand pies, etc.
This recipe does not work well with a traditional fresh pie filling – if you wish to use fresh fruit, simmer it on the stovetop with plenty of sugar and a bit of water.
You just can't fit enough fruit inside the hand pies to have all that flavor without a good dose of sugary syrup in there as well.
The filling needs to be thick enough to hold in place while sealing the hand pies.
Mix powdered sugar and a few drops of water together to make a glaze. Brush glaze over hot hand pies in lieu of the coarse sugar garnish.